As racism continues to run rampant throughout world soccer — specifically Serie A — we reached out to notable soccer writers and personalities Aaron West, Ryan O'Hanlon, and John Solano to get their thoughts on the current state of the Italian top division and potential ways to alleviate the rampant racism that has plagued it for years. 
Sports continue to serve as a mirror for life and society as a whole, with issues of race playing an increasingly significant role. Here in the United States, we like to point to influential athletes of color from Jackie Robinson to Muhammad Ali who utilized their athletic clout to bring racial injustice to the forefront of societal dialogues. Today, it's easy to pretend that these issues no longer exist.
It doesn't take a genius to tell that racism is alive and well, and it still can be seen in the sports world. While we could look to any sport in general — the NBA's disparity between black players and coaches, the NFL's Kaepernick saga, or the MLB's recent suspension of Tim Anderson for his use of "racially charged language" — racism is perhaps most overt and prevalent in the soccer world, and more specifically Italy's Serie A.
Anyone remotely following the sport saw the incredibly classless treatment of Juventus rising star Moise Kean earlier this month in a match against Cagliari.
The 19-year-old Kean, born to Ivorian parents, has been one of Italy's brightest stars for both club and country of late. He's scored in six of his last seven Serie A matches, as well as in his first two competitive appearances with the Italian national team.
Yet, in the midst of the up-and-coming phenom's rise, Italian fans have once again shown their true colors, failing to embrace one of the world's most exciting young talents simply because of the color of his skin. In that April 2 match against Cagliari, Kean was the subject of disgustingly racist monkey chants whenever he was actively involved in the play. After scoring a game-sealing goal in the 85th minute, he stared piercingly into the crowd with his arms up in response.
Perhaps even more concerning than the Cagliari fans' behavior was that a number of Kean's peers were unable to display any semblance of grace or tact in reaction to the taunts. After the match, Kean's fellow goal scorer and Juve captain Leonardo Bonucci now infamously stated that the blame lies with Kean as well and "should be split 50-50." Bonucci went on to use even more tone-deaf rhetoric, remarking that Kean "needs to be contained."
Cagliari President Tommaso Giulini refused to concede that the fans' remarks were racially driven at all, rather citing Kean's youthfulness as the main reason behind any sort of issue. Shockingly, Juventus manager Massimiliano Allegri shared Giulini's sentiment. Allegri stated plainly that Kean needs to mature, and went on to say that he never explicitly heard racially driven remarks.
While appalling, this isn't the first racial incident of the season in Serie A — much less world football for that matter. Whether it's the similar racist chants endured by Napoli defender Kalidou Koulibaly, the bananas thrown at Arsenal's Pierre Emerick-Aubameyang, or the slanted press coverage of Man City's Raheem Sterling, footballers of color have been treated poorly by fans and media alike during the 2018-19 campaign alone.
Going back even further into the annals of Italian football history, Ghanaian international Sulley Muntari was sent off after reacting to racist fans in a match for Serie B side Pescarain 2017. In 2013, the entirety of the AC Milan squad walked out of a match in Busto Arsizio as fans hurled racist insults at Kevin-Prince Boateng.
On the international side, Italian star Mario Balotelli has faced overt racism for years, and dozens of media pundits have drawn comparisons from his previous experiences to the ones that Kean is facing now. We could keep going, but you get the point.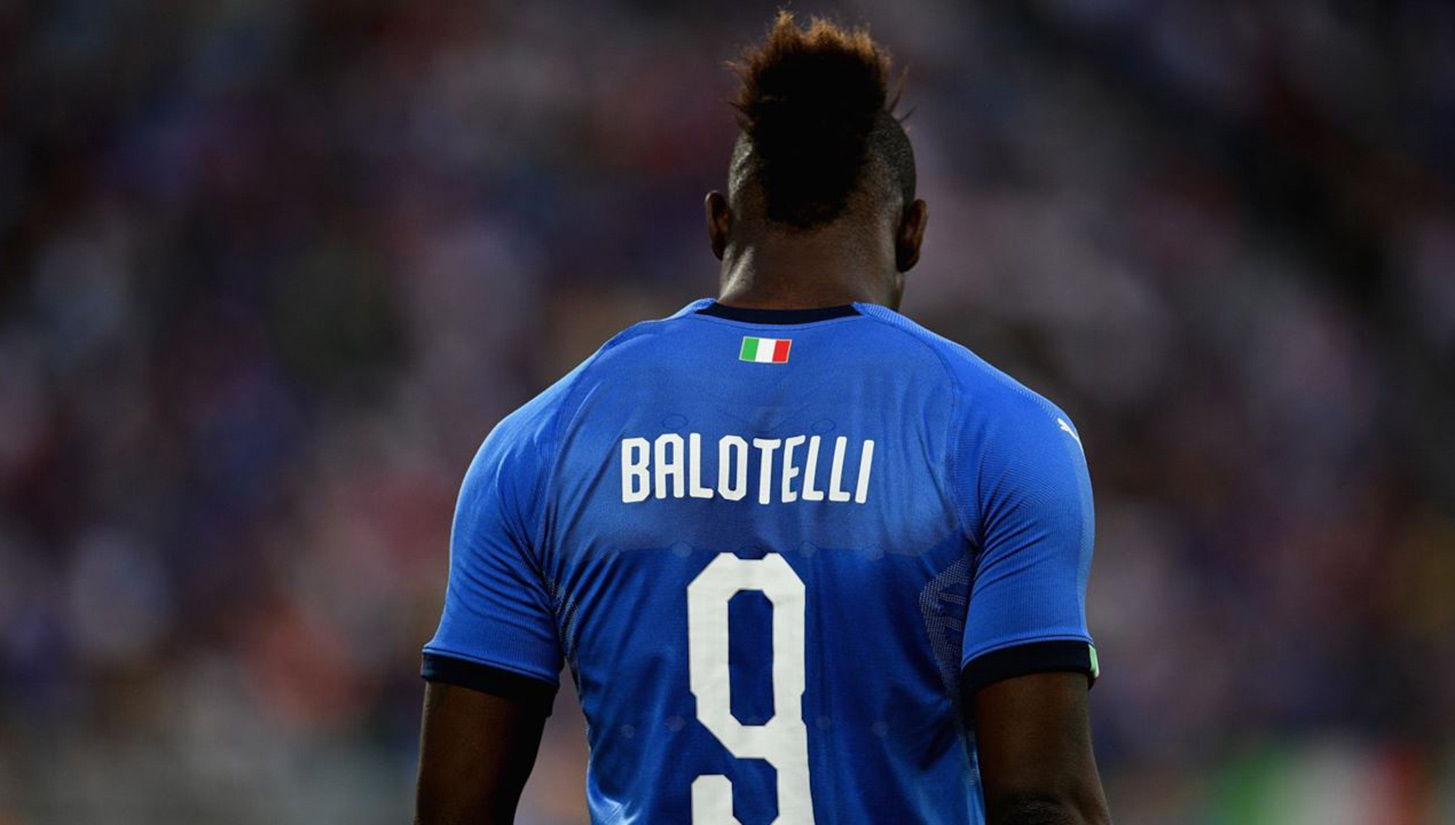 All things considered, it is important to ask ourselves: If Italian fans are shamelessly and aggressively discriminate against bright and talented national team stars of color, how are they treating minorities on the street?
To touch on these pressing issues, we reached out to three of the beautiful game's most engaging writers and personalities in Aaron West, John Solano, and Ryan O'Hanlon.
West, a noted Juventino, has previously worked with both FOX Sports and COPA90 as a writer and host, and he can be found sharing equally hilarious and insightful commentary via Twitter. Most recently, he was featured in the broadcast of the eMLS Cup Finals in March and he will be co-hosting FOX Sports' FIFA Women's World Cup Now on every match day of the upcoming 2019 Women's World Cup.
Solano is a noted journalist who has extensively covered Serie A and AS Roma, serving as editor of RomaPress as well as co-hosting the Serie A Show podcast. He's also contributed to AS Roma's official Twitter feed, whose English version is one of the best follows out there.
Rounding out the trio is O'Hanlon, who has recently started his own online newsletter No Grass in the Clouds, which consists of witty and analytical coverage of all things football. Previously, he served as Senior Editor at the sports/pop-culture website The Ringer, where he was also regularly featured on The Ringer FC podcast.
Urban Pitch: The history of racism in Italian football dates back decades. Just a few years ago, Italian national team player Mario Balotelli was the victim of racial slurs. Now the racist displays against Moise Kean have proven that Italy still is not willing to embrace a black star. Should FIFA take a broader stance on the racism in Italy? What would that look like?
John Solano: I think the Italian FA are the ones who should be taking a stand and sending a stronger message that this type of behavior is not welcome at all in Italian football stadiums. However, their recent responses to racist episodes has been lackluster and embarrassing to say the least. Permanent lifetime bans need to be handed out if any so-called "supporter" is willing to partake in this behavior.
Aaron West: Yeah, I absolutely think they should. I've been a fan of Serie A for decades now, and I think it's abundantly clear that they do not have the desire, or have not shown a desire in the past, to punish racist incidents with any sort of legitimate action that will discourage it. I think they have made cursory token gestures saying, "Oh these guys have done this, we have to punish them somehow, so let's give them a two-game match ban." At this point I do really feel that FIFA should step in and start handing out some more serious punishment.
Ryan O'Hanlon: It's not just Italy — it's England and everywhere else, too. FIFA isn't equipped to handle a systemic, structural issue like this. The organization's both a face and a driver of so many of the inequalities and corruptions in society today. No one can end racism in soccer. The issue goes way beyond chants in stadiums, but if FIFA wanted to actually show that they take this seriously, there'd be an absolute, zero-tolerance policy: lifetime bans, massive point-deductions, expulsion from tournaments.
(I know the response: "But what if fans start disguising themselves as supporters of their rivals?" And well, if people actually do that — a Lazio fan puts on a Roma jersey, goes to a game, and yells out racial slurs so Roma loses points in the table — then we have a lot more to worry about than a few spots in the standings.)
We shouldn't hold out hope that FIFA does anything. I mean, they just held the World Cup in Russia, where black players are constantly being racially abused by fans.
How did you feel after hearing the postgame remarks from Juventus' Leonardo Bonucci?
Solano: I was quite annoyed and, frankly, angered. Victim-blaming is something we see too often in our society and it's disgraceful. Bonucci, who is the vice captain of Juventus, had an opportunity to take a stand and support his teammate against these vile acts. Instead, he dropped the ball and further highlighted the problems we have in Italy when it comes to tackling racism.
West: I think that Bonucci's comments are a microcosm of a broader issue in Italy right now. It was a completely inappropriate response for a teammate towards a teammate, especially for a young kid who has gone through that sort of trauma. For him to say it's 50-50, even if he said his comments were misconstrued, it's completely unacceptable, and I really do think it's very emblematic of the attitude that is pervasive in Italy and a lot of other places. It was a very clear example of the attitude that a lot of people share, and it has to change.
O'Hanlon: Sad for his teammate…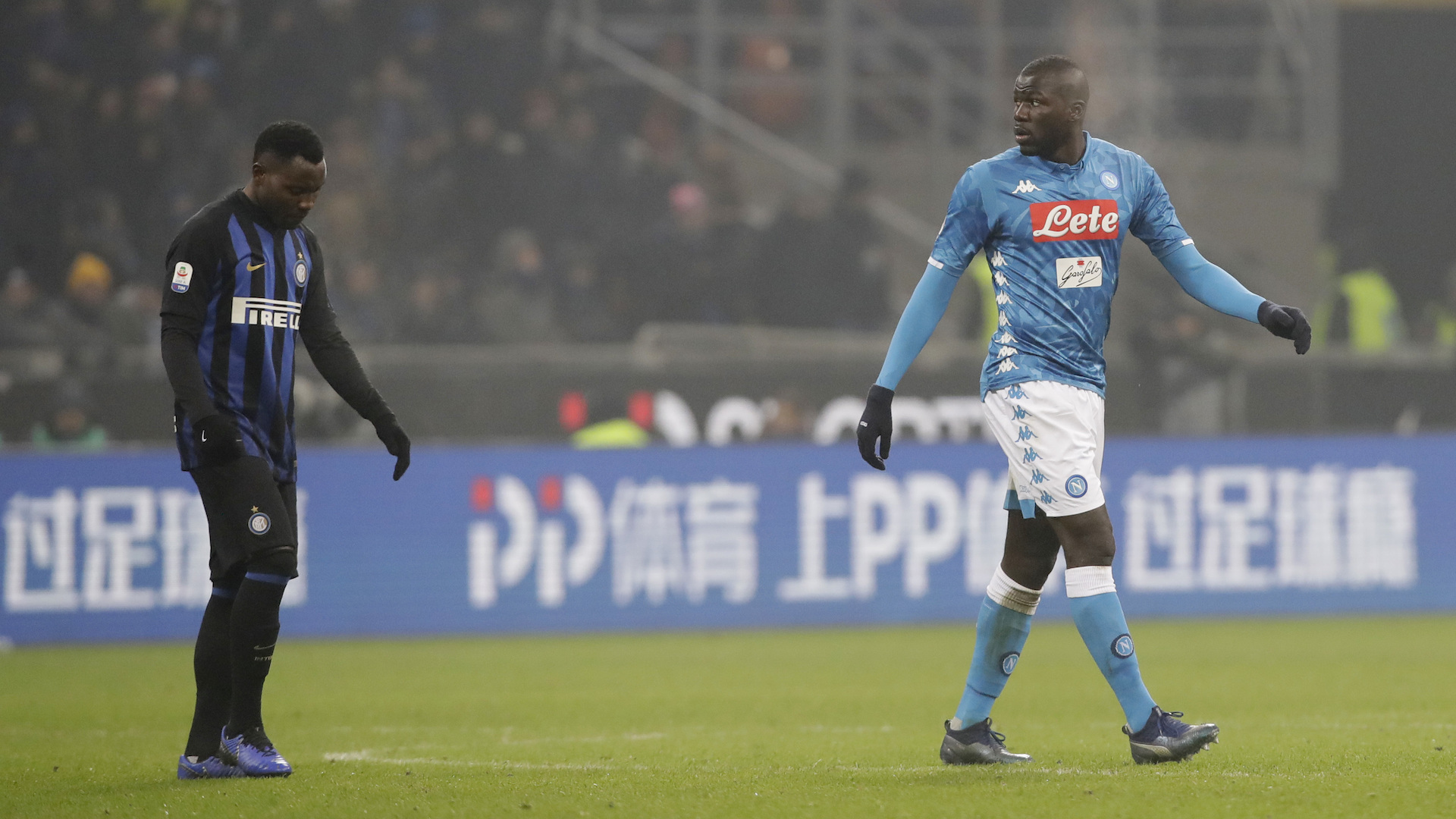 With racist chants being yelled by Inter Milan fans at Napoli's Kalidou Koulibaly, Inter Milan was forced to play in empty stadiums for two games. Is this an appropriate punishment? Is it a long-term solution?
Solano: I think it's an appropriate punishment, but I would prefer for the Lega and the clubs to name and shame the individuals who they have identified in partaking in racist behavior and state that they've been handed a lifetime ban.
West: I think that's where it should start, with match bans for fans. When it hits the fans is when people start to take notice, and I think policing in that manner leads to people in the stands taking responsibility for their fellow supporters. Forcing fans to say, "Hey man, you guys are going to hurt the team because they won't have our support because of what you're saying."
I think it helps to have fans policing their fellow supporters, but I don't think it should stop there. I really feel that is just the beginning. Dropping points, real legitimate effects on the field, is what will keep fans from doing things like this, because they will see that their actions do directly hurt the team.
O'Hanlon: No. The long-term solutions go way beyond any game-related punishments. Just look around — see who's getting elected to the highest levels of power in some of the richest countries in the world — what's happening in these stadiums or in the subways is just a reflection of that.
If Italian FA President Gabriele Gravina decides that he cannot validate playing matches in empty stadiums for extended periods of time, what should a solution be?
Solano: Naming and shaming the individuals then handing a lifetime ban, for me, is the right solution. The technology is there for clubs to identify the individuals in the stadium who are doing this — I'll never understand the FA's trepidation in finding and banning these people.
West: I would love to see a clear written rule for punishment. Say, for a first incident you get a one-match ban, second incident results in a two-match ban, and third should legitimately result in points being taken away. I think that there has to be harsh punishment that makes the fans understand that this is completely unacceptable. The issue is that I don't think the Italian FA cares enough. I don't think they care as a society enough either, but specifically the FA does not care enough to make legitimate punishments. FIFA should be stepping in, especially given that the Italian FA has not done enough to curb the issue.
O'Hanlon: Again, there's no solution here. Punishment doesn't cure anything; it just masks a symptom. That's not to say there shouldn't be punishments, though. The punishments, in my opinion, need to go way beyond empty stadiums. Teams need to lose points, be ruled ineligible for continental tournaments. If you want to actually show that "there's no place for racism in football," as the company line typically goes, then prove it.
Many of these issues of race stem from greater societal issues, highlighted by the fact that people of color face greater difficulties landing positions of power (in politics, media, etc.). What steps can be taken to ensure that more people of color can sit in managerial seats?
Solano: If I'm honest, I don't have a great answer for this because I genuinely don't know what the right step forward would be. In the NFL in America, they have a mandate called the "Rooney Rule" which states clubs must interview a person of color for a coaching vacancy. Perhaps this could be a step in the right direction.
West: I do think that something comparable to the NFL's Rooney Rule would be a step forward, but I also recognize that it leads to a lot of token interviews. Admittedly, I don't have the answer. But I would like to see some sort of initiative taken to help push more people of color into managerial positions. I shouldn't even say push, to help open the door really. Because there is clearly interest [from applicants of color], but at the highest levels it clearly is an issue.
O'Hanlon: The NFL has the Rooney Rule — and that's barely made any difference in the proportion of black-to-white coaches. You can put mechanisms in place to make sure people of color get interviewed or get assistant jobs or whatever, but those are just tweaks on the margins and they typically just serve to make the people in power feel good about themselves. Think about how we talk about soccer players — someone like Xavi gets lauded with all these vaguely intellectual qualities — he's a "maestro," a "conductor," he has a "video game brain." When was the last time you heard a black player described in the same way? It's all about "pace and power." There are so many deeply ingrained biases to how we watch this sport. Until those get broken apart, I'm not sure there can be any meaningful change.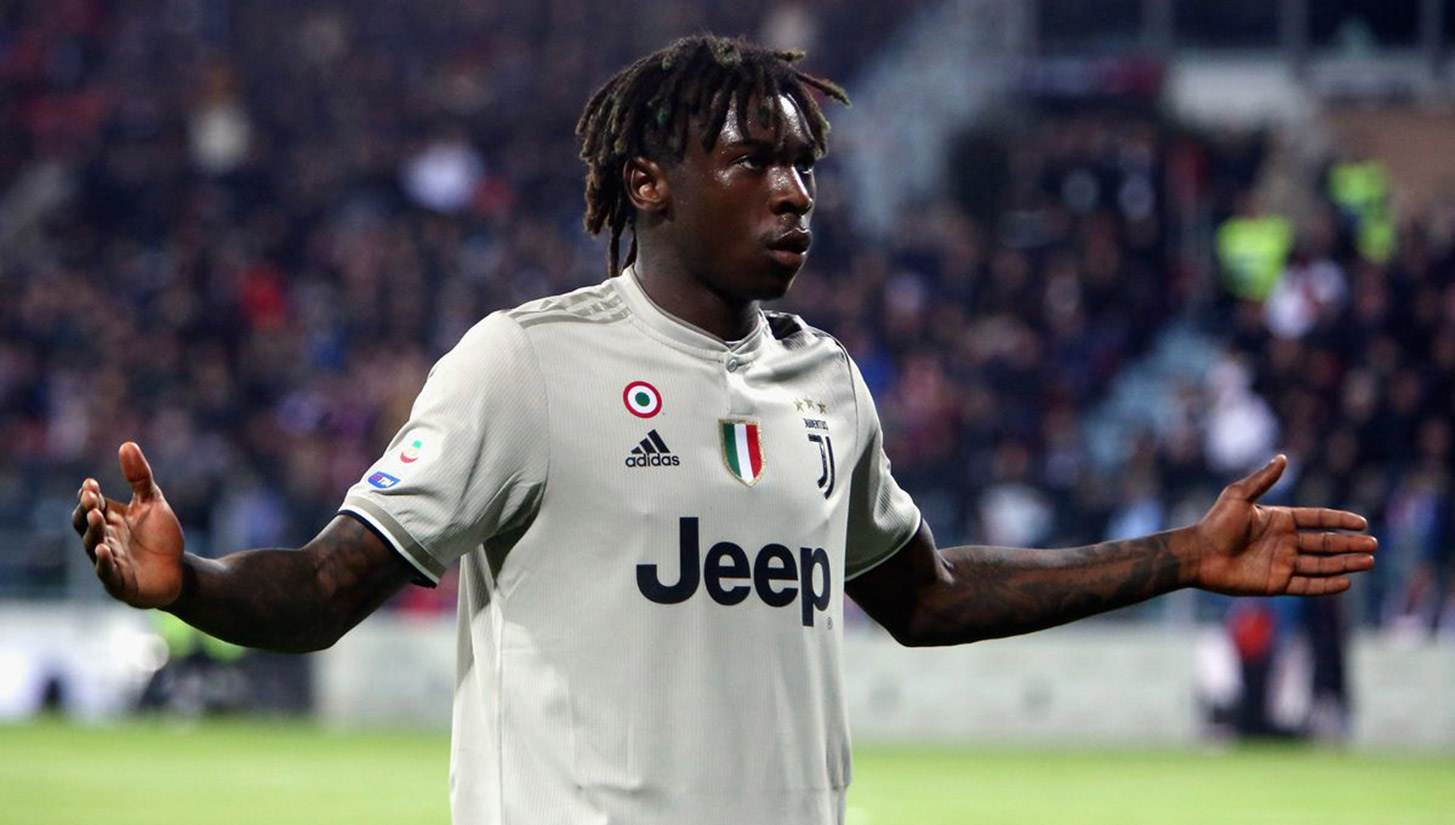 While racism in Italian football is a massive issue, racism in sports as a whole continues to be a global problem. English international players Callum Hudson-Odoi and Danny Rose faced overt racism from a Montenegro crowd. Last month, Oklahoma City Thunder point guard Russell Westbrook confronted a racist fan in a game against the Utah Jazz. How can we as fans work to end racism in all sports?
Solano: I think we need to band together and work to eject anyone who think it is appropriate to bring this sort of behavior to the stadium. Football (and sport in general) is meant to be an escape and a spectacle for everybody, regardless of your race, gender, religion, or sexual orientation. Everyone deserves to enjoy their preferred sport in peace and not have to hear vile rhetoric from a small minority of fans when they're at the stadium. If we as fans can take a proactive approach and make those who are willing to espouse racist and vile views and make them feel uncomfortable and not welcome, we can at least begin to send the message to the governing bodies that nobody wants this in the stadium and that we've had enough.
West: I think the easiest thing is a simple mantra: If you see something, say something. If a fan beside you is saying inappropriate things — whether it's racist, sexist, or homophobic — stand up, be brave, and get it out of there. This is your team as well, and if a fellow fan is representing it in a way that you don't feel it should be represented, you should say something.
O'Hanlon: Well, we can't. There are structures in place that encourage a certain kind of thinking, and it really can't be broken down by individual actions. There's a difference between ending racism in sports, and what I think FIFA would like to do, which is make it so racist sentiments can't be comfortably uttered aloud in the context of soccer. Fans can do what they can — call out racist behavior again and again or examine their own preconceptions and embedded notions — but that only goes so far. Part of why so many people love this game is that it brings people from all walks of life together, and unfortunately, there are plenty of people who still don't feel that way.