While he may be known for his affinity for basketball, multi-platinum rapper J. Cole has love for the beautiful game as well. In his latest music video appearance with fellow Dreamville artist Bas, J. Cole is seen sporting a 2017-18 Paris Saint-Germain away kit, inspiring us to look back at some of his best soccer moments — whether from his music or fashion choices. 
It's no secret that J. Cole is an avid sports fan. The Grammy-nominated artist named his debut album Cole World: The Sideline Story to compare his journey in the music industry to that of a basketball player trying to make the team. This, of course, was after his mixtapes, The Warm Up and Friday Night Lights, which carried the same theme.
But Cole is not just a basketball enthusiast. He knows a thing or two about soccer as well. In the recent video for Bas' "Tribe," Cole bounces around with his Dreamville label signee repping last year's Paris Saint-Germain away jersey. Coincidentally, Cole pairs the kit with a pair of Air Jordan Is, as rumors continue to circle around a PSG x Jumpman collaboration.
This isn't J. Cole's sole soccer-inspired fashion decision. In fact, he includes a few shoutouts to the game in some of his lyrics as well. With this in mind, let's go back and explore some of his best soccer moments.
J. Cole's Best Kits
Earlier this year, the North Carolina star put on for the German national team when he wore a throwback DFB kit in the video for Jay Rock's "OSOM," a cut from the TDE rapper's critically-acclaimed Redemption album. The video shows the duo swerving separately around town, paranoid after committing a mysterious crime together.
This jersey is most likely not a bandwagon move. Cole was actually born in Frankfurt, Germany because his parents were in the military. His mother, who is of German descent according to NPR, moved the family to North Carolina when her son was just a little boy.
Another significant jersey moment for Jermaine was when he wore a Seattle Reign jersey for his performance at the Meadows Music and Arts Festival in 2016. Several fans expressed excitement on social media that he showed love to one of the original members of the National Women's Soccer League.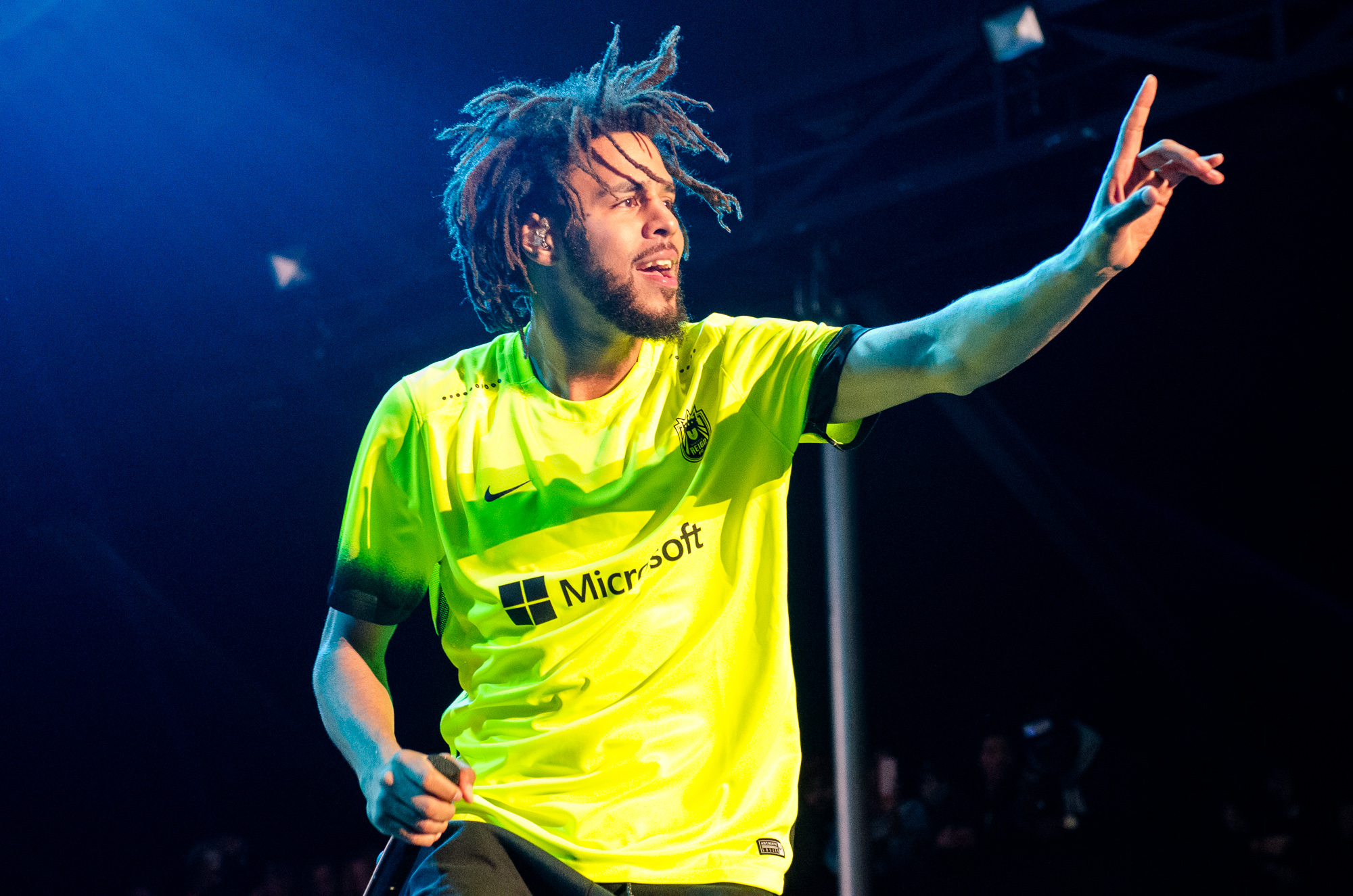 It's still common for rappers to rock jerseys, even after Jay-Z declared the trend dead on his 2003 song "What More Can I Say?" Artists from Pusha-T to Tyler, the Creator have all been spotted in kits in the past, with the latter even releasing a Juventus-inspired jersey as part of his Odd Future clothing line.
Even though Cole has had glimpses of being fashion forward, he's made it clear from the beginning that looking fresh hasn't been his priority. On 2009's "Heartache," he rapped that he never cared about "no high-end fashion." If there's anything he puts on the top of his priority list, it's his rhymes.
J. Cole's Best Soccer Lines
Known for his lyrical wit, J. Cole will flex his sports knowledge throughout his lyrics, but one soccer line stands out as especially clever — he even laughs to himself after delivering it. On a loose track from 2012, "Grew Up Fast," the Roc Nation spitter boasts about the women he rocks with, "only hat tricks," saying his ladies of choice are the ambitious ones, those "with a few goals."
Another standout soccer-inspired line comes from a featured verse on the remix to Red Cafe's "Fly Together." In the song's concluding verse, Cole raps, "Come with me to Madrid, that's where Real play," except he manipulates "Real" to sound like "we all," an example of wordplay that can be seen throughout his entire discography.
Also frequently mentioned throughout his catalogue are his hometown North Carolina Tar Heels, such as in 2007's "Carolina On My Mind," in which he spits "Tar Heels state, either you're shooting or you're hooping." While the Tar Heels are mostly known for its basketball team, which has won six national championships, the university also hosts a legendary women's soccer team. The Tar Heels are a dominating force in the NCAA, boasting 21 national championships. Superstar Tar Heel alumni include Yael Averbuch and Mia Hamm, who've won a combined six national titles, Averbuch with two and Hamm with four. The UNC men's soccer team has done alright for itself as well, reaching the NCAA tournament 25 times, with a trip to the semifinals last season.
As Cole continues to dominate the rap game — dividing many critics along the way — we can expect him to continue to pay homage to the beautiful game through his rhymes and attire. Who knows, maybe we'll see him at the next celebrity soccer match.
What's your favorite J. Cole soccer moment? Let us know in the comments below.