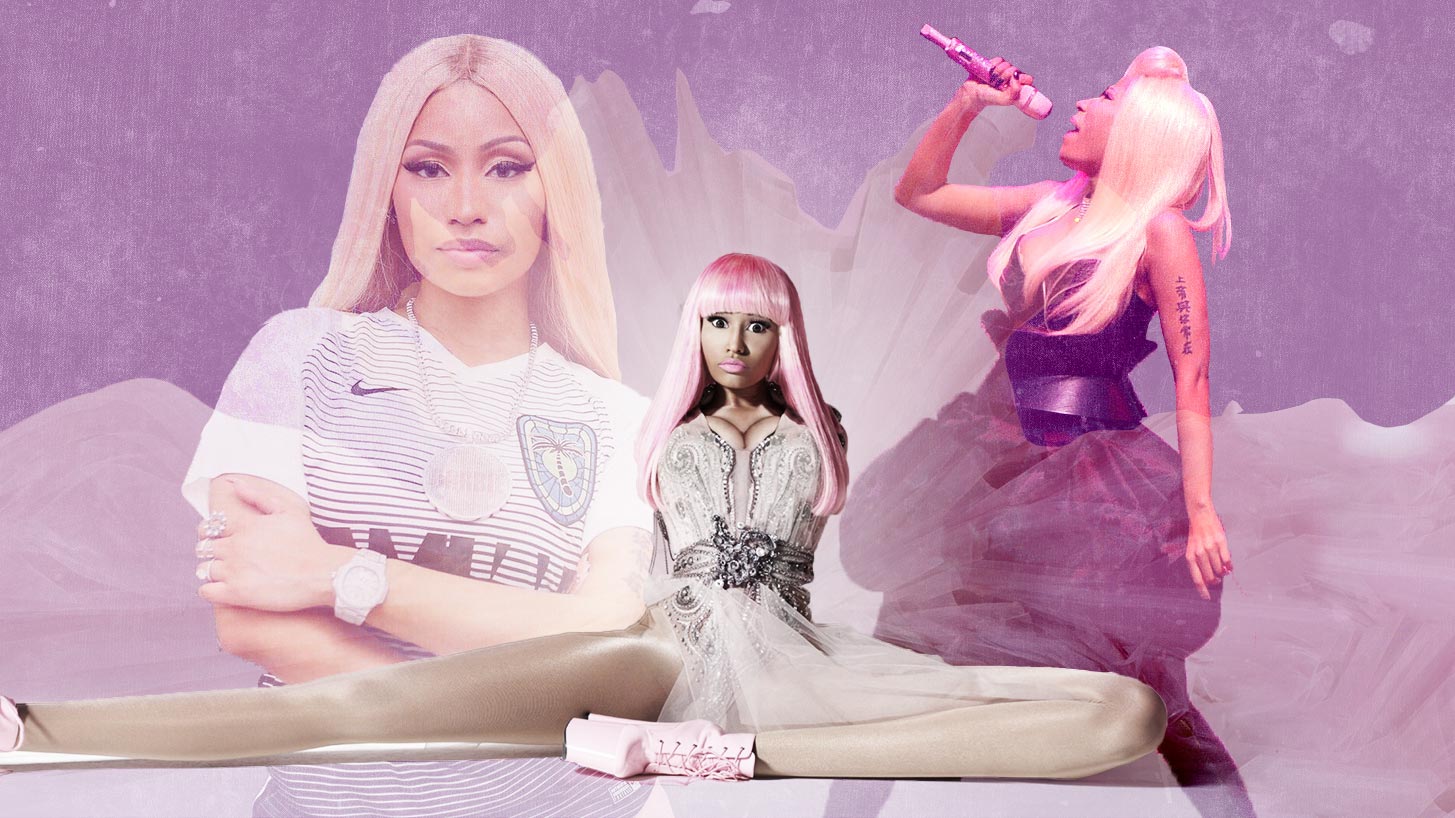 In honor of the 10-year anniversary of her debut studio album Pink Friday, we take a look at the most memorable soccer moments from Nicki Minaj.  
Ten years ago this week, Nicki Minaj gave us her debut album Pink Friday and took the nation by storm with her bubblegum branding and growling bars. The cool chick Lil Wayne saw rapping in a stairwell became a pop culture icon through her chart-topping hits and bright pink wigs.
With significant crossover success came ties to soccer both in the United States and abroad. Like her mentor Weezy, Minaj drops sports references in her lyrics as much as any ESPN-addicted man. While soccer isn't the strongest sport represented in her music, there are plenty of ways that the rap queen has been associated with the sport. Here's some of the ways that Nicki Minaj has ties (or maybe pink bows) to the beautiful game.
Saluting All Soccer Moms On "Blazin"
Pink Friday gave us many, many, many hits. In fact, the album produced NINE Hot 100 songs and SIX that have been certified gold or platinum. There were only 13 tracks on the entire LP. One of the lesser-known cuts is "Blazin," which Kanye West gave a witty verse for after Minaj tore up the scene with her guest appearance on Yeezy's "Monster." On "Blazin," Minaj's verse is full of bravado, especially as she champions soccer moms everywhere.
"I'm the best now/Anybody with some money should invest now/Soccer moms need to organize a pep ral'/Your game over, b*tch, Gatorade, wet towel"
Supporting Team Drake at Fam Jam Celebrity Soccer Game
Nicki supported her right-hand man and Young Money brother Drake at the 2017 Fam Jam celebrity soccer game in Miami. Drizzy's team lost against NBA star Draymond Green, but as we've seen with celebrity matches in the past, winning isn't a main priority. Minaj proudly sported her Team Drake jersey with the name "Barbie" on the back, of course.
https://twitter.com/KarenCivil/status/891106737402589184?ref_src=twsrc%5Etfw%7Ctwcamp%5Etweetembed%7Ctwterm%5E891106737402589184%7Ctwgr%5E&ref_url=https%3A%2F%2Fwww.complex.com%2Fsports%2F2017%2F07%2Ffamjam-soccer-game-drake-draymond-green
Minaj and Drake were everywhere during the Pink Friday era. Their mega collab "Moment 4 Life" came with a cinematic visual that cemented their status as hip-hop royalty.
Appearing With Neymar in "The Game Before The Game" Beats By Dre Commercial
Ahead of the 2014 World Cup, Beats By Dre enlisted Nicki Minaj and Lil Wayne for a massive ad campaign. They paired the two rap stars with some of football's finest for "The Game Before The Game." The 5-minute commercial features a who's who of soccer — Chicharito, Jozy Altidore, Robin van Persie, and more — all surrounding a narrative of hometown hero Neymar chatting with his father to get his mindset right for a match.
Don't blink if you don't want to miss Minaj's cameo (around the 2:37 mark) where she's admiring a magazine photo of Neymar. Because who hasn't?
That was also the year that Dr. Dre and Jimmy Iovine sold Beats By Dre to Apple for $3 billion. So you could say hip-hop was #winning in 2014.
Mario Balotelli & Manchester City Are Among Her Fans
Nicki Minaj has fans from across the sports world, including tennis star Serena Williams and F1 racing champion Lewis Hamilton. Among her international Barbs are members of the 2012 Manchester City team, who attended her "Pink Friday: Reloaded" show in the city when she toured Europe that year. This was when Mario Balotelli was the star of the squad and they were riding high off winning the Premier League championship. Teammates Joe Hart, Gareth Barry, Micah Richards and Joleon Lescott joined Super Mario in rocking out to "Dance," "Bottoms Up," and, of course, "Super Bass." Minaj flexed her skills as an actress, performing with an English accent as Martha, the mother to her alter ego Roman.
Minaj has now settled down from music a bit to start her family. Reflecting back on 10 years since her debut album, it is clear she has influenced the world. Her music is like soccer, as she says on, "I'm the Best," declaring her allegiances to her record label while making a much bigger statement: "That's Young Money/Cash Money, yeah, I'm Universal."