Based in Los Angeles but serving impoverished communities in El Salvador and Guatemala, the Academia de Futbol Juvenil Amatence is based on the idea that the power of selflessness and the beautiful game can change lives. Nominated by LAFC for the MLS WORKS Community MVP award, the charity is up for a $25,000 grant if they receive the most amount of online and Twitter votes. 
Steven Levy Cruz, founder of Academia de Futbol Juvenil Amatence (AFJA), is astounded at how far his organization has come since its beginnings in 2015. In four years, AFJA has gone from a simple Go Fund Me campaign to rally together funds and soccer gear to a fast-growing foundation that supports Central American communities via youth soccer academies.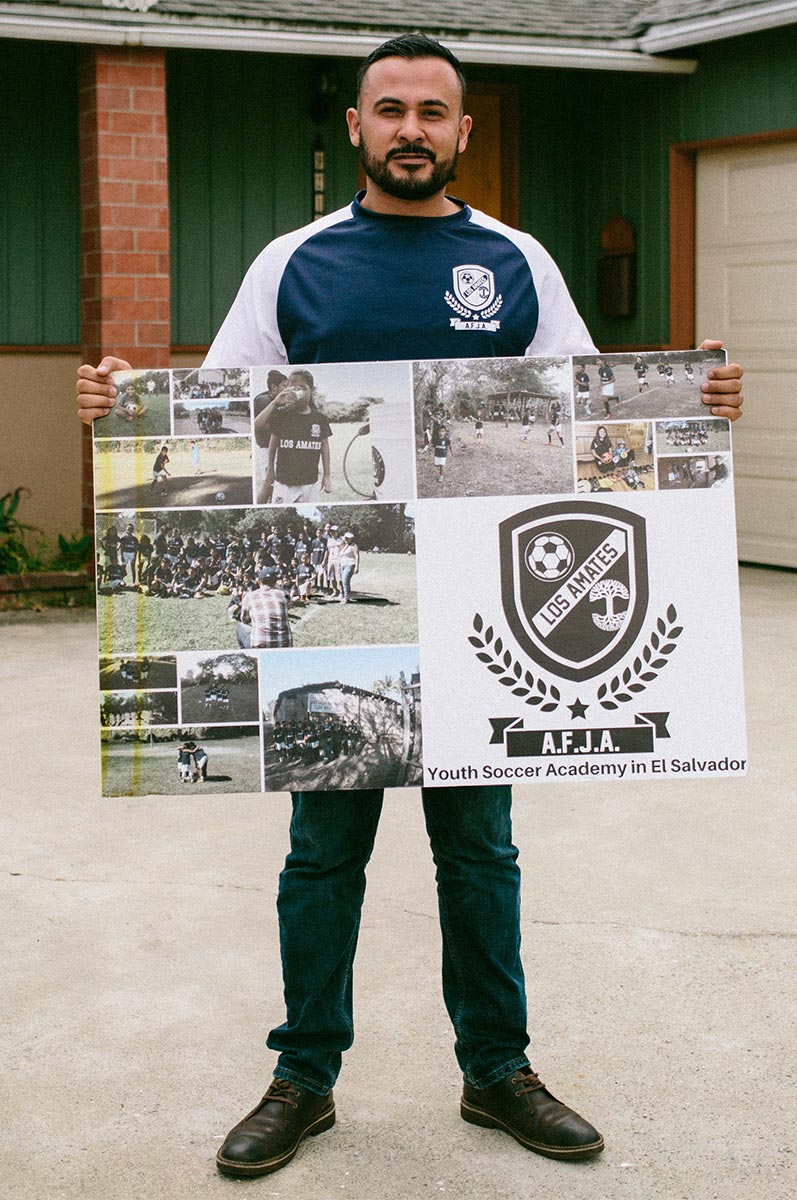 AFJA is a Los Angeles-based, nonprofit soccer academy that provides free programming in at risk communities in Central America. They collect used soccer gear to donate to the young players associated with its academies, and its goal, Cruz noted, is to play for peace and to promote social growth through the beautiful game.
While AFJA only gained non-profit status in 2018, the idea behind it had been cultivating for years and was inspired by the summers Cruz spent visiting his grandparents and other relatives in Canton Los Amates, El Salvador. He himself grew up in the United States, the son of two El Salvadoran immigrants who came to the U.S. in the 1980s, but it was important to his parents that he visited and got to know his family in El Salvador.
While in Los Amates, Cruz often played soccer with his cousins and other children in this rural town. Although these kids didn't have a lot of money and lived in unstable conditions, they were happy on the field. He quickly identified a stark contrast between the children in El Salvador, who often played in sandals or barefoot with no complaints, and his American peers, who needed to have the newest cleats or gear before they took to the pitch.
"One thing that really is key to the foundation of our organization is the experience of a kid," Cruz said. "Being born here, being a U.S. citizen, there's a disparity between what it's like to be a 10-year-old kid in El Salvador where you don't have shoes, where you're drinking water that's contaminated with lead, and all these tough things they grew up with. But still when we're on the field you know that sense of joy, you know that sense of being a kid. And that whole narrative just really stuck with me throughout my life growing up."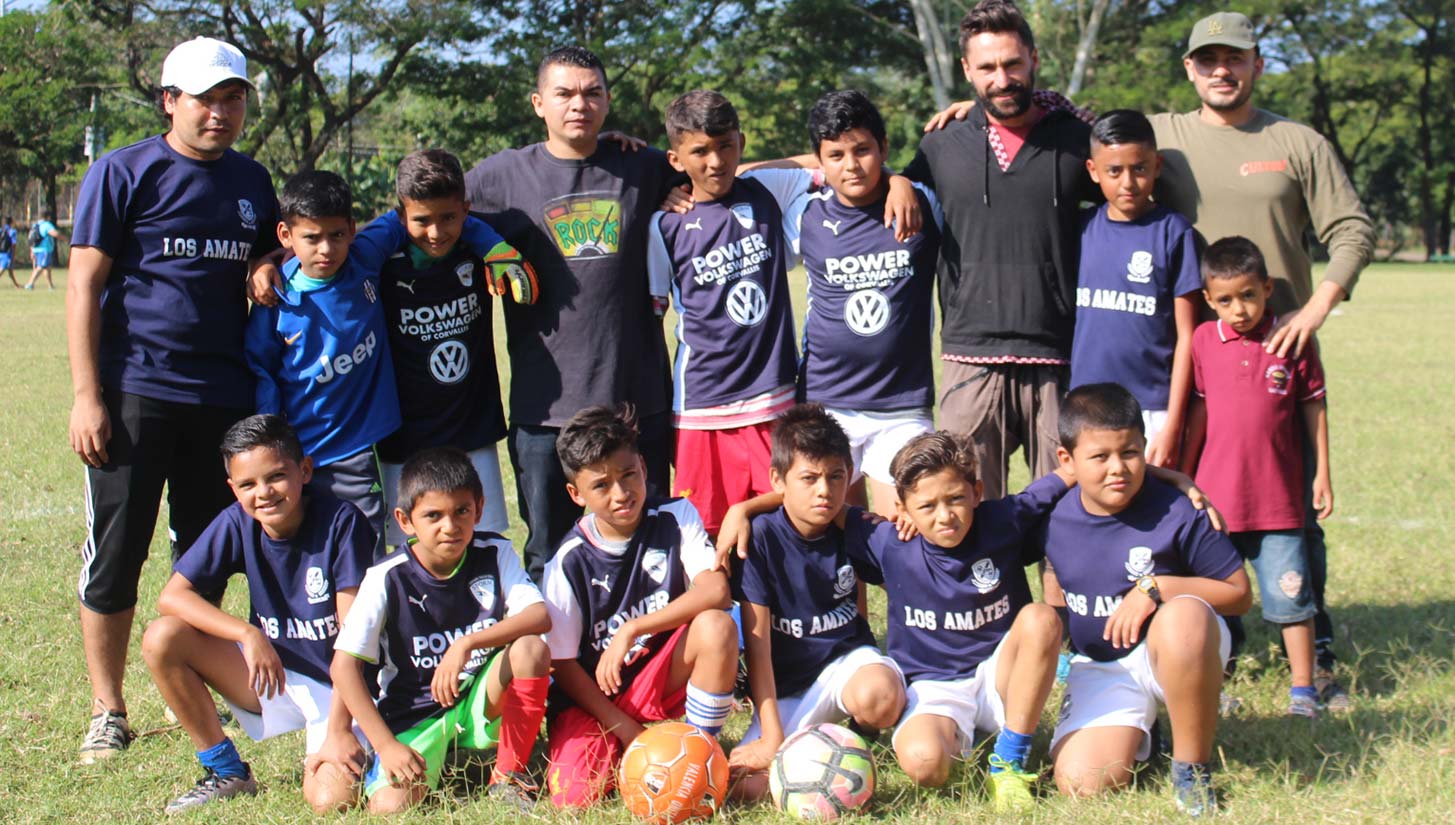 The summers of his childhood continued to influence him throughout his college days at the University of Southern California. He received a degree in biology, but he also minored in social entrepreneurship where he learned to develop a successful funding model for businesses and organizations aiming for social good in the world. After graduating, Cruz set up a Go Fund Me with the idea that he would raise just a few hundred dollars to buy soccer gear to donate.
"Much to my surprise within a few months we had surpassed our goal, and it just kept going, and going, and going — people from around the world that I didn't even know were donating," Cruz said. "And then my club soccer coach at USC donated a big van full of soccer gear, old pinnie jerseys, soccer balls, you name it. And little by little my garage started to become like a soccer storage unit."
It became apparent to Cruz that there was an opportunity to grow his project and to do even more good for the small, underserved community he spent his summers in, and for others like it all around Central America.
Cruz started first in Los Amates, setting up a youth soccer academy for boys and girls in the area. He called upon his cousins and old friends he grew up playing with, now adults in the community, to volunteer as coaches. The teams play and practice on a field that used to belong to Cruz's grandfather. He donated the land to the community so that it would have a place to play soccer. It runs in the family.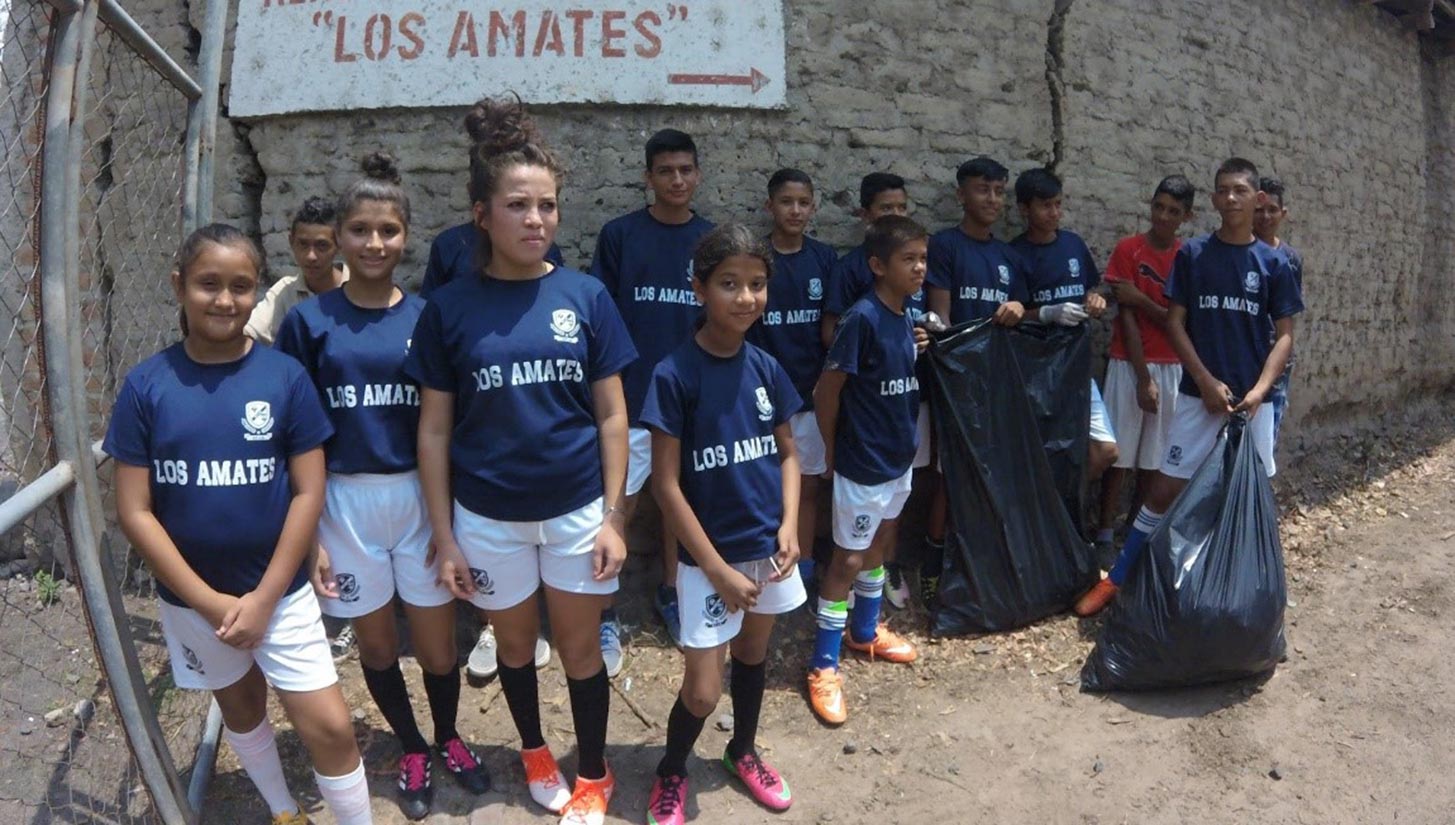 While the nonprofit revolves around the game, it also helps the youth in El Salvador stay out of trouble by promoting a sense of responsibility and ownership for their community. In order to play for the academy, a player needs to maintain good attendance on the field and in school, maintain acceptable grades, and participate in community engagement projects. When a child falls behind in any of these requirements, AFJA works with teachers and community members to give the children the support they need to get back on track.
In these ways, AFJA is heavily embedded into the community of Los Amates, building a strong sense of identity for its young players and showing them how to be proud of and respect their community, especially during trying political times where Central Americans are often negatively portrayed.
"While this is happening, so is the 2016 election — President Trump goes in office and is running a very nasty campaign," Cruz said. "And for our kids, this lack of identity and continuing to bash on this group of people has come to the point to where when I started having conversations with them as we walked through their own community. I'd ask them, 'Why is it that you think that there's so much trash on the ground?' And they say, 'Oh well you know that's how Salvadorans are.' But I tell them we're not. We are just a group of people who are products of our environment and conditions. And you can literally see the moment when you challenge them. I tell them, 'You know what, I'm Salvadoran. You know that there are Salvadoran astronauts? Salvadorans are also doctors, and lawyers, and respected people,' and you see them starting to have hope in themselves."
AFJA also provides young girls and women the rare opportunity to play soccer which not only boosts their confidence, but generally promotes healthier relationships between them and their male peers, relatives and community members.
"El Salvador unfortunately, much like a lot of countries around the world, still adheres to and suffers from severe issues with toxic masculinity and machismo, and we challenge that by empowering the girls in the game," said Cruz. "We give young girls the same opportunity that any little boy has. And any boy who wants to play soccer with us is going to understand that, under our supervision, he is going to treat all his teammates as equals. Through our academy, young girls are able to represent their community. I can't tell you how powerful it is to give a little girl her first pair of cleats or her first uniform that looks exactly the same as her brother's, with her community name across the top. And she feels like Megan Rapinoe, like a badass, like, 'I can do anything.'"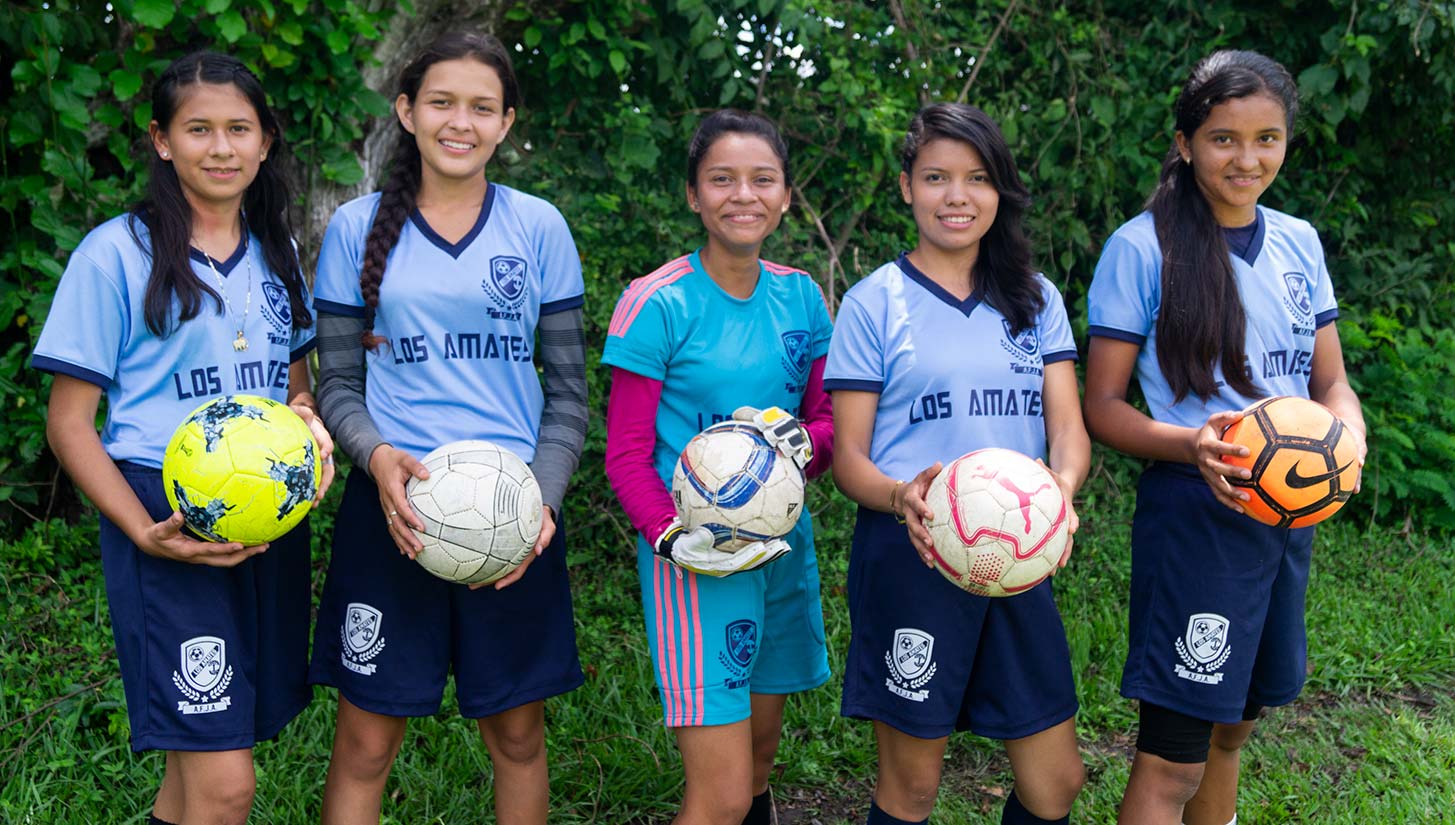 Throughout the years, Cruz has been inspired by the involvement he's seen from volunteers in El Salvador to friends, family, and community members in Los Angeles including local and national soccer influencers and supporters.
Feefa, an LA music artist and soccer player of Salvadoran descent, heard about AFJA through Instagram. He is excited to promote an organization that does so much good for the soccer community.
"Usually people always tell me about their movement," the Estilo de Vida rapper said. "AFJA showed me with their actions and made their vision clear. Soccer has helped me stay out of gangs and drugs. I think kids in underserved areas deserve the freedom to play and be creative. It teaches people how to work together and self discipline. With a little support and motivation, it can change kids' lives and they'll have a way to help their family. I support AFJA because they have good intentions. Everything they do is for the people. I'm all for that."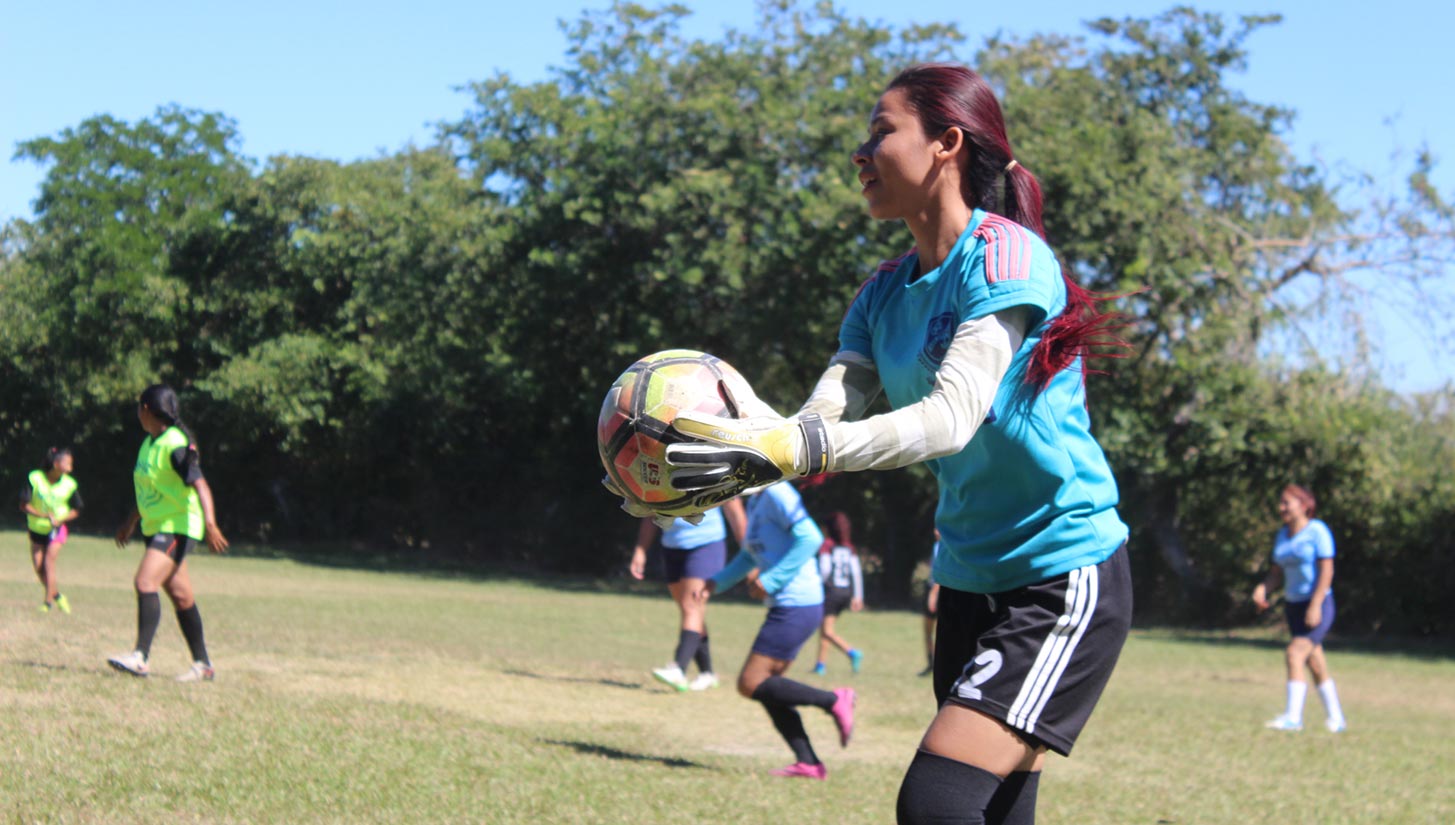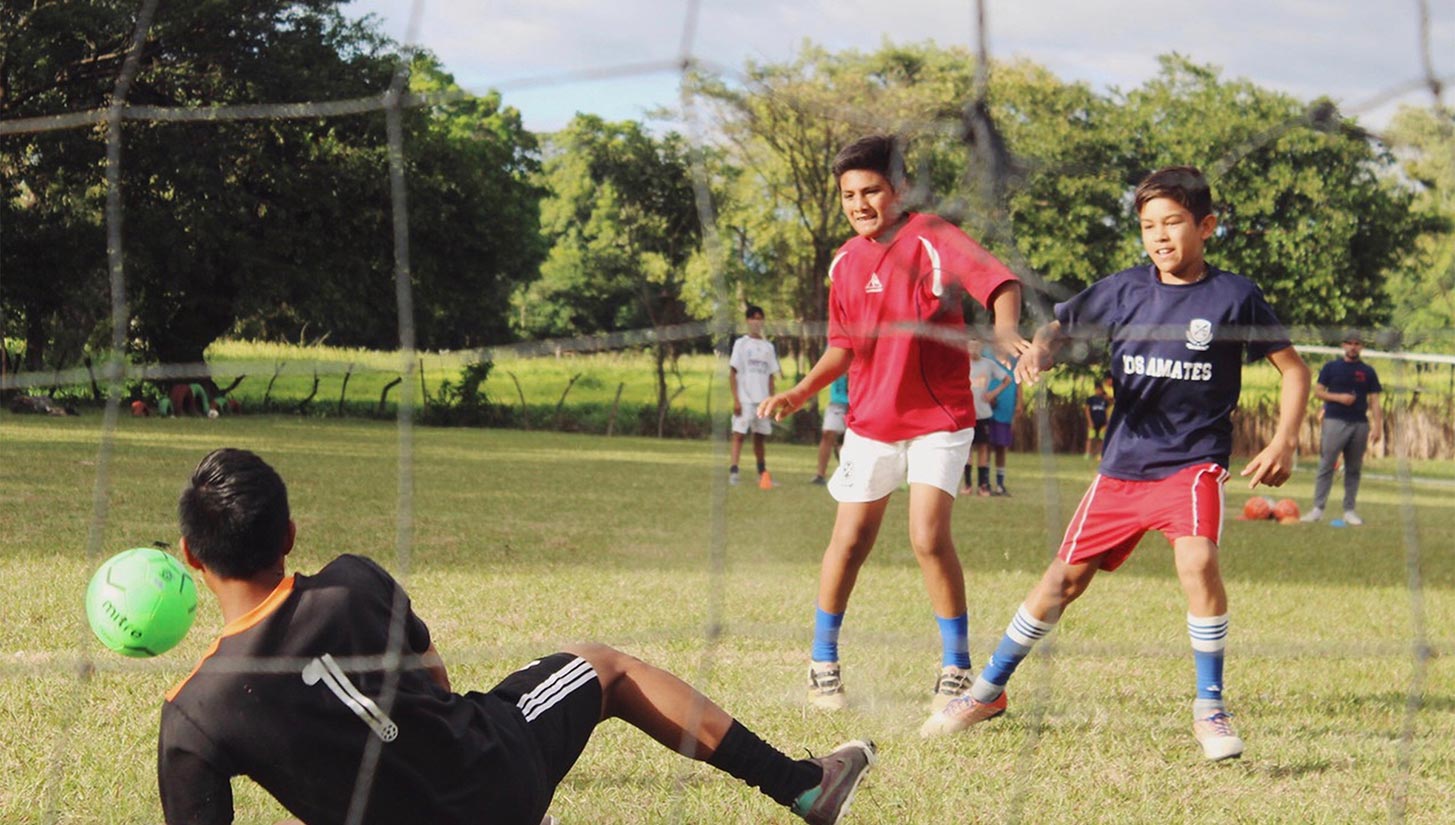 Cruz does not like to take credit for his organization's success, rather he tries to keep the focus on the good AFJA does for several small communities in Central America. He takes great satisfaction from his organization knowing that it spurns philanthropy in the U.S. to help build lesser served areas through the beautiful game in other parts of the world.
"It's not like some of the other programs where you just drop your shoes in a box and you don't see them again," Cruz said. "We try our best to highlight the journey. One of our social media pieces coming out is called 'The Life of a Cleat.' We go from the moment a kid in the U.S. buys a pair of cleats, plays in them, scores goals, and has triumphant moments. And then he takes them off, puts them in one of our donation bins and the cleat travels thousands of miles away, where they are cleaned up and handed over to another soccer player. It's the power of philanthropy."
Recently, AFJA was nominated by LAFC for the MLS WORKS Community MVP contest. Each MLS club selected a local charity that does extraordinary work through soccer, and the winner will receive a $25,000 donation. Cruz would use that money to expand to more places in Central America.
"As you can imagine trying to operate a youth soccer academy is already hard enough here in the U.S.," Cruz said. "Now imagine wanting to run one thousands of miles away in the fourth-most dangerous part of the world. There are a lot of nuances that go along with it. But I can't tell you just how much we love what we do and how impactful this is to these communities. Regardless of who you are, what your ideology is, this is a way to directly have an impact in the lives of kids thousands of miles away."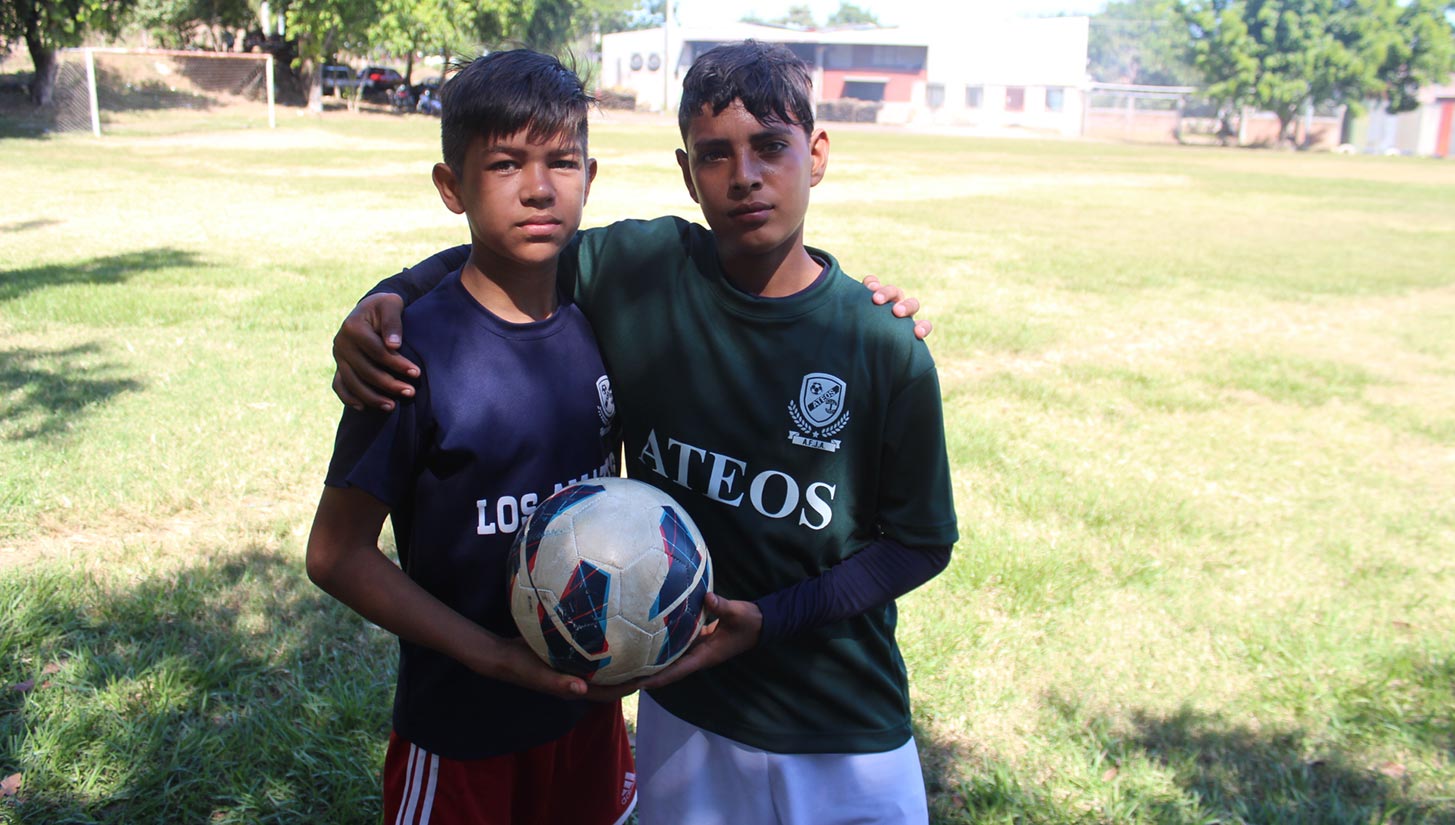 You can learn more about the MLS Community MVP contest and vote for Cruz and his organization here. Whether he wins or loses, Cruz hopes to gain more attention for AFJA and continue to expand and give back to underserved communities.
Learn more about AFJA through their website, and stay up to date with their work by following them on Instagram.