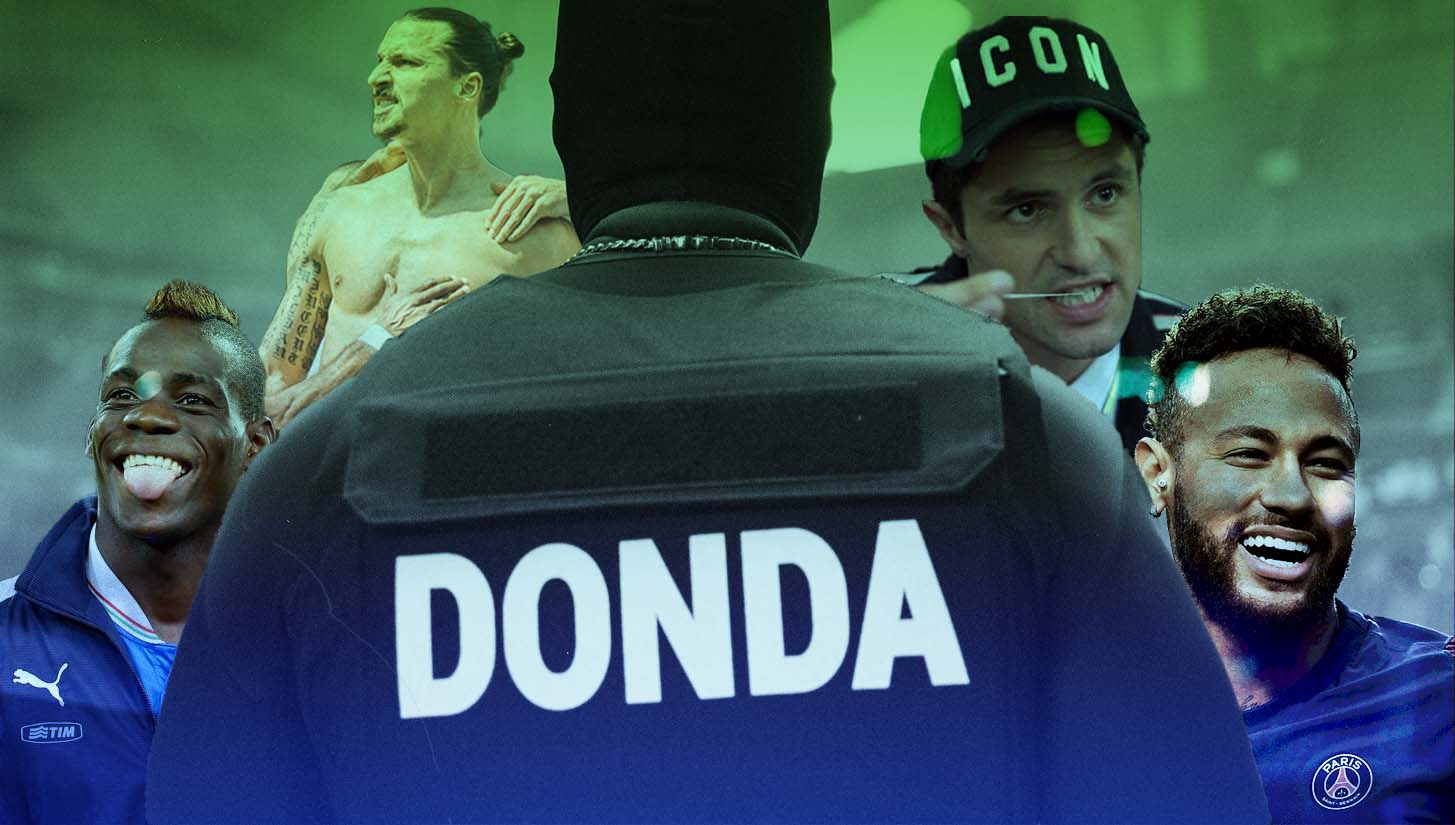 Recently announcing his Donda Sports imprint, we take a look at a handful of footballers who'd be fitting signings to Kanye West's new venture. 
Kanye West has been making headlines for more reasons than we can count. Among them is his trolling of Pete Davidson, the release of Donda 2, and the fact that he started Donda Sports. He's following in the footsteps of his (former?) best friend Jay Z who started his Roc Nation Sports agency in 2013, and manages the careers of Romelu Lukaku, Kevin De Bruyne, and Tyrone Mings, among many others.
Any athlete signed to Donda Sports needs to be able to keep up with Ye's eccentric personality, and maybe even have sporadic tendencies of their own. The company has signed its first athlete and named its president in NFL receiver Antonio Brown, who's had his fair share of controversy. Brown and Ye were sitting together at the Super Bowl in February, possibly scouting for more talent for the agency's roster.
But Donda Sports shouldn't just represent American football stars. As Ye has become an international cultural icon, it would only make sense for him to reach the globe by enlisting the greatest international footballers. The drama of the beautiful game goes beyond the pitch and extends to outbursts, celebrity gossip, and even criminal activity.
Here's seven football players we think would make great fits at Donda Sports.
Mario Balotelli
Where do we start with Mario Balotelli? While the illustrious striker has been fairly quiet the past few years, part of his claim to fame is that he is quite a character. Among his antics include violating team rules by going to a strip club, violence on the pitch, trespassing at a women's prison, and having his house nearly burnt down when his buddy lit off fireworks in the bathroom — on the eve of the Manchester Derby. His recent return to the Italian national team offers the perfect timing to sign to a big-name agency like Donda Sports.
Brek Shea
While Brek Shea might not be the superstar name that some of the other players on this list are, he's still deserving of a spot on the Donda Sports roster. He's known for his eccentric hairstyles, snake wrangling, and the occasional banger. The Texas native had all the talent in the world and played for the United States men's national team at the age of 20 while establishing himself as a bona fide threat at FC Dallas. After a less-than-stellar stint in Europe, he returned to MLS and currently plays for Inter Miami CF. Like Ye, Shea's a renaissance man and enjoys painting, something that kept him busy when he was injured and trying to find his way again.
Aminata Diallo
You might not know this name right away, but you know the story. Aminata Diallo is the PSG player who was accused of hiring a hitman to attack her teammate Kheira Hamraoui. They both compete for playing time as the French team's central midfielder and the story spirals down a rabbit hole of jealousy, love triangles, and PR nightmares. Diallo, who was released from police custody without any charges, has insisted she is innocent and feels that this whole ordeal has incredibly damaged her reputation. Does "damaged reputation" sound familiar? Perhaps signing to Donda Sports, where Kanye West is no stranger to navigating the press, creating his own image, and embracing controversy, is the perfect next move for her.
Zlatan Ibrahimovic
Zlatan Ibrahimović is 40 years old now and, despite a serious injury last year, is not looking to slow down any time soon. The Swedish icon has made his name off his eccentricities as football fans never know what to expect out of his mouth. After injuries marred his tenure at Manchester United, he reignited his career with the LA Galaxy, but he didn't need Hollywood to become a cultural superstar. He's since returned to Europe's top flights with AC Milan, and age hasn't slowed down his running mouth. He recently told Italian station Radio 105, "It's Ibra who decides when to stop. A lot of people tell me I'm done with football, but I'm encouraged. I am confident in everything I do. I don't know how far I will go, but I always try to push the limit. Why be normal when you can be stronger?" Ibra's and West's quotes could very well be interchangeable.
Neymar
The guy's documentary is called The Perfect Chaos. Without knowing it was about Neymar, you could have easily convinced anyone that a film with that title was actually about Ye. Neymar is an incredible footballer. No one can deny that. But some might consider that his legacy is tainted by antics of dramatic falls and celebrity gossip. While it does seem like the Brazilian superstar has found his footing with his own representation — his father reported in the documentary that they have more than 200 people across NR Sports' branding, marketing, and media entities — perhaps an alignment with another enigmatic superstar would make a lot of sense.
Jamie Tartt
Even though he's a fictional character, Jamie Tartt mirrors Kanye West's ego quite well. Besides his braggadocious style of play, Tartt is often in the tabloids for partying and womanizing. He's had a foray into the world of reality television, appearing on Lust Conquers All, much like Ye was a part of Keeping Up With The Kardashians through his marriage to Kim Kardashian. Tartt would be a great addition to Donda Sports as the Richmond FC striker has shown tremendous character growth, and would probably greatly enjoy modeling whatever oversized Yeezy coat Ye wants to give to the world. He just won't be wearing a shirt underneath.
Mauro Icardi
Love him or hate him, Mauro Icardi is one of the most controversial footballers of our time. He's plenty talented as an athlete, but his affair with Wanda Nara, the wife of fellow Argentinian-in-Italy Maxi Lopez in 2013 was a major turn-off for many fans. He went on to marry Nara and became a gossip column mainstay. Nara reportedly called off the marriage recently accusing him of cheating, but they were all lovey-dovey for Valentine's Day even as his time at PSG has been underwhelming. The roller coaster off the pitch and potential on it are a perfect fit for Donda Sports.