One of the greatest underdog stories in world soccer, Uruguay is heading into its 14th FIFA World Cup with a history that other much larger soccer nations can only dream of having.
What do the USMNT, Mexico, Netherlands, Belgium, Denmark, Serbia, and Portugal all have in common? They don't even come close to the history of the Uruguayan national team. To avoid a long detailed account of the history of Uruguay, it all comes down to three elements. A population of only 3.4 million, a soccer-mad country, and an incredible statistic: Eight out of 10 boys play the game of soccer in an organized manner in one capacity or another.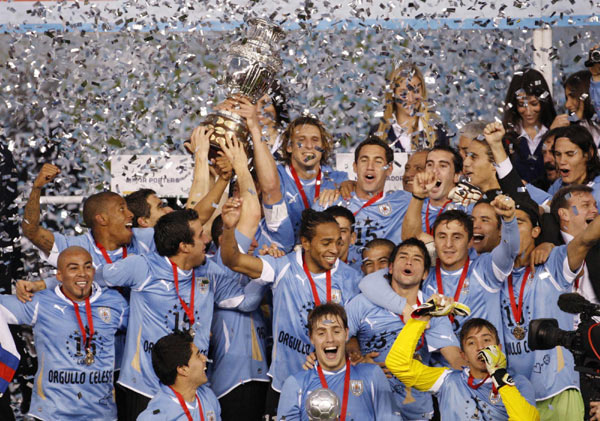 That formula has led to Uruguay winning two FIFA World Cups, 15 CONMEBOL Copa Americas, two Olympic gold medals, and a 1980 World Champions' Gold Cup, for a total of 20 major national team titles.
Along the way great players such as Héctor Scarone, Fernando Morena, Óscar Míguez, Diego Forlán, Enzo Francescoli, Obdulio Varela, Luis Suarez, and Edinson Cavani have all graced a World Cup pitch wearing Uruguay's signature "La Celeste" kit.
Despite an up-and-down qualification campaign, Uruguay is once again ready to shock the world in the 2022 World Cup, in which they currently are tied for the 11th best odds to win. They will line up against a competitive Group H which includes Portugal, Ghana, and South Korea — all teams Uruguay has faced (and beaten) in previous World Cups. It's the match against Ghana that has already captured the world's attention after their incredible and dramatic quarterfinal match in 2010.
Children of Maracaná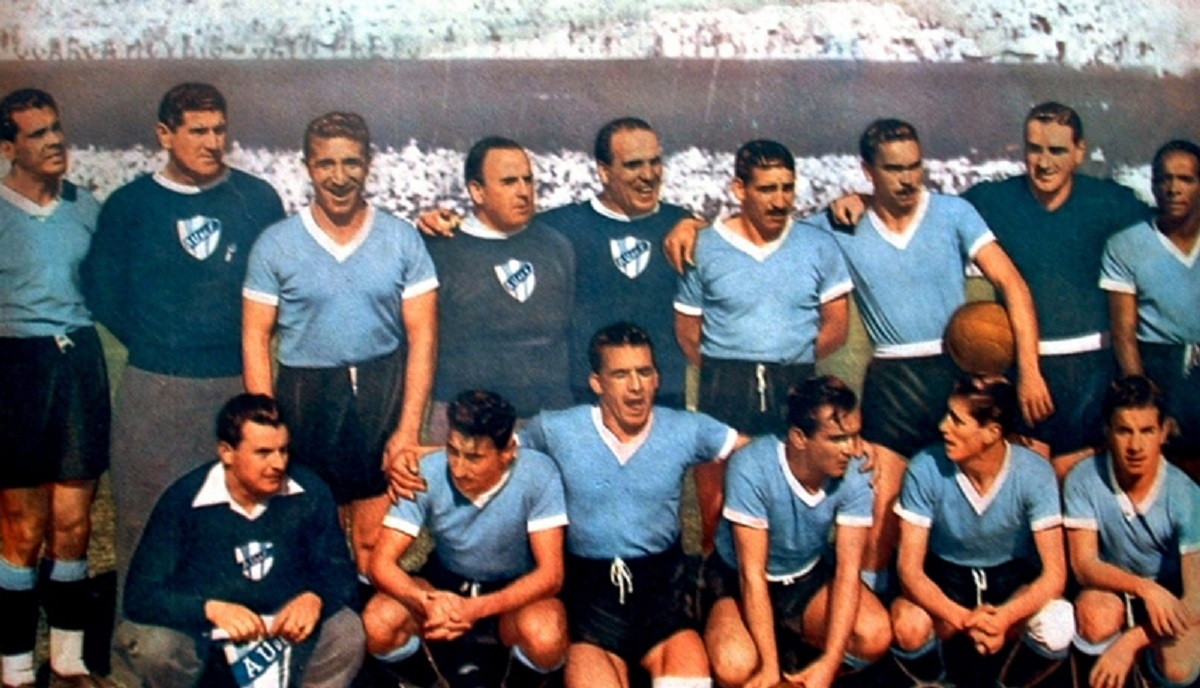 It has been said that everyone born in Uruguay are "children of Maracaná," in reference to the 1950 World Cup victory over Brazil in the famed Maracaná stadium in Rio de Janeiro. There, Uruguay came from 1-0 down to defeat Brazil, who needed just a draw to win the uniquely-formatted tournament, 2-1 to claim the FIFA World Cup.
On that day, in front of over 100,000 spectators, Uruguay won their second World Cup and would continue their undefeated run in the competition until 1954, where they'd lose their first World Cup match against Hungary in the semifinals. From 1930 until 1954, Uruguay had not lost in the tournament and to this day holds a record of 24-20-12.
It is from that iconic victory against Brazil in 1950 that La Garra Charrúa was born to symbolize Uruguay's never-say-die attitude and tendency to come from behind in important matches. La Garra Charrúa is a fighting spirit that ekes out goals and wins in the last minutes. When it seems Uruguay is finished, the national team always resurfaces.
El Proceso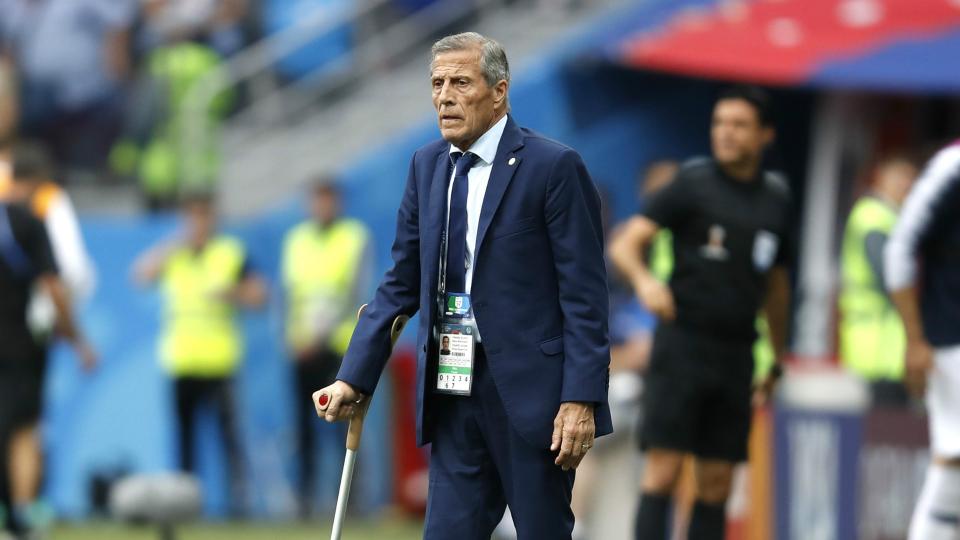 While Uruguay's soccer history is rich with a winning tradition, by the end of 1990 things took a huge turn for the worse. The national team program, like the local soccer league, began to fall victim to poor management. As the best Uruguayan players were being sold to Europe, many of them without the proper education to keep a good head on their shoulders as well as not being ready for such an elite level, the players, program, and country suffered greatly from the decline.
That unfortunate combination led to Uruguay missing three out of the four World Cups between 1994 and 2006. In the one that they did qualify for, the 2002 tournament in Japan and South Korea, they didn't make it out of the group stage. After 2006 the program seemed in complete disarray and with no real future in sight.
The AUF, the Uruguayan soccer federation, called upon Óscar Washington Tabárez to try and right the ship. After a period that saw Tabárez filter out many players he did not deem national team worthy, mainly due to their attitude off the field, the program turned the corner.
Tabárez wanted to choose the right players under certain principles to build team unity, hard work, and empathy from the Uruguayan fans. The idea hung on one unified idea, known as the Proceso de Institucionalización de Selecciones y la Formación de sus Futbolistas, or the Process of National Teams' Institutionalization and Players' Growth. From the U15 team and up, every player had one centralized way of working to lead as a chain to the senior program.
That way of working led to the discovery and positioning of players such as Fernando Muslera, Edinson Cavani, Luis Suárez, Nicolás Lodeiro, Álvaro Fernández, José Giménez, Rodrigo Bentancur, and Federico Valverde.
Uruguay would go on to qualify for the 2010 (semifinalist), 2014 (round of 16), and 2018 (quarterfinalist) World Cups, but after a series of poor results in the recent qualifying campaign, Tabárez was let go after almost 15 years in charge of the national team. Enter former Inter Miami head coach Diego Alonso, who changed aspects of Uruguay's game to make them more attacking minded while keeping the pillars left behind by Tabárez.
Under Alonso, Uruguay had a remarkable turnaround in qualification and would eventually be placed in Group H.
How Does Uruguay's Group Pan Out?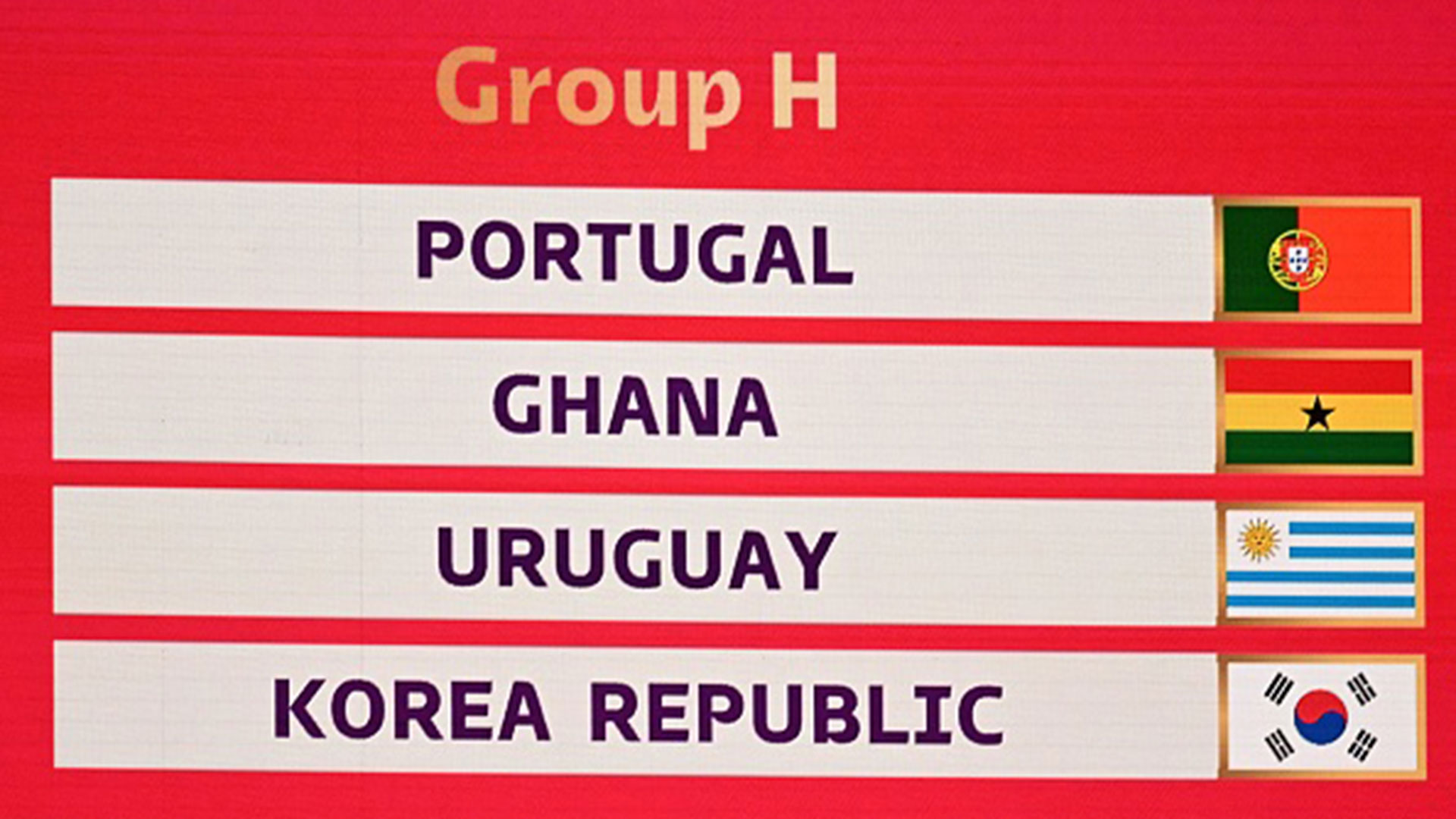 Portugal seems to be the toughest opponent in the group and will be one that will want revenge, as Cristiano Ronaldo and company were eliminated by Uruguay in the last World Cup. Two magnificent goals by Cavani and a defense that kept Ronaldo at bay gave Uruguay a ticket to the quarterfinals.
South Korea last met Uruguay in a World Cup in 2010, where two goals by a young Suárez put Uruguay into the quarterfinals against Ghana, which was the country's most memorable World Cup match since the 1950 final against Brazil.
July 2, 2010: "The Hand of God now belongs to me."

In the final minute of ET in a 1-1 World Cup QF, Uruguay's 🇺🇾 Luis Suarez deliberately handles the ball to save a goal & is sent off.

But Ghana's 🇬🇭 Asamoah Gyan misses the penalty & Uruguay wins the match in PK shootout pic.twitter.com/KwWHDjyURi

— This Day In Sports Clips (@TDISportsClips) July 2, 2021
In South Africa, Ghana would take a 1-0 lead on a Sulley Muntari goal, only for Diego Forlan to tie the match in the second half from a free kick. Near the end of the match a Suárez hand ball on the goal line, which saw him red carded, led to a penalty kick, which Asamoah Gyan would miss. The game remained tied after extra time, and in a dramatic penalty kick shootout, Uruguay would win with a panenka by Sebastián Abreu.
That win led to a frenzy in Uruguay that carried the team to the 2011 Copa America championship and a restored belief in the abilities and talent of the national team.
Players to Watch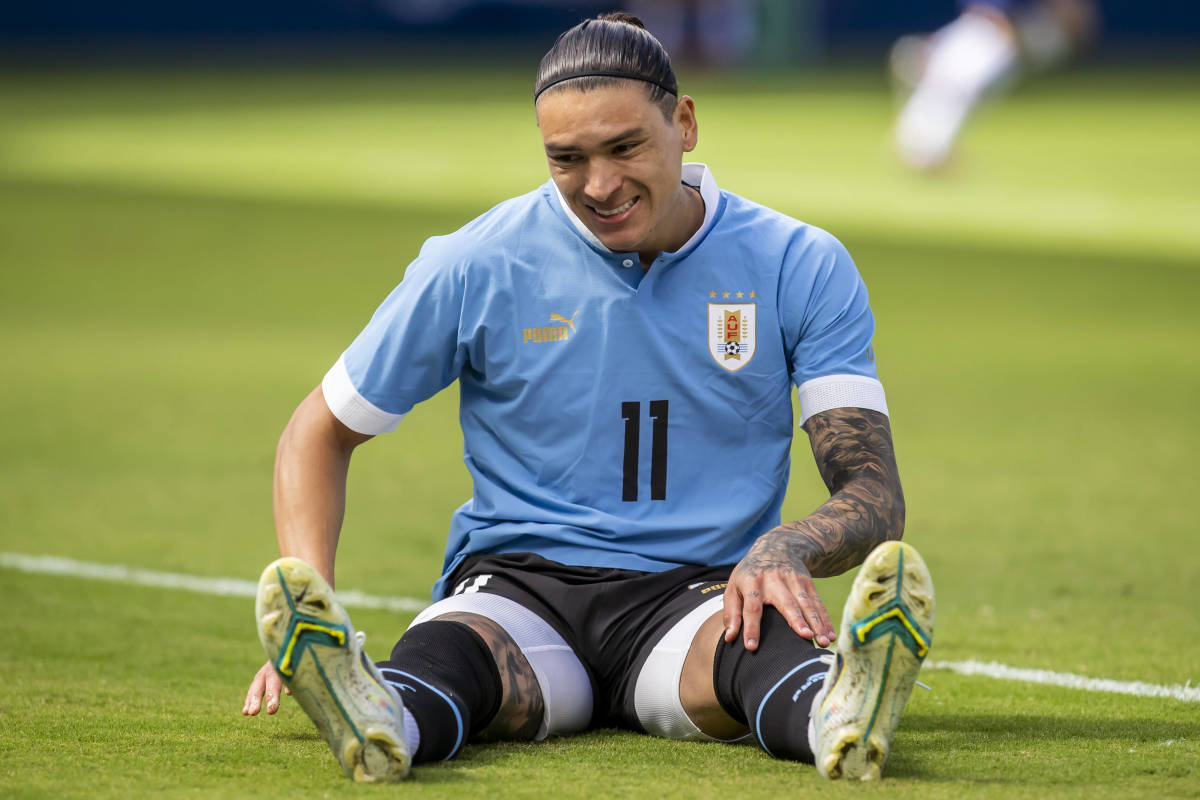 By far the top player to watch for Uruguay entering the 2022 tournament is Liverpool attacking ace Darwin Núñez. Núñez has only two goals in 11 games for Uruguay, but that is mostly due to inconsistent playing time, as he has made way for Cavani and Suárez. Although given all three's recent form, it's not hard to argue that Núñez should be the starting striker at this point over both of Uruguay's all-time leading scorers.
Real Madrid's Federico Valverde has come into his own over the last few years under Alonso and Tabárez.  Valverde is the motor of the Uruguayan midfield, and with his more creative play at Real Madrid, look for him to become a bigger presence in the attack.
Ronald Araújo, Facundo Pellistri, and Diego Rossi round out a group of new young players that are giving Uruguay a lot of momentum for this World Cup and others to follow.
Uruguay is a country with a rich soccer history, and while at times it may lack all the bells and whistles, it is a place that creates elite soccer players. Now under a new and refreshed mentality, Uruguay is ready to continue their strong tradition of deep and improbable runs at World Cups.