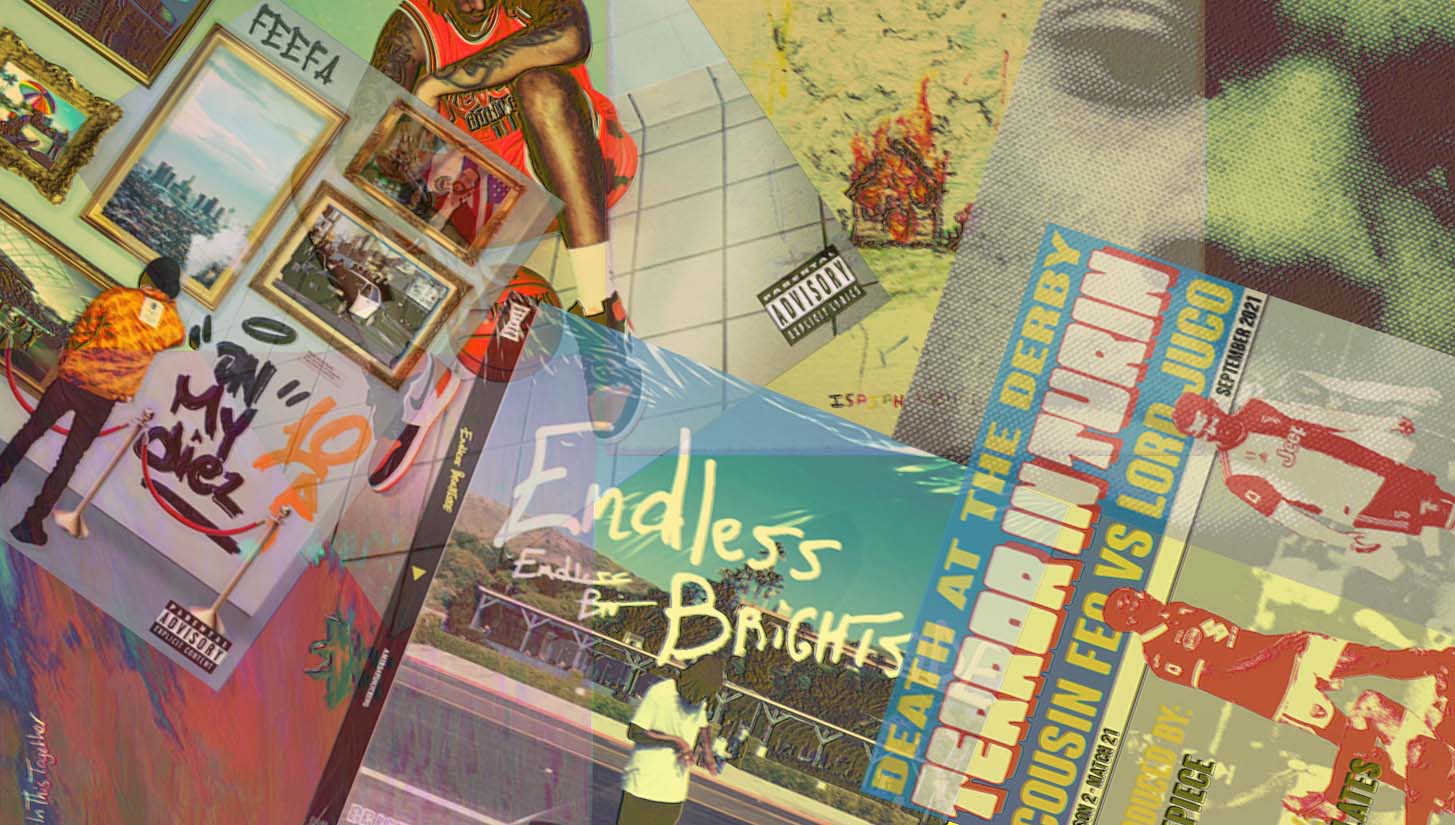 Like we always do about this time — we count down the best songs of 2021. From footballer references to long-awaited project drops, these are the tracks that have dominated our airwaves this year.
A year ago, we were hoping that 2021 would bring a fresh start after what was an incredibly tumultuous 2020. It seems as if the sentiments heading into 2022 haven't changed much.
As the march towards a pre-pandemic normal grows more never-ending, 2021, like its predecessor, was full of triumphant highs and sobering lows. Lionel Messi shockingly left Barcelona to form a superteam with Neymar and Kylian Mbappé in Paris. Virgil Abloh died from a battle with cancer that he kept private from the outside world. The formation of a European Super League came and went in less than a week. Carli Lloyd retired after an illustrious career, playing one of her final games for Gotham FC in her hometown of Philadelphia.
It all happened in a year that felt both interminable and lightning fast at once. As usual, we were gifted with plenty of music to help get us through the oxymoronic year. British rap continued to make waves here in the United States as artists paid tribute to their favorite football teams and players, veteran MCs showed that they still had it, and rising stars made a name for themselves.
Here's 14 of our favorite songs of 2021.
Russ Millions ft. Tion Wayne – "Body"
You must live under a rock if you didn't hear "Body" by Russ Millions and Tion Wayne. The drill-infused goodness was all over TikTok and was just a motivational, aspirational good time that we had on repeat. The hype was so real there was even a remix that enlisted British royalty Bugzy Malone and United States drill prince Fivio Foreign.
Isaiah Rashad ft. Lil Uzi Vert – "From the Garden"
For years, we had Isaiah Rashad's The House is Burning on our lists of albums we were patiently waiting for. And we finally got his masterpiece of a project this summer. There's plenty of tracks to choose from as Zay really showed how elite he is as a storyteller and his ear for production. But "From the Garden" was a pleasant surprise collaboration with the bubbly Lil Uzi Vert over twerk-tastic production from Kal Banx.
Baby Tate – "Pedi"
Baby Tate dropped the "Yung" from her name in October to let the world know that she's grown and means business. The first single under her new moniker, "Pedi," is braggadocious and infectious. It's full of wordplay and just lots of fun.
Dave – "Survivor's Guilt"
It's no secret that as an Urban Pitch community, we adore Santan Dave. Both his production and storytelling are brilliant, and he gracefully avoided the sophomore slump with We're All Alone in this Together. There's so many moments to choose from, whether it's the artful "Verdansk" where he has some cool Manchester United wordplay, the ultra-hype "Clash" with Stormzy, the history lesson of "Three Rivers," or the flirtatious "Law of Attraction" with Snoh Aalegra. But we ultimately decided to go with the closer "Survivor's Guilt" with an uncredited appearance from Jorja Smith because it is perfectly haunting and just leaves the listener like, "Wow."
BONUS: Jorja Smith – "Addicted"
Jorja Smith is still doing her thing too! Whether you first heard her on Drake's More Life album playlist or her own mega-hit "On My Mind," it's nearly impossible not to love her silky vocals and effortlessly cool style. Smith had a fairly quiet 2021, but "Addicted" was a fun love song that we can all relate to on some level.
Feefa – "On My Diez"
Feefa always brings the heat and his latest project, On My Diez, is no different. The project weaves Latin trap with heartfelt songs about love and the city. "Somos LAtinos" continues his brand of unity and local pride, while "Corre Corazón" slows things down a bit. But our favorite has to be the intro and title track. It's fiercely motivational and reminds us to stay ten toes down.
Drake ft. 21 Savage and Project Pat – "Knife Talk"
The long wait for Certified Lover Boy was finally over in September. Most of the project was typical Drake and, after 10 years in the game, we applaud how he has the formula for a hit song down, but yawn at the microwaveable product. Perhaps "Way 2 Sexy" was the biggest song off the album, but we have selected the gritty "Knife Talk" where Drizzy enlisted his frequent collaborator 21 Savage and the legendary Project Pat. After the success of "Sneakin'" and "Mr. Right Now," Drake and 21 returned for perhaps their darkest song yet, but the 808s are thumping and the lyrics are perfectly motivational for game day. "Ain't no regular F-150…"
BONUS: DJ Khaled ft. 21 Savage and Justin Bieber – "Let It Go"
21 Savage has continued to impress as he shows different sides of himself. He's known as cutthroat and grim, but his appearance on "Let It Go," a love song about knowing what's important in life, really makes you run it back.
AJ Tracey – "Cheerleaders"
Tottenham fan AJ Tracey made his grand return in the form of his Flu Game album. The project fuses drill, house, and pop as Tracey reflects on his rise to fame and desire for affirmation. We enjoyed "Summertime Shootout" and "West Ten," but chose "Cheerleaders" as one of our favorite songs of 2021 because it's very motivational and has a handful of great footy lines. He declares himself a captain with an armband and shouts out several legendary players, including Xavi Hernández, Paul Scholes, and Kylian Mbappé.
WILLOW ft. Travis Barker – "transparent soul"
WILLOW has come into her own. Long gone are the "Whip My Hair" days and it's evident she's become more than just a child of uber-famous parents. Her latest project, lately I feel EVERYTHING, is a pop-punk tour de force. The lead single, "transparent soul," enlists everyone's favorite drummer, Travis Barker, for an outcry against backstabbers and fakes.
AmirSaysNothing – "R&R"
After a cool EP with Warm Brew's deSerko, AmirSaysNothing released his eclectic Endless Brightside album this year as a perfect continuation of his Brightside brand. There's a little bit of everything on the album, from drill, to funk, to boom-bap. But we chose the uplifting "R&R" as one of our favorite songs of 2021 because the ethereal choir and Amir's smooth flow is just what we needed.
Fredo ft. Summer Walker – "Ready"
Few others make music that perfectly balances the hardships of life with aspirational anthems as Fredo. He released two projects this year, Money Can't Buy Happiness and Independence Day. The latter features a few more soccer references  — see the Raheem Sterling shoutout on "Talk of the Town" and Headie One's references to several players on "Wandsworth to Bullingdon" — but the former has more bops. We were so close to choosing "Burner on Deck" with Young Adz and the late great Pop Smoke (whose growls make you shed a thug tear) because it's an exemplary luxury rap banger. BUT Fredo really outdoes himself with "Ready" featuring Summer Walker. The song perfectly references the classic Fugees cut and sends chills up your spine.
Vince Staples – "ARE YOU WITH THAT?"
Long Beach rapper Vince Staples remains on our radar and he continues to impress with this year's offering, a self-titled LP that packs a punch. Album opener "ARE YOU WITH THAT?" sets the storyline nicely with a bouncy soundscape from Kenny Beats. With clever-yet-real lines like "Keep my shit off safety/You know you can never be too safe," Staples reminds us why we love him so much.
slowthai ft. Skepta – "CANCELLED"
British punk rapper slowthai really came into his own this year with the autobiographical TYRON. The project is split neatly into two halves to show his duality. A standout from the riotous first half is "CANCELLED," a looming track that features rap royalty Skepta and serves as a bridge of generations. It's braggadocious and haunting and definitely one of the best songs of 2021.
Death at the Derby – "Terror in Turin"
We simply can't get enough of Death at the Derby and are so grateful Cousin Feo, Lord Juco, and DJ Dubplates are still at it. This year, the trio released a series of tracks to continue celebrating epic football rivalries, but one that we especially enjoyed was "Terror in Turin," a tribute to the Derby della Mole between Juventus and Torino. The song is a sharp boom-bap beat with a sprinkling of horns provided by producer Timepiece and features crisp flows that make any hip-hop head's heart flutter.
Little Simz – "Woman"
Little Simz has so many levels to her artistry. The title of her latest album, Sometimes I Might Be Introvert, might read as awkward at first, but it's actually an acronym of her name, Simbi. The British rapper has continued to draw audiences in with her authenticity and ability to celebrate real life. We chose "Woman" for its simplicity and airiness that just makes you feel good. It's a celebration of women everywhere, but we're sure the fellas have been humming along to this too.