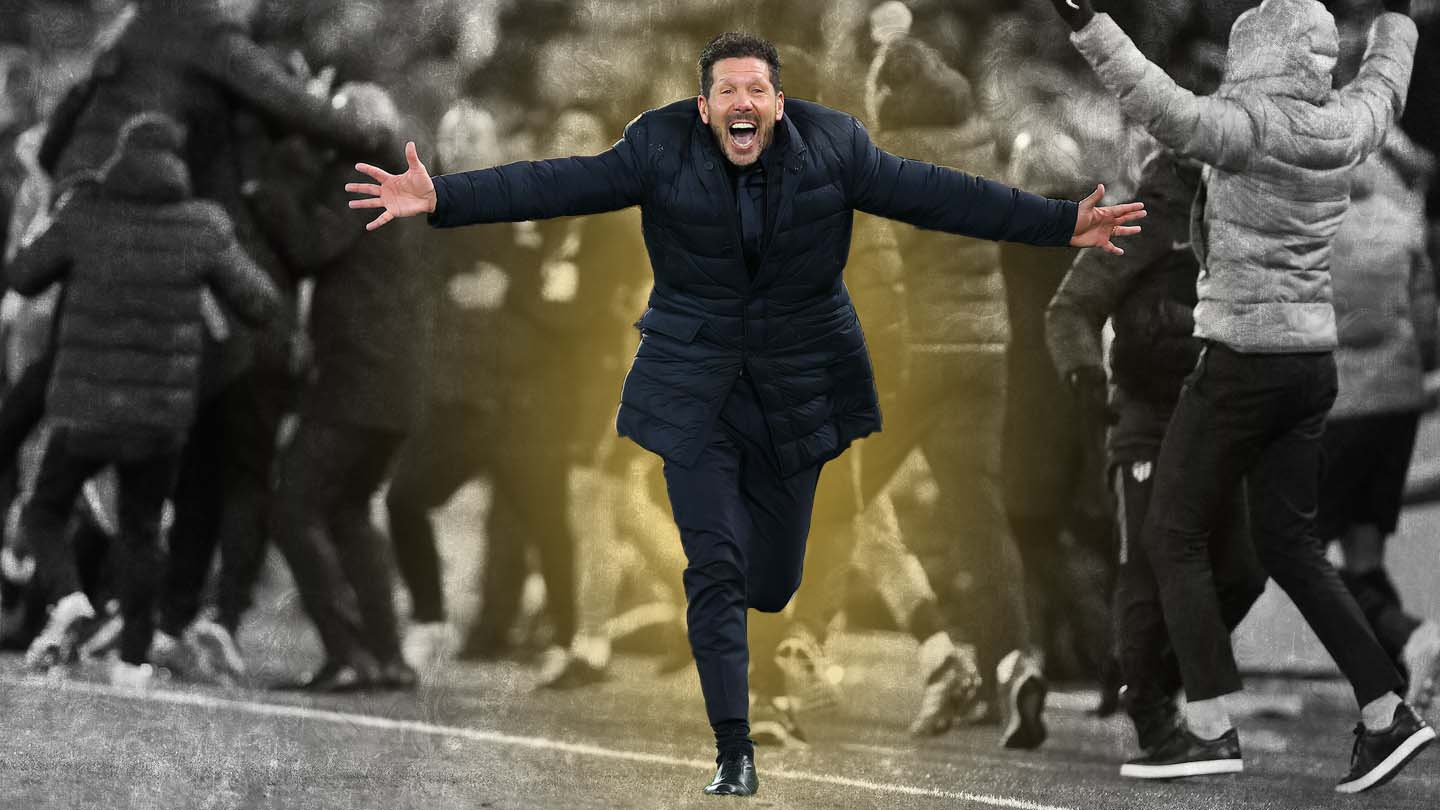 One of the most intense and passionate figures in all of football, Diego Simeone has not-so-quietly been the longest tenured manager in La Liga. We pay tribute to the fiery Argentinian that has led Atlético Madrid to a top-three league finish in every full season he's managed. 
Diego Simeone is the manager that Roy Keane, Genero Gattuso and Ted Lasso's Roy Kent think they are. Gritty, ferocious, no-nonsense, ruthless, sophisticated, and an otherworldly ability to get his players to buy into a team identity. He has led Atlético Madrid from an occasional contender to a perennial competitor on the grandest European stages. And while the team always has slightly different styles, its core identity is based on effort and fearlessness.
It's perhaps Simeone's greatest accomplishment that he has been able to get his teams to play in the same manner that he did — physical, combative, and with a chip on their shoulders the size of the San Siro. Like all team sports, football is filled with egos in the locker room, and the consistent commitment from Simeone's squads is a testament to his leadership ability.
While lauded for his intensity, Simeone seems to fly under the radar when conversation sparks up about who the best manager in the world is. Sure, he hasn't won the Champions League. But he has brought Atléti two league titles, two Europa Leagues, two UEFA Super Cups, and to the Champions League Final twice. (In classic Simeone fashion, doing something once isn't enough — he must do it twice.) When he started at Atléti, they were the little brother of Barcelona and, more specifically, Real Madrid. Simeone has taken his club out of adolescence, turning the scrawny younger sibling into one that can hold their own and even come out on top, despite having fewer resources.
His tactical intelligence is criminally underrated. He tends to defer to an old-school style that can be visually less appealing to supporters and pundits compared to the aesthetic displays from the likes of Guardiola, Klopp and Nagelsmann. But, I want to challenge that idea because Simeone's style perfectly fits the way he maneuvers through his life.
He lives and dies with every moment in the game, so in a sense, when the opposing team attacks, it is like a personal affront to Simeone. Now, tell me, do you just lay down and let someone attack you? Or do you scratch, claw, and defend yourself until the offender either retreats or allows you to strike back?
Sticking with the theme of life and death, Simeone dresses the part. His matchday outfit is always an all-black affair (although he'll occasionally wear a white dress shirt), as if he is ready for the funeral of whoever has the misfortune of lining up against his club that day.
When framed in this light, his intensity and love for the game resembles a tortured artist. Constantly striving for perfection, so much so that he is blinded when he nears it and goes right past it. This passion has led to mental investment in alternative ways of achieving a goal, relying on dark arts, gamesmanship, and visceral anger to try and push his teams across the finish line.
Right now, it is easy for fans to hate on Simeone, but much like many divisive figures in the sporting world, we give them their flowers way too late and they aren't appreciated while they are still in the midst of their careers. When he eventually leaves Atléti or retires, people will realize what a special character he is and was. So, why not praise him while we can still appreciate him?
El Cholo, keep the intensity and show us what true passion looks like.