As the entire planet prepares for the World Cup final this Sunday, we select a pair of songs fitting for both teams vying for eternal glory. 
Over a billion people are expected to tune in to the world's largest sporting event on Sunday, and the storylines surrounding it are plenty.
The biggest and perhaps most compelling one is obvious. This is the best — and perhaps last — chance for Lionel Messi to claim an elusive World Cup title, while his teammate and greatest-in-the-game successor Kylian Mbappe, is looking for his second in as many tries (what, like it's hard?).
We could delve further into this topic and accompanying storylines, but we'll save that for everyone else to discuss. Instead, let's talk about music.
Music and the beautiful game have long gone hand in hand, from chants in stadiums to bluetooth speakers at pickup sessions. Footballers have also been the focal point of songs, even albums, and a handful have tried their hands to varying success at creating their own music.
With that in mind, let's select a pair of songs for both Argentina and France as they prepare for the biggest game of the past four years.
Argentina: "Oh Me Oh My (I'm a Fool for You) — Aretha Franklin
"To make you laugh, I would be a fool for you."
One of the most poignant intros to any song is fitting for Argentina, whose players are absolutely head over heels for their captain.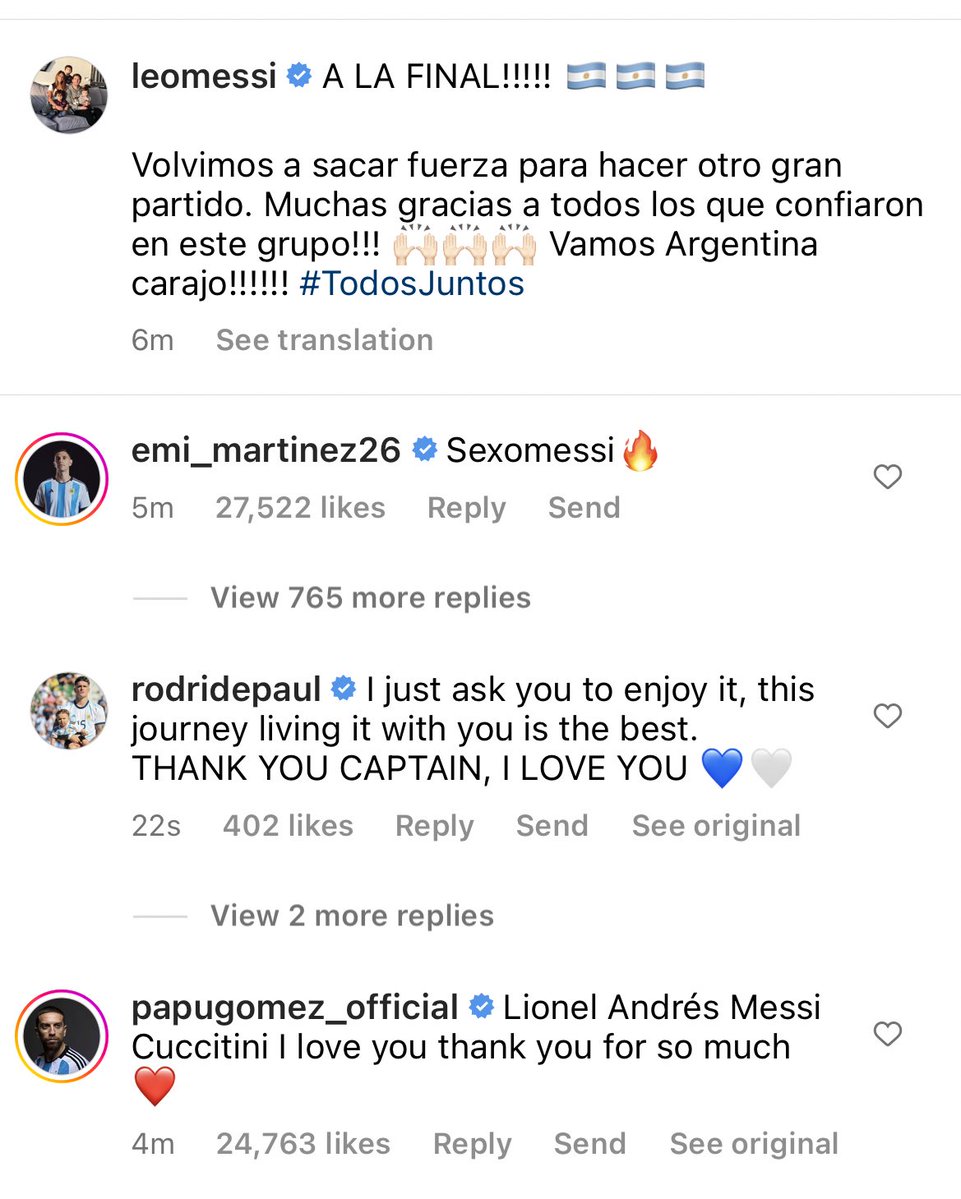 Some of the players on the roster are young enough to have grown up idolizing the generational talent, and their devotion has been shown both in Instagram comments and inspired play on the pitch. But it's not only his teammates who are so deeply infatuated with Messi. It seems that everyone outside of France and the CR7 army would too be fools for the diminutive Argentinian, especially if he claimed a World Cup title.
It only makes sense to pair Messi, who with or without a World Cup has a pretty convincing GOAT resume, with Aretha Franklin, a GOAT in her own right. Both have entire Wikipedia pages solely dedicated to their list of awards and accomplishments, and experienced rare longevity in notoriously fickle fields.
"Oh Me Oh My" may not be the first song that comes to mind when thinking of football (or Franklin, for that matter), but its beauty and emotion are consistent with the World Cup final and Messi himself.
France: "Guess Who's Back" — Scarface ft. JAY-Z & Beanie Sigel
There's plenty of obvious choices we could've gone with for this one. Drake's "Back to Back," Drake's "Trophies," or even Drake's "Rich Flex" would be three of those. And while Scarface's essential lead single off of 2002's The Fix may not be the subtlest of choices either, it had too many parallels with this France team to ignore.
Sticking with the obvious here, there's the title. Although it was one of the betting favorites, France was a popular pick to disappoint leading into the 2022 World Cup. First, there was the World Cup winner's curse, which Les Bleus quickly dismissed, becoming the first defending champion to advance past the group stage since Brazil did in 2006.
Then there were the injuries. Paul Pogba, Ngolo Kante, Karim Benzema, and Presnel Kipembe, among others, were all out before the tournament even started (although Benzema is reportedly available for the final). In addition, Lucas Hernandez went down with a tournament-ending knee injury in France's opening match against Australia, and Adrien Rabiot and Dayot Upamecano missed time due to illness.
Nonetheless, the French have displayed a hydra-like depth of players who have stepped up in the absence of the injured. Theo Hernandez has filled in marvelously for his brother Lucas, and scored in the semifinal against Morocco. Replacing Benzema, the reigning Ballon d'Or winner, Olivier Giroud's four goals are good enough for second-most in the tournament so far. France is back in a World Cup final and is looking to become the first back-to-back winner since Brazil in 1958 and 1962.
Looking past the songs's title, we have the artists behind the track as well. In 2002, Scarface, JAY-Z, and Beanie Sigel were at the height of their powers, and still met, if not exceeded, the expectations of them all being on one song together. Greatness can't be taken for granted, as we've seen some of the biggest rappers come together at the right time, only to produce a dud (see: T.I. and Eminem's "Touchdown" from 2007).
The same goes for football — plenty of uber-talented teams have crashed and burned, whether due to poor leadership, ego clashes, or the pressure of success being too high. So far, Les Bleus look unfazed, taking home convincing victories in all but one of their World Cup matches so far.
France will be playing the villain come Sunday — the Sasquatch, Godzilla, King Kong, Loch Ness. But it has assembled a squad that has reached its full stride with perfect timing. A supremely in-form Antoine Griezmann, resolute back line led by Raphael Varane, a seemingly impenetrable Hugo Lloris, and a blinding attack featuring Giroud and Ousmane Dembele, and oh yeah, the best player in the world right now, Mbappe.