Ever wonder what the neighborhood around La Bombonera, home of the world-renowned Club Atlético Boca Juniors, is like? With the help of a friend in Buenos Aires, we pull back the curtain on the iconic club's La Boca neighborhood, which has inspired significant figures in art, music, and yes, football. 
Diego Maradona. Juan Román Riquelme. Carlos Tevez. These are just some of the stars produced by Argentine powerhouse Boca Juniors over the years. With 70 titles won to date, they're one of the most successful clubs in the world. But the real star of the show is the Estadio Alberto J. Armando, better known as La Bombonera, and the neighborhood that surrounds it. Built in 1940, the stadium has helped to greatly shape — and likewise has been greatly shaped by — the La Boca neighborhood.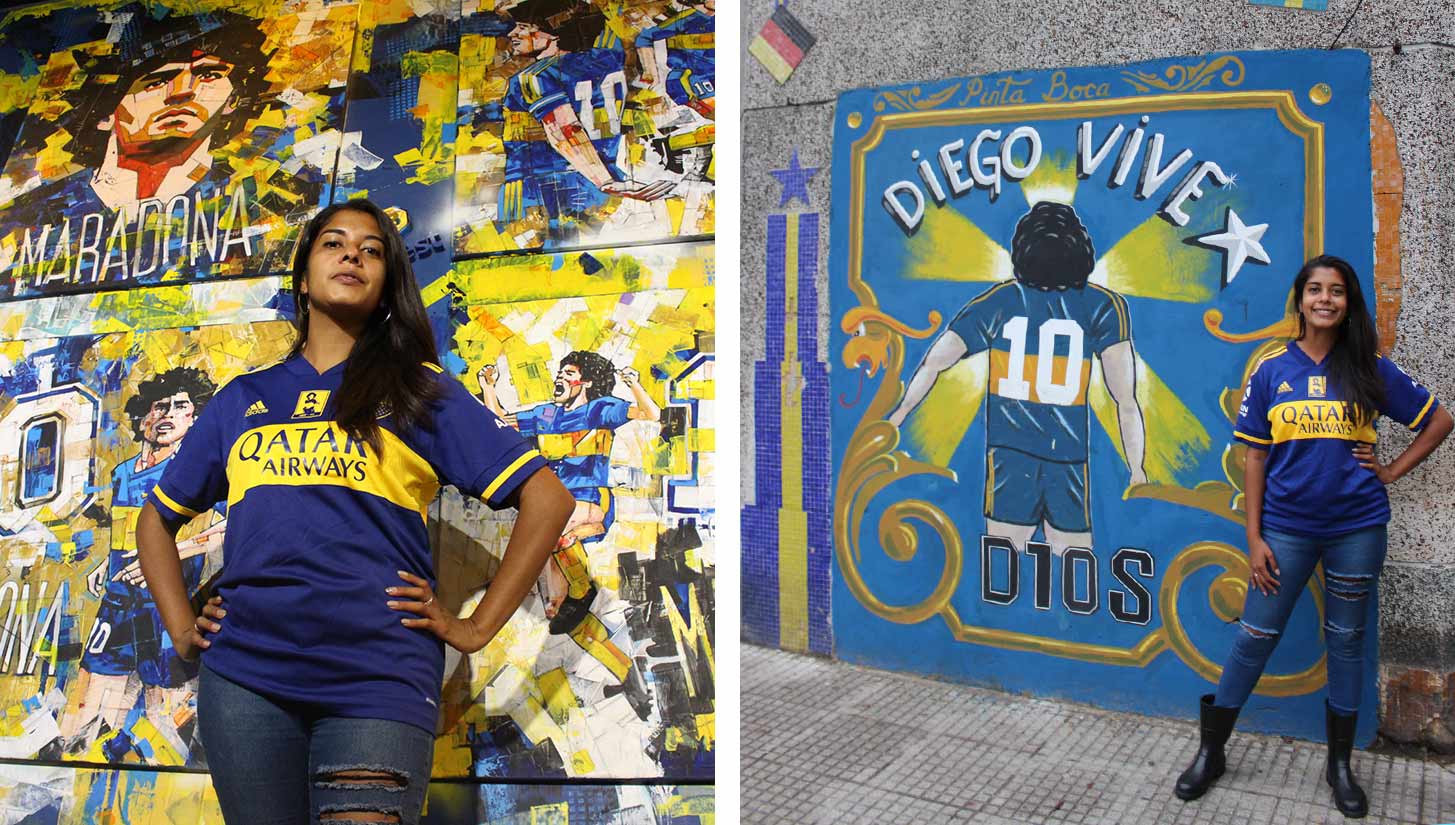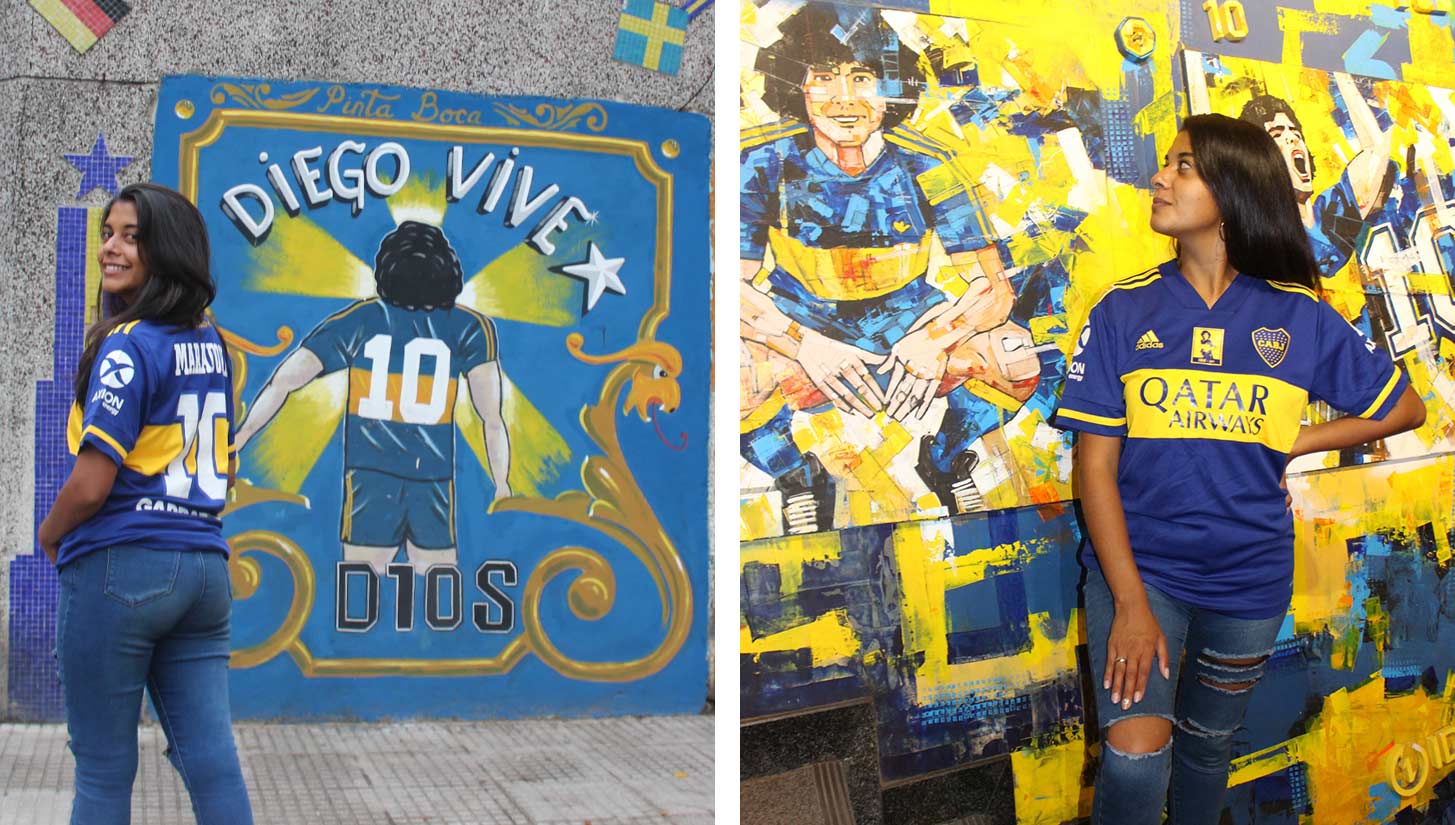 Luciana Delgado, a tour guide with Homefans, knows this better than anyone. Born and raised in Buenos Aires, she's been working as a professional tour guide for the last decade or so. She started hosting tours in the city, hitting well-trafficked spots like Casa Rosada and various museums, but her true love lies with football, and Homefans allows her to channel that love as a professional guide.
Despite not having a Boca-crazed family — she grew up attending Deportivo Morón and Club Atlético Vélez Sarsfield matches — Delgado's passion for the Boca Juniors came from giving tours and seeing the connection between the La Boca neighborhood and the historic club.
"No one in my family is a Boca fan," Delgado said. "I developed this passion on my own and when I took the course to become a tour guide, I realized how much I love Boca because I started to understand the history of the neighborhood and Boca, which I think go hand in hand."
La Boca has humble beginnings, something Delgado and other Boca fans love and embrace because it often gives them an extra edge. According to Delgado, the southern part of Buenos Aires was where the poor and neglected made their homes, literally building domiciles with whatever they could find — sheet metal, scraps of paints. La Boca's early inhabitants weren't necessarily artists, but they did what they could to create a colorful neighborhood. That tradition has continued today, with numerous murals (many of which are football-related) located throughout the neighborhood's streets.
After the yellow fever epidemics throughout the mid-late 19th century in Buenos Aires subsided, the wealthy went to the northern part of the city, where Boca arch rival River Plate is located today. Those who couldn't afford to flee the epicenter of the epidemic, however, had no choice but to stay in the south.
"To live next to the port was to be in a place full of waste," Delgado said. "We were the pigs in the farm, the 'bosteros' with the smell of dung, and we became the biggest club in the world. La Bombonera, which took so many years to build, is considered the temple of world football. In football it is perhaps the only place where the weak can take revenge."
The crown jewel of La Boca, La Bombonera is one of football's most iconic grounds, and taking in a home match in the stadium is something Delgado describes as life-changing. Jumping and cheering with "La 12," Boca's ultras group, may be the obvious choice for fans looking to get the wildest experience, but taking a step back and viewing the frenzy from other areas in the stadium is an insider tip Delgado has as an alternate way to take in the magnetic energy the supporters give off.
The club and its unmistakable stadium may be La Boca's main draw, but there is plenty else to see in the neighborhood as well.
"I can't imagine people going to visit La Boca if La Bombonera wasn't there, but neither could I if Caminito wasn't there," Delgado said.
A street museum located in an alleyway, Caminito was created by legendary Argentinian artist Benito Quinquela Martín. The museum's walls feature bright pastel colors, a signature feature of La Boca, and also inspired the music for the famous tango of the same name by composer Juan de Dios Filberto.
View this post on Instagram
"Additionally, the monument of Quinquela is a must stop," Delgado said. "I talk a lot about him as I admire his story — without him there would be no Caminito, nor La Boca as we know it today. Albeit an orphan and a poor man, he became the most recognized popular painter in Argentina."
After that stop, Delgado likes to take travelers to the corner where a Pope Francis statue is located. A Buenos Aires native, Pope Francis is the only Pope from Argentina. And then saving the best for last, Delgado takes travelers to see La Bombonera and the murals surrounding it, which tell the history of the neighborhood and the club. She makes sure to stop at the art and statues of legendary players like Martín Palermo, as well as the holy trinity of Riquelme, Maradona, and Tevez.
Delgado enjoys the personal connections she's made with various travelers since she started doing tours. One traveler she won't forget, a 10-year-old Brazilian boy from Sao Paulo, is so obsessed with Boca that he wants to live in Argentina one day.
"I will never forget the excitement he had when he saw La Bombonera for the first time," Delgado said. "I have never lost the ability to be in awe of what Boca gives to people who live in any other country. I have been with hundreds of people saying this was a dream for them, to be here at La Bombonera."
View this post on Instagram
Her favorite story though involves a German traveler she met in Brazil at a Copa America semifinal clash between Brazil and Argentina. Before the match Delgado lost contact with her friends and thus her ticket, but luckily her new German friend had one to spare.
"I promised him at that moment that one day we would go to La Bombonera and we hugged each other," Delgado said. "I was wearing a Boca shirt that day. Months later he came to Buenos Aires and I kept my promise and we went to La Boca together."
Images and quote translations courtesy of Homefans. Shop the Boca kit Luciana is wearing along with other exclusive jerseys via the Homefans online store, and be on the lookout for a jersey giveaway in the coming days. Follow Luciana and Homefans on Instagram to stay up to date with their latest tours.