Cousin Feo and Lord Juco are gearing up to release Ballon d'Or, their follow-up album to last year's Death at the Derby series, this Sunday. We sat down with them for an exclusive interview to preview their new project and see what's in store next for hip-hop's Xavi and Iniesta.  
We've been rocking with Cousin Feo and Lord Juco for some time now, and if you're not up on them — that's on you. But now is the perfect time to jump on their bandwagon if you're not on already, as the MC duo are set to release a new album, Ballon d'Or, this Sunday.
Building off their stellar Death at the Derby series from 2019, Feo and Juco switch from rapping against each other and representing football's fiercest rivalries to propping up some of the most iconic footballers in recent memory.
The 11-track album features a full roster of players that they felt were deserving of football's greatest individual award but never won (with the exception of Andriy Shevchenko, who won in 2004 yet was still somehow under-appreciated). The album's artwork, done by the acclaimed Marija Markovic, features the starting lineup of players paired with their vintage seasons on the back cover.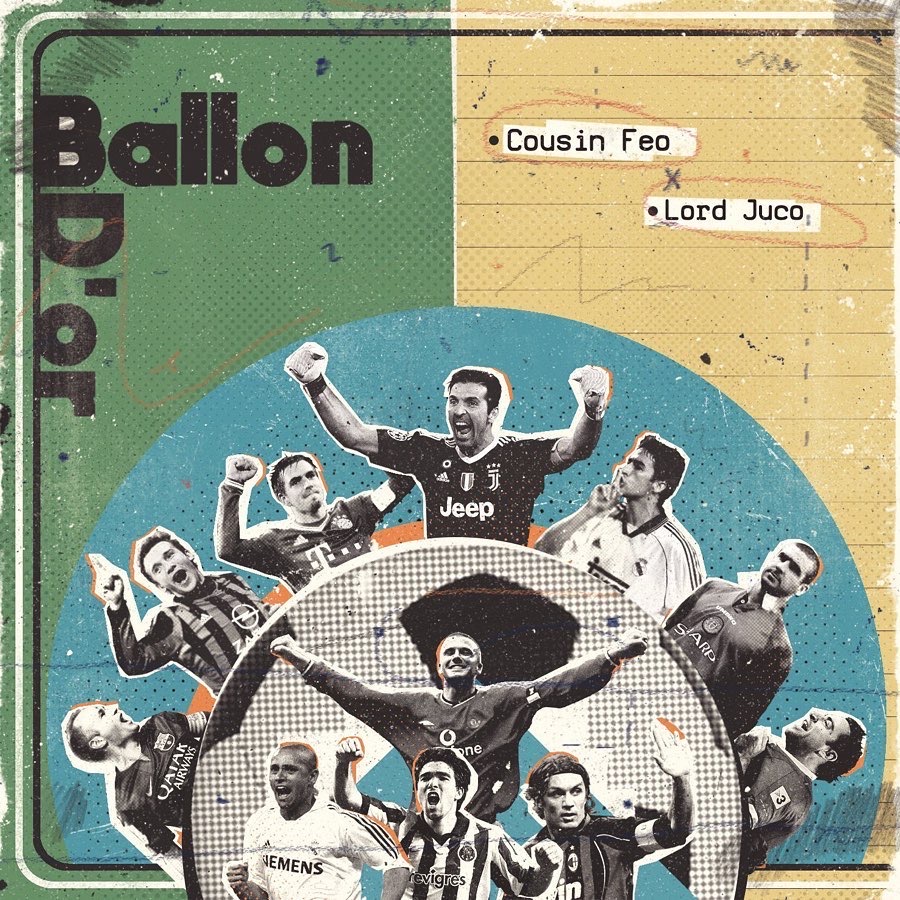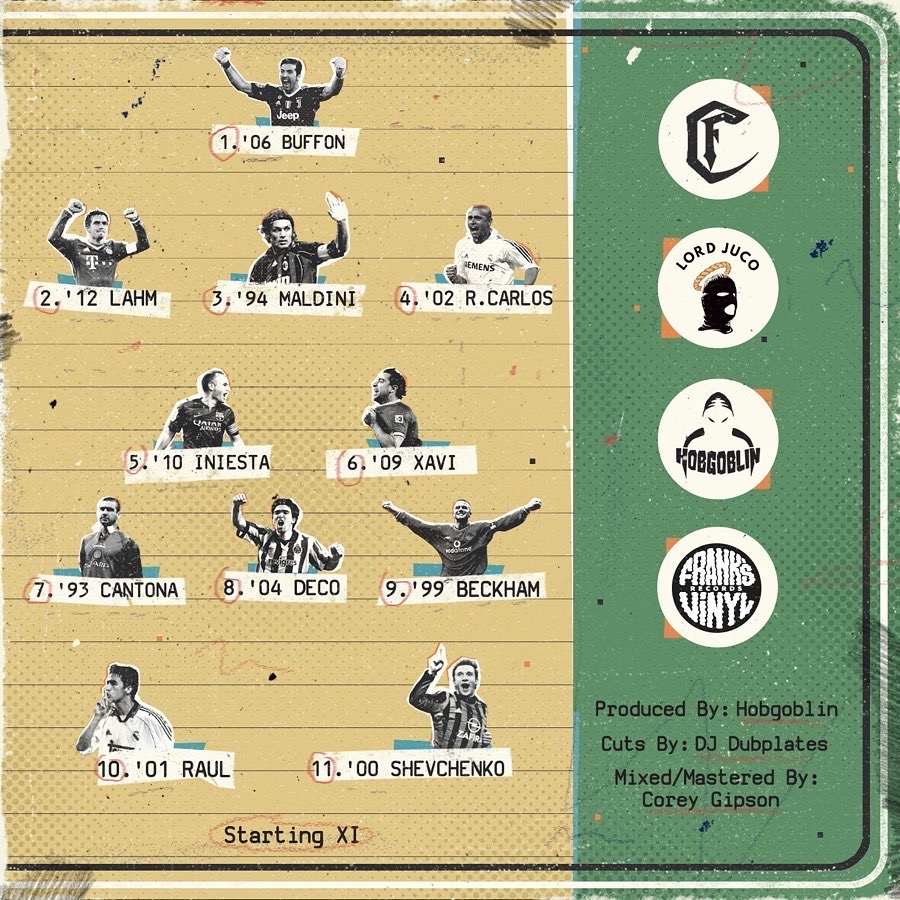 With this project, the two artists continue to rap about their passions without being redundant, exploring new lanes of the game and filling the void left by the COVID-19-induced hiatus of every major football league across the globe. We caught up with both of them ahead of the album's release to get an idea of what to expect from their sophomore project, but Juco pretty much sums it up in one sentence: "We're two for two thus far, so that's just about it."
Urban Pitch: So each track is named after a player who almost won the Ballon d'Or in a specific year. How did you guys decide on those players?
Lord Juco: We're both footy fans at the end of the day, so we both watch the sport. And we know basically who did what when. I'm not going to say we're scholars or we know every player or every game, but most of it is from memory of who was deserving of it. And we did a little bit of research as well, just to back up our picking of certain players of course. Because we did have other people, and then we did change some people.
It's crazy that just Iniesta and Xavi alone have never won Ballon d'Ors, so it was kind of easy. Same with Buffon. It was actually easier to come up with 10 than we actually thought to be honest. The players spoke for themselves with their records and things they did with their national teams and their clubs. The work speaks for itself, so we just basically went with what was documented.
What can we expect from the album?
Feo: If people are paying close attention, you will see that me and Juco divided each player's story and career between our verses. So for example, if I'm going first on a track I'm probably going to tell the early part of a player's career. And then Juco on his verse comes in and kind of caps it off. And that was something that Juco actually suggested just to keep it even more creative, to add more detail to what we were already doing.
Yeah we could've picked some cats from the '70s or '80s, but we didn't watch those players per se, so we also connected with what we know as opposed to just making a reach for somebody that we didn't really watch.
Starting with Death At The Derby you two have been carving out your own lane with these projects, uniquely combining soccer and hip-hop. What impact do you think it has on both cultures?
Feo: If you step back and look at it big picture, both hip-hop and football are the two biggest cultures globally. And to bring them together was a universal understanding. I don't know, it was a moment of enlightenment. And we were just able to find a way to do it where it wasn't corny, because we could've fucked this whole thing up. It could've been some cornball shit. Thankfully through the producers who provided the canvases that we painted these pictures on were on point. Dubplates doing his part with the cuts is a crucial element too because I told Juco before — I don't think we can do your traditional hook, your traditional rap chorus.
It has to be different to make it a full cultural experience. Those cuts are important because if they're an announcer, if they're the crowd screaming, all those elements bring you into that world that we're trying to create for people.
On my personal projects, including Juco, I've included as many of the dopest MC's that you're going to find and listen to right now. Because that's how I want people to understand how dope the culture is on the other side of the fence.
Look how connected players are with their favorite artists now. There's a lot of connection already there, from the fashion to what they're listening to pre-game. We're in there, really doing it in our own way. How we're doing it is original, but I don't think the concept itself of meshing it all together is completely ours to own. It's been out there, we're just finding it in our own way.
Juco: This is basically a lane Feo has created. I know he's not going to give himself the credit but yes, the UK has always had soccer talks and the French rappers definitely talked about soccer. I could see Europeans and South Americans mentioning soccer as a whole, but to make a tape based around the country and the players is unique. And like he said it's real easy to do that and be corny, especially as a fan of soccer for me to listen to that, it's like 'I don't really know — hip-hop and soccer, does this go well?' But once I heard Crème Fraiche I just knew this works. The way Feo meshed everything together was just perfect.
In terms of influence, I believe soccer, skateboarding, and fashion have always been the biggest influencers on hip-hop. Because the whole sweatpants steez, the tracksuit steez, that was always some soccer type shit. Same thing, but the rebel shit with skateboarding, that influenced hip-hop to me personally. It's usually basketball or football that everyone's talking about, so it's no different talking about soccer. It has to be done justice. And I think you're coming to the right place if you're listening to Death At The Derby.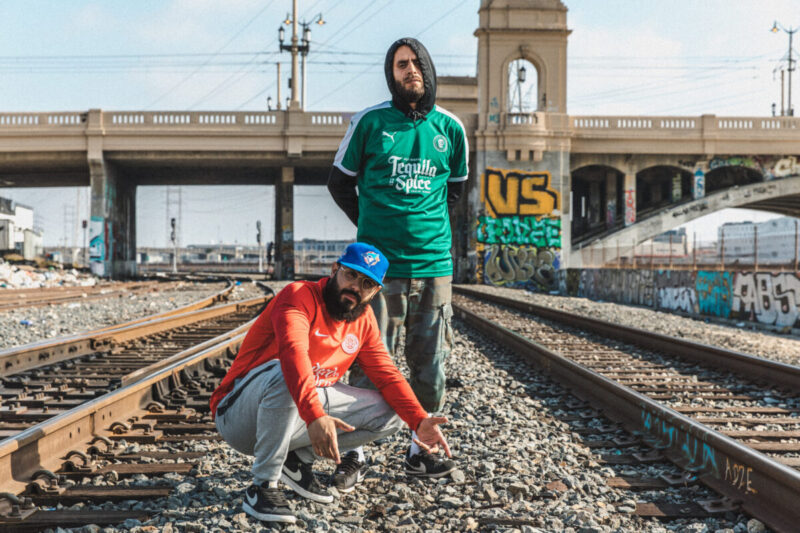 What goes into making an album with this kind of content? From beats to lyrics to production, I imagine everything is curated to create this specific sound. 
Feo: Yeah, it's a tedious task for sure. But again, because we're fans it never feels like work. Obviously as artists too we're creating, we're doing what we love to do so it's never work, it's just necessary. And the most tedious task is really always finding the sound bites for Dubplates to cut up. Because that's where we get to bring everybody into the feeling of authenticity, and that's different from everything else that you've heard before relating to soccer musically.
The verses, that's what we do. Obviously Juco's in Toronto and I'm in LA, so we communicate a lot through social media, we talk on the phone and all that, so for this project we kind of split it up. He took a set of names, I took a set of names. He went first on those tracks, recorded them, sent them my way. I did the same. We kind of just switched off, and then we just finished off the track. Because of this whole pandemic situation I couldn't link up with Dubplates like I normally do, so we literally just sent him everything and told him do his thing.
Juco: I think the most important thing about it all is yes, it's a tedious task. Yes, there's a lot of planning. Yes, there's a lot of communication. But, like he said, we're fans at the end of the day, so this isn't work. I enjoy doing this. I've worked on projects where there's deadlines and there's paperwork, like I have to get this done. This never feels like that, ever. Since the first joint until now, this never feels like work. This is just a coming together of like minds for me.
What's your favorite joint off the project and why?
Feo: I'll go with the "Maldini" joint just because it's one of the strong tracks on the project. But it also shows the character moments as an artist that I think just keep it hip-hop. And I think that's important for people to remember, even the football fans. We're fans first and we're artists too, so just watch what you say regarding what we're doing. Just because it's ultimately not that serious. We're creating from our point of view, from our personal experiences as kids growing up playing the sport, being fans of it, and what we were influenced by.
And we've been able to incorporate that into another passion that we've had that happened to be hip-hop music. And we just happened to be artists that have rapped well enough according to the masses where this is intriguing. If we were actually as wack as other people have said, nobody takes to what we're doing. It would've just fallen flat on its face already. So, I think what we're doing obviously is unique and it stands out, and it's further reason why we should continue doing it.
Juco: Alright he's running with "Maldini," I'm going to say "Beckham." And the only reason I say that is because I think that's the only verse where I got Feo. Because Feo's rapping on this, like rapping rapping. When the people hear this, they're going to be like 'My God, who is this?' Not to discredit anything that's been done before, because the man can rap, there's a reason we have this group. I wouldn't be doing this with someone I didn't feel like pushed my pen. So, I'm not disrespecting him in any shape, way, or form, but I think this album is absolutely top tier from Feo. So, I feel like "Beckham" is the one joint I can comfortably say I got him, I'm going to go with that one.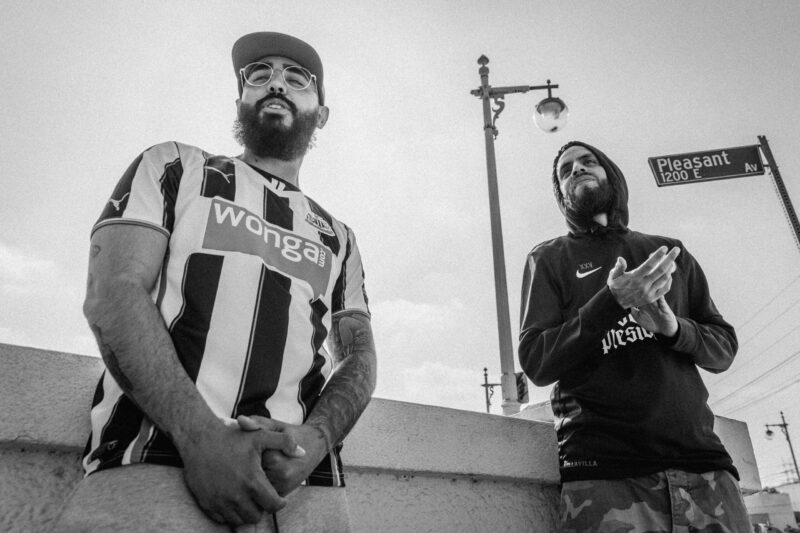 How have you guys been filling the void left by soccer being effectively cancelled for the foreseeable future?
Juco: I'm a classic game re-watch type. I can't do FIFA, I'd be breaking controllers. Kids are too good these days, it's not happening. But watching classic games is where it's at. I don't know if you guys know this, but Liverpool beat Barcelona 4-0 at Anfield last season in the Champions League, so I've watched that probably like 11 times. It's a pinch yourself moment. I've watched Istanbul of course too. Liverpool is my team, and it's crazy to see how far they have come, not only with players but the structure and the style of play. We kind of needed this to just appreciate what we have. And not just in the sense of football, but in life. But we'll keep to football. I appreciate what I have now looking back on Ricky Lambert and Balotelli and Fabio Borini. It's like holy crap, now we have Salah, Mane, Firmino. It's amazing.
Feo: I'm definitely the watch the old game type. But I also like to pick up a book based on certain players or just books on authors or something that ticks the clock. But I do a lot of reading like that. I love reading the Mundial magazine too, they've always got really amazing articles to read. The cats from These Footy Times always have some crazy pieces too. I think that's where I kind of pull the mindfulness to make sure that we're being as accurate in all points.
But if I'm watching any old games I'll watch the '99 United games, the treble season. I love watching the old Inter Milan games. I actually was watching when Inter beat Bayern in the Champions League and Milito was just destroying them. So yeah, I definitely watch the old stuff just to revive the feeling. And I've been working on mad music, but always just educating myself somehow with it too. Because you never know enough, especially with this sport. I'm trying to learn more so I can create more.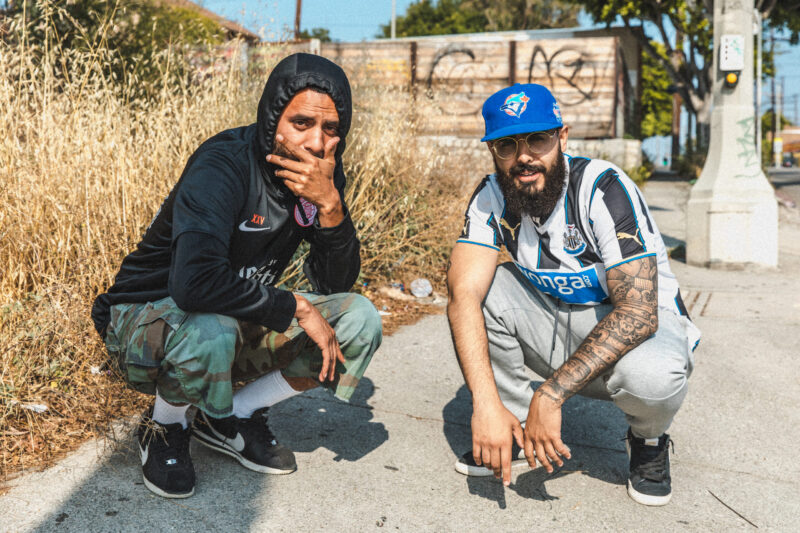 Who's the biggest Ballon d'Or snub in history?
Feo: It could either be one of Iniesta or Xavi in my opinion. Aside from their individual prowess that's undeniable, the years that they both lost, they lost to their teammate. They lost to Messi. But they're supplying that shit bro. He never had an easier time as an offensive threat than he had with those two guys behind him giving him the ball.
Juco: That was my answer too. Those guys are gods, they're not even soccer players. This is why I think Ronaldo's better. Messi's first goal ever for Barcelona was assisted by Ronaldinho. And then Ronaldinho went on his way, and he had Iniesta and Xavi behind him. The man couldn't have asked for better players to give him the ball. It's like asking for cheat codes, the man just had the best people in the best positions to give him the ball all the time.
Feo: Spain won the 2010 World Cup because of Iniesta scoring. Between those two guys I lean more to Iniesta because of that reason. Obviously Shevchenko ended up winning one because Andriy was fire. It's really hard for defenders to win, so I kind of get that being not the common thing.
Juco: Yeah, I agree with that. I think the biggest snub of them all though realistically is Buffon. The man's been top tier for 40 years, man. We have to get rid of Messi and Ronaldo, that's what we have to do. There's no other way that anyone else was going to win a Ballon d'Or with those two guys in the game.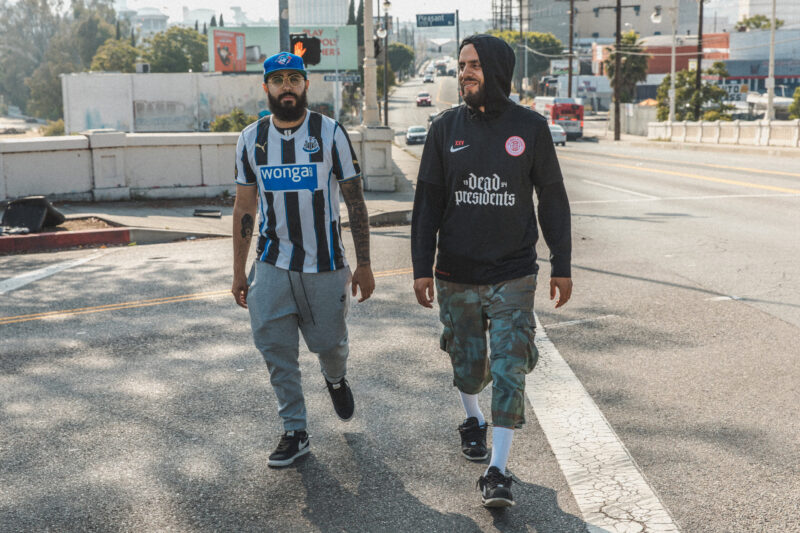 What's next for you two? Do you have any other projects in the pipeline?
Feo: Yeah, we definitely got a Death at the Derby season two for people. Obviously we want to let the Ballon d'Or project do its thing too. We know we got a support base and we've got people who are behind what we're doing, but it's always interesting to see how much further out we can reach. So, this is just another opportunity to see that happen. But yeah, season two is in the pipeline. A whole new lineup of producers, new teams, new countries, new everything, so we definitely plan on bringing that to the table soon.
Juco: I know Feo has been hit up on his own, and so many people have hit me up about derbies we don't even know about. So, we could be doing six seasons. But we're not trying to over-saturate. Like he said, we're just giving you the Ballon d'Or this year, we'll let it breathe. Next year, we're going to come with season two the same way we gave everyone season one, a nice little 12-month album roll out and back to business.
Feo: Aside from the Derby series, if all goes as planned for myself personally, by the end of the year I will have released five projects. Summertime I'm going to make my claim for it. Not through talking shit, but just through work ethic. So, summertime people can expect a lot from me. But this particular project will make it five in total, so I've got four personal pieces in the pipe that I've been working on. We're going to add on to what we've done with France and Argentina. And so in the summer we're going to take them to Holland with the same concept that we've been doing. I got a Dutch producer putting it all together, so we're keeping it authentic once again.

Juco: I'm not one to announce things, I just like to drop them. So you can get something from me in May. I can tell you that much, but I can't give you no details. The only thing I can confirm 100 percent is Shadows 3 is in the works by popular demand.
Other than that, we got Ballon d'Or April 26. You can get the vinyl from Frank's Vinyl, 50 of them come with a scarf so be up on it, get it when you can. All the people asking for the Death At The Derby re-release, we will get back to you soon. While I'm on this, while I got the mic I want to shout out Dubplates, Corey, Ricky, Marija, the whole team. Everyone who's been part of the whole Death At The Derby collective, even Urban Pitch, The Culture Division, all the football outlets that have been helping promote us. The whole soccer world, love is love. We appreciate everyone. Expect more music from the both of us individually and as a group. And just look forward to it the way we do.
Interview edited for clarity and brevity. 
Follow Cousin Feo and Lord Juco on Instagram to stay up to date with their latest releases. Ballon d'Or will be on all streaming platforms April 26.