Perhaps the greatest to ever lace up a pair of boots, Marta Viera da Silva is also one of the most influential players of her generation. Reportedly getting a life-sized statue next to Pele, we take a look back at her illustrious career. 
At the end of Brazil's stint in the 2019 Women's World Cup, team captain Marta Vieira da Silva gave an impassioned speech about women's football and her role in it. While her side did not make it to the end of the tournament, Marta made history by becoming the leading goal scorer in World Cup history (yes, including the men too).
She also reminded young players everywhere that the beauty of soccer doesn't end with her, it begins with them. And to achieve anything, no matter who you are, you have to not just want it, but work tirelessly for it.
This is the best thing you will see today.

Brazilian soccer legend Marta delivers a message for the next generation that will give you CHILLS ??pic.twitter.com/l1rwolzINU

— FOX Sports (@FOXSports) June 23, 2019
And, now with reports of a statue being erected in her honor at the Brazil National Team Museum in Rio De Janeiro — right next to one of beloved footballer and national treasure Pele — it's a good time to reflect on Marta's professional career and potential GOAT-ness.
When sports experts and fans get together to discuss who is the GOAT in any sport, rarely do they completely agree with each other. In football, the debate gets even more complicated. How can you identify a GOAT when the game itself refuses to be defined and the competition is always evolving?
For me, as a lifelong footballer, the GOAT is someone who encapsulates the nuance of the game and has the technical skills and intelligence to express it on and off the field. It's not necessarily how well their performance is translated into stats, rather it's someone who champions the sport with their play and who uses their skills to pursue the game not just for themselves but for the overall wellbeing of the sport.
Football after all, is more of a philosophy and lifestyle than a cut-and-dry sport. If you are a true footballer, regardless of your skill, the game just pours into other areas of your life and sometimes, vice versa. In this regard, I would consider Marta to be the GOAT of women's soccer.
Beneath her World Cup scoring record, six FIFA World Player of the Year awards, and overall untouchability over the past decade, you'll find a story just as passionate and unpredictable as the game itself.
She has dazzled nations, players, and fans with her ability to produce what can only be described as perfectly executed happenstance, but what Marta exudes on and off the field is an appreciation for the journey and an emphasis on the lifelong process of pursuing football.
She went from playing on boys' teams wearing oversized cleats because there weren't any girls' sizes in her hometown in Brazil, to playing internationally with and against some of the best female players in the world.
We've seen her dominate, grow, and mature in the sport. But we've also seen her — as well as many others — step out as an individual, using her experiences and identity as a gay woman to help advance football not just in how the sport can be played, but by pushing the mentality of players and fans to be more inclusive.
Her skills on the ball and style of play certainly helped the game evolve, but it's her tenacity off the field to fight for equal pay for both men's and women's football that has helped future generations gain access to more opportunities. She, along with many of her teammates and peers around the world, has been very vocal about equal pay and equal opportunity, and while the U.S. women's team was handed a heavy legal blow earlier this year in their fight for equal pay, both the Brazilian Football Confederation and English Football Association announced in September that they will enact equal pay for the men's and women's national teams.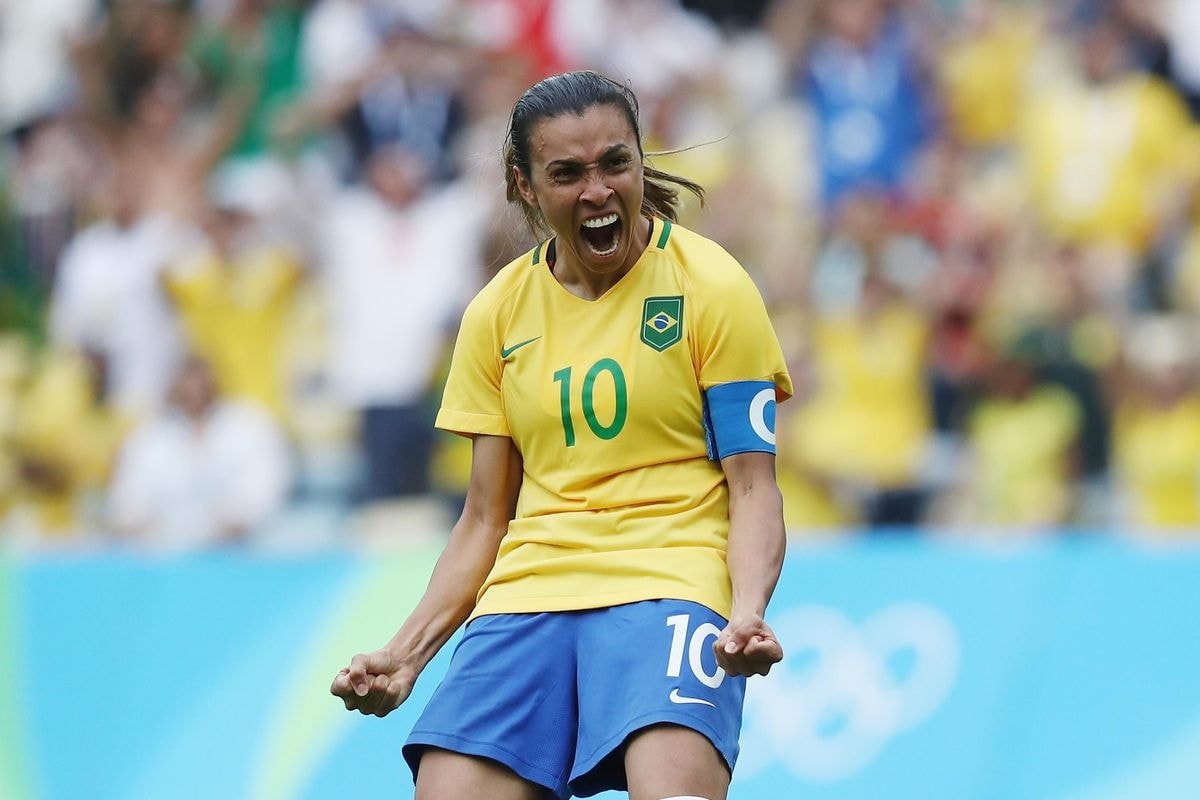 Fearless from the beginning, Marta has helped demonstrate the prowess of the Brazil women's national team. And despite never taking home a World Cup medal for her country, Marta has influenced an entire generation of girls and young women to pursue the sport and to care about their overall journey in the bigger picture of the game.
What makes Marta the GOAT is she understands that it's simply not enough to demand for equality or access. You have to work just as hard regardless of whether it's given to you, because no one can deny the magic you produce on the field. And that in itself, can give the beautiful game more opportunities to flourish.
The fact that Marta is receiving a statue in her honor next to one of football's most beloved figures is a testament not only to her skill, but also to how she has used her talent to advance the overall mindset of the game and the conversations we have about its future.
"Cry in the beginning so you can smile in the end."