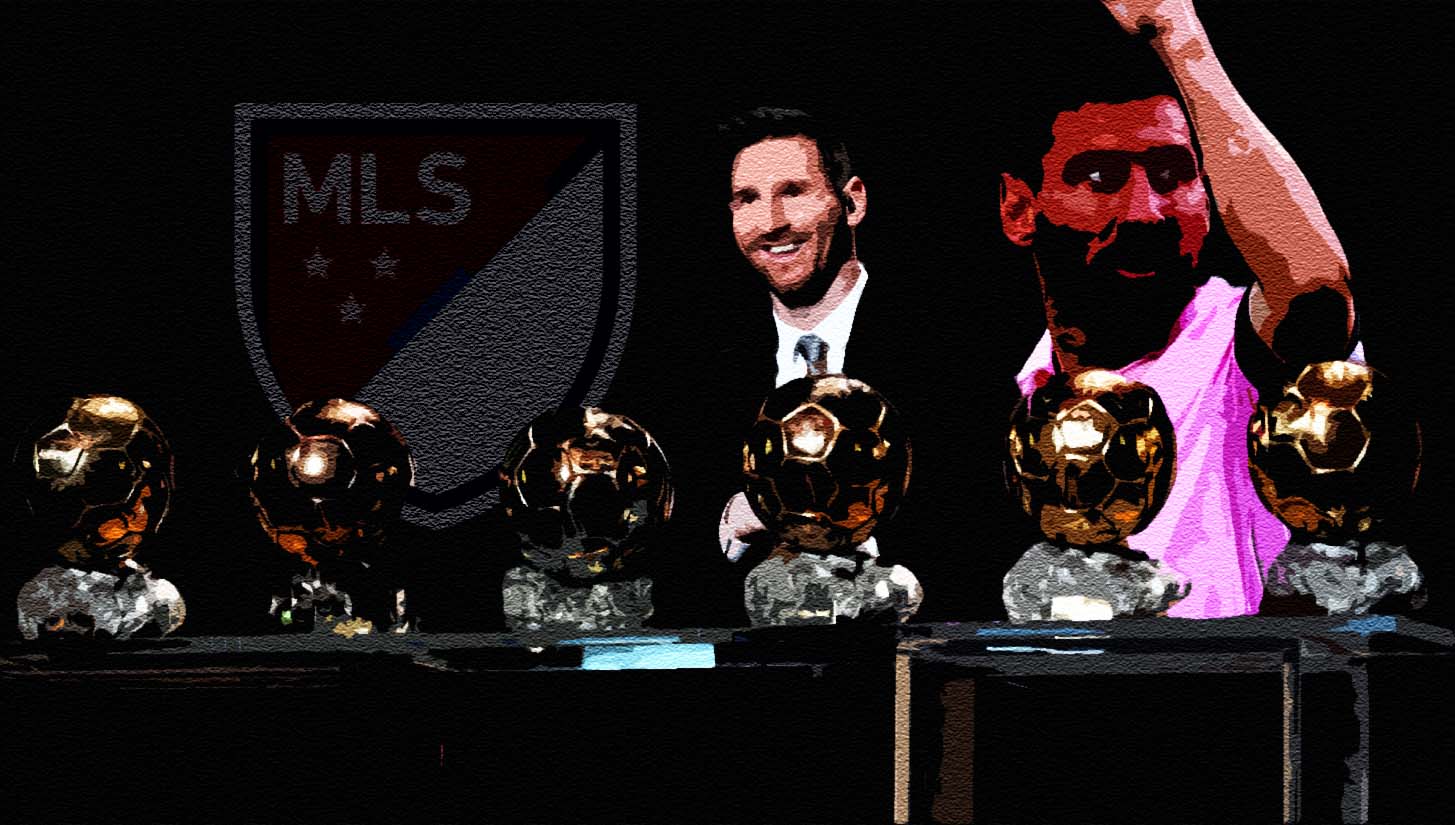 There have been a few defining moments during the 29-year history of MLS. Development of soccer-specific stadiums, implementation of the designated player rule to facilitate the signing of David Beckham, and the ushering in of international stars such as Cuauhtémoc Blanco and Juan Pablo Ángel to name a few. Yet, July 15, 2023 is sure to go down as the most significant date yet and serve as a historical marker to define the annals of MLS against a pre- and post-Messi era.
While it was four years in the making, Lionel Messi's arrival couldn't have been timed any better. Last year was a record-breaking season for MLS which saw more fans and revenue than ever before. Boasting the youngest fan base for professional sports in North America at an average of 39.6 years, the league recorded increases in overall viewership, merchandise sales, and social media engagement. Expanded competitions through the Leagues Cup, Campeones Cup, and CONCACAF Champions League have also helped in taking advantage of having the second-largest Spanish-speaking population on the continent.
With an eye towards an international audience, the league had signed a decade-long rights agreement with Apple TV for $2.5 billion last year. Having reported nearly 700,000 MLS Season Pass subscribers in early June, according to Sports Business Journal the number of subscribers have increased by 300,000 to more than 1 million subscribers since then. In his first game for Inter Miami against Cruz Azul in the Leagues Cup, we saw the second-highest ratings on a single channel for a non-championship game.
The turnaround has been dramatic for what has been the worst team in MLS this season. In its fourth year of play, Inter Miami was having difficulty to show any positive results. Struggling to score with a goal difference of -14, they had won just five games in 22 matches played thus far in the season. Head coach Phil Neville was fired in June, but interim manager Javier Morales similarly had trouble finding any sort of rhythm with the squad.
The club's trajectory began to change immediately once Messi's signing was confirmed. There seemed to be almost daily rumors of former teammates potentially joining Messi in Miami. Although the eventual result was a bit more modest, the additions of past Barcelona teammates Sergio Busquets, Jordi Alba, and manager Tata Martino brought familiarity, experience, and a winning presence to the team. Messi soon joined the club in a free transfer following a season with PSG that saw Ligue 1 and Super Cup titles.
The Ballon d'Or is generally regarded as football's most prestigious individual award determined through votes by football journalists and coaches and captains of national teams in the top 100 of the FIFA World Ranking. Historically based on player performance during the calendar year, the format was changed in 2022 to take into account the previous season. Since 1995, the winners have only come from leagues in England, France, Germany, Italy, and Spain, with Barcelona and Real Madrid representing the bulk of the winners. The idea that a player competing in MLS could emerge as a candidate on the Ballon d'Or shortlist was inconceivable until recently.
The image of the Argentine captain leading his country to World Cup glory in Qatar last year is still relatively fresh in people's minds. Finishing the tournament with seven goals and three assists in seven games, he was also named the best player of the tournament while playing every single minute of the campaign. Many fans agree that this crowning achievement makes a convincing case for Messi being the greatest player ever. To reiterate, Messi's achievements this football season include a World Cup, Ligue 1, Trophee des Champions, Leagues Cup and potentially a U.S. Open Cup title. Bringing the first ever trophy, and possibly two, to a team that was previously floundering MLS's basement is an amazing feat.
What may be even more remarkable is the fact that at age 36 he is favored to win the Ballon d'Or over the breakout season of 23-year old Erling Haaland, who set multiple records including an eye-popping 56 goals across all competitions. Having completed a historic treble with Manchester City in winning UEFA Champions League, Premier League and the FA Cup, Haaland had been the ongoing favorite earlier this year. Failing to qualify for the World Cup with Norway hurt his chances, but his inability to score or assist in semifinals or finals for Man City in eight appearances will most likely be the deciding factor.
Messi is in a very good place right now on the pitch, in his career, and his personal life. During his first Inter Miami press conference he was asked about his successful start and his impact as the next great ambassador for soccer in the U.S.
"I made this decision based on a lot of reasons. We thought about it, my wife and kids were part of the decision, my family in general…I came here to play, to continue enjoying football, which is what I've loved my entire life. I can tell you that I'm very happy with the decision we've made, not only for the sporting side of things but also for my family, for the day-to-day, how we've enjoyed the city, the new experience.
"And the reception of the people in the city which has been extraordinary since day one. The treatment from people has been spectacular, even in Dallas. I'm grateful and happy for the moment that I'm living. More than anything, I'm happy to be able to keep doing what I've done my entire life."
At this stage of his career, he appears to be relaxed and truly enjoying both football and family life. Having won World Cup and Copa America trophies for Argentina, four UEFA Champions League titles and countless league titles, he is able to still compete without the unnecessary burden of pressure. But one still wonders, does he have an insatiable desire to win another Ballon d'Or at this point?
"I've said this many times in my career: even though it's a prestigious award, one of the top individual awards, I never gave it much quote-unquote importance. The most important thing for me has always been team awards. I was lucky to have accomplished everything in my career. After winning the World Cup, which is what I was missing, now I'm really not thinking about the (Ballon d'Or)… If I win it, great. If not, it's fine. Now I have new objectives with this club. That's why we came here. To help the club win titles, and personally for me, to continue to win trophies."
While the emphasis for Messi continues to be and always will be aimed at team success, it appears that the desire for personal accomplishments is still burning within. That's a great indicator for his eighth Ballon d'Or and for MLS as well.