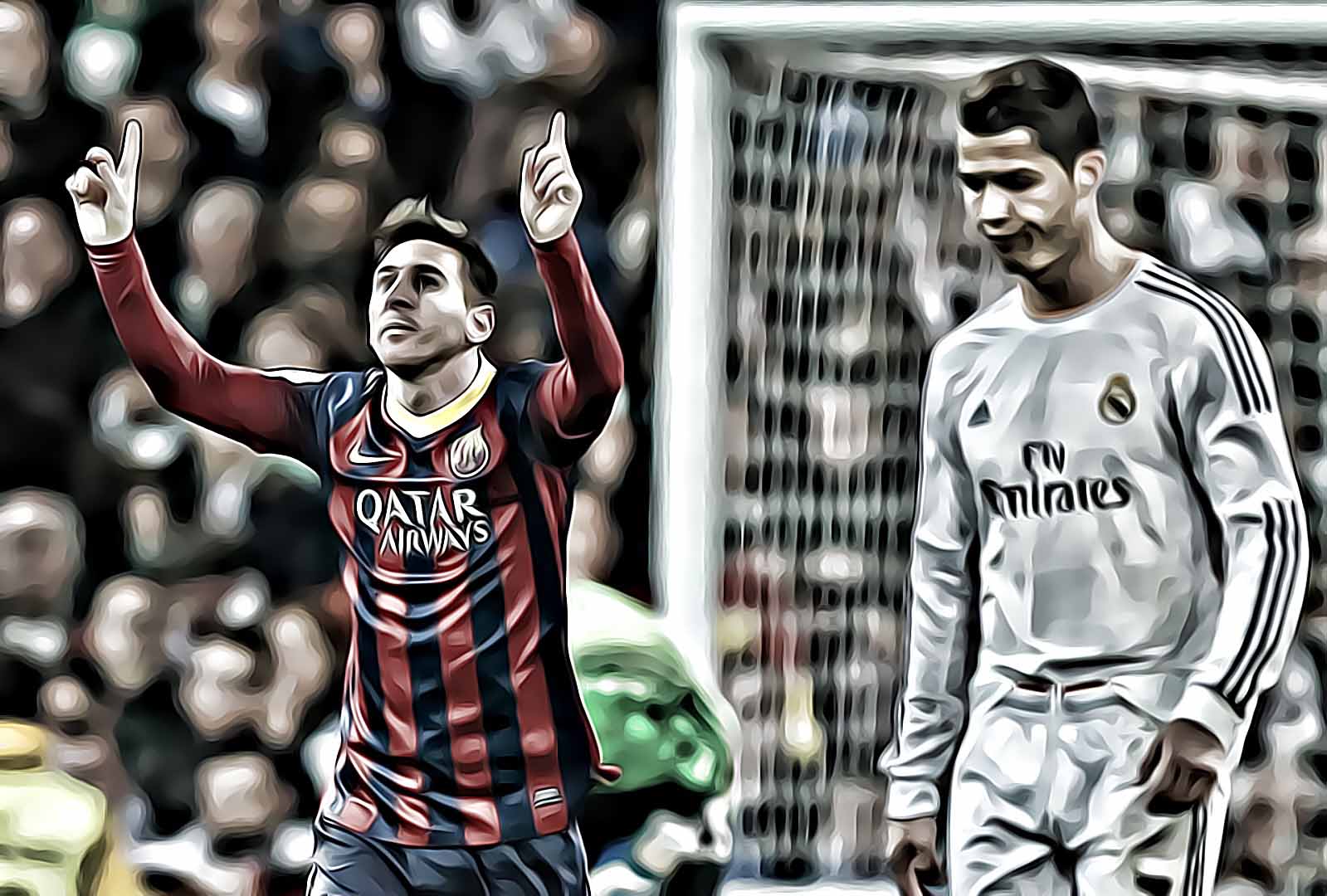 The otherworldy achievements by Lionel Messi and Cristiano Ronaldo have been so effective in surpassing everyone else that throughout their careers, for better or worse, their names have been irretrievably intertwined. So much so that, for nearly two decades, it's been practically impossible to even applaud the merits of one without mentioning the other. One would be hard pressed to recall any such comparable rivalry that has ever existed even across the landscape of all other sports combined.
Imagine if the fierce tennis rivalry between Roger Federer and Rafael Nadal had taken place without the subsequent intrusion of Novak Djokovic. Instead of the "Big Three," it would've been just the two tennis greats who had dominated the men's game for nearly 20 years. Yet, even such an imaginary scenario would not be a worthy comparison, as the individual nature of tennis makes it easier to compare athletes in a one-to-one basis. In this case, Nadal has a distinct edge, with a better record in head-to-head matches and more major tournament championships. In team sports, no athlete in recent memory has ever been in such a unique situation of having a rival in the same era who possessed a nearly equal claim to being the greatest in their respective sport.
Between Messi and Ronaldo, it has been impossible to emphatically decree that one is greater than the other while comparing their stats and achievements. Their list of countless broken records and accolades mirror each other to such an extent that their biggest commonality is their sizable separation from the rest of the pack. The two are peerless when measuring their immense talent, unmatched longevity at the highest of levels, and overall body of work.
At 37, Ronaldo is two years older than Messi, while also having made his professional first team debut one year earlier. From that point on, their accomplishments read like a never-ending list of one-upmanship coalescing into a nearly duplicate career resumé. In comparing the two, it's interesting to note that while they may have arrived approximately at the same destination, the mode by which they traveled is distinctly different.
For his part, Messi spent the first 21 years of his career with FC Barcelona before making a tumultuous break from his boyhood club with a shocking move to Paris Saint-Germain in 2021. During his career, he has won 11 league titles and four Champions League trophies while achieving the Ballon d'Or seven times. Despite his unparalleled dribbling, passing, and explosive scoring abilities, by most accounts, he's been described as having a shy and quiet personality.
Listed at just 5-foot-7, he struggled with a growth hormone deficiency at a young age. Starting from 11 years old, he received treatments of HGH injections which would later be covered by Barcelona after joining the Catalan club at the age of 13. Early on, being smaller and weaker than his opponents, Messi worked to increase his physical strength and overall muscle mass to be able to withstand stronger defenders. Deferential to his veteran teammates, Messi was soon taken under the wing of Ronaldinho, who told teammates and the general public that he believed the young player would eventually become a better player than himself.
By contrast, Ronaldo with his chiseled abs and tall, muscular frame has hardly been accused of having a shy nature. In his early years at Manchester United, he clashed with established teammates who were often frustrated by his showy style of play which included an array of step-overs, excessive flicks, and tricks. Veterans such as Ruud van Nistelrooy questioned his choice of flashy moves which eventually resulted in a training confrontation that required their separation by teammates.
Continuing to grow his flamboyant game to match his outsized persona, Ronaldo built a massive following of over half a billion fans on Instagram alone. Punctuated by dramatic celebrations and yells of "siuuu" after eye-popping goals, Ronaldo confounded his haters by matching his displays of ostentatious superficiality resolutely with on-field success.
Plying his undeniable skill across four different leagues, Ronaldo has arguably matched Messi nearly step-for-step with seven league titles, five Champions League trophies, and five Ballon d'Or wins. In addition, he has 819 career goals and 234 assists in 1,145 appearances compared to 793 goals and 350 assists in 1,003 appearances for Messi. One could argue that Messi has superior numbers in the assists category, however staunch Ronaldo supporters easily dismiss this notion and point to his long-held role as a goal-scorer versus that of Messi's attacking playmaker. However, Messi has had a distinct edge in the Ballon d'Or battle since he won his sixth trophy in 2019 and further widened the gap with his seventh in 2021. With his recent World Cup victory, there could even potentially be an eighth title forthcoming.
It is now that we must turn our attention to their rivalry at the international level. The heartbreaks Messi has endured in trying to equal his club success to his country is widely known. Having been eliminated in three previous World Cups, once in the final to Germany in 2014, there was immense pressure for him to bring home a trophy to Argentina at the 2016 Copa America. The high expectations by his countrymen may have been too much as he missed a rare penalty in the shootout final against Chile.
He had captained Argentina to three consecutive finals — the 2014 World Cup, and the 2015 and 2016 Copa America — but ultimately he had failed his people back home. After that final, while choking back tears, Messi stated, "For me the national team is over. I've done all I can, it hurts not to be a champion. My thinking right now and thinking about it in the locker room, I'm done playing with the national team."
Argentina striker Sergio Aguero said he had never seen his close teammate so broken in the dressing room after a game. Although he would change his mind a few days later, a loud contingent of fans remained doubtful that he would ever replicate the international success of Diego Maradona, Argentina's eternal hero. Further struggles and eliminations in the 2018 World Cup and 2019 Copa America seemed to cement the belief that his legacy would inevitably have a glaring hole.
Ronaldo has had a similar arc in international competition. They both have five World Cup appearances with Ronaldo being the all-time leading scorer in men's international football with 118 goals and 33 assists for Portugal. Messi is third on the list with 98 goals and 53 assists for Argentina. Messi has 13 World Cup goals while Ronaldo has eight. While they both have had individual honors, neither had brought their country a trophy in a major tournament until Ronaldo celebrated becoming a European champion as Portugal's captain in 2016.
Perhaps it was seeing his arch-rival's success at the international level that further fueled Messi's resolve. It's unlikely though, since the added motivation was unnecessary as he had already carried the weight of a football-crazed nation on his shoulders for far too long. The burden was finally lifted when Argentina defeated Brazil in last year's Copa America to bring home the country's first major trophy in almost 30 years.
It was under this newfound veil — a combination of confidence and calmness — by which Messi led Argentina during this year's World Cup in Qatar. Outside of the momentary lapse after losing their opening match against Saudi Arabia — and facing the threat of a possible elimination against Mexico — the Albiceleste were able to turn it around in the 63rd minute, fittingly off the magical left foot of their captain. From there, the world would go on to see Messi help carry Argentina's momentum all the way to the championship. Although Kylian Mbappé's transcendent performance nearly upended Messi's triumph in the final match, his young PSG teammate's best efforts were just shy of ruining Messi's fairytale ending.
With this crowning achievement, Messi has fully erased any infinitesimal criticism that may have previously been lobbed against him while also enabling him to be fully embraced by his country, something that has eluded him thus far. Not only has he finally stepped outside of Maradona's formidable shadow, but he has enduringly provided his loyal fans with the ultimate trump card in being able to confidently declare that he's the greatest of all time.