A fan-driven rivalry unlike any other in Los Angeles, the 'El Trafico' derby came to an electric conclusion last Friday night, with supporters on both sides marching, clamoring, and chanting their way to a 1-1 draw. As the match was part of MLS' Heineken Rivalry Week, we were on the scene to capture the raw and uncut voices of members of each club's supporting groups, discussing the LA fan experience, pre and post-match festivities, and overrated players — all while ending the ongoing debate of which club really runs Los Angeles. 
It may be LA's newest in-city pro sports rivalry, but El Trafico has easily been the bitterest amongst fans. Die-hards from both sides each have their go-to insults for their opposition, the mildest and most common being "Carson" directed toward the Galaxy and "Chivas 2.0" at LAFC.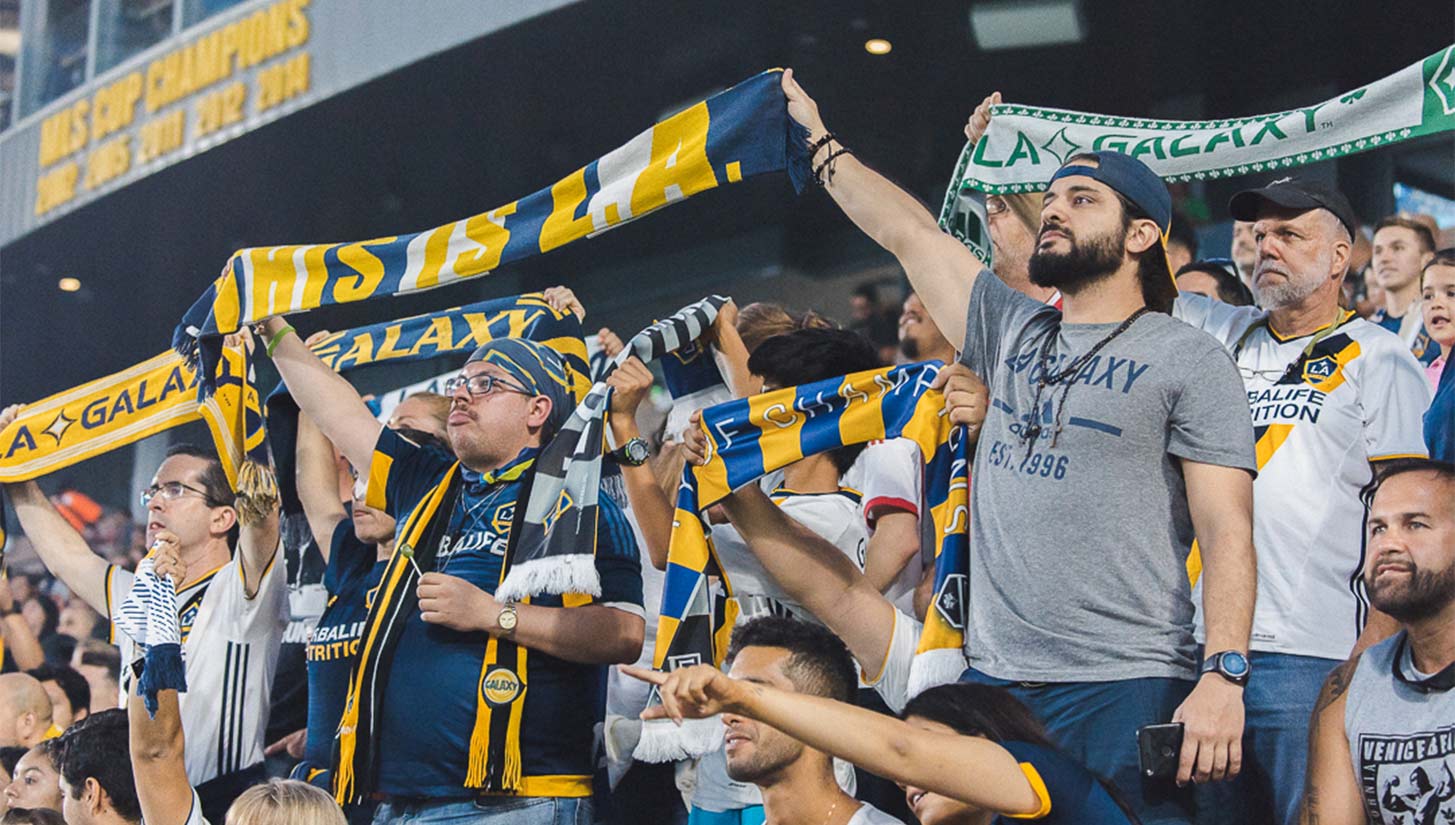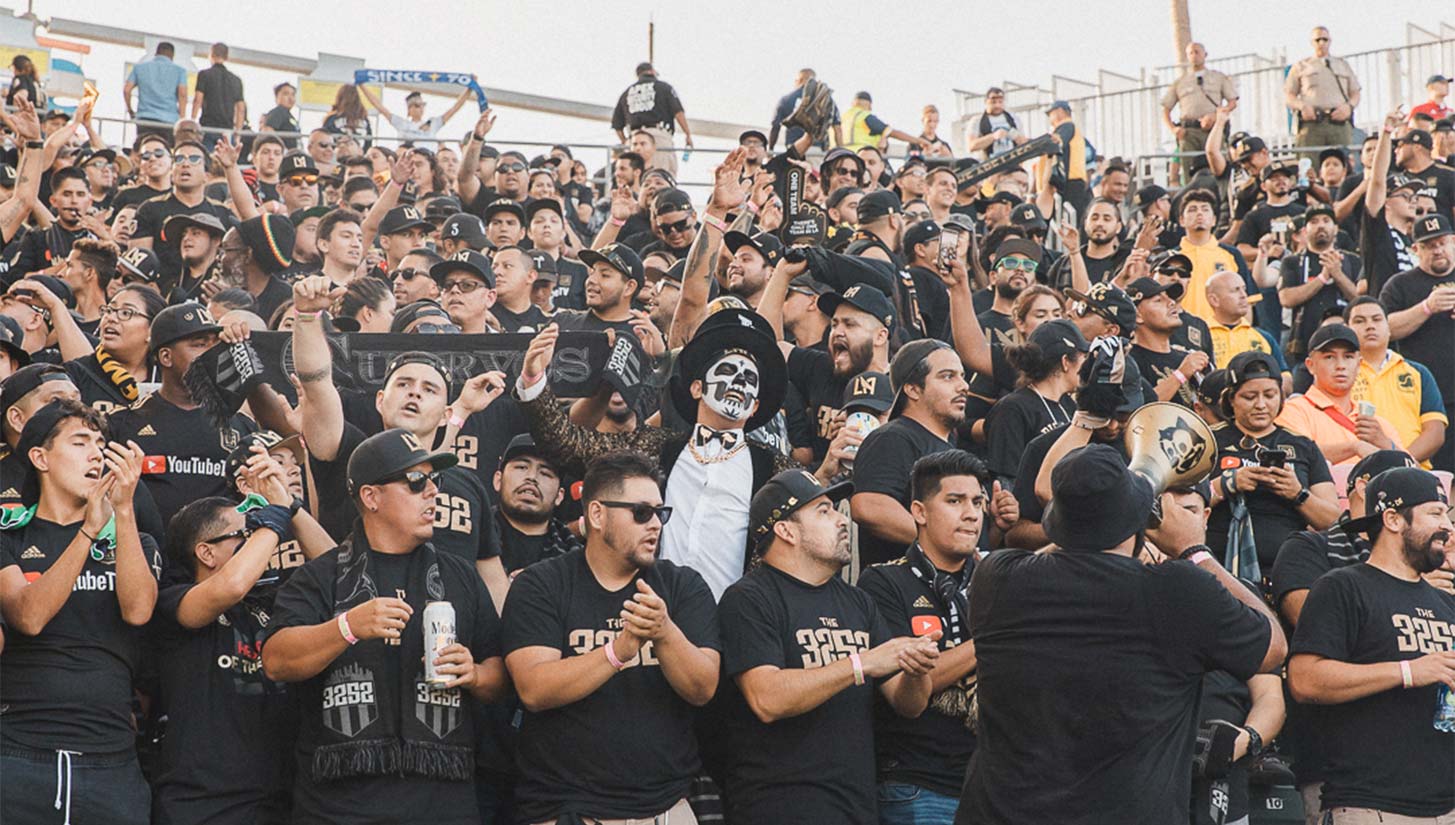 The animosity between rivaling fans has also spread to the pitch, with the first two derby matches being incredibly intense and closely-contested. With a playoff spot on the line for the Galaxy, the third installment was equally as physical and fervent, ending in a 1-1 draw.
Fans arrived at the StubHub Center early in anticipation of the derby's concluding match. LAFC's 3252 supporters even went as far as filling out their section of the stadium nearly two hours before game time, sending raucous chants that echoed throughout the otherwise empty arena. Members of the Galaxy's Angel City Brigade shortly entered to counter, establishing the chaotic and drum-laden atmosphere that would last through the match's final whistle.
To get a better perspective of what this rivalry means to the city of LA, we caught up with several members of each club's supporting groups, with the intentions of finding out once and for all which team runs the City of Angels.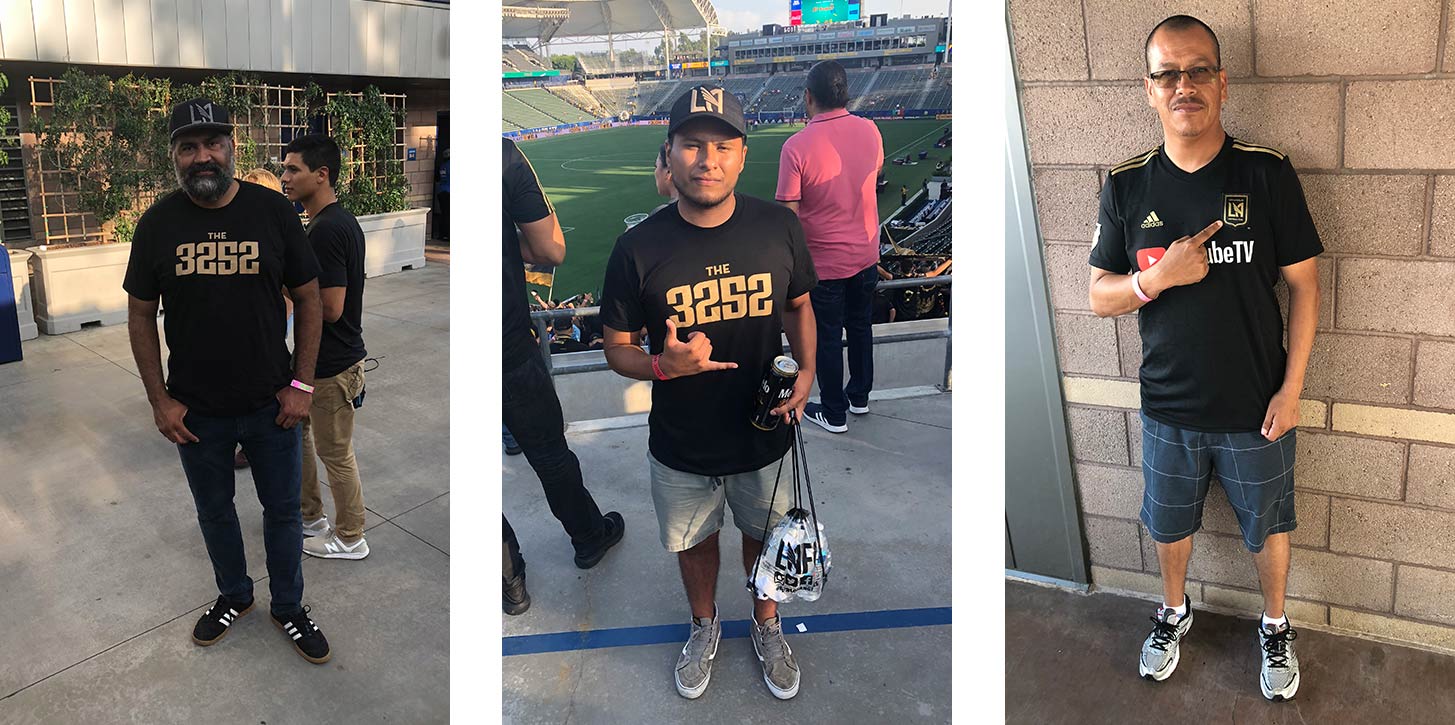 Urban Pitch: Which supporters' group are you with, how long have you been with them, and what attracted you to join?
Julio Ramos: I am with the District 9 Ultras. I am one of the leaders. We all have our different styles, but at the end of the day we all sing for 90-plus minutes in the stands together. That's what makes the difference.
Jose Damian: I'm with the Cuervos. I joined them in the beginning when they just started. I never really followed the MLS, but when I heard there was going to be a new LA team, I knew that this was it. We have Hispanics, Asians, Caucasians, and I feel like they welcome everyone. I felt like that was a perfect fit for me. I don't know much about the other groups (in the 3252), but my friend brought me into the Cuervos group — it's more Hispanic-based — and our chants are really cool. When we tailgate, it's always fun to drink and talk to them, they're really outgoing.
Rene Saavedra: I'm part of the District 9 Ultras, but overall I'm with the 3252. I was part of another group back in the Chivas USA days, but when they ceased to exist, we took over with LAFC. The passion grew within us and the club, and it was love at first sight. We're here way before the game, and way after the game. People know who the Ultras are. You don't need to ask them.
Juan Sanchez: We are with the Angel City Brigade. We joined about four weeks ago when we came to our first Galaxy game in this supporters' section. We've always been around the stadium, but there's nothing like this. When you're sitting around the stadium, it's like you're watching it on TV at home. But when you're here with the supporters, you're part of the game. It's dope! I've been following LA Galaxy since they inaugurated in '96. I met Cobi Jones and Mauricio Cienfuegos, they went to my elementary school in Compton and gave us uniforms. For me to be 10 years old, and these famous people are coming to my school and handing me a uniform, I loved soccer from then on.
Edgar Canales: This is our third year with the Riot Squad. We've been season ticket holders for about 10 seasons now, and fans since we were kids. We joined the Riot Squad because we didn't want to be just general admission, we wanted to be a part of something more.
Andy Canales: The Riot Squad is a calmer, more relaxed, family vibe. We also cheer with our hearts and give it our all every game. But there's also the family vibe that was so welcoming. As soon as we joined we felt welcome.
Carlisa Perdomo: I've been with the Galaxians since 1996 at the Rose Bowl. I've always been a huge soccer fan, my parents had a soccer team so I've had it in my blood. When I saw that the Galaxy were coming to LA and when I saw the Galaxians I knew I had to be a part of that group. All three groups are here for the same reason — support the team through good and bad times — but the Galaxians have a bit more history being established in '96, and we do sing a bit more in Spanish. We're a little bit more multicultural.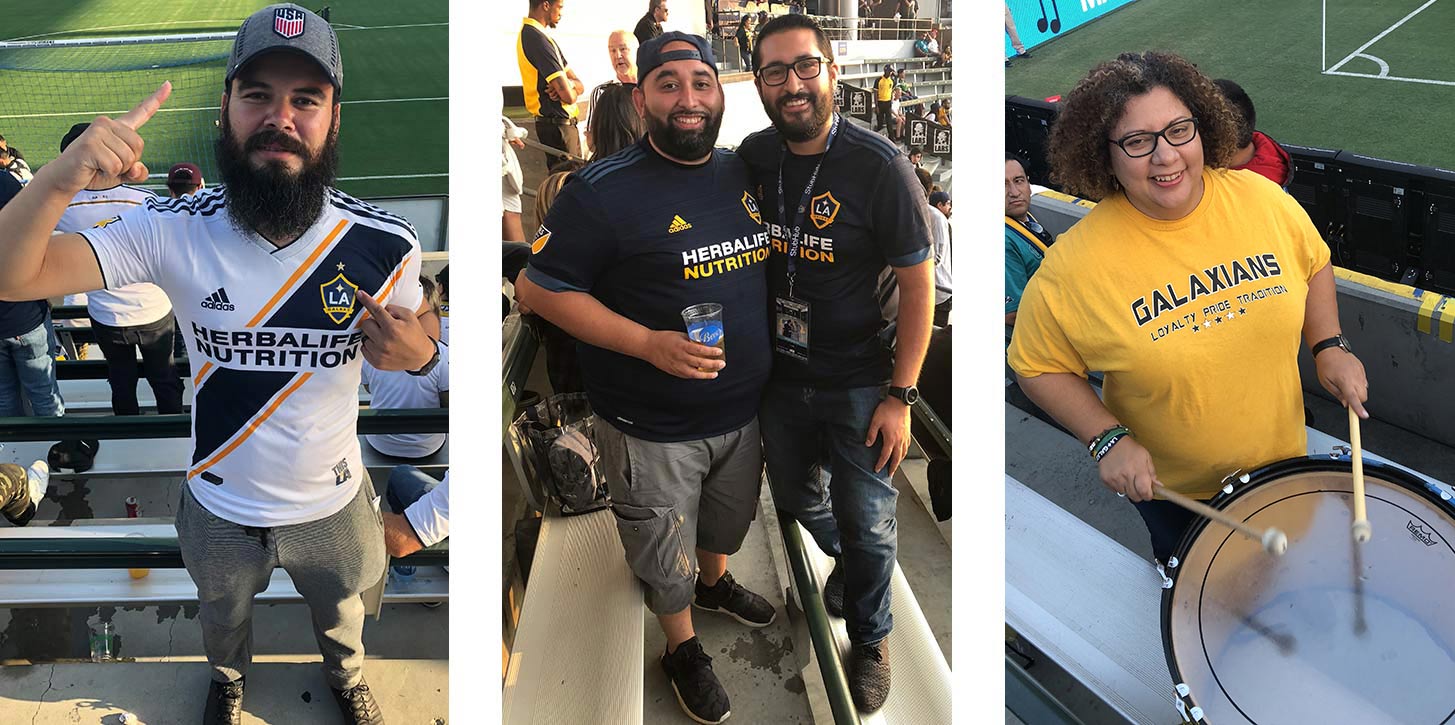 Let's settle this once and for all — which club runs LA?
Julio: LAFC because we are in LA. Obviously the location makes us LA, but also I think that the phenomenon of the 3252 has made all of the Angelenos fall in love with the club because it represents the city somehow to them. I think that's very important.
Jose: LAFC. All the games they played against the Galaxy, the Galaxy have come back. But I feel like today we're going to show them who's on top. I know that for sure.
Rene: Obviously it's us, LAFC. I know the Galaxy has had their run, but as you can see, their stadium is always half-empty. Our stadium is always 99.99 percent full. Obviously it's an LAFC takeover of the city.
Juan: Galaxy! They've been here for what, one season? We've been here since '96! That's it. If you're going to your new job, and you're the rookie, you're not going to be like, "Hey, I know more than you!" No way. We run LA. We created and supported soccer in our city way before anybody else did. Whether we were in the Rose Bowl in Pasadena or the StubHub in Carson, it's still LA. LA runs deep!
Edgar: Galaxy. We got history, we got championships, and that's pretty much it — we've been running the city since '96.
Andy: If they haven't beat us, they can't run LA.
Carlisa: There's only one team in LA. Have you seen our trophies? We have five, they have zero. LA itself is multicultural, and the Galaxy brings people from all over to support them.
What's your prediction for man of the match, and conversely, who is the most overrated player on either team?
Julio: Man of the match is Carlos Vela. He's scored three times already against Carson. I know his mentality is the right one tonight and we're going to take the W. Overrated is Giovani dos Santos. He's been here for a couple of years already and he hasn't done anything for Carson.
Jose: Man of the match is my boy Carlos Vela. He's someone who has come from Europe, and we've seen a lot of players come from Europe and their performance dips in the U.S. He has been consistent, and moves the midfield so well. Overrated player is Giovani dos Santos. He hasn't produced like he used to. When he was in La Liga and in Europe, he was amazing. When he came to MLS, his performance has gone down, he hasn't produced at all.
Rene: Most overrated has to be Zlatan. He thinks that he needs to come over here to succeed, and he's done. He's over. He's at the end of his career — he's got maybe two or three games left. And the man of the match is our captain, Laurent Ciman. He takes the team on his shoulders and carries us and shows us the way.
Juan: Man of the match is going to be Zlatan. He's going to know how to handle the pressure. He's played matches against Liverpool and Manchester City back in England. I'm a Manchester United supporter, and for him, this is a playground. Most overrated player on the pitch is Carlos Vela. They've hyped him up so much, and he has so much pressure on his shoulders. He's basically carrying Chivas 2.0, and I don't think he's going to cut it tonight.
Edgar: Man of the match will be Zlatan, he'll probably get his 500th goal tonight. In term's of overrated, Gio isn't on the field tonight but…
Andy: Diego Rossi — overrated. He only shows up for some games. I know he's younger, but as a Designated Player you're expected to show up every game. He gets benched half of the games so he's for sure overrated. Player of the game is Sebastian Lletget. When he's out there, he's the most talented player on our team.
Carlisa: Hopefully it's Zlatan, when he plays well it's amazing. And for overrated…LAFC in general is overrated! (Laughs.)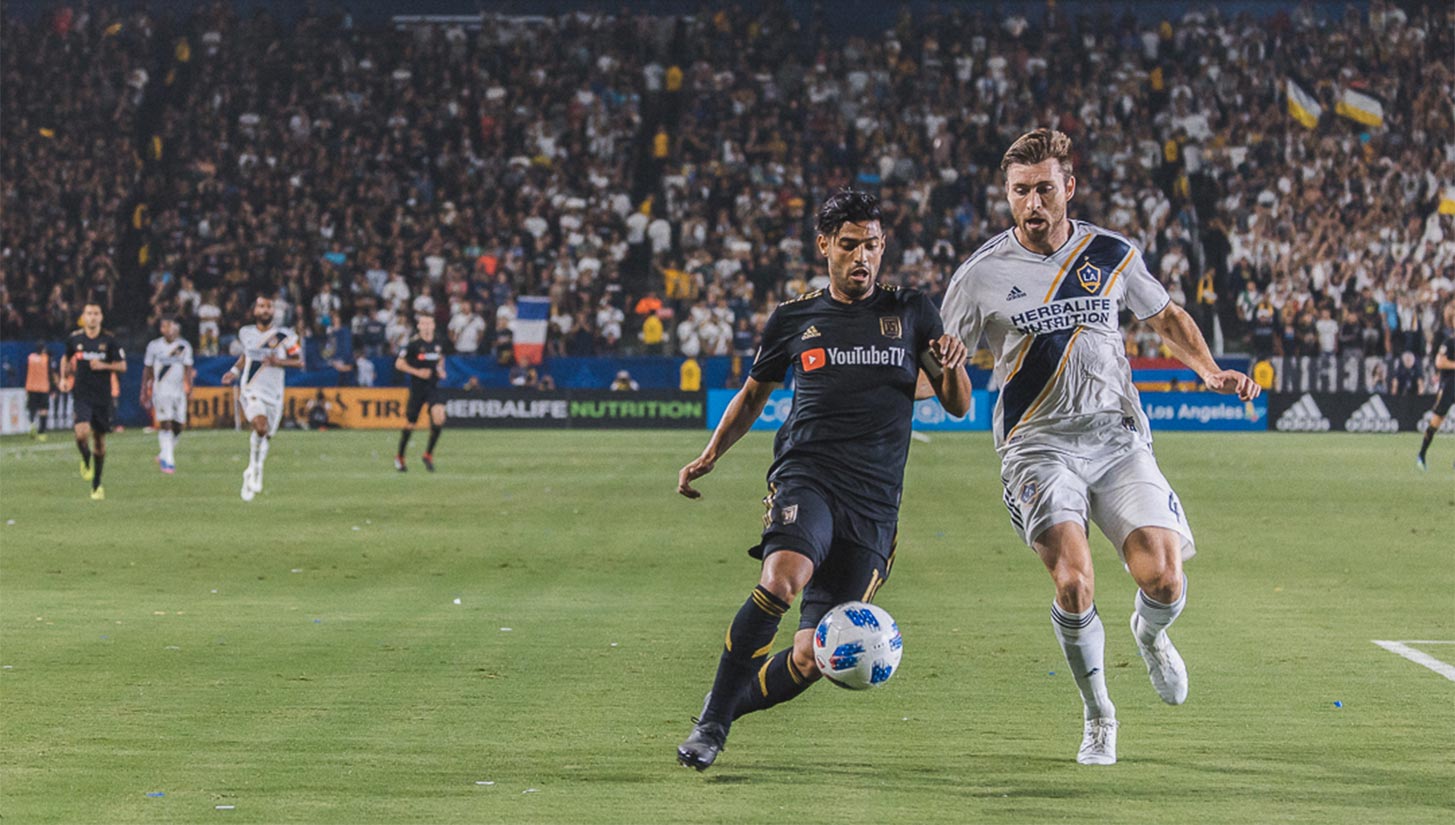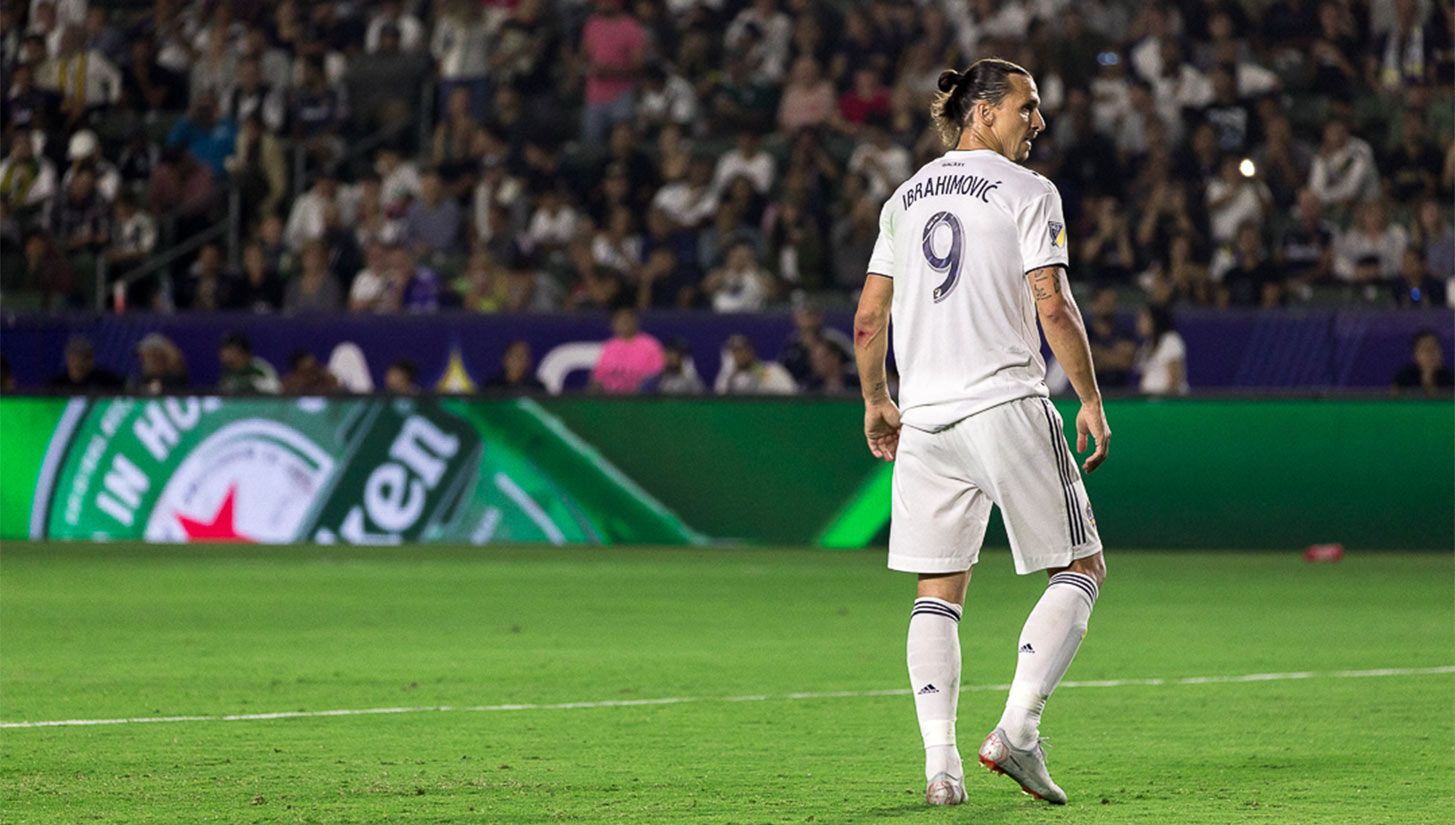 It seems fitting that the final El Trafico of the year was scheduled in the middle of Friday rush hour. Where did you come from to get here, how did you get here, and what were your pregame activities? What do you have planned for after the game? 
Julio: We came from the Banc of California — and by the way I hate the name El Trafico. I think if we want the world to take us seriously, we can't use names like that for our derby. But yeah we've been preparing since yesterday, and we're going to be the loudest group in the stadium tonight. After the game, we're just going to celebrate it with family.
Jose: I came from Lake Forest. I drove from there all the way to Banc of California Stadium, and rode the bus with the Cuervos. We were chanting the entire ride over, it was crazy. And after the game, we're gonna go drink! (Laughs.)
Rene: Well, around 1:30 p.m. I went to get my son out of school and we drove to the stadium. LAFC had a bus for us to get from the Banc of California to here. It was a party on the way here, and we're going to take over. By the time the stadium is empty, the 3252 is still going to be here. We're going to sing on our way to the buses and on the buses, and then we'll still be together when we get to the Banc.
Juan: I am from Compton. I asked for the day off, and my wife asked for a half-day. We've been here since 2 p.m. tailgating. We knew it was going to be a big game, so we made sure to get here early and get good seats. After the game, we're going to cool down obviously, but we'll be in the parking lot cheering and celebrating the victory!
Edgar: We live in South LA, five minutes from their stadium. With the traffic it took us 45 minutes to get here. We still had enough to have a few beers outside, chill with some of the fans, and walk in. After the game I can't do much crazy, because I have to go pick up my kid.
Andy: I took the day off from work, so me and my girlfriend went to Santa Monica to have a pregame for the pregame. We came here two hours before the stadium doors opened and had a few more beers. We're going to get tacos after the game, that's what we always do.
Carlisa: I come from Van Nuys, so we usually pregame outside and tailgate. We have food, drinks, and cheer — typical supporters' stuff. We can only celebrate afterwords if the Galaxy win. We have to play hard and put it all out there. I don't care if it's ugly, a win is a win.
Which team do you think runs LA, and why? Let us know in the comments below.