Through photos and first-hand recounts of friends, our very own Ignasi Torné Gualdo attempts to capture the one-of-a-kind essence of Marseille, one of the most famed footballing cities in the world. 
Olympique de Marseille is one of France's oldest clubs — but its 120-plus-year history pales in comparison to that of the city itself, which dates back to Ancient Greece. It's safe to say that the football club has transformed the city and its inhabitants, as the hardest of hardcore fans are spread throughout the mythical metropolis.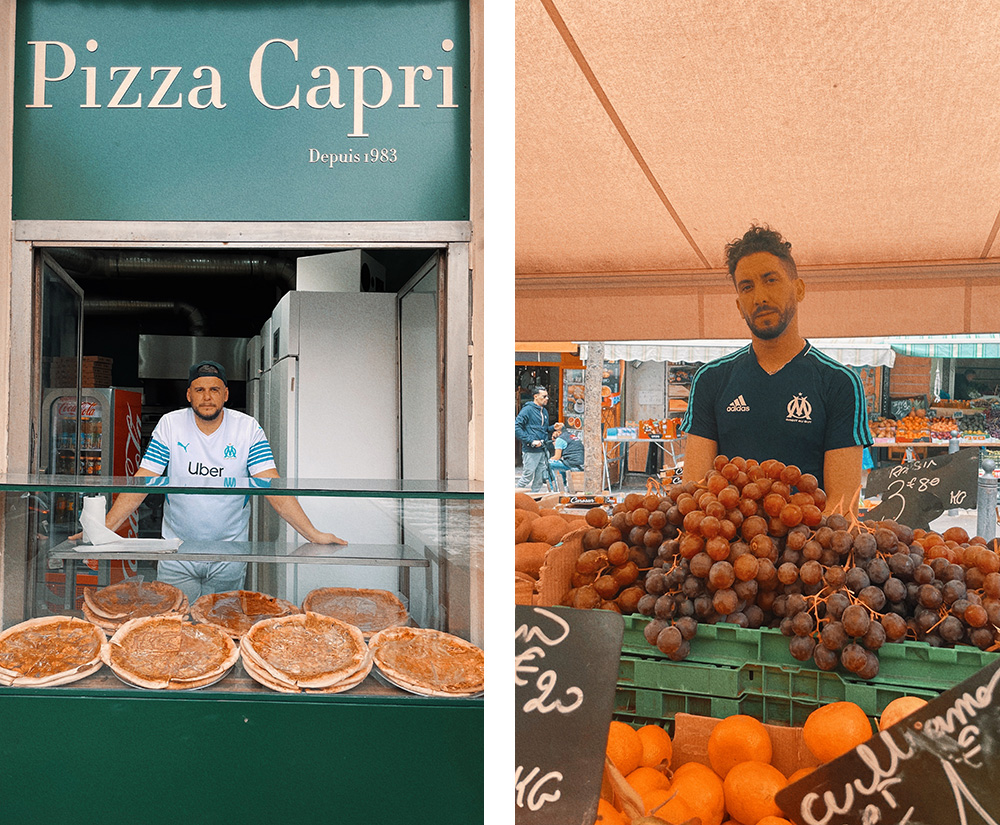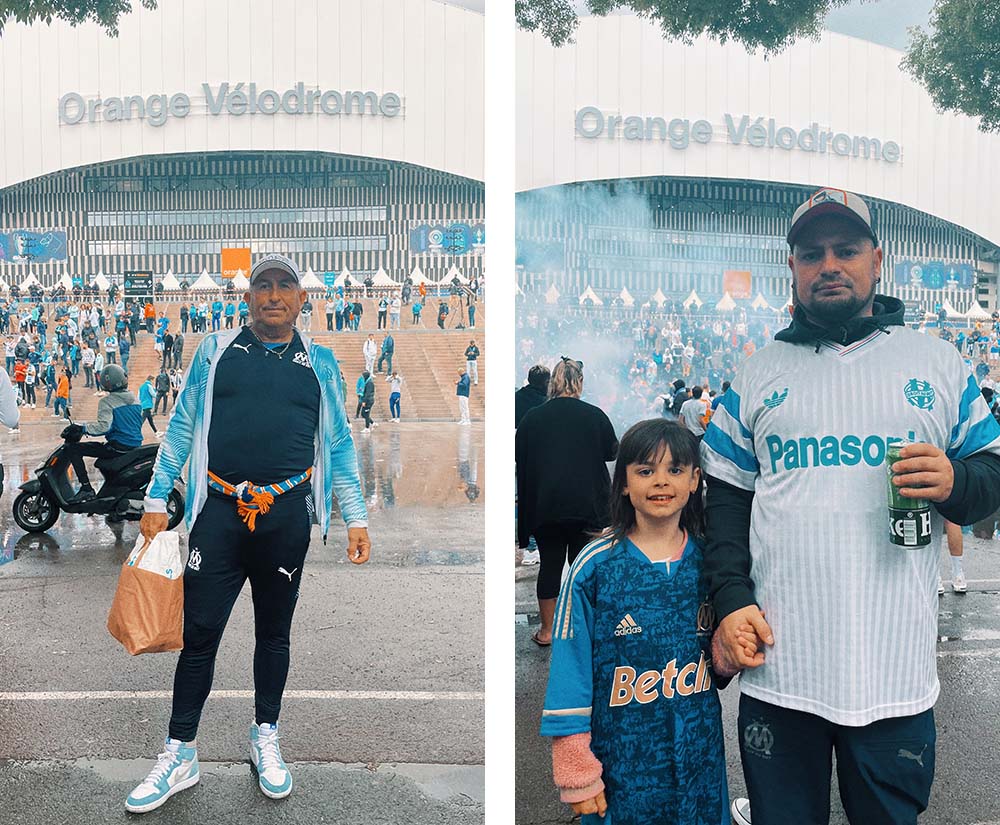 Everything in Marseille seems so hard but admirable at the same time. I always feel like I simply want to be one of them. In my mind, there's a simple connection between being there and feeling good.
Marseille means to choose the difficult way to achieve whatever you are searching for. And I want to tell this story with people I have met during my several stays in the one-of-a-kind city.
"The Marsellaise condition requires being talented, fast, and creative in daily life — that's why we love pizza," confesses Clément.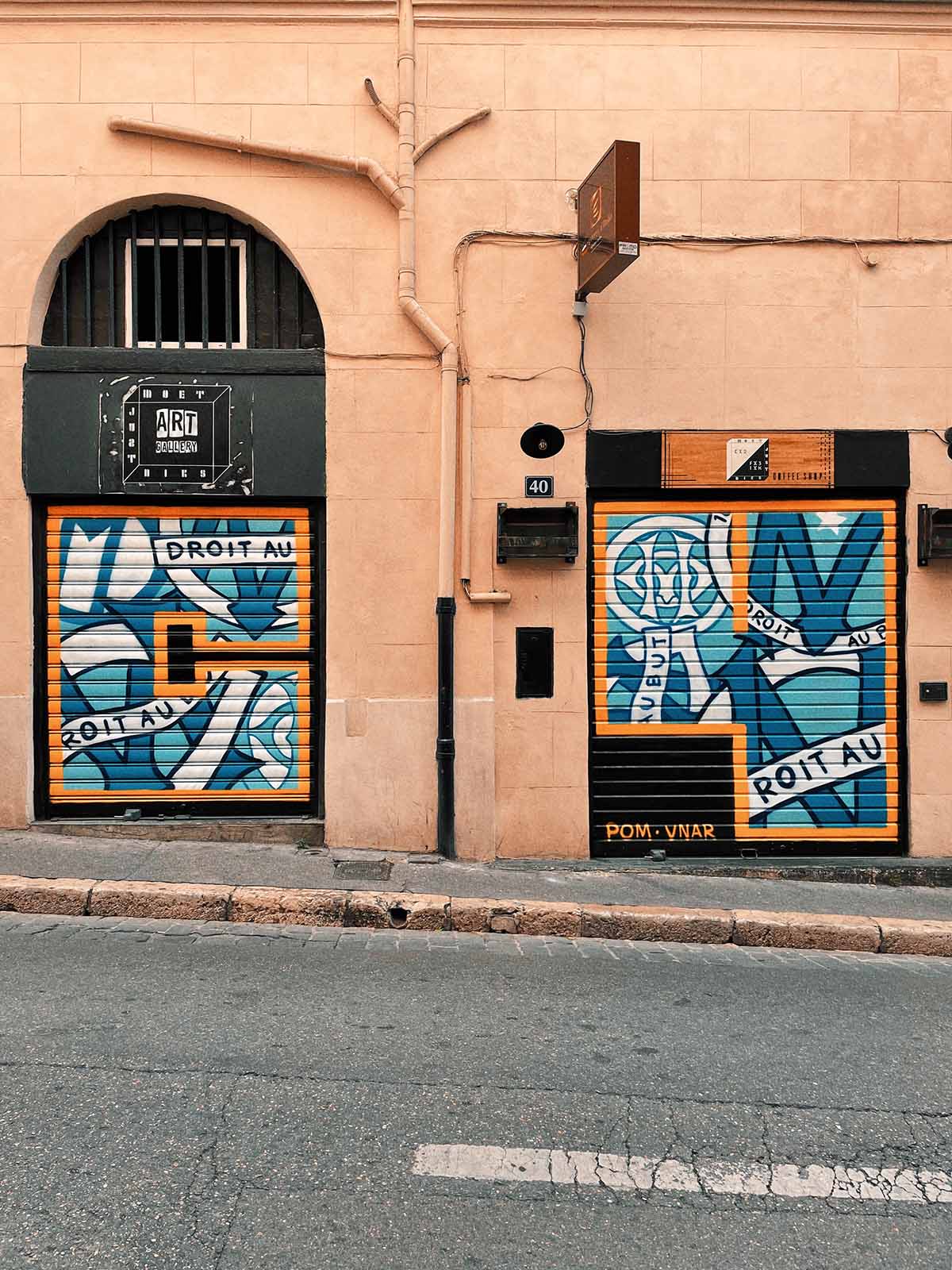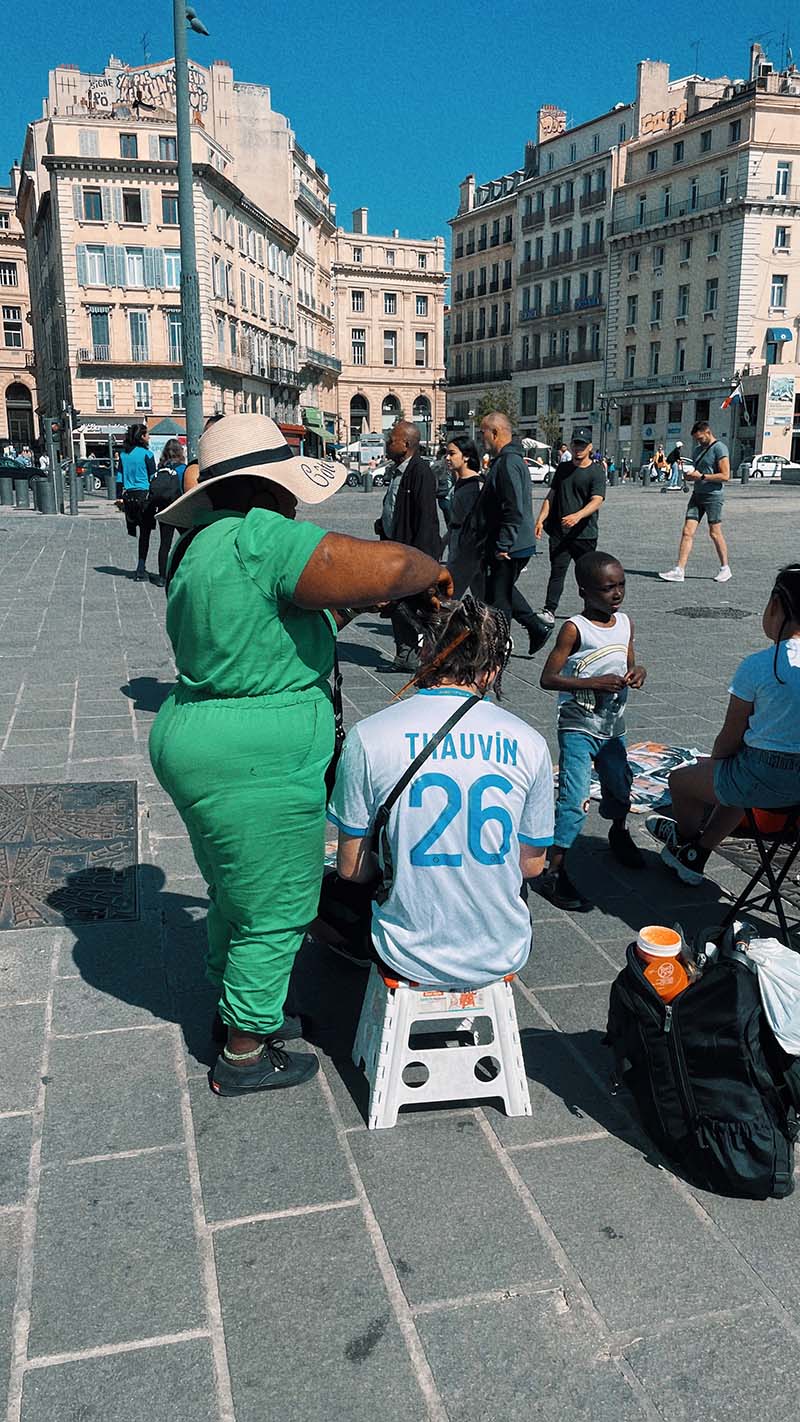 "You know, growing up, I saw Olympique de Marseille as just an urban pastime," says Nico. "Then, you realize it's a fever. And it's deep in your blood."
Nico owns 'Le Pazou.' There, no one speaks English and I don't speak good French. But I can't help but feel happy in this bar.
Hamza, who rented me the apartment I stayed at, underlined, "Being Marseillaise is a daily way of re-vindicating your identity, and we are all from different diasporas. But our heart belongs to this city."
In a certain way, you can experience a microcosm of society at large, and OM fandom emphasizes broader social issues.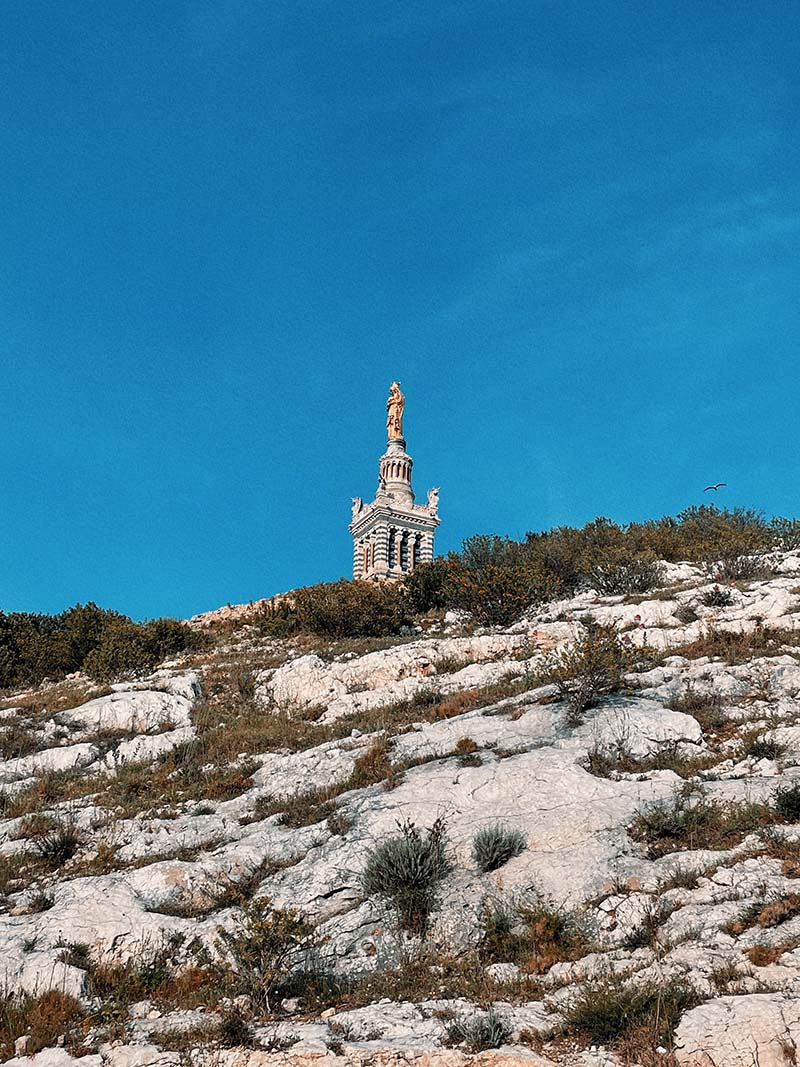 'La bonne mère' protects all the Marseillaise. The historical Basilique stands up, representing the entire city's identity. It's beyond any of the three main religions in town.
"The homeland is Marseille and the rest we don't care," says Malik replying to a message with a clear "Defend Marseille" motto.
A true kid from the inner city sitting to my right introduces himself. He knows I'm not from there, but he's curious. We automatically connect when the word "Barcelona" comes out of my mouth. It is not easy to understand how the city works. Nevertheless, to me, as a Barcelonian, the Marseillaise are friendly and welcoming with me.
"We are Marseille. Nothing is easy for us," reckons Gaby.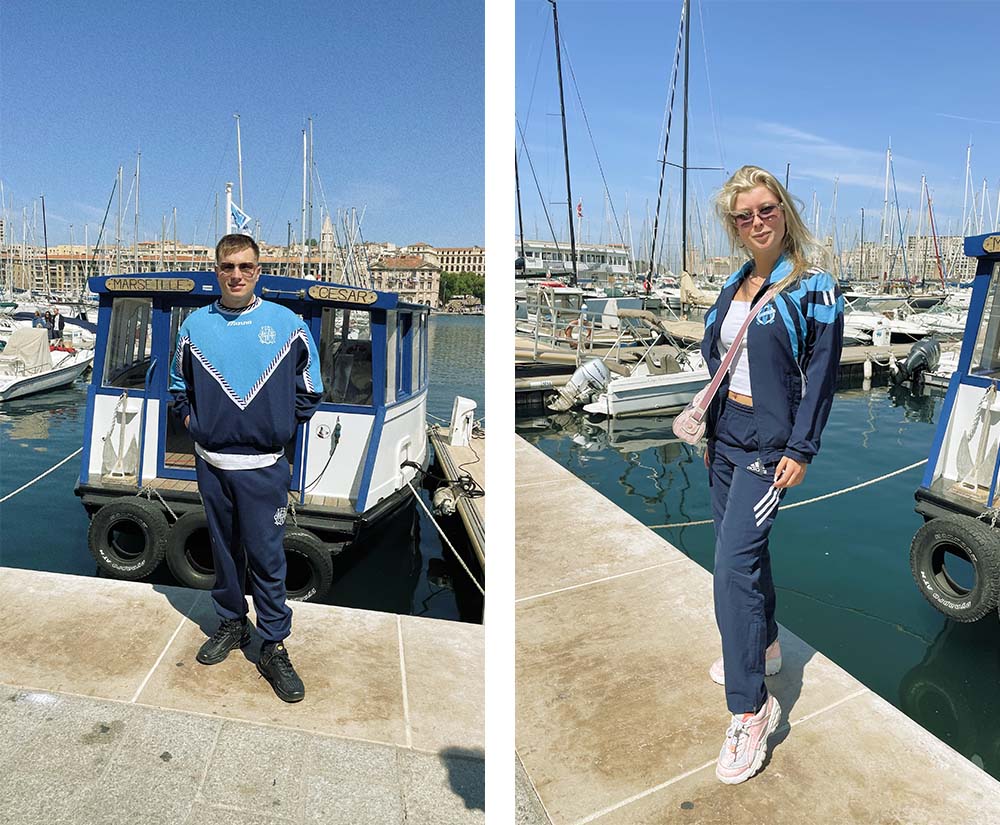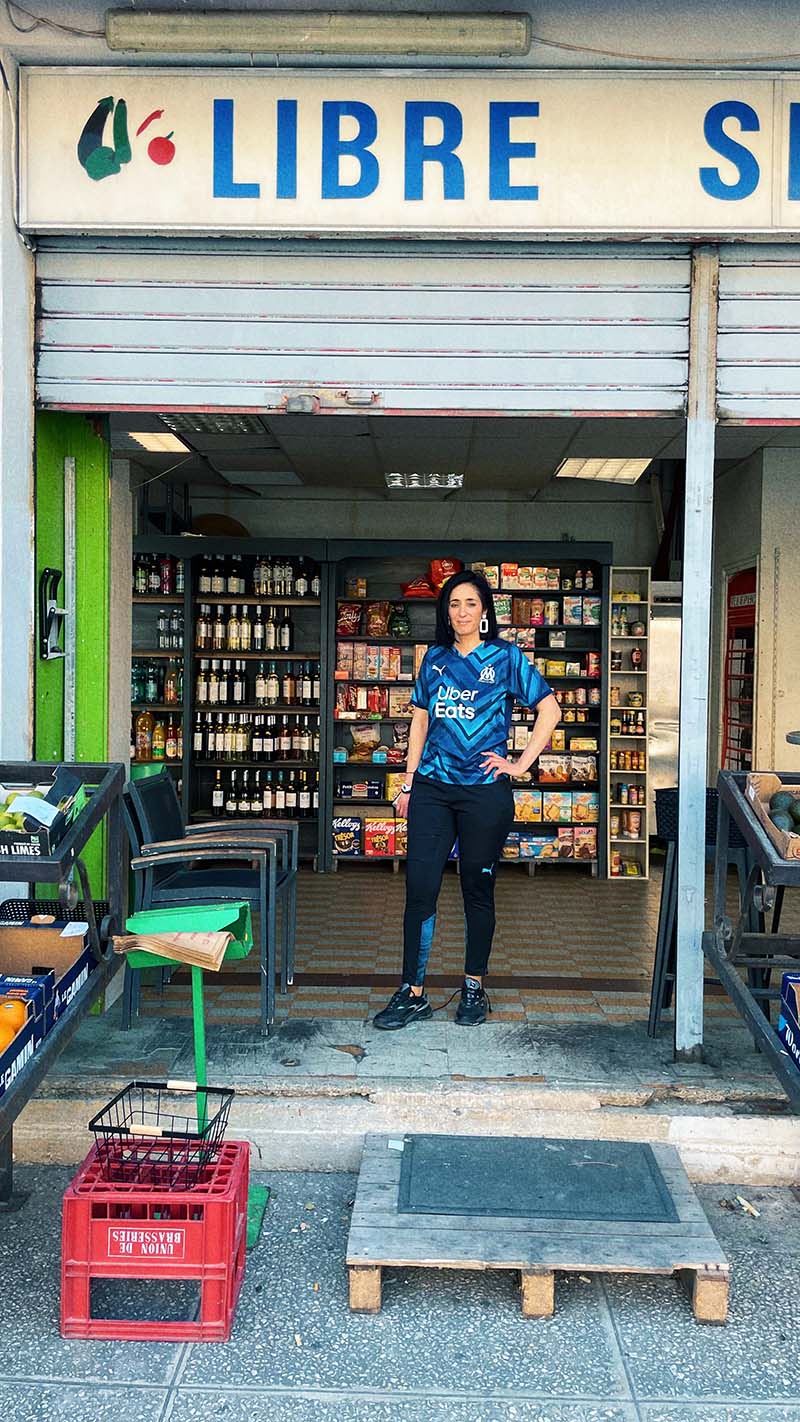 Marseille has a reputation as a scoundrel city, and I'm addicted to this madness. You hold a master's degree in urban planning when you know how to move around by yourself in Vieux-Port.
Sometimes passing traffic does the opposite, and yelling from an open car is just another quotidien experience. In Marseille, you need to keep your eyes open. I feel relaxed when I'm immersed in the city's chaotic traffic. I am where I want to be. That's my place in the world. Imagine not living in Marseille at its beats? Welcome to the catastrophe! C'est pas la capitale. C'est Marseille bébé!
I booked my flight to Marseille for the 'Choc des Olympiques' between Marseille and Lyon, pretending to spend a few days in town chilling and documenting my daily life in the city. But OM qualified to the Conference League semifinals against Feyenoord just four days after the Olympique Lyonnaise clash.
"You need to stay," my good friend Aurel told me. "No worries about the ticket, this is my part. But you have to stay in Marseille. This is going to be savage."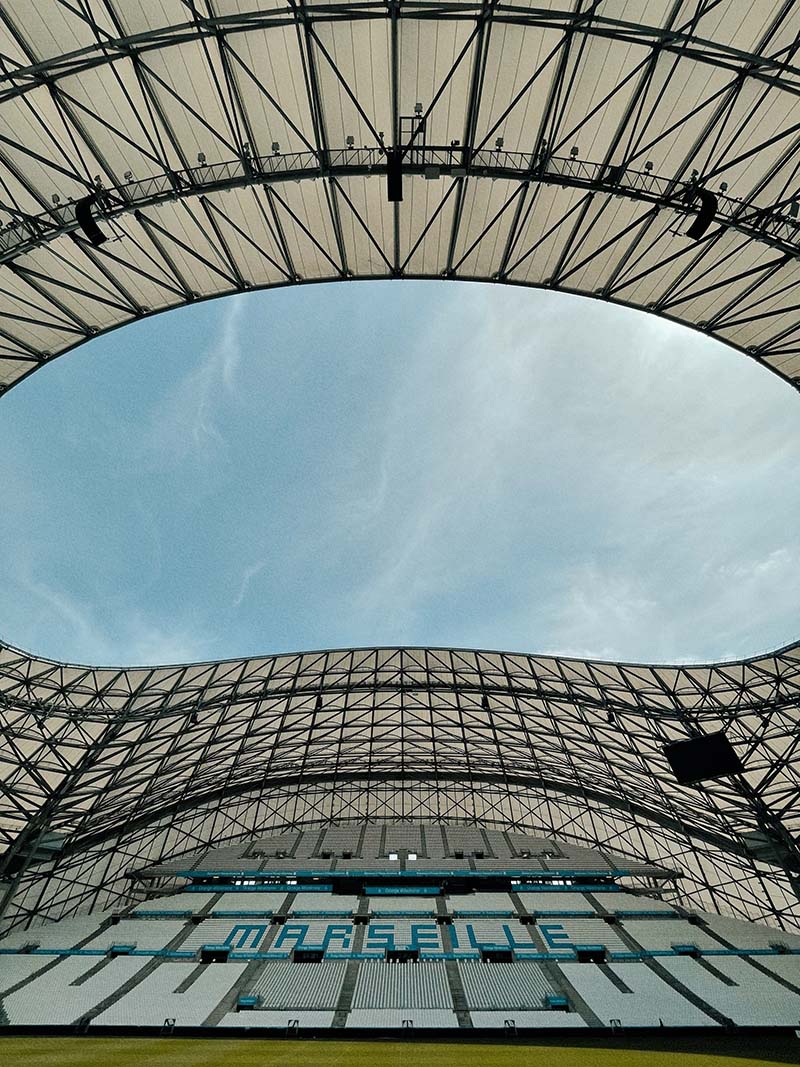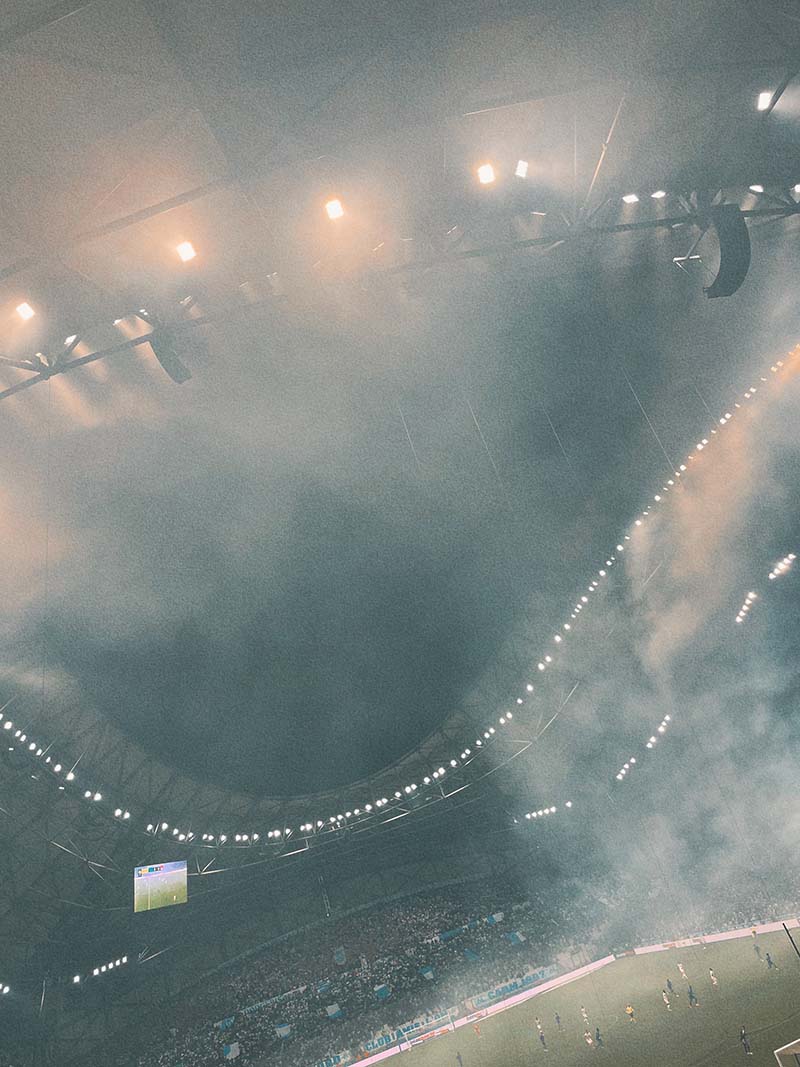 I don't know the exact translation from Spanish bullfighting expressions, but I would say, "Marseille is not an arena to fight bulls," for any away fans. Every home game feels like a siege mentality, a battle to win.
Apart from the atmosphere at the Orange Vélodrome, what makes OM unpopular towards the rest of France is what they achieved in football. There are teams so poor that they only have money. And Marseille is heaven.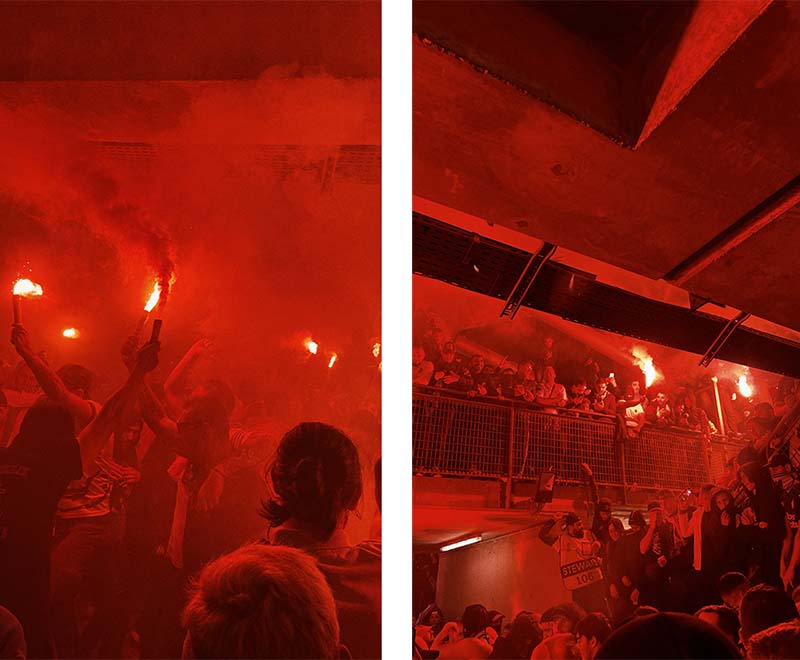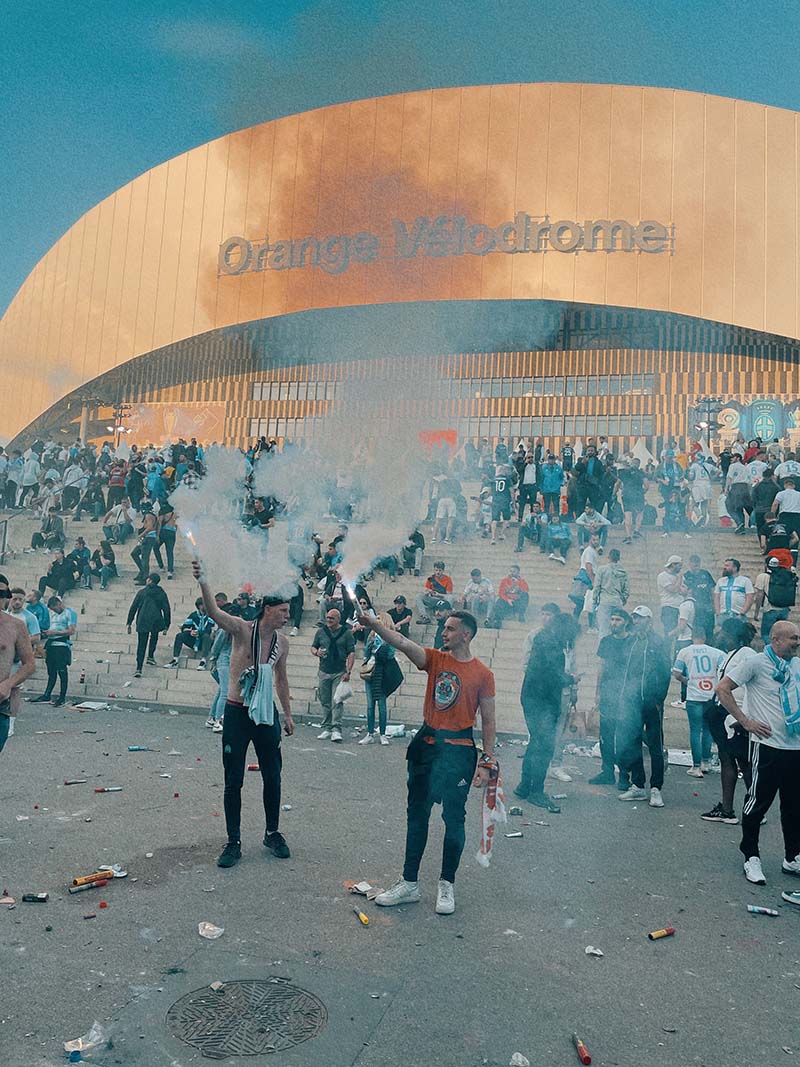 The entire city vibes for OM. People go to work with their urban rider PUMA tracksuits. A quick photo of the little supermarket in Le Panier before making my way to the stadium. She looks glorious.
As kickoff nears, OM fans started to get things going by scaling fences and displaying an insane amount of pyro. Bloody hell. Fans hold bastard flares looking like they are doing some hardcore spot-welding. It's a must-see atmosphere. Unreal until you realize you are taking part of it.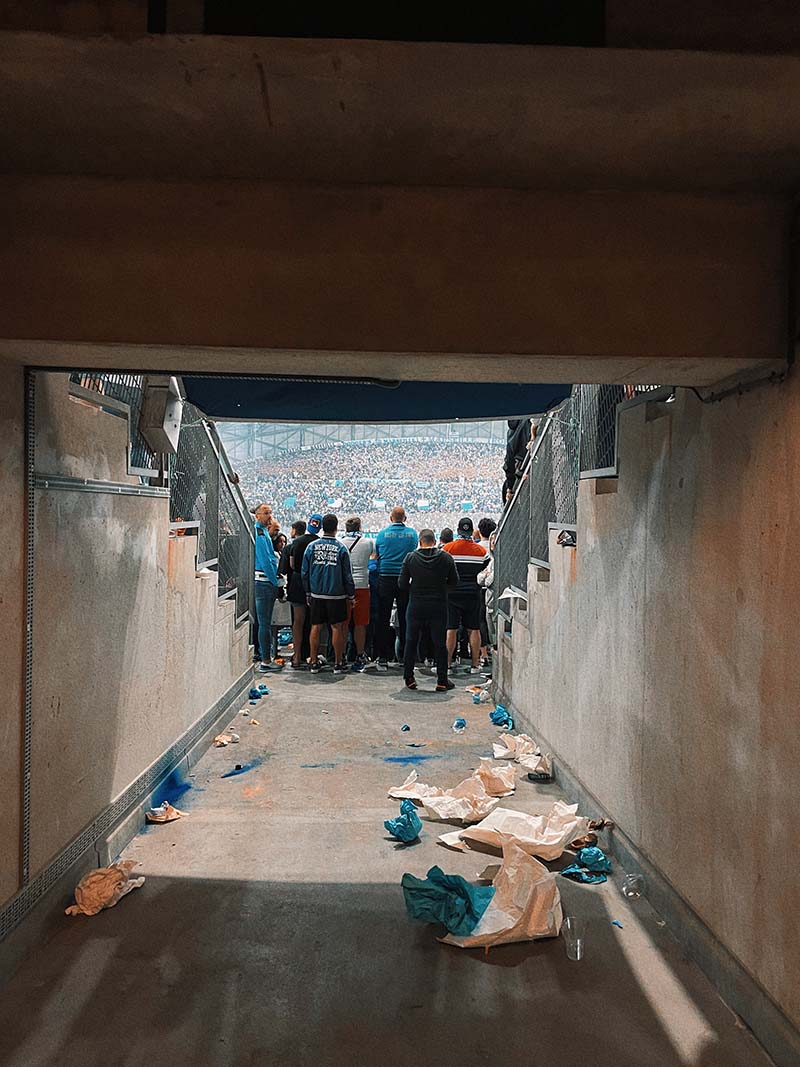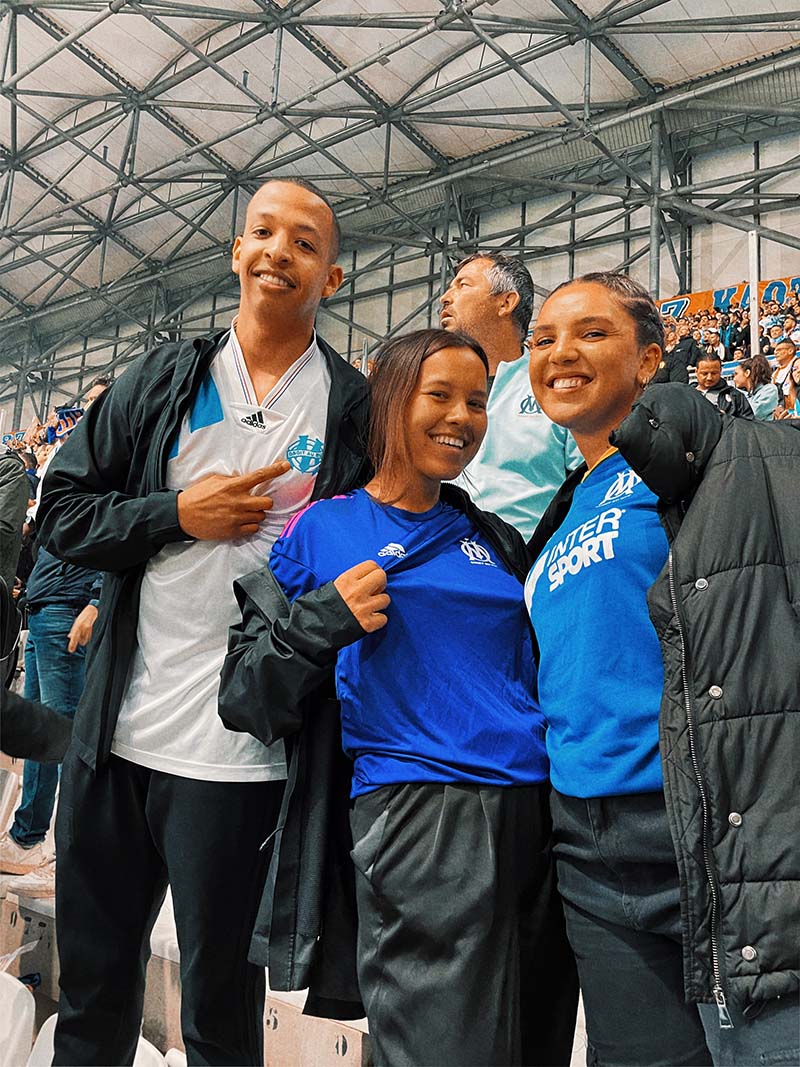 How impossible it is to not fall in love with this. Olympique de Marseille also wins hearts and minds off the pitch through the sheer noise, atmosphere, energy, and commitment of the Marseillaise faithful.
Stade Vélodrome is good on a night out but bad on the morning after.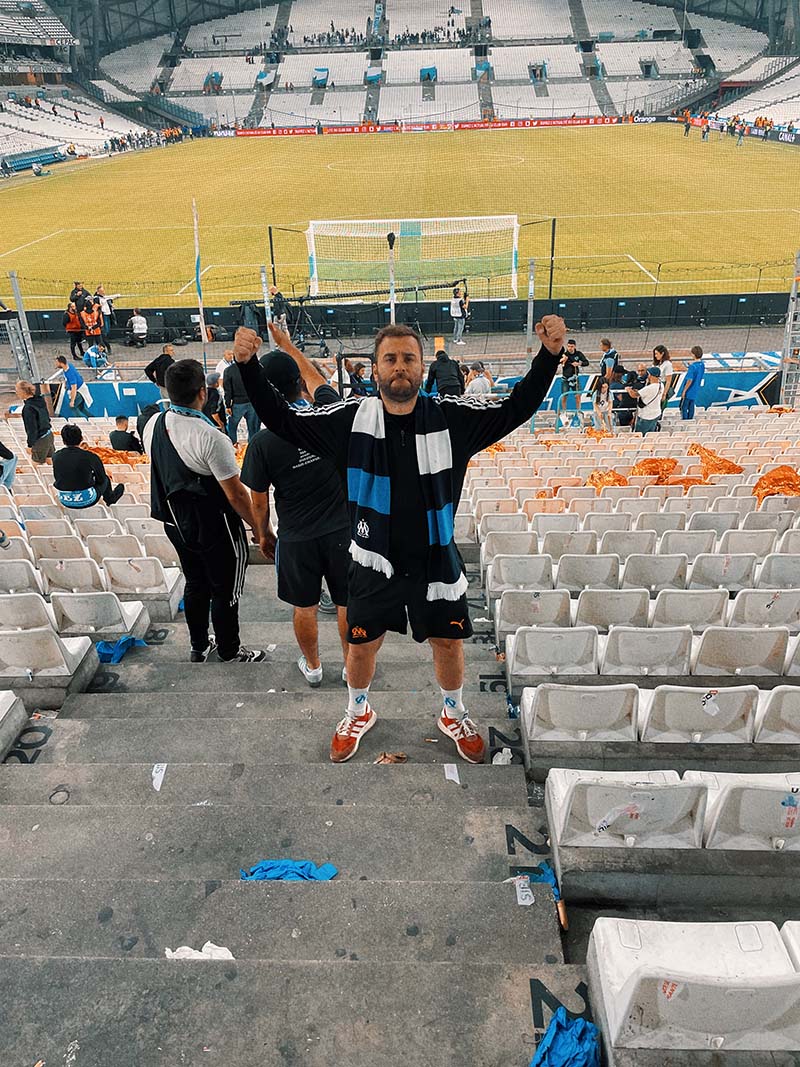 Photography by Ignasi Torné Gualdo.