Design veteran Patrick Cummings has created an alternate universe where soccer reigns supreme across sports in the United States. His America League features five pyramid levels and 74 clubs with their own unique backgrounds and identities based on U.S. history and local culture. We take a look at the league's origins, and how Cummings' experience as a designer and an American helped him build the ambitious personal project.  
In an era of social media and new internet software, it has become incredibly simple for footy fans to visualize and create concepts for clubs, uniforms, and brands, and share them online.
I myself without any designing experience or skills can use sites like FIFA Kit Creator and easily turn ideas for kits into full 3D models and post them online, along with thousands of other amateurs looking to do the same. So to make your project stand out in the digital sporting landscape, it has to be something special. And with the America League, Patrick Cummings has done just that.
As a freelance designer who was introduced to soccer through watching the United States men's national team in the 2002 World Cup, he has quickly incorporated his graphic design skills into a passion for soccer, and the result is a project that soccer nerds and design fanatics alike can get behind.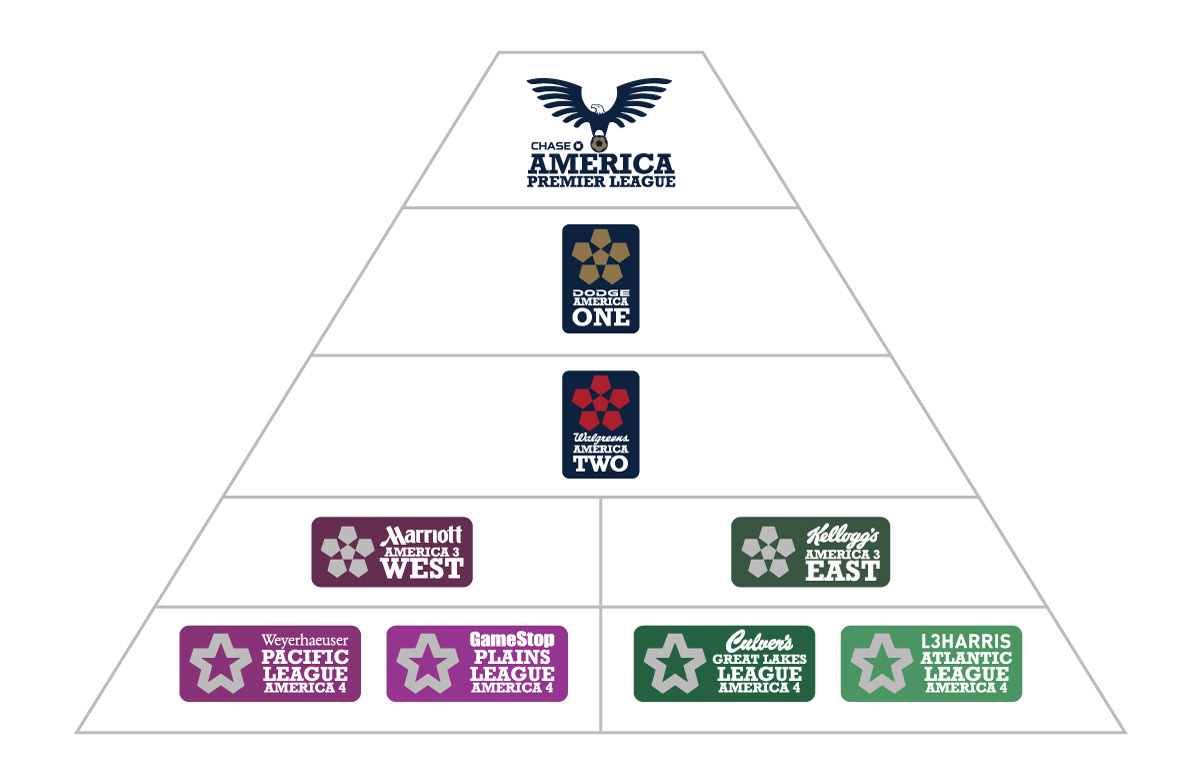 Cummings was inspired to create The America League after discovering the English footballing pyramid, and how the principle of promotion and relegation connected the levels of the game from the largest cities to the smallest towns. He took the system and transplanted it into an alternate history, where instead of football and baseball being the original national pastimes, soccer was in their places and structured with promotion and relegation in effect.
American cities like St. Louis, New York, and Columbus already have rich soccer histories, but for Cummings, the goal was to create an entirely new league, while also keeping it grounded in history.
"It was hard at first to not have the [New York] Cosmos or Bethlehem Steel exist because there's so much history there, you kind of want to include those," Cummings said. "But at the same time had things developed like they had in England, those teams would be completely different."
Instead of building upon already established clubs, Cummings challenged himself to make over 70 new teams and identities, and has taken his concepts to another level than what is normally seen in the sports design world.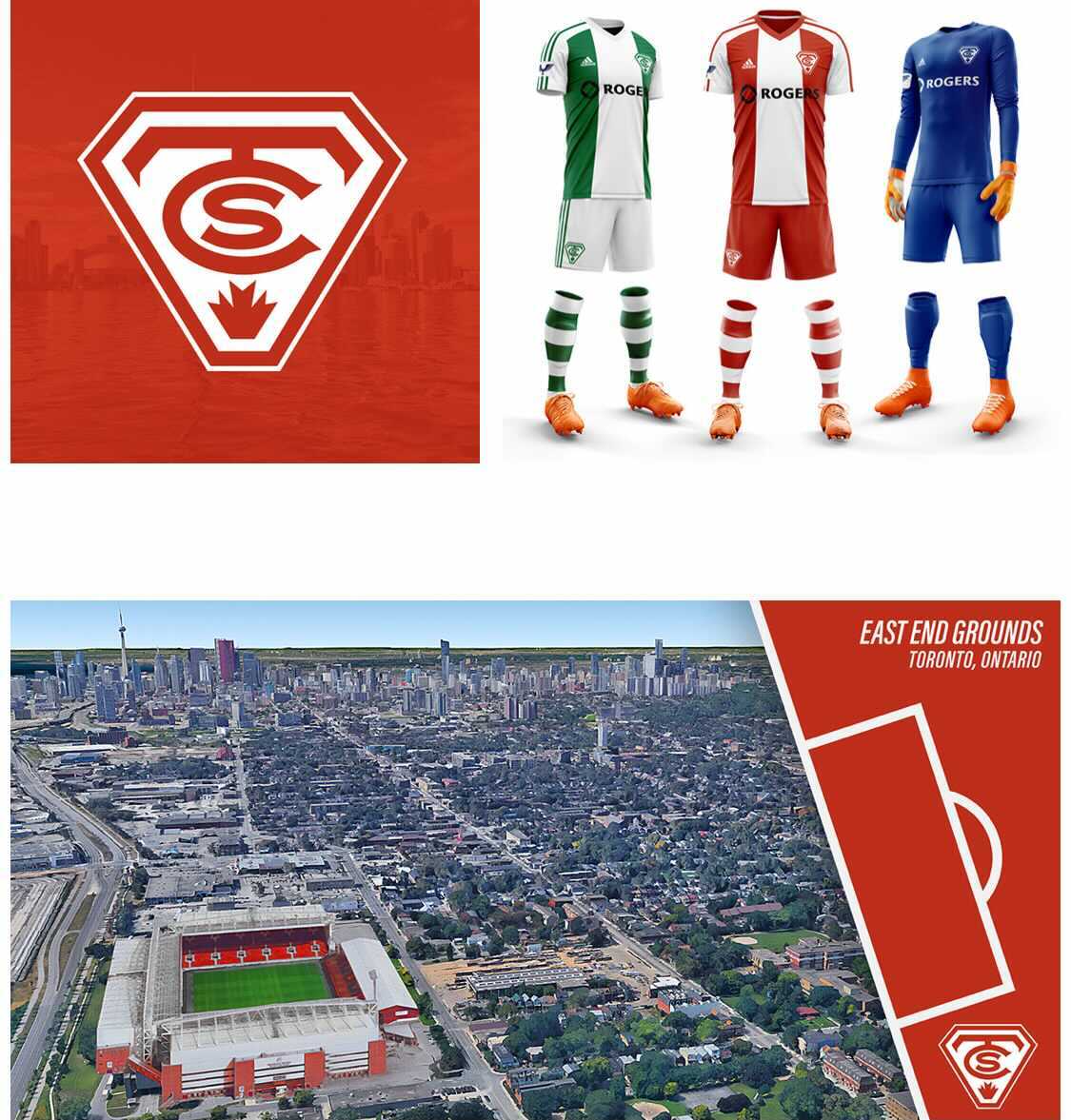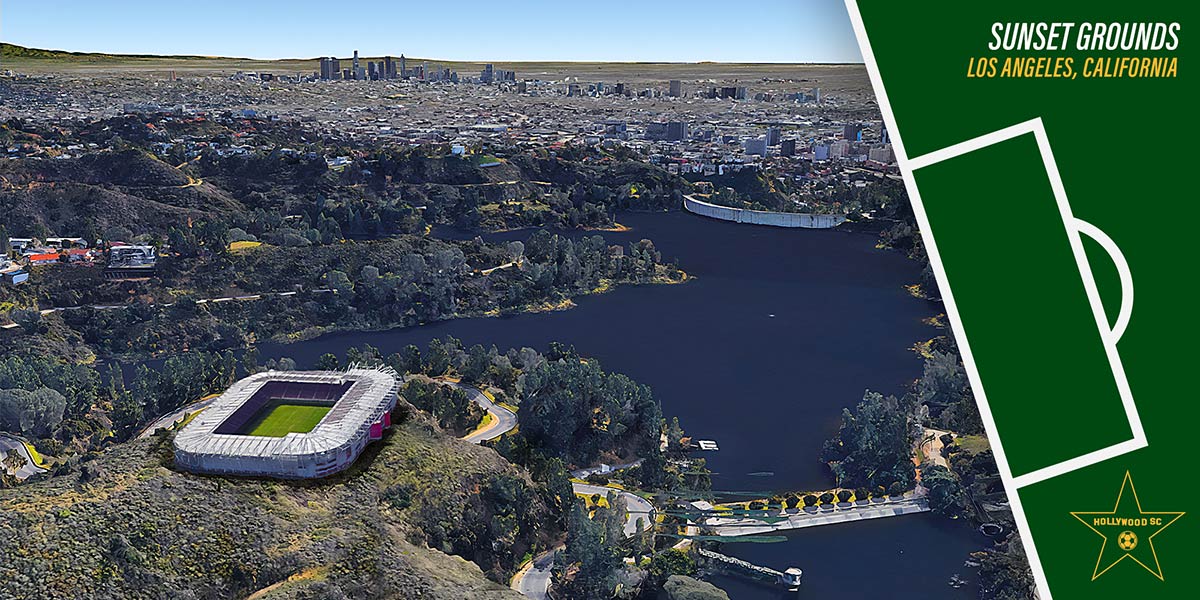 The clubs all come with unique backstories and notable moments, and feel like they could exist in real life. For example, New York United have six league titles, in addition to having a stretch with Lionel Messi on their roster, while media darlings and perennial runners-up Hollywood SC are notorious for players showing up in tabloids for reasons other than soccer. Outside the big markets, Cummings has also created club identities inspired by historic communities, such as Southie SC and Third Ward, who respectively pay tribute to Boston's Irish and Milwaukee's Bavarian neighborhoods.
There are also of course historic rivalries like Chicago North and Chicago South, and even teams outside of the States, with Klub Aruba and Kingston both in the Carribean, and Olympique De Montreal and Toronto SC representing Canada. Additionally, every club has fantastic kit and crest designs, all from multiple styles of branding creativity, and some even get a 3D stadium rendering as well.
Like the lower leagues in England, America Leagues One, Two, and Three are packed with unique cities from across the nation, and they elevate the project from just being a redesign of MLS (although the high quality branding and storytelling separated it from the rest of the pack beforehand). The lower divisions provide authentic looks at the towns that Cummings has created teams for. He used personal experiences in the Midwest and other areas around the country for inspiration.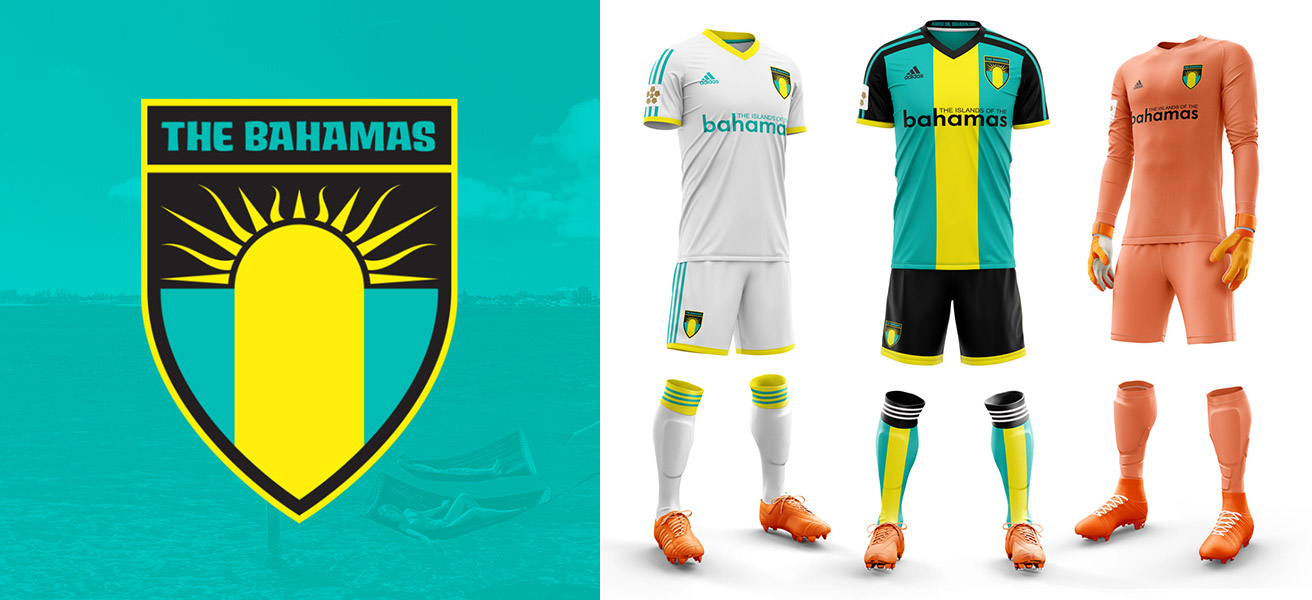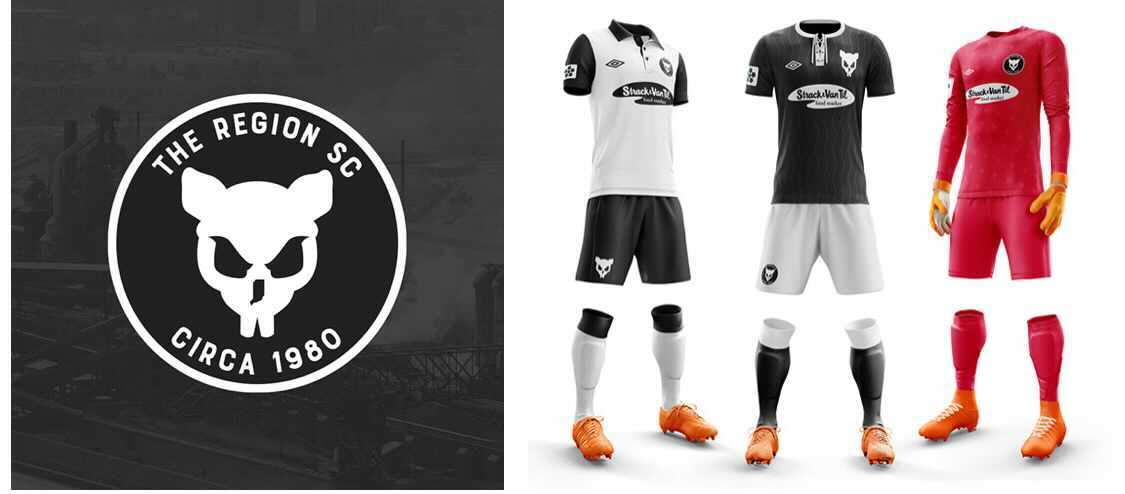 For example, his connections in Indiana while designing the crest and brand identity for USL Championship's Indy Eleven led him to create League Three side The Region SC, located in Merrillville, Indiana.
Cummings has both existing and soon-to-be-revealed teams from almost every state in the continental U.S., and he has big plans for the future of the project, with more stadium visualizations and teams lower down the pyramid to come. There are also in-depth spreadsheets of league placements and trophies like the Delta Liberty Shield and the Midwest Cup.
For Cummings, the America League has always been a personal project done for free, and it serves as his tribute to the beautiful game that he has been able to make a career through, while also showcasing his talent for graphic design with soccer fans across North America.
Maybe his crest and kit designs will inspire others to get into the field, and his biggest advice to newcomers isn't all that surprising — practice makes perfect.
"It's a craft that you need to work on all the time," Cummings said. "You can learn the programs that you use and you can learn the tools, but doing personal projects and being proactive in doing things like sketching — it's important to sketch by hand and have those ideas on paper before you go to the computer, and it can be something only you understand.
"But if you just go straight to the computer and start trying to make a logo, it's not going to turn out as good as if you have a plan on paper first, then start really getting it dialed in."
So, if you are looking to make it in the world of graphic design, follow Cummings' advice and then check out the America League, one of the coolest and high quality concepts we've seen in a long time.
Check out the full list of America League clubs via its official site, and follow Patrick Cummings and the America League on Twitter for more updates.