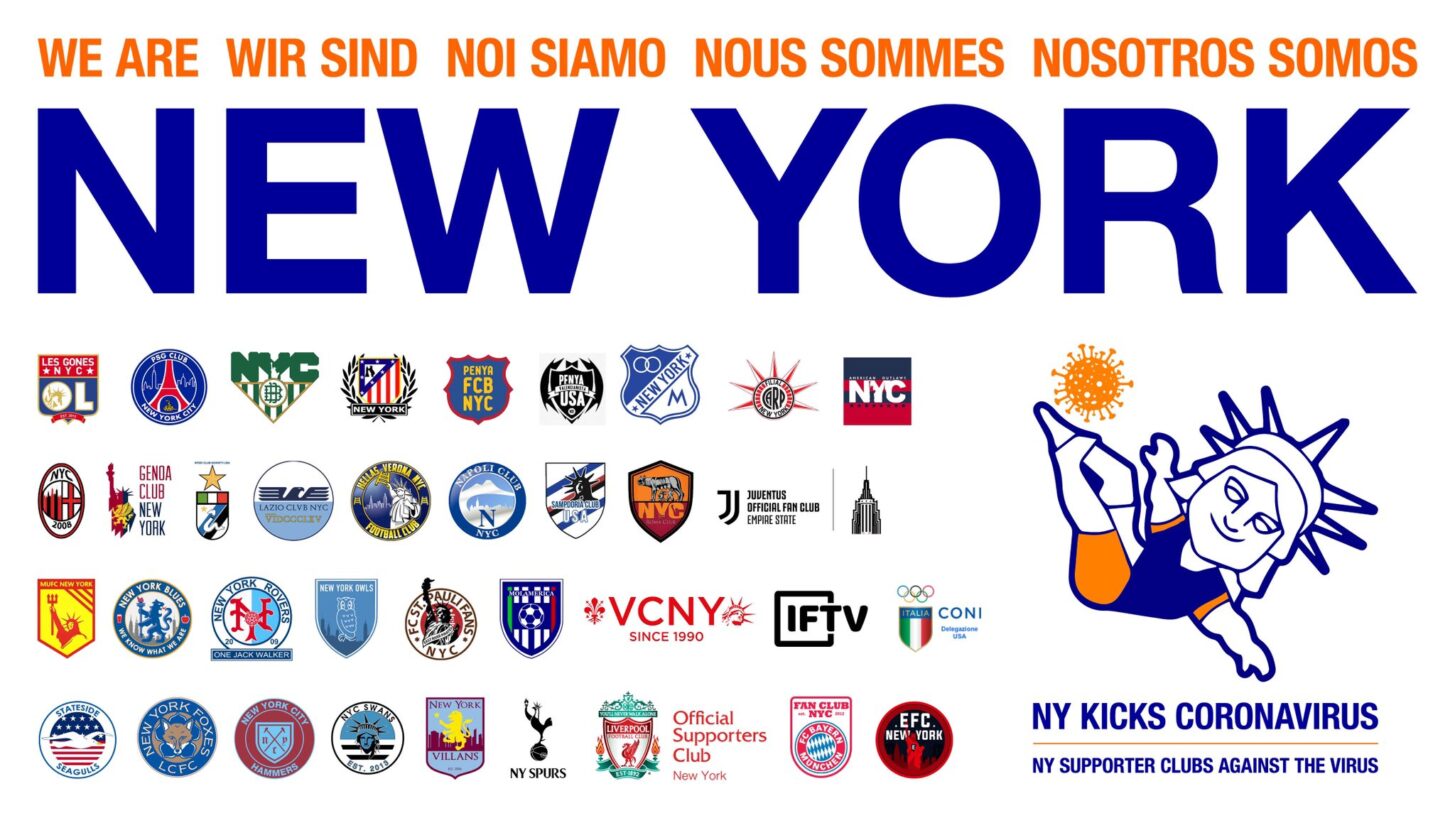 Through the New York Kicks Coronavirus campaign, The Big Apple's most fervent soccer fans are raising funds for NYC Health & Hospitals to aid in the fight against COVID-19. 
On Sunday nights, we're used to bantering about the weekend's matches, cycling through hot-take tweets, commenting on top goals, and perusing Instagram stories from those who were lucky enough to attend the match in person. It's been just several weeks, yet that type of interaction seems an age ago. The world has changed — and so have its goals.
This past Sunday I heard from my friend Claudio Tamborra, who is the backbone of Roma Club New York. After briefly catching up, he told me tomorrow was the "big day," and that I would see just exactly what he had planned.
"It's going to be something special, everyone is involved!" He told me.
By Monday afternoon, I signed out from my day job and refreshed Twitter. "New York Kicks Coronavirus" was hot off the electronic press. I clicked to see the GoFundMe, and patrons had already made a dent in the $15,000 goal.
The New York Kicks Coronavirus campaign is a union of 34 different football fan clubs based in and around the city. Their goal is to raise money for NYC Health & Hospitals, who are the United States' largest public health system. Providing service to more than 1 million in need at 11 hospitals city-wide, the organization is at the frontline of the COVID-19 pandemic.
"New York is so multicultural — we have many clubs," Tamborra said. "I think this can be a very beautiful and powerful message, and everything goes to the organization. It's the only public system in New York for healthcare, and is the only one that provides assistance regardless of pay or immigration status.
I felt that we should all be part of it, and we also understand that this crisis has an economical impact. Therefore, there is no minimum donation, and it can even be for free, as you can simply share the message. We hope that everyone can be part of it."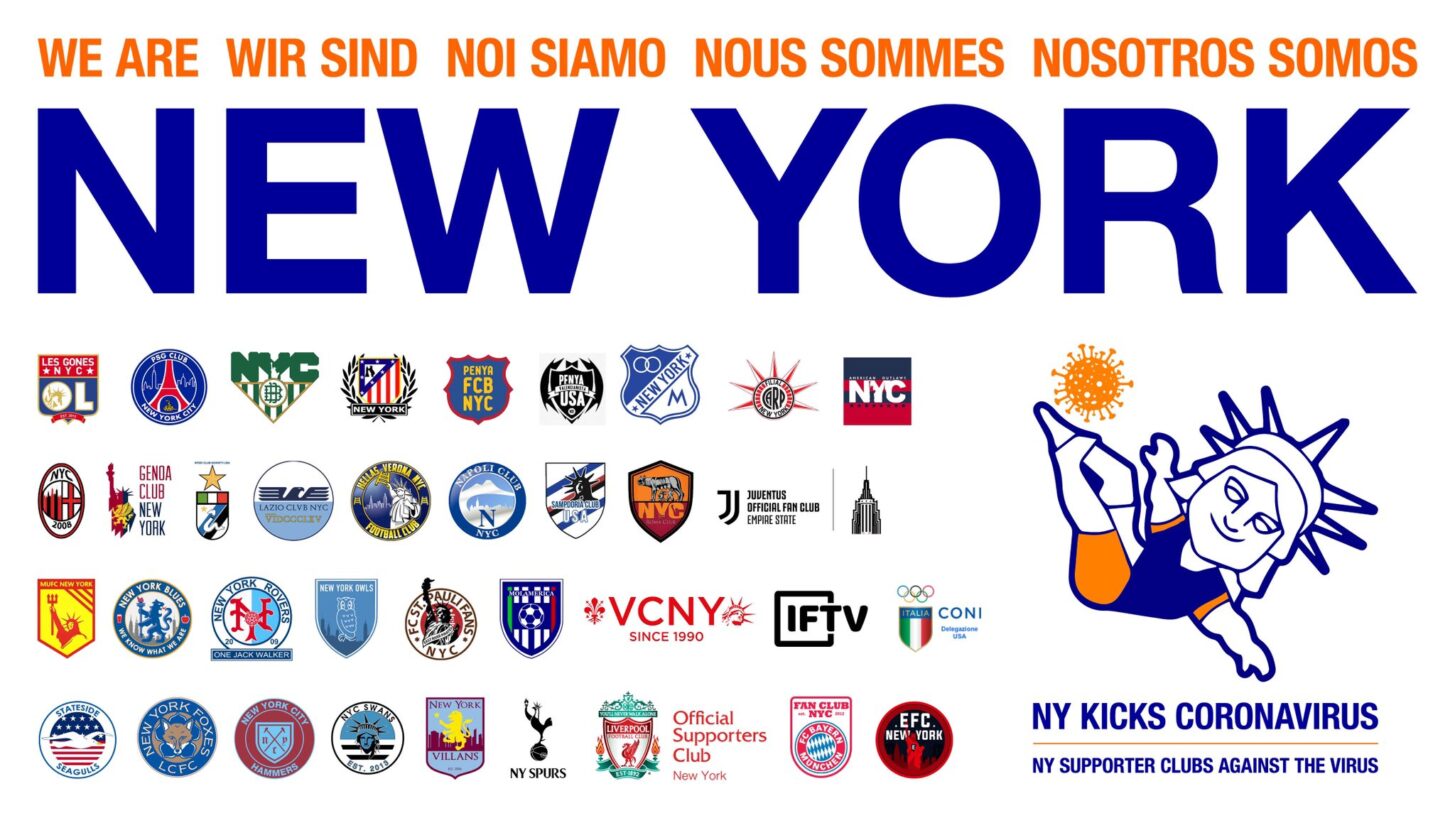 At this point in New York City, each one of us has been affected by the virus — either directly or through someone we know. I've seen a few articles written about what the "new normal" will be and what it means long term, but all I know is that we only have the day in front of us. There are so many who need help, but at the epicenter are those who require medical attention. As we sing our celebratory songs and choruses over Zoom and FaceTime, at the very least, this moment has brought the world's football clubs together in its brightest city. NYC and its football fanatics will continue to shine, picking up each other in the time of need.
By time of publishing, the amount raised is: $5,290
Donate or spread the word via the New York Kicks Coronavirus GoFundMe page. 
Alphabetically, the supporters' clubs representing the campaign are: AC Milan Club NYC; American Outlaws NYC (U.S. Soccer); Blackburn Rovers Supporters NYC/New York Rovers; Eintracht Frankfurt Fan Club New York; FC Bayern Munchen Fan club NYC; FC St. Pauli Fans NYC/East River Pirates; Genoa Club New York; Hellas Verona NYC; Inter Club "Massimo Moratti" USA; Juventus Official Fan Club Empire State; Lazio Club NYC "Giorgio Chinaglia"; Les Gones NYC (Lyon); LFCNY/Liverpool FC Supporters Club of NYC; Millionarios NY; Molarmerica Soccer Club; MUFC New York Reds (Manchester United); Napoli Club NYC; New York Blues (Chelsea); New York Foxes (Leicester City); New York Owls (Sheffield Wednesday); New York Spurs; New York Villains (Aston Villa); Pena Atleti (Atletico Madrid); Pena Betica de NY (Real Betis); Penya FC Barcelona NYC; Penya VCF USA (Valencia); PSG Club New York City; River Plate New York; Roma Club New York; Stateside Seagulls (Brighton & Hove Albion); Viola Club New York (Fiorentina), as well as Italian Football TV, and even the Italian Olympic Committee of USA (CONI).