Although there are plenty of promising aspects of American soccer, there is still a certain blandness when it comes to the beautiful game in the States — most evident in the fan chants for the national teams. 
American soccer culture, particularly white American soccer culture, is a special type of bad. While to the world the beautiful game is something that extends between generations, race, class, gender, and all elements of society, on the contrary American soccer is niche and reserved for smaller pockets of society that rarely connect and grow despite youth soccer's continuous popularity across the country.
It's not that we struggle from a lack of history or of understanding of the game. We in fact have both of those things in droves. We struggle in that distinctly American sense of having no idea what to do when an entity is completely taken over by corporate giants who use their power to extract all the profit and nutrients out of a product and ruin everything else in the process. The corporatization of sport is prevalent around the world, but its timing has affected soccer in the United States the most.
Countries in nearly every continent on the globe were able to develop their own organic soccer cultures before the corporate overlords took away the soul of the game. In the U.S., that wasn't so much the case, which has forced American fans to mimic what they see in other "proper" soccer countries with a slight Stars and Stripes twist.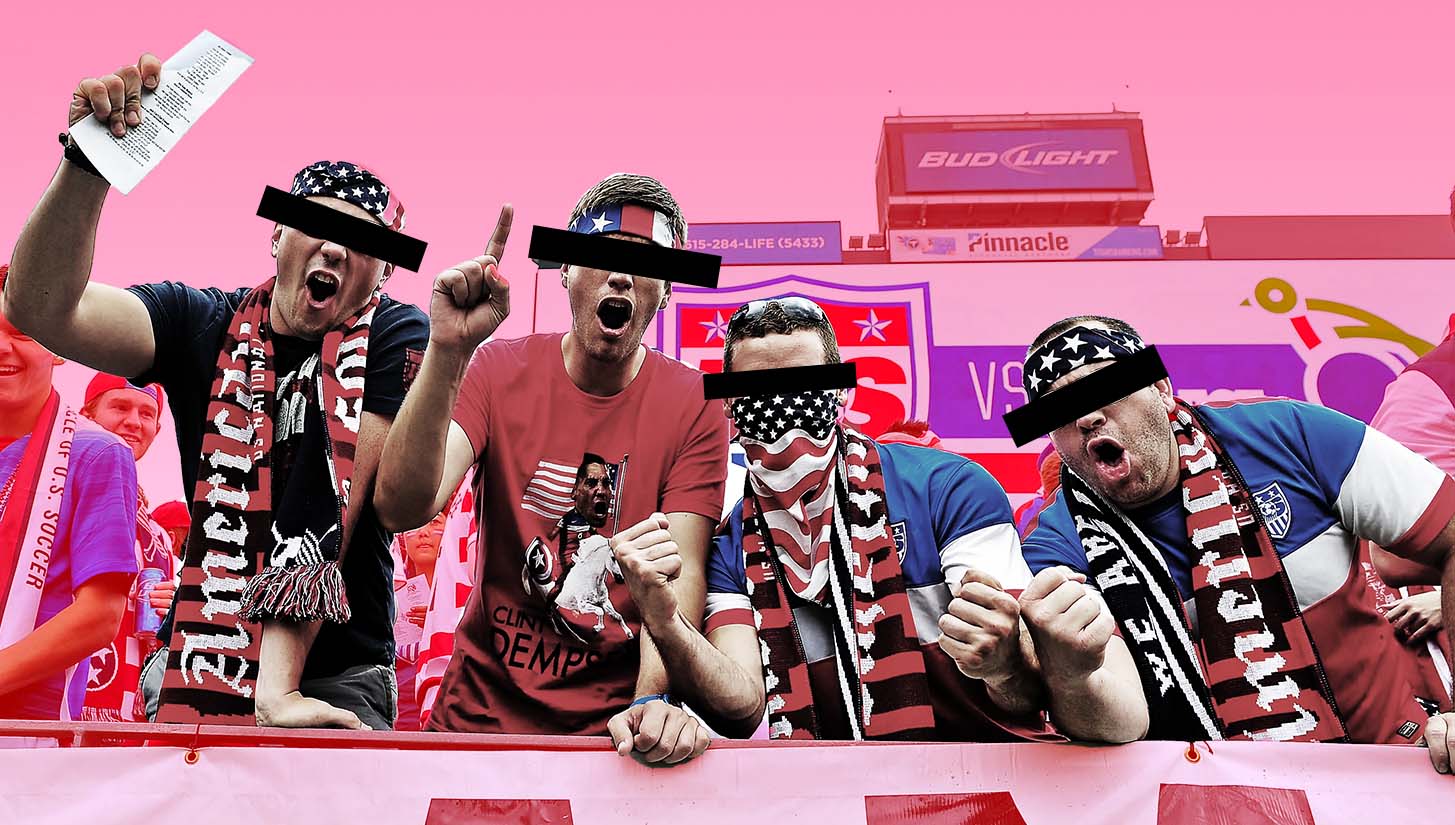 The American Outlaws, particularly white as well, have an official website that lists a large number of official chants that at best are boring and at worst are either embarrassingly cringe or corny.
These songs illustrate just how barren the cultural landscape is when it comes to soccer in America. The first chant they list is called "We Love Ya," and it's a repetitious chant about  — you guessed it — loving the team and following them anywhere. But it just feels decidedly un-American and uninspired.
It doesn't feel like something organically grown from large crowds having a great time, but instead something handed down by a group of nerds who want to create a facade of a crowd being into a match.
For a typical American sports fan, the closest you come to singing at a sporting event is either if you end up on the court for the National Anthem, if you're inspired by a familiar song playing over the loudspeakers, or if you're booing the ref so much you hit an F-sharp 5 by accident.
Even forcing this idea of learning chants or something to properly support the team misses the mark. Chants for teams need to be passed down orally, not compiled on a website with YouTube video examples to copy. Even while I can see how that would be helpful, it doesn't feel right or authentic.
Yes, this is a snobby sports fan perspective but it's a snobby American sports perspective, so it still has some relevance to the conversation. I grew up a snobby Duke basketball fan and when I would be lucky enough to go to the games, that's when I would learn the cheers or the chants or the hand movements. Then at home I could practice those while watching games on TV.
It was a very fun and organic way to understand how to participate as a fan. Duke is known for having a "crazy environment" at their games in Cameron Indoor Stadium, but it's really nothing that special. Their formula is one that hasn't been replicated in American soccer because everyone is too concerned with some sort of image of what a "proper soccer chant" is supposed to sound and feel like. But really, it's as simple as gathering a bunch of passionate (and very likely inebriated) college kids around a court and telling them to go crazy.
There are certainly passionate fans both in and outside the American Outlaws supporters' group, but their voices seem to have been either ignored or overlooked in favor of the current sterile nature of the chants. It doesn't feel like there's a desire to create a memorable experience or a raucous environment for the national teams to play in front of, but rather one that parrots what we've seen from other countries.
There is a strong argument that the corporatization of soccer in this country before we could truly build an identity of our own is to blame here. However, there's a lot of money being left on the table by not making soccer culturally significant.