Plenty of streetwear labels have taken influence from the beautiful game, including The Hand of God. But the brand's secret sauce lies in an additional muse — the elegance and extravagance of Rococo period art. 
On November 25, 2020, Joshua Ugokwe was working his shift as a social media producer for CBS Sports, when the news of Diego Maradona's death broke. He wasn't able to process it right away because he had a job to inform the rest of the world of the tragedy. But since then, he's been able to realize how his brand, The Hand of God, has extra importance in carrying on the legacy of one of the greatest football stars to ever live.
"He was definitely one of my favorite players, and for my friends and everyone else around me, that was one of their idols growing up," Ugokwe said in an interview with Urban Pitch. "Unfortunately, he did pass away and that's something that we took a little bit hard, but hopefully the brand can demonstrate what he meant to the sport."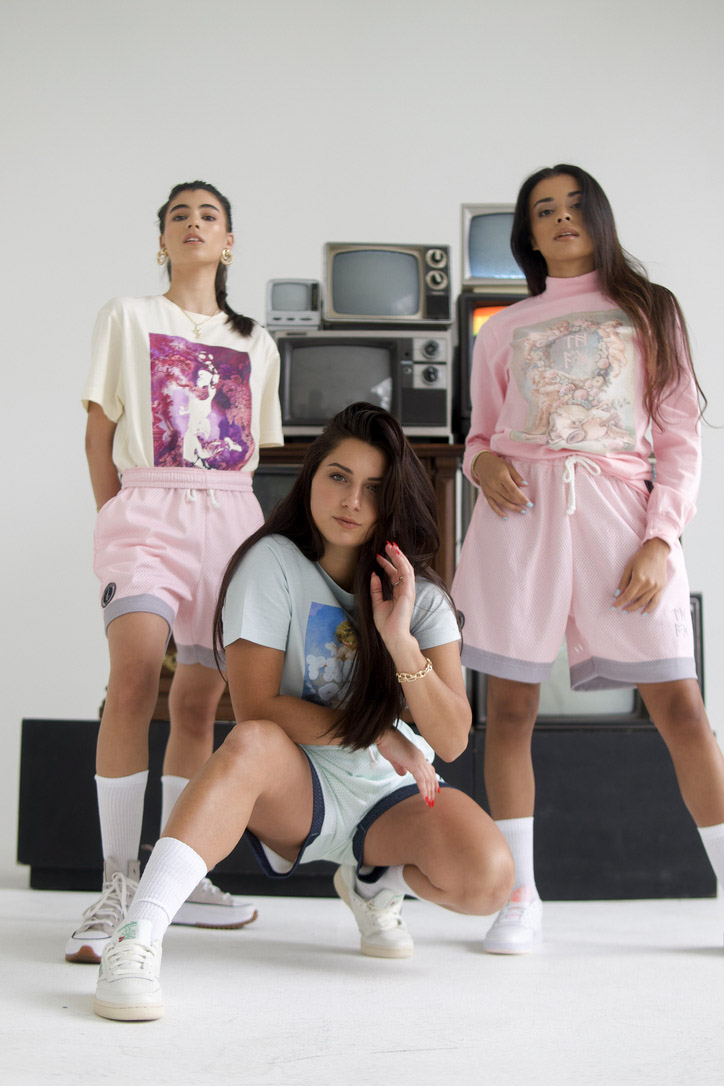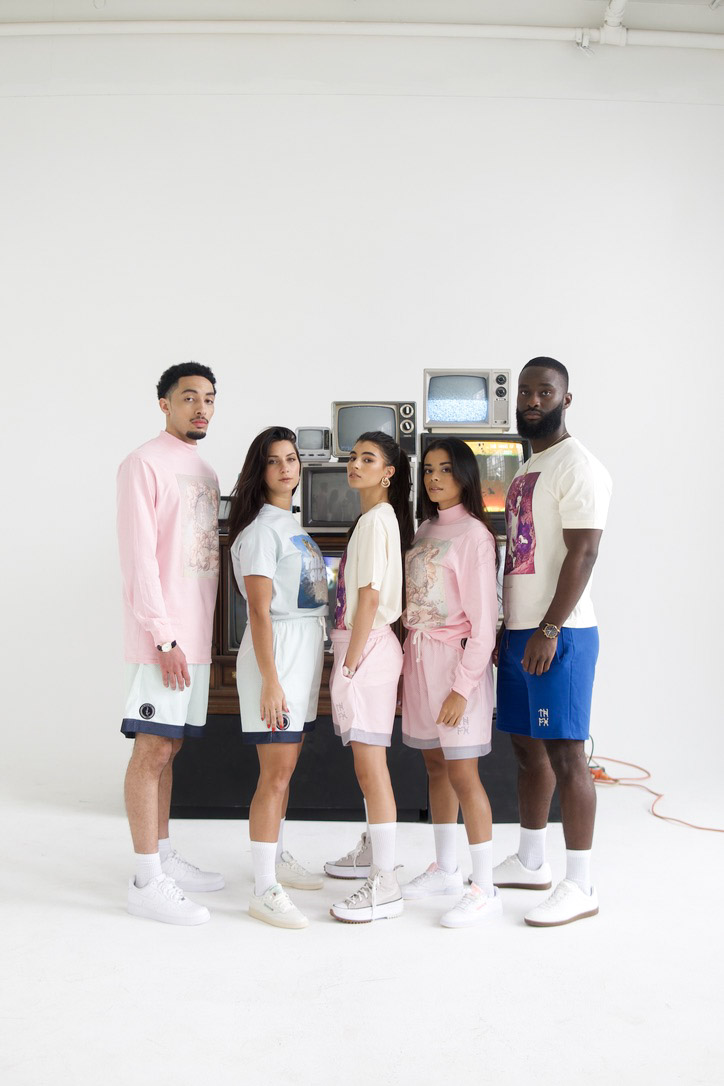 Ugokwe released the first official collection for The Hand of God in June, which highlights his desire to blend the edginess of Maradona's persona with the beauty of Rococo art. He was naturally drawn to art, and found a special interest in the pastels and drama of Rococo when he learned of it in high school. The brand showcases duality as it embraces the role of football for underprivileged communities while weaving in the elegance of the French aristocracy.
The first drop is inspired by Jean-Honoré Fragonard's "The Swing," a famous oil painting of a woman in a lush garden teasing her lover as she swings and tosses off her shoe. The capsule of t-shirts, hats, and shorts incorporates magenta and blue with florals and an outline of Maradona's infamous 1986 World Cup goal that serves as the brand's namesake.
In September, the second drop will feature designs reflective of Francois Boucher's "Cupids (Allegory of Poetry)," which shows three baby angels in the clouds. That release will incorporate pink and mint and an homage to Ugokwe's faith.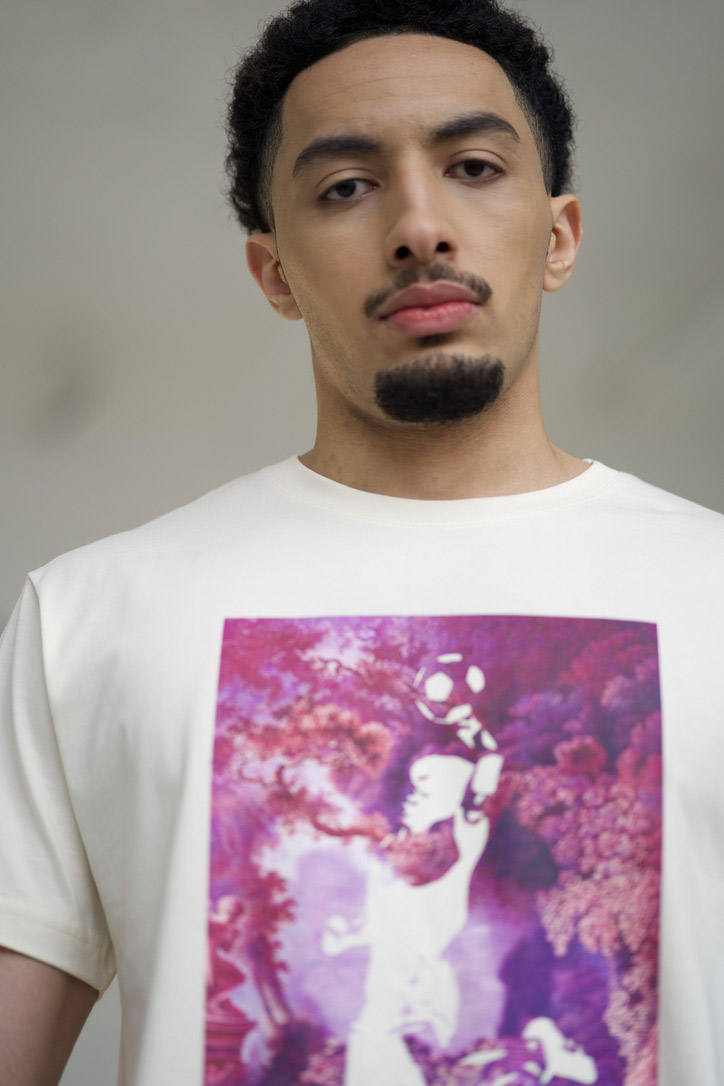 Soccer fans will know the reference of the brand's name right away, but when Ugokwe first told his mother that he was starting a company called The Hand of God, she thought it was a reference to the family's Christian faith. She wasn't completely wrong.
"Even with the meaning of how [Maradona] got the name, it was based in spirituality, right?" Ugokwe said. "When he came out and said, 'Oh, you know, maybe it was a hand of God,' he was referring to God himself. So there is that undertone of, when you have the cherubs on the shorts and the little baby angels, there are a lot of references in there."
Prior to the first official collection, The Hand of God did a Black Lives Matter capsule in 2020 with proceeds going to Color of Change, a nonprofit that raises awareness to abuse of power and creates petitions for social justice. Although the messaging of the Black Lives Matter movement is very serious, Ugokwe took a moment to celebrate Black boy joy when he found out his models were dancers, so he closed the campaign video with a moment of uplifting movement.
"Whenever I feel compelled to stand up for something that I believe is right, I'll go ahead and do that and I'll express it through my brand," Ugokwe said.
Ugokwe also carries a sense of responsibility beyond the messaging of The Hand of God. He makes sure that every piece is manufactured sustainably, ethically, and as locally as possible.
For now, The Hand of God is based in Maryland, since that's where Ugokwe and his sister settled after he went to college at St. John's University. But he's a world traveler since his father was a diplomat from Nigeria, and after being born in Dallas, he bounced around a lot as a kid, spending time in his home country, Austria, and elsewhere.
"I think I've gone to school in three different countries — 10 different schools," Ugokwe said. "St. John's was like the first real time where I had a four-year period and stayed in one school for that amount of time. So that really had an influence on the branding."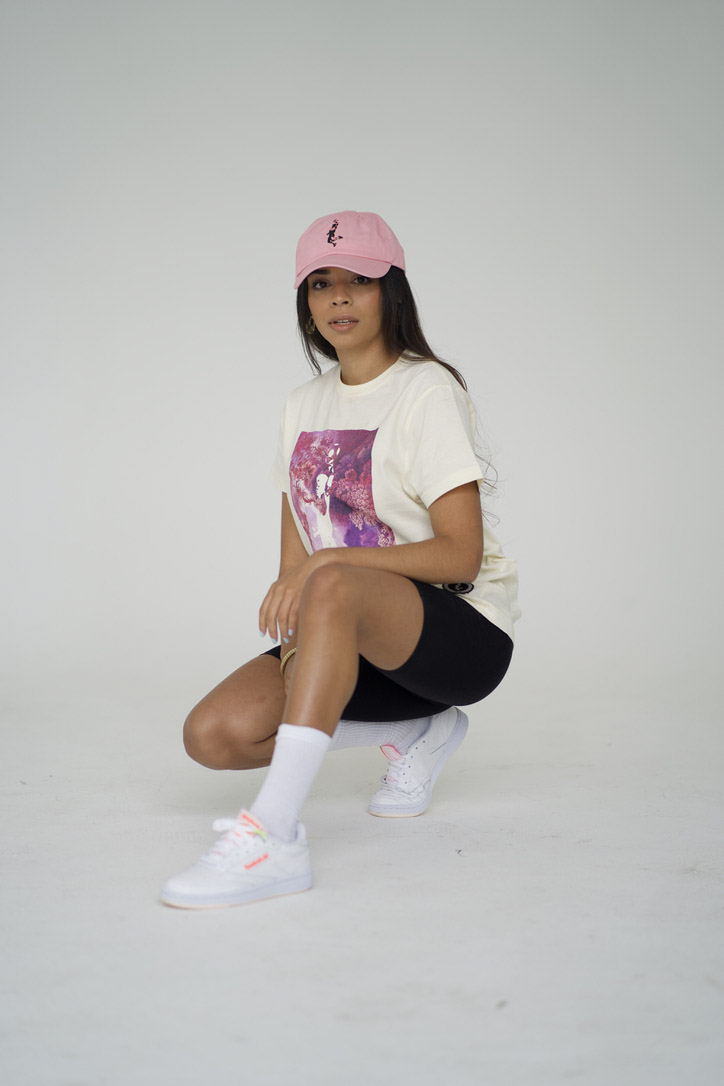 His time in college was very formative as it was when the idea for The Hand of God first came to him as a way to keep soccer culture close. He didn't make the varsity soccer team, but found community with a ragtag group of players who had a genuine love for the sport.
The brand's first release in 2019 was black and pink hats with the same outline of Maradona's Hand of God leap. Seeing students wear his brand was fuel to keep him going with his vision, which includes helping the love of the game grow in the United States. He's grateful to have connected with stars like Gotham FC's Jennifer Cudjoe and sees the growth of the NWSL as a sign that soccer has a bright future in America.
View this post on Instagram
"Going to college, I was thinking, 'Am I really going to meet people who have the same passion for this sport as I did?'" Ugokwe said. "[I] definitely found a group and a home with people who love this sport as much as I did, who are American as well. And so it just further [shows] people are just starting to take more of a liking to the sport in the U.S. and it's definitely continuing to grow and I hope it continues to grow for a long time."
Ugokwe is inspired by Virgil Abloh and Chief Ugo Mozie for how they both have made their distinctive impacts on the fashion industry. He carries his heritage proudly and is excited by the current growth of Nigerian culture on the world stage, with people like Mozie and Afrobeat singer Burna Boy making waves overseas. His big dream is to bring The Hand of God back home to Nigeria.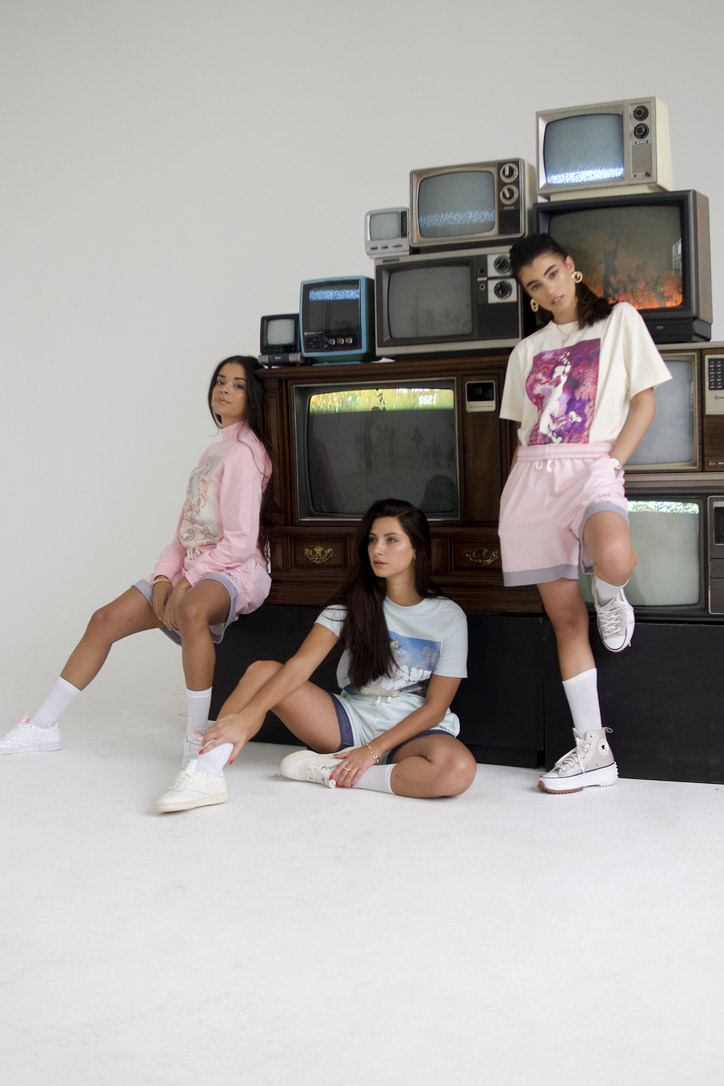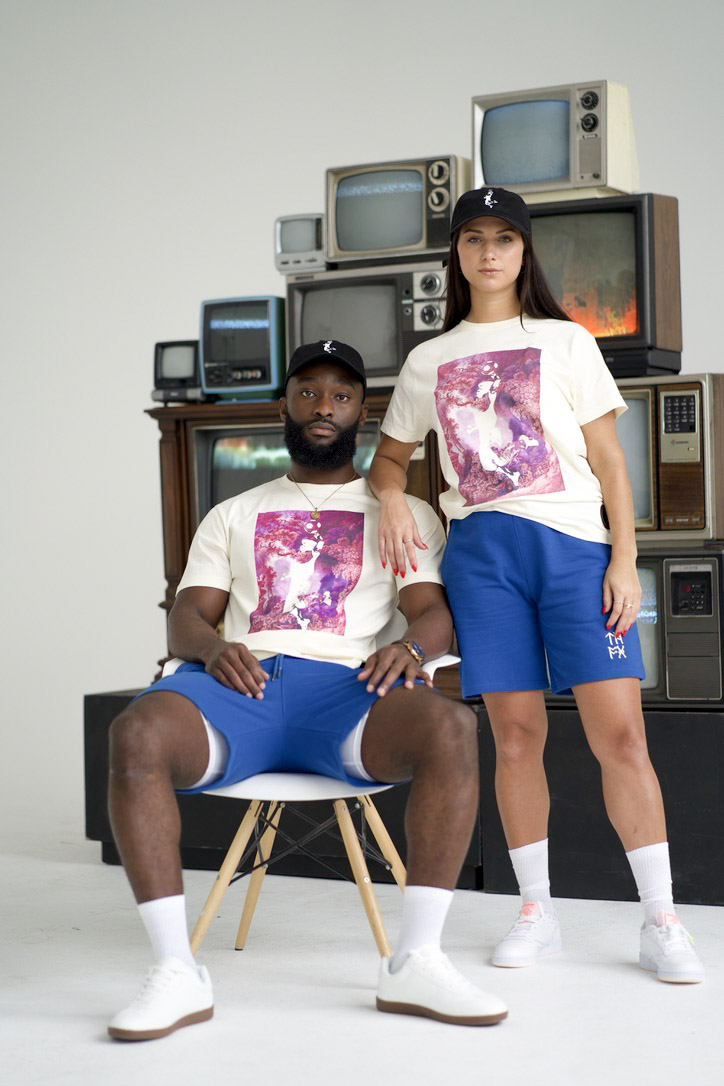 "I would love to have that same effect one day and make an impact to those who might not see themselves in the industry," he said. "But [if they see] an individual that might look like them or sound like them, they can use it as an influence to have courage and find their own path."
Photos courtesy of The Hand of God.
Follow The Hand of God on Instagram to stay up to date with the brand's upcoming releases and projects.