The demand for original kits has been on the rise, and brands like Leyburn Sports are helping to quench that thirst. But Leyburn is more than just an out-of-the-box kit supplier. 
For decades, football shirts were different versions of the same thing. Major sports brands would churn out the same home kits for clubs year after year, tweaking the trim slightly and charging another $100 for the privilege. Away kits allowed a bit more license for creativity, but after the heady designs of 1990s, things really tempered down.
International tournaments were even more frustrating. The likes of Nike, adidas and PUMA released a single template, with each country's colors offering the only difference. To a certain extent this is still the case. Mercifully however, the cycle has shifted and individuality is once again peeking out from behind the curtain.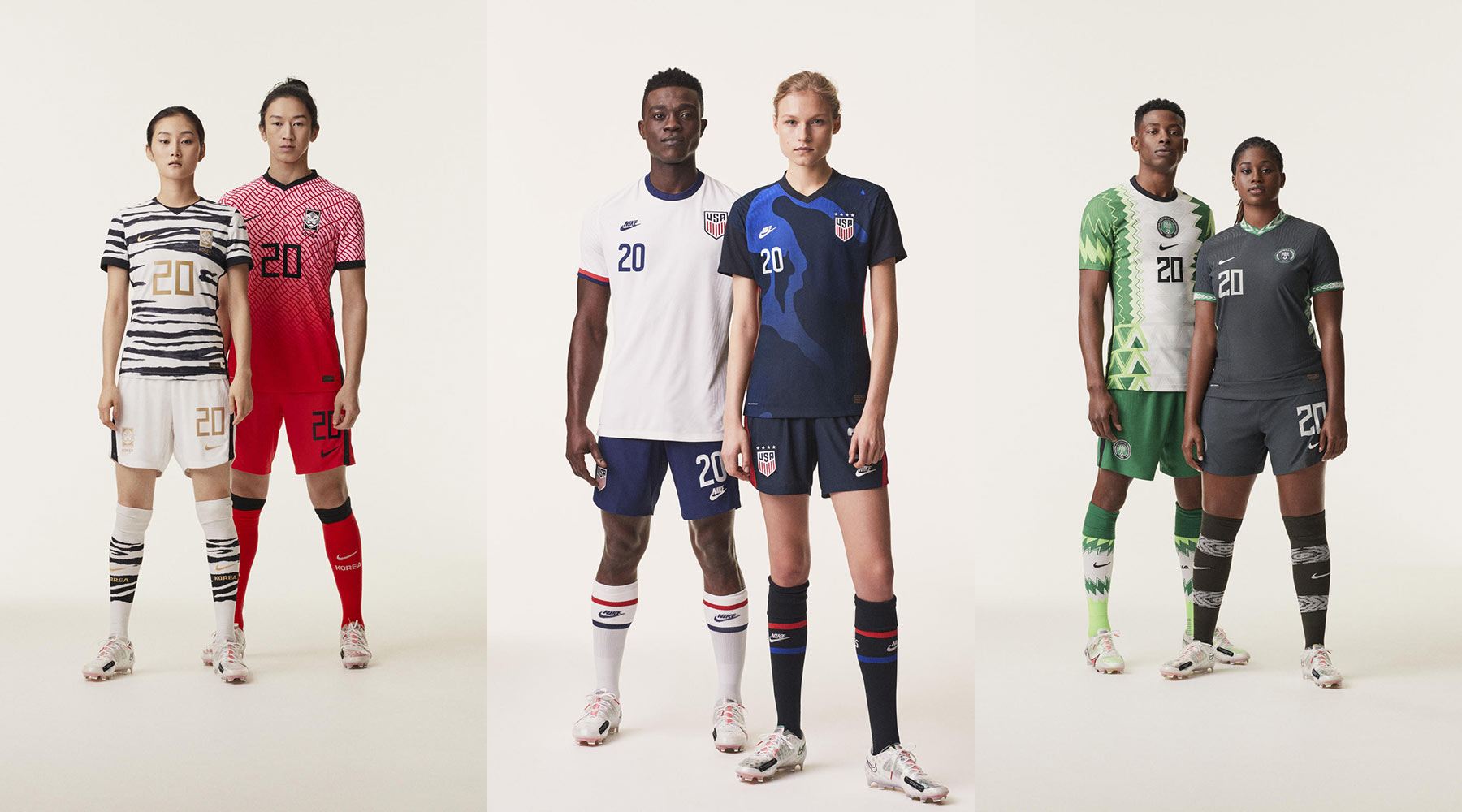 One of the more minor issues concerned with the postponement of EURO 2020 was that it was going to be an opportunity to see Nike's new and far more varied offerings for the nations that they supply. Buoyed by the colossal success of 2018's Nigeria kit, and finally grasping the international appetite for imagination and diversity, this summer was gearing up to be quite the bounty for kit collectors – South Korea, the United States, and Nigeria (again) looked spectacular.
This appetite has seen smaller brands emerge, entering a previously almost untouchable market. They can now supply kits to smaller teams, while gaining notoriety across social media and the kit collecting community.
One such company is Leyburn Sports, the brainchild of Ross Quayle. The 31-year-old former care worker took a chance three years ago in starting the company, and has gradually increased its production, offering innovative designs with a distinct style.
"If someone asked me how I came up with the idea, I wouldn't really be able to answer," Quayle said. "But it was just a gradual progression from other things. It was a passion thing. I didn't start it thinking it would be my job and a way of making millions, it was just an extension of my love for football.
At university I did media with advertising, so I had some experience in things like storyboards, Photoshop and marketing, but no more than that. I had a small idea about production, but never on a professional scale."
Even the company's name is a nod to Quayle's love of the game. Its namesake is the street on which he grew up kicking a ball around with friends, creating makeshift goals from the environment like every other football-loving child around the globe.
Connecting with CONIFA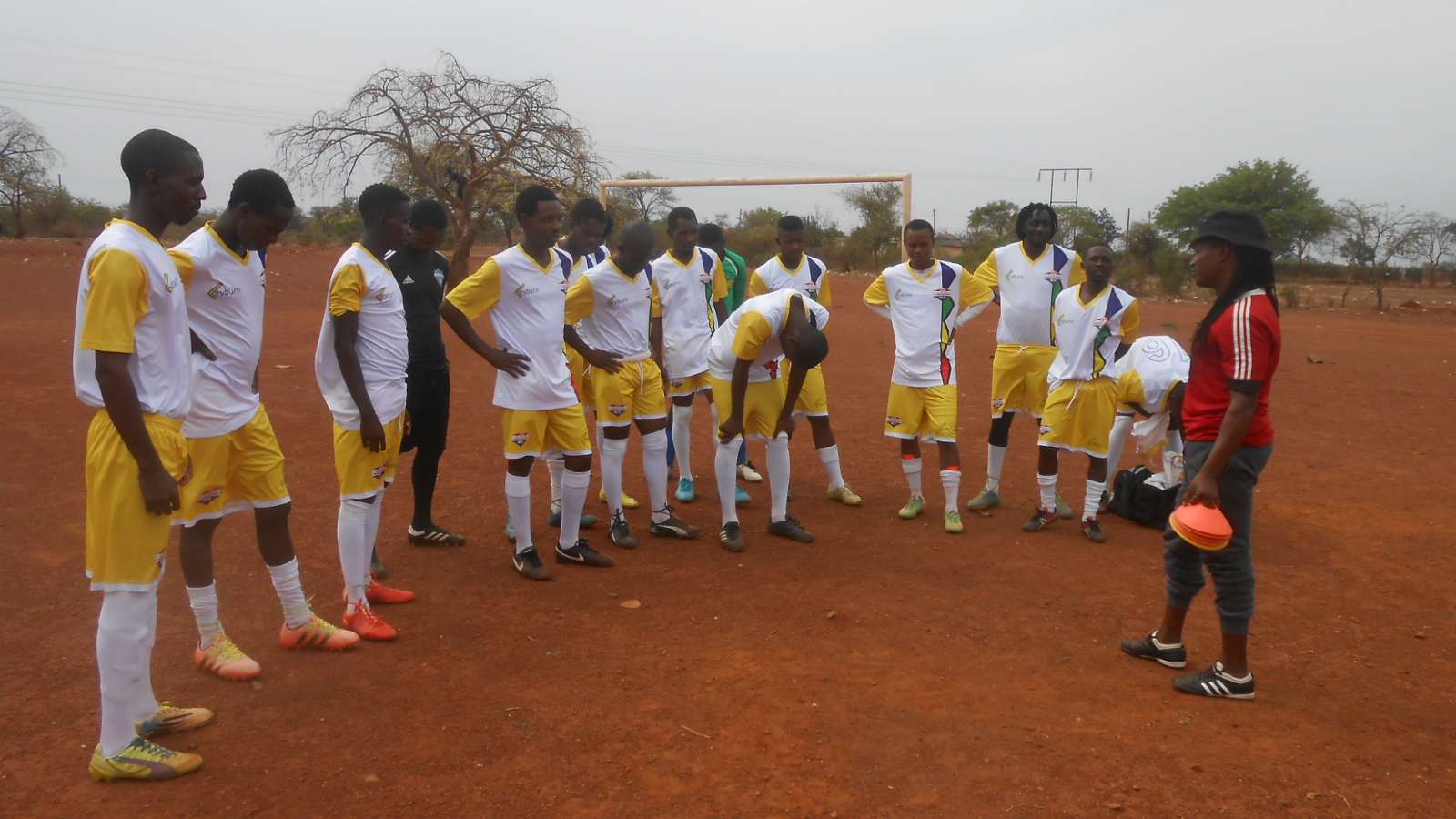 The punt that launched Leyburn came after a conversation with Sasha Düerkop, the co-founder of CONIFA — the global umbrella for footballing nations not recognized by FIFA that includes ethnic minorities, isolated dependencies, or cultural regions (think Tibet, Northern Cyprus, or Quebec).
Düerkop had returned from Matabeleland, a region in Zimbabwe that had a team heading to the 2018 CONIFA World Cup. However, it didn't have any official gear, a basic necessity of an international team. After a few meetings, Matabeleland were decked out in their first official kit, with Leyburn Sports operating as their kit supplier.
"With Matabeleland we were both at the beginning of our journeys," Quayle said. "The initial idea was to give unique football kits to teams that are overlooked. Nike and PUMA would never look at these teams because it doesn't make financial sense for them, so I sent out an email just to see if something was possible."
Quayle's mission to provide for overlooked clubs made Leyburn a perfect match for CONIFA teams, particularly Matabeleland. The brand and team both wanted to pay homage to the region's culture, ultimately creating a unique and striking kit.
In addition to Matabeleland, Leyburn supplies fellow CONIFA side Rohingya, the Bulawayo Chiefs of the Zimbabwe Premier League, and Zimbabwe's Homeless World Cup team. It has also branched out to FIFA sides, with Eritrea representing its first national team. All are vivid, immediately recognizable, and a far cry from the norm.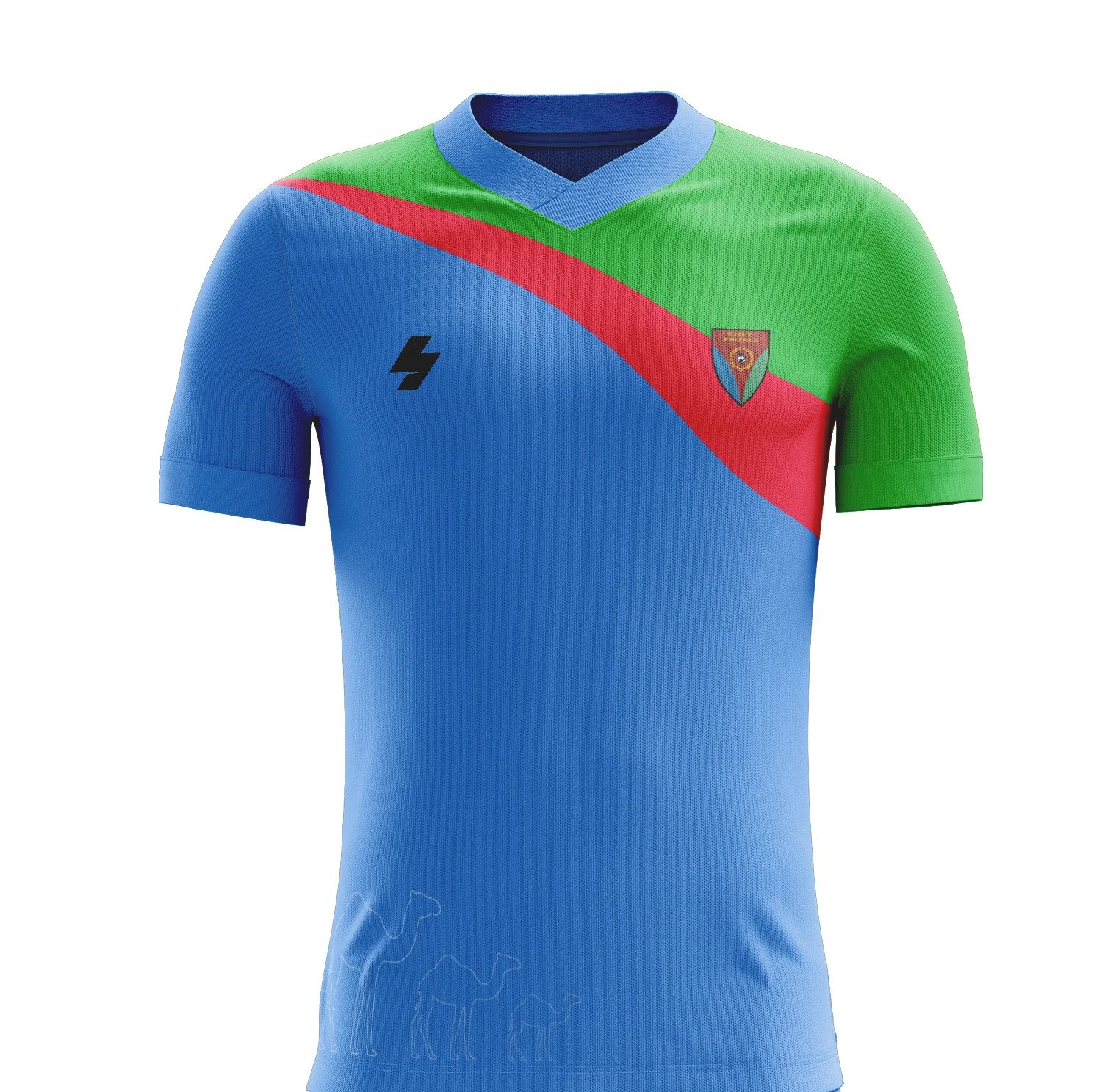 In the case of Eritrea, the entire shirt is a homage to the country's flag, with the sharp blue, red, and green triangles given a gentler relationship to one another and curved softly. The team is currently wearing the kit during the qualifying rounds of the 2022 World Cup.
Although it depends on the client, the design process for each kit is pretty straightforward. Discussions begin to determine color scheme, important features, and any parts of the team's identity or culture that should be included. Leyburn then presents four or five designs, ranging from the conservative to the radical.
Usually the initial response is enough for Quayle to get a gauge of how far to push the designs. There's a definite decision to avoid block colors. Even if there is a predominant color featured, look a little closer and it's likely that the pattern has a slightly different gradient, and offers some additional nuance to an otherwise simple design.
Kit Collecting Community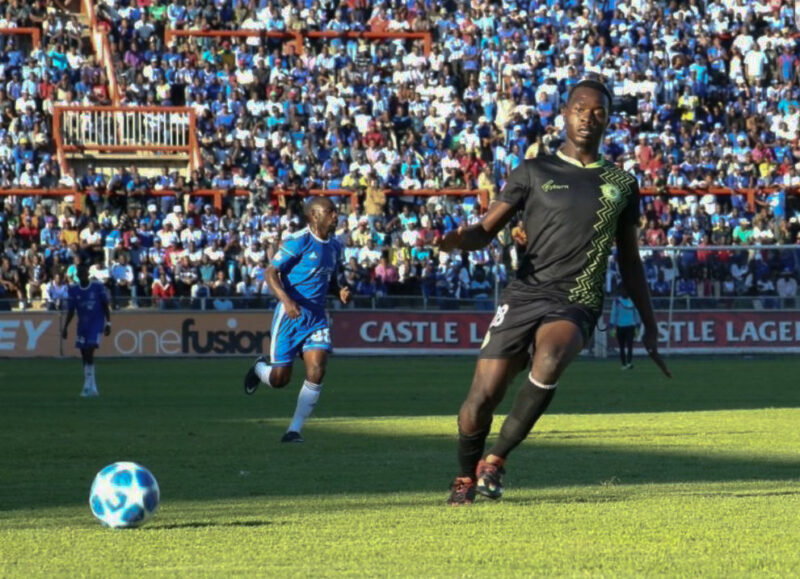 Throughout the process, Quayle has three consumer markets in mind: locals/fans, diaspora around the world, and kit collectors.
"I'm a Tranmere fan — [we] buy the Tranmere kit regardless of what it looks like," Quayle said. "That same fan in Tranmere has to have a reason to buy a Bulawayo Chiefs kit. It's far less likely that they're going to seek it out specifically, but if they see it on social media they might say, 'Wait, what's that?'
From a personal point of view, I hate templates and that was part of the reason I started doing this. Collectors are probably the biggest group that we cater for. Our kits are different. It won't be everybody's taste, but that's fine. People who love buying shirts will always look for something a bit different."
The kit collecting community, undoubtedly, plays a huge part with collectors displaying their hauls over every social media platform going. It's also a genre playing an ever-increasing part in people's lives. Neal Heard's The Football Shirts Book is brilliant, Classic Football Shirts' "What I Wore" series continues to impress, and collecting connoisseur Phil Delves has recently launched his own YouTube channel. What's more, it appears not to be a cutthroat system of one-upmanship, with people sharing requests, helping each other buy and sell, and sharing tidbits of helpful information — it's a community in a very real sense.
While Quayle is aware of his business model, he's keen to stress where the real priority lies, highlighting that Leyburn's designs are always created with the club in mind first rather than consumers.
The fact that all of the Leyburn clients to date have been in Africa has just been a logical progression from his first client in Matabeleland. It was never the intention to solely focus on that part of the globe. More established leagues and teams may well turn their nose up at a Leyburn kit, already having a giant of the sporting world on their books, but there is a gap in the market and a desire to do something special from all involved.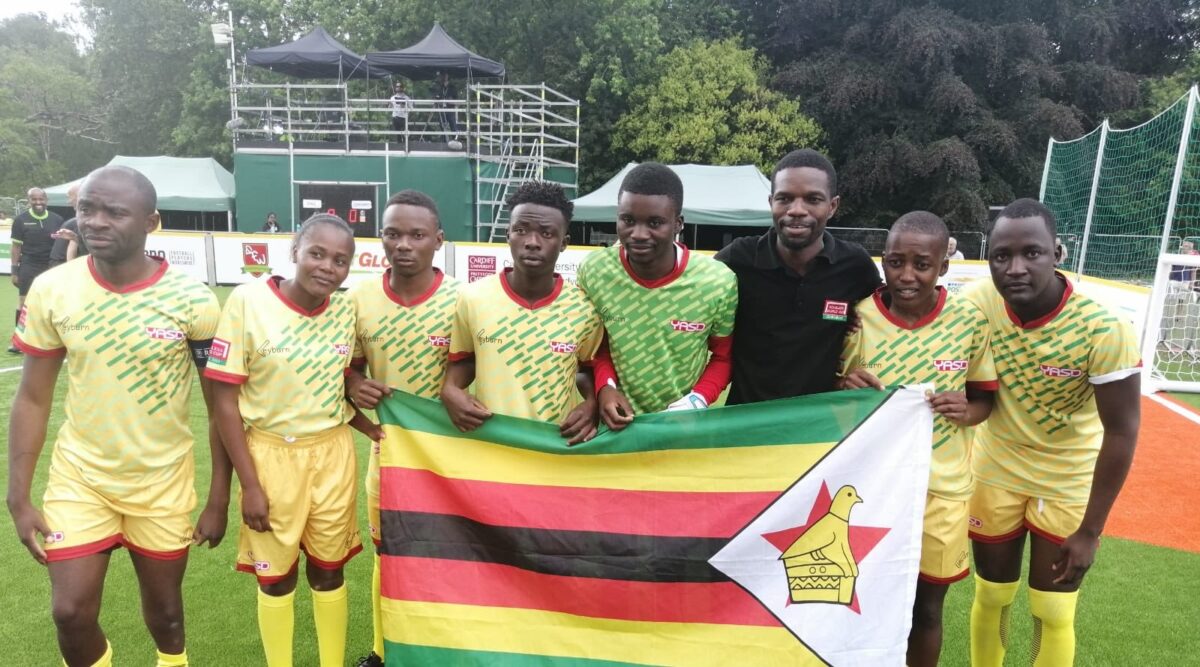 "I'd love to branch out and go to wherever the need or want is," Quayle said. "Teams used to buy in templates, but this is an opportunity to do something different and get a bit of a buzz going."
Coronavirus and Small Business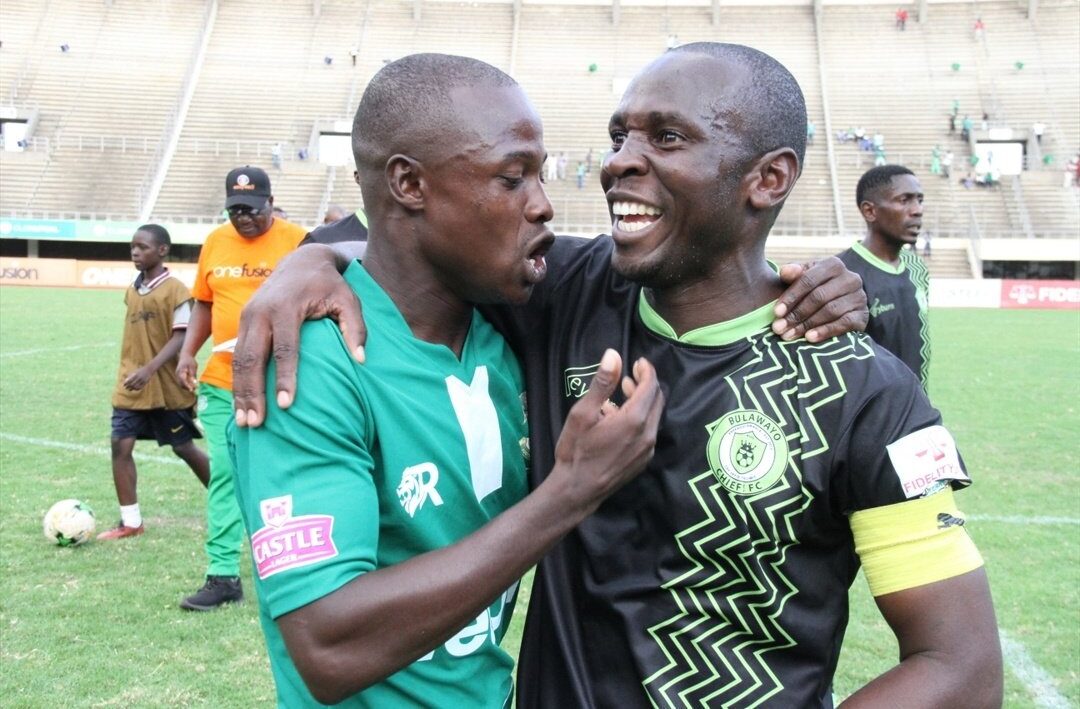 Unfortunately, as with so many other small (and some large) businesses around the world, the current climate has presented some serious challenges. With the coronavirus pandemic hitting just about every single person in one way or another, it's not the best time to be running your own business.
Leyburn has put five new potential teams — including one from the Caribbean, which would've been its first outside of Africa — on hold for the foreseeable future as everybody hunkers down and tries to survive this international crisis.
"The frustrating thing was this has come at a time where things were about to take off a bit," Quayle said. "At the moment things are on pause, but that's the same for everyone. These are unprecedented times but I'm really confident that Leyburn will get through this, and if we do then we should survive anything."
This is undoubtedly the toughest time for the company in Leyburn's three-year lifespan, but Quayle is an optimist. He sees it as a learning experience and something that Leyburn will come out of stronger. But this hasn't been the only hardship the company has faced either. Dealing with different suppliers, production margins, and clients all had their own learning curves too.
"There are tough bits about the industry, but seeing a team playing in a kit that I've designed … even now thinking about it, I'm buzzing," Quayle said. "I was planning on going out to Zimbabwe later this year to see them in the flesh, but that's another thing that will have to wait now."
The company's success is typified by a message Quayle sends me a short time after our interview: "I'm positive Leyburn will be as strong as ever after this mess." And the football fraternity will be better off for it.
Shop the entire Leyburn Sports kit collection via its online shop.