It doesn't matter if it's stamps, kits, or football boots, you won't find many collections as rare as Gunt22's anywhere in the world. We sat down with him to discuss how he got into boot collecting, his incredible concept boot designs, and the rarest pairs in his nearly endless collection. 
Amongst a growing field of football boot collectors, Gunt22 is the collector. With some of the world's rarest and most valuable cleats in his vault, he's become an authority in the boot game.
In addition to his main social accounts where he shares new boot releases, football news, and his own stunning concept designs, he has a separate account just for his incredibly valuable collection of kicks.
Normally a man of few words, we caught up with the Bangkok native to get to know him a little better, discussing his vast collection as well as his concepts (which are quite possibly the best on the web).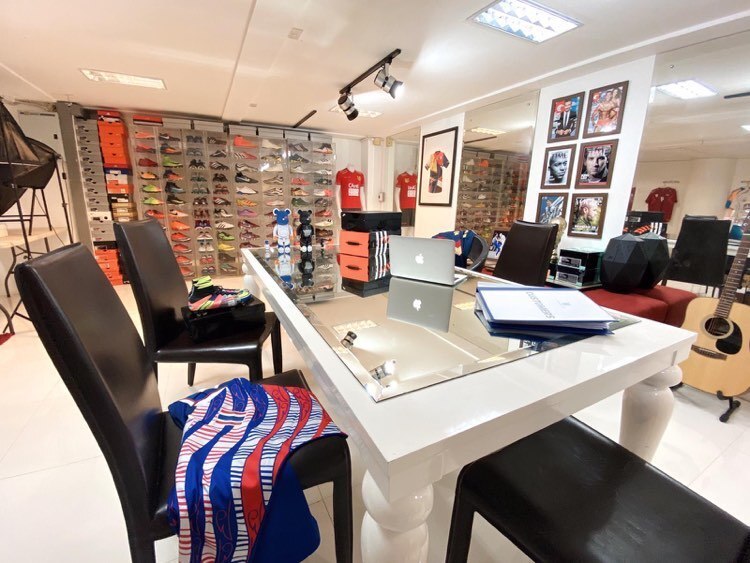 Urban Pitch: Initially, I had come across your page from your concept boots. Can you tell us a little bit more about them?
Gunt22: I am the owner and founder of Gunt22. I work with another guy, a friend who has been a significant part of my career in this industry. He is a close friend, and he is also a professional artist. He is the one who provides a lot of the graphics work on Instagram and other social media channels. Of course, we have shared ideas, but he is the one who does the art for these concepts.
Why create concept boots?
Starting as a boot lover, you get the idea that a boot could be better or more interesting if it used a different material or visual design. So, that was the beginning of why we started doing concepts. We wanted to blend old technologies with new technologies, and people just really enjoyed seeing them.
People have been saying, "Why don't the brands do this, or do that?" So, we try to combine all those ideas and actualize them. We place a heavy focus on making sure that the concepts look like real boots, not just crazy ideas. We don't get paid at all for what we do — this is purely a passion project.
Do you have a favorite concept boot that you two have done?
We are really big fans of Nike boots, and we are trying to branch out into other brands for concepts. My favorite is the PhantomVSN x Murakami concept. Some people have gotten upset and have asked us why we do concepts, almost accusing us of making "fakes." We aren't trying to replicate or trick people. We are just doing it because of our passion for art, fashion, and football.
Have any brands reached out to you about your concept work?
Not directly. But, we have heard from some of our friends that are connected with the brands that they have seen our work. So we know that brands are aware of us. We have seen companies make remakes with modern technologies, which is what we have done with our concept work. Lots of people have requested for the big brands to re-release some of their favorite boots, and I think concept boots helped show how much interest there is in re-released or altered versions of classic boots.
If these modern boots were good enough, why would fans be begging for re-releases? A lot of the comments on our posts ask us why we don't work with the brand, but the brands aren't interested in lots of changes, they just want to change the colorways every month.
If you look at the early Mercurials, each new iteration had big changes, and people really looked forward to seeing the technical jump. It used to be a new colorway every three months — now it's every month.
Gunt22's concept boots are some of the cleanest in the industry. If you placed them next to official boot release images, very few people outside of the boot community would be able to differentiate between the two of them.
This next section of the interview focuses on Gunt22's collection. Any boot nerds out there strap-in, because this is one of the wildest collections you'll find anywhere.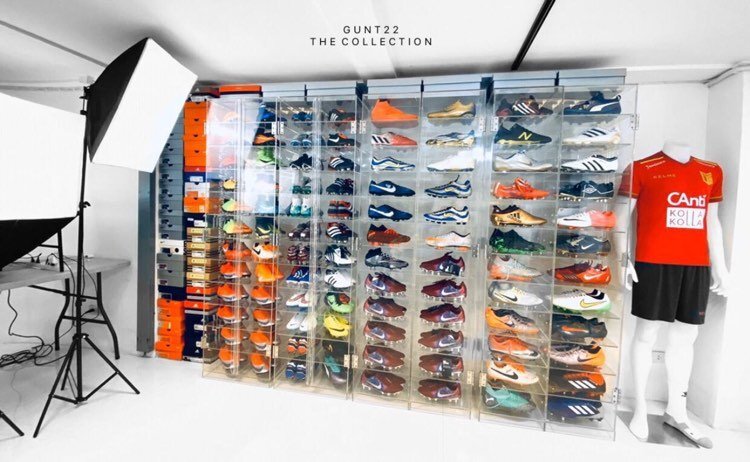 Let's transition into your collection. How many boots do you think you own?
We should start with how I started my collection because the number has changed quite regularly. I started just as a collector of passion. Back in 2004 or 2005, that's when I really started collecting. I used to have a couple of hundred pairs, but now I have less. Now, each pair I get has to be special. It needs to have a story. I don't see it as a number anymore, I have started seeing these boots as an investment.
I bought a pair of boots in 2008, the Nike Mercurial SL Carbon Fibers. I wore them because that's what I did with a lot of my cleats. About a year after, I found out that they had already doubled or tripled in value if I hadn't worn them, and that's when I realized that boots could be an investment. I am a collector. I have to be more exclusive with my collection. I have to understand the value, the story, and every aspect of the boot, otherwise, I won't feel that connection and I don't need it in my collection. So, to answer your question, I currently have about 100 pairs. I am trying to narrow down my collection to be more meaningful.
Do you have a favorite pair in your collection? I understand that it might be like picking your favorite child.
I have four favorites. I can't pick between those four. The first pair is the Mercurial XV Chrome (15th Anniversary). Nike released a normal limited edition with only 1,998 pairs. This version only has 15 in the world. They were only given to friends and family. R9 owns a pair, and collectors own the other 14. I have actually owned this version twice, but I sold one pair to a collector friend in the UK.
The second pair is an F50 AdiZero that was made for the golden boot winner of the 2014 World Cup, James Rodriguez. There are only six pairs made in the world. The brand created this to celebrate Rodriguez's World Cup run, where he scored six goals in the tournament. They are signed by him too, which is very cool as well.
This pair is very special to me. I waited patiently for four to five years to get them. I had to go back and forth, negotiating with the seller to get these boots. He kept postponing and raising the price, but I had to get them.
The third pair is the limited edition Steven Gerrard Predator Instinct for his last games at Liverpool. I usually go for limited editions or game-worn boots, and this pair is both. These boots were only made in his size and to his exact specifications. He may not have worn them, but they are identical to the ones he wore in games.
adidas says there are 17 pairs of these in the world, but I got told by an insider at the brand that they actually made less than 10. Gerrard wore one pair, kept a pair, and gave a pair to family friends. A pair sold at auction after he finished at Liverpool, and they went for around £40,000. I didn't pay that much, but I think it shows why I can view these boots as an investment.
The last pair is the rarest of them all. The boot is called the "It Must be the Mercurial," and there is only one pair to my knowledge in the world. It was made to celebrate the Mercurial being the top scoring boot in the 2018 World Cup. I can't say how I got them, but Nike never released them to the public. These are the only known pair in existence. Nike posted pictures of the boots to celebrate, and I guess people kind of forgot about them, and I got really lucky to have the chance to buy them.
Do you think you have the rarest collection in the world?
Yeah. You could say that the four boots I mentioned are in the top five or 10 rarest boots in the world, and I have them. I am very proud of my collection.
Is there a pair that you have always wanted, but never been able to get?
That boot has not been made yet. I have always wanted to collaborate with a brand and have my own limited edition. This has always been my dream and my passion. I'd love to see a Nike Mercurial x Gunt22. My team and I would come together and make something extraordinary. I don't care which brand it would be, it would be a dream come true.
If you can make that happen, I'll be first-in-line for a pair. To finish off, can you tell us the secret to getting so many match worn boots?
I initially thought that it would be difficult to find these match worn boots, but it becomes easier as time goes on. Once you have a big enough following on social media, people start seeking you out to sell the boots. You have to be careful of fakes, but other than that, it just takes time and creating connections.
Interview edited for clarity and brevity. 
Follow Gunt22 and his Memorabilia 22 accounts on Instagram to stay up to date with his latest pickups and concept designs.