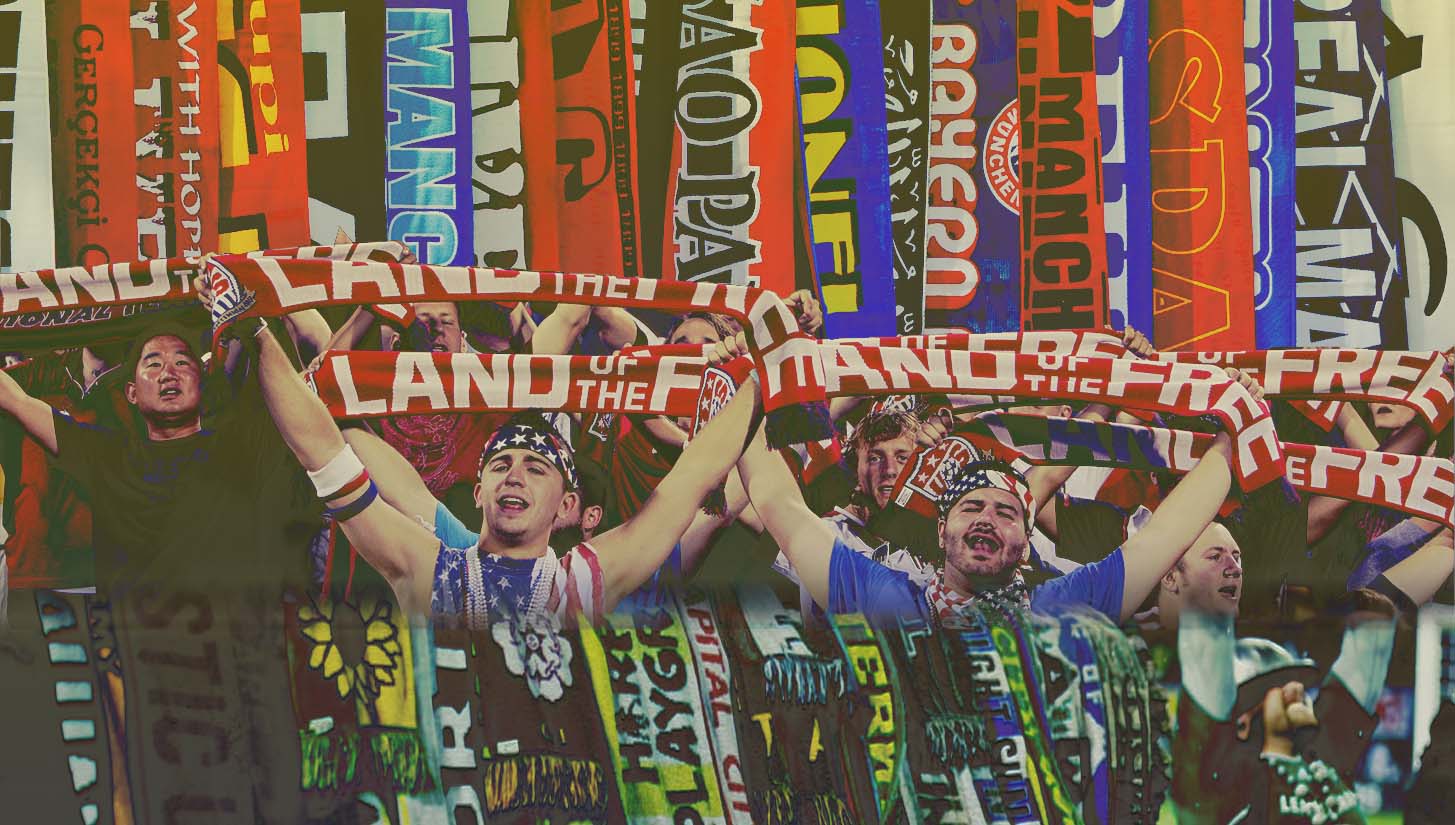 Scarves are a ubiquitous part of soccer culture around the world. We take a look at their origins, and how they have been both embraced and rejected in the United States. 
"My son doesn't like scarves, they're too European."
These were the words a father told me outside of Banc of California Stadium before the most recent MLS All-Star Game. They saw my bag of merch that I purchased at one of the trailers, and asked me what was available.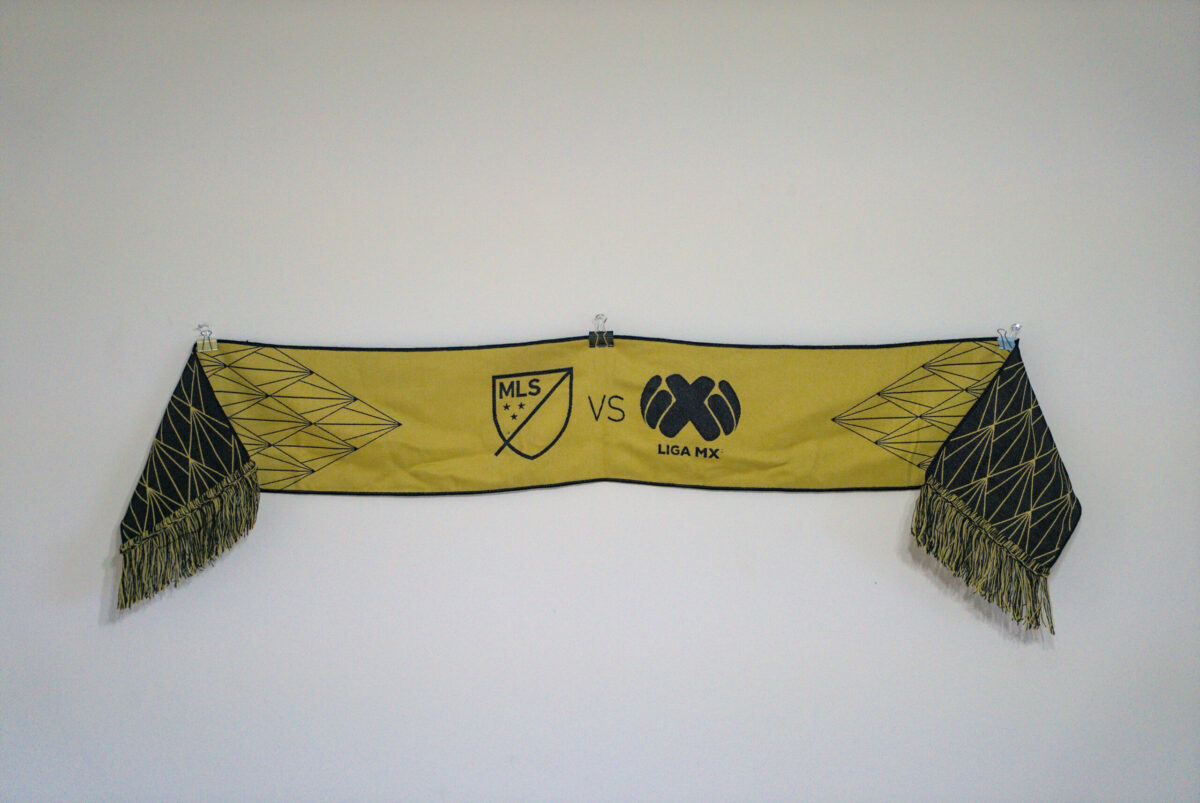 I gave my opinion of the shirts (they were fine) and how I enjoyed both jerseys (Liga MX is the clear winner but the MLS design is still clean), and then I showed him my scarf with the logos of the two leagues side by side with a "vs." in the middle. That's when the comment came.
I couldn't hide my reaction, and the father quickly responded, "Yeah, I know." He was wearing a France '98 shirt that he had purchased at the tournament, so he clearly is willing to stand in a pre-game line — hell, our conversation was around three hours before kickoff. Whether or not you agree with his son's opinion on scarves being too European, it brings up a really great point. Where do all these traditions and culture we associate with soccer actually come from, and how has American Soccer made it its own?
The Origins: Where and Why Scarves?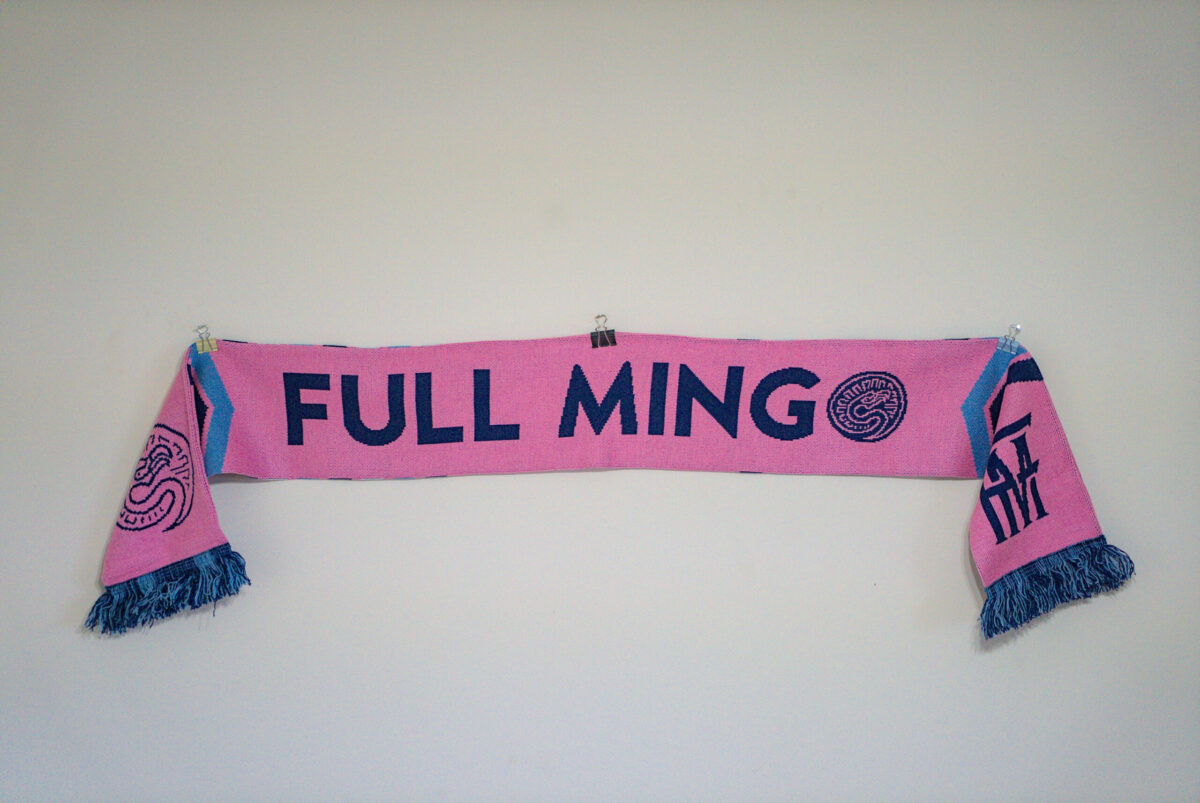 Everywhere around the world, soccer fans will recognize a team scarf from three blocks away, whether it be its signature colors, patterns, or of course, the crest. We all know them, but why scarves? The easy and ultimately correct answer is that England gets pretty friggen cold, and scarves are great at keeping your neck warm while also being colorful.
But it goes a little deeper than that, and it's actually a really cool tradition that has stood the test of time. When soccer was starting and the clubs we know today came into existence, life was different. Fashion wasn't as prevalent as it is today — colorful clothes weren't a thing at all and club uniforms were typically one color with a home and away option. Your average fan in the early 1900s would probably have a heart attack if they saw the four-kit lineup that has become de rigueur amongst the world's biggest clubs.
In soccer's infancy, there weren't team shops, the majority of the clubs were owned by businessmen, and the players were strictly employees (to start). The scarf was the perfect item for the everyday person to carry and show support without an entire outlandish outfit, but most importantly: fans could make their own scarf. They could include both colors of the club (the striped tradition), and they could make it to length and how they wanted. Once it became mechanized, crests could be included as well as club slogans, and this is where things really took off.
"You'll Never Walk Alone" on 1,000 scarves all being held above fans' heads at the same time has power. It's those moments that make us keep coming back to the stadium just as much as a 90th-minute winner.
Current Iterations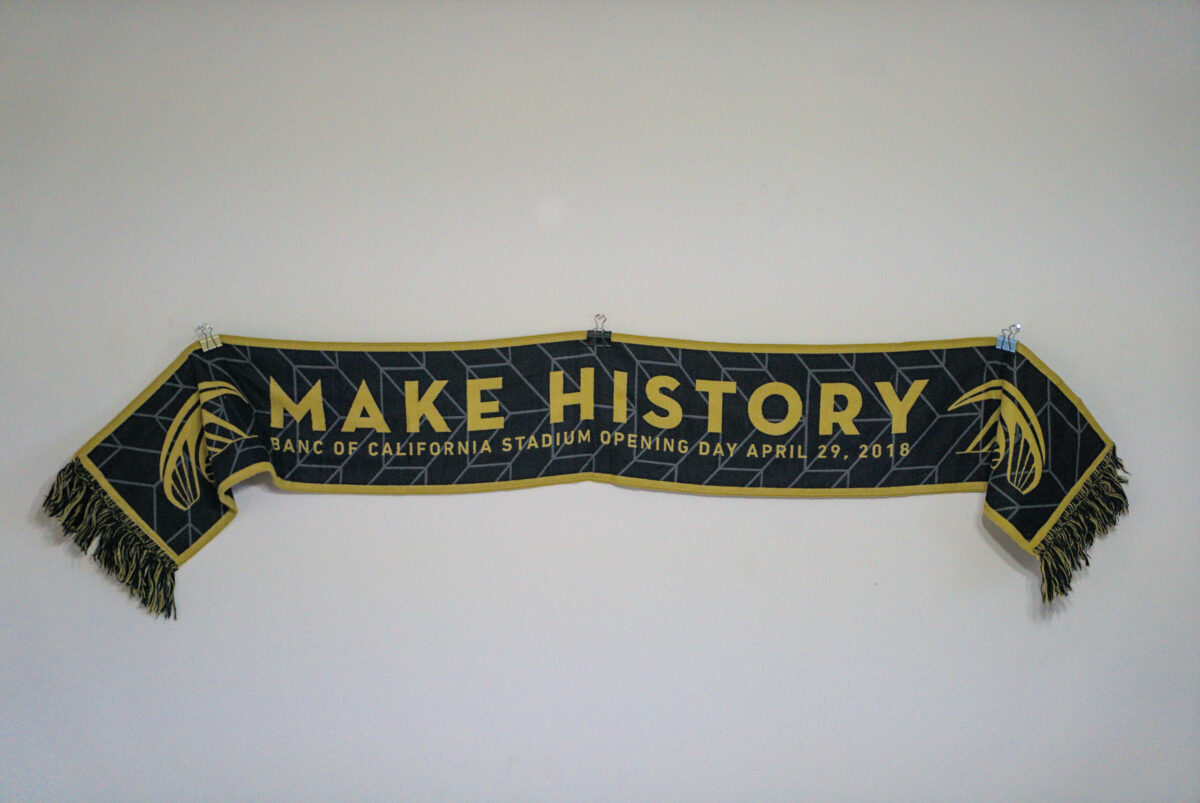 Scarves are now ubiquitous, with a lot of clubs even including them in season ticket packages. (The clubs that don't do this need to take a long, hard look in the mirror.)
There are different styles, and in recent years the "summer" scarf has become the go to, sporting a thinner and less itchy material than the traditional wool we all know. With that, the summer scarves feel smaller when held above one's head and extended out, maybe that's just me though. We've also come to see special edition one-off scarfs that signify an event, the most popular being the half-and-half design for a cup final or the summer tours of European clubs.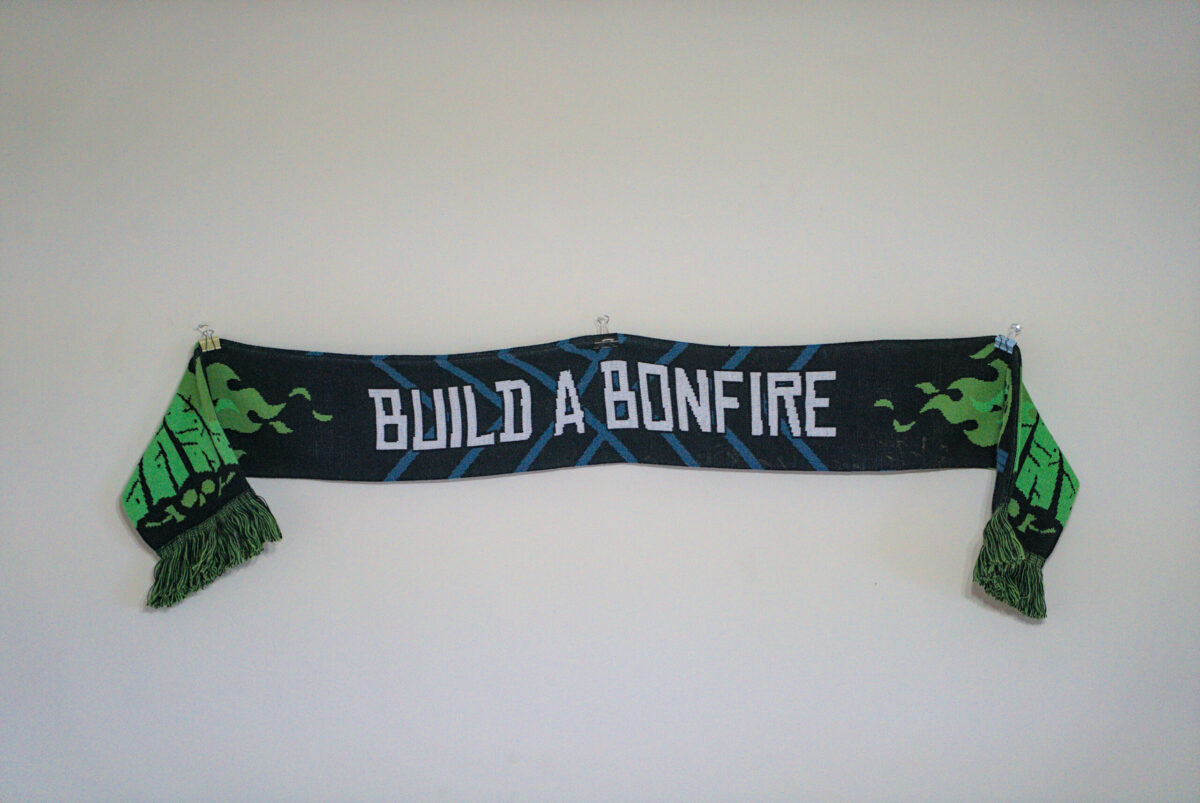 One of my favorite scarves is the one LAFC designed for their inaugural home match. Any fan of MLS will see that and know what it represents (and probably wish they had been there). Supporters' groups have also done limited-run scarves that benefit a cause or non profit — my "Build a Bonfire" Seattle Sounders scarf was both a fundraiser for Seattle Children's Hospital's fight against childhood cancer and space for Seattleites to come together over our hatred for Portland, Oregon.
American Accept-ionalism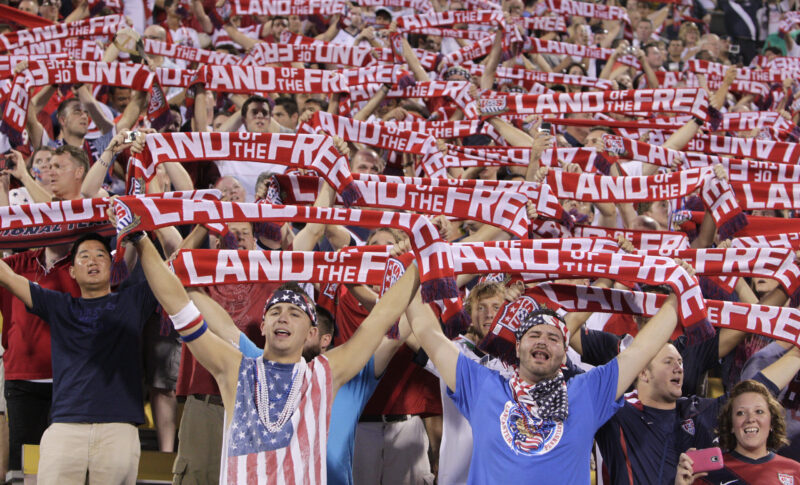 Before my conversation at the All-Star Game, I would have said scarves are definitely a part of American fandom and I do still think that, but I also now realize how many fans don't like or care for them. In the case of Los Angeles, where I currently live, it's not as big of a part of the culture as it is in places with colder climates.
Soccer culture throughout America in a lot of ways is closely tied to the immigrant communities that are most prominent in a given city. In LA, it's Central and South American teams that are the best represented. It's easier to go out and find a Liga MX game than MLS. But I digress, that's a whole different conversation.
What role does the scarf occupy? Is it the premier accessory or is it something for collectors to whet their appetite? Despite being a European tradition, it isn't really associated with the "Euro snob" fans that exist in the States. If anything, I feel like newer or more casual fans have scarves, as they're a fraction of the cost of a jersey and can be displayed outside of gameday. The scarf is the perfect entry point into the accessories of fandom and can be used in unison with other items as one's fandom grows.
A Personal Perspective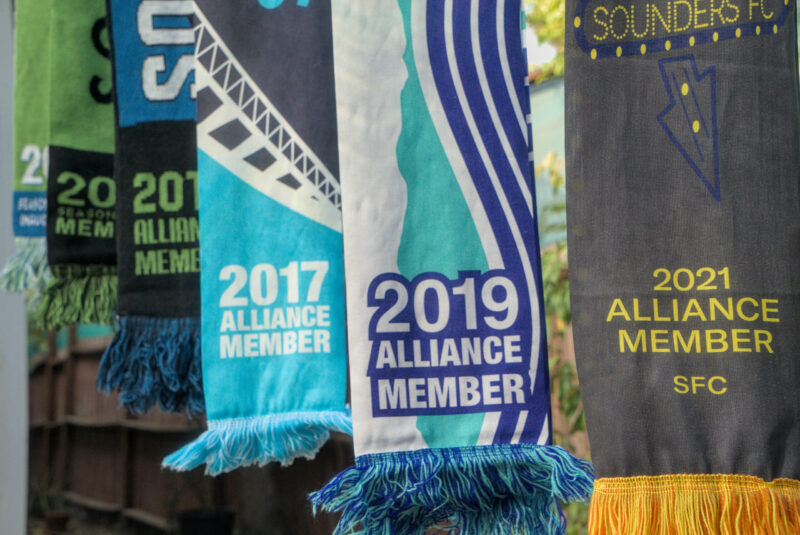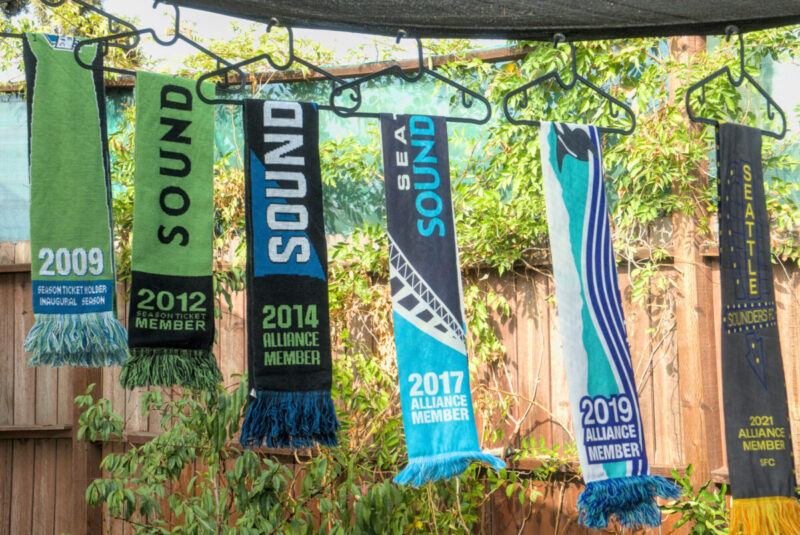 Sounders season ticket holders get one scarf per season ticket they purchase, but also, fans submit designs and then there is a month's-long voting process. I thought it was the norm for everyone to hold a scarf over your head in the moments leading up to kickoff. Growing up in the Pacific Northwest, wearing a scarf to a game had a functionality to it — it gets cold.  I remember the night my dad and I googled how to wear the soccer scarf so you had the badge facing out right on your chest, and then you three-quarter zip your jacket.
It felt like a ceremony in a corny way. We officially knew how to do it. It's these moments of adoption that are the core of the American soccer fan experience. We're so late to the game, it's about seeing what is out there and what we like. We can be picky. I don't care where the scarf came from, it's a part of soccer culture. It's also an item other sports fans don't have. Part of the reason we like soccer is because it's different and collecting scarves is a great representation of that same energy. Plus, there's a practical utility to the scarf. At some point you'll be somewhere cold, and you never know when you'll meet a new fan, and sometimes all they need to get hooked is something to wear on gameday and a place to be.