From living on the streets to playing in them with Street Soccer USA, women of the Lady Salamanders team based in Sacramento, California find community through a soccer program aimed at helping individuals dealing with homelessness, domestic violence and drug addiction.
Speak with any serious soccer player and they'll tell you that the sport is more than just a hobby, it's a way of life. As cliche as it sounds, this usually holds true. Soccer defines lifestyles from fashion to friendships, and it has a way of connecting people from all backgrounds. For the women who play on Street Soccer USA's (SSUSA) Lady Salamanders team, soccer goes even beyond a lifestyle. It's a second chance at life and an opportunity to build a network of support and rehabilitation.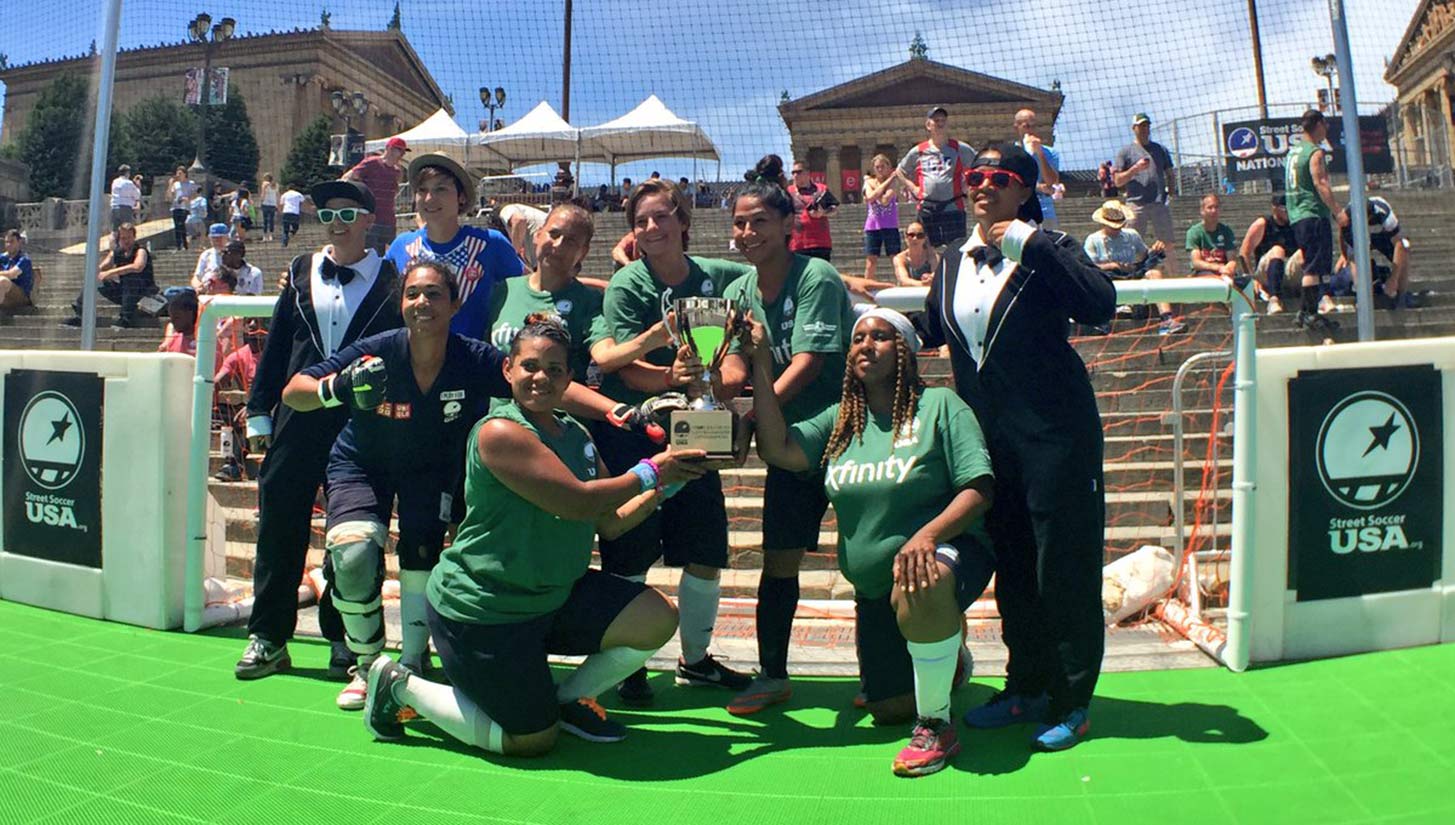 Founded in 2010, the Lady Salamanders assist individuals dealing with homelessness, domestic violence and drug addiction. The Salamanders' namesake came from SSUSA donor Sheila C. Johnson, who helped fund the initial program as well as funded the team's trip to the Homeless World Cup.
Most of the women on the team have never played soccer before, and they don't have much in common except for the serious hardships they've faced. However, when they put on their uniforms and step onto the pitch, all of their differences and struggles melt away, and what is left is a newfound confidence and a community filled with positive relationships.
"They have to learn to tolerate each other, and because most of them have not played before, they really have to depend on each other and lean on each other's strengths to play," said Lisa Wrightsman, head coach for the Lady Salamanders and program manager for SSUSA Sacramento. "Some can run faster. Some can kick harder. Some want to be goalie. They have to find their role on the team."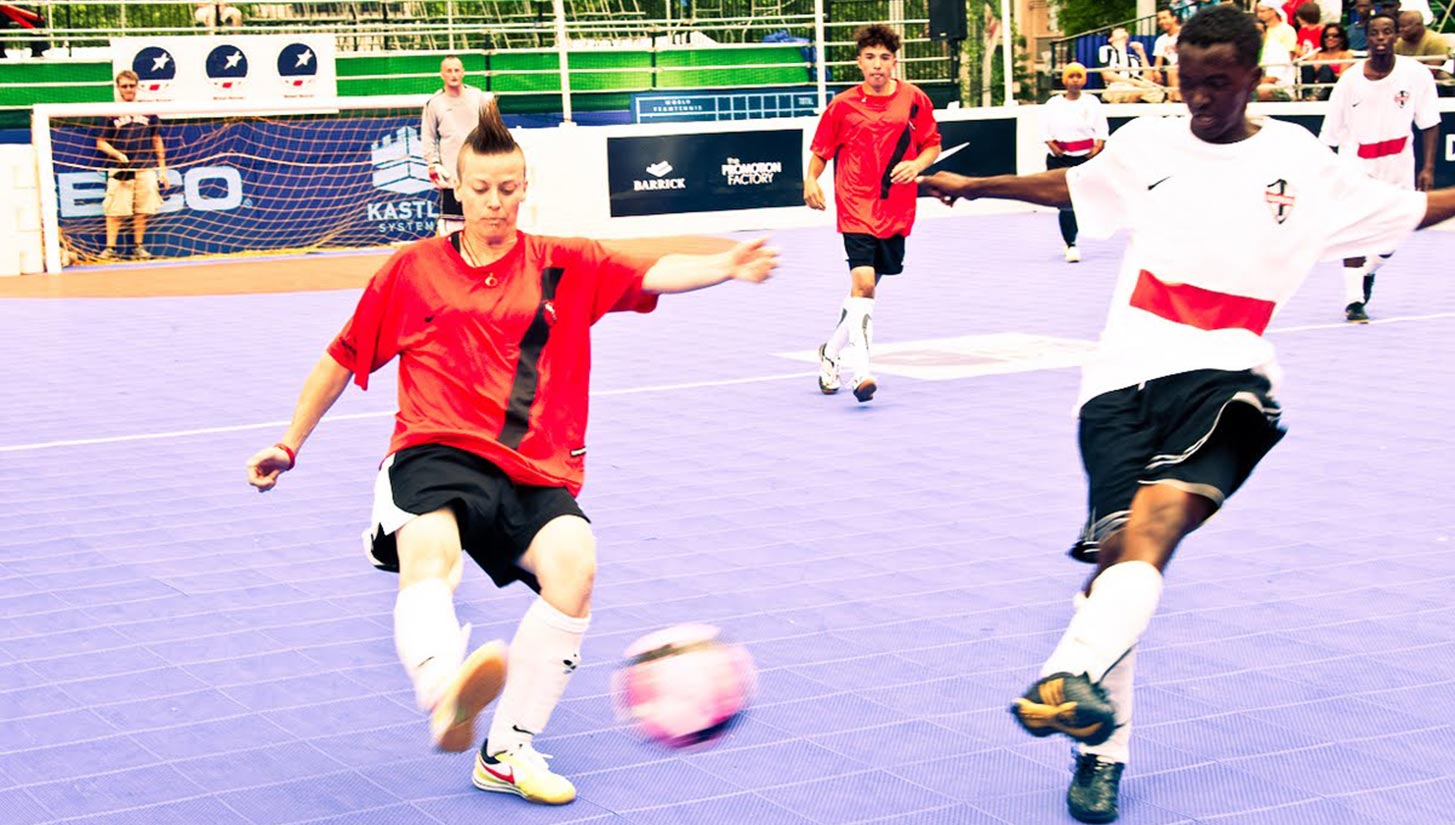 According to Wrightsman, the team doesn't focus much on winning or being good at soccer. Instead, they focus on the positive effects of participating in a team. Building support systems and learning to connect with others is what drives the women to be successful throughout their recovery, and that's what the Lady Salamanders instill through their soccer program.
Wrightsman started the Lady Salamanders after dealing with her own battles of drug addiction and homelessness. Although she was a model student and athlete at Sacramento State University with prospects to play professionally, Wrightsman found herself on the streets in 2009 due to drug and alcohol addiction. While in transitional living, she was introduced to a grassroots men's street soccer team that was getting ready to compete in a SSUSA National Tournament. Wrightsman joined the team, and while they didn't win, she was nominated by SSUSA to go to the Homeless World Cup in Rio De Janeiro.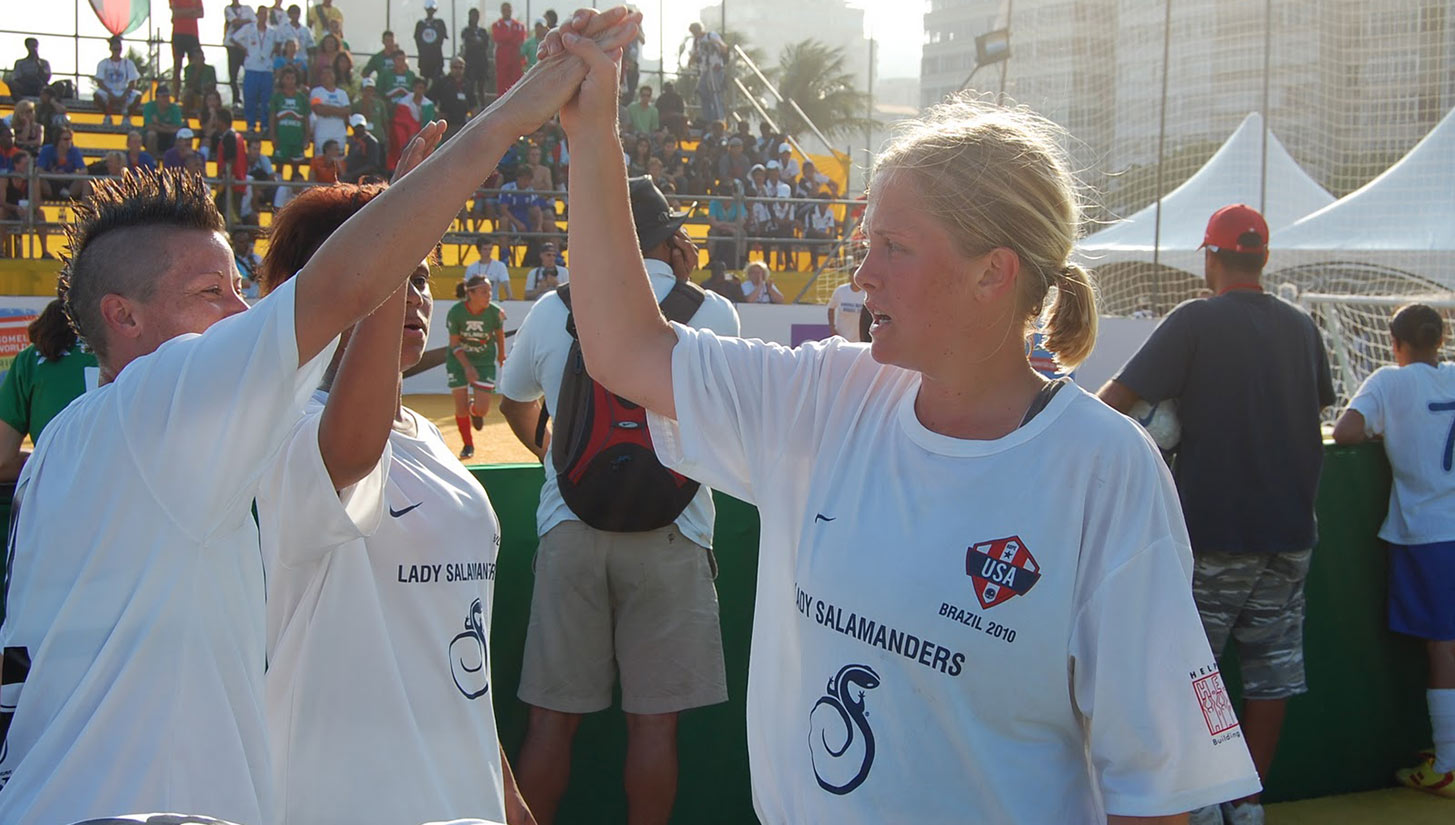 It may not have been the World Cup she always dreamed of playing in, but it was the first Homeless World Cup in which SSUSA took a women's team rather than a co-ed team in addition to the men. While there, Wrightsman was impressed not with her teammates' skills, but with their positivity and excitement to be there.
"While most of the women weren't expert soccer players, or even very good soccer players, it meant so much to them to be on the team," Wrightsman said. "That (team) was where they found their pride. It's what they looked forward to, and being on their city soccer teams was giving them the motivation to deal with the really tough stuff in their lives — getting a job, getting out of a homeless shelter, getting sober. It was an interesting experience for me to witness as a soccer player that (they) didn't need to be good at the game to get all the value out of being part of a team."
When she returned to Sacramento, Wrightsman found herself surrounded by women in transitional living who were in similar situations. They didn't have a lot to do — many had children, had left an abusive relationship, were homeless, and/or struggling with addiction — and they needed a place to turn to.
Feeling a need to share the life-changing experiences she had at the Homeless World Cup, Wrightsman had the idea to start a women's soccer team for those dealing with the same struggles she was.
"If we could create a women's team then maybe they could feel the same impact and have that 'ah-ha' moment that I had," Wrightsman said. "It would also motivate them to get on board with being sober."
Wrightsman noted that at first the women on the team did not like each other, and most had little to no soccer experience. However, they wanted to turn their lives around, and they wanted to travel and participate in the SSUSA National Tournament, so they stuck it out and eventually began to form friendships with each other.
"Most of the women in sobriety or in transitional living don't interact with each other," Wrightsman said. "They don't work together. They don't like each other. And they have built into them that other women are not trustworthy from their experiences on the streets or elsewhere. And dealing with early sobriety, if you can't build new relationships then they're definitely going to go backwards. Being on this (team) facilitated important characteristics and qualities needed for relationship building that these women hadn't been exposed to, and they grabbed onto it quickly. We revolve a lot around recovery and really trying to place a different value system."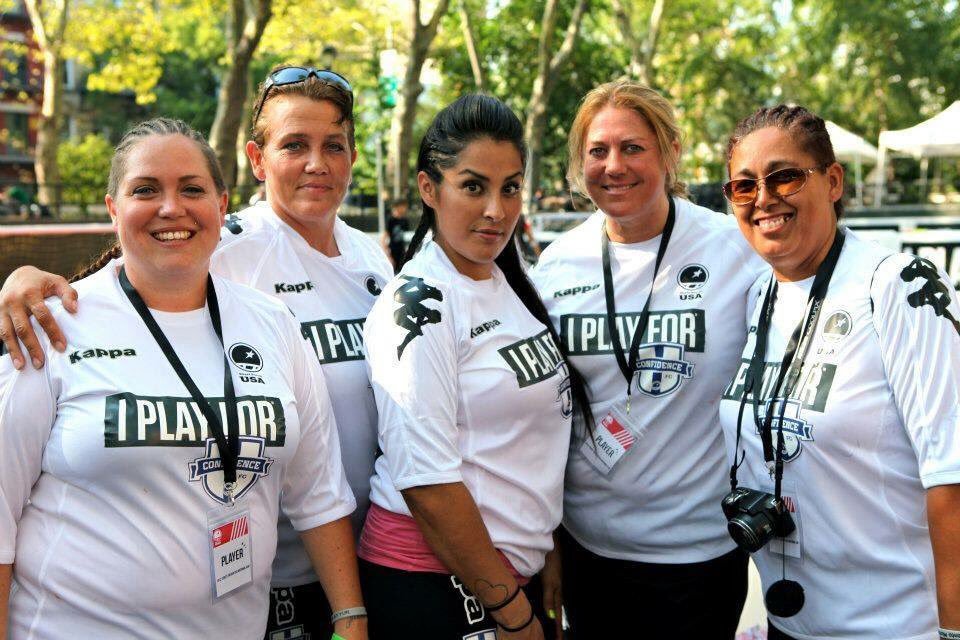 Since its creation, the Lady Salamanders have gone through many highs and lows together. From long road trips to tough tournaments, the team has managed to rely on each other and progress on and off the field. While the skills and life lessons these ladies learn are not always visible at first glance, there are many in-game moments where they exhibit a newfound confidence.
One such moment took place at the SSUSA National Tournament in 2012, where Wrightsman's team experienced a breakthrough. The tournament was held in New York's Time Square, and during their last game, the team went into a penalty round after tying 8-8 against San Francisco's Street Soccer team. Lady Salamanders player Eliana Echeverria scored the game-winning penalty kick, but not without perfectly executing a cartwheel right before taking it.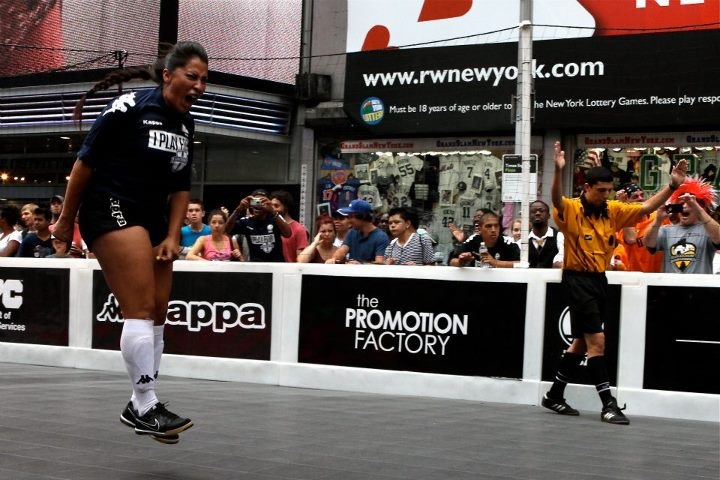 "It was epic, and she's never been the same person since," said Wrightsman. "We all went crazy for her. It was like she wasn't afraid to seize the moment, and she had the confidence to do it. She hasn't always had that. This is a woman who stayed in an abusive relationship for years and now exudes so much confidence. The way these games and tournaments facilitate these moments for someone to be different and do something different is amazing."
Today, Echeverria works as a Shared Housing Advocate and Coordinator at the YWCA of Greater Portland. She still reflects on her time with the Lady Salamanders and how it affected her life.
"When you're working out your problems you sometimes have this pent-up energy that you don't know what to do with," Echeverria said. "Either you translate that negatively or you find a positive outlet for it. That was really important to me. I was releasing negative energy and replacing it with endorphins. When you get done playing soccer, you just have this high for life."
Salamanders co-coach Tiffany Fraser, who played soccer all throughout her life, said although she has never dealt with the same struggles as her team, she has experienced a lot of growth working with it.
"One experience I'll never forget is working with the mom of an old soccer teammate," Fraser said. "This woman supported me while I was playing soccer as a youth, and I hadn't seen her in a long time. She was dealing with a lot of issues, and it was so unexpected but also humbling to be able to support her all these years later. It was like coming full circle."
For Jennifer Schapira, the team was a way to reconnect with soccer and push past her addictions and eating disorder. It was at Women's Empowerment center in Sacramento where she overheard another woman talking about the Lady Salamanders. It had been 19 years since Schapira last played soccer, but she jumped at the opportunity to join a team for women in similar situations as herself.
"It helped fill a hole I had been trying to fill with other things," Schapira said. "Connecting with others, learning to communicate again, and just having victories and losses with other people was healing because part of my disease is very isolating."
Playing for the Lady Salamanders showed Schapira that women in her position could make a new start for themselves and thrive. Because of the team she was able to travel to new cities and states and even participate in the Homeless World Cup when it was held in Scotland. The biggest impact the team made on her though, was the opportunity to volunteer and coach for SSUSA's youth program.
"It gave me direction and purpose," said Schapira. "The biggest gift from volunteering and coaching ignited something in me that was gone for a long time. It helped reshape my inner strength. I've now been sober over a year. It's the first time I've had a year of sobriety in a decade."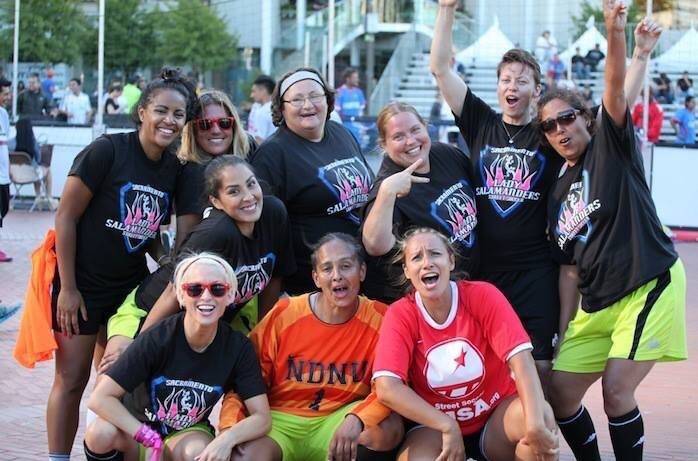 Every year Wrightsman and Fraser see new players participating with the Lady Salamanders. Older players often stick around as inspiration to new players. Some, like Schapira, volunteer and continue to participate with SSUSA, and most eventually move on to create successful and stable lives for themselves. Wrightsman attributes much of the team's success to the fact that soccer gives these women a place to openly work through their problems.
"One thing that I've found that has been helpful for people in street soccer is that it's a place for us not to be anonymous," Wrightsman said. "We can respect the anonymity of AA, but there should also be a place where we can celebrate the work we are putting in and not be afraid of being a part of the world again. Street soccer does that well. We give them the opportunity to safely branch out into the community and find a role for themselves in life. They aren't just getting their lives together, they're finding a place to thrive in."
Follow Street Soccer USA on Instagram to keep up with the positive impact it is making in at-risk communities. For more on the Salamanders, be sure to follow SSUSA Sacramento on Instagram as well.