Former Canadian national team defender and Olympic bronze medalist Lauren Sesselmann shares her thoughts on the USWNT celebrations in their now infamous 13-0 victory over Thailand and answers the question everyone has been asking — were they justified or excessive? 
To celebrate or not to celebrate? That is the question. Unless you've been living under a rock for the past week, you've probably by now heard of the United States women's national team celebration controversy.
No. 1 in the world and No. 1 in the hearts of many, the USWNT beat Thailand by a whopping 13-0 in their opening match, but they did not win many people over with how they celebrated. So, were they in the wrong? Why can't the best team in the world get excited about scoring multiple beautiful goals? Well — it wasn't how many goals they scored that irked so many, it was how they celebrated after goals 9, 10, 11, and so forth, that set social media ablaze.
Coming into this World Cup, the U.S. was ready to make a statement. They are the reigning champions, but an early exit at the 2016 Rio Olympics has left a salty taste in their mouths. They have been a top team for so many years and one of the most talked about teams coming into the tournament. There were and continue to be a lot of questions surrounding them — about manager Jill Ellis and her ever-changing lineup, can they live up to the lofty expectations they have set for themselves, are they defensively sound — and so far they have put on quite a show for their critics.
There is no problem in celebrating, you should celebrate — it's the World freakin' Cup —you should be excited and you never know when goals will come in handy in the standings, so go ahead and score as many as you can. I am all for players enjoying the moment, but what I do have a small issue with is when you are smashing a team by that much to celebrate like that.
My problem came when Alex Morgan started counting on her fingers. Look, I think it is amazing — she is an incredible talent, I love watching her play and the way she scored those goals shows the amount of work she has been putting in on and off the field. And it is an unbelievable feat to tie Michelle Akers' record, a player our generation looked up to, but I believe in sportsmanship and showing just a tiny bit of respect. I honestly don't know if it was intentional — sometimes we are just caught up in the moment because we have been waiting for that moment for so long and the emotions just come out — I totally get that. I just think it came off the wrong way for them, even though I know they don't care what people think.
Thailand were left crying after the game. They were embarrassed. I know that particular match shows how much the game needs to grow. But it is growing. Teams in this year's tournament like Argentina and Jamaica, among many others, are a testament to that. I don't think the U.S. should apologize because that is just who they are. It's in their DNA to go out and put on a show, fight hard, score goals, and win. It's the World Cup — you are not there to make friends and you are not there to go soft on teams, so I completely understand that.
The U.S. feed off that energy. They love to be hated, and they love to shine. They are on the world's stage, and I think any team or player loves that attention. We love to be hated or criticized so we can prove people wrong. It's all about setting the tone and creating a mindset that this is how we play, this is who we are, and we don't care if you love or hate us.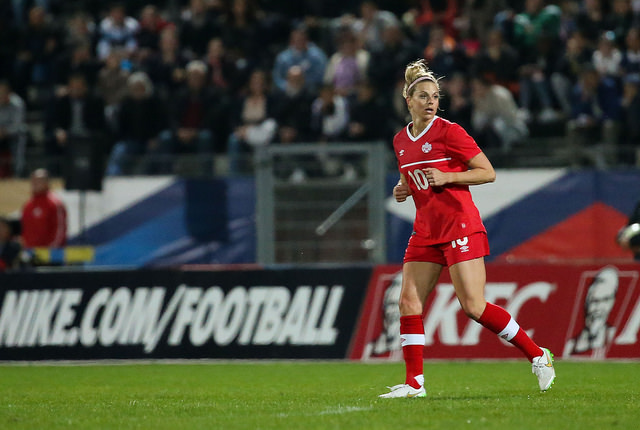 I'm not writing this as someone who played for Canada and has a big rivalry against America. I'm writing this as a player who appreciates great soccer and sportsmanship, and they can go hand in hand.
This is a team that everyone loves and admires, but wants to beat, so there will always be controversy in everything they do. They know how good they are and they are not afraid to show it. I don't think that's necessarily a bad thing, because as an individual player and collective team that is how we all want to be viewed. To have that sort of confidence.
There is just a fine line between celebrating and throwing it in someone's face. You could just see goal after goal the faces of every Thailand player. But, credit to Thailand for getting to the World Cup, playing hard and scoring that beautiful goal against Sweden. And credit to the U.S. for being the best in the world, playing like the best in the world and continually proving people wrong.
You have to give credit where credit is due no matter what you feel. U.S. has one of the most talented rosters and it's fascinating to watch them do work on the field. This in my opinion has been one of the most exciting World Cups ever and I'm eager to see what happens going into the the Round of 16.
What are your thoughts on the USWNT celebrations? Drop us a line in the comments below.
You can keep up with Lauren Sesselmann's World Cup commentary by following her on Twitter and Instagram.