In the heated competition of a matchday, it's not uncommon to see two opposing players get into a spat. But two teammates fighting? That's a different story…
When you associate Real Madrid with the UEFA Champions League, there's generally only good things to say. After all, they've won the tournament on four separate occasions since 2014, including an incredible three-peat from 2016-2018. For context, only two other clubs have achieved that in the tournament's history.
Things are different this year however. After dropping their opener at home to Shakhtar Donetsk, the club managed to scrape by with a single point in its second game against Borussia Monchengladbach with a 2-2 draw. Zinedine Zidane's team now sits in the bottom half of a relatively weak Group B, in danger of failing to make it out of the group stage for the first time in nearly a quarter century.
But we're not here to talk about Real Madrid's struggles in the early part of the 2020-21 UCL — at least not completely. Instead, we'd like to turn our attention to the now infamous video captured at halftime of last week's Borussia Monchengladbach matchup that completely encapsulates what has gone wrong for the La Liga giant. We're talking of course about Karim Benzema versus Vinicius Junior.
Karim Benzema tells Ferland Mendy not to pass to Vinicius Jr at half-time during last night's game between Gladbach & Real Madrid: "Brother don't play to him. On my mother's life. He is playing against us." pic.twitter.com/zmpciQRgAV

— Get French Football News (@GFFN) October 28, 2020
If you somehow haven't heard, here's a short refresher on the situation. Going into the break down 2-0, a video of Real Madrid heading into the tunnel caught audio of Benzema telling teammate Ferland Mendy not to pass the ball to Vinicius.
In the audio, Benzema tells Mendy, translated to English, "Brother don't play to him. On my mother's life. He is playing against us."
Benzema would end up doing exactly that as he went the entire second half without looking Vinicius' way as Madrid went on a late-game comeback to level the score before the final whistle.
And while Zidane has assured the media that the two have resolved any issues and are now on the same page, it's still easy to wonder just how things really are behind closed doors. Because if you really think about it, we so rarely get such an unfiltered look at the inner workings of a club.
"There's no problem, quite the opposite," Zidane said of the situation. "It happens a lot on the pitch. I'm not saying that to hide anything. It's natural. Afterwards the players talk between themselves, and the next day it's all forgotten."
Zidane is probably right about things happening on the pitch that stay on the pitch, but never have we seen a player like Benzema, the fifth-highest goal scorer in Real Madrid's storied history, outwardly say on camera to avoid passing to a fellow teammate because of a claim that he's playing against his own team. Specific as that situation is, it's almost unheard of.
Teammate feuds happen in every professional sport all the time, and football is no different, but the question now stands, where does this rank among the sport's most famous spats? There are surely more volatile incidents that have happened away from the pitch over the years (See: John Terry and Wayne Bridge, Coleen Rooney and Rebekah Vardy, etc.), but as far as on-the-field drama, where does this stand?
I narrowed it down to three opposing contenders from over the years that could hypothetically compete with this debacle based on the situations at hand. All three are very unique cases, but the important thing to me was how the feud affected the team's on-field performance. Let's start with an easy one that's sure to jog some fond late-aughts memories for Arsenal fans.
Emmanuel Adebayor v. Nicklas Bendtner (Arsenal, 2008)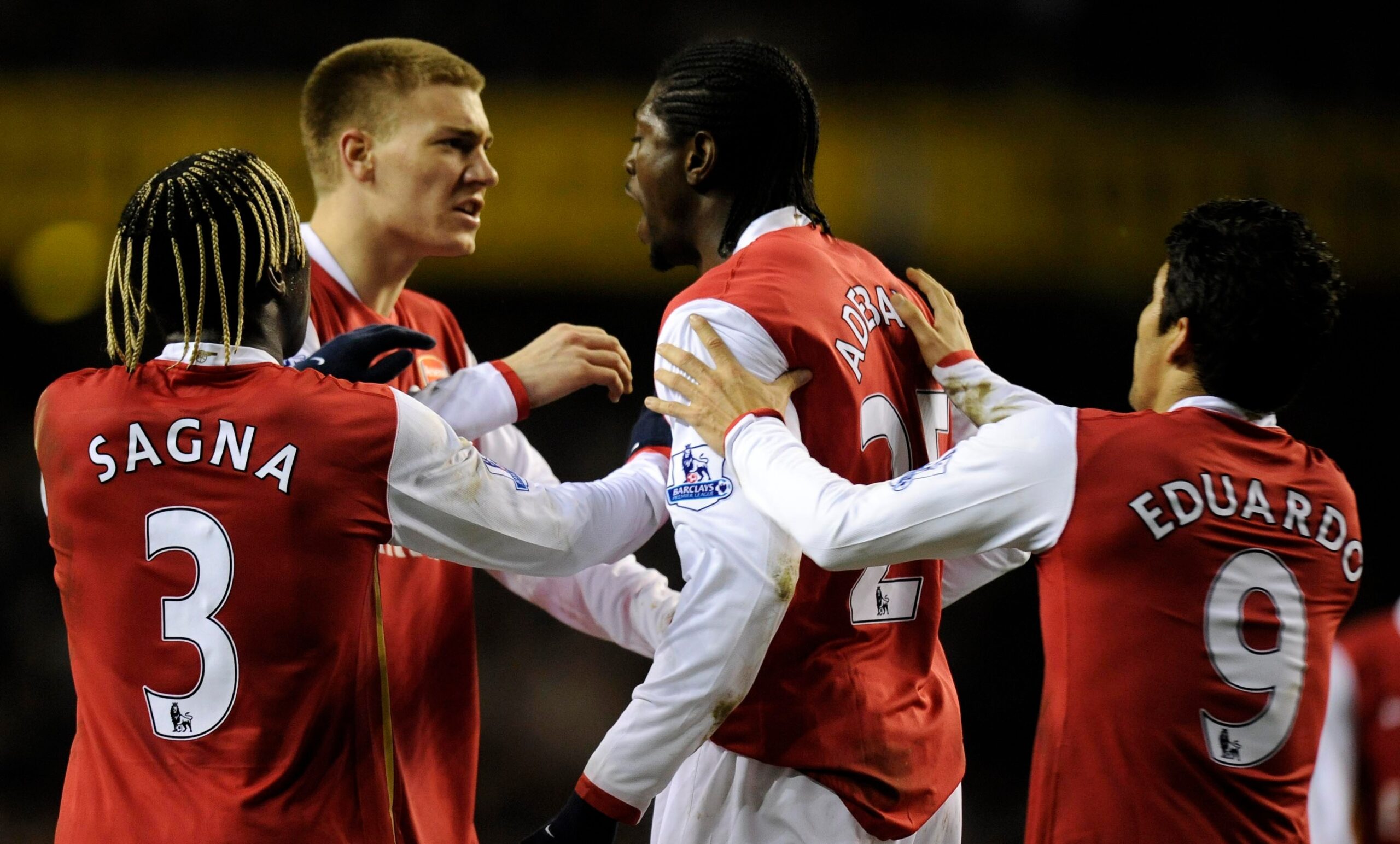 At the time of this incident, both of these players were considered potential stars in the making. Emmanuel Adebayor, then in his third season at Arsenal, was in the middle of a dominant campaign that he'd finish with 30 goals in 48 appearances.
That 2007-08 season would help him break into the football mainstream thanks to his absurd goal against Tottenham that would win Goal of the Season honors, as well as his inclusion onto the Premier League PFA Team of the Year.
Nicklas Bendtner on the other hand was still just a promising prospect with the skill to catapult himself onto the national stage. That is, if he really had the desire to. A talented yet arrogant youngster, Bendtner was just starting to break into the starting XI at the time, but was having trouble getting along with his teammates, specifically Adebayor.
The tensions spilled over onto the pitch during the club's matchup with Tottenham in the 2008 League Cup semifinal when the two got into a heated exchange after the ball hadn't been passed to Adebayor.
The situation escalated when Adebayor would head butt and push Bendtner, hitting his nose in the process. It was a dramatic flair-up that summed up the frustration of a 5-1 derby loss for Arsenal, and the feud never truly ended despite the two playing at the club for one more season together.
"We never tried to patch things up," Bendtner said on the In Lockdown podcast. "We learned to have the respect for the club and the team. That we would be on the same team, we would give everything when we were on the pitch together, but we wouldn't be friends."
The feud didn't kill Arsenal's quality of play in general though, as the team would finish third in the 2007-08 EPL season and fourth in the 2008-09 season.
Kieron Dyer v. Lee Bowyer (Newcastle, 2005)
One of the most infamous examples of teammate discord, the on-field incident between Lee Bowyer and Kieron Dyer can be more accurately described as a straight up brawl. Tensions were already higher than normal at Newcastle during the 2004-05 season, as the club plummeted from its once respectable status as a consistent top-4 team to the bottom of the table.
Both Dyer and Bowyer were fine players while with the club, but their stints at Newcastle will always be remembered for the fight that broke out between the two during a loss to Aston Villa.
What's so remarkable about this feud is just how physical it gets all because of — yeah you guessed it — an issue sprouting from Dyer not passing Bowyer the ball. Sensing a theme here?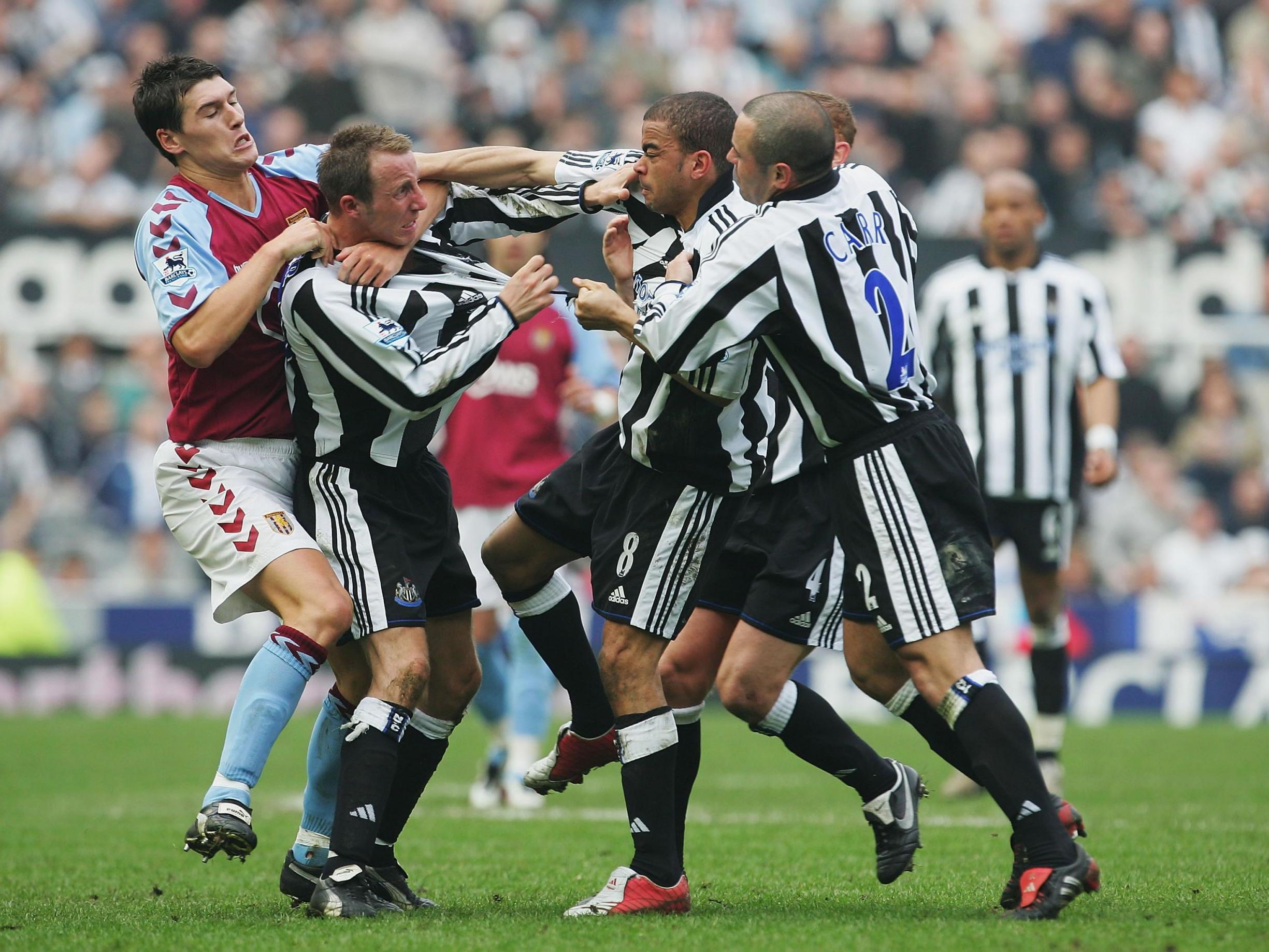 Both were immediately sent off because of the scene they left on the field. To make matters worse, Bowyer was handed a seven-match ban, while Dyer was suspended for three. Newcastle never really recovered from the fight that broke out, and its memory is far from forgotten from the minds of football fans everywhere.
With a cooler head years later, Dyer went on to talk about the incident in detail, claiming that he didn't know he could get sent off for fighting a teammate, and that the two seemingly reconciled just hours after the wrestling match.
If you think Benzema's comments were rough, just imagine if he threw a haymaker to add insult to injury.
Cristiano Ronaldo v. Gareth Bale (Real Madrid, 2013-2018)
So maybe this isn't exactly a feud per se, but it is worth mentioning in light of the current issues in Real Madrid's dressing room.
The "beef" between Gareth Bale and Cristiano Ronaldo is one typical throughout all sports — two alphas fighting for the spotlight and statistical glory. There are numerous instances of Ronaldo displaying a certain kind of mild annoyance at the thought of Bale "stealing" one of his goals, or even when the Welshman pinged a pass that flew just outside of Ronaldo's reach. Ronaldo's mini-tantrums went so far that Real Madrid legend Francisco Gento commented on a potential rift at one point.
The two superstars have always been kind to each other in the media, even as they departed the club for greener pastures, but I can't help but remember the days of Ronaldo getting clearly miffed by his teammate's decision-making regardless of the outcome. At the end of the day, their relationship never impacted the team's performance in a negative way, as the two were crucial members of some very successful Real Madrid teams, so we can all agree that this is probably the weakest teammate disagreement in this story.
There are definitely teammate feuds out there that I didn't get to, but these reminded me of the Benzema-Vinicius situation in some respects. What are your thoughts on the current Real Madrid drama, and what teammate feuds can you think of that stack up to this one? Let us know in the comments below.