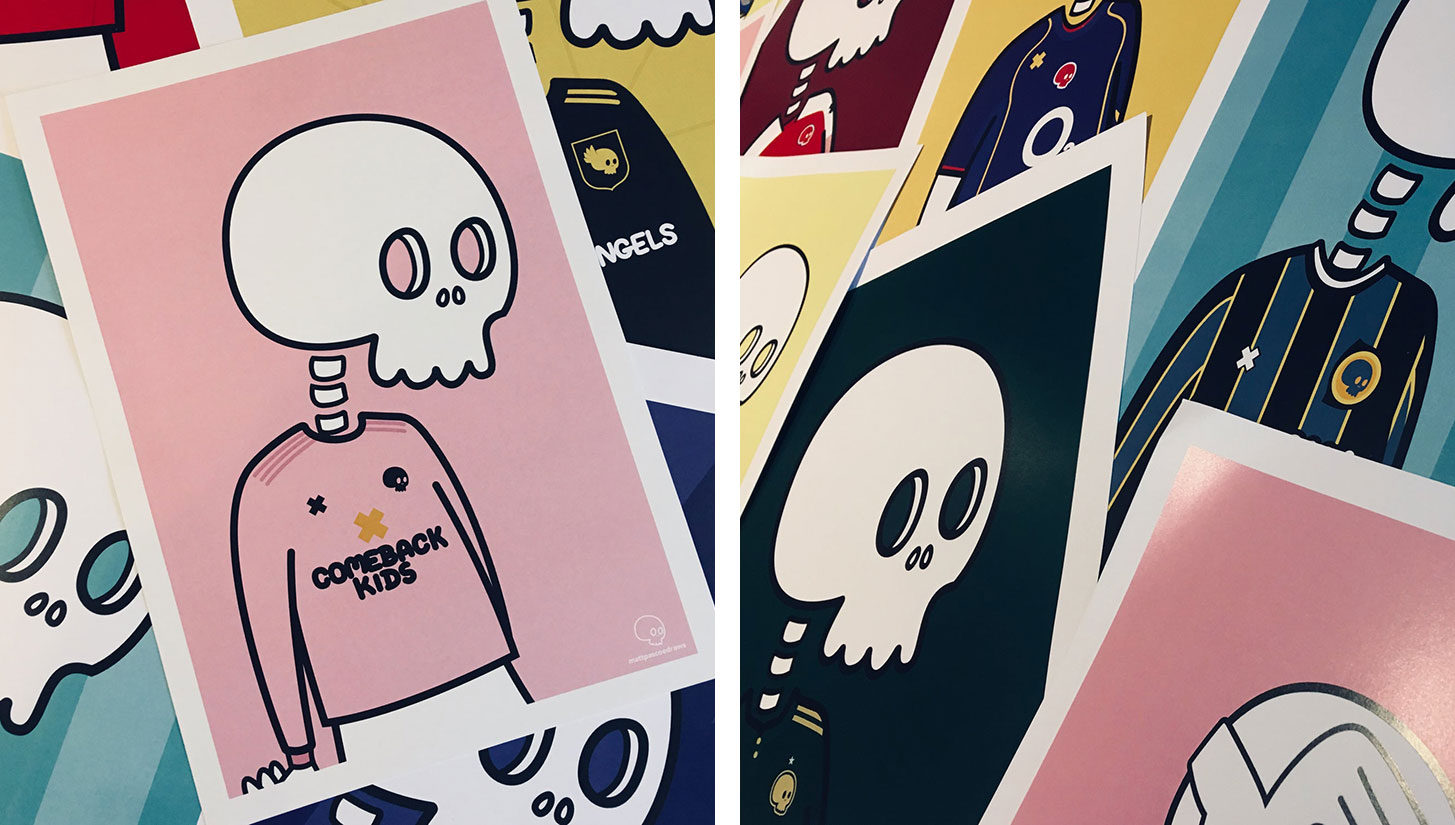 With kits and prints that are both eye-catching and affordable, the Kit and Bone range of designs are a refreshing addition to a kit world that can get repetitive at times. We sat down with brand founder Matt Pascoe to discuss Kit and Bone's origins and the impact that the omnipresent football kit has on global culture. 
By now, we all know a football kit is more than just a shirt. It evokes powerful emotions and superstition. It connects fans to their their heroes on the pitch, and gives them a better understanding and appreciation for club history.
For some, the passion for these jerseys goes beyond collecting and wearing them — they have the desire to make their own. Such is the case for Kit and Bone creator Matt Pascoe.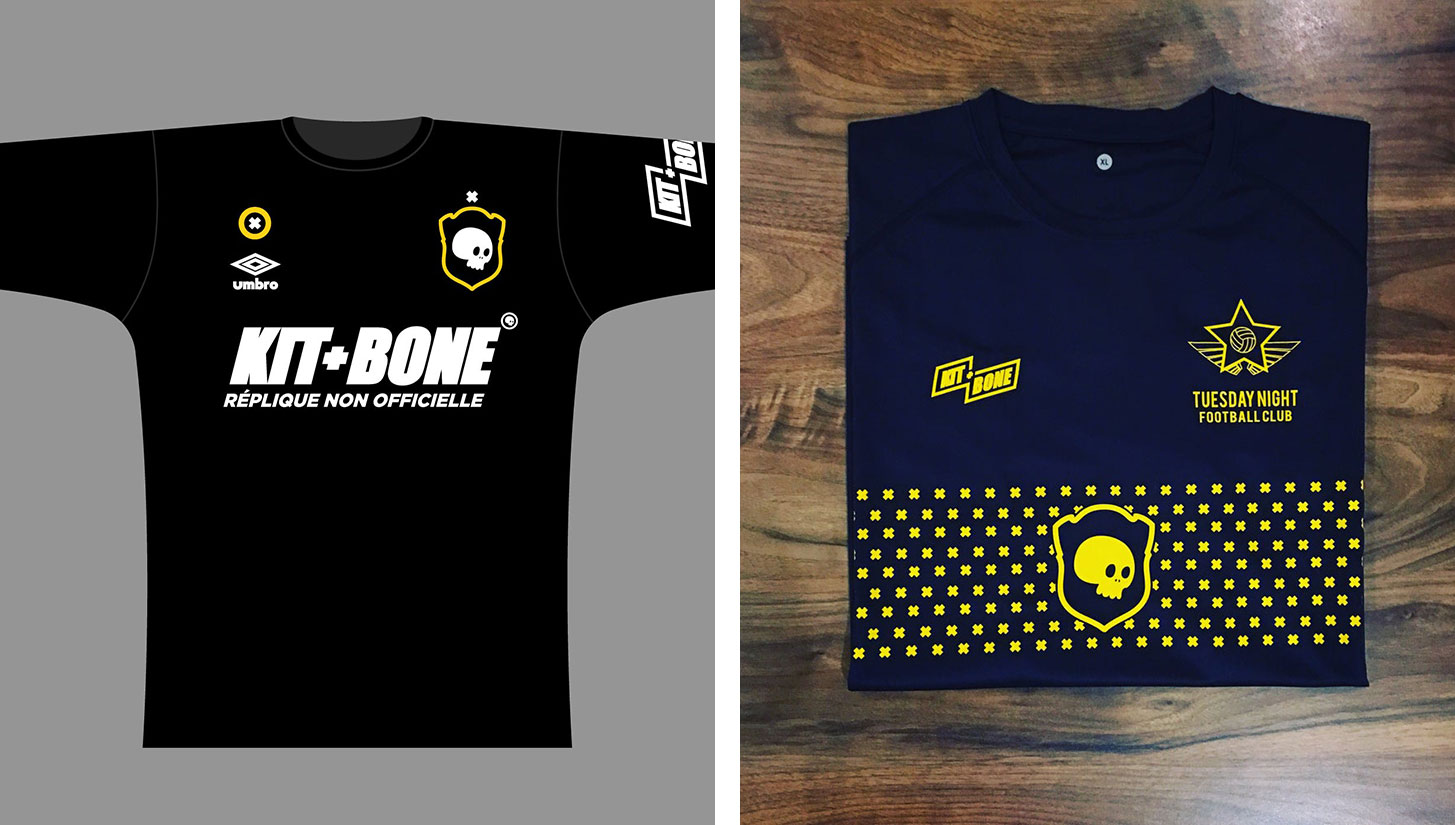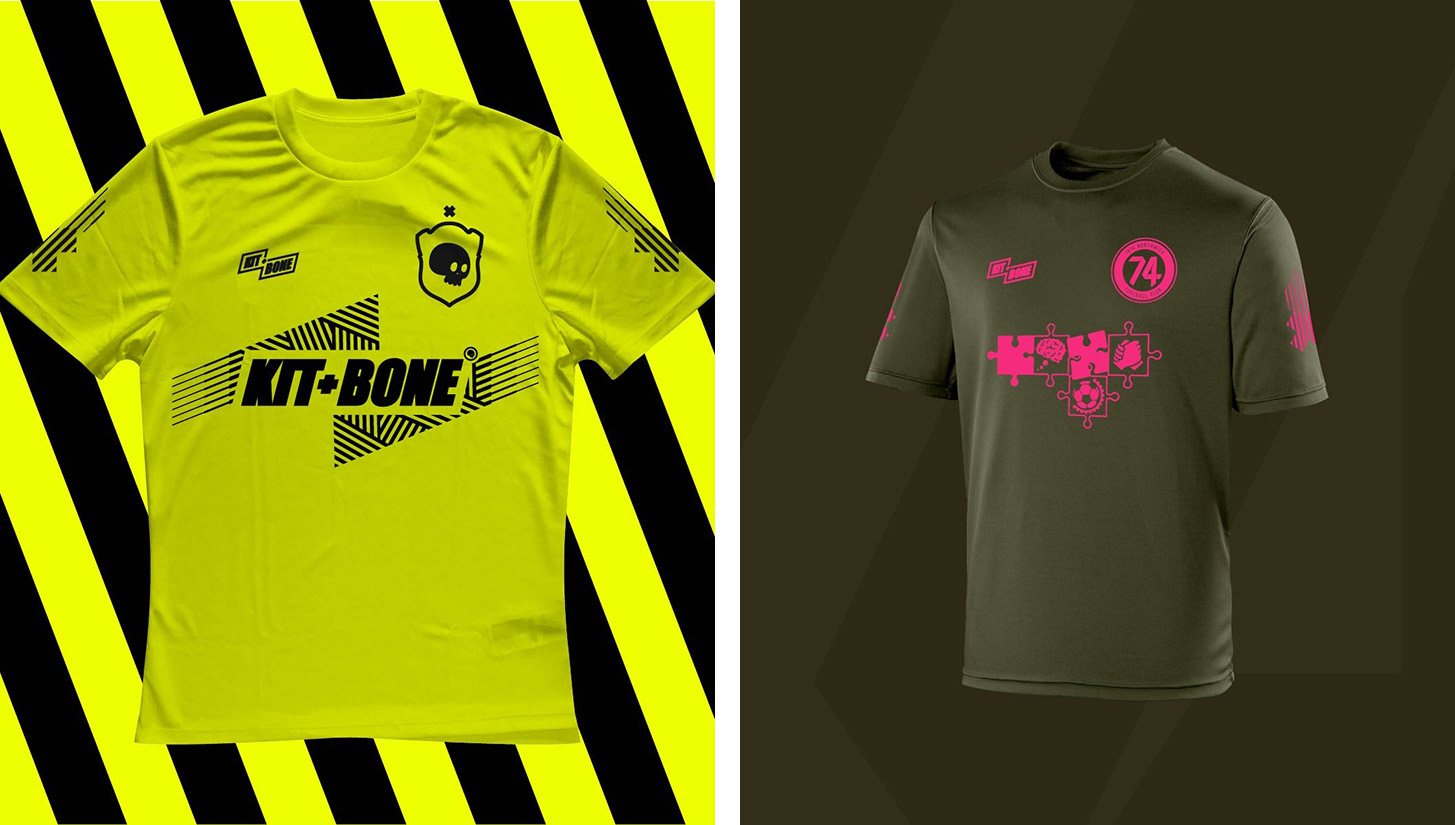 Through the brand, Pascoe takes classic jersey elements and reimagines them into something completely new. The designs are brought to life in the form of actual shirts as well as prints modeled by unofficial mascot Bony (a skeleton sketch of Pascoe's own creation).
The prints and kits incorporate Pascoe's nerdy love for a good football jersey with eye-catching art and simple tweaks that take classic kits to a personal level. The final product is a refreshing homage to iconic jerseys in a time where rehashed ideas and the retro inspired trend have become tired. We were able to catch up with Pascoe to discuss his love for design and what's in store next for Bony this year.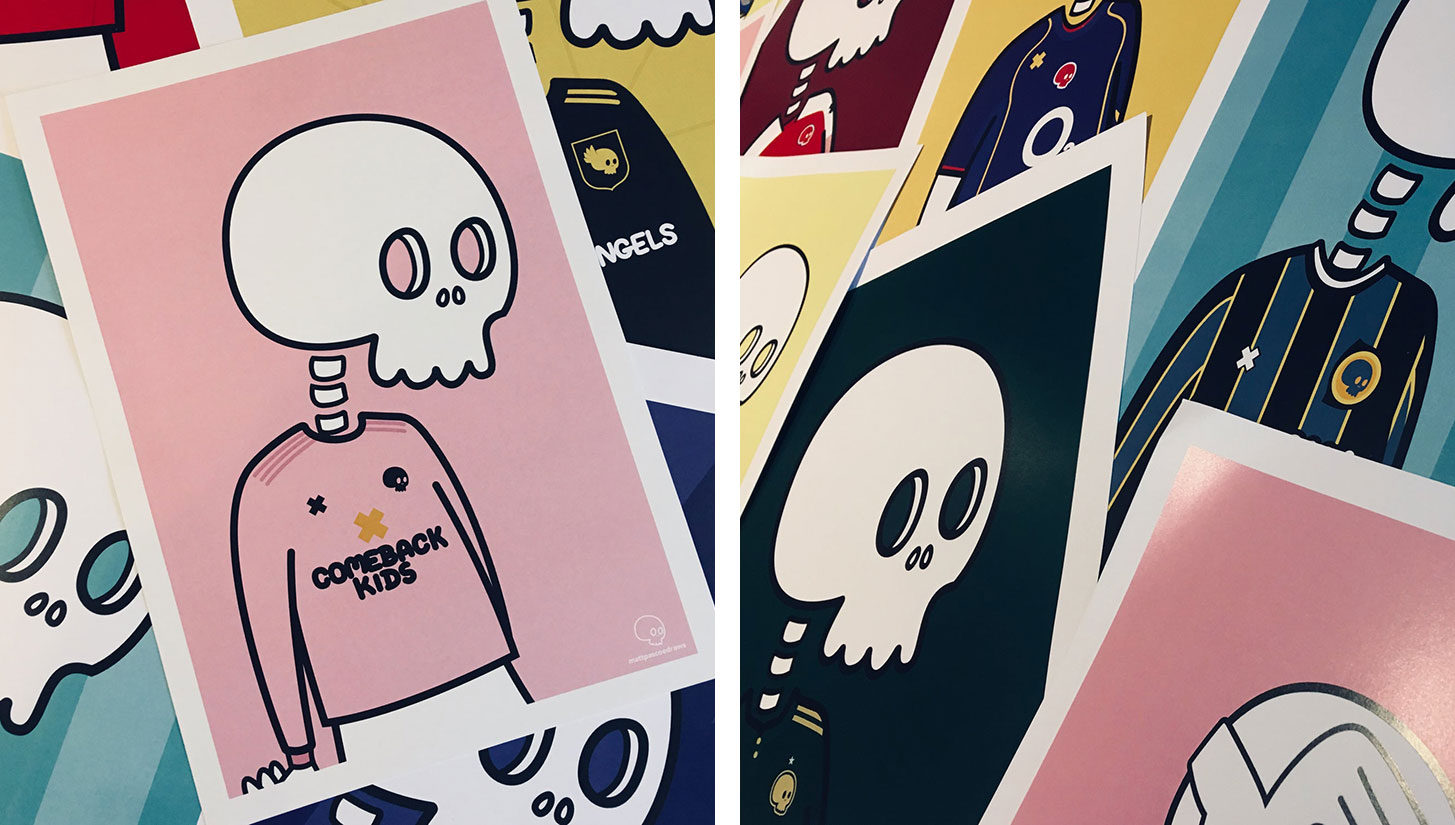 Urban Pitch: Let's start at the beginning. How did the concept for Kit and Bone start, and where did you get your unofficial mascot from? 
Matt: I've always been a huge football shirt nerd. And the original purpose of the Bony character was simply an outlet for my obsession with football shirts. The plan was to just show off my favorite shirts redrawn in what is now recognizable as the Kit and Bone style.
But it wasn't long before people were requesting their own favorites and it all took off from there. Creating our own football jerseys was the chance to play the Kit and Bone idea backwards — taking the essence of classic shirts and creating our own unique real world kits. The popularity of the whole concept and brand has been incredible. It's been so enjoyable to link up with so many other kit enthusiasts around the world. 
How would you describe the style of your kits and artwork?
Our kits are created to evoke a sense of real familiarity while at the same time being something new and exciting for football shirt fans. We want our kits to be something fans look twice at. The first look you feel you know what you've seen and then second glance you see the Kit and Bone twist.
The Kit and Bone illustration style is meant to be simple, bold and instantly recognizable. Like the jerseys, the illustrations represent the essence of what football fans know a particular shirt should look like, even though we only use our own logos, badges, and graphics.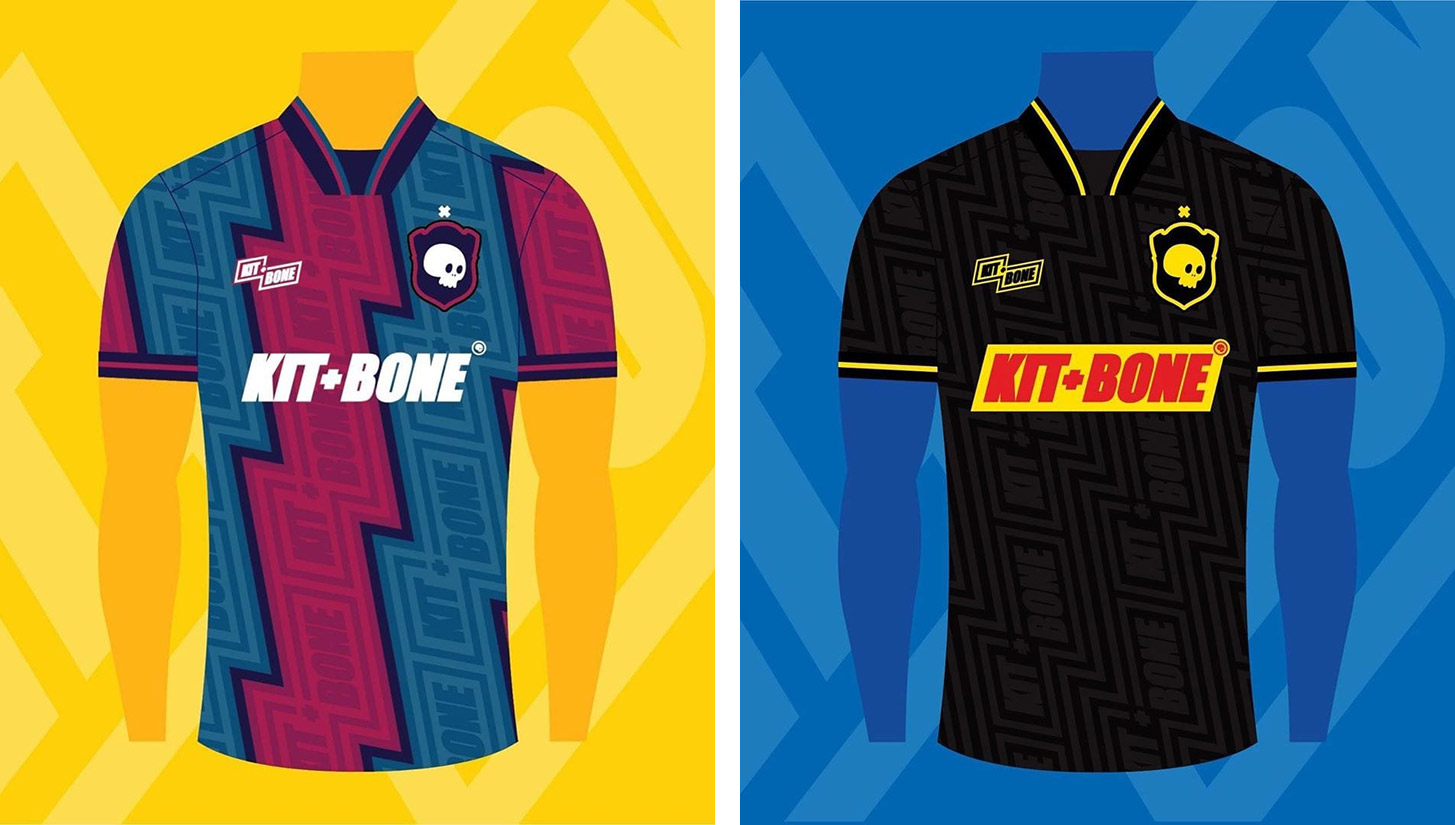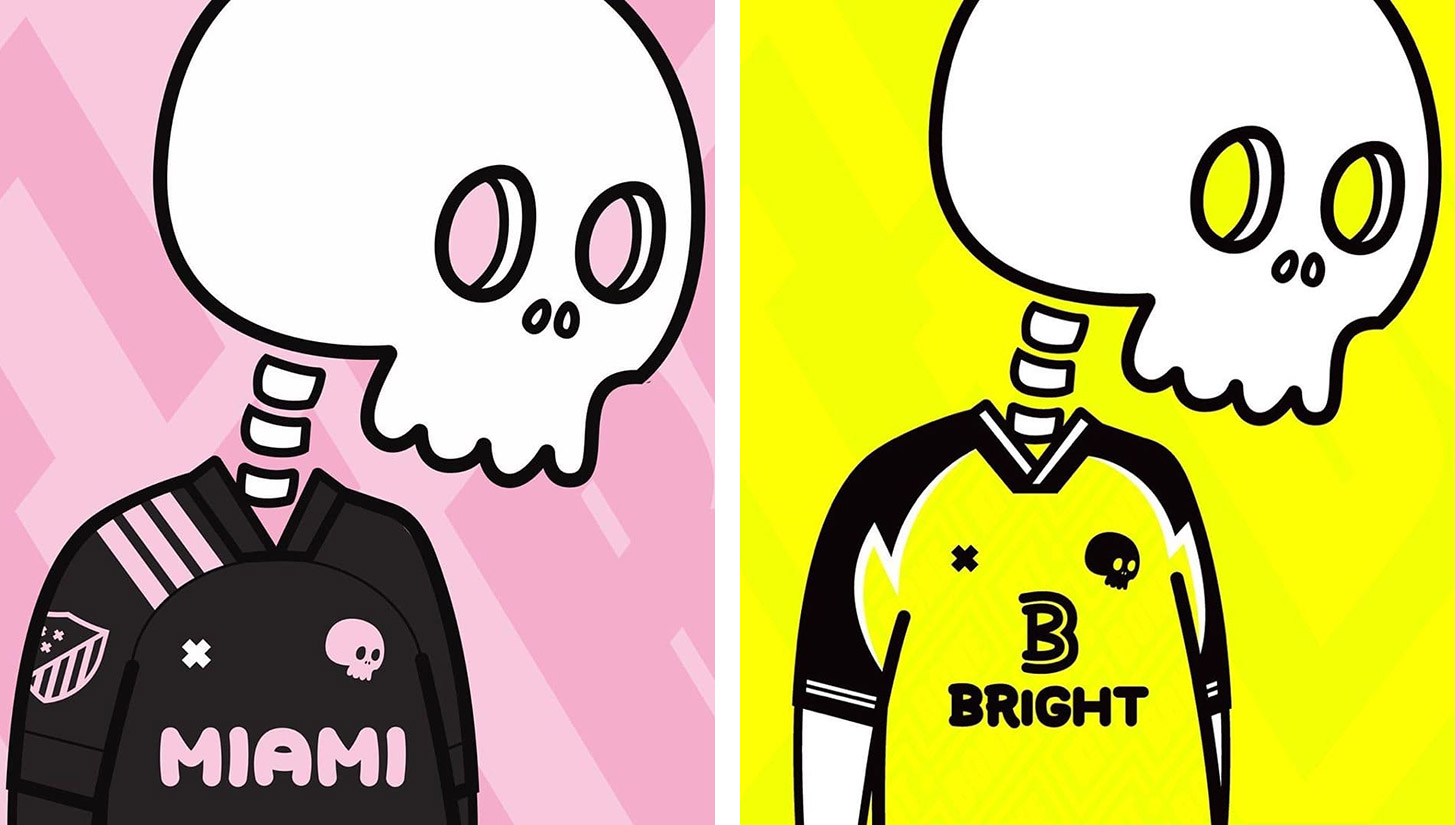 What is your background in design and football?
I've been designing football shirts since I was child. I won a competition to design the home shirt for Peterborough United as a student and have been creating football designs and illustrations ever since. I've worked with lots of clubs over the years, including Arsenal and Aston Villa as well as featuring in many high profile football magazines.
What other sort of products do you design/create?
Alongside our Unofficial Replica shirts we have t-shirts and other clothing. People can have any kit they want put on the classic Bony pose as a print or on a mug. We are always looking to expand our range and have a number of exciting products on the way later this year.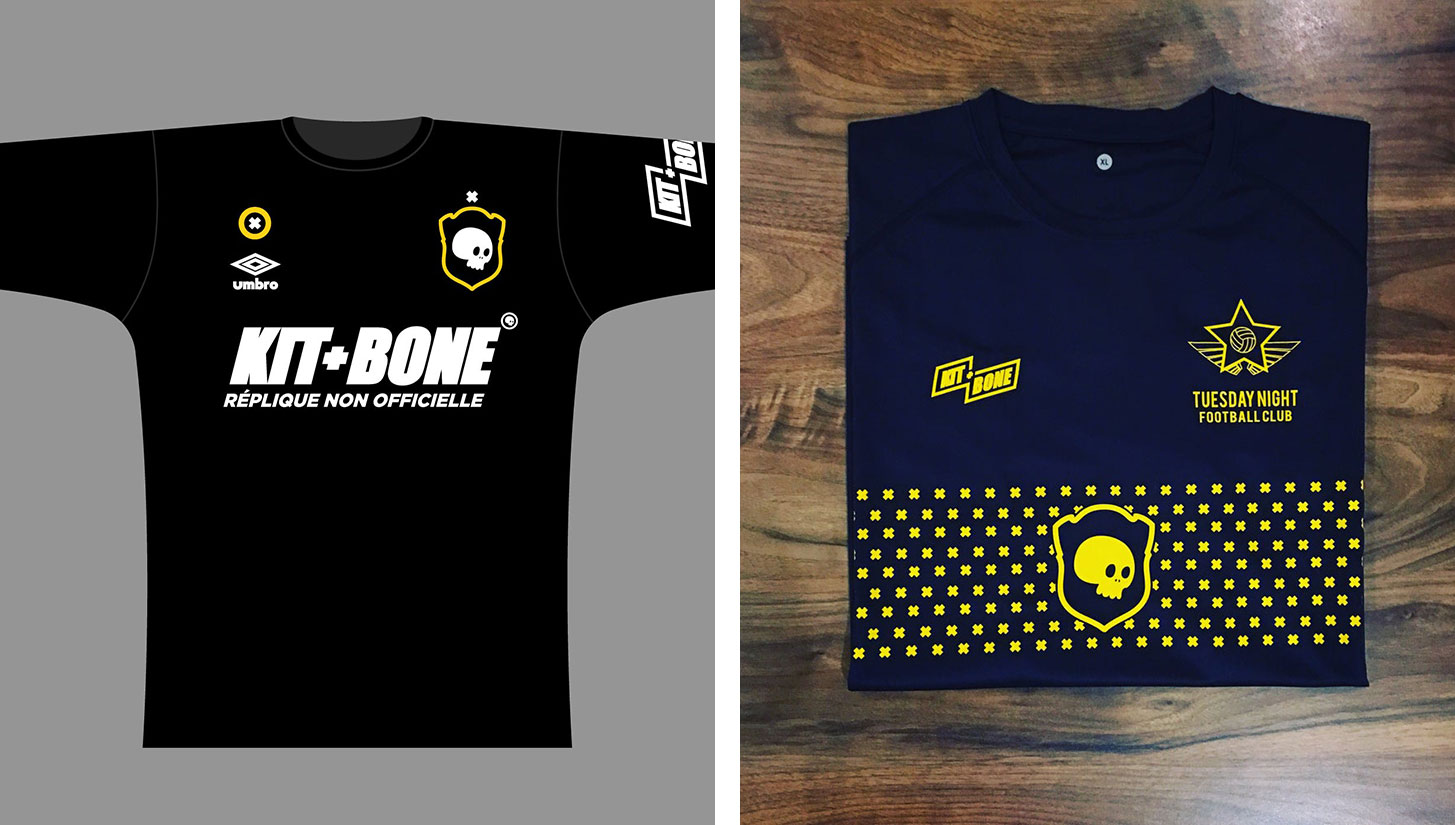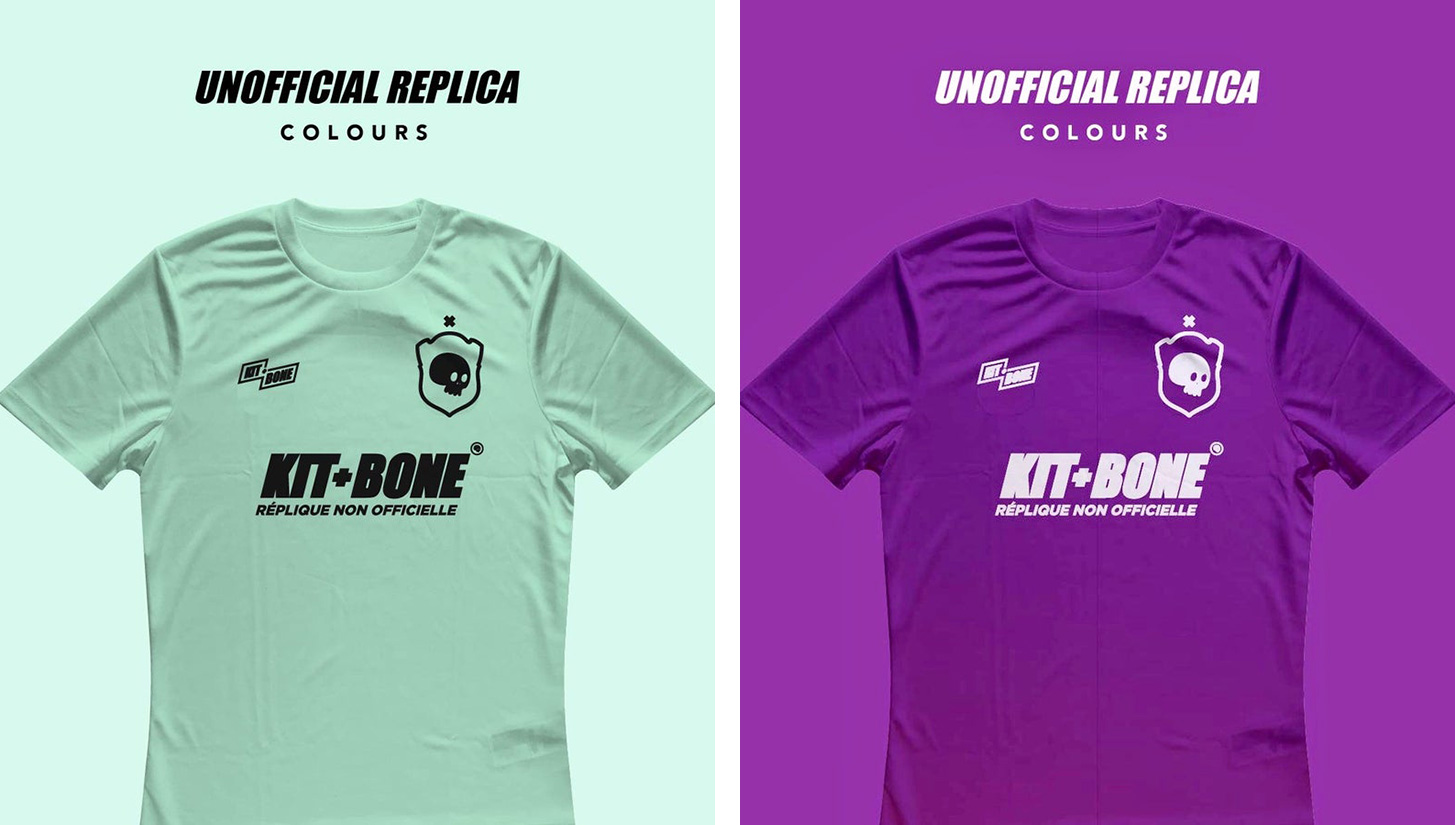 Can you talk about the Unofficial Replica collection and some of the other kits you released?
Our Unofficial Replica range contains our special edition shirts like our Bolt jerseys and our Blackout jersey we sold on Black Friday. The Bolt jersey was inspired by some of the '90s acid yellow shirts of teams like Dortmund. We are now selling our second version of that shirt due to the popularity of the original.
We also have our Colors collection which was designed as our core range. It provides a wide variety of colors for football fans of all clubs. We do these in adult and children's sizes. You can also have the shirts personalized to make them truly unique to you. We created the Unofficial Replica Colors collection because we'd noticed a sharp rise in the cost of replica shirts in recent years and this range is designed to combat that trend and stand by one of our values of being a football brand for all. 
What about the beautiful game inspires your designs?
I obviously love the kits. They are wonderful outlets for football conversation not bound by the loyalties of the team you support. But alongside that I love the general way football can bring people together. You can chat to any football fan about the game. I've made so many connections and friends simply through chatting about football. The beautiful game is a real universal leveler and I'm all for harnessing the power of football to bring people together.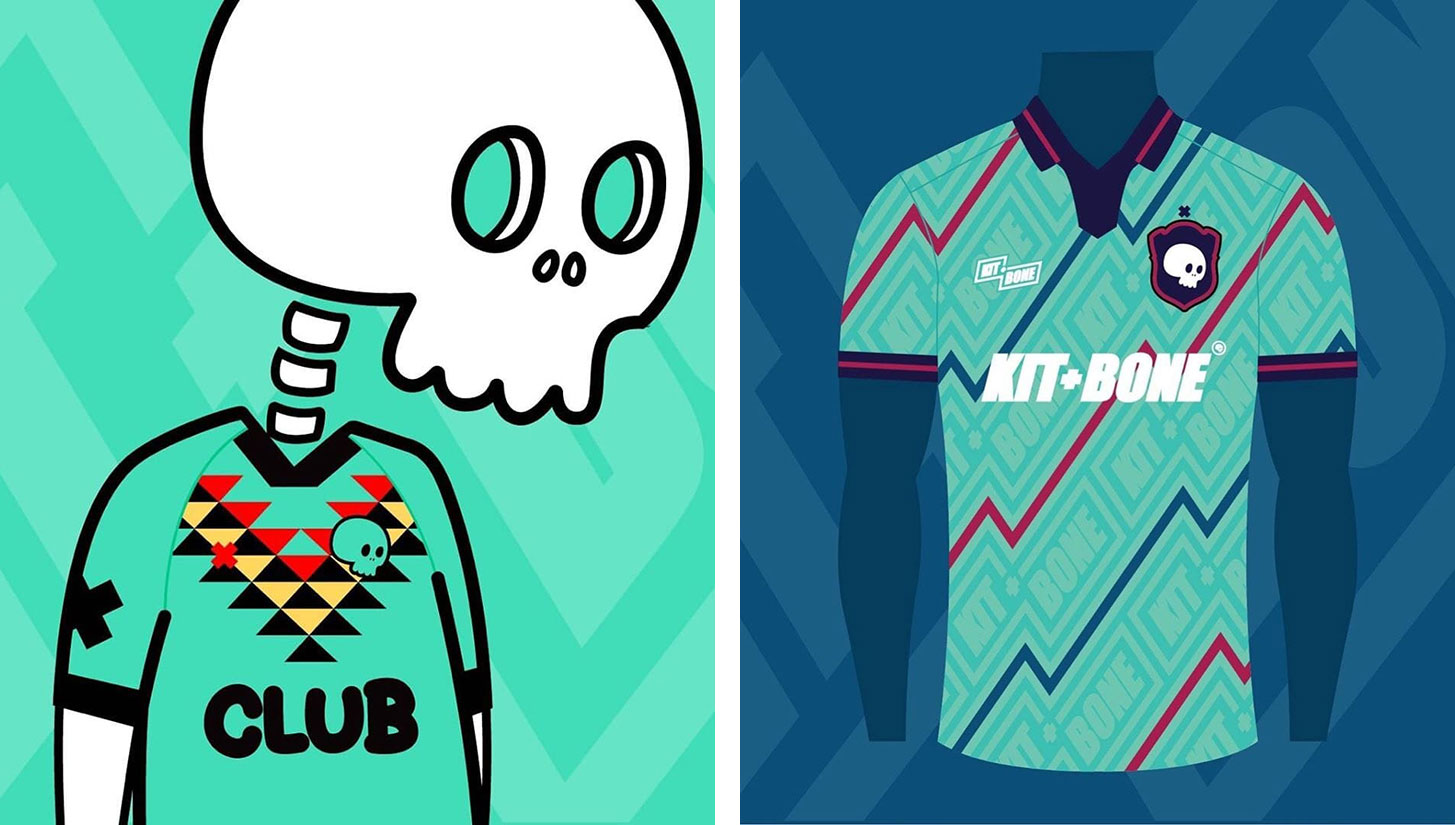 If you could design a kit for any team, who would it be and why? What about that team would inspire your design?
What a question. I'd love to work with one of the big European clubs. I think Arsenal have a great history of kits that would be great fun to play with. I've also always been a big fan of the Inter Milan jerseys. I think we could do some very interesting things with their shirts. If I had the chance to work with an MLS side, I'm a big fan of how LAFC have created a brand that truly kicks against the gloss of the Galaxy brand. I think there is so much fun to be had with that as a starting point.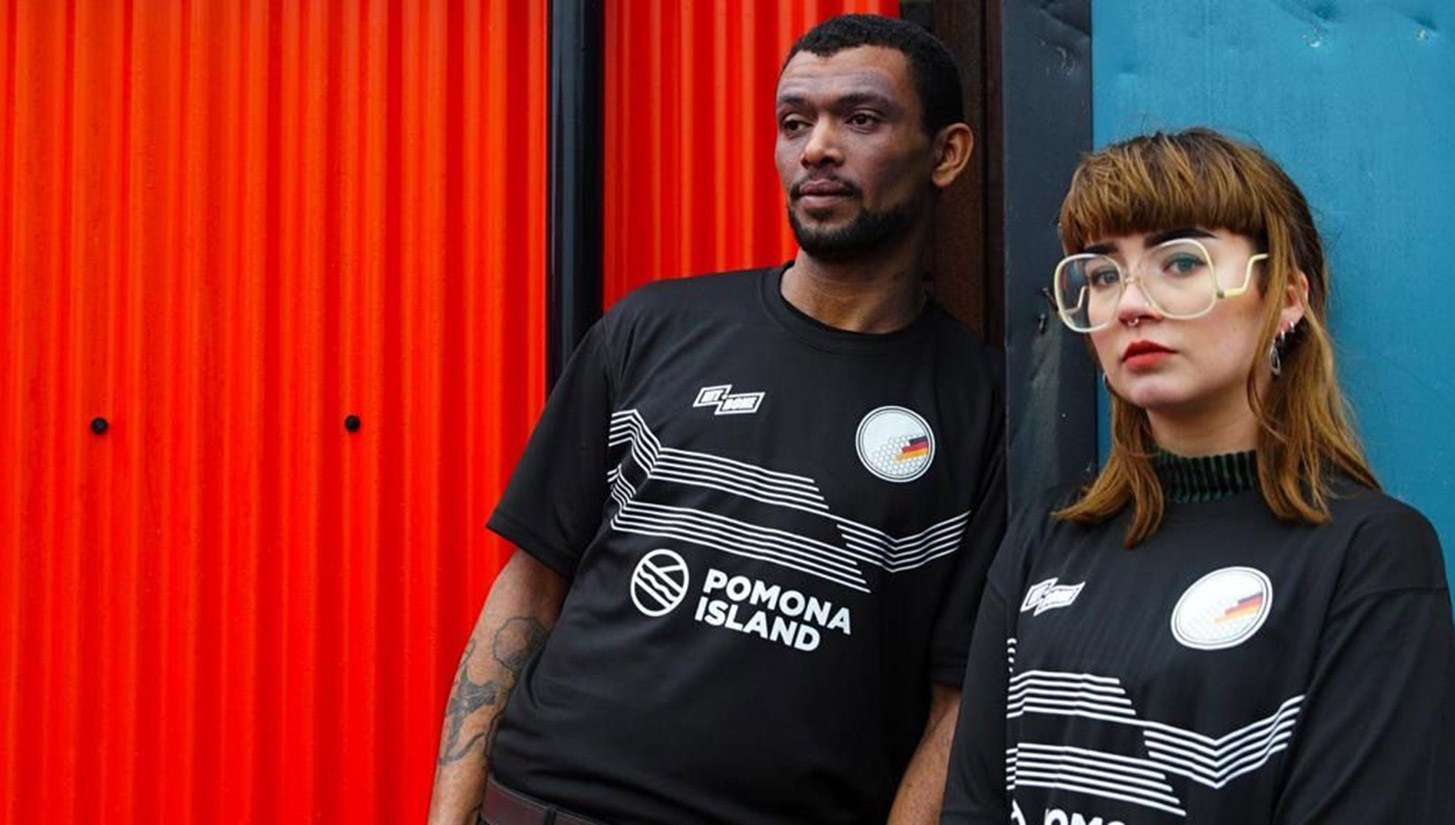 When was the best era for football kits and why?
I first got into football in the early '90s, and I think the shirts from that generation are for me some of the best. Mid-'90s Umbro and Nike shirts are some of my absolute favorites.
Who has the best and worst kits for any club this year and why?
I think a lot of great jerseys are ruined by the shirt sponsor. It's a really difficult balancing act for clubs where they need the cash but it compromises the look of the kit. There is one shirt that I love but also don't like for this exact reason. This season's Newcastle United home shirt is a fantastic jersey, but the sponsor really spoils the overall look. It could have been a classic but the sponsor takes that away.
There are some brilliant shirts around this season. I think Nike's third shirts for Barcelona and Roma are two of the very best this season. The designs reference some of my personal favorite elements from the classic '90s shirts I loved.
Any upcoming releases you can brief us on?
The current focus is getting our Unofficial Replica international jerseys ready for the summer. We're planning to replay some iconic European shirts in the unmistakable Kit and Bone style. Can't wait to get those out there!
You can shop the entire Kit and Bone collection via their online shop. Be sure to follow Kit and Bone on Instagram to stay up to date with their latest releases.