Over a week later, and we're still trying to make sense of the tragic murder of rapper and community icon Nipsey Hussle. We spoke to fellow Los Angeles artists Stix and Serk about what Nipsey meant to not just LA but the rest of the world, in addition to putting together a playlist in honor of his lasting legacy. 
The city of Los Angeles — and really the whole world — was shaken last week when Nipsey Hussle was murdered. The Grammy-nominated rapper was shot in broad daylight in front of The Marathon Store, his own enterprise that served as a beacon of hope for a community that has so long been fighting for a brighter future. He was 33.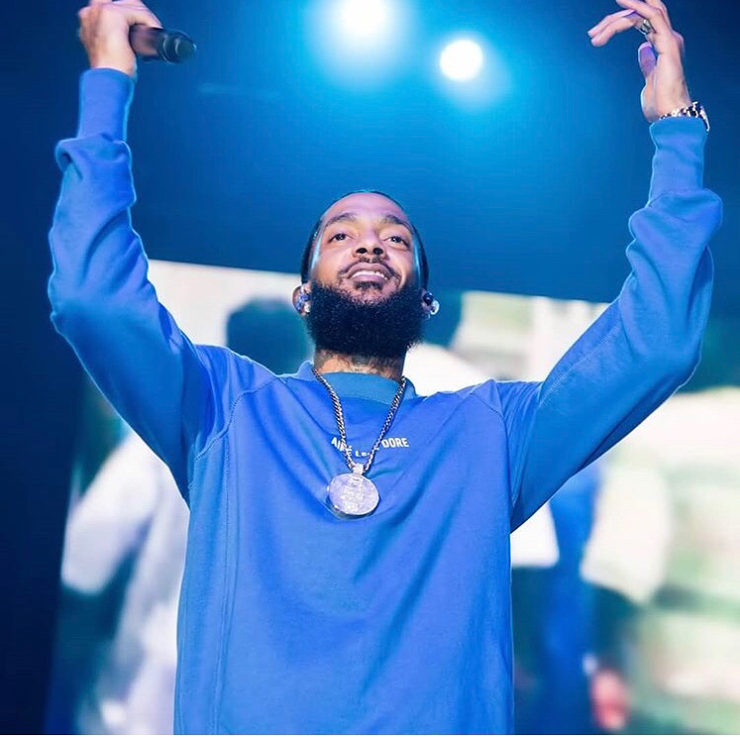 In the wake of his passing, cities across the country held prayer vigils and played Nipsey's music in the streets. In his home of Los Angeles, there was a monumental march where members of rival gangs walked peacefully down the street where Nipsey owned his businesses. His marathon mentality will surely be carried on by fellow artists, businessmen, and his family.
We spoke with two artists involved in the Los Angeles music scene about Nipsey Hussle's impact and legacy. While Nipsey wasn't extensively tied to soccer culture, he was a big sports fan and artists like Stix, who penned LAFC's community anthem, will carry on his passion to provide opportunities for others.
"Nipsey's commitment to empowering not only his people but his community was unbreakable," Stix shared. "He consistently provided his peers and followers with the tools and information on how to generate generational wealth but broken down in layman's terms. The city of Los Angeles lost a God.
"The family of Nipsey lost a husband, father, brother, relative, protector, and leader. No words and expressions can explain the loss of such a prominent king. I pray that the loss of such a Godly figure will only strengthen the inner city and urban communities mentally. I pray that his work encourages us to strive for development and stimulation of one's current economy. I pray that all gangs around the world restructure and reformat their true purpose of establishment and that is to assemble and serve their respective communities. Nipsey's work will not go in vain because of the seeds he planted, some of which have sprouted and broken through the rough concrete, bearing delicious fruit of knowledge, wisdom, and understanding."
Warm Brew's Serk was also shaken by Nipsey Hussle's passing. He found out about the news while he was on tour and was anxious to get back to Los Angeles to mourn with his city.
"The saddest part to me about Nipsey passing is just the fact that he wasn't able to see out his vision," Serk said. "He had so much more to accomplish, not only for the city, but for the world. It's beautiful to watch as all of Los Angeles has unified in his name posthumously, but the fact that I need to say 'posthumously' brings on a gamut of emotions, all deriving from pure sadness. He's woven into the tapestry of Los Angeles forever, and it's up to us to see out his vision. LONG LIVE NIPSEY HUSSLE."
To honor Nipsey's incredible contributions to music and his community, we have created a playlist of his best tracks. His catalog reaches back more than a decade between his various mixtapes, his Proud2Pay program where he sold Crenshaw for $100 and Mailbox Money for $1,000, and his Grammy-nominated major label album, Victory Lap. Nipsey had a penchant for putting stories from the streets and life lessons against the backdrop of a booming West Coast bounce, a sound that took the country a while to get accustomed to. But seeing the outpouring of love that the world has shown in the past week, it seems certain the marathon will continue.
"Last Time That I Checc'd"
"Hussle in the House"
"Love"
"Clarity"
"That's How I Knew"
"I Wanna Benz" – YG feat. Nipsey Hussle and 50 Cent
"Count Up That Loot"
"Blessings"
"Rap N*ggas"
"A Miracle"
"Foundation of a Man"
"Change Nothing"
"Picture Me Rollin"
"Right Hand 2 God"
"Mr. Untouchable"
"Blue Rag House Shoes" – C-Hecc feat. Nipsey Hussle
"No Regrets"
"Question #1"
"Victory Lap"