With eye-catching kits, driven front office, and exciting promotions and social media, one thing is clear about Forward Madison FC — they get it. We take an inside look at the club to see how they've created a fever for soccer in the college town of Madison, Wisconsin. 
"If you build it, they will come." While now an iconic, if not overused quote from the 1989 Kevin Costner classic Field of Dreams, it might not be 100 percent technically correct.
For Conor Caloia, Chief Operating Officer of Big Top Sports and Entertainment in Madison, Wisconsin, the saying would instead go, "if you build it right, they will come." With Forward Madison FC, Wisconsin's newest pro soccer team, Caloia and co. have done just that.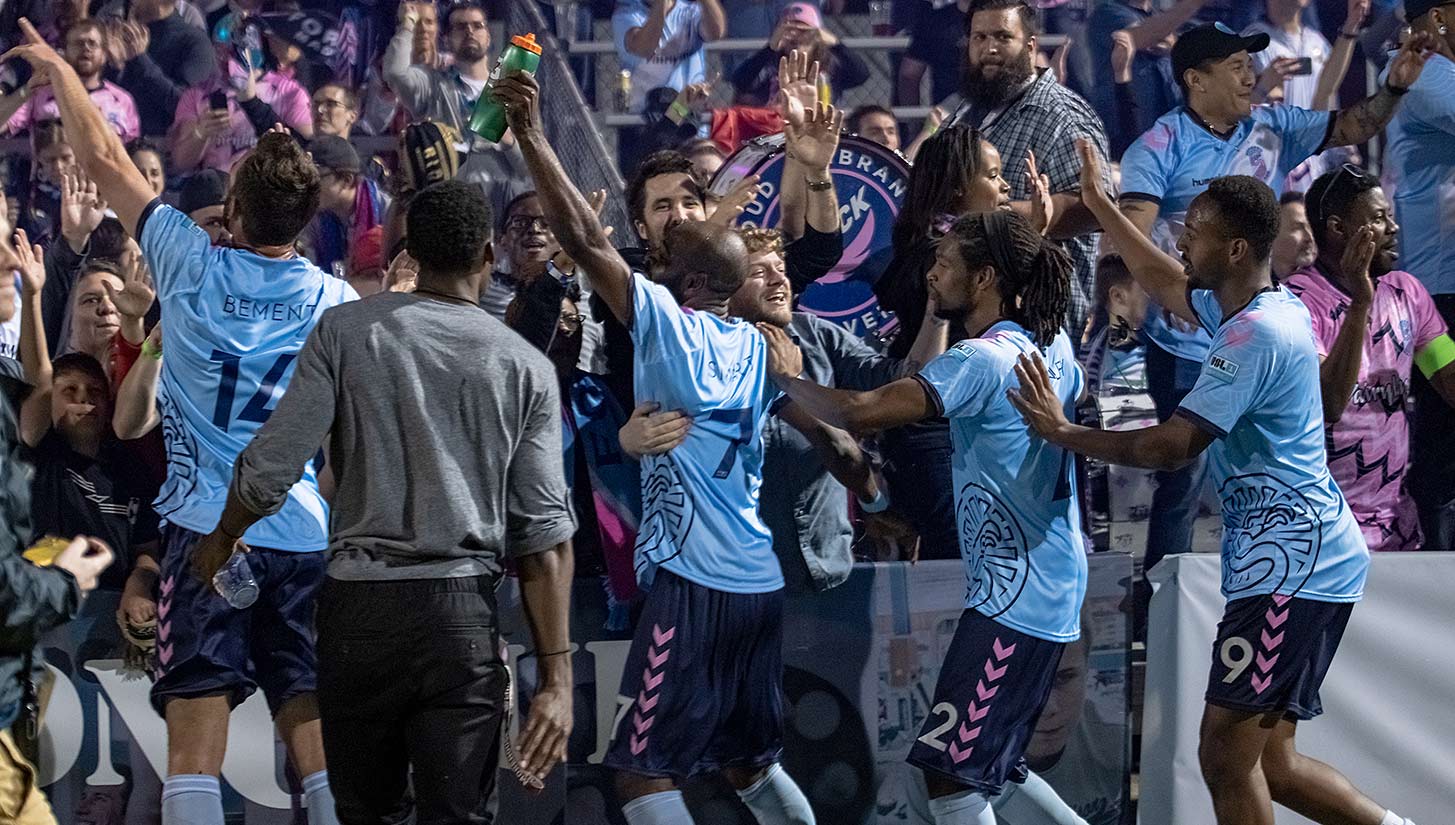 Prior to renovating and taking over operations at the historic Breese Stevens Field — Forward Madison's home — in 2015, Big Top Sports and Entertainment only dabbled with operating summer collegiate baseball teams such as the Madison Mallards, Kenosha Kingfish, and Green Bay Booyah. But when the opportunity came along to operate and revitalize the stadium in the Tenney-Lapham neighborhood, the company decided to branch out into a new sport.
While it took a few years and several near-launches to get everything just right, Caloia and Big Top finally announced Forward Madison as the new primary tenants at Breese Stevens in 2018. Since then, the club has created a thriving culture in the city, leading USL League One in attendance and nearly selling out every match.
The Foundation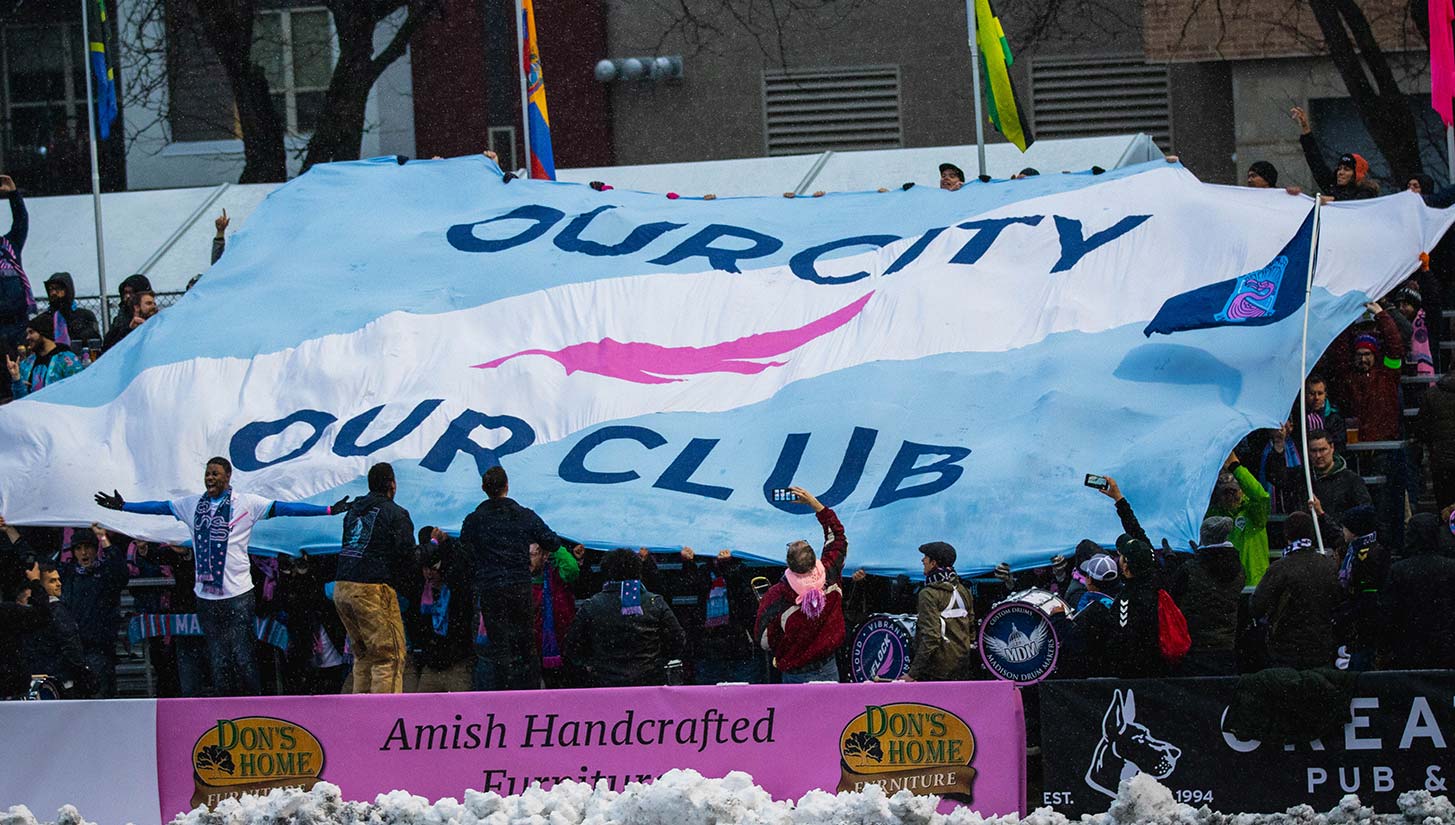 Caloia was born in St. Charles, Illinois, but went to University of Wisconsin-Madison for both undergraduate and graduate school. As a long-tenured transplant, he and the rest of the ownership group wanted to give back to the vibrant city they called home.
"I think what drew us to soccer more than anything was probably just the community," Caloia said. "We wanted to do more in Madison, and as we looked for where the void was, or what the city could use, and what the community wanted, we felt soccer was right."
Since day one, the club has involved the community in nearly every decision they've made, from name to crest. Peter Wilt, who's known for his ability to connect with fans (even using message boards!) during his time as general manager of the Chicago Fire, has helped the club establish a genuine connection with Madison as a whole.
"Really it's the community's team — it's The Flock's team," Caloia said. "It's a great advantage to the soccer community. We need them connected to it and we need them to take ownership."
In order to reinforce the soccer community's ownership of the team, the club even holds an online town hall series titled "Mingos Worldwide: A Beer With Your Second-Favorite Team." In the series, various front office members drop by to discuss certain aspects of the club and answer questions from Forward Madison fans across the globe in a live chat. In a time where the divide between teams' corporate levels and their fans continues to grow, it's refreshing to see this kind of transparency.
But what about the team's name? While "Forward" makes enough sense as a nod to the official state motto of Wisconsin, what's up with the flamingos? To the uninformed, the tropical bird may seem like an odd choice for the icy climate of Wisconsin. But the plastic pink lawn flamingo is actually the official bird of Madison, after a 1979 prank at the University of Wisconsin-Madison in which 1,008 plastic pink flamingos were left on a lawn in the heart of campus, becoming the stuff of legend.
The Fans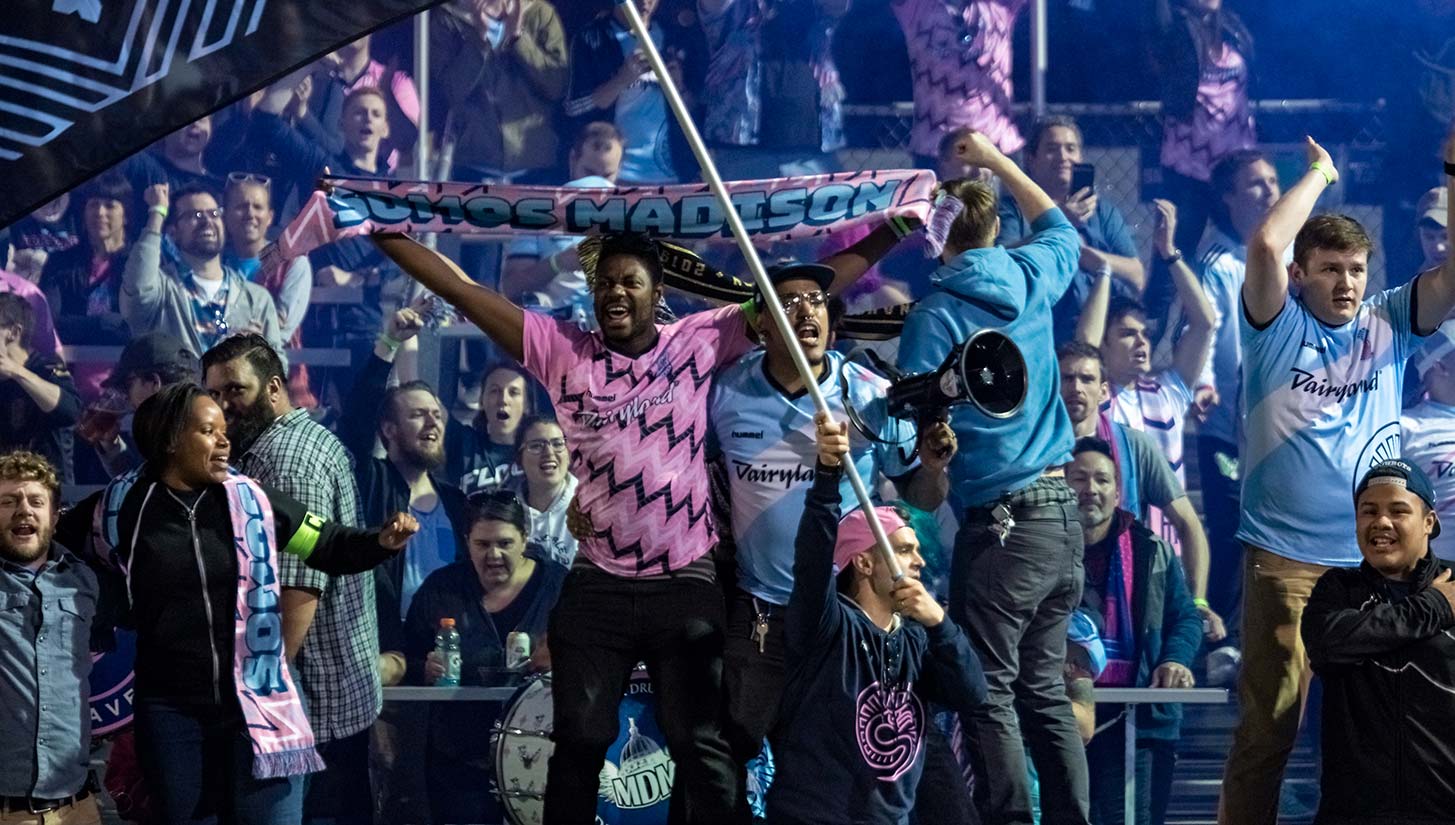 In reference to the fabulous flamingo featured in the club's crest, The Flock is Forward Madison's independent supporters' group. It is made up of several main sub-groups, including the Featherstone Flamingos, who celebrate and promote black culture, La Barra 608, created by and for Latinos, Left Leg, an inclusive, people-oriented group, Forward Union Supporters, who are more community-focused, and Mingo Ladies, who have come on strong since the start of the season.
While The Flock does offer membership cards which give discounts at partnering businesses in Madison among other perks, being a card-carrying member isn't a prerequisite. Participation in The Flock is open, similar to Chicago Fire's Section Eight supporters' group.
Flock President Andrew Schmidt, who's Wisconsin-born-and-raised, first discovered the local soccer community in Madison during the 2002 World Cup, when he fell in love with how Dennis Bergkamp played. Years later he helped form an Arsenal fan club in Madison, one of many clubs which helped lay the groundwork for The Flock.
The fan group originally existed as a means for Gooners to watch their team play together in a bar, but over time they shifted their focus into community outreach and fundraising. In the words of Schmidt, they've become an "actual community."
The emphasis on outreach has spilled over into The Flock, which is registered as a non-profit organization. The fervent supporters' group has already exceeded their $10,000 fundraising goal for the year just over halfway into the season.
They donate to a different charity every month, and they even have their own foundation which helps kids in marginalized communities go to youth camps and play in local academy clubs. The Flock also helps sponsor the Wisconsin Warriors, a power wheelchair soccer team which plays at a national level.
"We've got wheelchair seating right against the barrier, close to behind the goal," Schmidt said. "I don't know of any other club that's doing something like that, where they actually give that close of access to folks that are mobility impaired."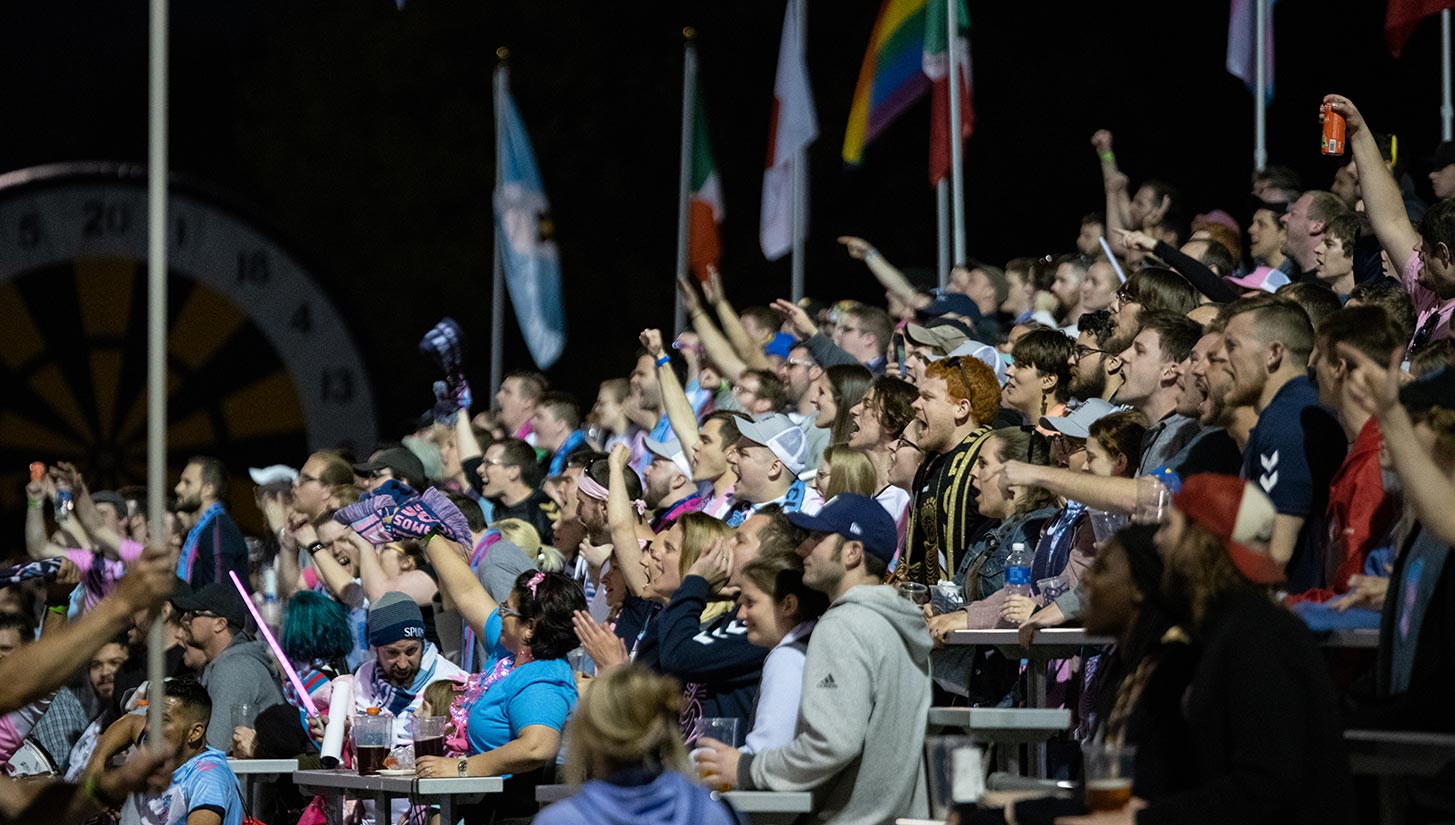 In addition, The Flock's sections at Breese Stevens Field are safe-standing and will soon have a drum well. Taking a page from their friends in the True North Elite of MLS' Minnesota United, The Flock has captains in each section and a march to the stadium down East Washington Avenue on match days.
The Kits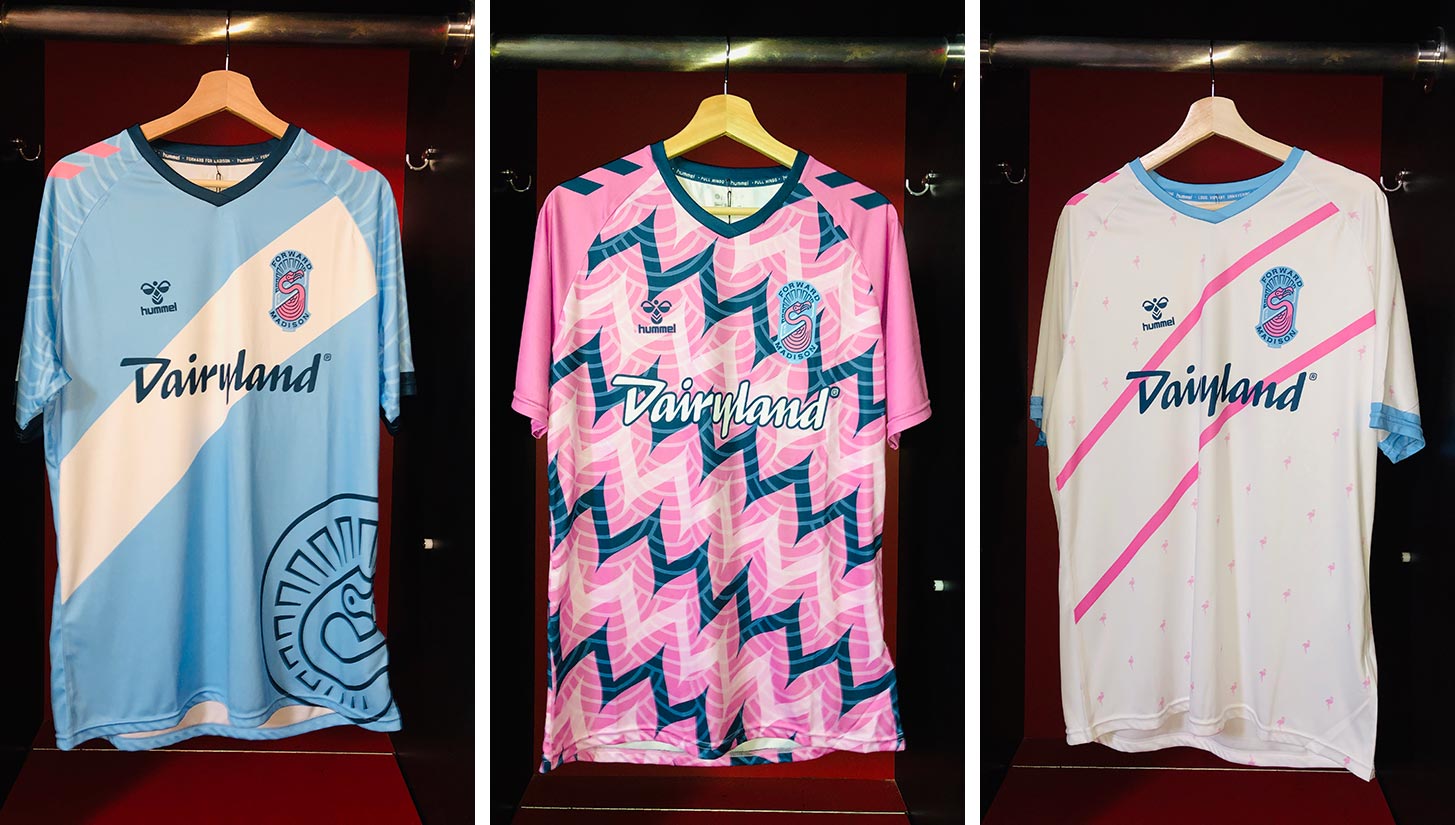 The Flock may go #FullMingo for 90-plus, but are they as loud as Forward Madison's kits? It's only their first season, but the club has some of the wildest jerseys in the global game. Once again, it all starts with a dope crest. It may not be traditional in terms of shape and design, but it aptly pays tribute to the city's official bird, with an eye-popping color scheme to boot.
Kuba Krzyzostaniak, Forward Madison's director of fan engagement and head of social media, is one of a few people who drive the club's creative process. With the club using Hummel as a kit manufacturer, they had a lot of opportunities to get creative. The result is kits inspired by street and skater culture. Their third kit, dubbed the "Full Mingo," sold out in 72 hours upon its first release. (Fret not, a restock was recently added to their online shop.)
The slew of shirts also have a few easter eggs and unique features hidden within them.
"On the back of the neck collar is our local area code 608, and then each jersey on the inside of the neckline has some sort of saying or call sign," Krzyzostaniak said. "The home jersey says 'Forward for Madison.' On the pink alternate kit we put 'Loud, vibrant, unwavering,' which is the motto The Flock adopted so it's a shoutout to our fans."
Off The Pitch
It might not be a surprise, but Forward Madison's social media and promo game is almost as strong as their kit game. If there's a National _______ Day, then there's a good chance Forward Madison's already done a promo night for it. Earlier this year the club gave out 1,008 plastic iterations of their mascot in honor of National Plastic Pink Lawn Flamingo Day.
"We took a bunch [of lawn flamingos] and drilled holes into them and filled them with beer and called it a 'Flumago,'" Krzyzostaniak said. "We did a ticket promo with those and they were super popular, so everybody around the stadium was drinking beer out of these plastic pink lawn flamingos. It was hilarious."
More recently Forward Madison's done promos for National Bowling Day, where they gave out Mingo bowling shirts, and National Watermelon Day, where they gave out watermelons signed by the team. But that's not the only reason to attend a match when in Madison. Craft beer lovers will be happy to know the club has about 40 tap lines in Breese Stevens Field, including both local and non-local offerings. Some of the best beers in the stadium include New Glarus Spotted Cow, which is only available in the state of Wisconsin, and Forward Madison's very own Cherry Kolsch, made by One Barrel Brewing in collaboration with The Flock. It even pours pink.
They said we could make a promo out of anything? Challenge accepted. 🤝

We need YOU to create the newest Forward Madison promotion! Comment below with a:

1. Theme
2. Merch item
3. Food/Drink item

We'll put the best ones up for a vote for our Aug. 24 home game! #FullMingo pic.twitter.com/8q8HJKE2om

— Forward Madison FC (@ForwardMSNFC) August 9, 2019
Krzyzostaniak, who's Polish-born but grew up in Madison, runs the club's social media accounts along with digital content manager Jason Klein, and they are some of the best in all of soccer. Prior to joining Forward Madison, Krzyzostaniak honed his social media skills in Europe with Kick TV and then with the Bundesliga.
"I think the biggest thing I realized is that social and digital is this great equalizer for brands," Krzyzostaniak said. "Maybe we're not an MLS team, we're not a Premier League team, but we're still fun to follow online because we have a good voice, and we're unique. It's something different, and it's something fans around the world can enjoy. You don't have to be just from Madison to be our fan on social media."
On The Pitch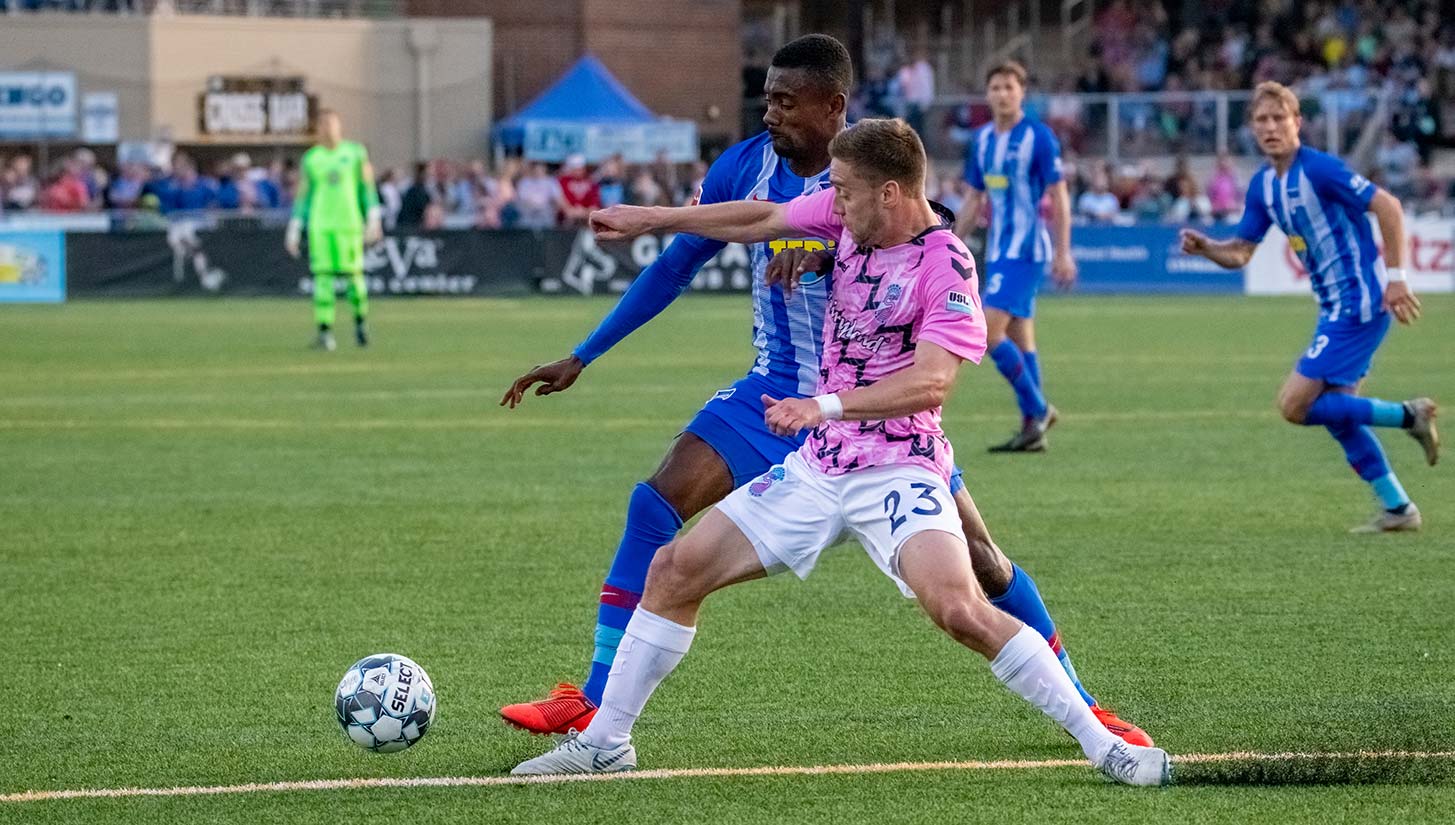 As a third division side averaging 4,237 fans per match, it's essential Forward Madison field a fun product on the pitch. Before the season Head Coach and Technical Director Daryl Shore and the owners decided to construct an attacking squad, making several forward-heavy signings. While the team hasn't been as offensive as some thought, nobody is complaining with the club just a few points adrift of a playoff spot.
"This might sound a little simple and cliché, but the most important thing is that the guys are giving effort and what they're doing on the field is something that our fans can feel good about," Caloia said.
Like The Flock and True North Elite, Forward Madison has a relationship with Minnesota United, with five United players on the roster. The club made a few local signings as well in defender Carl Schneider and midfielder Vital Nizigiyimana. Schneider, a Madison native, played at University of Wisconsin-Madison then abroad in Scandinavia for three years before returning to his hometown. Nizigiyimana played at Madison College and impressed in team tryouts. He has a truly remarkable story, battling great odds to make a professional soccer roster.
The team's on-pitch product combined with their kits, fans, and A1 social media presence make them one of the most compelling clubs in the United States. With not even one season under its belt, Forward Madison is soaring high.
All photos courtesy of Forward Madison FC. Be sure to follow the 'Mingos on Instagram and Twitter, and shop their incredible kit line via their online store.