With a fantastic array of tifos and an intricate pulley display system, The Couch Ultras bring a stadium-like feel to the comfort of their home.
The Vancouver Whitecaps have five officially-recognized supporters' groups that loudly make their presence known both during home matches at BC Place and away days. But there is one more group of ultras that do the majority of viewing from home.
Obviously that's what most of us have been doing for the last two seasons, but the aptly-titled Couch Ultras have both fully embraced and redefined the home-viewing experience for years, even going so far as to hoist their own tifos.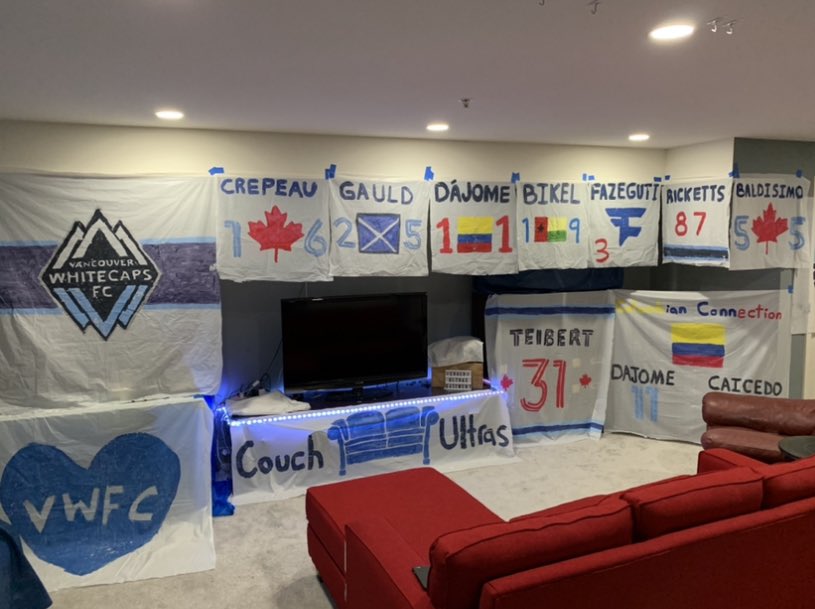 "The crest might say 2017 but really it's been going on much longer, probably closer to 2011," said Spencer, the group's founder who requested to omit his last name from publishing. "Couch Ultras is mostly just me and my family, aunt, and cousin. [It's] its own small but mighty supporters group. I know people in all the other supporters groups who are friends."
But how are the Couch Ultras different than you, who have also been watching matches from home all your life? For one, Spencer makes a new tifo for each game and puts up all the past ones via a pulley system similar to one that you'd see in a stadium. You know the classic image of away fans who bring their flags and hang them at the front of their section? That's Spencer's living room, every game. He calls it The Couch Zone.
"There have been a few Couch Zones over the years," explains Spencer. "The original Couch Zone is in the living room of the house I live in with my parents. The current one we use is in my aunt's basement who lives five minutes down the road.
"Setting up The Couch Zone for game days isn't a simple task. Every single game I have to set up whether it is for a Whitecaps game or a Canada national team game. Usually I start setting up an hour-and-a-half before the game as I have to take out all the tifos and put them all up, get the flags out, and set up the tifo rigging."
🚨 BOOM 💥Super Mario Whitecaps Tifo. Bashing the Quakes 🔨. #VWFC #MLS #supermario @WhitecapsFC pic.twitter.com/0u6flk22jn

— Couch Ultras 🛋 (@CouchUltras) October 24, 2021
Kings of Cascadia Tifo 👑🌊

One of the largest tifos I have ever done. I hope you all enjoy it 🙏 #VWFC @WhitecapsFC @MLS #MLS pic.twitter.com/0I9NE734Pm

— Couch Ultras 🛋 (@CouchUltras) October 10, 2021
The Whitecaps' closest away day is a two-and-a-half hour drive (excluding customs and border crossing) to Seattle, and it's not uncommon for fans of the team to live even farther than that. Spencer isn't quite that far from BC Place, but he's far enough that going to games isn't regularly an option. This is the North American soccer fan experience — being hours and even states (or provinces) away from the closest first division club, or any club for that matter. Fans have to be inventive and just as passionate as locals who can feed off each other in the stadium.
Let's also be clear that the Whitecaps haven't really given its fan base much to cheer about, from the institutional failings with the youth and women's teams to the lackluster product on the field. Since firing coach Marc Dos Santos, however, the Caps have picked up results and are in the MLS Cup Playoffs for the first time since 2017. But as with most diehard fans, a good club isn't a prerequisite need for Spencer.
"My dad supported the team back in the 1970s when they won the Soccer Bowl so I think the support of the Whitecaps got passed down," Spencer said. "I only was able to get to a few games a year at the stadium and it would be a special experience. I started Couch Ultras because I was inspired when I went to the games at the stadium and saw all the supporters. I wanted to try to recreate the game day atmosphere at home."
From 🇨🇦 to 🌊 ! Canada tifos to whitecaps tifos ! Double header on the couch today ! #VWFC #CANWNT pic.twitter.com/Xd7Jr3mFAw

— Couch Ultras 🛋 (@CouchUltras) October 24, 2021
Gold Medal Tifo honouring @CANWNT #CANWNT gold medal in Tokyo 2020 🇨🇦🥇👑🐐 !!!!!!!! @thevoyageurs #Tokyo2020 @CanadaSoccerEN pic.twitter.com/wJUGOKapnZ

— Couch Ultras 🛋 (@CouchUltras) October 23, 2021
While Spencer can't necessarily recreate the noise and energy unique to stadiums in his living room, he's artfully created a host of fantastic tifos and pulley systems — some of which exceed those from in-stadium supporters' groups.
"Tifos are a big part of Couch Ultras," Spencer said. "I try my best to make a new tifo for every game. From player-themed tifos, Whitecaps logos, or pop culture-themed tifos, I have done probably close to 100 over the years. I don't really plan them that much, it sort of just happens."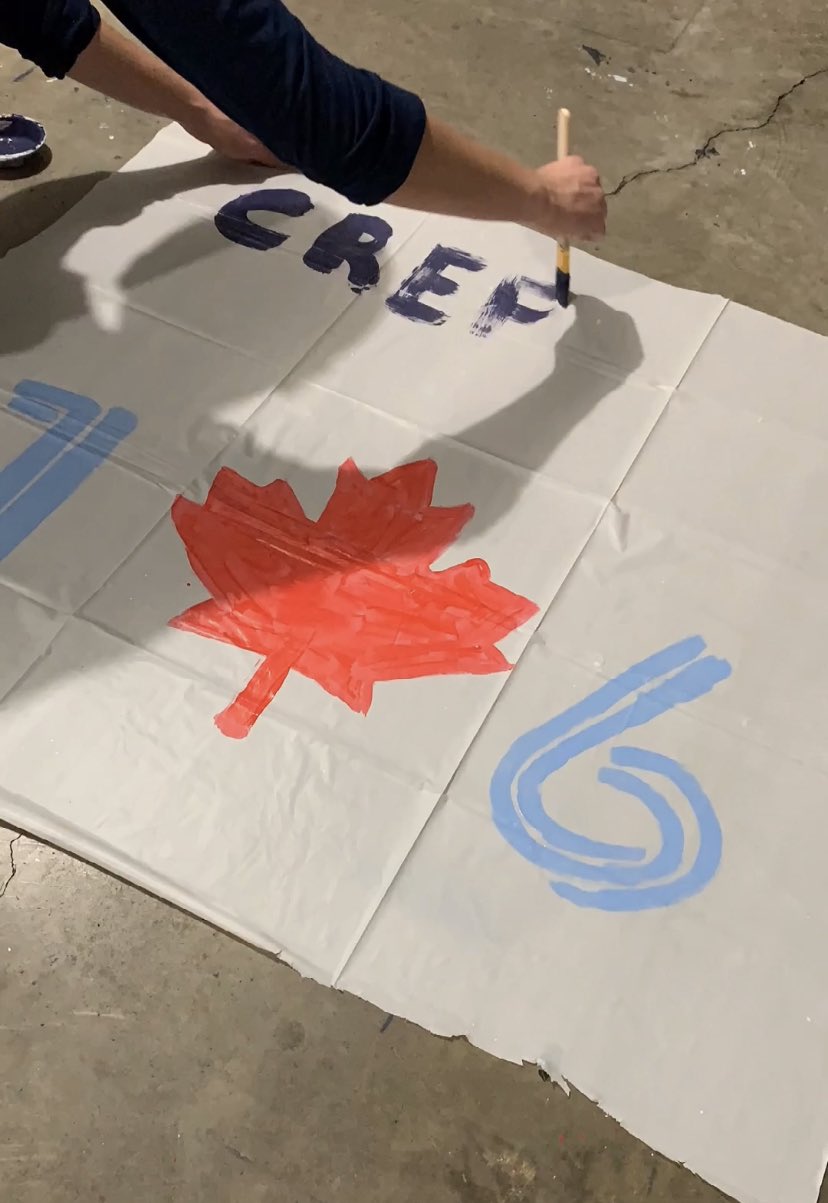 This dedication hasn't gone unnoticed, and while the Couch Ultras aren't an official SG of the Whitecaps, they have been re-tweeted, promoted, and have even received gifts from the club.
"The response has been amazing," Spencer said. "The support I get online and in person when I am at the game is amazing. People are always happy to see our tifos and posts. I'm very grateful for all the support that we have received over the years."
My pleasure! Thanks for the support and for suggesting a better nickname than M̷i̷n̷i̷ ̷M̷e̷s̷s̷i̷ the old one. 😅 https://t.co/5GXmAcylbQ

— Ryan Gauld (@RyanGauld) October 29, 2021
We are investigating an incident about a "projectile" being thrown onto the carpet in the couch zone. pic.twitter.com/Ugq7MetFjw

— Couch Ultras 🛋 (@CouchUltras) October 11, 2021
They're not the conventional supporters' group, and to see a group called Ultras not be in the stadium on game day can be confusing at first. But MLS is far from what you'd call a "normal" soccer league and that's what makes this partnership so great. Couch Ultras have the potential to transcend clubs. Any fan can respect making the home viewing experience more fun.
You very well could be a couch ultra without even realizing it. Spencer has no plans to stop or slow down, in stadium or on the couch.
Follow Couch Ultras on Instagram and Twitter to stay up to date with their latest moves and tifos.