For the past decade, the Red Bull Street Style competition has dazzled audiences worldwide, featuring the world's best freestyle football athletes on the biggest stage. To celebrate the 10-year anniversary of the mammoth tournament, we reflect on the 10 best moments from its history, as chosen by Street Style regulars Lorenzo Pinciroli and Lukas "Lucaso" Skoda. 
Headed into its seventh installment, this year's Red Bull Street Style World Finals is one of the most highly-anticipated freestyle events in recent memory. With country qualifiers wrapping up across the globe, some of the world's most talented freestylers are preparing to compete for the title of world champion. Now ten years deep into its existence, RBSS has established itself as one of freestyle's top-tier tournaments, with some of the most iconic moments in the sport's history occurring at each of the seven World Finals.
In honor of Street Style giving us countless landmark memories, we've enlisted the help of legendary freestyle event MC Lorenzo Pinciroli and World Freestyle Football Association Executive Director Lukas "Lucaso" Skoda to each share their five favorite moments from freestyle's flagship tournament.
Lorenzo Pinciroli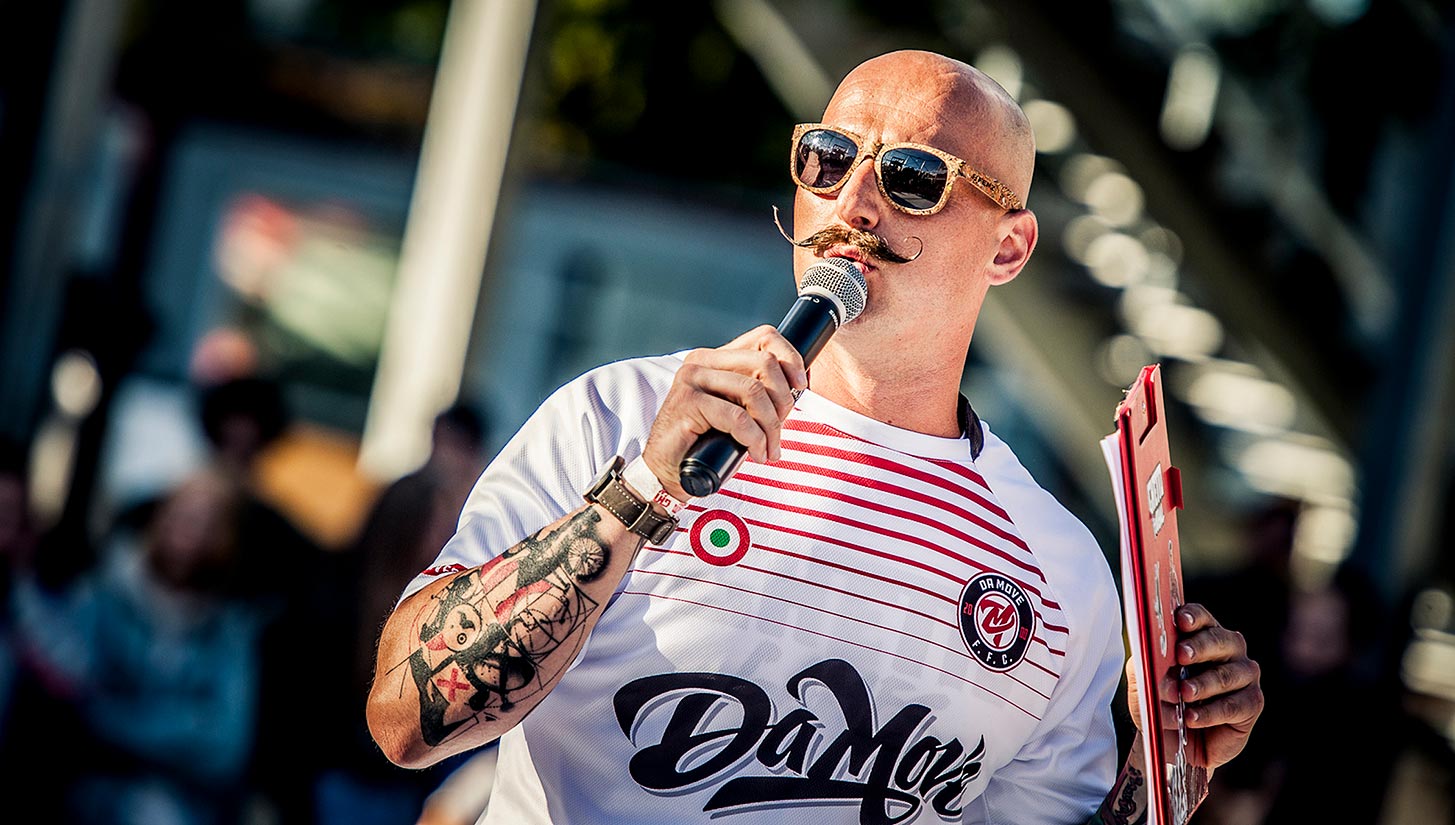 Name a major freestyle tournament, and chances are Pinciroli has been there, either as an organizer or energetic MC (or both). With such an established presence in the freestyle scene, Pinciroli offers a unique vantage point, as very few have had the mix of behind-the-scenes and up-front action that he's enjoyed. That in mind, Pinciroli has some memories from RBSS that few others have experienced.
5. 2016 World Finals: Charly, You Deserved it Hermano!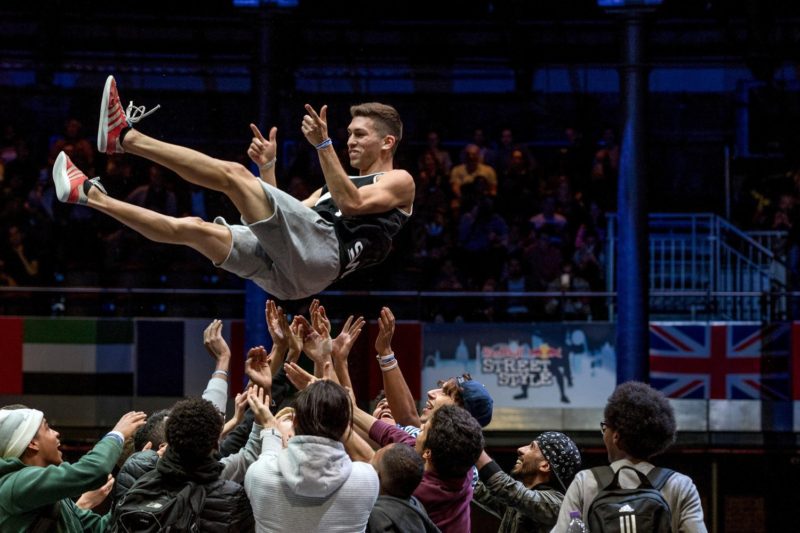 Lorenzo Pinciroli: Last year I was so lucky (same with Lucaso) to spend some time with one of the most talented freestylers in the world right now, señor Charly Iacono. I was hanging around, talking, and sharing stories with this extraordinary champion, and it made me realize just why the whole community was so happy when he finally won the RBSS crown in 2016.
I was lucky enough to witness the World Finals myself, as I was performing with Da Move in London, but that week I spent with him in 2017 at Super Ball allowed me to get much closer to him and understand his personal journey to the top. He had to defeat so many fears and doubts after getting so close so many times, and it's one of the greatest examples of resilience I've seen. He is a role model to be followed by the youngsters and the next generation. His story is living motivation for any athlete especially freestyle ones!
4. The GENK UP! Screening at Super Ball
Created by renowned freestyle filmmaker Sven Fielitz, the GENK UP! documentary captured the buildup to Daniel Got Hits' epic run to the 2012 RBSS World Finals in Lecce, Italy. The original screening of the documentary was played in front of a freestyle-crazed audience at Super Ball 2016 in Liberec, Prague.
Lorenzo: I was running to the screening at Golf Bar straight from the venue after another epic day at Super Ball, and walking in there was a breath-taking atmosphere in the room, with everybody in a religious mood following an outstanding masterpiece GENK UP!
That epic documentary was literally pushing us to dive into the road to the RBSS dream, a journey that every freestyler around the world would like to live. What a unique look through Daniel's eyes, and the film's actions revealed the sensational artistic talent from Sven. This movie is a key to spread what we love and Sven was showing us why world events such as RBSS are so important to the whole community.
3. My Beginning: 2008 Italian Qualifiers
Lorenzo: I was booked as a street/underground specialist and consultant by Red Bull Italy — bless them especially Berny, Betty, and Manu. Along the qualifying rounds I met the whole Italian freestyle football first generation, and I was starting to get into the game. Before the big final in Downtown Rome at Ponte Milvio, the event specialist, Berny, proposed me to be a kind of MC alongside the radio commentator, because he knew my Da Move background and saw my passion through the qualifying rounds. I stepped on the stage, this being one of the first major events that I had ever hosted. Halfway through I asked everyone how I was doing, and they replied, "Straight up, you are better than that other guy. You are leading the stage now." And it's been a crazy ride since then!
2. The 2012 World Finals in Lecce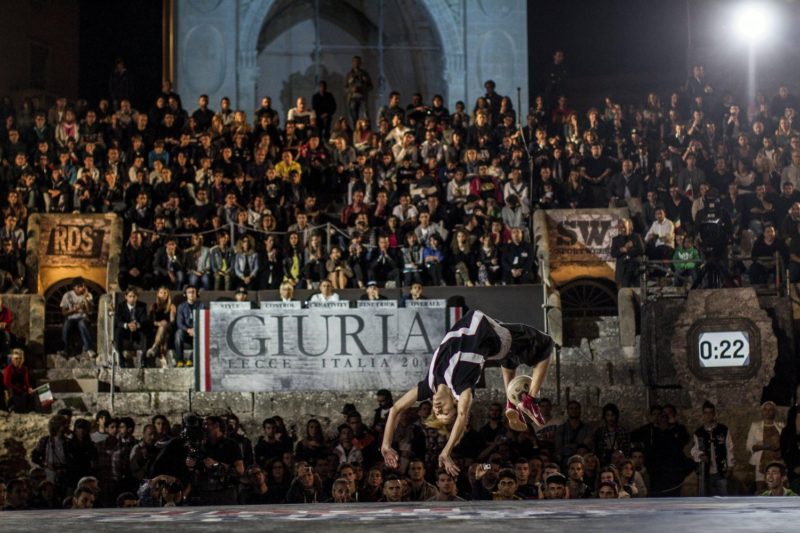 Lorenzo: That event was just a blast for me — first of all, it was my very first time hosting a world finals (of any sport) so the mix of feelings in my head included excitement, fear, happiness, and doubt, among others. There was an impressive mix of top-class athletes that I got to meet for the first time, from old school legends and up-and-comers, including the rising final duo of Daniel Got Hits (who at the time was Dan the Man), and eventual champion Tokura.
It seems like everybody considers Lecce's edition the most beautiful so far, and it's probably one of the most successful freestyle events ever. The location and the atmosphere were at least half of this feeling. Not everyone knows this, but when I was touring with the Red Bull Street Match competition, we hit Lecce and came across this underground old Roman theatre, and we fell in love immediately. We told Red Bull that they should definitely use this for one of their upcoming events, and sure enough, a few years later there we were.
For the first 30 minutes, I was speechless, but then everything came out naturally. It was the first time I hosted an event with my Sensei Zorin Filicic and DJ Max Benzoni, and since then, we've done so many world-class events. The overall highlight had to be Tokura's very first backflip catch in front of the 1,500 fans in the arena and the 15,000-plus in the nearby square. What a game-changing event.
1. The Upcoming One
I always look at the future, so while I love to dive into my mind and memories looking back to some of the hundreds RBSS memories, I love to think that the best is yet to come!
Lucaso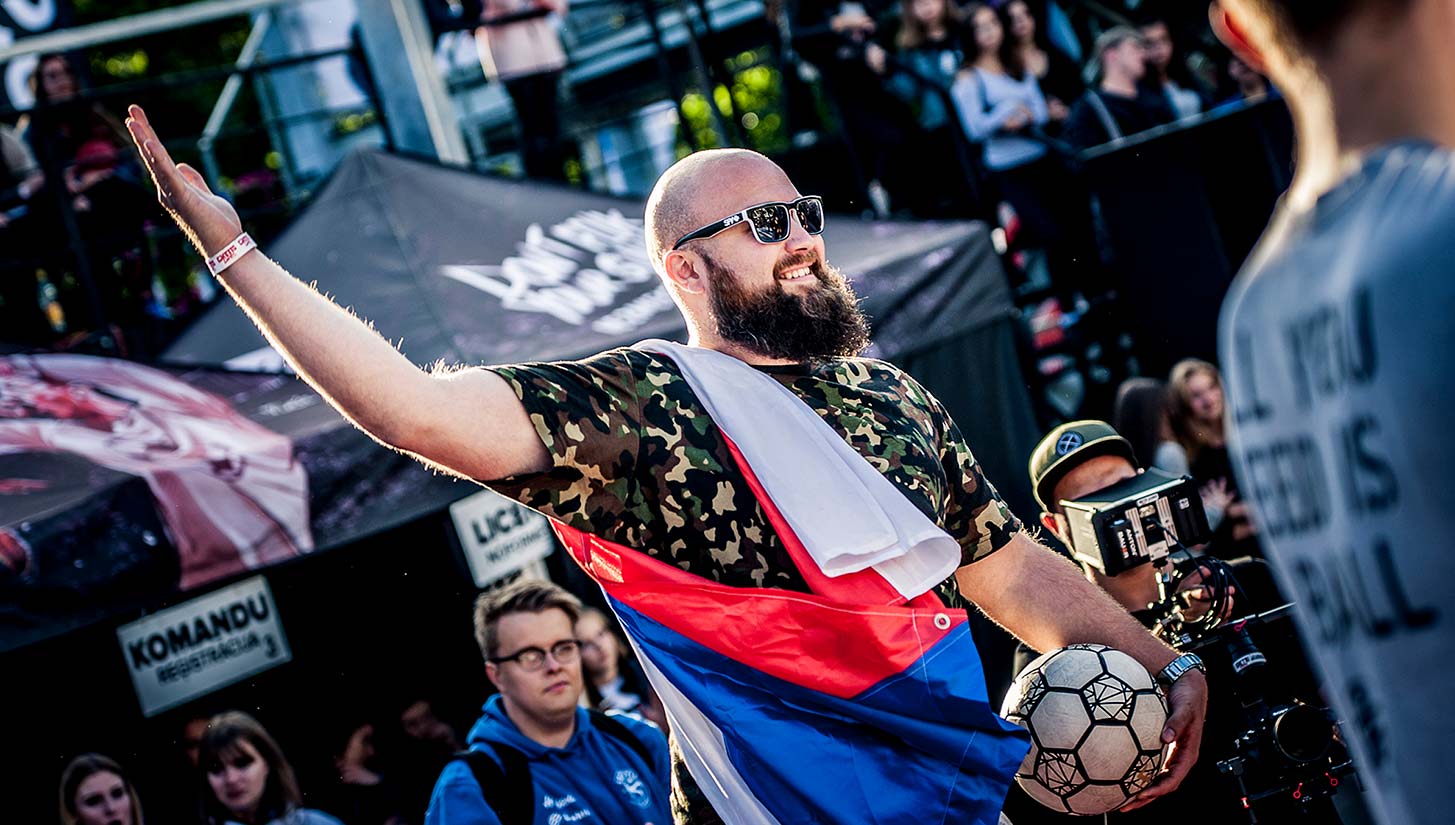 A name most associated with Super Ball, freestyle's other flagship tournament, Lucaso has risen to the top of the sport's administrative ranks, now serving as one of WFFA's Executive Directors. Similar to Pinciroli, Lucaso has spent much of his time in both the front and back lines of top freestyle tournaments, serving as organizer, director, judge, and participant. Lucaso has been a central figure in freestyle since its infancy, and his influence in the sport only continues to grow.
5. The OG: 2008 World Finals in São Paulo, Brazil
Lucaso: The first ever world final held by Red Bull, and I had almost missed it. In addition to helping Red Bull locally activate national qualifiers in the Czech Republic and Slovakia, I had also participated in the Czech qualifiers, and came in third, which devastated me.
Fortunately, my Christmas present from my parents helped me to be part of this great experience in São Paulo. The best moment from this event was entering the hotel where everyone was staying and meeting players I had been admiring online all in one place in the lobby. I remember that lobby was my favorite place on Earth in that moment, and I could stay there for hours. That was actually one of the first inspirations and motivations to create Super Ball so everyone could get the same feeling I had.
4. The 2008 Aftermath: Rio de Janeiro With Freestyle Legends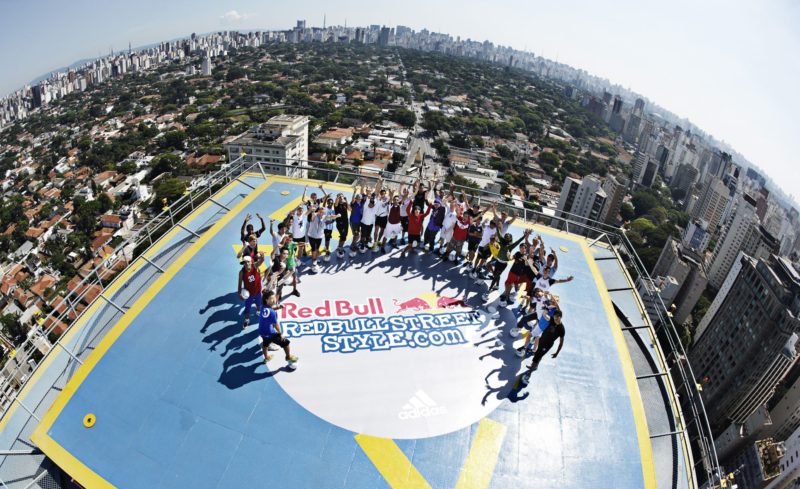 Lucaso: Straight after the event, I had three more days in Brazil until my flight home. When I reached the lobby I saw Daniel Roseboom, Palle and Matthieu LeClair (legends of our sport) who were discussing to go to Rio de Janeiro for a few days. They asked me if I wanted to join and I didn't hesitate for a second. It was just one day in Rio, but it was with legends I had been admiring for quite some time. That reaction was really one of the most spontaneous things I have ever done.
3. An Upset in Lecce
Lucaso: So far, the best RBSS for me was Lecce in 2012. The venue was spectacular, warm up for players was perfect, the hotel was alright, but most importantly the city was ours. You could see buses with branding, billboards, posters, everything. The best moment here was when I entered the warm up zone and Pawel Skora (Poland) was participating in the Iron Man competition with Leonardo Crasso (Colombia). Until that time Skora was a God of lowers so everyone expected him to win, but Crasso went on to upset him after Skora dropped the ball after 35 seconds. Not only that, he finished his long combo with nine No Touch Alt Mitch ATWs! Everyone went crazy and so did I.
2. Helping Out at the 2016 Finals in London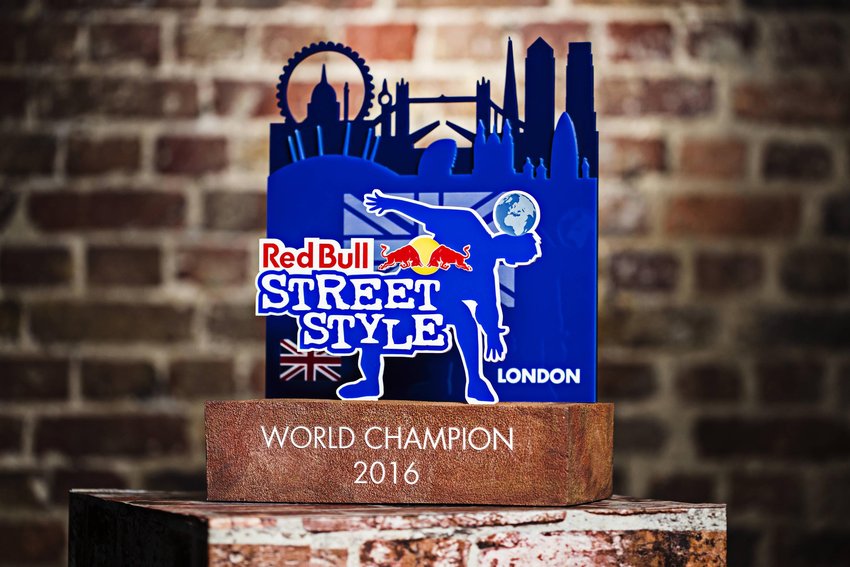 Lucaso: I came to London to be one of the qualification judges for the World Final. I'd spent the previous month in Los Angeles and I came a little bit tired, but once I started to see familiar faces, I gained energy and was alright. This time I wasn't there just as a passionate freestyler like in São Paulo or as a supporter like in Lecce. This time I already had eight years of Super Ball experience as well as a few other world events underneath me, so I was taking every moment from a different perspective. Anyway, I still felt like I could have been doing more. I wanted to be useful and tried to be productive in any way but there was no need. Suddenly during the finals, the main organizers noticed that the on-screen hosts were having a hard time explaining the battle recaps, so I was able to help them out with that. In that moment I finally felt useful and I enjoyed it very much.
1. The Decade-Long Journey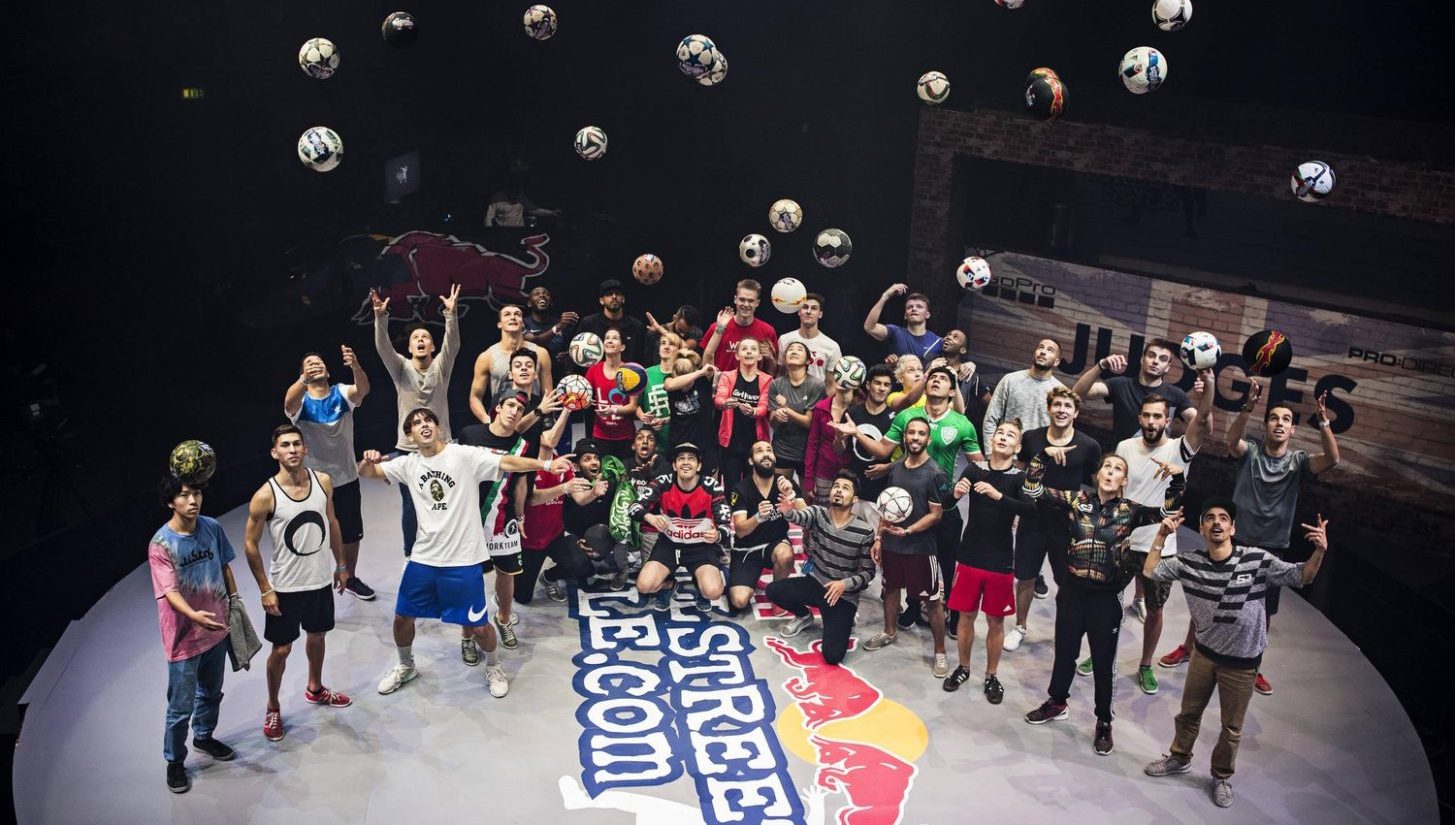 Lucaso: I still remember when I was in São Paulo seeing the whole organization behind the event and talking to W. Hayes Wheelless (basically the Godfather of RBSS). I told him I had created an official Czech Association and I wanted to do bigger events in future alongside Red Bull. Unfortunately back then, Red Bull's policy was not to cooperate with outside companies and associations so he refused.
It has been exactly 10 years now and we have found ourselves in a position where with WFFA, we made a deal with Red Bull International to manage all of the RBSS events including the World Final and national qualifiers. This is the ultimate satisfaction for me and proof that everything is possible when you stay focused on your goal and do what you love.
Both interviews edited for clarity and brevity. 
What's your favorite Red Bull Street Style moment? Let us know in the comments below, and stay tuned for more coverage of this year's world finals!