In its ongoing support of youth soccer, Adidas banded together with Chelsea F.C. (who were in town for a match against Liverpool) to sponsor a 5v5 tournament this past Tuesday at The Base LA. Participants from local Los Angeles club teams competed in age brackets from U15 to U18 while onlookers got a chance to enjoy the unique atmosphere of the indoor facility, replete with large-scale murals, graffiti art, and Adidas' own personal touches on the grounds.
U18 men's finals have kicked off.

Posted by Urban Futsaler on Tuesday, July 26, 2016
"We wanted to bring Chelsea to The Base LA and show them the talent in L.A.," said Austin Ripmaster, director of marketing for Adidas Soccer. "They're one of the biggest clubs with Adidas, and we wanted to bring them to the L.A. area and show them what Adidas has to offer to the youth."
The highly competitive contest was invitation-only, and in a unique bent, there was a "super final" for the top two overall teams. The winning team in each bracket was given new Adidas gear, including cleats and tickets to see Chelsea play Liverpool this past Wednesday.
At the youth and teenage level, L.A. [locals] can rival any player in the world.
In addition to the competition, artists, professional soccer players from Chelsea, and other interactive attractions were set up at The Base to engage players with Adidas and its "First Never Follows" campaign, which launched this May with the introduction of the Mercury Pack.
Throughout the day the competition was tough, something Ripmaster noted was an indication of the high level of talent in Los Angeles. "At the youth and teenage level, L.A. [locals] can rival any player in the world," he said. The West Coast F.C. U15 girls team took first place in their division, shutting out their first-round opponents by a whopping 16-0, and finished the day off with a 3-1 victory in the finals. The contest, however, wasn't without its challenges. "The second game was really tough, I almost thought we were going to lose," said West Coast's Maliyah Medley.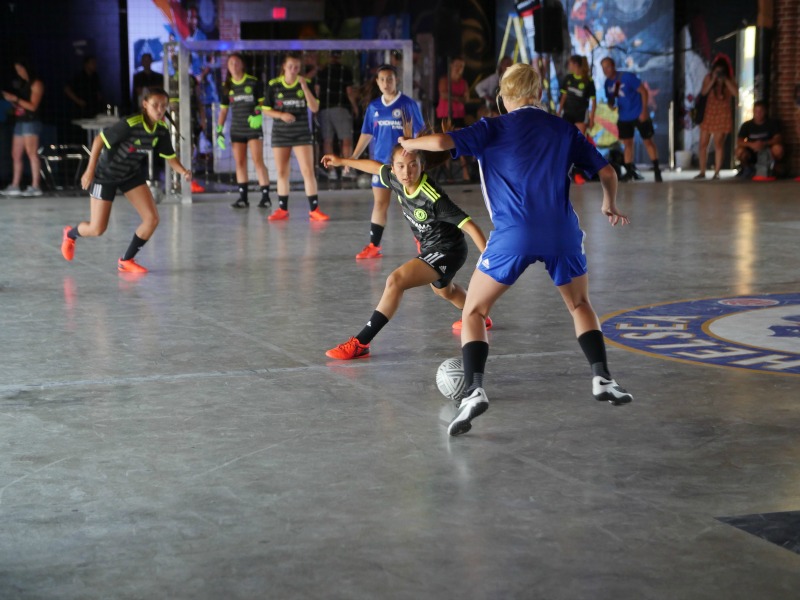 The team's coach, Bob Rowlett, said he and his players enjoyed the tournament. "These girls love the competition, and they love to be challenged. We played some good teams today," he said. "It was great to win and see what Adidas has to offer."
West Coast F.C. also took the title in their U15 boys division. Team manager Greg Roseen said the tournament was a way for his team to work on their skills. "It's a first-class tournament," Roseen said. "It made the boys feel special." Angel Franco, 15, said he was happy his team won and that they were able to participate in the tournament.
One of a kind experience thanks to adidas Soccer.

Posted by Urban Futsaler on Tuesday, July 26, 2016
"I thought it was a great experience, and because it was [a] small [field], I was able to work on my touch and footwork," Franco said. "The competition was tough, but my team did good. We worked together. It was cool to see professional players, get Adidas stuff, and see the other activities."
The West Coast F.C. organization is from Orange County and had several teams entered in the event that took first place in the tournament.
"The tournament gave young players the exposure they need, and hopefully they continue to come back to The Base LA all summer long," Adidas' Ripmaster added. The Base LA offers various tournaments throughout the summer, as well as free pickup games and open play.