When talking about big names in the beautiful game, there is always a sponsorship attached. Thanks to savvy marketing and memorable signature boots, we all know who just about every major football star is signed to. However, which brand would have the best starting XI today? We take a look at the lineups for adidas, Nike, PUMA, and Umbro to see just how stacked each one is. Which squad do you think is best? Be sure to vote on the Urban Pitch Instagram story!
adidas Top 11
For quite some time now, the Three Stripes have been the leader in the football industry. Constantly at the forefront of new technology, adidas has picked up some of the biggest names in football both past — David Beckham and Zinedine Zidane — and present — Lionel Messi and Marcelo. Additionally, adidas' kits have the lion's share of the market, representing 12 out of the 32 nations at the 2018 World Cup. For adidas' top 11, we used a 4-3-3 formation to capitalize on their attacking strength both in the front and back.
Goalkeeper: David De Gea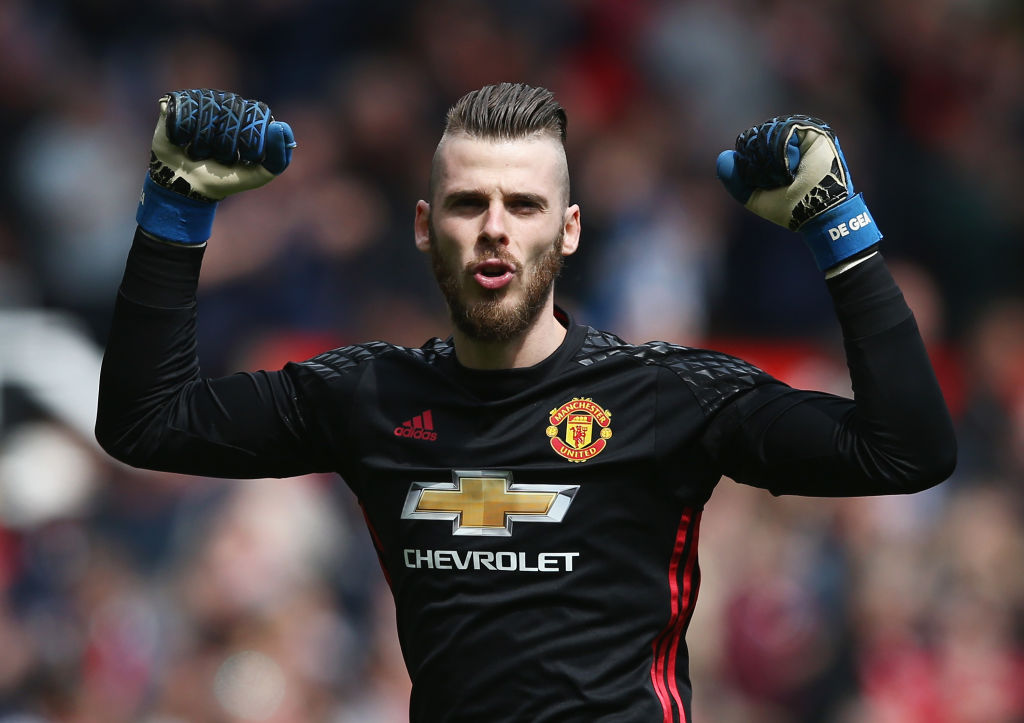 Despite a rocky World Cup, De Gea has consistently proven to be one of the world's best keepers, winning the Premier League's Golden Glove award for the 2017-18 season. His 18 clean sheets were the most in the EPL since the legendary Joe Hart matched the figure in 2012-13, and it's safe to say that no one would be nervous with the 27-year-old Spaniard in front of the net.
Defenders: Jordi Alba, Mats Hummels, Cesar Azpilicueta, Marcelo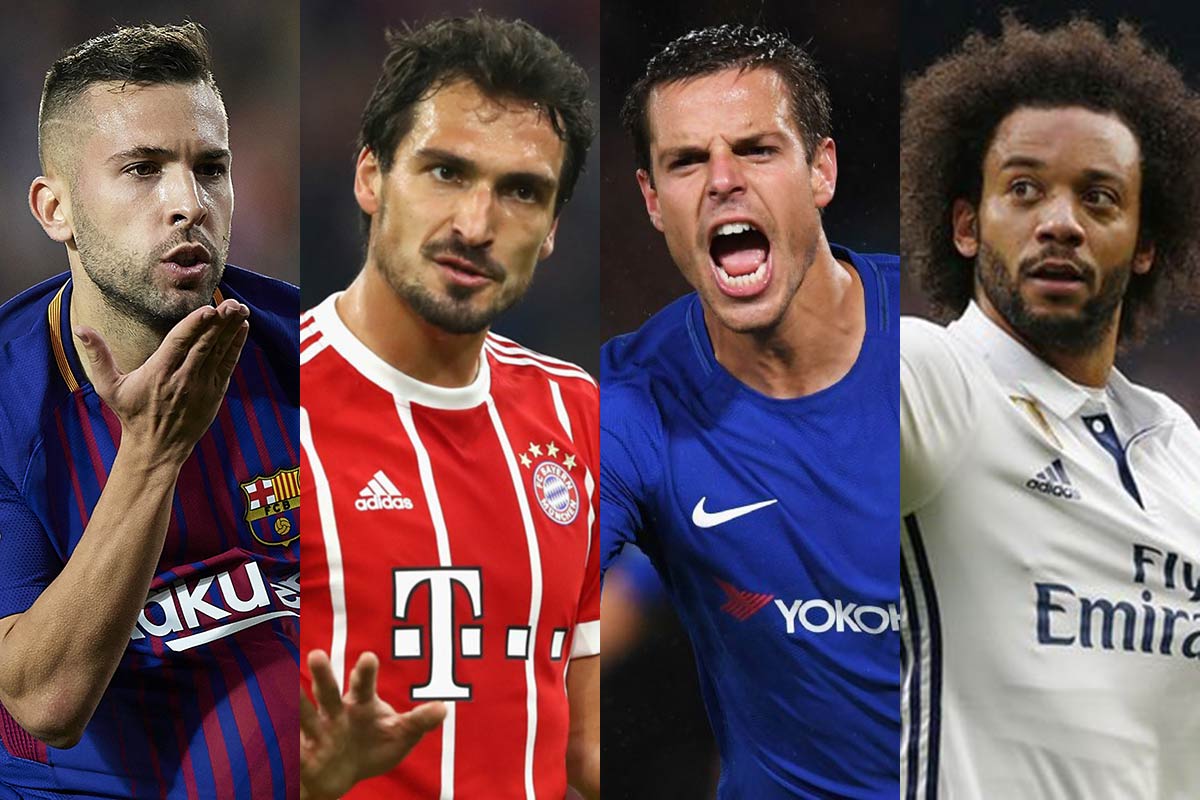 Despite somewhat lacking in size (Alba listed at 5-foot-7 and Marcelo at 5-foot-9), adidas' backfield is one of the strongest and most versatile out of the group. All four are more than capable ball handlers, giving the adidas squad a dangerous attack without sacrificing defensive integrity.
Midfielders: N'Golo Kante, Mesut Ozil, Paul Pogba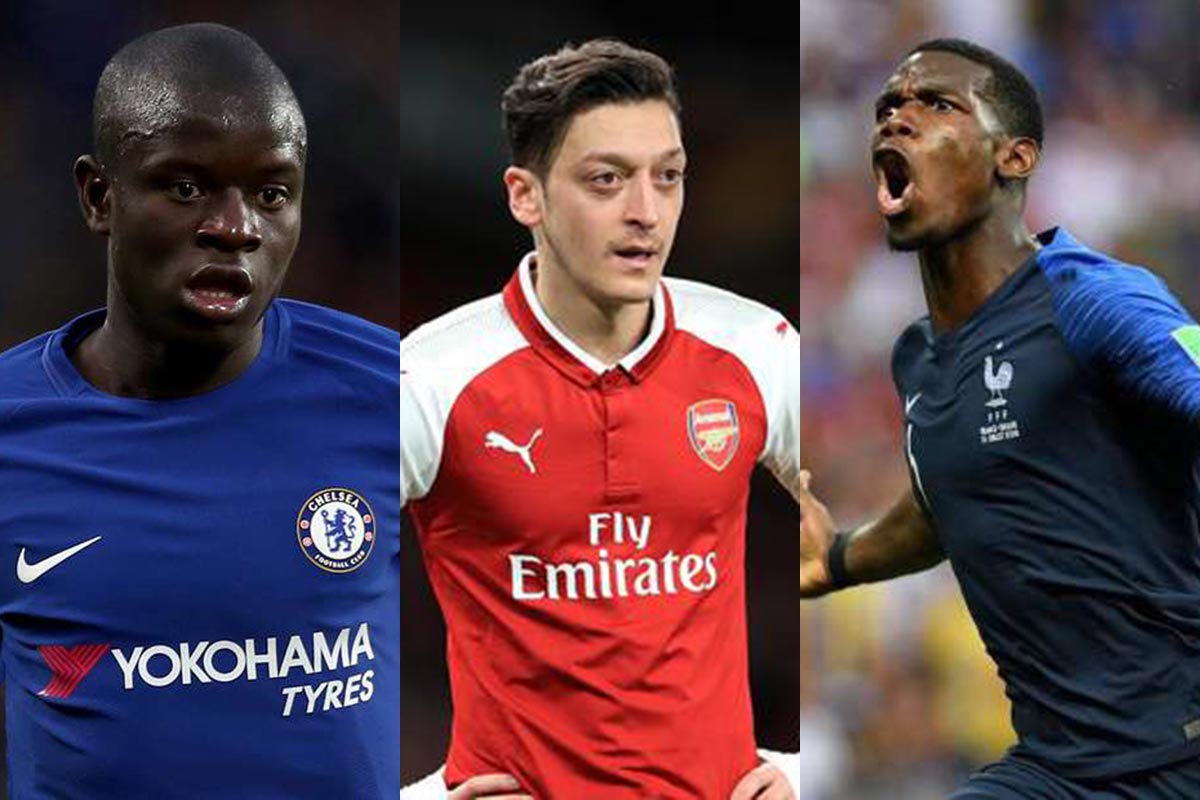 Seemingly fit for adidas' "Creativity is the Answer" tagline, the midfield trio of Ozil, Pogba, and Kante make for some of football's most beautiful play. All three known for their ingenuity on the pitch, they are also no strangers to winning — with Pogba and Kante coming off a 2018 World Cup victory and Ozil himself winning in 2014.
Forwards: Luis Suarez, Lionel Messi, Mo Salah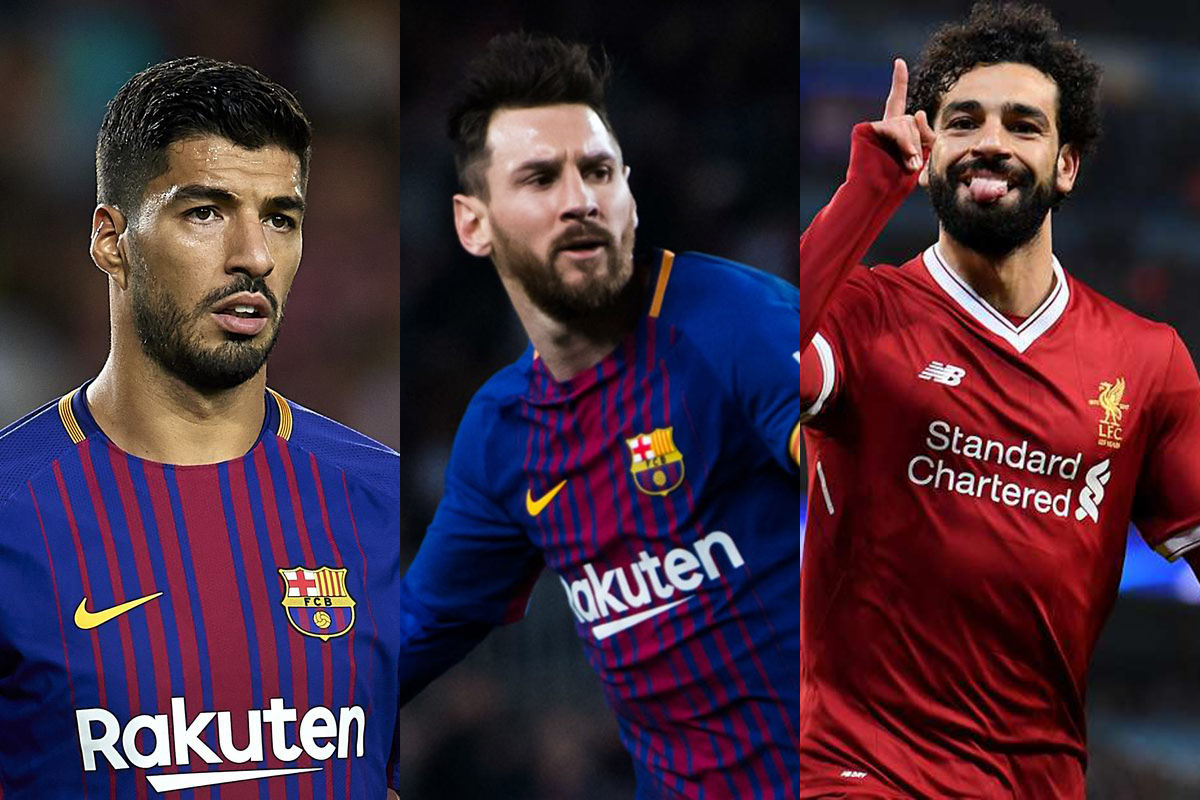 Football's glory position doesn't get more storied than this. The Premier League's reigning player of the year in Salah and Barcelona teammates Messi and Suarez will make for a prolific goal-scoring ensemble that will make any backfield shiver with fear.
Nike Top 11
Despite slightly trailing adidas in terms of football market share, Nike's football roster is equally, if not more, talented. Featuring both established veterans like Cristiano Ronaldo and Sergio Ramos and rising phenoms like Samuel Umtiti and Kylian Mbappe (who didn't even make the cut), the Swoosh bows to no one, no matter what the bottom line says. To accommodate the bevy of Nike-sponsored midfield talent, we used a conventional 4-4-2 formation, with plenty options available for moving players forward or back.
Goalkeeper: Thibaut Courtois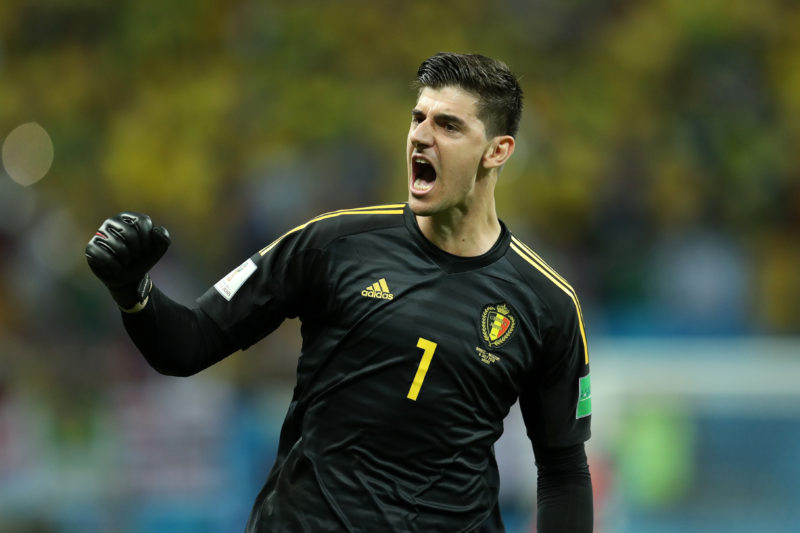 Unlike fellow fellow marquis keepers De Gea and Manuel Neuer, Courtois put on an absolute clinic at the 2018 World Cup en route to Belgium's third-place finish. The massive 6-foot-6 Chelsea keeper has convinced many that he is the best in the world, a conversation that typically only included De Gea and Neuer in the past.
Defenders: Dani Alves, Samuel Umtiti, Gerard Pique, Sergio Ramos
Physical and intimidating, Nike's back line, like adidas', can both create chances in the midfield and clamp down in the backfield with equal effectiveness. Anchored by the Spanish stalwarts Pique and Ramos, the Nike defenders are sure to be goalie Courtois' best friends, making his job much less stressful. In addition, we can expect plenty of chemistry from this foursome, with Pique and Ramos playing together internationally, and Umtiti, Pique, and Alves all serving either current or former stints with Barcelona.
Midfielders: Isco, Eden Hazard, Luka Modric, Kevin De Bruyne
Despite both of its flagship players featured at the forward position, Nike's biggest strength is its midfield. Whether it is the precision passing and finishing of Isco and De Bruyne, or the jaw-dropping playmaking from Modric and Hazard, Nike's midfield will dazzle both spectators and opposing defenses alike. We get butterflies in our stomach just thinking about it.
Forwards: Cristiano Ronaldo, Neymar Jr.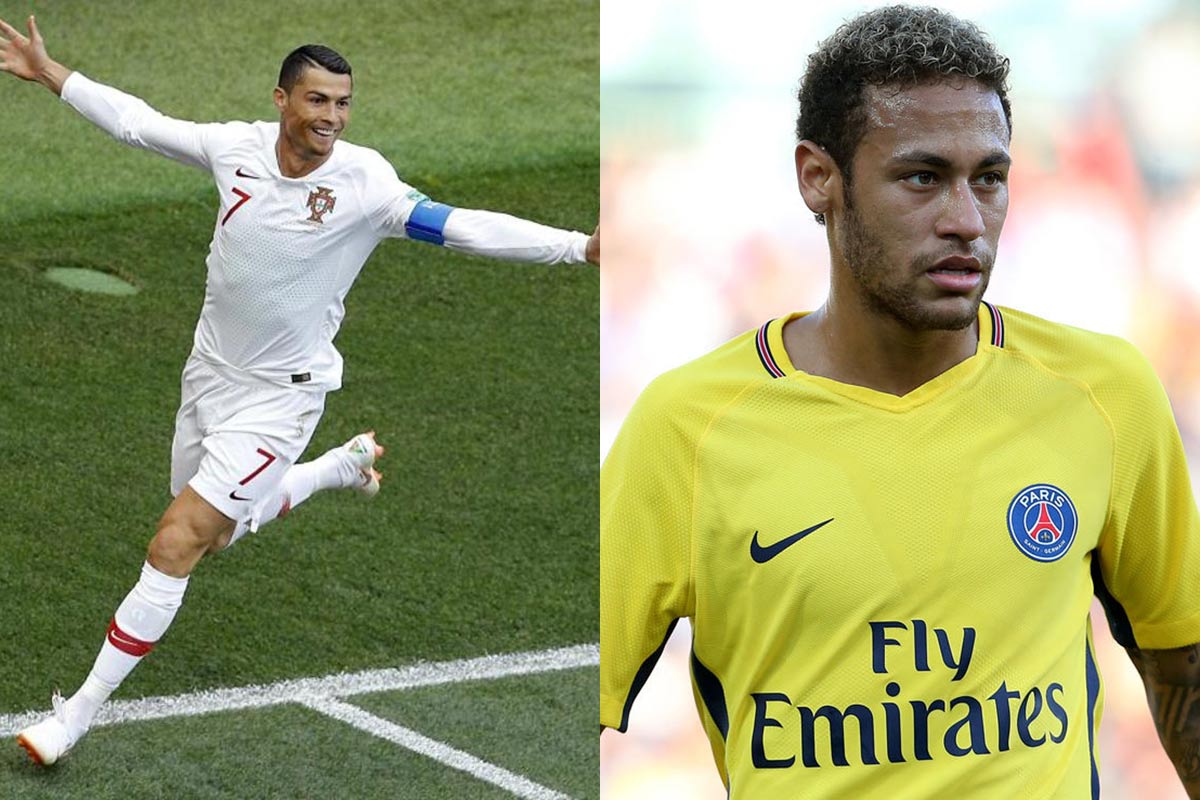 Nike's two premier footballers, the amount of talent owned by Ronaldo and Neymar outweighs that contained in the majority of national teams. Despite earlier-than-hoped exits from the 2018 World Cup for both of them, the thought of having two players of this caliber up front would make any manager go mad with power. Remember Will Ferrell's, "Get the ball to the Italians!" strategy in Kicking and Screaming? Yeah, this would be something like that.
PUMA Top 11
Although it may not control as much of the market as Nike or adidas, PUMA remains to be one of the world's largest brands, specifically within football. Representing some of the the beautiful game's best-ever players in Diego Maradona and Pele, PUMA continues to snag top-tier talent, including most recently the gargantuan signing of Romelo Lukaku. In addition to Lukaku, PUMA has plenty of striking talent, so we went with a 4-3-3 formation.
Goalkeeper: Gianluigi Donnarumma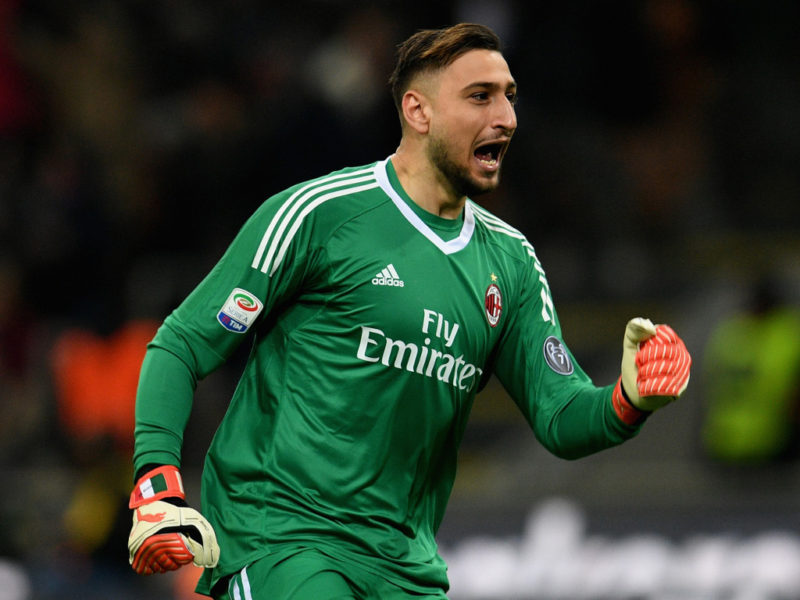 If this was an all-time list, PUMA's goalie would most certainly be Gianluigi Buffon, the Italian legend who was heartbreakingly denied of a final World Cup appearance when Italy failed to qualify. However, this list is about right now, and currently, the best PUMA-signed keeper is another Gianluigi, the 19-year-old Donnarumma, currently manning the goal for AC Milan. Donnarumma has Italian football fanatics excited for the future, and while they understandably are sad to see Buffon leave, they are as optimistic for the wunderkind to show his stuff at the national level.
Defenders: Giorgio Chiellini, Diego Godin, Kalidou Koulibaly, Hector Bellerin
A unique combination of size and speed, PUMA's defensive line is the most fear-inducing out of all of the teams. The combination of experience and youth in addition to pace and physicality make this group extremely formidable. Not sure about you, but the chances of us even attempting to challenge Chiellini are zero.
Midfielders: Adam Lallana, Cesc Fabregas, Grzegorz Krychowiak
This experienced trio of midfielders may not be as sexy as some of the other teams', but they are just as capable of capsizing opponents with deadly playmaking and possession. Led by the Spanish veteran Fabregas, PUMA's experienced midfield should not be taken lightly.
Forwards: Marco Reus, Romelo Lukaku, Antoine Griezmann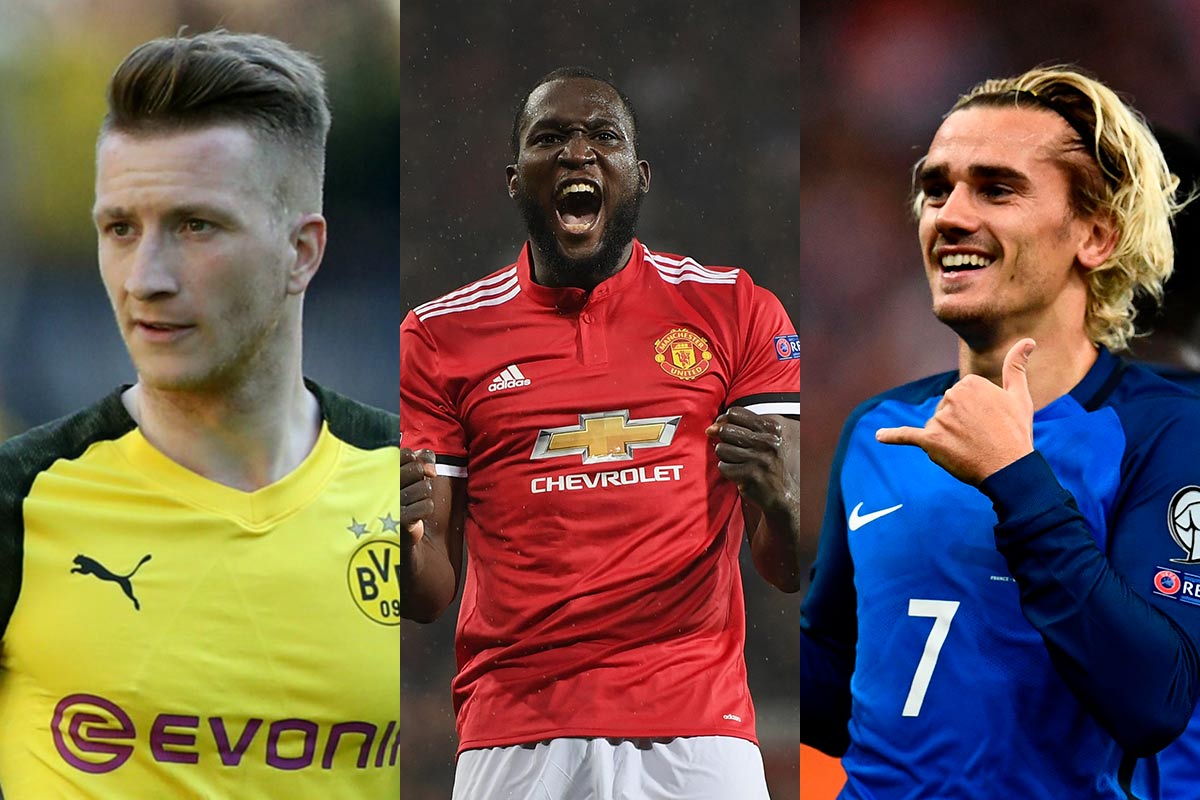 Along with its defense, PUMA boasts plenty of talent up front. Lukaku, who is coming off a brilliant World Cup performance, has become one of the world's most prolific goal scorers, and you absolutely cannot go wrong with Griezmann and Reus alongside him.
Umbro Top 11
The vast underdog amongst the four teams, Umbro still has a respectable roster of veterans and up-and-comers alike. One of the world's oldest athletic apparel labels, Umbro has provided quality gear for the world's best athletes for nearly a century. While they are more known today for their innovative collaborations with streetwear labels like Guerrilla FC, they still do represent some talented footballers, most notably Portugal's Pepe.
Goalkeeper: Dean Henderson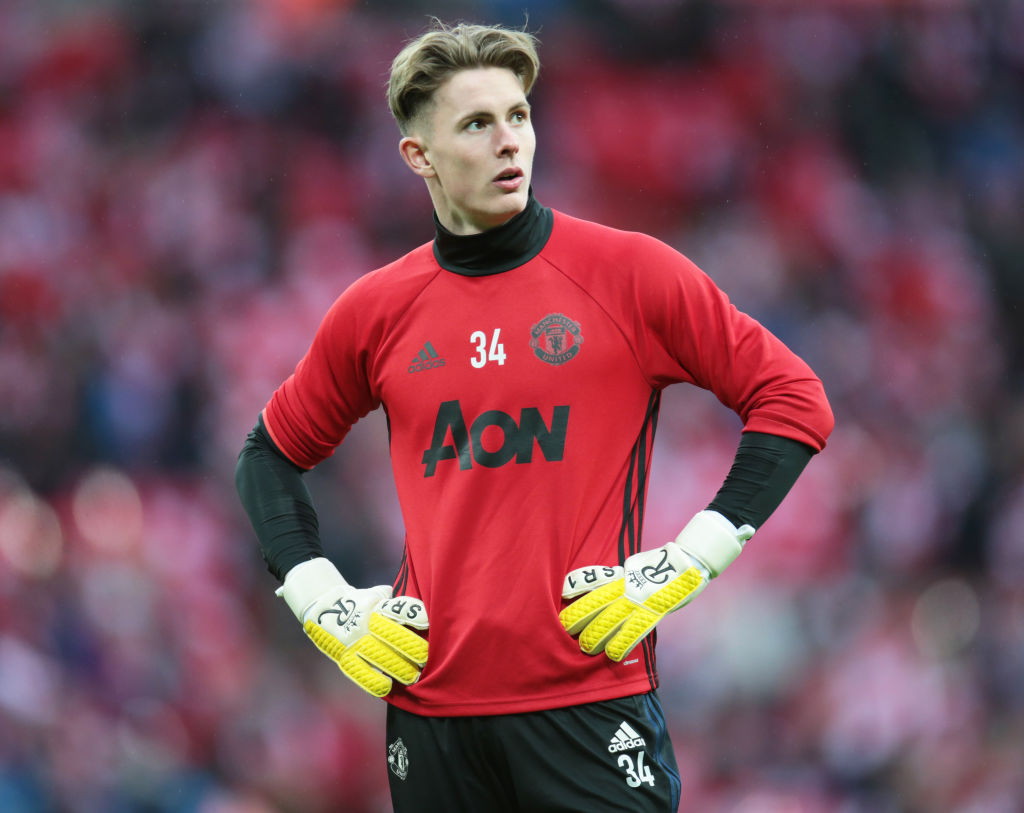 While he hasn't yet made any appearances for Manchester United, the 21-year-old Henderson has shown some promise playing on loan with third-tier English side Shrewsbury Town, leading them to a EFL final appearance. Moving up to Championship side Sheffield United for the 2018-19 season, it will be interesting to see how Henderson develops, and if he'll make it up to his parent team before his contract expires.
Defenders: Miso Brecko, Richard Keogh Pepe, Demerson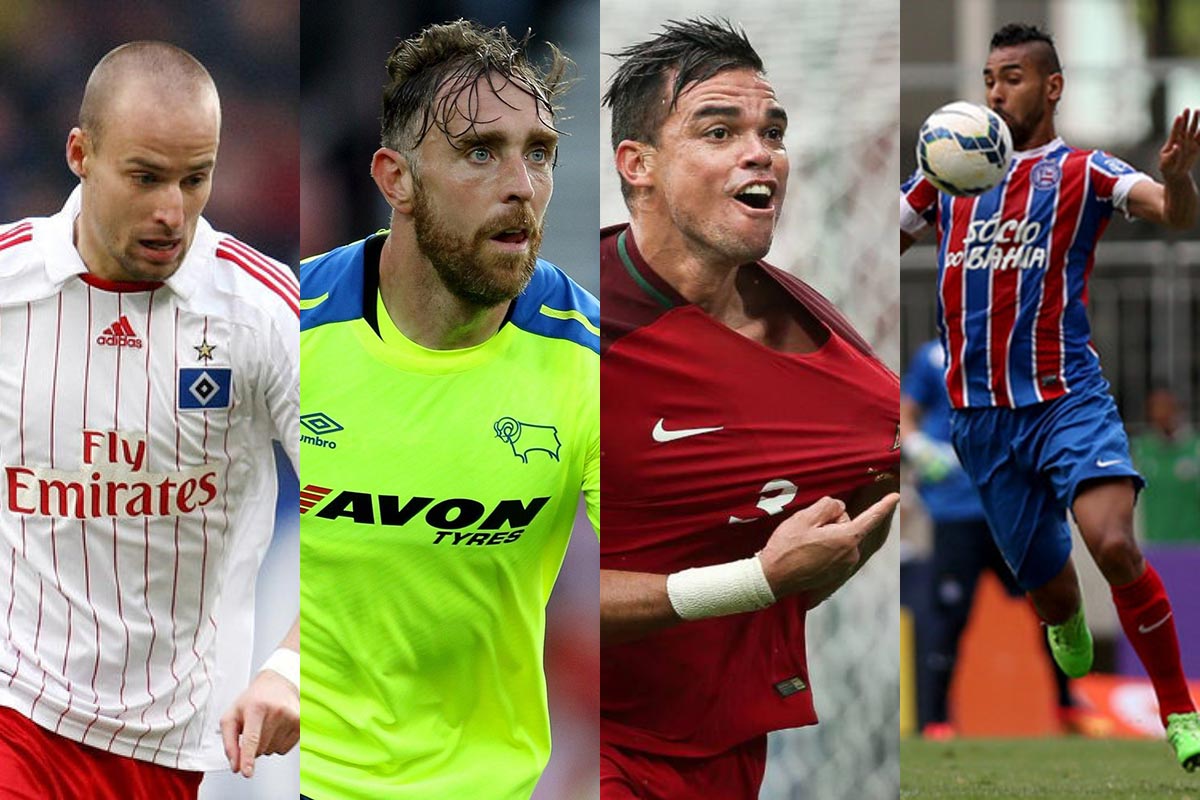 Led by former longtime Madrid staple Pepe, Umbro's defense is a strong group with plenty of international experience. Umbro's signature athlete, Pepe made recent headlines after scoring what was then an equalizing goal against Uruguay in the Round of 16 match at this year's World Cup. That kind of resilience and versatility is what this back line will need to compete with the three giant brands.
Midfielders: Michail Antonio, Edison Flores, Yasuhito Endo, Jordan Rossiter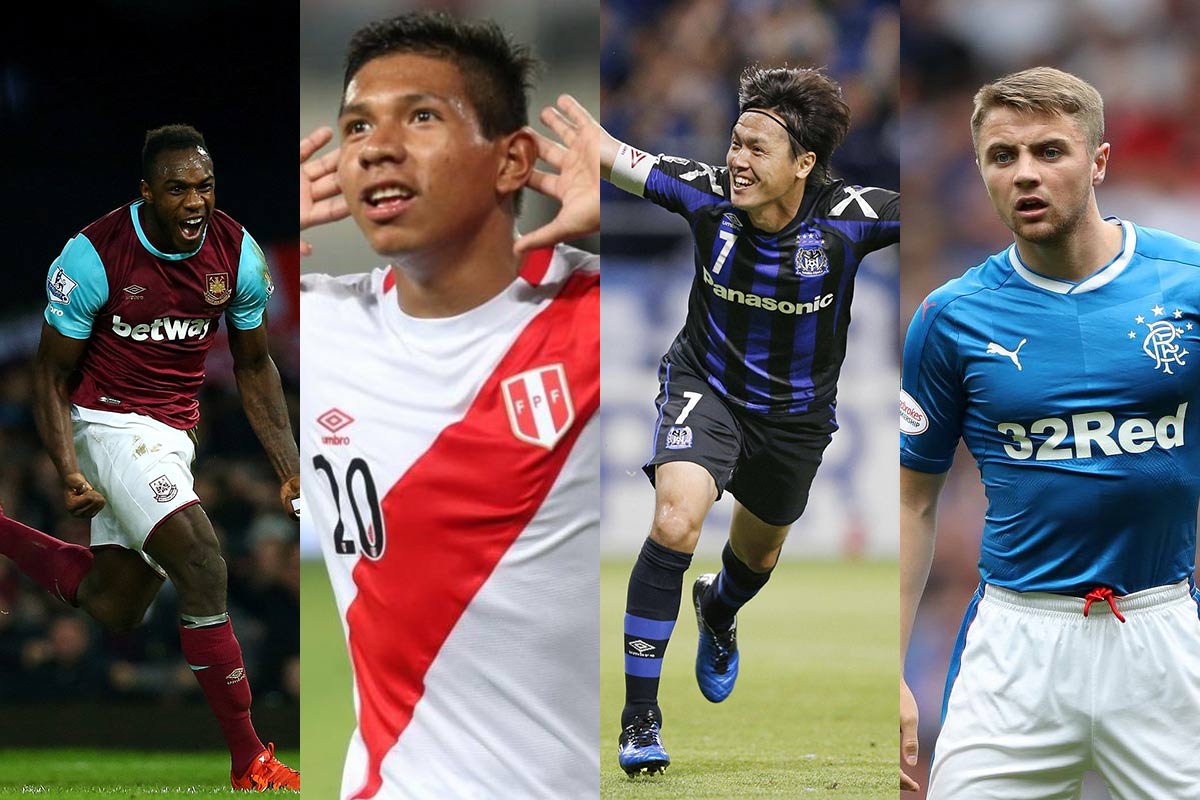 Also with plenty of international and top-tier league experience, Umbro's midfield is certainly capable of competing with big time names. With Rossiter and Antonio both having played in the Premier League and Flores and Endo both with storied international careers (Endo having the most all-time caps for Japan), this foursome is Umbro's strongest group, and will be the X-factor if they hope to upset adidas, PUMA, or Nike.
Forwards: Esteban Paredes, Mauricio Pinilla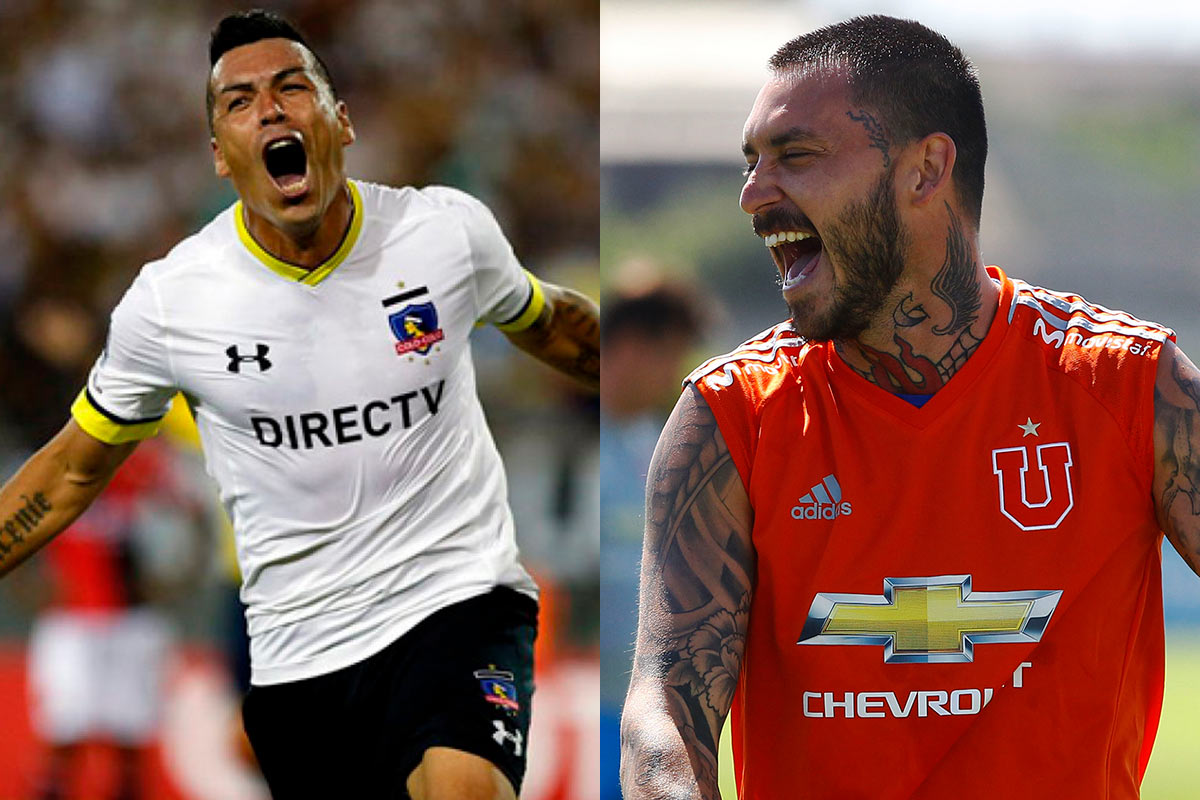 The Chilean combination of Paredes and Pinilla may have disappointingly missed the 2018 World Cup, but both are experienced and proven goal scorers. Paredes is something of a Chilean Primera Division legend, having won the top goalscorer award five times, while Pinilla has played the majority of his club career in Europe. Don't sleep on these two, as they will surely find the back of the net the second you break focus.
Which team do you think is best? Let us know in the comments below, and be sure to vote on the Urban Pitch Instagram story!