A week after his tragic death, we mourn Diego Maradona, a football icon whose impact will never be replicated. 
"The most human of the gods." – Eduardo Galeano
I first became aware of Diego Maradona when my dad told me about the greatest goal in FC Barcelona's history.
"He got the ball in the midfield, passed and ran away from the defenders. Diego received the ball one-on-one against the goalkeeper and dribbled around him, easily. He was just in front of the goal, but he waited. Why the hell did he need to wait?
"You can't wait for anything when playing against Real Madrid at the Santiago Bernabéu. But he did it. Real Madrid's center back, the guy with long blonde hair nicknamed 'Sandokan,' was running down the goal with the aim to tackle. But no way. Maradona feinted with a simple scissors movement and calmly scored. And then, it was eternal glory for this. That's the best goal in Barça's history, son."
That's how my dad described the work of Maradona in Barcelona. Incomprehensible and short but something genius. But as impressive as it was to get a standing ovation from opposing Real Madrid fans, that was just a fragment of Maradona's legend.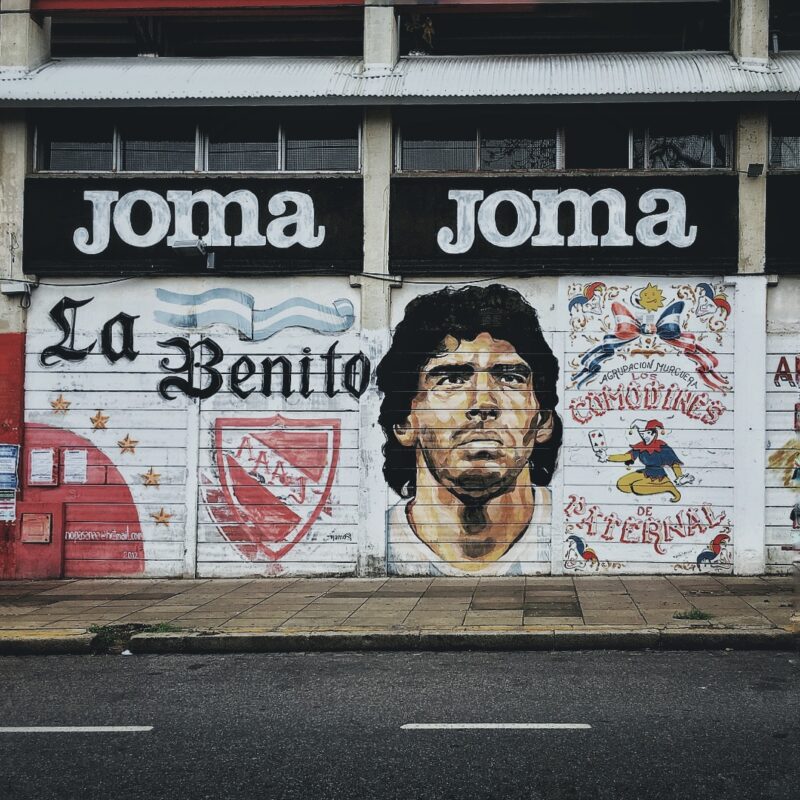 I remember the day when I got to La Paternal, a popular Buenos Aires neighborhood that is home to Asociación Atlética Argentinos Juniors, where Maradona started his pro career. With the aim to visit the stadium, I called the guy in charge of the club's museum and he opened the doors just for me. We were in a rush because the club was about to use the facility for a corporate event, but I was able to take some photos.
I saw the Copa Libertadores the club won in 1985, and the incredible academy memorabilia of the vast football heritage of the club. You can't imagine the amount of talent forged in Argentinos Juniors. Then, out of the Estadio Diego Armando Maradona, it was time to eat, and I was looking for a bodegón porteño, a type of traditional restaurant unique to Buenos Aires. 'Lo del Tato' was the place.
Some Italian pasta was the proper meal for a rainy and cold day. Sitting at the table next to me were a bunch of regulars, who were eating, smoking, and drinking. They asked me where I was from, and soon enough they invited me to join them, where we talked about Barcelona and Argentinos Juniors.
"Look, pibe. All of us are friends with Maradona," one of them tells me. "We grew up with him. We attended his wedding. That was a party, oh my God. We can call him later on if you want. But I think it might be difficult, as he is living in Mexico right now."
That man played for Argentinos and Huracán back in the '70s. He didn't call Diego, but chatting with him and listening to him reminisce on growing up with one of the greatest to ever play the game was enough for me.
I was covering World Cup qualifiers for Copa90 in Rosario, and we interviewed the 'Iglesia Maradoniana,' the most bizarre church in the world. Honestly, I don't know if I'll ever realize how much I love Hernán and Alejandro's institution.
Alejandro recalls the day the church was founded, on Maradona's birthday.
"On the 30th of October in the early morning, [Hernán] called me. I was sleeping next to my wife and I couldn't understand anything he was saying. 'Merry Christmas, bro,' he said. For fucks sake, it was so early. Or so late. I don't know. And then, I understood. 'Thanks, brother. Merry Christmas as well,' I said. This is how the Maradonian Church started."
Nothing can be compared to the most excellent football match of all time — the greatest performance of a player in the World Cup. In the Estadio Azteca, England against Argentina was the prolongation of the Falklands War. With a difficult social, political, and economic context in the country, Diego Armando Maradona represented every single Argentinian soul by scoring some of the most memorable goals ever. The first was the cheeky one with his hand, the most genuine expression of the street football played in Argentinian potreros, or street pitches.
And then there was the greatest ever. The 'Barrilete Cósmico' drew an eternal constellation of English players overrun by Maradona's talent. Hell for the first goal. Heaven for the second one. His legend etched in history forever.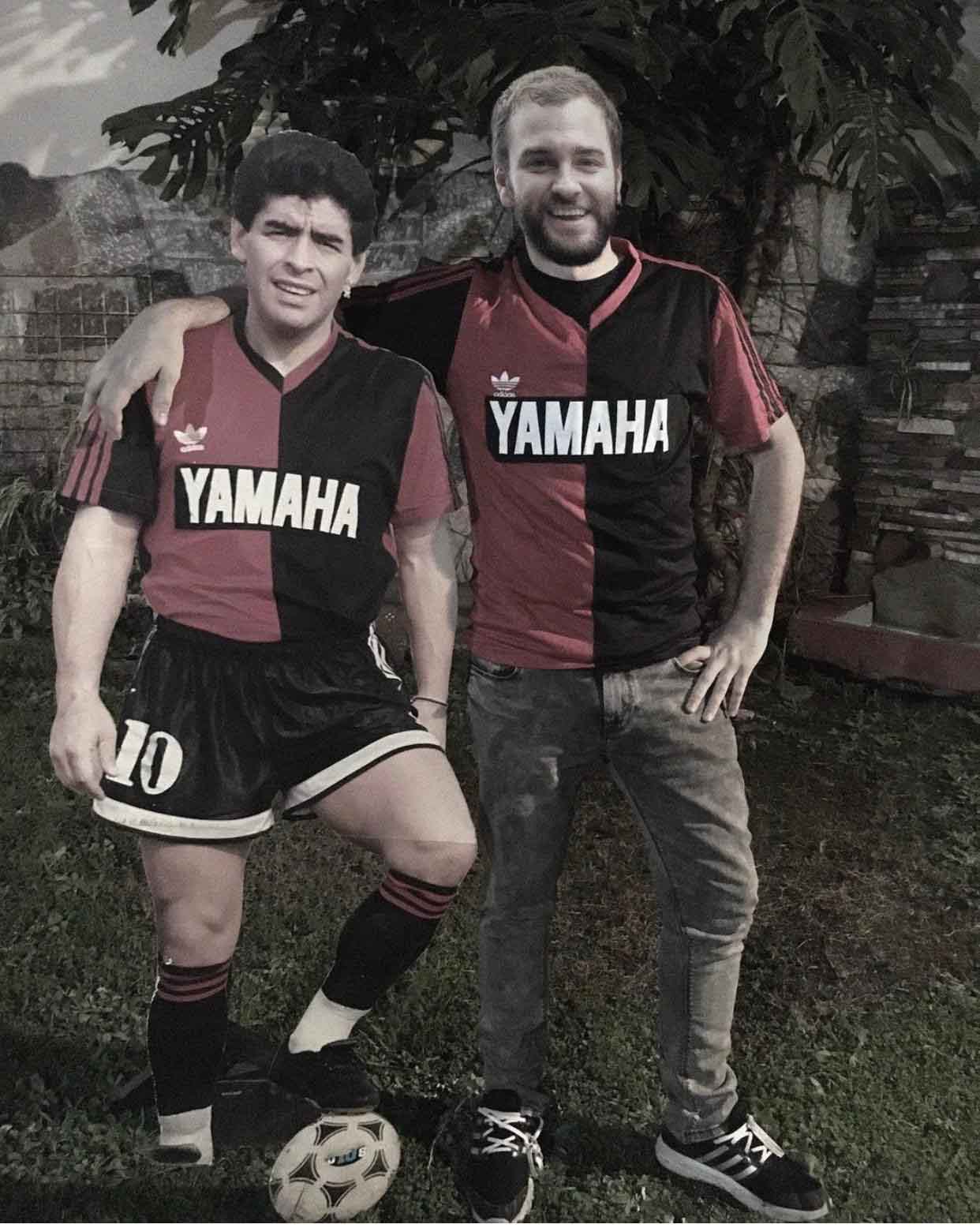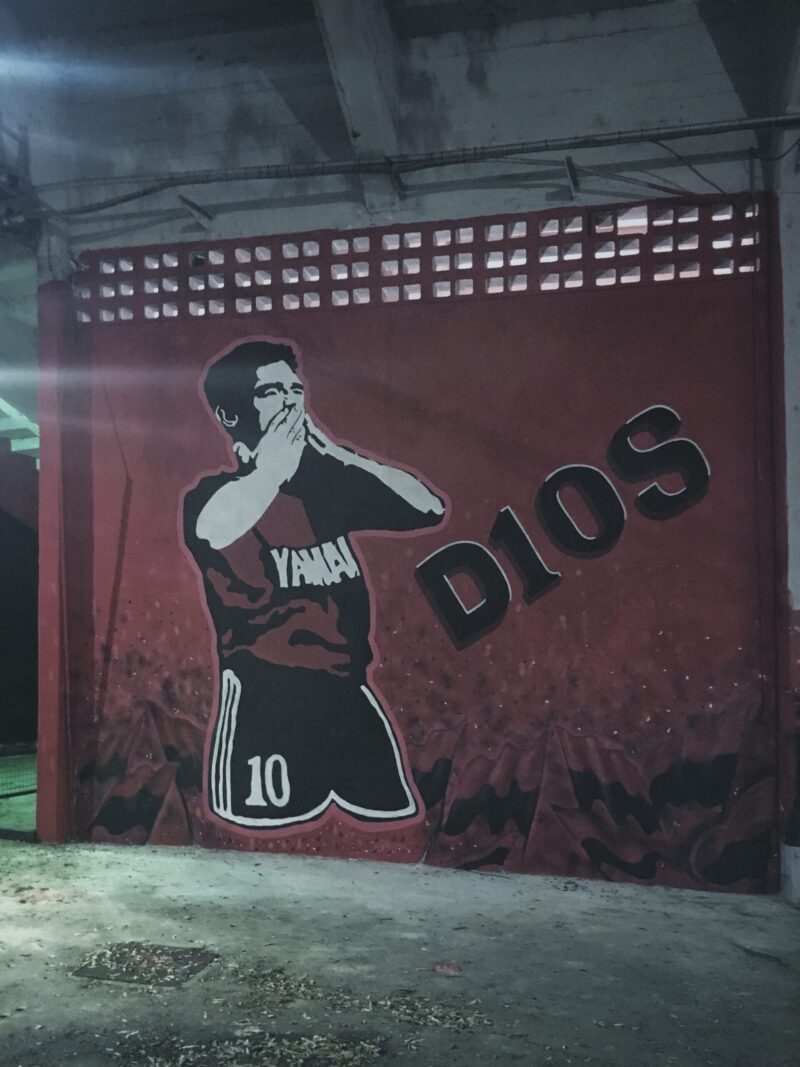 "We don't care if Maradona just played five games for us, he wore our colors," my beloved friend Enrique, a lifelong Newell's Old Boys fan, tells me. "He showed our shirt to the world. The name of Newell's Old Boys will be forever linked with Maradona's career. That's enough. He personifies the sun of the Argentinian flag. The spirit of the people, we see as him a representation of our society.
"We are not perfect, let's be honest. But we like it. This is how we are and we are proud. It's life. We can mistake after another mistake but keep learning from it and never forget where we come from. Our roots are what make us special. That's Maradona's recipe."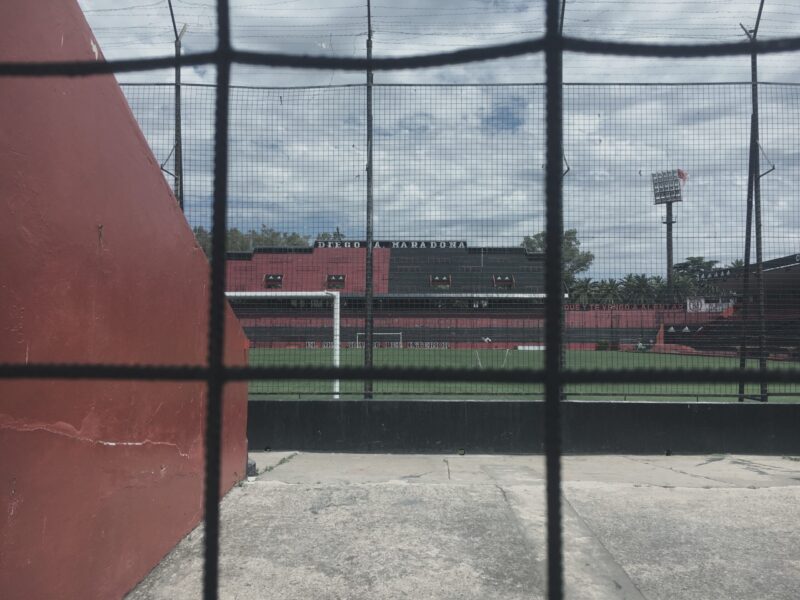 The popular grandstand that plays host to the hinchada at Estadio Marcelo Bielsa is called Diego Armando Maradona. Then, you realize you are not dreaming.
"I support Boca Juniors. And then, Boca Juniors again," reflects my passionate friend 'Flaco' Amarelo. "Everything's about Boca. I remember when I visited Napoli for the first time. As an Argentinian, I felt at home. People treated me as one of them. We have Southern Italian traditions in Argentina and the spirit of struggling against injustices.
"The common social sense is the same. The struggle of daily life to keep going against all the elements. There is a banner in Boca that says 'Boca doesn't fear to face anyone.' That's the mentality Maradona saw in Napoli and this is why he felt so identified with the city."
Amarelo likes the identity of the fans being ignorant and just supporting the club. He doesn't give a fuck about game values, he is a Boca Juniors fan and that's what all matters.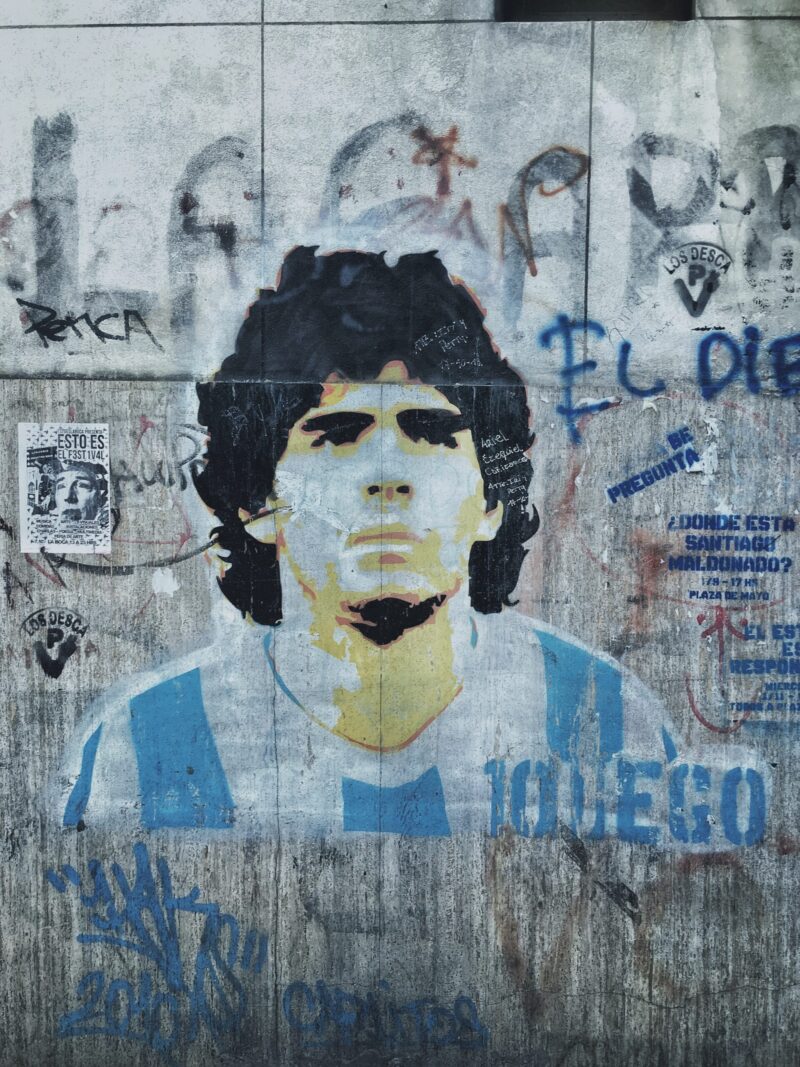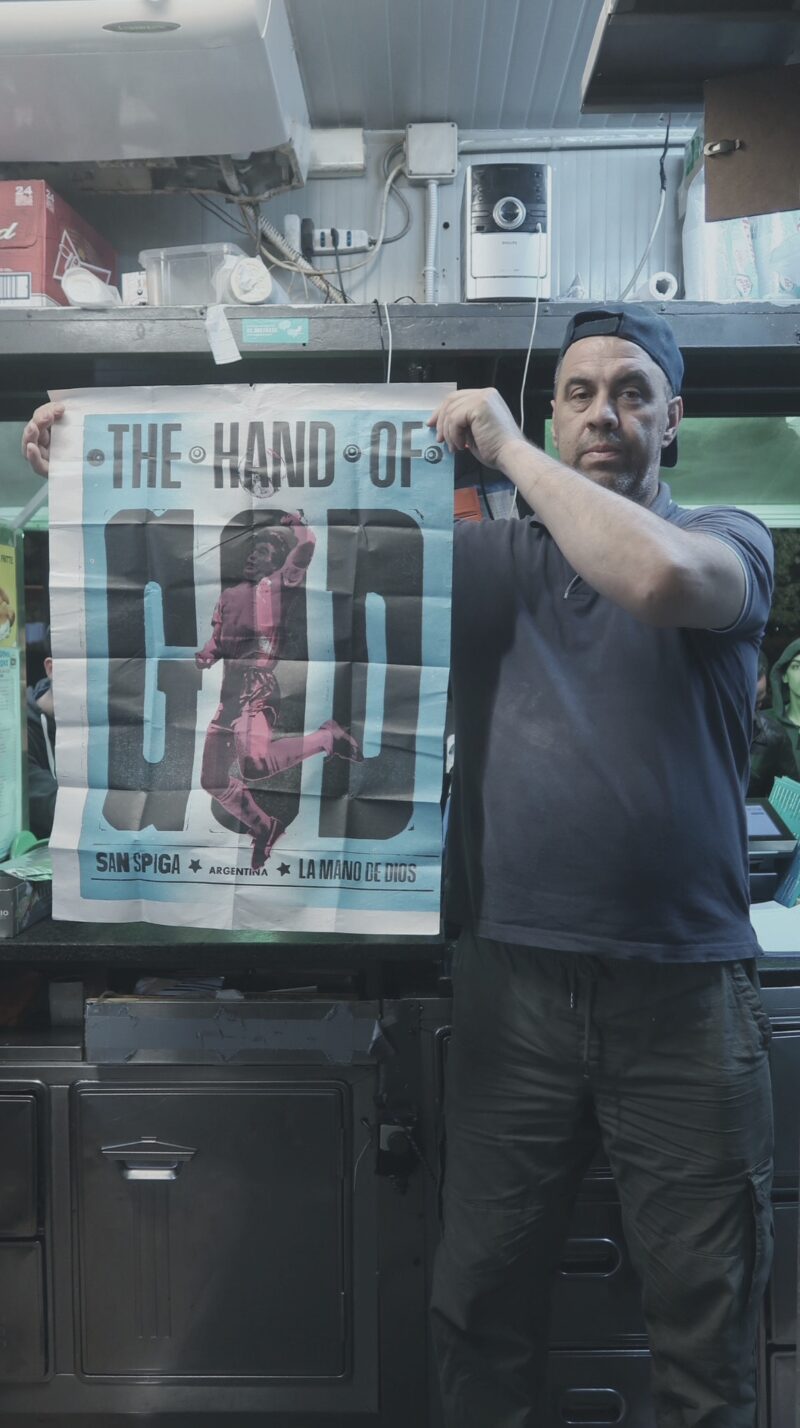 Maradona is a passport test for all Argentinians. It doesn't matter where they travel to, they will be forever asked about their origin. "Argentina?" the inquirer asks. "Oh, yes. MARADONA!"
With a smile, they are going to prove their nationality and a way of life as well. I remember the Japanese man I met in Yokohama in 2011 who named his son Diego. He saw Argentina playing in the 2002 World Cup, and that was enough to influence one of the most crucial decisions in his life. Maradona is not a football player, but an icon.
Photography by Ignasi Torné Gualdo.