The football mural is a curious aspect of the beautiful game — not just for its oftentimes massive scale and immense beauty, but also for its tangibility in an increasingly digital world. We catch up with journalist Andy Brassell, who pays tribute to these triumphant tableaus in his new book Football Murals: A Celebration of Soccer's Greatest Street Art.
The existence of a football fan today is almost entirely digital. It begins with a subscription to a streaming service to follow their team. If they decide to attend a game in person, they'll purchase a ticket off the club website, as they do while buying merchandise. Opinions and analysis are espoused and imbibed through Twitter, and it's only fitting that clubs use digital tokens to measure the fandom of these internet-native supporters.
The tangible nature of football murals and street art feels incongruous in such a landscape. And yet you'll find a stoic Raheem Sterling on the wall of the Church of England Resurrection in Manchester. Go near the Ramada Hotel in Kazan and you'll find yourself facing a winking Cristiano Ronaldo on a three story building. On Stoneleigh street near the new Tottenham Hotspur stadium, Heung-Min Son can be seen doing his trademark camera celebration. In Barcelona, you might walk in on Pep Guardiola and Jose Mourinho locked in tight embrace. Journalist Andy Brassell draws an analogy with vinyls to explain how murals have become an integral part of football culture.
"Music has gone very digital — probably for the better overall — but on the other hand, vinyl sales are probably at their highest for about 20 years," Brassell said. "I think people have that desire for something more tangible, I think that's really important to people. When you look at particularly football and football street art, I think you look at that sense of place."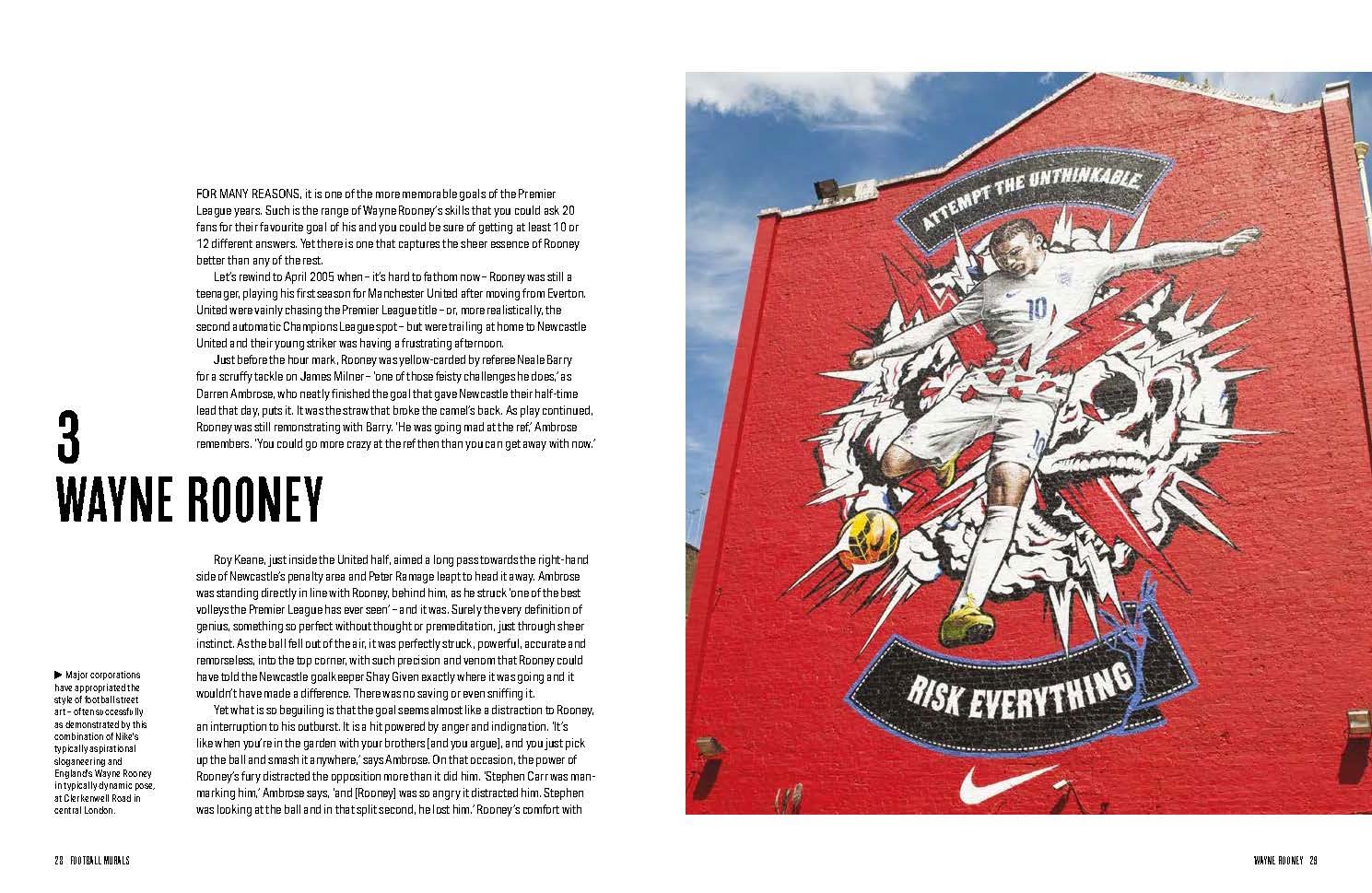 It's this sense of place that Brassell attempts to capture in his new book Football Murals: A Celebration of Soccer's Greatest Street Art.
But this isn't your regular coffee table book with large glossy pictures accompanied by short, punchy blurbs. In fact, the book isn't even focused on murals themselves. Brassell uses them as a narrative device to situate the players, places, and emotions that shape the sport.
"I enjoy not just finding out about great art from all over the world, but because rather than just doing straight descriptions of the work, I guess I'm less a curator [and more] an at length narrator of the works," he said.
The book is broken into 25 essays on topics ranging from hometown glory, to the cult of the coach, to the soul of the game. Each of these essays are accompanied by images of murals in line with its theme but not necessarily its content. For example, in the chapter entitled "When Love Breaks Down," Brassell writes about Luis Figo's transfer from Barcelona to Real Madrid and how the Barça players made it a point to embrace him after the Clasico in front of a steaming Camp Nou. But the images to go with it are a before-and-after shot of the Cristiano Ronaldo mural in Turin that was defaced after his move to Manchester United. While it takes a while to get used to this style of juxtaposition, it brings more nuance to the book.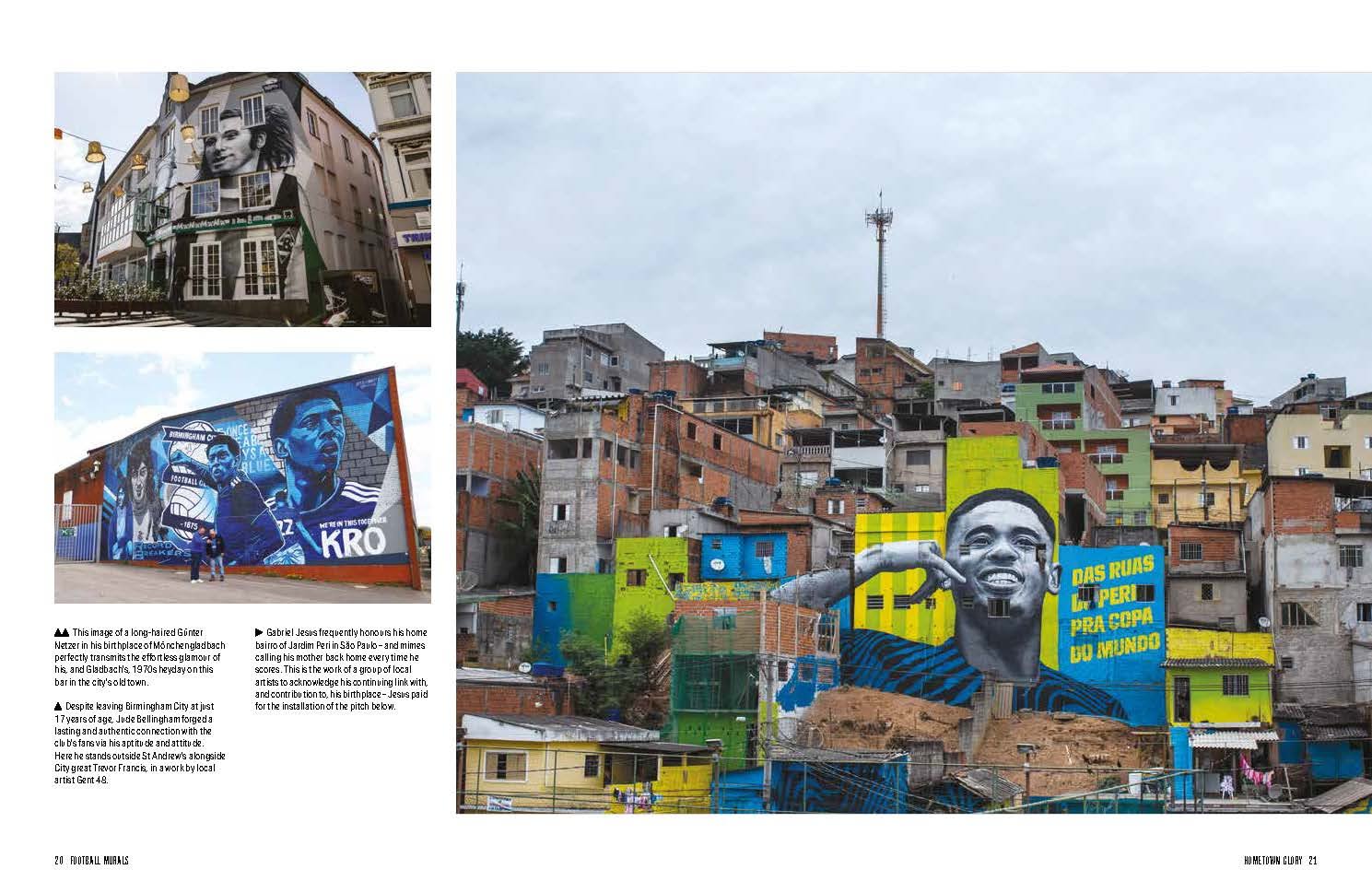 There are also essays on players like Mohamed Salah, Francesco Totti, Zlatan Ibrahimovic, Megan Rapinoe, and Lionel Messi.
"I think for a lot of people out there who watch football every single day or however many times a week, it feels like Messi or Ibrahimovic are extended family members, so you have to find a way to say something differently and say something new about them," Brassell said. "I think the artwork helps do that. It's different perspectives on familiar figures."
The art combined with Brassell's words paints a unique picture of these players. He writes about how Ronaldo is more in Maradona's mold than Messi is, Zlatan being Ibrahimovic's alter ego, Salah's time in Italy, and Totti's imperfect end to his time at Roma. Football Murals is the type of book you read over a couple of months. The type you try to cherish rather than power through.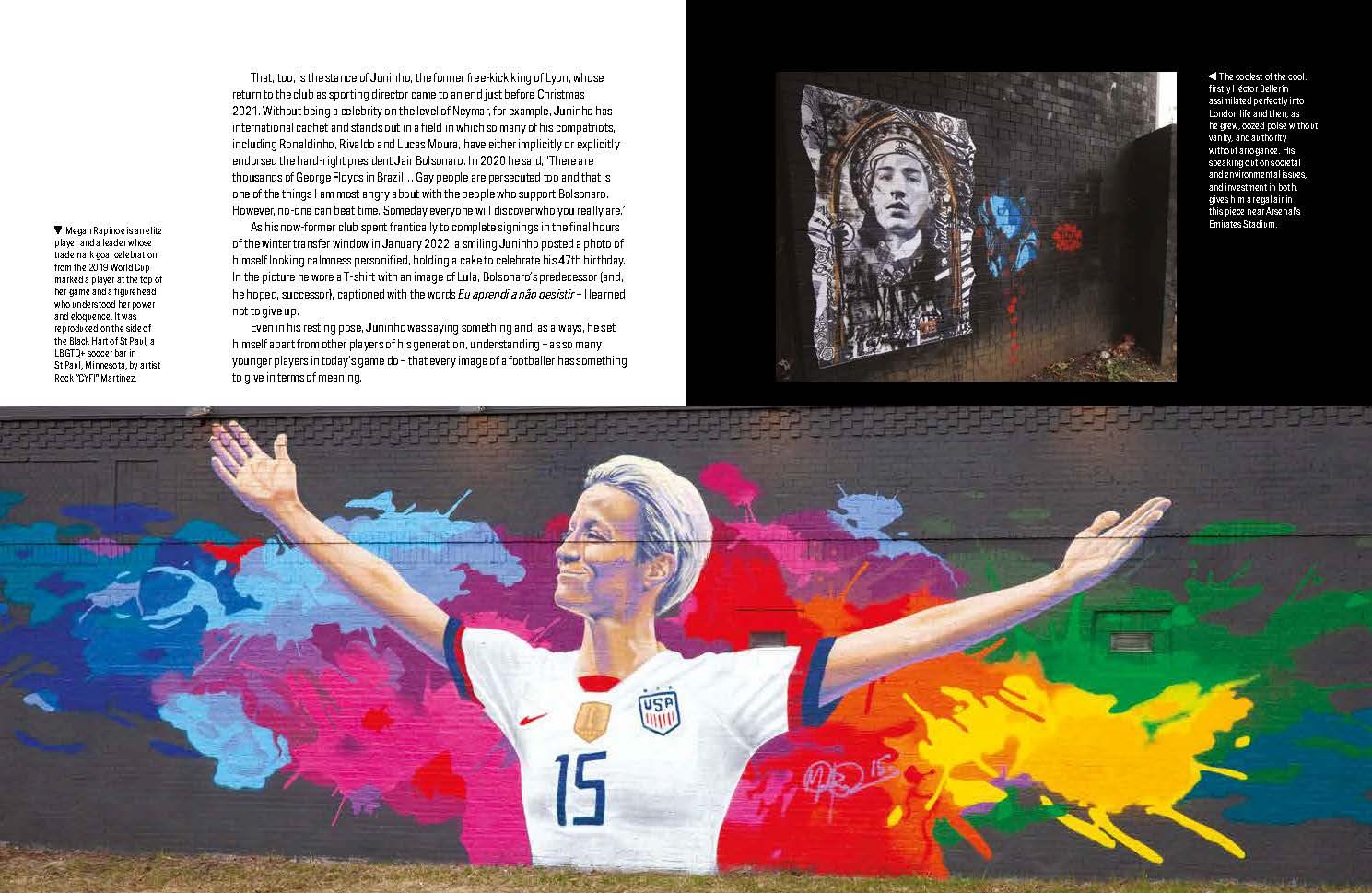 While there are over 1,000 murals in the book, Brassell is keen to point out that it isn't definitive. He adds that the ones in the book haven't been chosen for their technical excellence but for "the place that it's coming from, the moment, the time that it captures."
To make his point, he references one of his favourite Maradona murals that went up in the '80s on an apartment block in the Spanish quarter of Naples. Maradona's face is painted on the shutters so each time the person inside opens them, the face disappears and it's them peeking out of the window in Maradona's body.
"The fact that it exists as a part of life, the fact that someone just living their daily lives, getting a bit of fresh air in the morning opens their shutters and picks up Maradona's face, I think that's amazing," Brassell said.
Another one of his favorite murals is the one of Jose Mourinho that went up in Rome. In it, Mourinho is seen riding a vespa with a Roma scarf wrapped around his neck. Brassel believes the mural's appeal doesn't lie in its artwork but in its timing. It went up almost immediately after the Portuguese's arrival, before he'd even won anything or signed any players. Following his tumultuous spells at Manchester United and Tottenham, many believed that Mourinho was washed up, but Roma fans felt differently.
"Sometimes newspapers and magazines and we as journalists have a bit of a challenge," Brassell said. "News breaks and filters [through] on Twitter and Instagram so quickly. But for a piece of incredible street art, it came out so quickly that it felt like a modern, breaking news reaction, so eloquent and relevant a year-and-a-half on."
Like art itself, Brassell believes football's beauty lies in it being open to interpretation. He says it's a collective experience that can mean very different things depending on who you ask.
The manner in which he conveys this sentiment in Football Murals is profound as much as it is poignant.
Images via Bloomsbury.