Gianpaolo Imbriani has turned the premature passing of his professional soccer player brother into an international message of football benevolence, traveling 375,000 kilometers through 107 countries. He's now memorialized his travels in his new book, The Story of a Promise. 
I hadn't spoken to Peter Curto, a partner of Supra Soccer Agency, and a friend who I bounce ideas and stories off of, in about a year. On a cold early spring night, I gave him a ring, catching up for an hour, pacing back and forth the way men habitually do when they're on the phone.
By the end of the call, he brought up the story of Carmelo Imbriani. I admit that I'd never heard of, nor remembered Imbriani, and listened as he explained how all of Italian football became united under Imbriani non mollare, or never give up.
Curto talked about how since the former Napoli midfielder's premature passing, his brother had set out on an epic journey around the world, and that he would be coming to Brooklyn within the following months. Fast forward to mid-June, and Gianpaolo Imbriani was concluding his world tour for his book, The Story of a Promise. He'd be less than two miles from my home, next to Hoboken, New Jersey. Let's call it fate.
View this post on Instagram
At 8 p.m. Imbriani Whatsapp'd me that he'd just arrived at the pier and pinged me his location, so I jumped on the Vespa and headed down to the waterfront. It was an uncommonly beautiful evening. You know, that warm dusk air with the coolest breeze, one that smells like summer and excitement.
It was like I had known him for a lifetime. We hugged, and my immediate impression was that I had just met someone who had been through a lot, yet had a certain kindness and gentleness in his heart.
A sullenness, reminiscent of Dante Alighieri when he set out on his cammino through hell. Perhaps someone who did not know their own way through the selva oscura (dark woods), but set out on an attempt to conquer their despair. He thanked me several times for coming, and I assured him it was absolutely nothing, but my pleasure to hear the full story.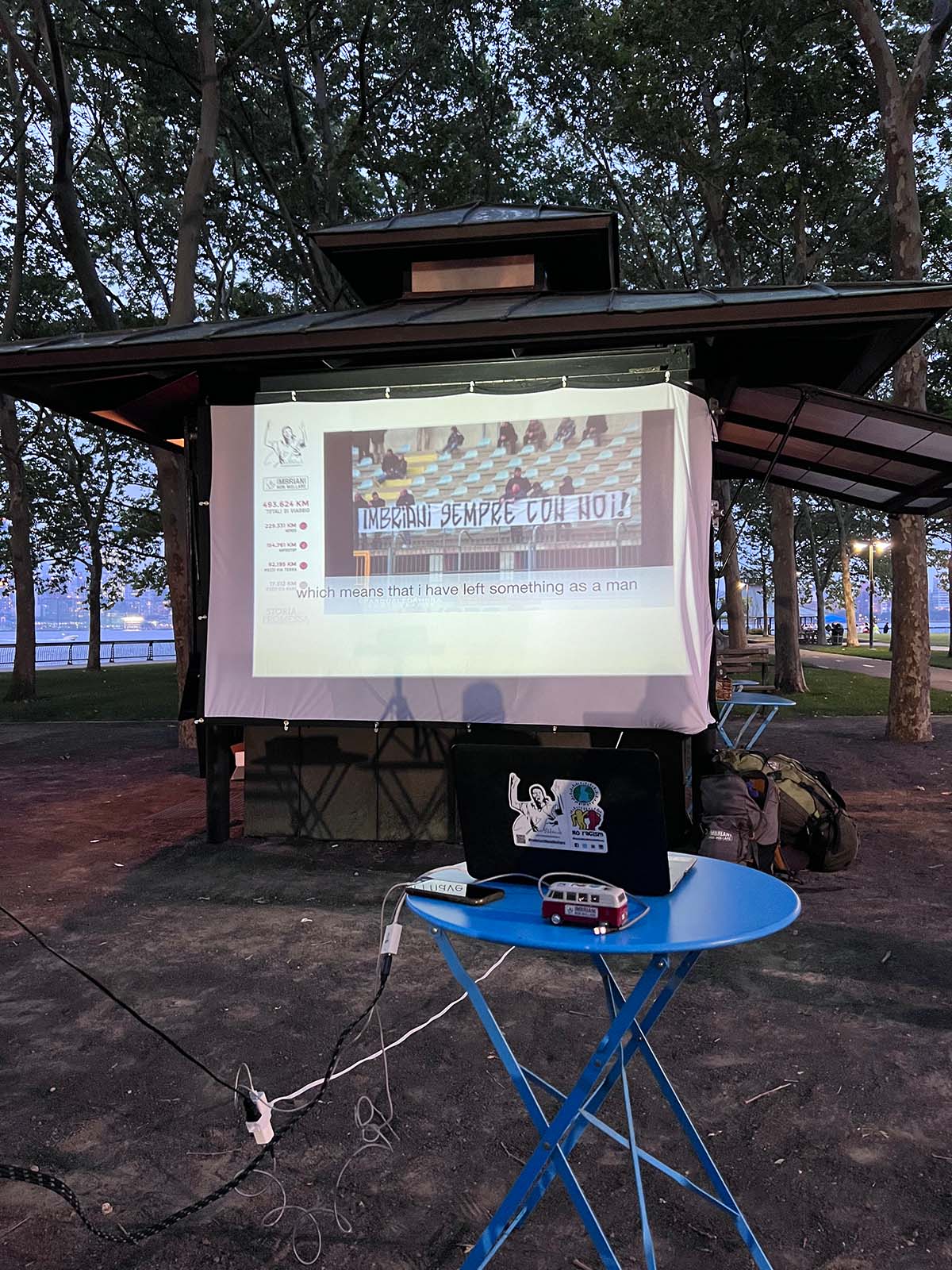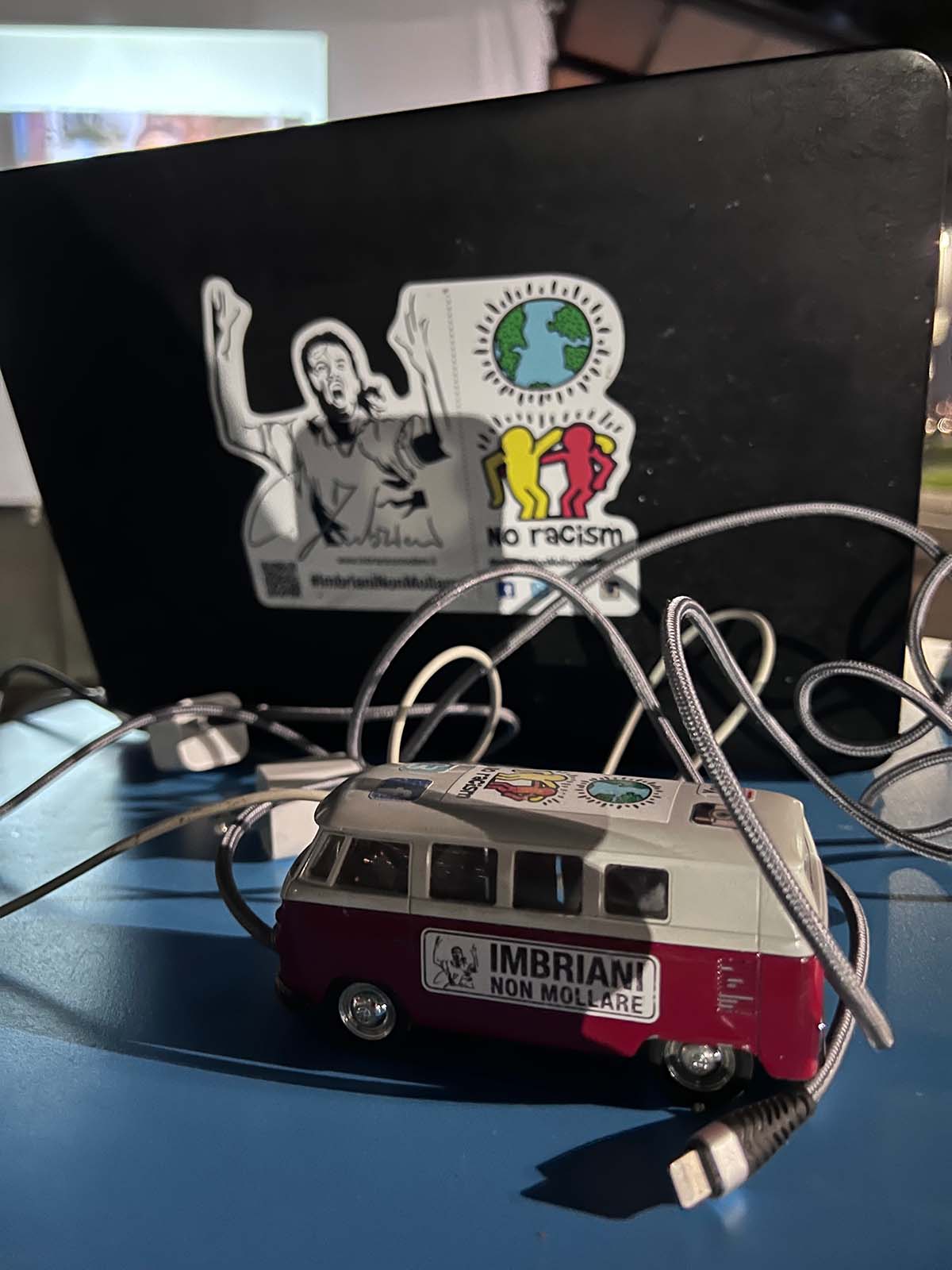 There I sat along with a few others as we listened to Imbriani get some practice in before bigger audiences further down the line. While I arrived bright and excited, as he spoke and went through the media, the imagery came over me, sinking into my seat. Here's the backstory:
In August 2012, Carmelo Imbriani was diagnosed with cancer after discovering several lymphomas all over his body while managing Benevento, and less than half a year later, the disease overcame him. The player who was given his first start by none other than World Cup winning Marcello Lippi, who wore the No. 7 as he inspired a post-Maradona Napoli, passed away, and all of Italy cried alongside of him. It has been a decade since the national tragedy.
"Football ends, life remains and as a man I always want to give an important memory," Gianpaolo Imbriani said. "The affection came to me from all over Italy, which means that I left something as a man and this is my greatest victory, my greatest joy."
I looked at Gianpaolo as the projector continued to shine, giving passersby a glance as they enjoyed the park. I noticed by this time I had been pulled out of journalist work-mode, no longer just a writer trying to grab a story. This was different. It was real, no need for romanticism or word play.
Gianpaolo's mission was to leave the pain behind, and spread his brother's story. In that moment of true despair, what pushed him away from home would become a feat of giving back to the world through football, and a universal lesson on human kindness.
Then the signs. When first leaving home, doubt set in and he thought to turn back, only for a gust of wind to push him on, and a sensation of a hand on his right shoulder, as if it were his brother's hand and not just a backpack strap flapping in the breeze.
The signs only became more celestial, such as the young man he took the bus with for over 12 hours, only for him to show an act of kindness before finally leaving his name — Carmelo. And, in a desperate moment for Gianpaolo in a wretched New York winter, a subway sign appeared in front of him: "Carmelo vs. the world," in reference to another beloved sports figure that captured the enthusiasm of the hometown fans.
His travels took him from Star Wars film sets in Cappadocia, to the doorstep of Dracula's Castle, and into the Outback of Australia. There have been countless struggles as well, such as sleeping in chicken coops, violent robberies in South America, and escaping a gangland-style murder in Central America.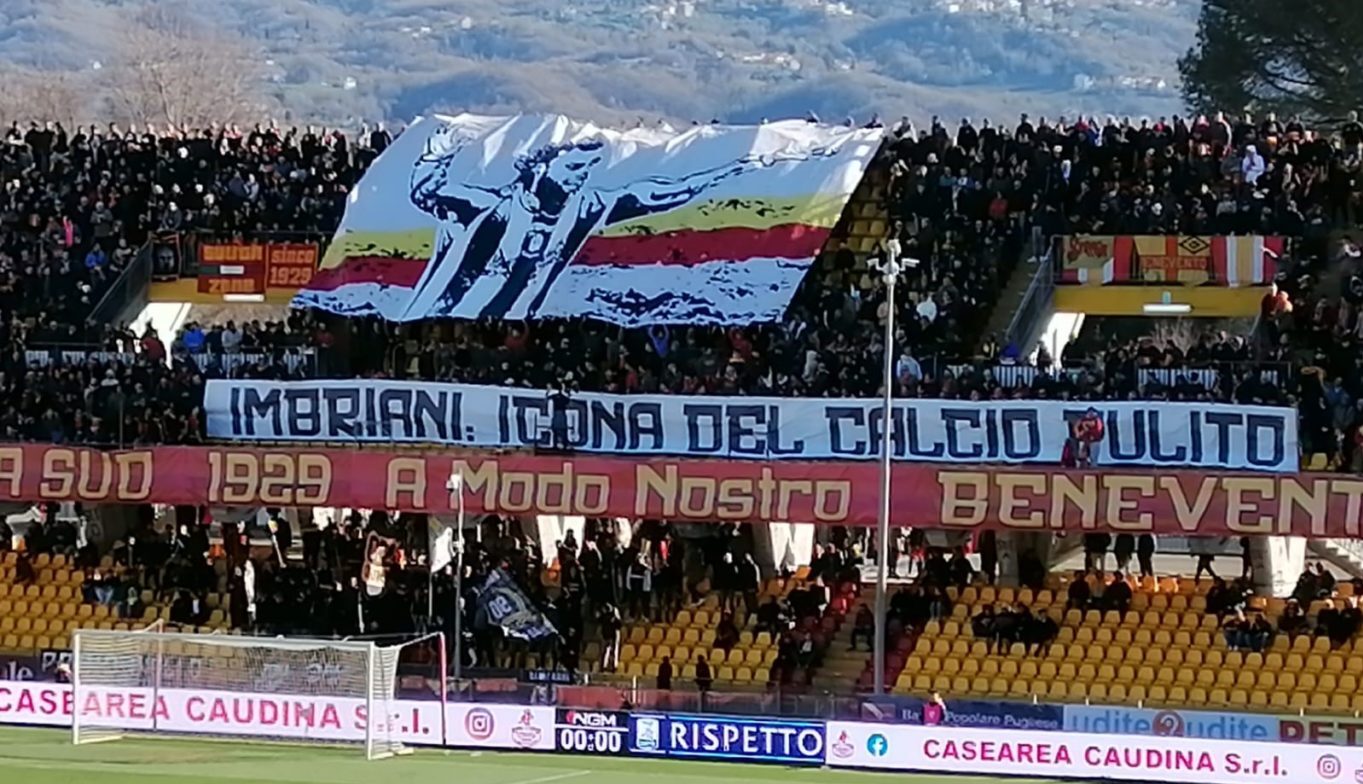 Memorial tournaments and pitches combined Carmelo's passion with Gianpaolo's desire to make his story known all over the world. As time passed, the message had spread, as did the benefactions. Fabio Quagliarella played in a 36-team tournament, and at this time, there are five mini-pitches on five different continents made under Carmelo's name. Even Lionel Messi joined the cause by sending his shirt with a special dedication – Por un juego limpio.
With plenty of stories in his travels over the years, Imbriani has memorialized them in his book, The Story of a Promise.
"It's a story of brothers that travel the world, still tied together," Imbriani said. "This is what I like to believe after the loss of my brother, and the path of over 300,000 miles. To help you imagine this tour around the world, consider that in my travels I had to hitchhike, do a lot of couch surfing, guest with local families, and all of this ended up being decisive for me because it helped write the entire story.
"I decided to do this immediately after losing my brother because I couldn't be home anymore. I felt very low and left a month after [he passed]. In time, I understood that traveling would allow me to stay away from home, away from the bed where my brother slept. So it allowed me to get away, separate myself from that sadness as I started off. That winter I did not work as I wanted to stay close to my brother while he was in the hospital. Therefore, I had no cash to travel, and that's where the hitchhiking began.
"After I got into people's cars and started to tell my story of why I was traveling, I felt a lot of love. Then I saw a lot of support from the fans onto the pitch, and it allowed me to confront reality and tell his story. I wanted everyone to know him. Maybe this would make my brother into something like an idol, someone to look up to.
"I'm convinced that with imagery and storytelling this story could grow, together with two young kids that my brother left behind, and it could be put through the airwaves even if he's not here physically. In some way, his kids will be able to praise him too if the story is accounted for."
Dante had to walk through hell and into purgatory before he finally reached paradise. And while the journey was difficult for Imbriani, it wasn't quite a hell-scape, as there were plenty of wonderful people to help him along the way.
"Hitchhiking allowed me to learn that 99% of the people you come across are good," he said. "Instead of thinking about the 1,000 cars that passed me, I focus on the ones that did stop. They stopped because they saw someone in the street [that needed help]."
I won't spoil the rest of the book, but we're left with a quote from the 2003 film Big Fish towards the end:
"By telling his stories a man becomes those stories. They live on after him and in that way he becomes immortal."
The death of Carmelo Imbriani has turned a tragedy into acts which have brought people together, and a reminder to focus on the 1% of good as the shining light. Gianpaolo Imbriani has made his brother's name legendary, and has brought the world around a common ground.
His own path is now somewhere between heaven and hell, that road will not be calculated by mileage, but the journey for peace. If he's made it so far into purgatory at this stage, it's because of love. The fraternity between him and his brother will forever be his strength, and through that love and in his name, the story of Carmelo Imbriani will be one that reaches the heavens through his messenger.
Follow Gianpaolo oh his travels on Instagram, and check out his book here.