Exploring some of the most compelling lower division teams in the United States, our Descending the Pyramid series continues with NISA club 1904 FC. With soccer royalty for ownership and now a spot in a new league, the San Diego-based club is finally ready to kick off. We get an intimate look at the club's foundation, and see how it is bringing a street influence to their game. 
For a two-year-old club, 1904 FC sure has a long history. To start at the beginning, you'd have to go back to June 26, 2017, when the NASL announced an expansion club in San Diego involving several European soccer stars. Before it could enter the league though, the NASL folded, leaving the San Diego startup down a significant amount of money and nowhere to play. Six months later the club announced their intentions to join the USL, but ultimately the league model didn't align with the club's vision. Once again without a league to play in, what did 1904 FC do?
To quote the late, great Nipsey Hussle, "Ocean views, small circle it's the chosen few, I wrote it down and I followed through."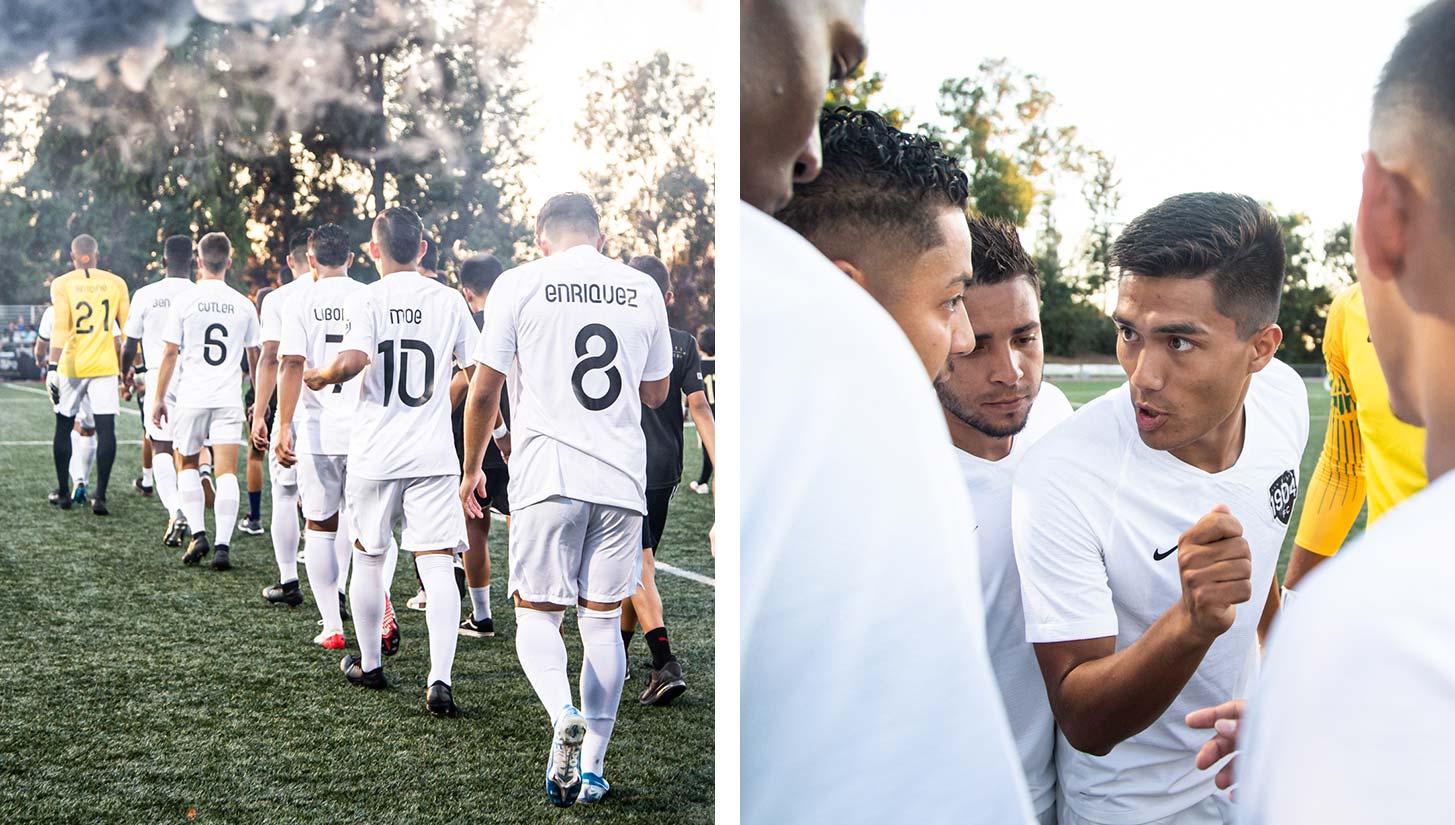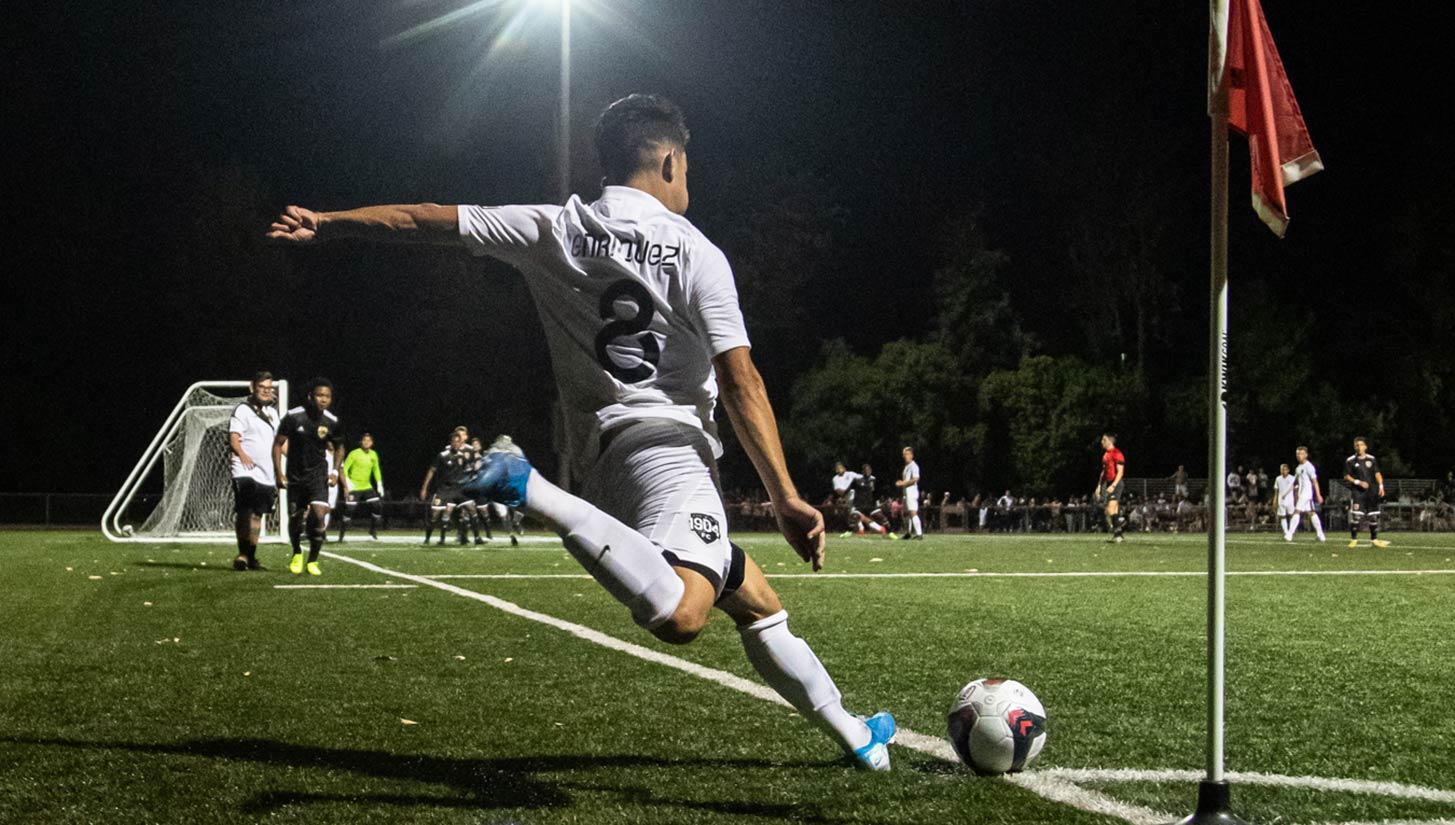 They made their own league, co-founding the National Independent Soccer Association (NISA), which is the only league in the U.S. attempting to build a promotion/relegation system. Given the circumstances, the Nipsey lyric feels more than appropriate. It perfectly encapsulates 1904 FC general managing owner and head coach Alex Gontran's unwavering commitment to turn his dream club into a reality. He and the rest of the 1904 FC ownership group, comprised of Eden Hazard, Demba Ba, Yohan Cabaye, and Vagno Chandara, have endured a roller coaster of a journey to get to this point. But professional soccer has finally made it to America's Finest City.
The Foundation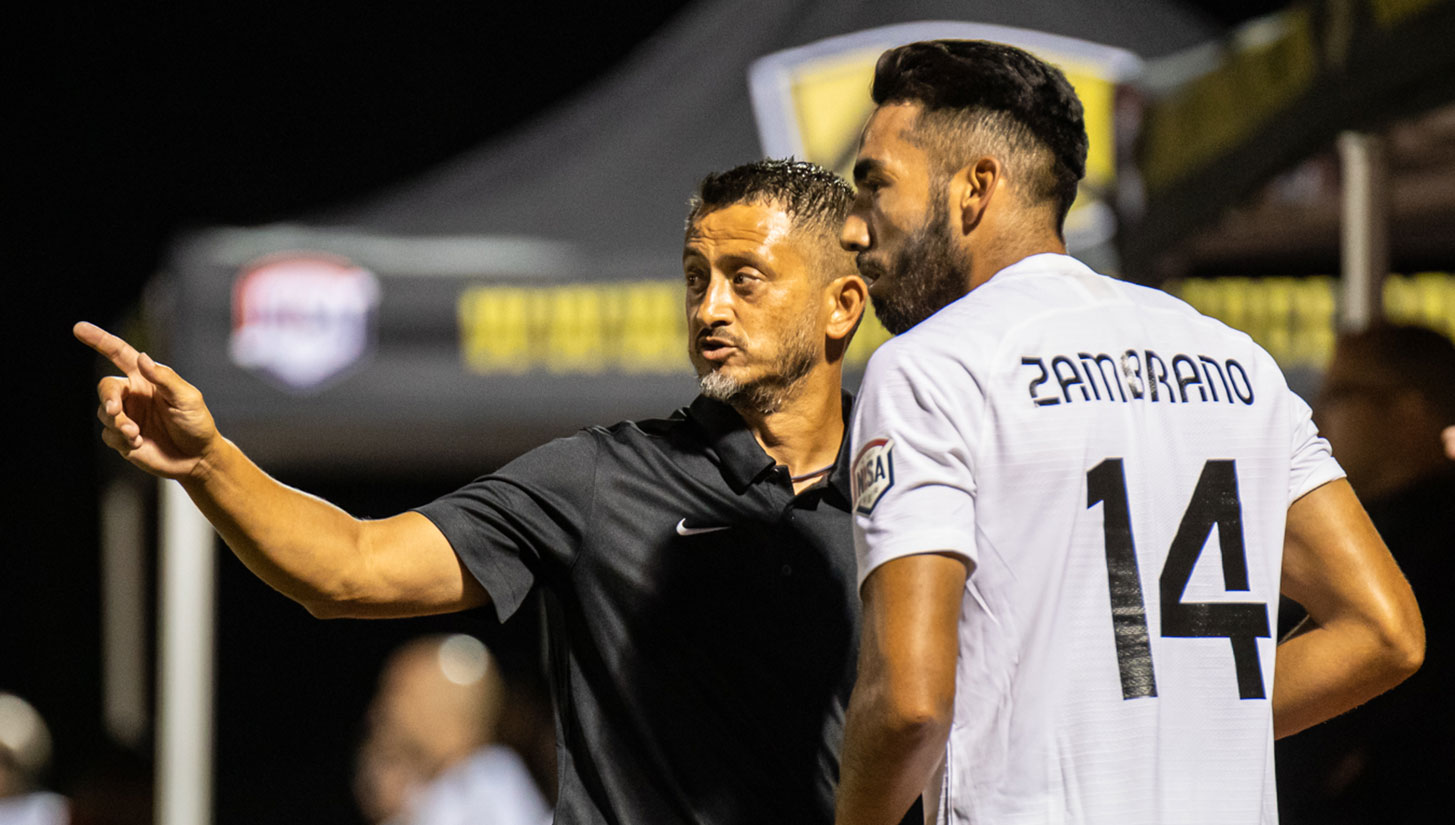 Gontran, who was born in Paris, grew up playing soccer in the streets. At the age of 17 he signed a contract with Ligue 1 side FC Nantes, however a devastating back injury ended his professional career before it even began. Still in love with the game, Gontran earned his coaching license and worked for Montrouge, a small club in Paris, where he first met up-and-coming striker Demba Ba.
He mentored Ba, developing an instant bond with him. As Ba's career progressed and their friendship blossomed, Gontran applied for his FIFA agent license in 2006 so he could represent Ba's professional interests. Fast forward 13 years and Gontran is out of the agent game and ready to fulfill a longtime dream of his — building a club from the ground up to implement his style of coaching. He wants to take Ba and the other friends he made along the way with him, and what better canvas for Gontran to create his masterpiece on than U.S. soccer?
With a landscape reminiscent of the Wild West, there's much to be settled. Gontran started his search for a place to put his team towards the end of his agent career, but there were several setbacks. He initially planned to put his team in Atlanta, but MLS announced Atlanta United soon thereafter. Then he thought about Miami, but David Beckham's MLS ownership group beat him to it. Still searching, Gontran went to San Diego on the advice of a friend in 2015, and he instantly fell in love with it for several reasons.
"The weather is good, so we can train every day," Gontran said. "And then I scouted some academies here. I was with Demba and we were very surprised about the [talent] level."
Plus the Chargers, the city's NFL franchise, left town six months after Gontran and Co. kicked off operations, almost serving as confirmation that 1904 FC was meant to fill San Diego's pro sports void.
The Fans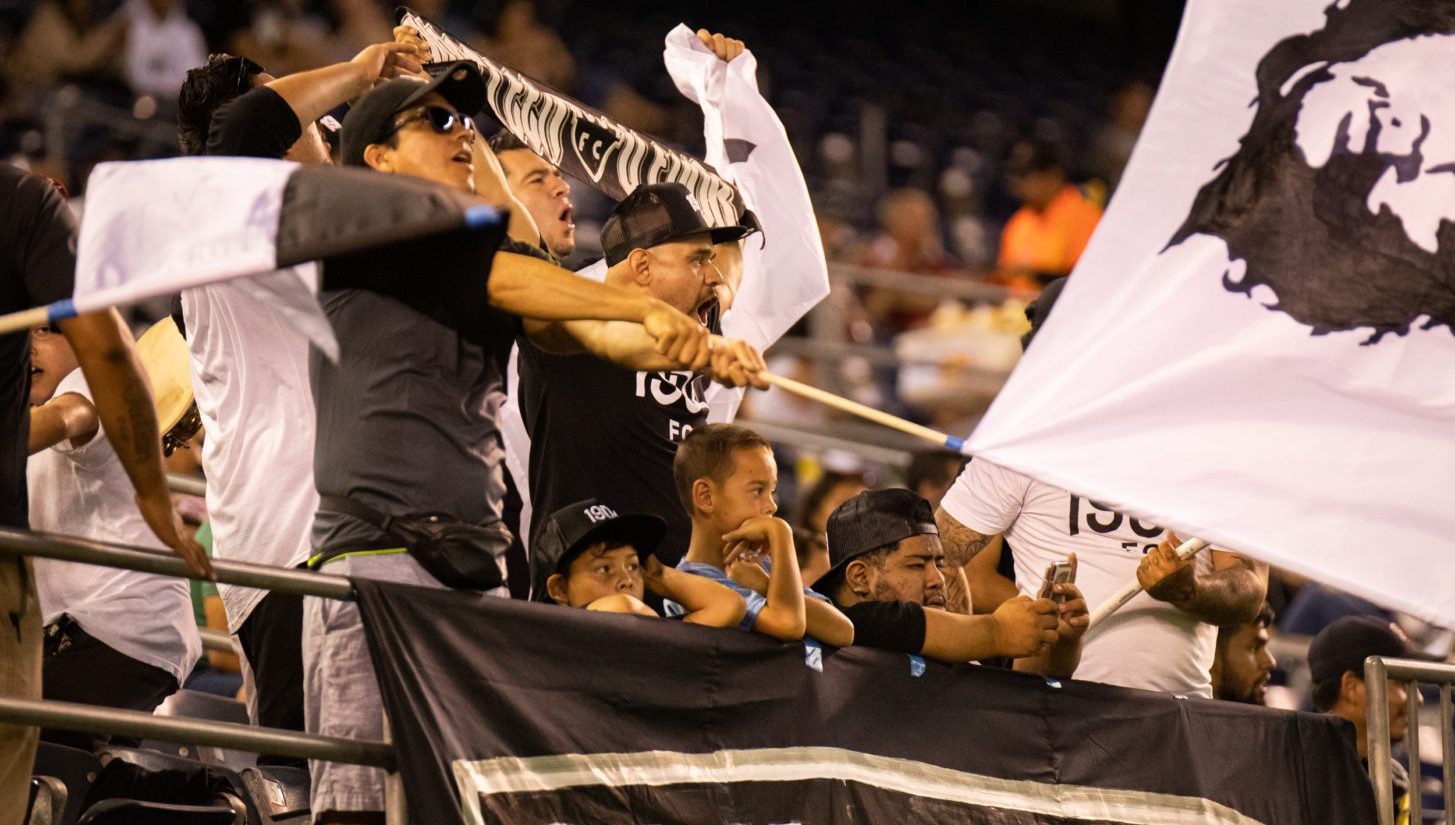 Just three games into its existence, 1904 FC's official supporters' group, PORRA OFICIAL. In addition, several unofficial groups are in existence, including The Black Plague. Jerry Jimenez, who covers the San Diego soccer scene on the Finest City Football podcast with his co-host Dike Anyiwo, took notice of The Black Plague at the club's first home match earlier this month.
"Now I wasn't over in that area, but it did look like they were a pretty strong supporters' group already," Jimenez said. "They were flag waving the entire time. I can tell you that Cal Strikers scored a goal to tie it up 1-1 right before the second half started, and they went even louder. So these guys definitely get it."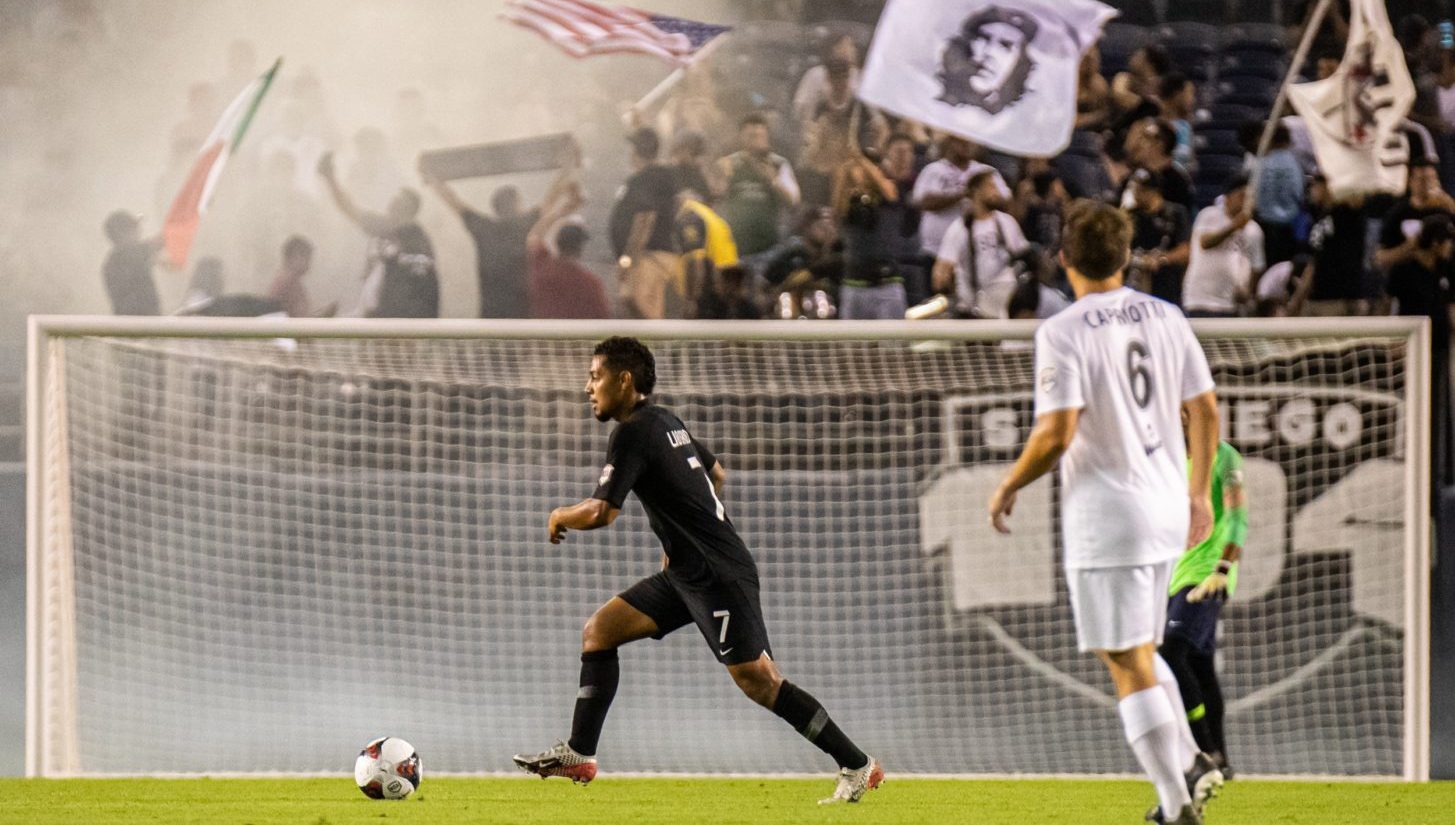 Slightly over 3,000 fans attended the club's home opener at the cavernous 70,561-seat SDCCU Stadium. While 1904 FC planned to build their own soccer-specific stadium in Oceanside, it looks like they'll play their home matches at SDCCU Stadium for the foreseeable future. In order to offset the big stadium atmosphere, the club only sells tickets in specific areas around the field to group the crowd together and make the experience more enjoyable. They also have a pretty vibrant tailgate scene.
"The tailgate area was something that I was really impressed by," Jimenez said. "There was a lot of people out actually tailgating and grilling. A group called the Bridge Barkada had a panna out that they had made throughout the week. And so I think it was the first time ever that there was some panna being played in a parking lot in San Diego. That was really cool, the kids were super into it."
The Kits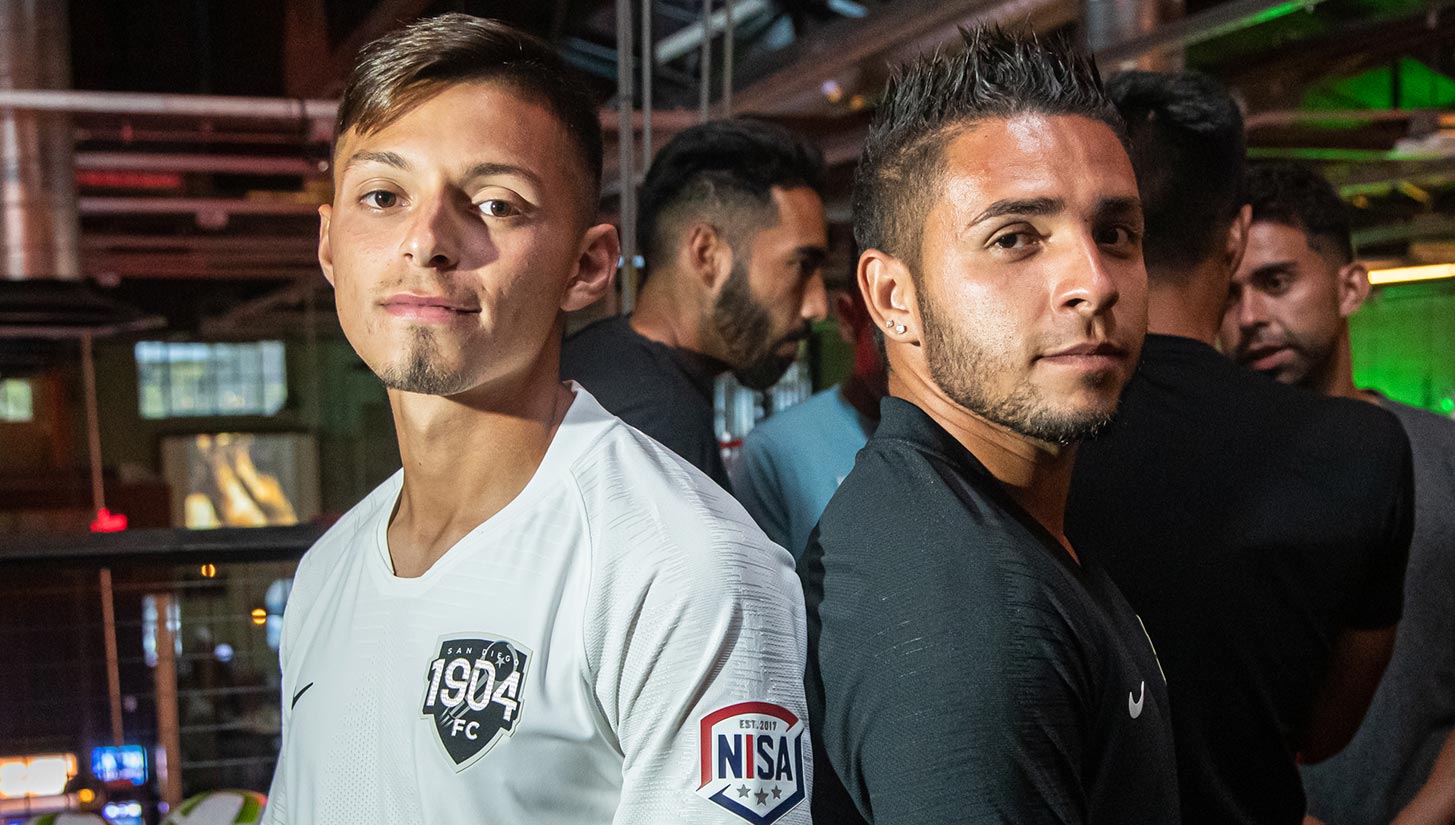 1904 FC's kits are rather simple yet clean, with the black home and white away featuring only the club's crest and the Nike swoosh — no sponsor. Vagno Chandara, who befriended Gontran in Saigon, Vietnam where Gontran runs an academy, and his creative team came up with the kits. Chandara played first division futsal in France and is passionate about street culture, which helps explain the club's branding and community vibe.
"The name of the team came from a supporter, to be honest with you," Chandara said. "1904 is a local saying. I think we couldn't come up with a better name. We connected right away."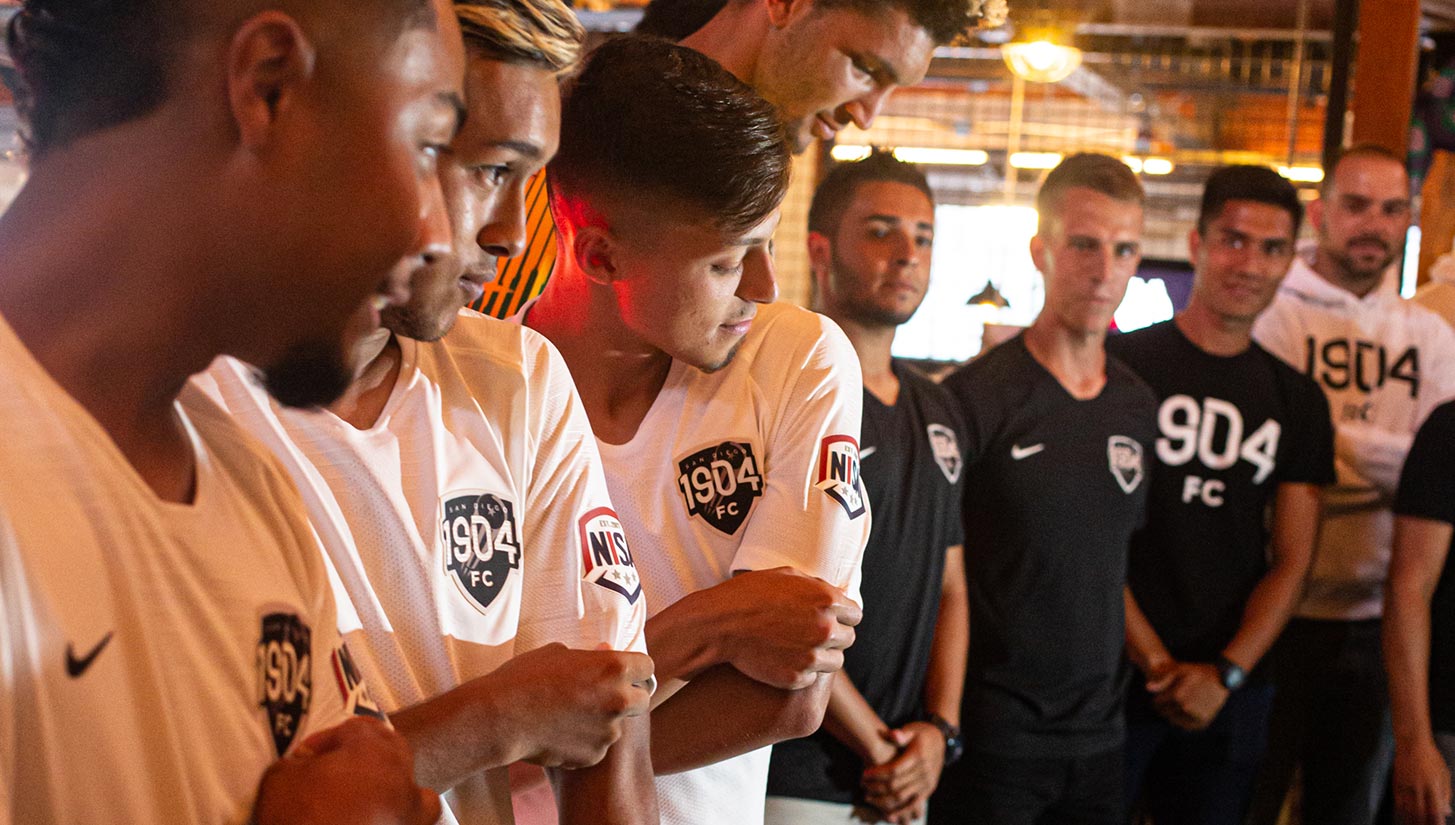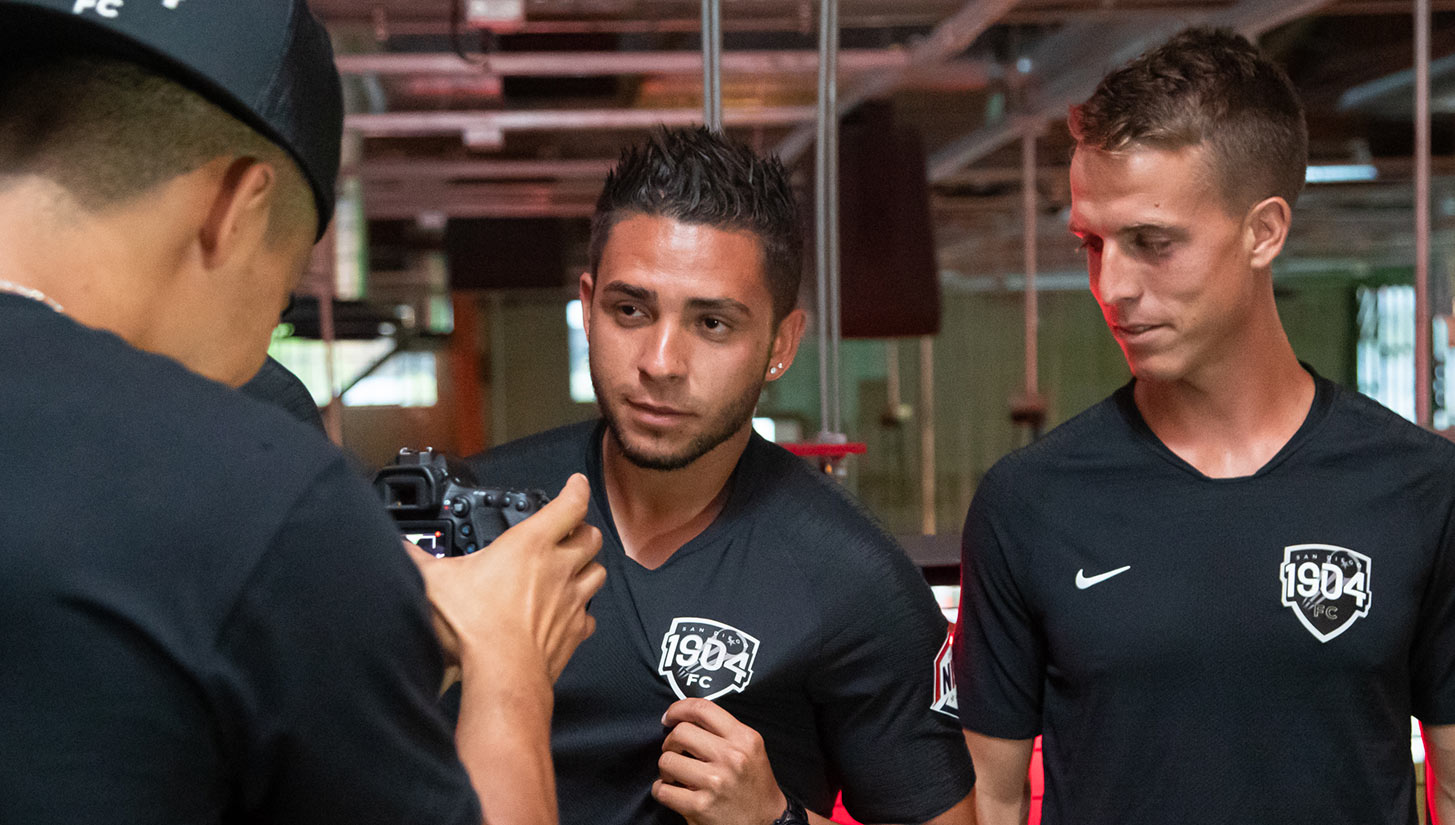 It's slang for San Diego, with the 19 representing the 19th letter in the alphabet (S) and the 04 representing the fourth letter in the alphabet (D).
Off the Pitch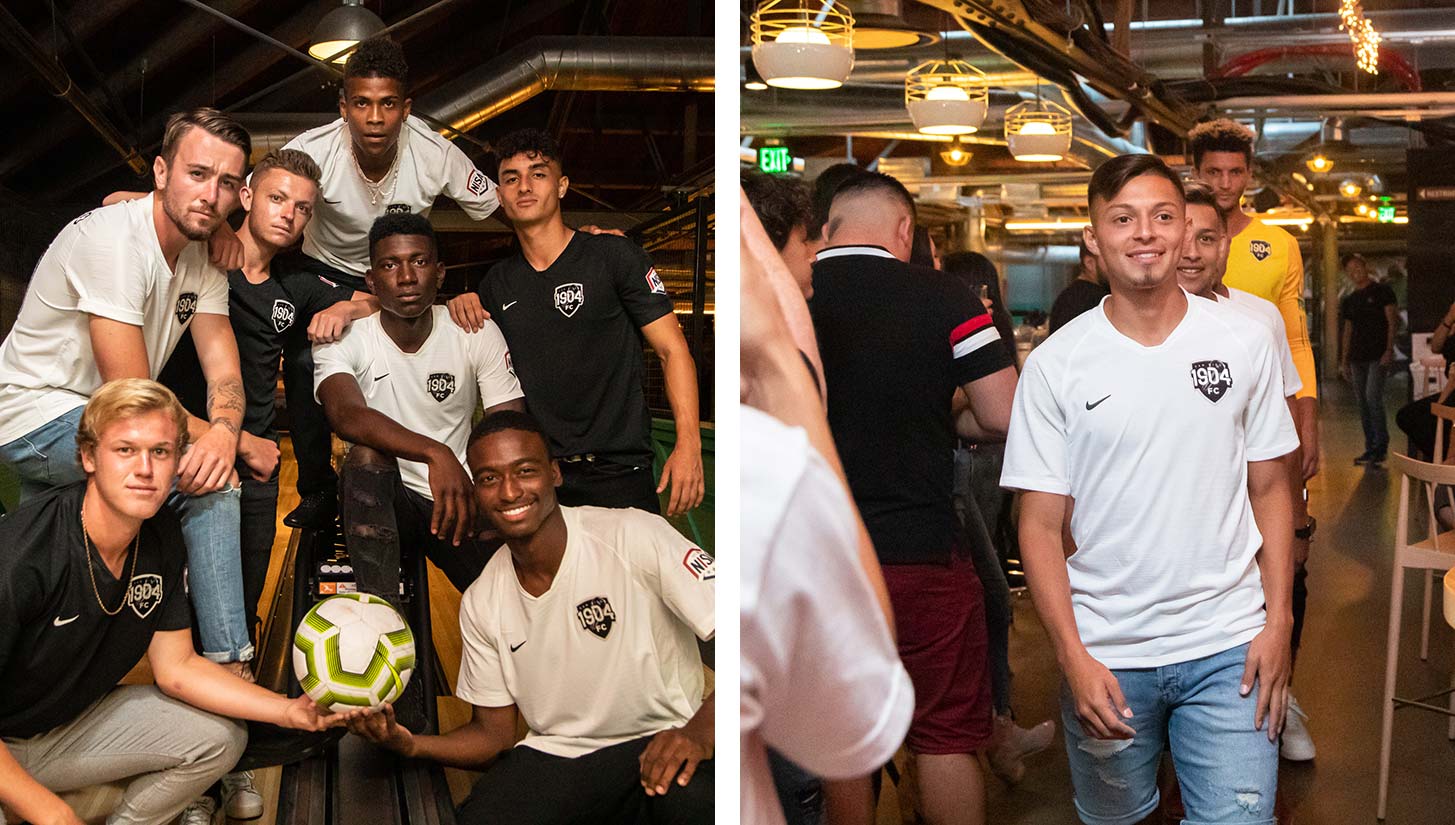 In order to connect with the soccer community already in San Diego, 1904 FC holds hangout events at local restaurants and breweries where prospective fans can interact with players and staff.
"We have to know each other, we have to learn from each other," Chandara said. "Because again, we are people from Europe and we are the ones who have to adapt in the local culture."
Jimenez, who's a craft beer enthusiast, went to a few of those hangouts and had a similar takeaway.
"I had a nice long conversation with Alex Gontran at one of these, and he listened to everything I had to say," Jimenez said. "He was very intrigued about the culture, and he was just like, 'Yeah that's exactly it, and I totally agree, but I also feel this way,' and then he gave me his point of view. His vision for what the club could be was very, very interesting."
View this post on Instagram

In other moves to engage with the local community the club has also held a ticket tournament with Bridge Barkada, a San Diego street football collective, and passed out merch at other community events like the Adams Avenue Street Fair.
On the Pitch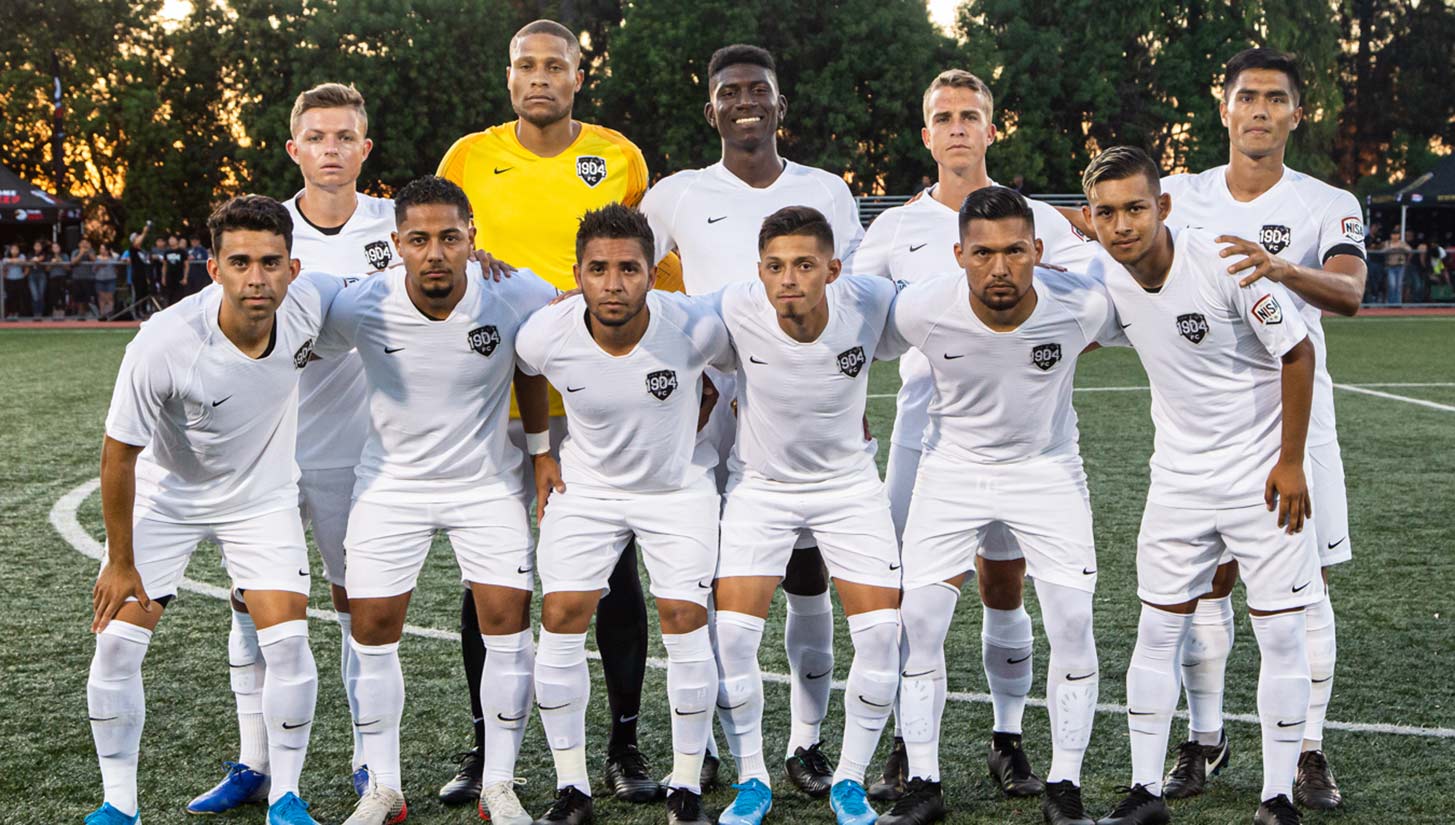 Gontran's vision for the club on the pitch starts with local talent. He and Chandara held multiple tryouts last month and the club ended up taking 10 players as a result of the deep talent pool in the San Diego area. The club's roster also includes eight players who played in the U.S. national team youth setup at one point.
After filling out the roster, Gontran focused on implementing his style of coaching, a mix of what he learned playing soccer on the streets of Paris and the different styles of play he saw at his academies in Asia and Africa. He believes street football will help the players activate their decision making process, allowing them to play more freely by eliminating overthinking things from their game.
ICYMI: 1904 FC vs Cal United Highlights pic.twitter.com/xl5JASEjL3

— 1904 FC (@1904_FC) September 16, 2019
"You play on different fields, you play with adults and with kids, you sometimes play with a ball that's not good, you play without goals, and you have to adapt," Gontran said. "But it's still the game. And you have to play."
Gontran's coaching puts an emphasis on creativity, adaptability, and finding solutions on the pitch which, when combined with the athletic culture within the U.S., could yield extraordinary results.
With the offensive backgrounds of the club's owners, it's no surprise 1904 FC lines up in a 4-3-3 formation, always aiming to play attacking football. Ideally Gontran wants his team to play like Messi and Barcelona from a few years back.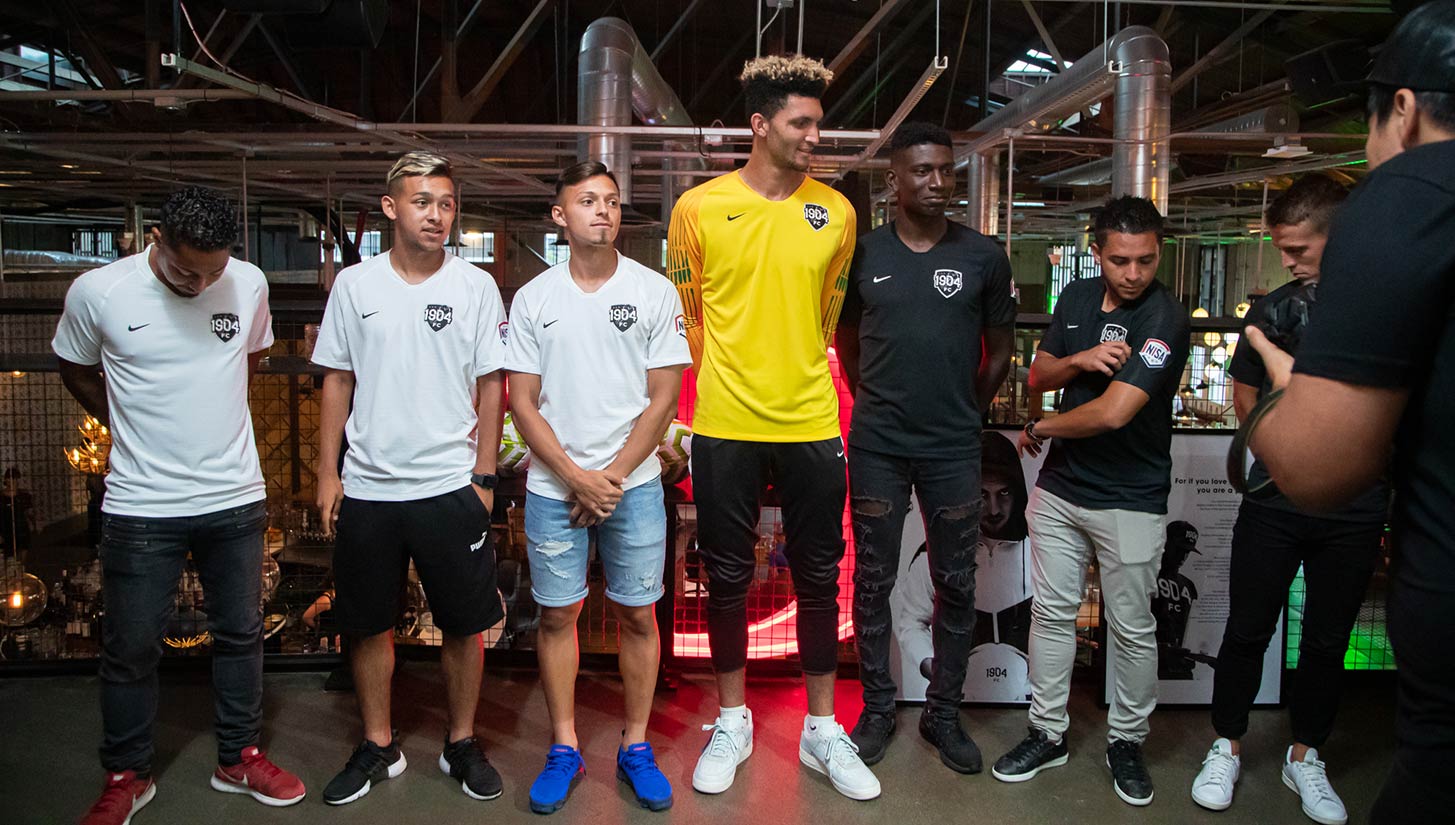 "If we can play short, close to the opponent's goal, then we can find opportunities. It's more my way of playing," Gontran said. "And we have to play very high, and we want the possession. I think it's not really strange, it's like everybody, but we are focusing on doing that every day."
The club is currently participating in the NISA Showcase, which is a fall tournament featuring NISA clubs prior to the league's inaugural season in the spring of 2020. But while their official debut looms in the future, the revolution in San Diego has already begun.
All photos courtesy of 1904 FC. Be sure to follow 1904 FC on Instagram and Twitter, and shop their merch line via their online store.