Only eight teams remain at Qatar 2022. We preview all four World Cup quarterfinal matchups, breaking them down into categories ranging from best kit clash to biggest upset potential.
The World Cup has been a dazzling display of the beautiful game, with existing narratives being cemented and new storylines emerging with every match. Cristiano Ronaldo and Lionel Messi are trying to add the one piece of missing hardware to their expansive trophy cabinets. Brazil is looking to win for Pelé, who has been watching the World Cup from a hospital in Sao Paulo as he recovers from a lung infection.
At the same time, young players like Kylian Mbappe, Vinicius Jr, and Cody Gakpo are aiming to build the narrative that will set their careers into full gear (Mbappe having already lifted a World Cup with France). But, like every World Cup match, there are individual storylines that pop up. Here is how we see the 2022 World Cup quarterfinal showdowns playing out.
Biggest Upset Potential: Morocco vs. Portugal
Every World Cup, there is a team that slips through the group stage without much fanfare. It quietly wins its games and gets matched up with a proverbial giant in the round of 16. Typically, these teams are considered "middle of the pack," or lucky to get through their group.
In the case of Morocco, this is a side that is rounding into form at the perfect time. The Moroccans aren't overly flashy (except for their wingers, Sofiane Boufal and Hakim Ziyech), but they are well organized, have an excellent goalkeeper, and have a team spirit that seems to grow with every passing day.
Portugal, on the other hand, is in the midst of a media storm as Ronaldo continues to act in a way that only he can. The team's great performances are overshadowed by how CR7 reacts to a teammate scoring a goal, or what he most recently said to Piers Morgan. Coming off the high of a 6-1 thrashing of Switzerland, the Portuguese team will need to temper its expectations and go into the quarterfinals with a clear mind and pure concentration, as Morocco's defense is typically more organized than what Switzerland was able to offer up.
Morocco enters this game as an underdog (and a big one), and as we have seen in this tournament, underdogs keep finding a way. Morocco's quiet confidence is exactly what it needs, and I wouldn't be surprised if it wins a gritty, cagey, and otherwise defensively intense matchup against their Mediterranean Sea neighbors.
Best Kit Matchup: Croatia (Away) vs. Brazil (Home)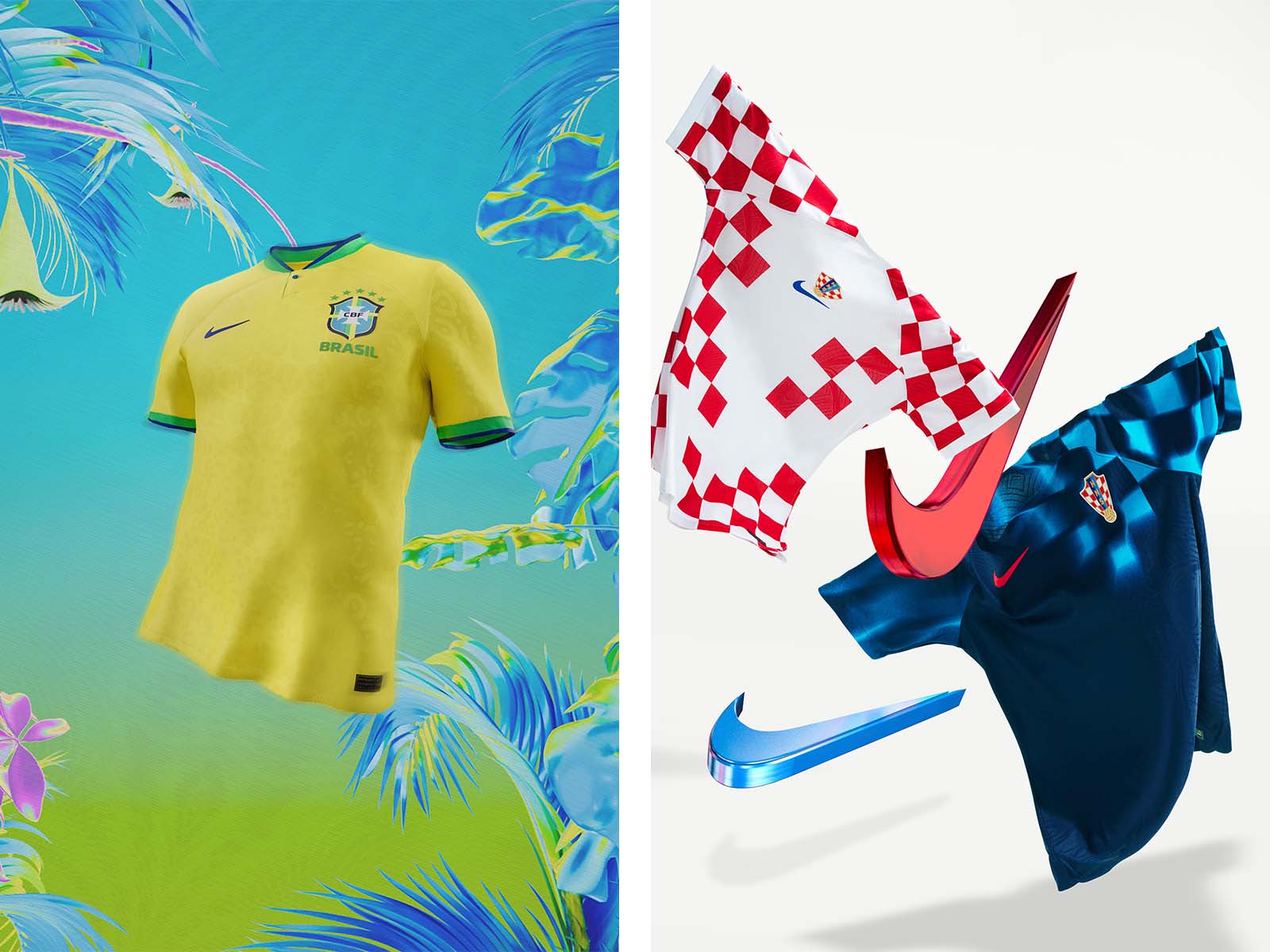 Croatia has sneaky good kits for this World Cup. The typical "chequy" (checkerboard) pattern has been remixed and given more fluidity to match the liquid football the team has been playing. My personal favorite is the away kit, which features a deep blue base with a light blue checkered pattern on the shoulders. And while this may be hyperbolic, the dark blue needs to match the dark intensity the Croatians will need if they are to overthrow the tournament favorites, Brazil.
Brazil, on the other hand, has been serving some serious flair all tournament, and a return to its classic yellow and blue ensemble is exactly what the team needs if it wants to keep the Joga Bonito vibes rolling all the way to the finals.
While this kit matchup isn't the most flashy, the modernization of one kit and the historical reverence for the other make this a beautiful matchup between a golden Croatian generation and a sleeping Brazilian giant that is roaring awake.
Most Contrasting Styles: Netherlands vs. Argentina
For better or for worse, the Netherlands plays a game that takes full tactical commitment to a player's role. In contrast, Argentina plays with a mix of players that flow more beautifully than water, and warriors who do not fear even death itself. And while the Netherlands plays a beautiful style of football in its own right, it doesn't win through individual brilliance (in most cases) and instead chooses to attack its opponents through positional overloads, quick passing, and rarely losing its shape.
I expect this game to be exciting as both teams try to figure each other out, as their intrinsic strengths line up with what either team guards against.
Will Messi and Co. be able to break down a defensive line that moves in unison like the finest trained orchestra? Or will Virgil van Dijk and his band of perfectly positioned midfielders out duel the fearless warriors of Argentina?
Most Exciting Matchup: England vs. France
England versus France. A matchup as old as modern European civilization. While the rivalry has simmered down from the heights of the Anglo-French Wars of the 1700s, come Saturday, these teams will reach a fever pitch. France's blistering speed up front and an English midfield which is undergoing a revolution not known since Bonaparte, will force both teams to be wary of the counter.
Expect the first part of the game to be cagey, with both teams trying to establish physical dominance before unleashing their flair onto the suspecting but nevertheless scared defenders.
When the likes of Mbappe, Ousmane Dembele, Phil Foden, and Marcus Rashford hit the field, sparks will fly.
Can England take another decisive step towards bringing it home, or will France continue to show why it should be favorites in this tournament?