MLS Season Pass has recently rolled out on Apple TV. And by the looks of things so far its…pretty good? 
A new MLS season is upon us, and the anticipation that has been mounting since the thrilling 2022 MLS Cup Final is reaching its peak. There are plenty of things to look forward to in 2023, including a new expansion franchise in St. Louis City.
A new club means new opportunities for players to make their marks, whether they be journeymen veterans, international players, or a DP. But what makes the ramp up to the 2023 season particularly interesting has nothing to do with the players or even what's going to happen on the field.
By now, anyone who has followed the league knows about the surprising 10-year TV deal MLS signed with Apple last year. The omnipresent tech giant had been rumored to be involved in bidding, but the only other previous live sport it offered was Friday night baseball — one day a week, not the home of an entire league. However, Apple seems confident that it can succeed in this ambitious endeavor, betting on itself to the tune of $2.5 billion. Worldwide exclusivity could also set a precedent for other leagues across the world to follow as well.
So, What Does This Actually Mean?
There is a lot to unpack, both good and bad. One of the biggest takeaways and potential hurdles for growth in viewership and fandom is with this deal, MLS is entirely on its own.
In the past, MLS streaming lived on ESPN+, which also included La Liga, Bundesliga, the FA Cup, and the U.S. Open Cup. The other leagues and competitions all together made the price a lot easier to swallow. Now, the only soccer you get with Apple TV is MLS (Ted Lasso doesn't count). Without knowing the quality of product, this rightfully had a lot of fans concerned.
The pricing has since been released to mixed reactions: $79 per year if you already subscribe to Apple TV+, and $99 if you do not. It ain't cheap for one league. It was also announced that there would be no local broadcasts for teams, and Apple would have its own announcing teams for every game.
If you had a good home broadcast crew this sucks. I loved the Sounders pre- and post-game shows, which featured former players that can give good insight to the team and club that you don't get from personalities. However, this move can also be good if you are stuck with a local broadcast that doesn't do a great job. This gets at the crux of the deal for me: It's on a team-by-team basis if the Apple deal is "good" for the fans. For every team that's losing a good local broadcast, a team that deserves better is ostensibly getting an improved product.
It's not all doom and gloom with the deal though, even for teams that have a good media setup already. First and foremost, no blackouts, ever. I think this is hugely underrated. To be clear, I am saying this as someone who lives outside the market for his hometown team, yet I couldn't watch games of the team I lived in the city for.
In fact, at one point I was staying in Holtville, California, a cool 220-mile drive from Los Angeles and I was still blacked out on ESPN+ from watching LA Galaxy or LAFC. No blackouts will make it easier to follow a team, and for the cost of going to two or three games you can get the entire season for every team streamed. That's a good deal for a fan of any MLS team. There is now an avenue for following (and watching) your hometown team without the requirement of going to games.
Blackouts aside, that is still a hard pitch for casual and new fans to pay an upfront cost.
And Then It Went Live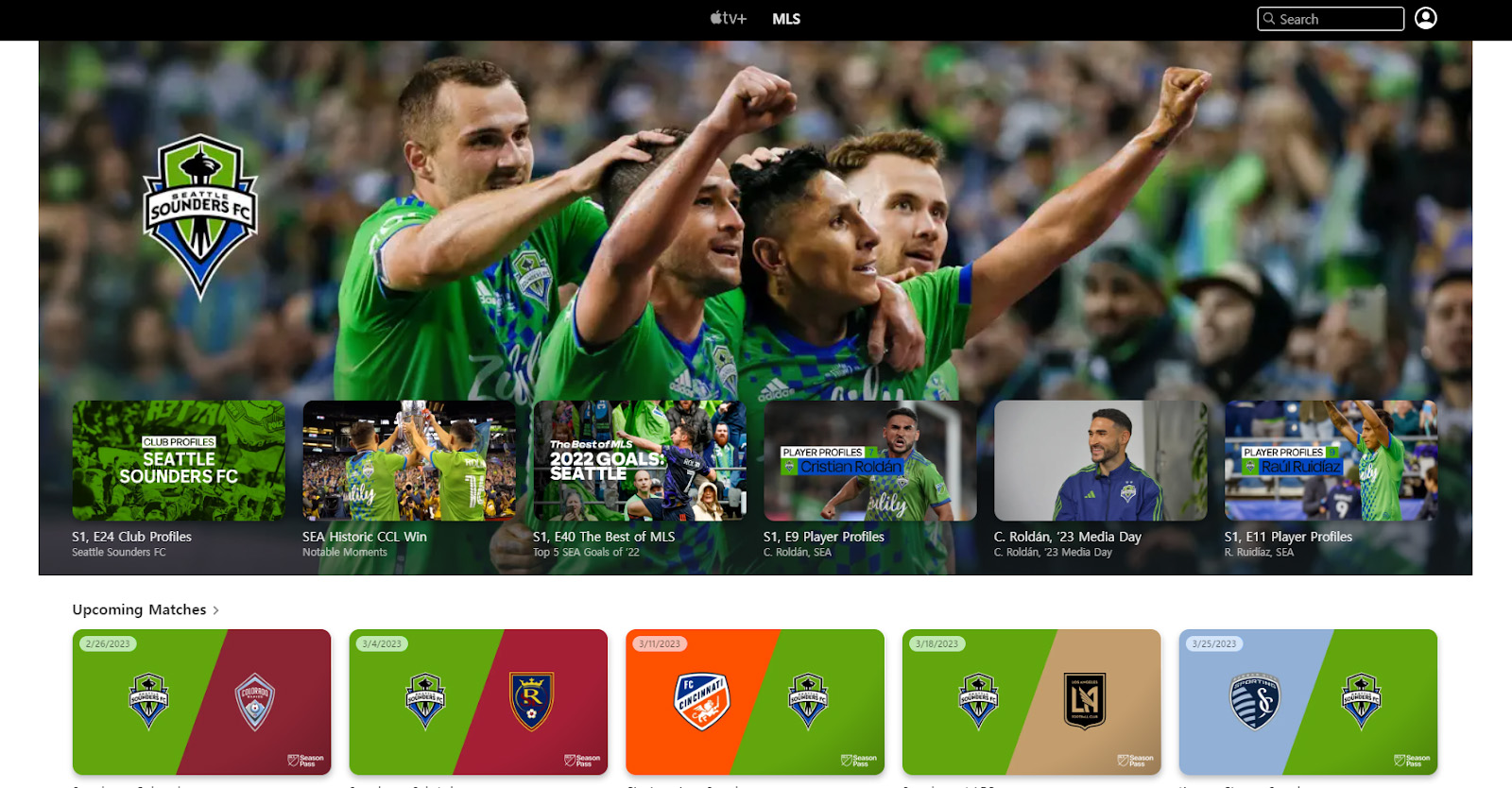 About a month or two before Apple x MLS went live, The Athletic's Pablo Maurer tweeted about a document he got a hold of that outlines requirements from clubs on content they were required to provide. From player profiles to supporters' group features to club history rewinds, each team would be producing video content to live both on Apple TV and social media channels.
This was an indicator that things would be different. A big gripe about prior MLS broadcast deals from fans was that outside of simply airing games, ESPN and FOX didn't really do much else.


On ESPN, Taylor Twellman had a short-lived wrap-around show that recapped action from around the league, in addition to the pretty underwhelming We Are LAFC docu-series, but that was it.
Even on gameday, finding the match you were looking for was cumbersome, and oftentimes it would start late due to some form of college sport going into overtime.
MLS is heading into uncharted territory with Apple, but we can't forget what we are leaving behind. We'll now be getting multiple weekly and monthly season-long short form shows, some centered around history, players, specific games, academies, and more — it's a comprehensive list. And then it went live.
On day one, Apple has already provided more content outside of games than ESPN and FOX had in their entirety. It doesn't matter that the content itself isn't made by Apple — previous broadcasters could have required this and used it to create a library of content, but they chose not to. Another sign that Apple is prioritizing MLS: Before you have even logged in, MLS is called out at the top.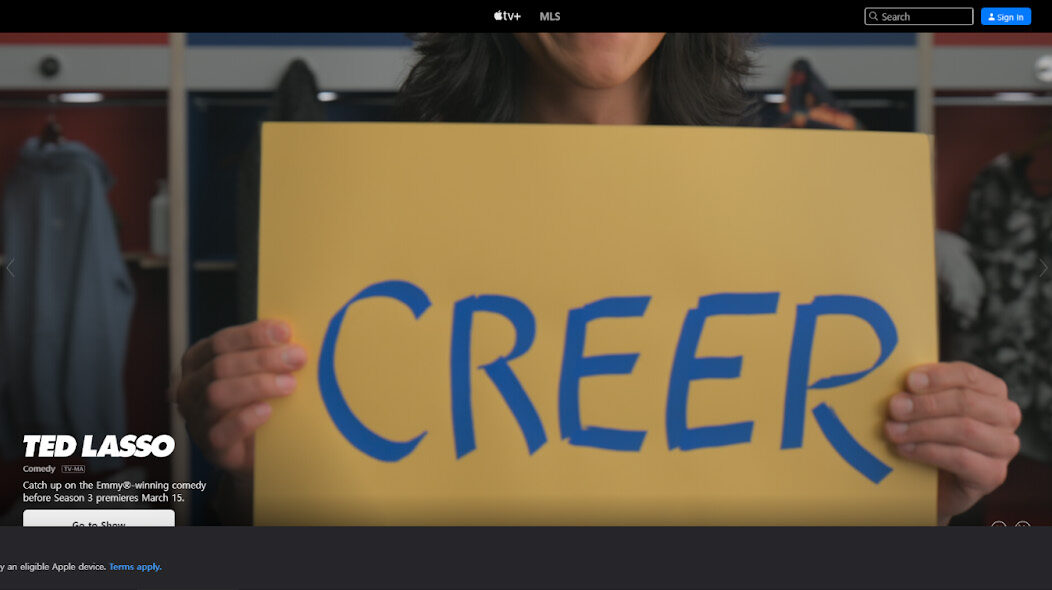 A lot of this content was ready from day one. If you are on the fence and look through what they offer it's really impressive. You can learn about the history of the league through past finals, players, and even iconic moments, as well as having features on current players and ongoing season highlights. It's what you'd expect from a service dedicated to a single league.
The depth is real, I've watched all the old finals for the first time because of this. I knew Carlos Valderrama as the crazy hair dude from Backyard Soccer, now I've actually seen his MLS highlights. It goes further too, each club has its own dedicated page with upcoming matches along with highlight and feature videos.
While this can be a great deal and even a good value, the reality is it's still behind a paywall, and for a league that hasn't seen a lot of growth in viewership numbers over the years that is a huge risk. This content can be amazing (and some of it really is), but if people aren't watching it, the quality and even its existence become moot points. Apple has announced that six games a week will be available for free without an MLS Season Pass subscription, which is great, but I want to know what (if any) of the additional content will be free. If someone logs in, will they have access to the local or closest MLS team's videos? Keeping all of it behind a paywall would be a huge mistake. Make the club/player profiles and their "ritual" videos free for every team.
There is more that is exciting about this deal too. Apple plans to have pre- and post-game shows for every match, something that has never happened before, as well as a whip-around show. With that, we also have MLS scheduling a majority of its games on the same day (Saturday). Apple has also announced who will be the faces and voices of their broadcasts with 31 in total. It's a good list, all names we recognize from ESPN, FOX and club broadcasters.
I'm obviously a fan of what Apple has put out thus far, and see a ton of potential in Apple and MLS, but we haven't seen the most important aspect, an actual game. MLS' VP of content tweeted out we should not expect random close up field level shots that make us miss action, which should give us hope that the game broadcasts will also be as well thought out as the additional content. But if the games suck, so does this deal.
It's too early to say one way or the other if it's worth it and we probably can't say until next year. Will they refresh additional content and does subscription grow? It's a huge risk to leave broadcast TV for a digital first approach. No other major sports league does this. Will MLS be a trend setter or will the deal flop?
There's a lot to already like and more to look forward to, but only time will tell how the new broadcast deal between Apple and MLS ends up shaking down.