Earlier this season, it was rumored Serie A giants Inter Milan could end their 26-year kit sponsorship with tire manufacturer Pirelli. Unfortunately last week both companies officially confirmed the news, signaling the end of an era. We decided to take a look back at some of the top Inter Milan-Pirelli kits over the years. 
Is there a more iconic duo than Inter Milan and Pirelli? In the pantheon of all-time pairs they're up there next to peanut butter and jelly, Los Angeles and traffic, alcohol and bad decisions, and mini Butterfingers and nacho cheese. OK maybe not that last one, but shoutout Shea Serrano for that movie theater snack pro-tip. What a life hack for adventurous eaters.
Together since 1995, Inter Milan and Pirelli could've had a kid that graduated college by now. For many in the soccer sphere, it's been a constant since they fell in love with the beautiful game. It's tough to even imagine a world without it.
Yet here we are, on the precipice. Last week, SportsProMedia reported on the break up, citing Inter's apparent desire for a more lucrative main kit sponsorship deal than Pirelli could offer. So, we thought it would be a fitting tribute to peer through the archives and highlight some of the sauciest Inter Milan-Pirelli kits.
2019-20 Away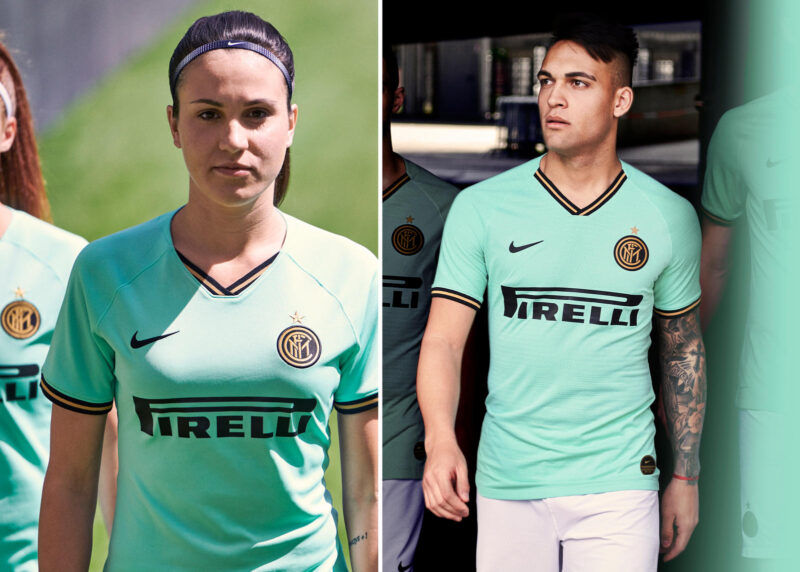 We start off with a newer offering. Inter's away kit from last season is just straight buttery. The spectacular and seldom used aquamarine color contrasts nicely with the black and gold trim on the sleeves, collar, and crest. The kit also pays homage to the goalkeeper shirt club legend Julio Cesar wore during Inter's historic treble winning season in 2009-10. While this kit still looks good on the pitch, it also transcends sport into the fashion space. Elegance.
2019-20 Third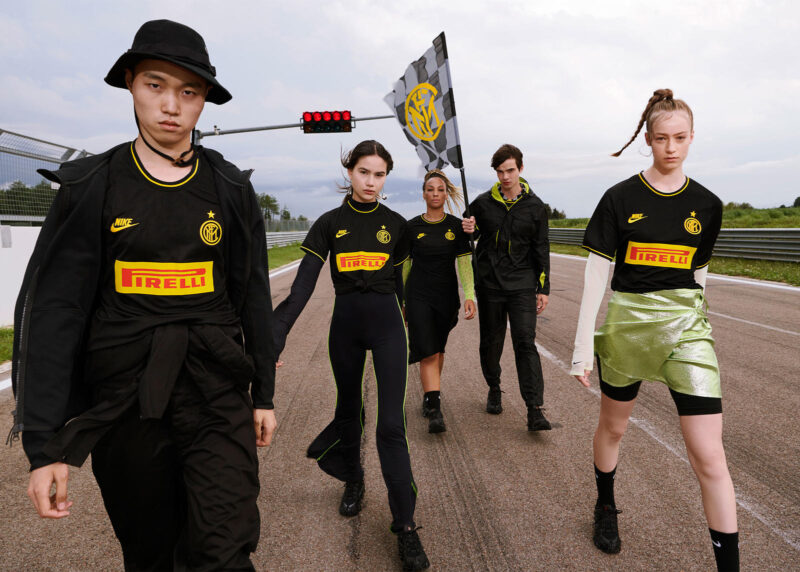 In the very same year, we got another similarly transcendent offering. Again inspired by the '09-10 season, the black and yellow kit is also a nod to one of the most iconic Inter kits of all time, the 1997-98 third (more on that later). Small details elevate this kit into collector status, including the retro Nike Swoosh logo and the red Pirelli sponsor over a yellow background, which compliments the blacked out look well.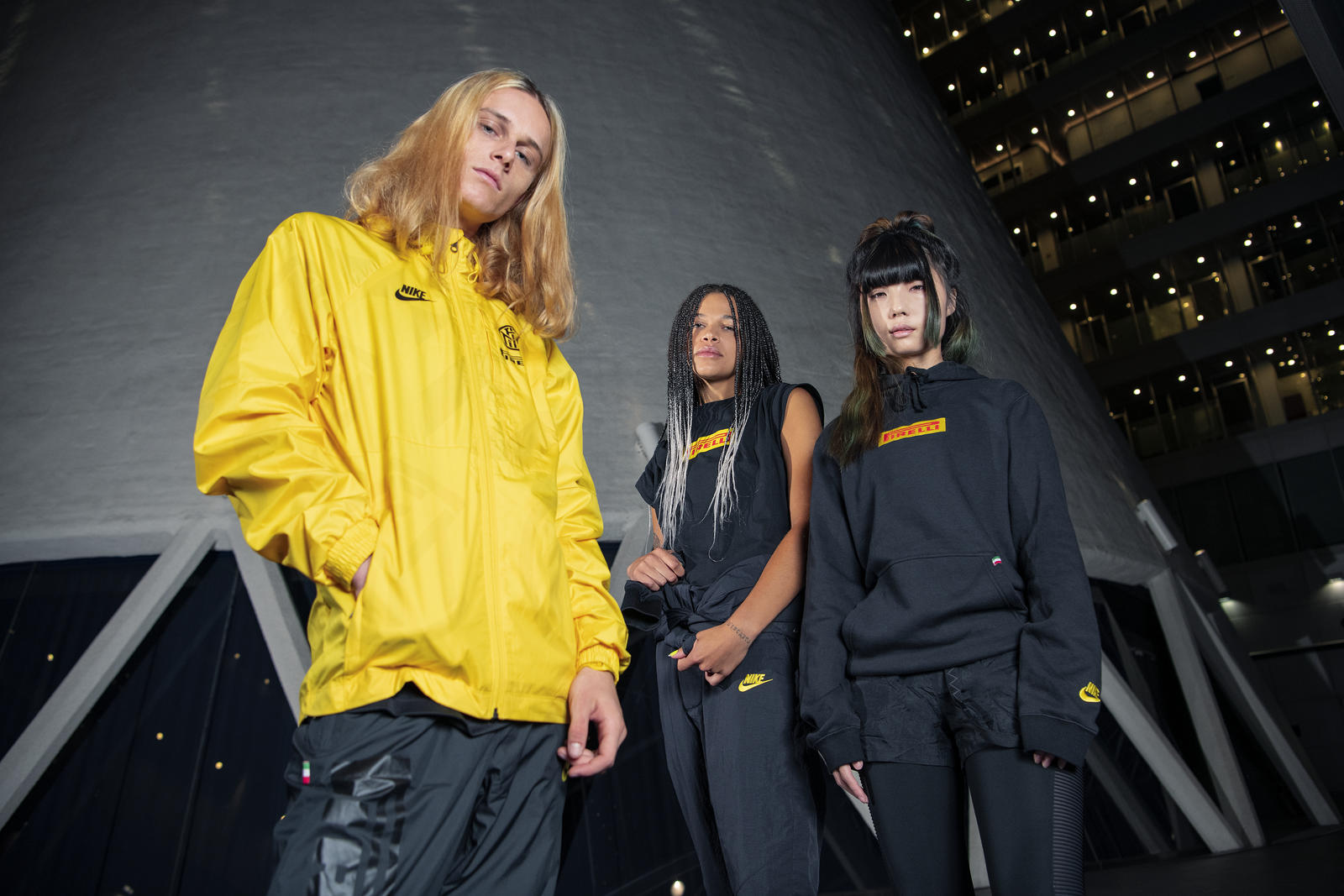 The kit also allowed a further showcase for Pirelli. It was the base of a "Racing Collection" that highlighted Inter's long ties with the tire company. Nike dropped a handful of motorsport-inspired jackets, hats, and other apparel in honor of Pirelli's racing roots.
1997-98 Third
OK that last kit got us all nostalgic and in our feelings, so next we have that Inter third kit from the 1997-98 season. In a different era of shirts, kit manufacturing giant Umbro produced Inter's kits, and designs were wild. This shirt features a black and gray hoops design, with a watermark of the club's crest appearing in the middle of the torso under the hoops. Once again the smaller details make this an elite kit, including the old-school collar, centered crest, and the yellow Pirelli sponsor.
2008-09 Home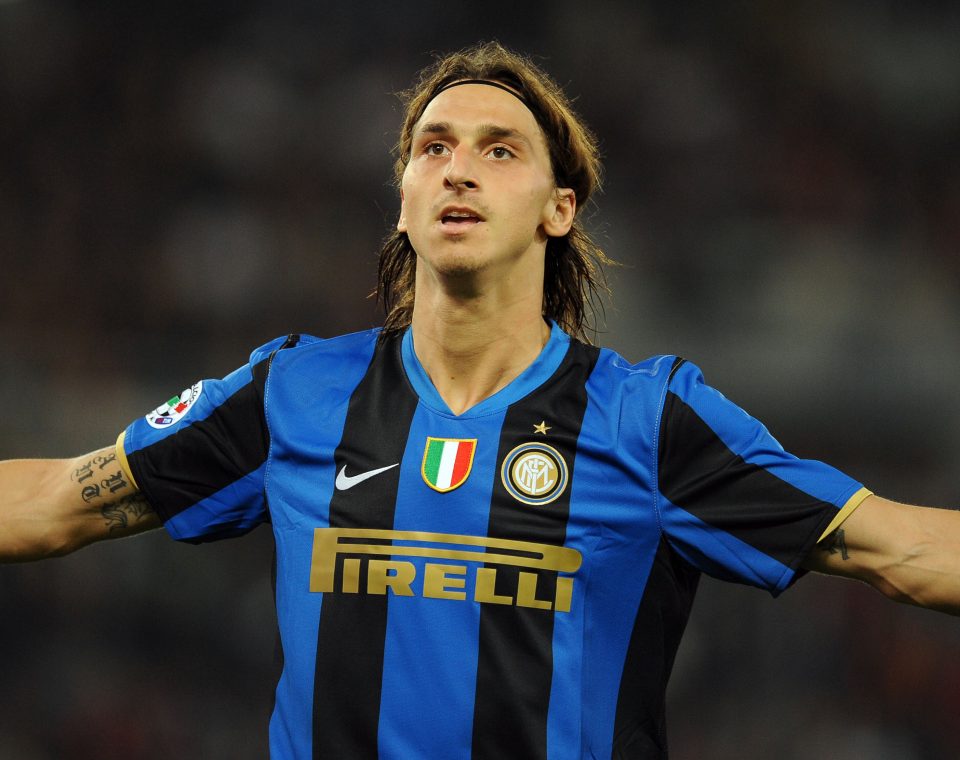 This one's personal because it was one of the first real kits I copped, with Mario Balotelli's name and 45 number on the back and everything. At first sight, nothing about this kit exactly pops out, but it's a great iteration of Inter's classic home kit. The club's home shirt traditionally has black and blue vertical stripes, and the gold trimming on the bottom of the torso and the sleeves is *Chef's Kiss*. And the gold Pirelli sponsor is just the icing on the cake.
2009-10 Away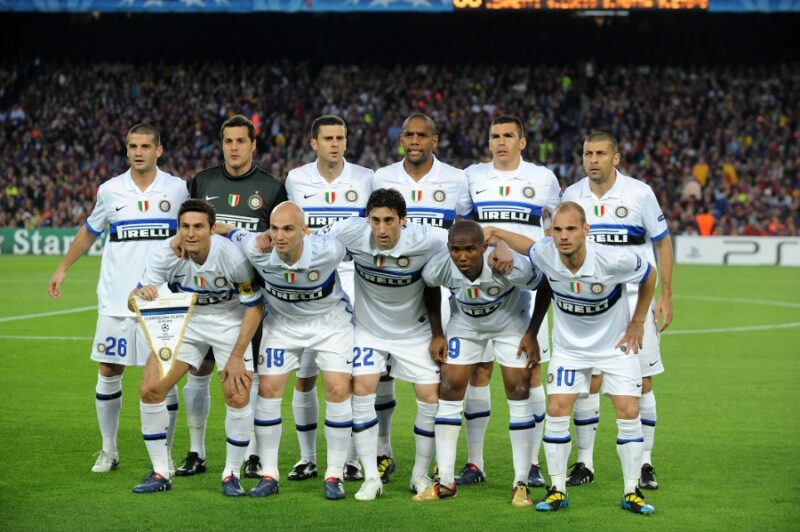 Rounding things out we have Inter's away kit from their historic treble winning season in 2009-10. Maybe it's because of how absolutely dominant they were while wearing the kit, but this one's just memorable. It's mainly white in color, with a single, thick black and blue horizontal stripe across the torso. The white Pirelli sponsor really stands out above it too. And the old-school collar and blue trim on the sleeves is a nice touch. Overall it's a simple kit, yet beautiful.
What are some of your all-time favorite Inter Milan-Pirelli kits? Let us know in the comments below.