Fans of the newest MLS team, Los Angeles Football Club, hosted the second annual LA Supporters Cup this past Saturday, featuring a full day of 5v5 tournament action, music, and savory tacos by Puertos del Pacifico at Outbreak Soccer Center in Signal Hill.
The event brought together not only members of L.A.'s most turnt up supporters groups, or SG's as they call them, it also brought together the greater football community—skilled players from local street crews, business owners, media outlets, and full families of football lovers.
"There's a lot of preparation that goes into the planning and organizing of these types of events," said Alan Chavarria, the event's main organizer who is also owner of Intaktics Soccer and a member of supporters group Black Army 1850. "My goal is to make everyone feel like they had an overall good experience regardless of winning or losing."
The event included an all-day 5v5 tournament with an expanded format of three brackets: a coed Supporters Group, and a men's and women's division. In addition to the six LAFC supporters groups—LAFC Relentless, LAFC Luckys, Cuervos, Black Army 1850, District 9 Ultras, and Expo Originals—the event opened its doors to local businesses and football crews who fielded a range of talent, a move that reflects LAFC's expanding fanbase and efforts to include all sectors of the local football community. Notable squads included HBfutsal, MPD, and local soccer-lifestyle brand On the Volley Apparel.
"The tournament went a long way to build camaraderie among the supporters and positive exposure for the club that we all support," added BA1850's Josef Zacher, whose group was instrumental in producing the tournament. "We also had the privilege to donate uniforms and a team set of soccer balls to a local middle school as a result of this tournament."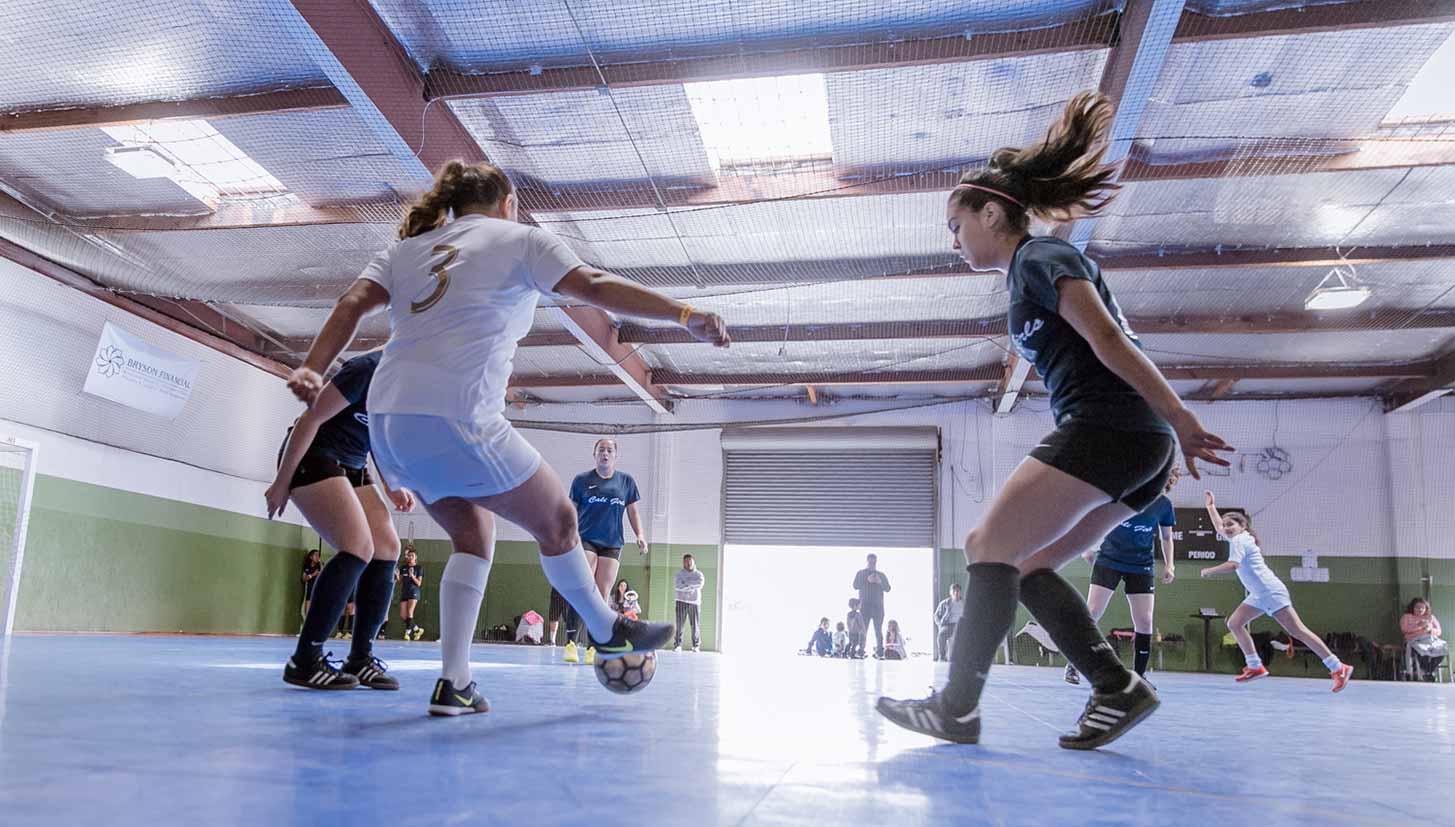 For a club that doesn't yet have a full roster or a single match under its belt, the new kid on the block has built incredible momentum in the form of people power. In fact, LAFC has managed to garner the allegiance of an army of football enthusiasts, and they've done so by working hand-in-hand with local supporters groups.
"I think that the people of L.A. want a soccer club to represent who we are and all of the things that we take pride in about being from Los Angeles," said LAFC Manager of Supporter Relations Patrick Aviles. "People want the club they support to support them back. That means having real relationships with real people, like local businesses, community programs, parents, coaches, players, and fans who make up L.A. soccer culture."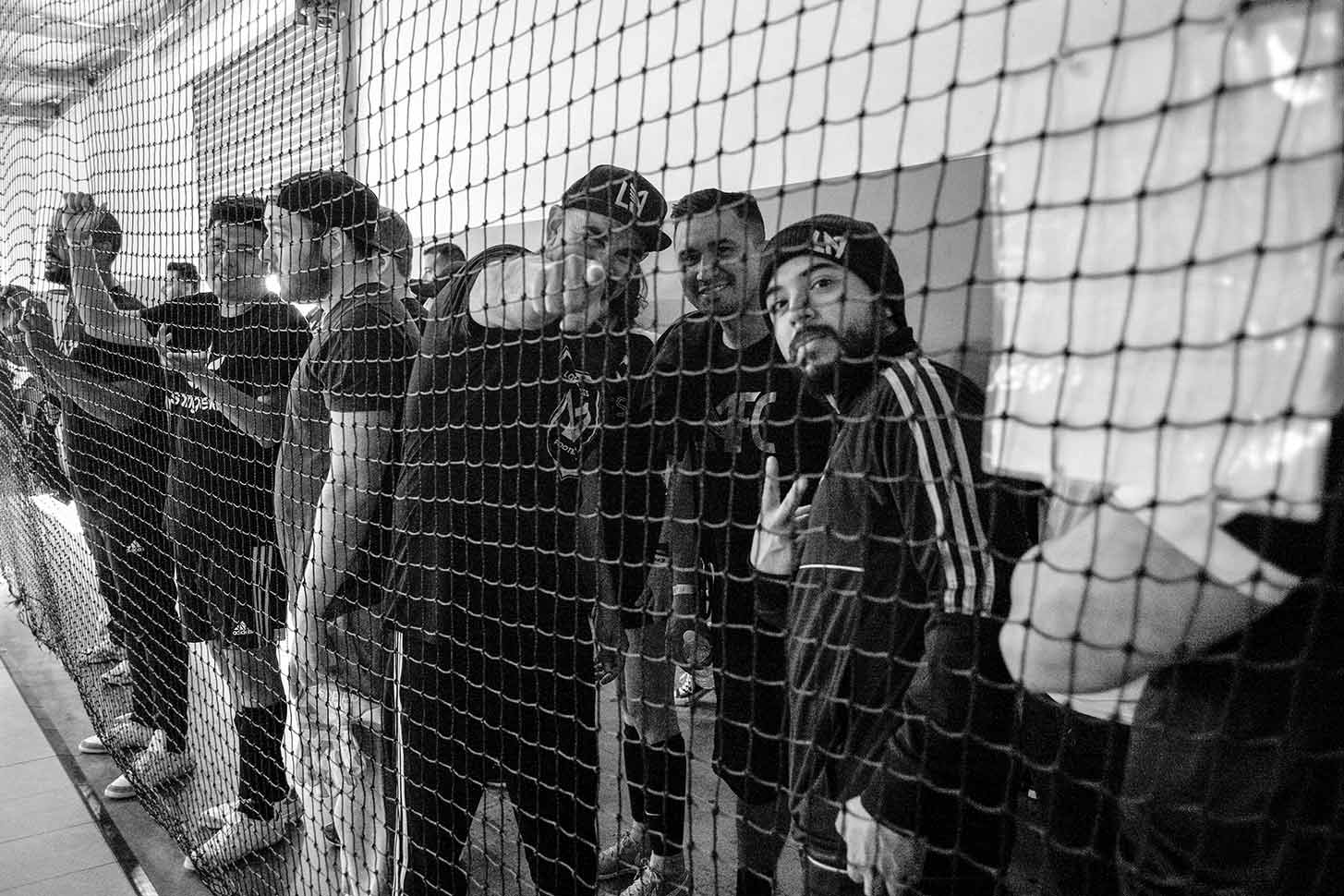 Aviles was on hand to MC the event alongside LAFC SVP of Culture and Community Rich Orosco, who seemed to know the names and faces of nearly every individual in the building. "There are nine professional sports teams in L.A. now with the two new NFL teams. From day one we have said we are building the first Club in L.A. More than a game, more than 90 minutes of sport, it's about a community," Orosco explained. 
District 9 Ultras clinched the victory in the SG bracket, while Cali Girls took home the championship trophy in the women's, and MPD's seriously stacked crew, led by goalkeeper Weston Adkins, made swift business of their competition in the men's, crushing our very own UrbanFutsal LA crew in the finals.
SG's can be thought of as the hype men of a team. They're the individuals responsible for turning up the volume, bringing in the funk, and making sure everyone knows their club name loud and clear. With coordinated chants, drummers, costumes, branded gear, and apparently an endless reserve of oxygen, the groups are essential to building a soccer community around a club.
"We chant 90 minutes love," said District 9's Julio 'Chiva Major' Ramos, whose group changed their name based off the club's new stadium location. "A lot of people ask me, why do you support a team that has no players, no coach? It's really simple, we're being a part of history. You get this kind of chance once in a life. We're building a club, but it's going to be here for a long time."
One of the most attractive elements of an SG is their open-door policy, a willingness to welcome any one, regardless of color, creed, or previous football experience, into the family. Julien Sperling, a former Whittier College player whose crew FC La Habra finished second in the latest Neymar Jr's L.A. Qualifiers, recounted how a chance encounter with a Marie Callender's server got him inducted into the Black Army family.
"I was eating at Marie Callender's with my father, we were both just having breakfast, and he saw me in a soccer jersey, and he was like, 'Dude, do you like soccer? Let me introduce you to the Black Army,' and that's how it all started," he said. That server was BA1850 organizer Jimmy Lopez, who is responsible for bringing many a soccer lover into their fold. "It's a lot of fun interacting with everyone, especially because we all have a common bond, which is soccer. You're not a new member the first time, you feel like you're a part of the family."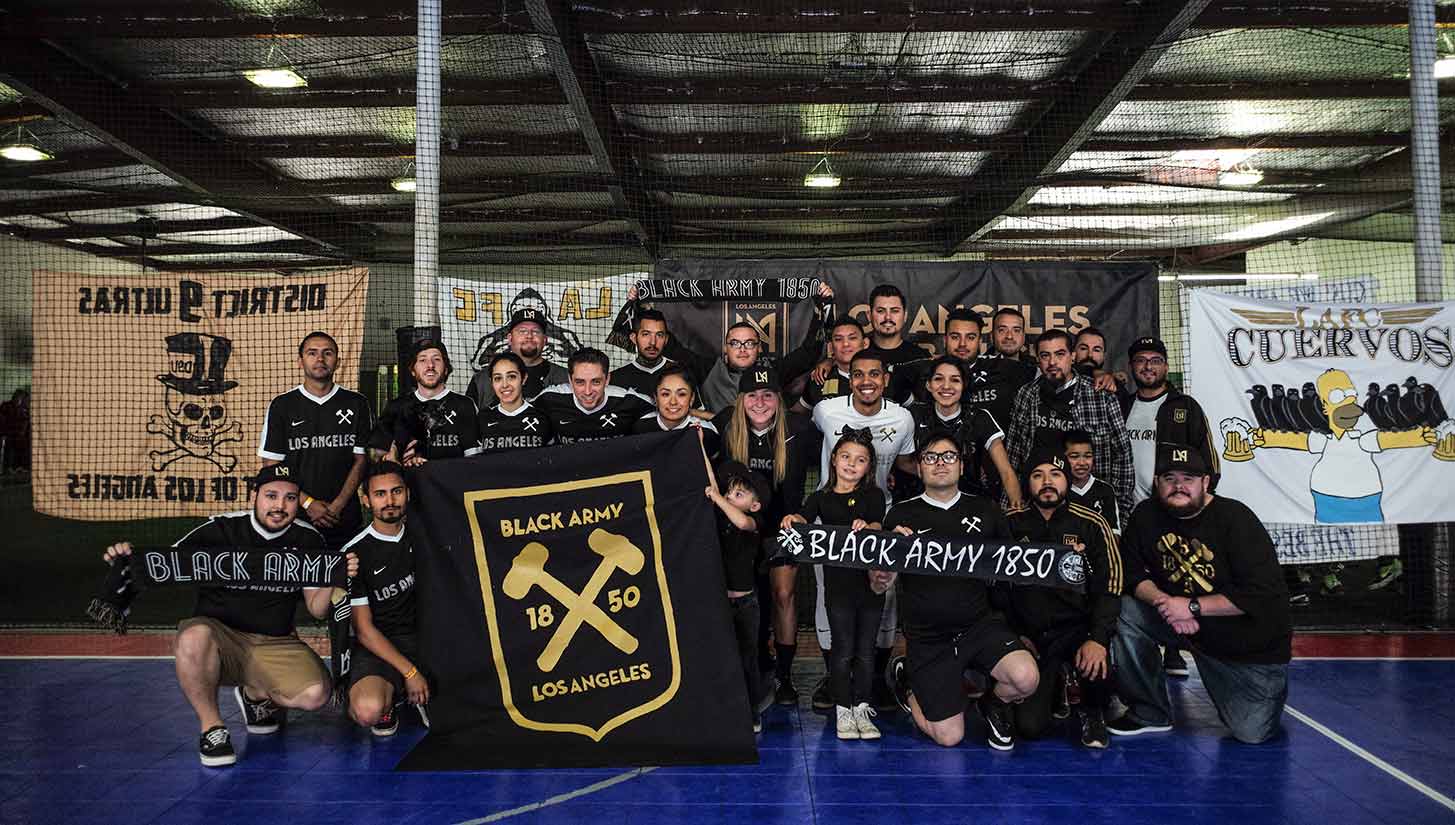 Each supporters group, in fact, has a distinct identity and history. LAFC Luckys dates back to 1996 when a group of expats, led by Liverpool fan Eric Fearon, convinced the late owner of Lucky Baldwins Pub in Pasadena to begin televising European matches. Relentless has ties with Southwest Airlines, making their members uniquely suited to travel to away games and represent their team on the road; BA1850 specializes in '80s parody chants; and a few groups like Cuervos are brand new LAFC SG's. It makes sense, then, that L.A.'s newest franchise looked to the community first for support, a sort of anti-L.A. Galaxy approach—less corporate, more people powered.
"I told them, they're going to run you over like a freight train," said Hank Marchetti, Relentless director of the Santa Clarita chapter, who broke the news to L.A. Galaxy that he'd soon be supporting LAFC. "[LAFC] really supports us. We're not just a number. The club is standing behind us. They're interested in what we as season ticket members and supporters groups really want … We have over 1,600 members right now, total."
With the momentum of the people behind them, anticipation for the club's first year has been high. "They definitely have to win the opening game," said Andrew Ramirez of LAFC Luckys. "The thing with L.A. is that we're so spoiled in terms of team history … so to have this new soccer team, we need to get off on the right foot."
With high expectations, many feel confident in the club to which they've already whole-heartedly committed. "Once they hit the field and have a game televised every week, EVERYONE will know who they are. With the ownership group this team has, mediocrity is not an option," Chavarria added.  
For more information about LAFC, visit www.lafc.com. 
Photography by Imad Bolotok and Idris Erba.