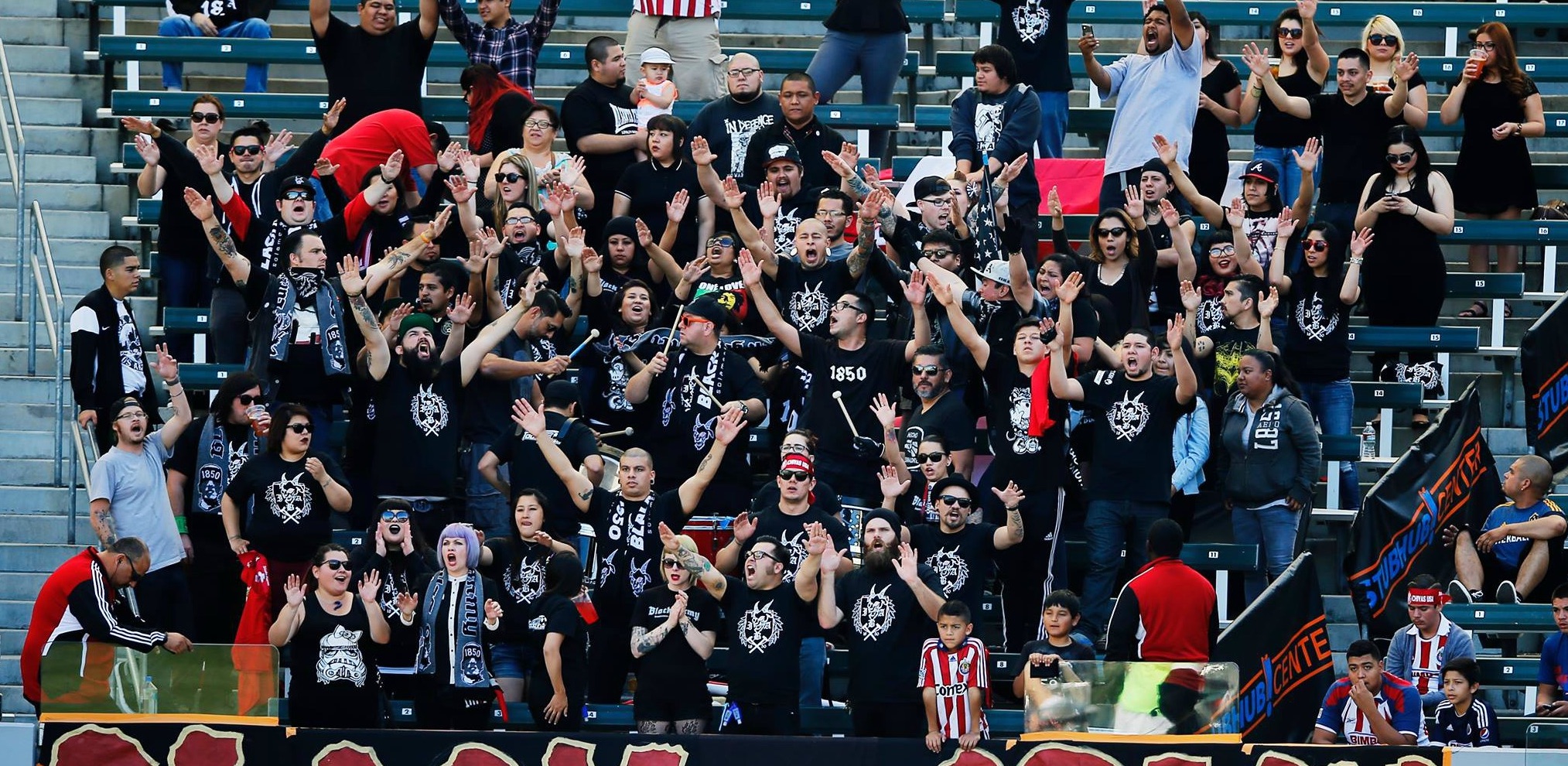 By many accounts, The Black Army 1850 is your dream supporters group—endlessly energetic, fiercely loyal, with an incredible repertoire of 80s New Wave parody songs they'll croon at the top of their lungs (for a full 90 minutes) in support of their beloved football team. But perhaps the most unique trait of this tenacious group is something each Black Army soldier seems to echo again and again: It's all about family.
"We make it a point to be inclusive, where everyone feels involved," said Dino Jimenez, one of the early founders of BA1850, the supporters group for the newly minted Los Angeles Football Club (LAFC). "You get to see kids grow up and everyone becomes family. It's about the community." In fact, the group applies this definition of family to the larger Los Angeles community, and from the beginning have made it a point to fundraise for underserved locals, most recently holding their second annual sandwich drive and futsal mixer at Intaktics Soccer.
It's a way for us to give back, because it's our city.
"We see what type of poverty there is and thought, hey, at least for one day, someone doesn't have to worry about a meal," said Alan Chavarria, owner of the indoor soccer facility, and one of the key organizers of BA1850. Chavarria noted the importance of serving the heart of the city, including the homeless in Skid Row, particularly because the new LAFC stadium will be right in the middle of it all. "It's a way for us to give back, because it's our city," he said.
The group made and passed out over 1,000 sandwiches last year, and sought to break their record this year. (At the time this article was written, sandwich count was over 900!) Chavarria was born in Mexico and along with his family grew up with a passion for the game. When BA1850 approached him in 2012 to hold a backpack drive at his facility, he agreed, and after hearing more about BA's philosophy of getting the "real L.A." involved, he became a member himself.
This infectious nature of the group is a common story with several members, many of whom did not even have a previous interest in the sport until the Black Army came along. Jimmy Lopez was at Disneyland with his kids when he randomly met a Black Army member, a total stranger, who was also there with his family. The two started to talk about soccer, and one thing led to another, and now Lopez is celebrating the group's 6-year-anniversary as one of the core organizers.
It's our love for football. It starts from the streets and goes to the arena.
"At the time, I wasn't too involved with the MLS, but I played indoor soccer," he recalled. In fact, Lopez was more excited about baseball than soccer at the time, but soon after this encounter he was bringing his two kids— Riley, 6, and Miles, 4—to Black Army events and games, teaching them how to chant and drum and fostering the next generation of L.A.'s soccer ambassadors.
"It's our love for football. It starts from the streets and goes to the arena," he said. Lopez also cited the exhilarating performance of the U.S. women's national team as what "brought me back to the sport," including Mia Hamm's far-reaching influence. It's fitting, then, that Hamm is now part owner of LAFC, the team Lopez and many others hope will be a true representation of their beloved city. In addition to fundraisers, tailgates, and of course screaming their lungs out at matches, the group also regularly competes in small-sided tournaments, most recently taking on the LAFC front office in a 5v5 match at The Base LA. (Unfortunately, the teams ended in a draw so a rematch is scheduled for the near future.)
"Soccer is the world's game, and L.A. is known as one of the world's cities," said Josef Zacher, an early founder of BA1850. "I've been going to professional games since I was 2. Since '78, I've had season tickets to every [professional football] team in L.A." Zacher's father was a football fanatic and coach, and immigrated to the U.S. from Germany in 1952, bringing with him a zealous passion for the sport. Naturally, this zeal was passed on from father to son. "I was born with it," Zacher said.
Having literally grown up in the stadium, Zacher knew he wanted to be part of a supporters group that was loud, friendly, and genuinely representative of L.A.'s diverse, "hybrid" style. "You'll hear us before you see us," he warned of the rambunctious and expertly synchronized group. "We're basically the soundtrack of the team. Close your eyes, and you'll know where you're at. It's a measurement of the spirt of supporters."
This vibrant energy is what drew people like Jazmin Castellon to become an active member. Castellon wasn't exactly a football fan before BA1850, but met some BA members through mutual friends and ended up at a tailgate party at 9 a.m. on Saint Patrick's Day. "They have the best tailgates," she explained. "The chanting is so much fun, it helps release a lot of stress." Since joining, Castellon has brought other women to the group, and also her 8-year-old son, who is beginning to play soccer himself and has found one big family in the Black Army.
We want people to start loving soccer. We're going to grow the game. We want people to come together.
"We always make it a big thing that women are involved because football can be a male-dominated sport," Jimenez added. This open attitude to people of all walks of life is reflective of BA's diverse membership. "There are teachers, principals, stay-at-home moms, truckers, waiters, chefs," Castellon listed. "We want people to start loving soccer. We're going to grow the game. We want people to come together. There's too much violence in L.A. when instead people can play soccer."
This investment in L.A.'s diversity is at the forefront of the group, and one of the main reasons Ulises Sanchez helped start it. "The idea was to create something that stood for L.A., more than something Chivas-related," he said. Sanchez explained that before BA1850 was formed, they were part of another supporters group for Chivas USA, which was based in Carson and a subsidiary of the Mexican club C.D. Guadalajara.
At the time, many in the group were not happy with how the supporters were being treated, and several simply did not identify with the club. "After the death of Chivas USA, personally for me, LAFC is the rebirth of what I always wanted," he said. Zacher also cited the group's close working relationship (and friendly 5v5 rivalry) with their new club. "LAFC is probably the most cooperative teams we've worked with. They came in and asked, 'What do you want?' Not, 'What can you do?' Other teams are about restrictions—these are the rules, this is what security says. LAFC said, 'We're going to go to bat for you,'" he said.
… Personally for me, LAFC is the rebirth of what I always wanted …
Sanchez's role in helping grow the group to its now 200 members is even more remarkable considering he grew up "not really into the sport." When he was in high school, Sanchez happened to win a pair of Chivas tickets on a radio show, and at the game saw the then-Chivas supporters group cheering and drumming. He was intrigued, so he joined their online members forum where he met Zacher, aka GameFace. "I didn't even know his real name," Sanchez recalled, and Zacher didn't know him. Nonetheless, Zacher and his father picked up Sanchez in their car one day and brought him to what would be his first of many supporters group events.
We're small but mighty, and we always punch above our weight.
Today, Sanchez is regarded as one of the group's founders and, of course, an incredibly enthusiastic presence. "Unity and strength are big for me. I really try to push the group to be vocal and loud. One of the things I don't like with other groups is they're only singing at certain points of the game. Your presence should be felt all throughout the game," he said. Which is to say, along with community, family, and acceptance, being way, way turnt up is another serious principle of the group. "On a scale of 1 to 10, we're a 10," added Lopez. "We're small but mighty, and we always punch above our weight. It's support you can't buy."
With a new stadium in the heart of L.A. and a club that seems to be embracing its most loyal fans, the Black Army 1850 is highly optimistic about the future of football in their city. "We want to show our kids they're very lucky to have what they have. L.A. is L.A. This is our city. We finally get a soccer team, no more 'Carson Galaxy,'" said Castellon. Those definitely sound like fighting words, but with the grit, fervor, and passion of these supporters, we're going to put our money where they're headed.
Photography by Sotero Delgado. Additional photos courtesy of The Black Army 1850.