The country of Myanmar, formerly known as Burma, is comprised of more than 100 different ethnic groups. Previously the capital until 2006, Yangon is still the largest and busiest commercial city with a population of almost 6 million. It is said that tea and football are equally favored pastimes here, both of which are enjoyed in copious amounts.
Myanmar has been undergoing a gradual liberation process since the end of its military rule in 2011. While access to YouTube and international news websites has been part of this newfound freedom, watching European football while enjoying a cup of tea in one the numerous cafes found on nearly every street corner has long been a favorite activity.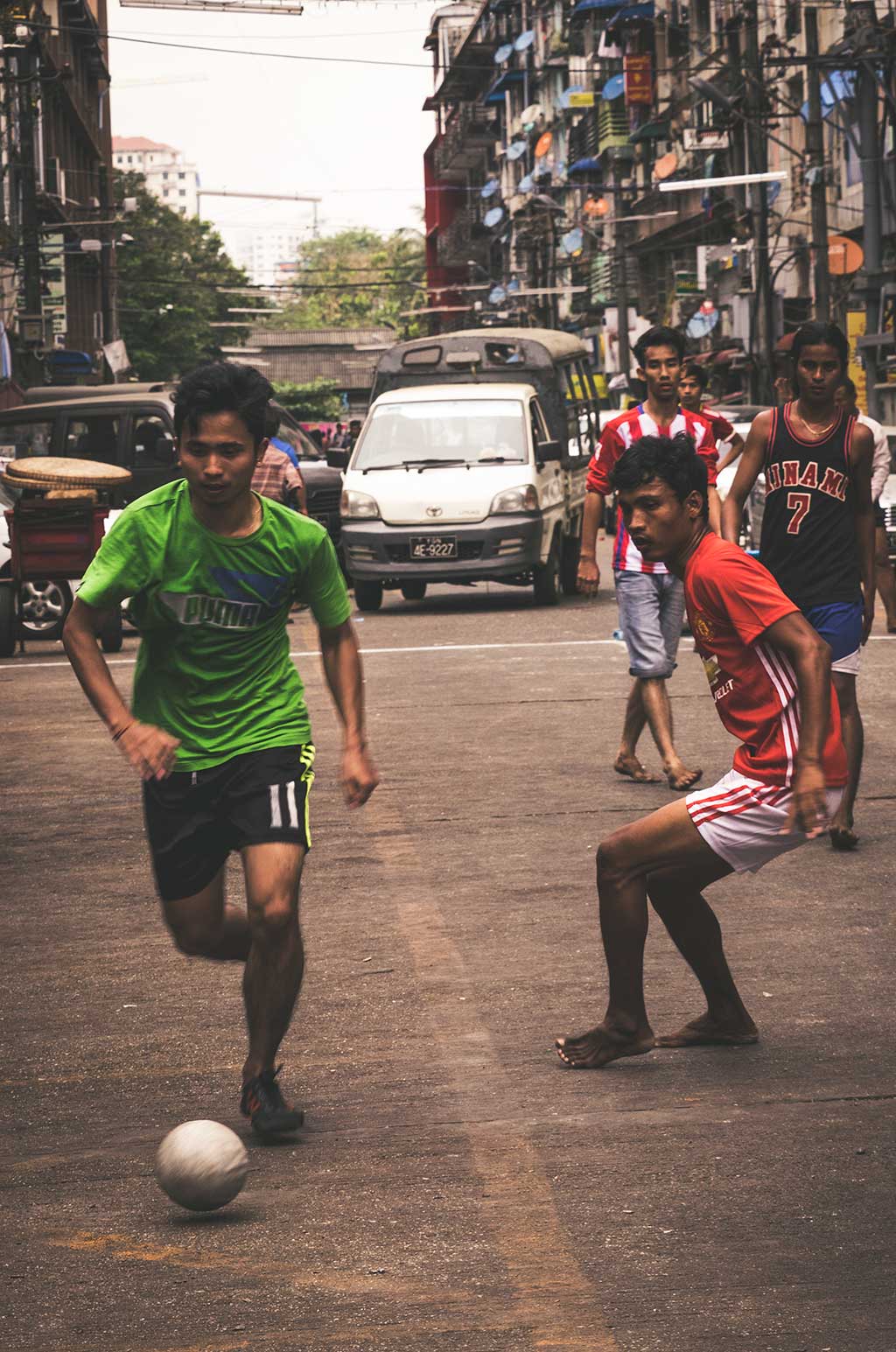 The busy city of Yangon has the largest number of colonial buildings in the region dating back to 1852 when British troops seized a village during the Second Anglo-Burmese War. It is also home to Yangon United F.C., the most successful team in the country's top flight league. The Myanmar National League sits atop a domestic league containing three divisions and is a member of the Asian Football Confederation. Yet like much of the football world, most locals prefer to watch the English Premier League with the occasional Spanish, Italian, and German league matches helping to round things out.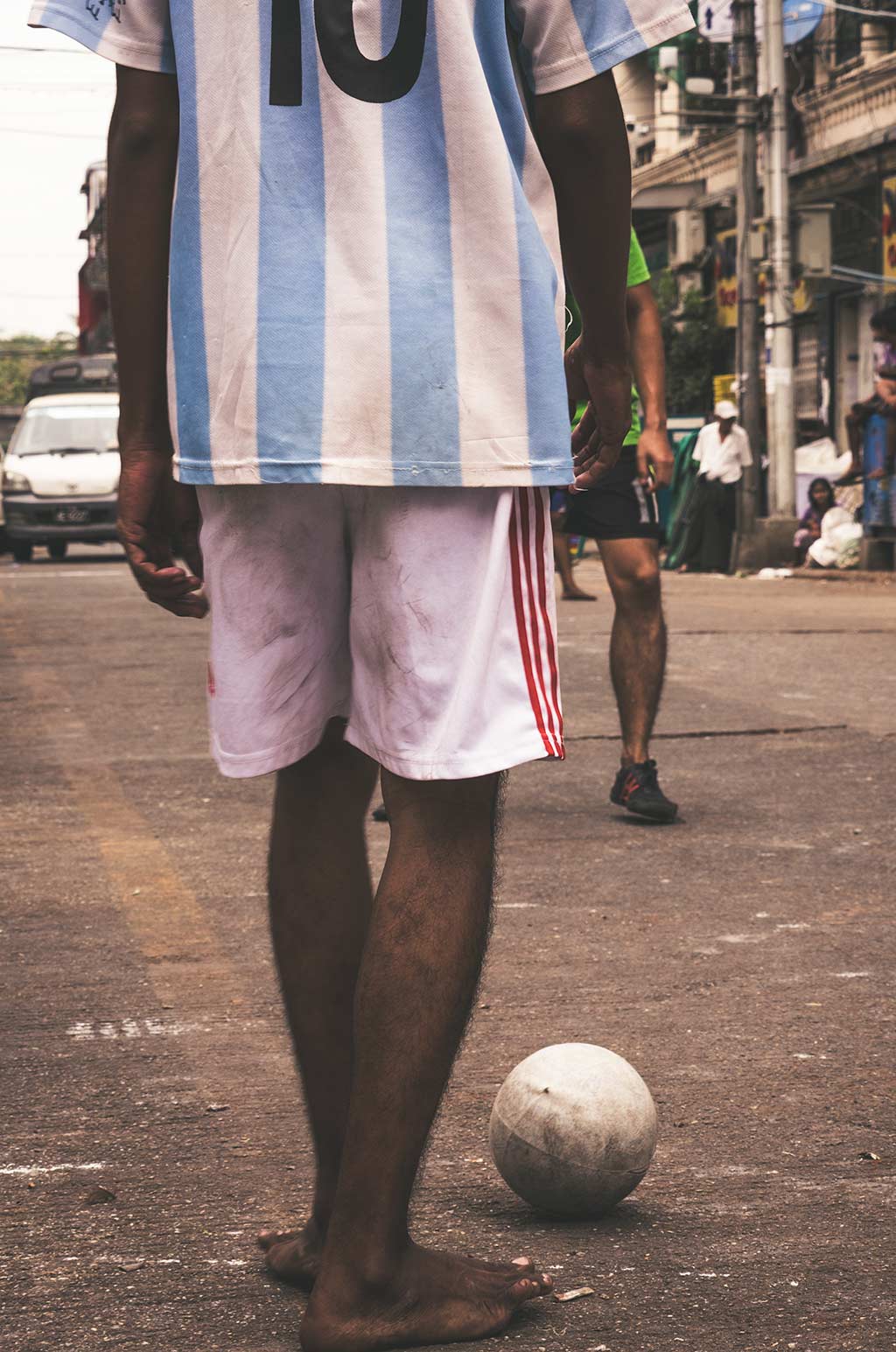 On this particular day, we stumbled across street football being played just off the main street in the heart of downtown Yangon, near the famous Sule Pagoda. White chalk lines marked the playing field, while coaches, substitute players, and an officious referee lined both sides of the concrete pitch, with a small crowd of spectators watching nearby. The energetic match was interrupted periodically by cars and bikes needing to make their way to the main road.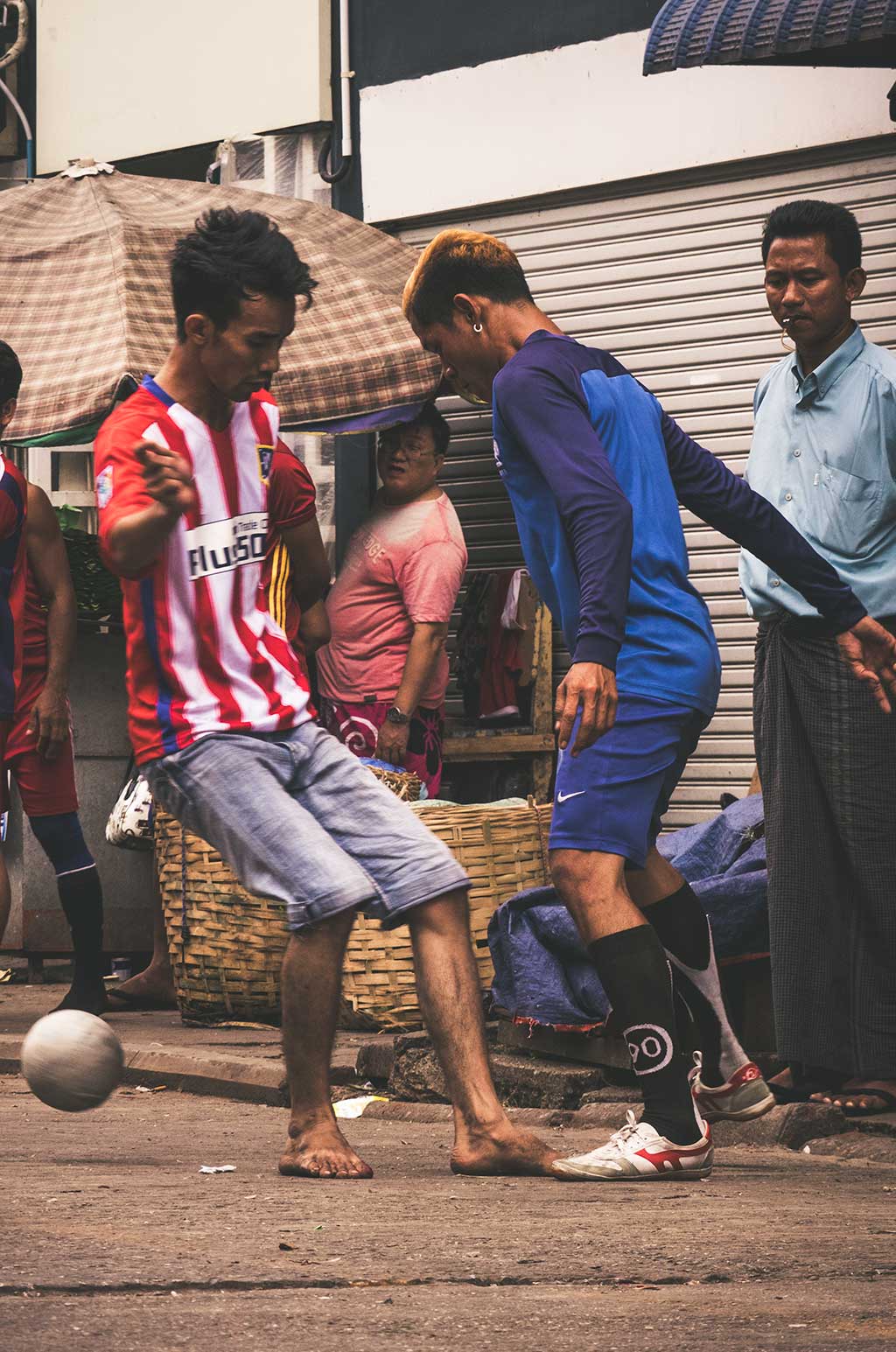 Remarkably, players competed fiercely on the harsh pavement despite not wearing shoes. Following British colonial rule and one of the longest modern civil wars, Myanmar remains one of the poorest countries in Southeast Asia. This stark reality could be seen as some players donned full kits, while the majority wore simple cutoffs, shirts, and used their bare feet.
As Myanmar experiences the pangs of political and social change, reflections of a harsh, complex history are reflected everywhere you look. Yet among the remnants of bygone eras and signs of encroaching modernity, the timeless game of football remains vibrant and alive, practiced at the ground level, and beloved at the very core of the country.
Photography by Niels Dercksen.