A deep dive into ancient civilizations, the Mesopotamian Premier League kits from Icarus FC are also providing a preview of what's to come in the future. We get a look at how the brand is trying out new materials and designs it plans to offer to clients from Icarus FC founder Robert Smukler. 
With a rapidly growing business to run, it's not always fun and games for Icarus FC founder Robert Smukler these days. But sometimes it can be.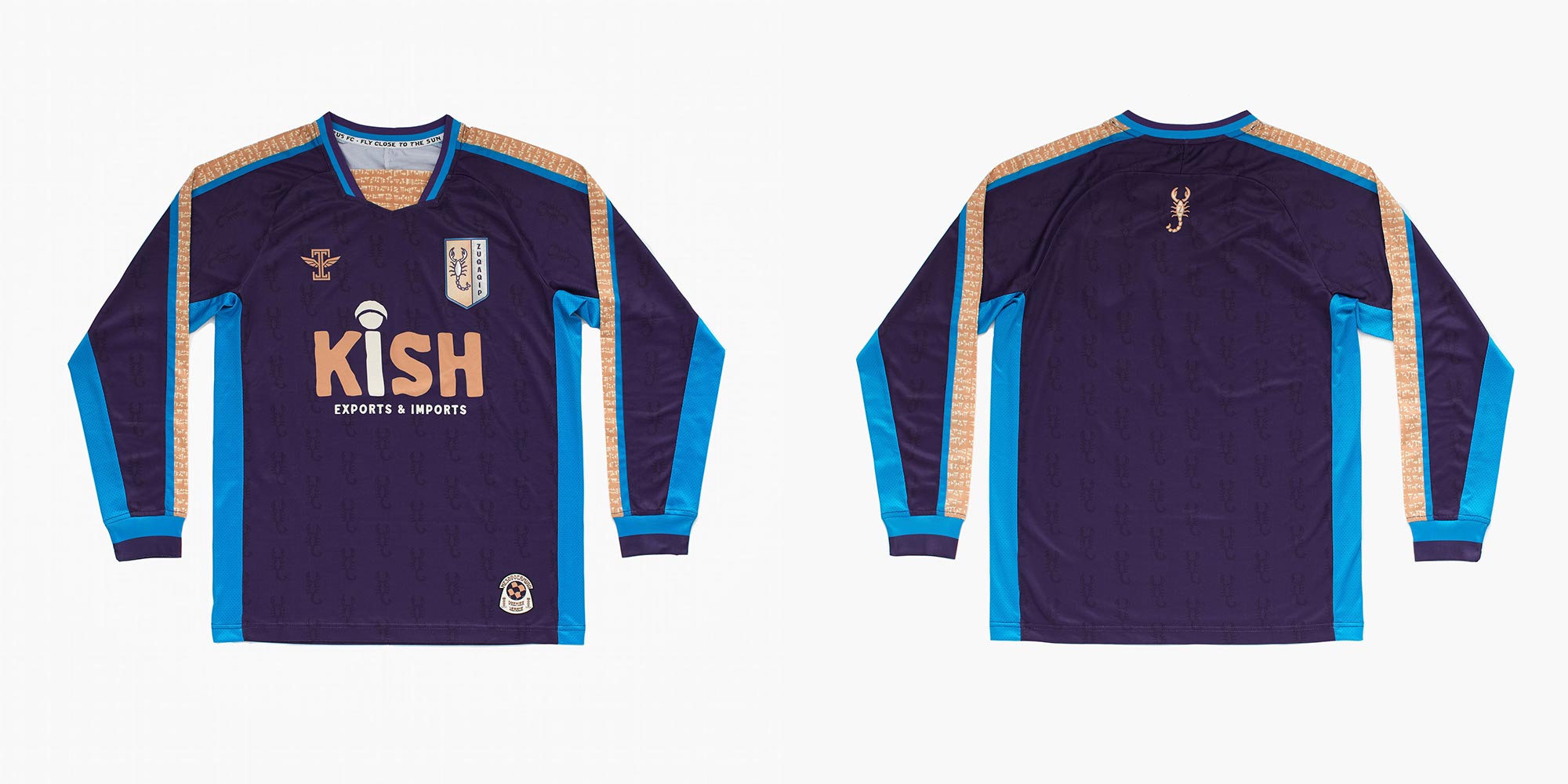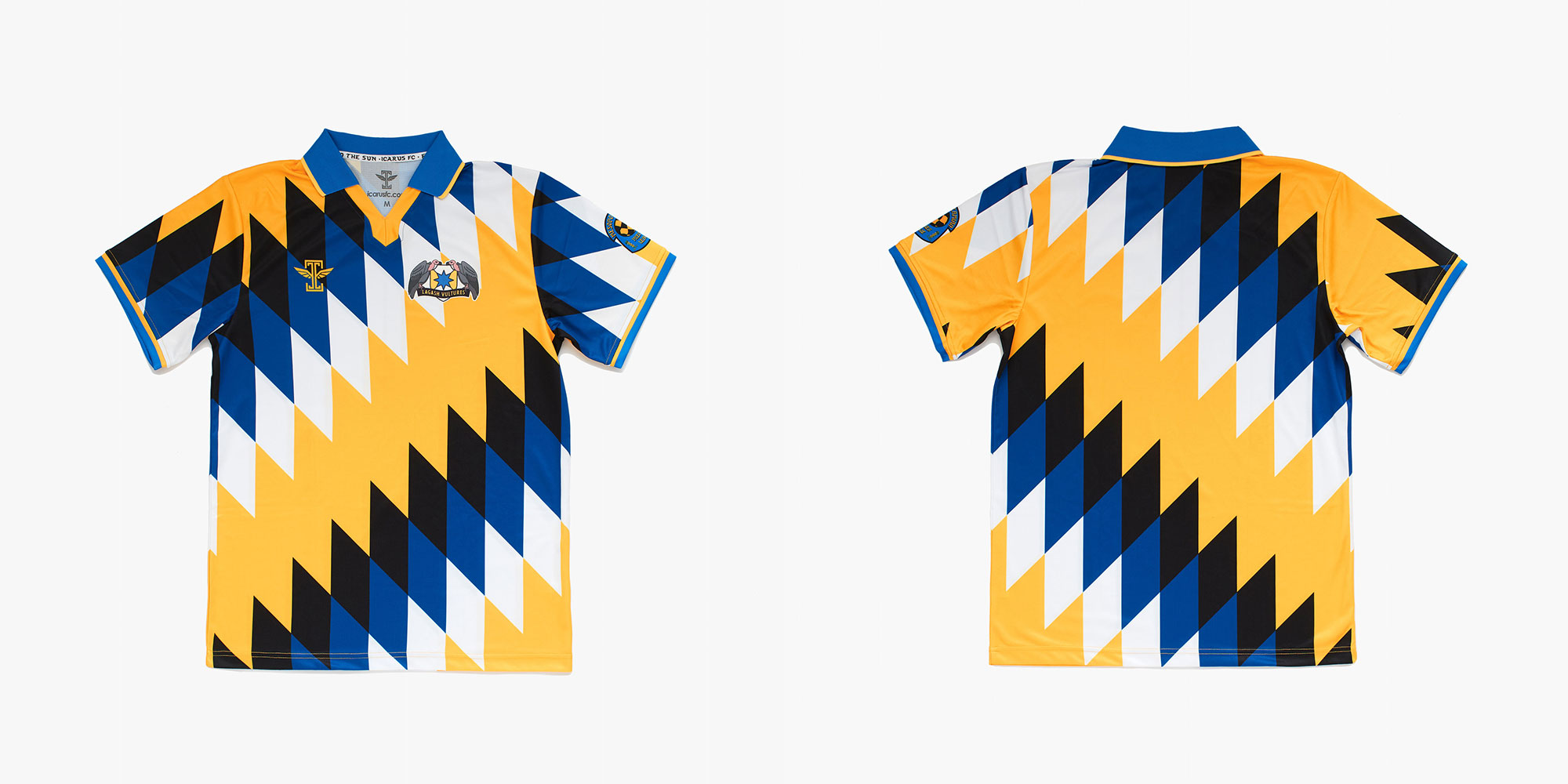 When he isn't working on supplying kits for the many clubs that work with him, the former political science major and geography buff enjoys cranking out historical kit concept designs. Founded in 2017, the Philadelphia-based Icarus FC has grown by leaps and bounds, and now finds itself evolving to meet new demands. But sometimes Smukler needs a break to blow off steam, which is where the Mesopotamian Premier League kit collection comes into play. For Smukler, the historical kit concepts allow him to blend his passions together by imagining identities for non-existent teams from ancient civilizations.
The first Mesopotamian kit he designed, Babylon Akkadi, perfectly fit his aesthetic with a blue, yellow, and green color palette paired with a sort of mystical looking Middle Eastern flair. A friend of Smukler's co-signed the work, encouraging him to build out an entire league.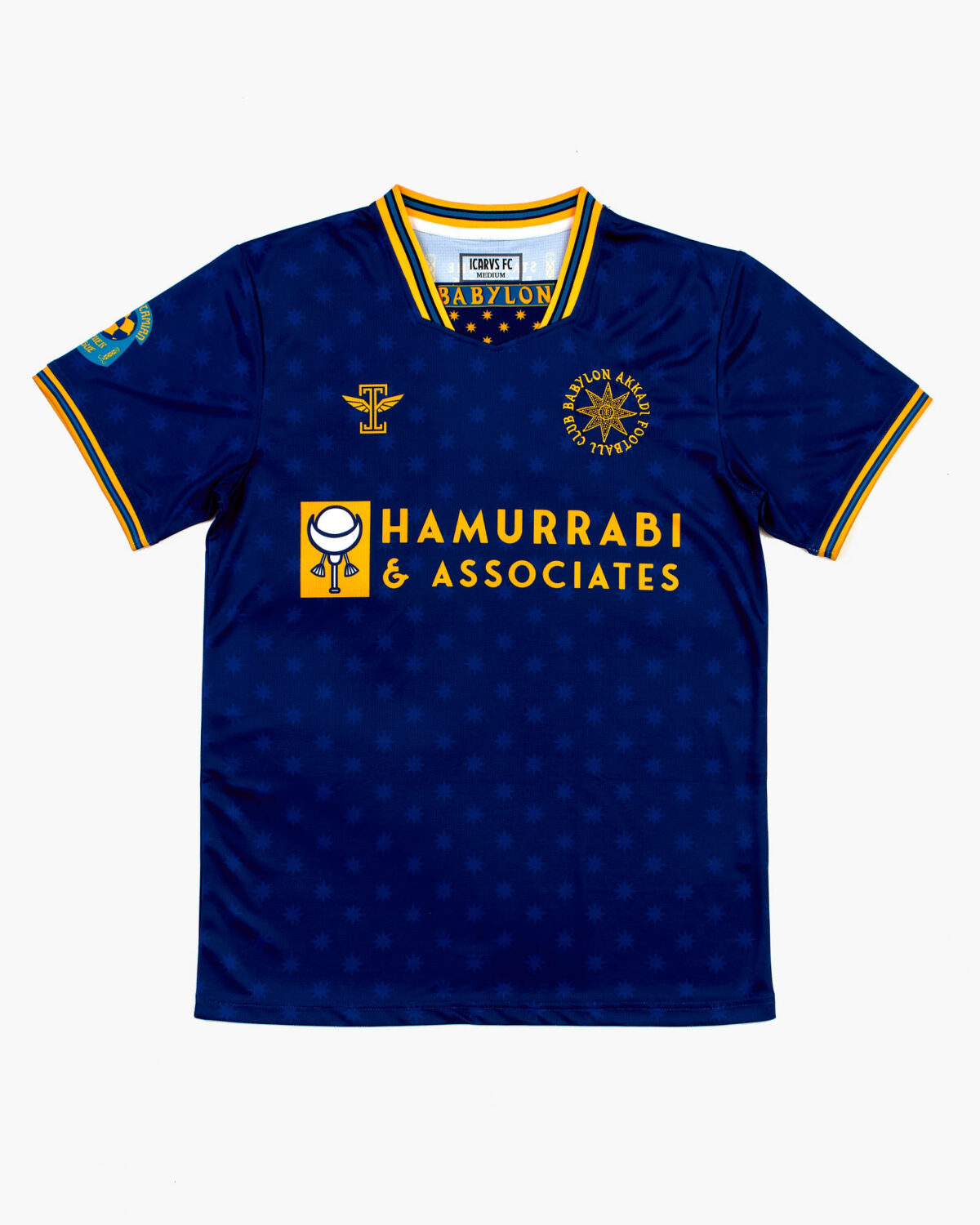 "Last year when I did the first rendition of the Mesopotamian Premier League, I was literally making the teams and jersey designs in the morning, and then releasing them in the afternoon," Smukler said.
What started as a spontaneous creative exercise quickly became popular with his customers, and soon the pre-orders started flooding in. This year's edition is more planned out, with the work a culmination of everything Smukler has done in his free time over the last year. He selected the new teams based on research he did via "Wikipedia rabbit holes" and podcasts and audiobooks about Mesopotamia.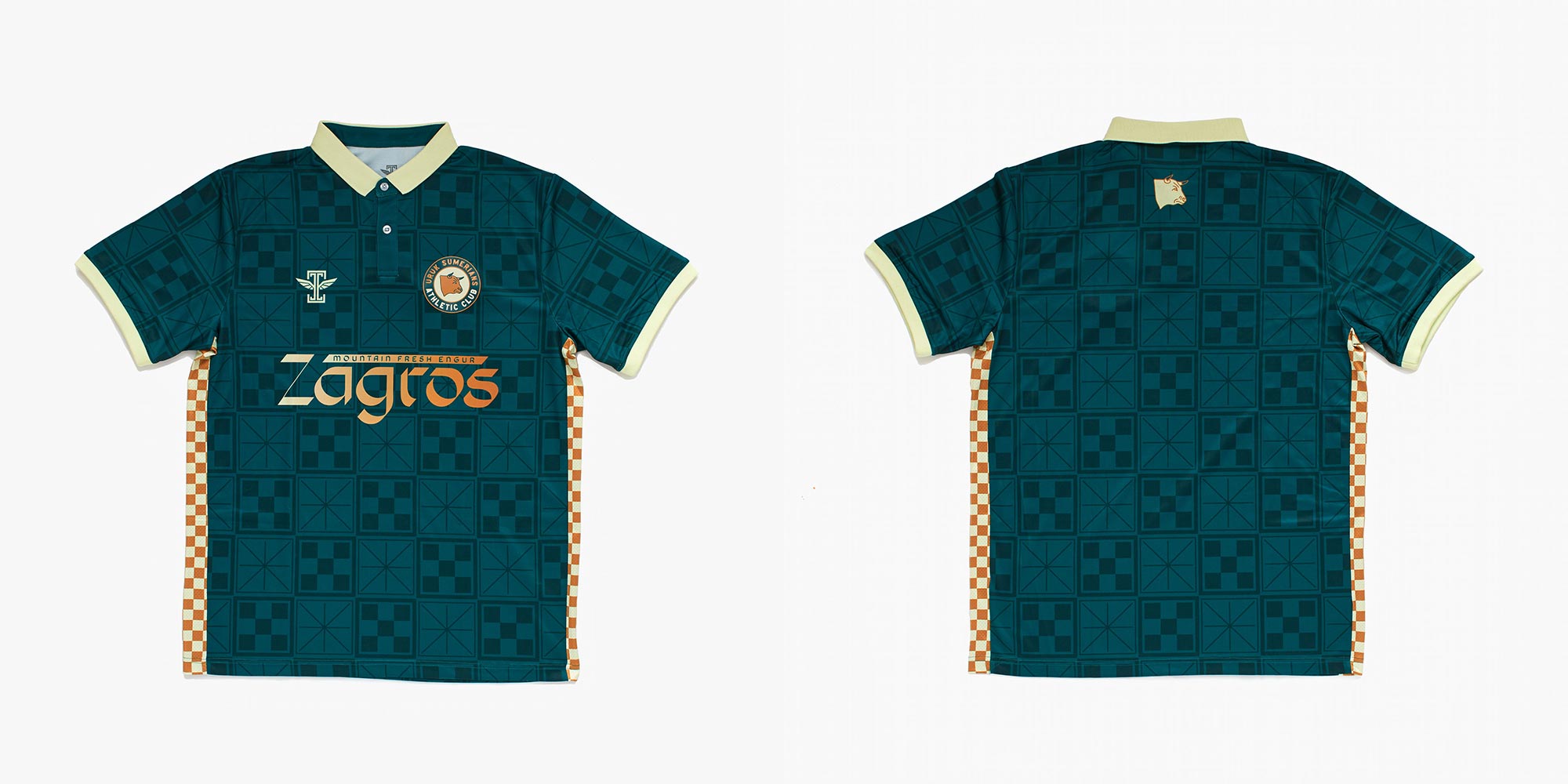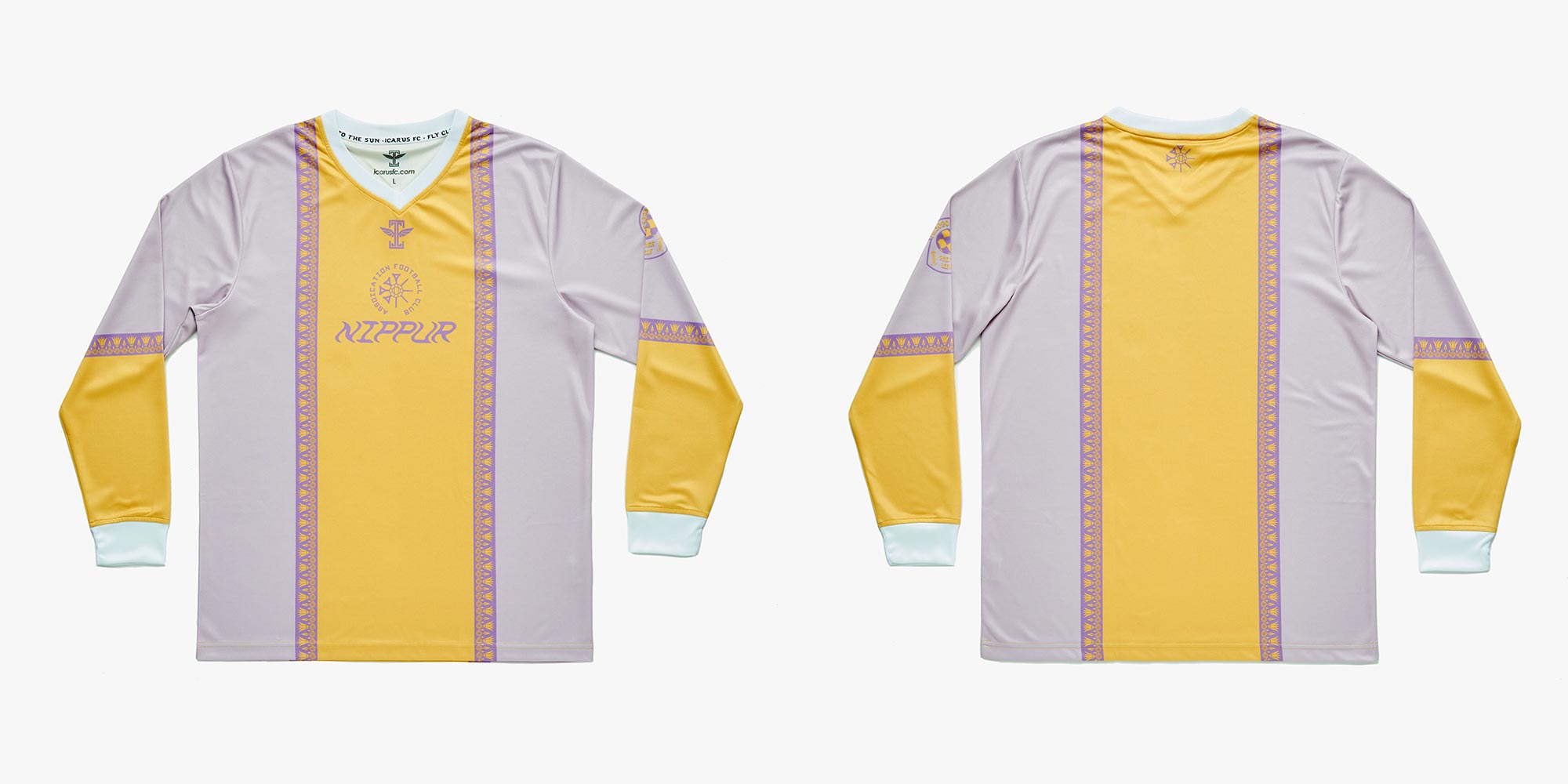 It's a passion project for Smukler, so he pours himself into his research. He always starts with a logo, which then catapults him into the kit design and some pretty outrageous patterns he wouldn't usually attempt. This time around though, the purpose of the Mesopotamian Premier League kits is two-fold, serving as a playground for Smukler to experiment on new features and elements for kits he supplies to outside clubs.
"The purpose of these is to try out new designs, fabric technology, or cuts we're using — but, yeah, I mean it's really just me vibing and having fun," Smukler said with a laugh.
One of the new features Smukler is testing out in his lab is raised crests. As a kit connoisseur himself, Smukler constantly applies the qualities he looks for in kits of his own.
"The most important things for me when I'm either designing kits or when I'm looking at kits is what is the connection between the kit, the team, and its place," Smukler said. "Kits should have an aspect that makes the connection between all those different things."
While he isn't necessarily inspired by many modern kit designs, he does have an affinity for older kits he loved growing up. Specifically, he mentioned Premier League and Serie A kits from the '90s, and other classics that you'll find on the front page of retailers like Cult Kits and Classic Football Shirts.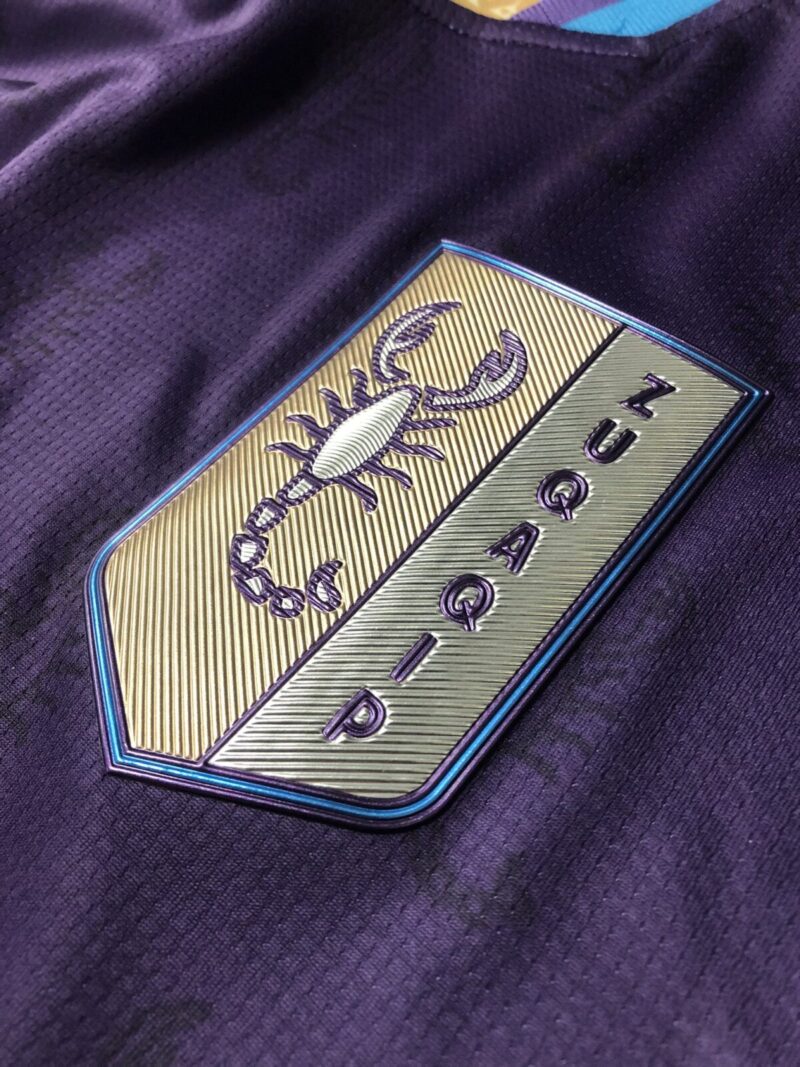 While season one of the Mesopotamian Premier League featured clubs from prominent ancient cities, Smukler wanted the "expansion" franchises in season two to be deeper cuts. He led off the unveiling with a club he calls Zuqaqip Kish.
Reading through the history of the kings of the Kish Dynasty, Smukler came across Zuqaqip, whose name means scorpion. He used an experimental color palette for the long sleeved kit, including a deep, dark purple base with light blue outlining the torso and sleeves. Smukler also applied a uniform Sumerian pattern down the sleeves and a subtle scorpion pattern on the body.
"One thing different about the sleeves this time is we used a separate fabric for the shoulder tape, which we hadn't done before," Smukler said. "Then we did another insert collar, and we're using a new neck tape."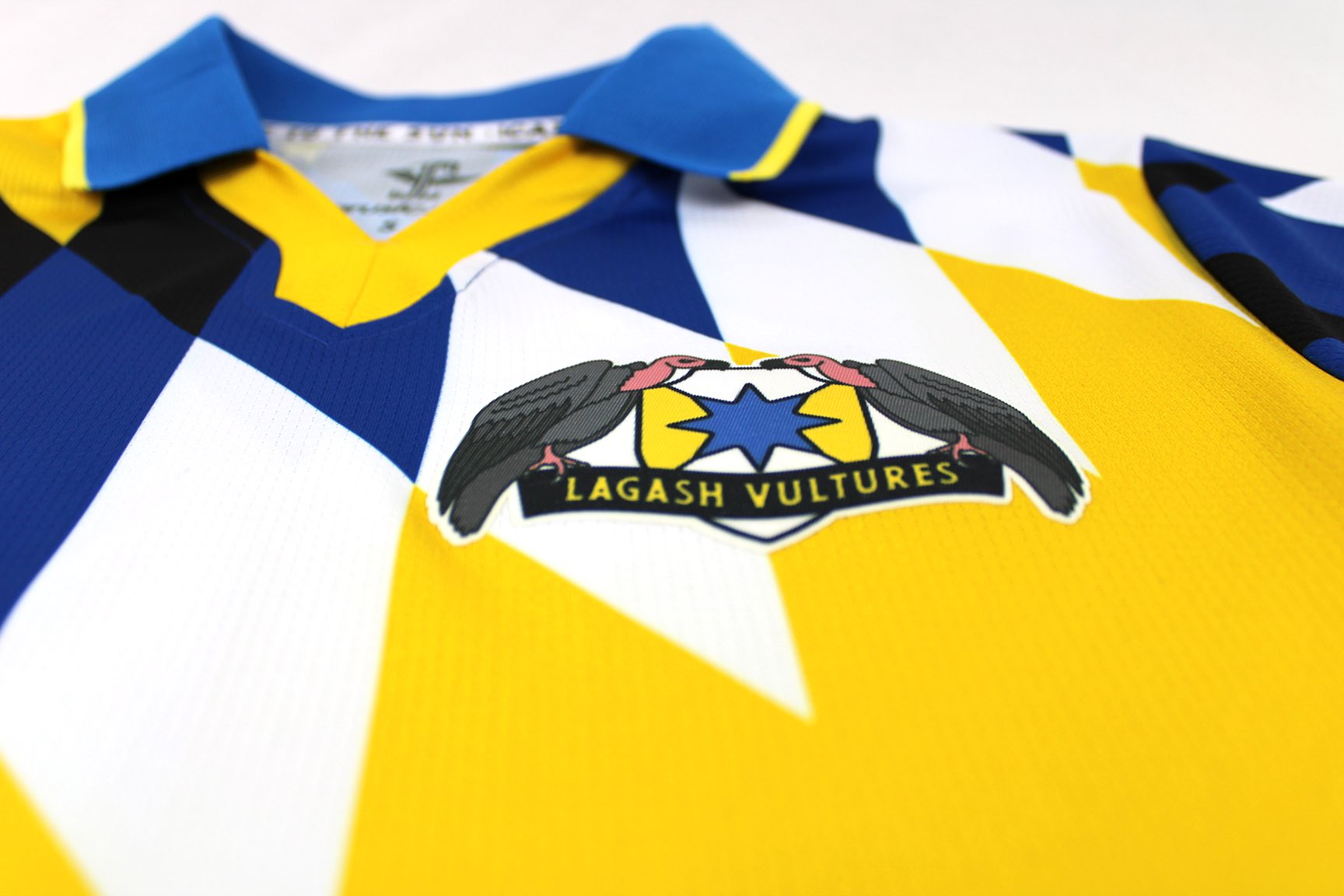 The next club he created, Lagash Vultures, hails from a city famous for its role in a war against nearby Umma. Smukler dubs it the original Hundred Years War — he learned of it when reading about an archaeologist who found a Rosetta Stone-type tablet called the Stele of Vultures.
Noticing the depictions of vultures on the stele, Smukler decided to incorporate them into the logo, using two vultures to hold the ribbon in a bridge style crest. A traditional Akkadian star completes the look. The kit design is loud, featuring the "V" in vulture in an angular, sharp geometric pattern reminiscent of Bayern Munich on an absolutely wild yellow, black, blue, and white color palette. A unique retro collar is the finishing touch on the boldest design out of the four new clubs.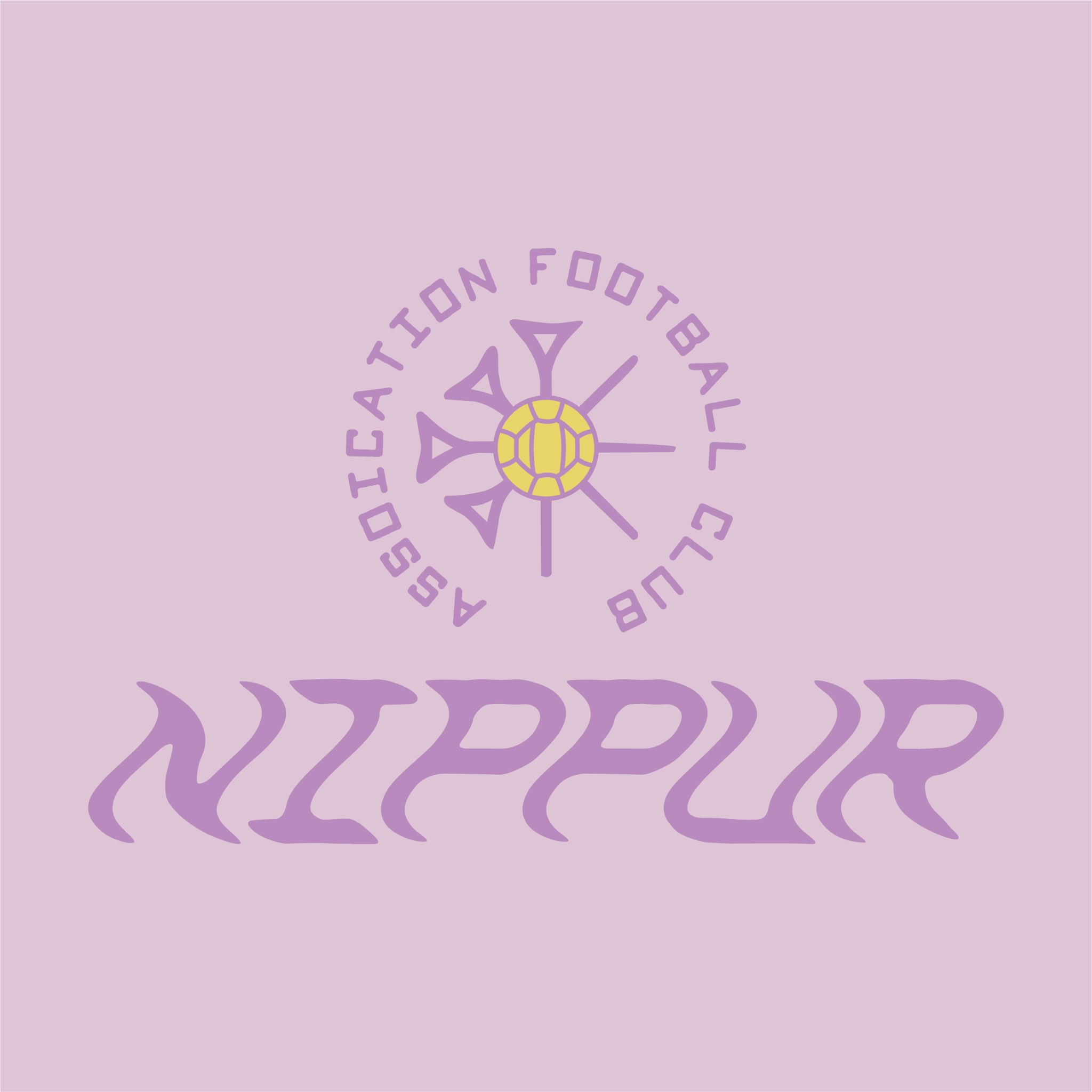 Smukler named the third club, AFC Nippur, after a city which housed a massive dedication to the Mesopotamian god Enlil. To honor the god of wind and atmosphere, Smukler gave the kit a windy, desert sort of feel to the logo on the torso. He also went with another unique color palette, this time a pale pink and yellow.
"It's sort of a play on an Ajax design in a way with just a little more embellishment to it," Smukler said. "So, you've got the tulip or flower pattern going down it, which is similar to a Mesopotamian or Middle Eastern pattern."
Like the Zuqaqip Kish kit, the AFC Nippur offering is long sleeved, a conscious choice on Smukler's part.
"The design really informs whether it's long sleeve or short sleeve," Smukler said. "And also when I'm personally purchasing kits, I try to always buy long sleeve."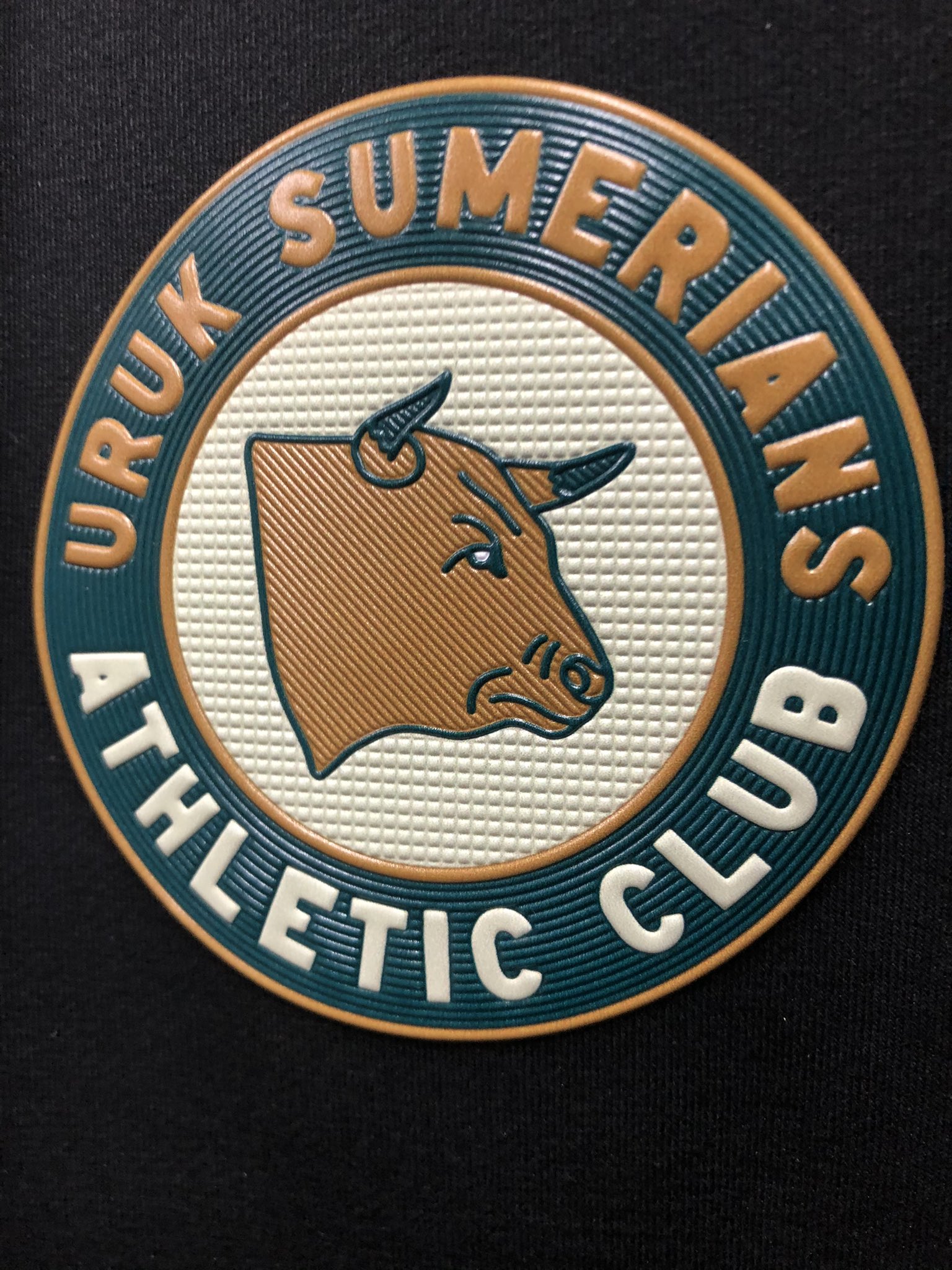 The final new club Smukler conjured up is Uruk Sumerians FC. He had a little help with the design on this one, commissioning artists to do the kit pattern and the bull logo based on his research findings.
"The pattern is just a very sort of mystical Middle Eastern pattern," Smukler said. "And then, I loved that deep sort of green-ish blue color mixed with a gold, and how the sponsor goes from a pale gold to a burnt orange gold."
The sides of the torso feature a checkered pattern using different fabric, tying into the overall theme in the kit design. Smukler used an old-school two button collar on this one, a very clean and simple look.
Coming up with fake clubs is fun for Smukler, but the real game is choosing a fake sponsor for them.
"The sponsor logos, it's just a kind of tongue-in-cheek thing," Smukler said. "For example, Zagros [on the Uruk Sumerians FC kit] was this mountain chain in ancient Mesopotamia, and Engur is the Akkadian word for water. So, mountain fresh water — it's a water company."
Smukler also enjoys fabricating brief histories for the clubs, which appear in the kit description section on the Icarus FC online shop.
"The funniest part about this all is I've had a couple people reach out and be like, 'I couldn't find any information on this league, can you tell me where you found this information?'" Smukler said. "That's fun that people think it's an actual real league, it's kind of a testament to it I'd say."
The Mesopotamian Premier League may not be real, but it now exists in the virtual world thanks to Smukler. In his free time, he loves to take his kit creations and see how they look in Pro Evolution Soccer. Smukler also started creating several rivalries and derbies within the league which make sense from a historical perspective.
"So, Gilgamesh FC, whose rivals are Uruk, that would be like a Man U–Man City derby," Smukler said. "That's a city rivalry because Gilgamesh FC is based in Uruk, and Gilgamesh was king of Uruk, so that's why it makes sense."
For those who want to play Uruk Sumerians FC versus Gilgamesh FC with fake players on PES, Smukler is contemplating sharing his files.
"I have to make all those assets available to the three people who will use them," Smukler joked.
Over the last few years Icarus FC has designed a wide variety of kits, ranging from those for supporters' groups and fake clubs to real clubs both professional and amateur alike. To meet the different demands, Smukler is scaling up his business like crazy. He's made new hires, found a warehouse space, and streamlined multiple processes as the company has grown.
While Smukler is looking to automate his process in order to outfit more clubs, he still wants a certain amount of face-to-face time with clients and graphic designers because he doesn't want to produce templates. He admits it's a fine line he has to toe, but is very committed to it given the company's mission statement.
"We want to give the design process that's really only reserved for larger clubs to everyone," Smukler said. "And I think our price points make that possible."
Smukler and Icarus FC have a busy 2021 lined up, with several exciting plans on deck. Right now they're focused on supplying jerseys, shorts, and socks, but Smukler plans to start offering a lot more gear to clubs.
"We want to be a one-stop shop for clubs while also giving them that custom kit ability," Smukler said.
And just like this year's Mesopotamian Premier League kit drop, Smukler will continue to use his passion projects to test out new gear. So, stay on the look out for Mesopotamian track suits, windbreakers, and hoodies. Oh, and the next big internal project Smukler and Icarus FC have in the pipeline?
"We're planning on doing a Greek league," Smukler said.
Stay up-to-date with Icarus FC on Twitter and Instagram, and shop the Mesopotamian Premier League collection in their online store.