Sports and music have always had a long and historical relationship. As the beautiful game explores and revisits its street origins, hip-hop and football appear to be speeding towards a headlong collision of music, artistry and combined creativity.
With their grassroots culture and originality, it's no wonder why hip-hop and street football have gone hand in hand. Along with all the verses and instrumentals comes a wide audience of sports players that love to listen to them. With both movements getting pushed increasingly into the mainstream global culture, we've seen some mammoth collaborations from some of the most talented and well-known footballers and hip-hop artists.
However, not all collaborations are created equal. From commercials to music video appearances to featured verses, we have ranked each of the following collaborations based on their star power and magnitude. We gave both the rapper and footballer a star-power grade based on a five point scale.
5. BIG Hawk and Clint Dempsey – "Don't Tread"
While we all know Clint Dempsey as one of the greatest U.S. players of all time, few know him as Deuce, a moniker he adopted for the Nike-sponsored "Don't Tread" music video with fellow Texan rappers Big Hawk and XO.
Created in anticipation of the 2006 World Cup, the video features Dempsey showing off both his skills on the pitch and mic, with the former being much more refined. However, Dempsey, a noted hip-hop head, doesn't seem too out of place on the track, especially in comparison to other athletes who have tried their hands at rapping (*cough Kobe cough*).
In terms of star power, while Big Hawk, a founding member of DJ Screw's Screwed Up Click, has some clout in the Houston hip-hop scene, he isn't too well known in outside circles, so we couldn't give him more than one point. As for Dempsey there's no doubting his icon status in American soccer, so he earns a robust four points.
Big Hawk: ?
Clint Dempsey: ????????
Combined Score: 5
4. THEY. and Neymar – Neymar Jr. Mixtape
Global superstar and Nike poster child Neymar teamed up with Barcelona-based artists Ernest Desumbila, Flavio Rodríguez and Ba$$ilones to create a 17-track mixtape with some up-and-coming music acts from around the world.
While we could have picked any artist on the list, we chose to keep it local with the Los Angeles duo THEY., whose song "U Rite" closes out the playlist.
While the star power of Neymar goes without saying, THEY. are a musical act on the rise, and despite collaborating with artists like Skrillex and going on tour with Bryson Tiller, THEY. have far from reached their peak.
THEY.: ?
Neymar: ??????????
Combined Score: 6
3. MHD and Ballotelli – Puma Street Netfit Release Event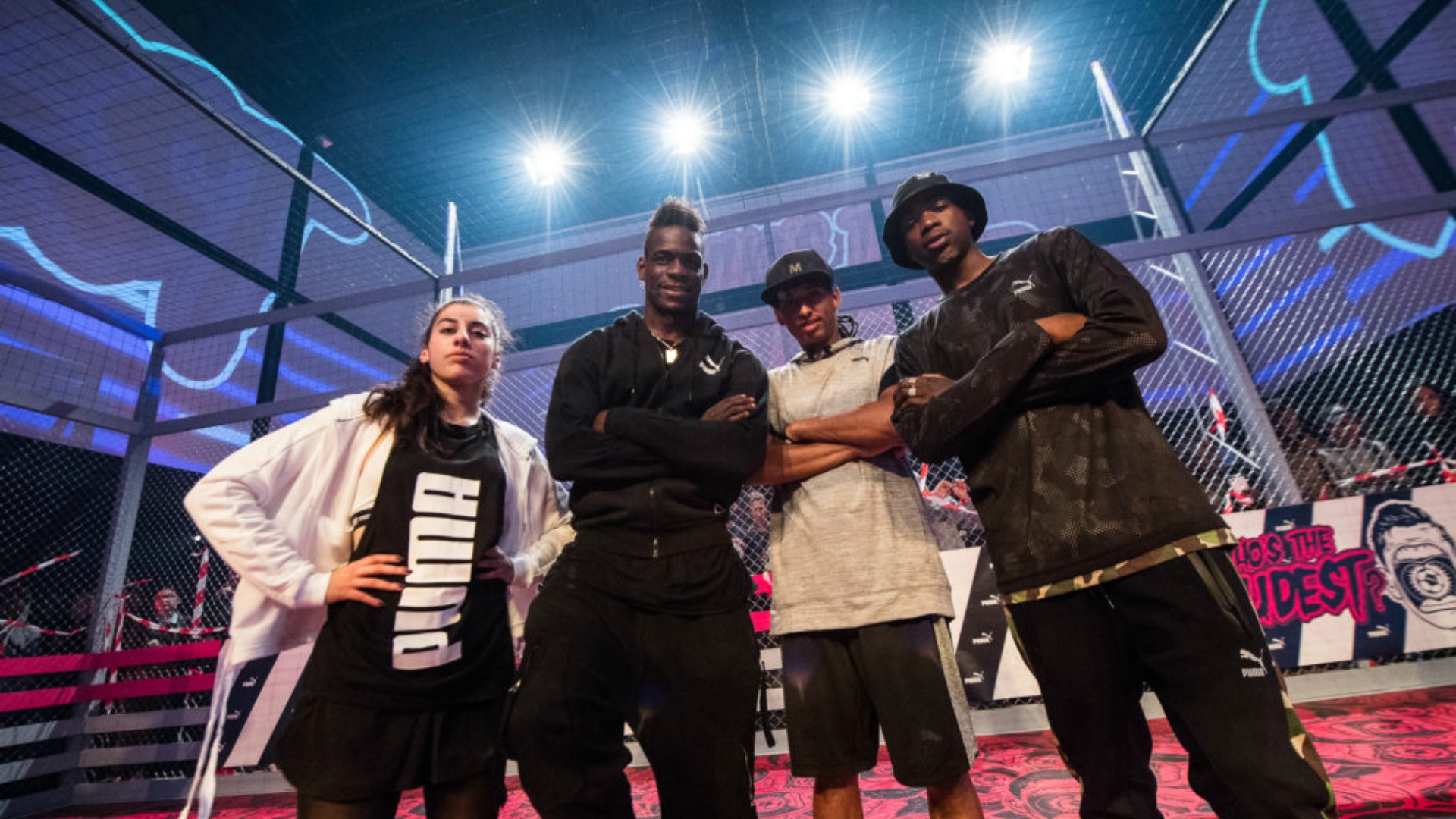 Last April, Puma held an epic release party for its 365 Ignite Netfit street football shoe, complete with a street tournament and celebrity appearances. Among the celebrities were Puma ambassadors Mario Balotelli, who entertained fans with his trademark flair, and MHD, who moved the crowd with performances of his "Afro Trap" tracks.
Like THEY., MHD is still on the rise. At just 22 years old, the football-crazy French MC has garnered hundreds of millions of views on his YouTube videos and played in front of sold out crowds. However, it's safe to say he still has a ways to go before bearing a globally recognized name.
MHD: ??
Mario Balotelli: ??????????
Combined Score: 7
2. Desiigner and Pogba – "Outlet" Music Video
French superstar Paul Pogba is no stranger to hip-hop collaborations. After signing his record $119 million transfer to Manchester United, he was featured in an Adidas promo alongside UK grime phenom Stormzy.
More recently, Pogba teamed up with "Panda" rapper Desiigner in the "Outlet" music video. Scenes of Pogba working out in the gym and Desiigner wildin' out in an empty locker room echo the song's booming horns and bass. Whether you can understand what he's saying or not, you know Desiigner is going to bring that energy.
There is plenty of star power in this collaboration, which nearly earns it a perfect score.
Desiigner: ????
Pogba: ??????????
Combined Score: 9
1. Drake and Drogba – BFFLs
Rap's most polarizing figure, Drake is known to support just about every sports team there is. From rooting for Man U one day to Chelsea the next, you can question his allegiances, but not his fandom.
Although we could choose a myriad of footballers for this spot, including Balotelli, who Drizzy name dropped in one of his verses, the one that stands out the most is Didier Drogba. Drake has documented his adoration of the Ivory Coast star, and he even got a PK by him, though it didn't seem Drogba was too keen on stopping it.
Whether you hate or love Drake, there is no denying that he is one of pop culture's biggest icons today, and though Drogba is past his athletic prime, in his heyday you would be hard-pressed to find a more prolific scorer and big-game performer. Although we're still waiting on a music collaboration, if this duo doesn't warrant a perfect score, then we don't know what does.
Drake: ?????
Drogba: ??????????
Combined Score: 10