Over the weekend, Cousin Feo released Flamiche, the latest project in his "A La Carte" series, while also setting up a pair of pop-ups across LA to celebrate the MLS-themed Death at the Derby EP that released last year. We review Flamiche while also recapping what was an incredibly busy weekend for the Death at the Derby team. 
Cousin Feo has been busy. In a hip-hop world where it's become acceptable to go years between projects (looking at you, TDE), the South Central-based rapper hasn't wasted any time in giving us new music over the past two years. Instead of taking the Kendrick Lamar approach, Feo has opted for one that evokes shades of a mid-aughts Lil Wayne at the height of his powers.
As part of season two of the Death at the Derby series with Toronto MC Lord Juco, scratch master DJ Dubplates, and a host of producers from around the world, we've received a new track each month this year highlighting a different fierce football rivalry. But that's far from all that Feo has given us in 2021. He's expanded upon his likewise football-themed "A La Carte" projects as well.
The series sees Feo heading to different countries of the world, with track titles tributing their iconic footballers and project titles honoring their cuisine. In 2021, Feo has taken us to the Netherlands and Japan respectively with January's Patat and March's Yakitori. Flamiche, the series' eighth installment, dropped over the weekend, and we headed back to where it all started — France.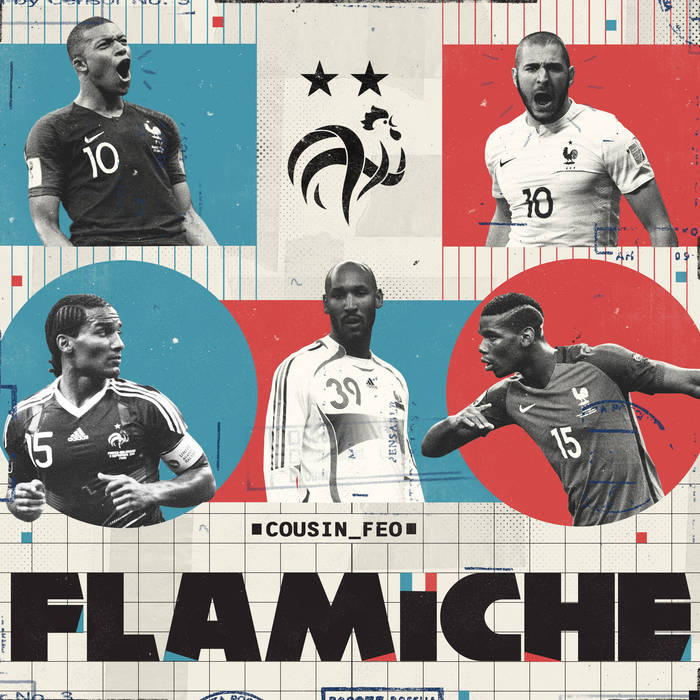 Feo makes sure to work with a producer from the country he features in each "A La Carte" project, and for Flamiche he re-linked back up with French producer Keor Meteor, who also produced both A Little Caviar and Creme Fraiche, the first two releases in the series.
Whereas Feo has established a place for himself in the lane of hip-hop's burgeoning underground scene with raw, booming vocals over grimy productions, Flamiche sees the MC at his most polished yet. We know we're in for something new from the jump, as the opening track "Pogba" transitions from a jazzy intro to a refined piano-dominant beat in which the bass and drums take a back seat to for once.
For each track, Feo and Keor Meteor build a vibe befitting of the player it's named after. Following the smooth yet sharp "Pogba," we get a more boom-bap soundscape in "Benzema," back-to-back soul samples that give a throwback feel for "Malouda" and "Anelka," and then a frantic jazz intro that almost instantly switches to an ethereal flute and hypnotic bass line similar to the mercurial pace switches of its namesake in "Mbappe." The vinyl edition also features a bonus track "Ribery," a celebratory capstone which sees Feo's bars at perhaps their strongest on the project.
With just over 20 minutes of listening time, Flamiche is a quick yet substantial listen, and most of all showcases Feo's versatility. Having followed Feo for the past two-plus years, his growth as an artist has been evident with each project he releases.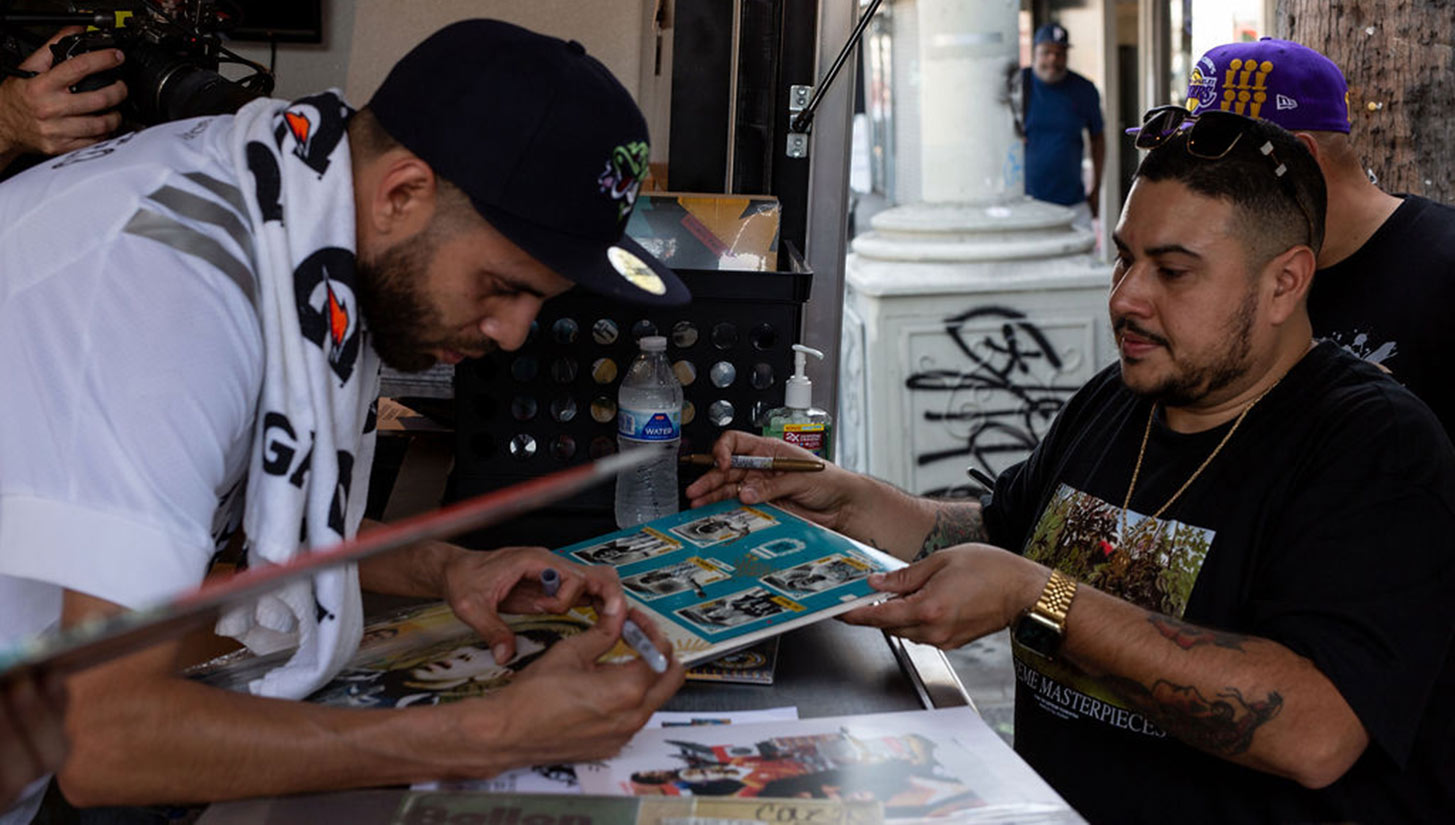 However, the release alone isn't enough for Feo. True to his word about being in his '06 Weezy bag, Feo and the entire Death at the Derby team hosted a pair of pop-ups over the weekend to promote the MLS derby-themed EP they released last year with producer extraordinaire Big Ghost. On Friday, the trio headed to Fairfax, the hypebeast capital of the world, to set up shop with The Football Boutique outside of APT.4B's concept shop. Feo, Juco, and Dubplates met up with fans and signed exclusive merch and the special limited edition Galaxy "Ghost at the Derby" vinyl as well.
On Saturday, they headed to Dignity Health Sports Park, where they tailgated with LA Galaxy supporters who were undoubtedly excited about the first match back at the home stadium with lessened attendance restrictions. It's great to see Feo, a longtime Galaxy supporter himself, be embraced by his home team, and we can only hope the partnership between the MC and the club continues to grow.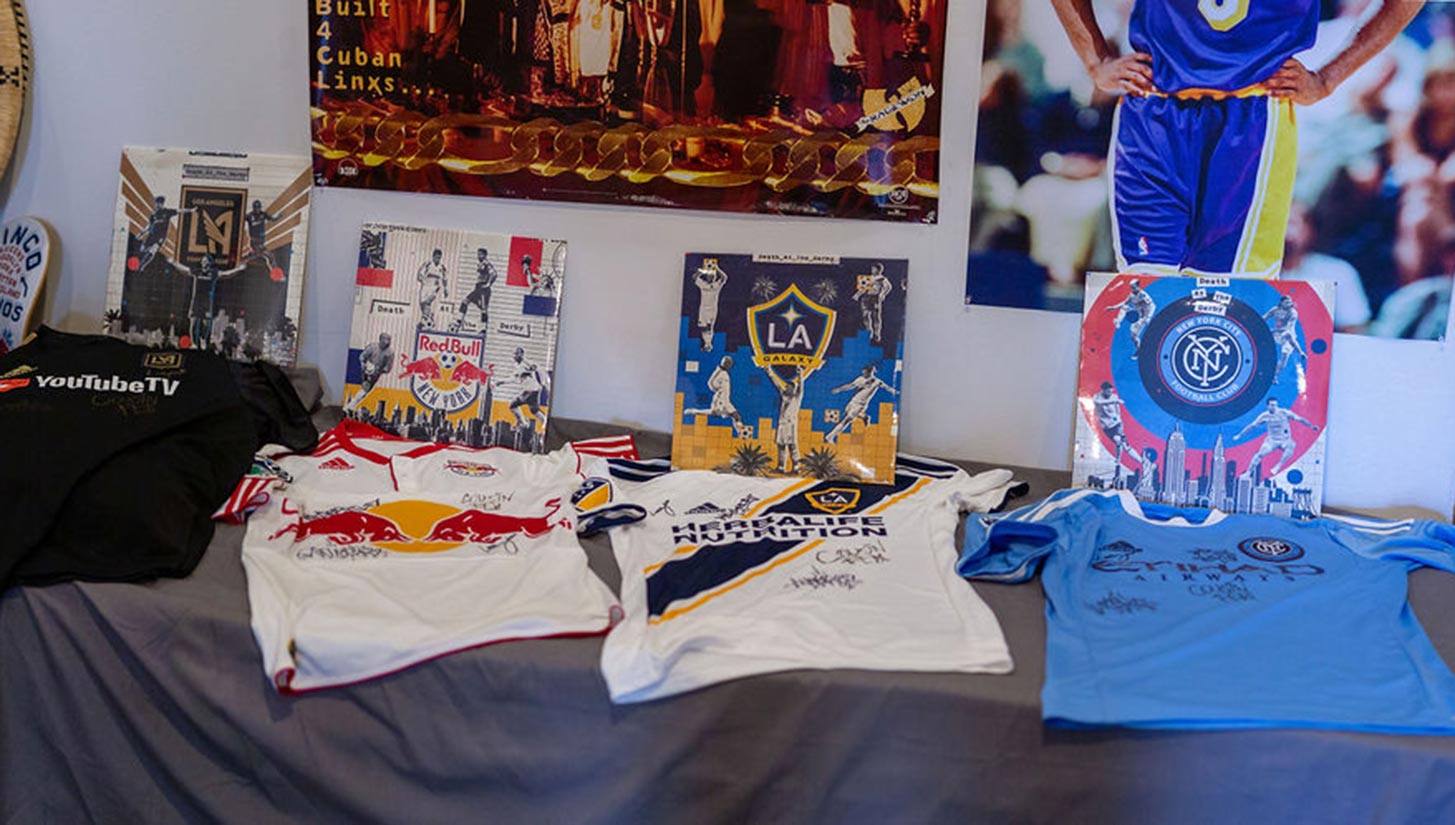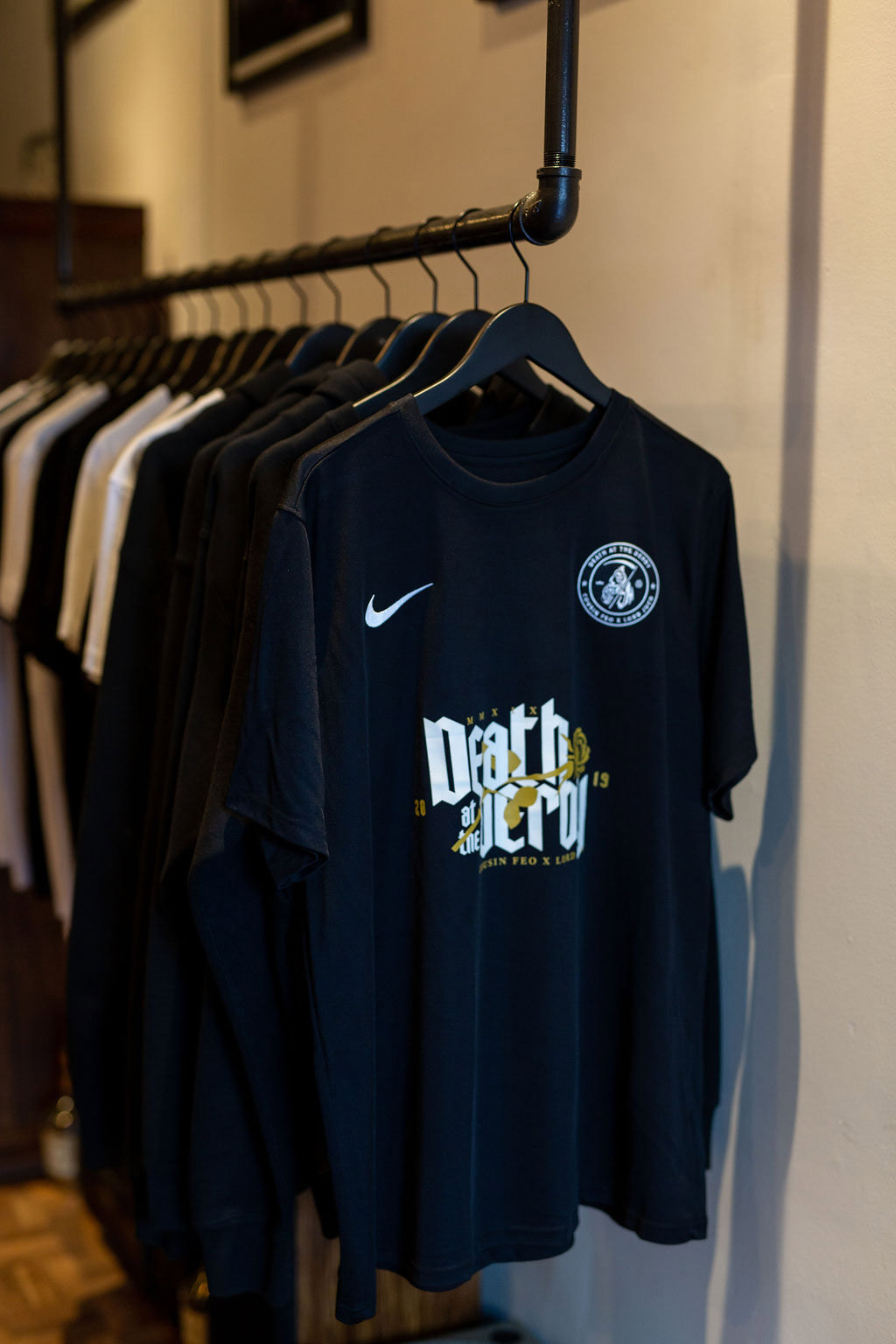 All in all, it was a jam-packed weekend, but that's nothing new for the Death at the Derby crew. It takes a lot of work to create your own lane between two universally adopted subcultures, and the elbow grease Feo, Juco, and Dubplates have put into their work has begun to show dividends. But this is just the start. If we can expect one thing from the trio in the upcoming future — they'll be working.
Photography by Johnny Zuleta for Urban Pitch.
Pick up a copy of Flamiche on Bandcamp.