Closing out the year with a bang, Cousin Feo and Lord Juco have teamed up with underground producer extraordinaire Big Ghost to bring their stellar Death at the Derby series to the United States. Celebrating the El Trafico and Hudson River derbies, the project is available for vinyl pre-order now, and will roll out on streaming platforms in the coming weeks. 
My worlds have collided. For nearly two years now, I (and the rest of the UP team) have been vouching for the Death at the Derby MC duo that is Cousin Feo and Lord Juco.
We've done a series of interviews, photoshoots, and podcast episodes with the two — not to hop on their wave, but because we truly support talented artists who have a vision and work tirelessly towards it. We were there when Feo and Juco, along with Death at the Derby cut master DJ Dubplates, performed at the LA Galaxy's Victoria Block party earlier this year, but we didn't know that that particular event would plant a seed for what is quite possibly their best project yet.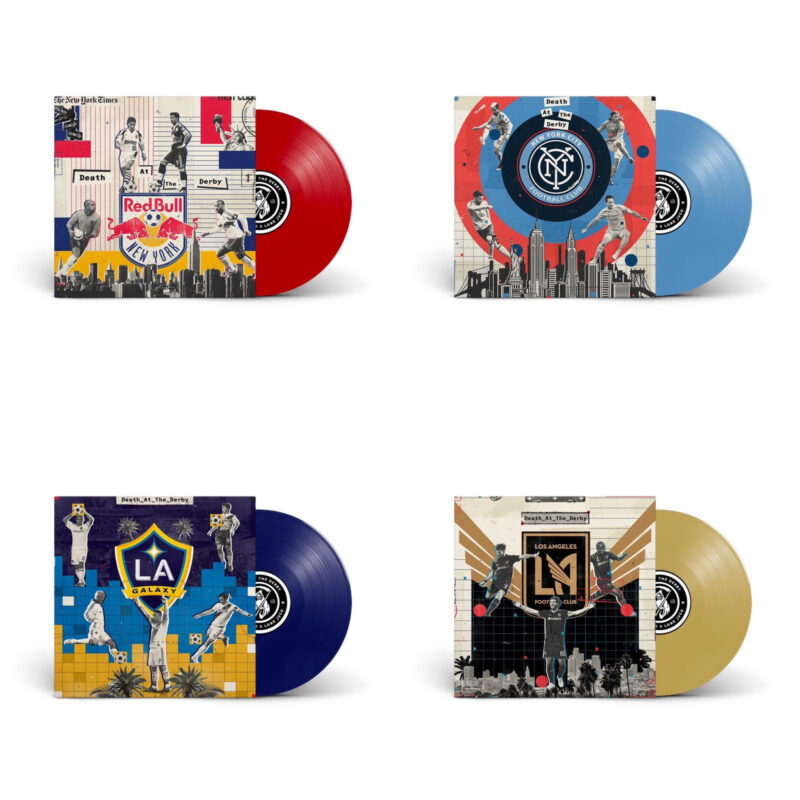 The Death at the Derby series has officially come to the United States, taking on two of MLS' most famous rivalries, LAFC vs. LA Galaxy and New York Red Bulls vs. NYCFC. The team brought on none other than underground staple Big Ghost to produce the six-track EP, which consists of two original tracks, two remixes, and two instrumentals.
If you've been paying attention to hip-hop over the past decade or so, there's a good chance you've run into Big Ghost one way or another. I first came across the mysterious figure (who at first many speculated to be Ghostface Killah due to his New York vernacular and the similarity in name) through his legendary blog, where he'd review albums and annually roast the 10 softest rappers in the game.
His blog dates back to the early 2010s, aka the golden era of blogging, and I remember being in high school losing my mind at his descriptions of Drake ("The Ryan Seacrest of Rap") and Tyga ("Grand Master Trash"), two mainstays on his softest rappers list. But as the blog era waned, Ghost would shift his gears towards production, and he unsurprisingly has a knack for composing some of the hardest, chest rattling beats in all of hip-hop. He's produced for the likes of Griselda Records and Ghostface Killah, while also reimagining Jay-Z's iconic Black Album. 
So when Cousin Feo told me that he had something in the works with Big Ghost a few months ago, my anticipation was palpable. The production on every Death at the Derby project has been on point, working with talents like Hobgoblin, Keor Meteor, and Dre Mendoza, but with Ghost behind the boards, you knew the bar was going to be set even higher.
And he didn't disappoint. Both the original and remix versions maintain the hard-hitting, boom-bap feel of the previous works, but with a new feel that only Ghost can bring. The MCs do their things as well, with Feo repping for Galaxy and NYCFC, and Juco for LAFC and Red Bulls. As always, DJ Dubplates comes correct with the scratches on the originals, and UK producer/DJ Giallo Point gives us a different, more traditional soundscape on the remixes.
I was able to catch up with Juco and Feo ahead of today's project pre-order release, and we discussed what they've been up to, working with Big Ghost, and what we can expect from the talented duo in the future.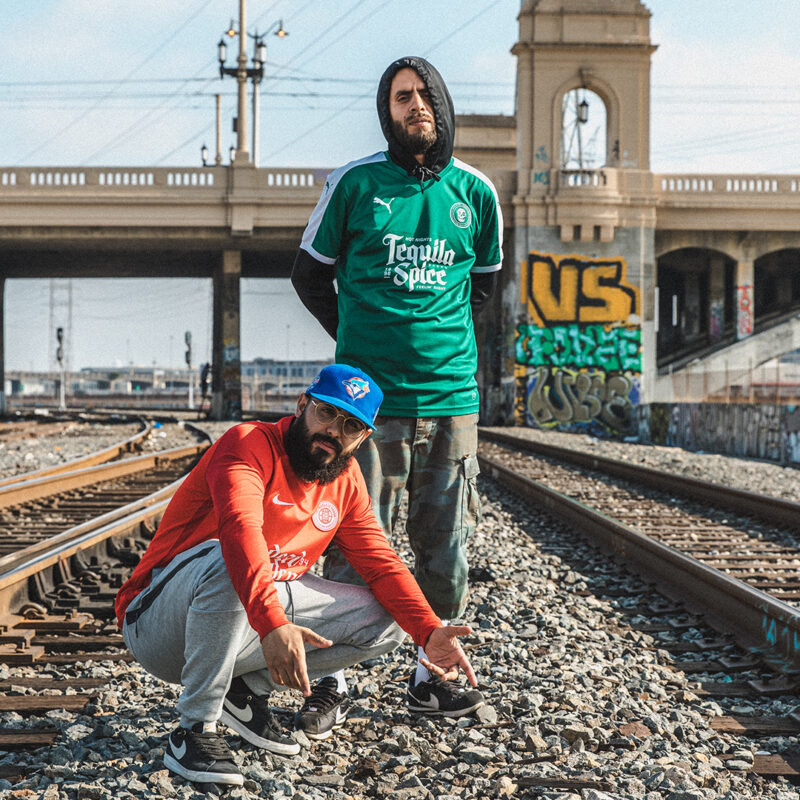 Urban Pitch: First off, how have things been, and how has the pandemic affected your 2020?
Lord Juco: Not much has changed for me. I've always been a hermit. But it's obviously impacted everything. Just traveling, trying to see some different places — it definitely fumbled my bag. But in terms of family and staying safe I think it's a good thing to be home and to be more present and involved. It definitely humbled me as a human being.
In terms of creating, I've created less. I'm just trying to do more outside of music. But in terms of the Derby and my personal things, they get done. It's not like I've hit a wall, but it hasn't been my main focus as much as I'd like it to be. But I've been dealing with it head up, with a smile on my face.
Cousin Feo: That's the biggest difference between me and Juco in terms of him being a father and doing other things outside of music — running a business and things of that nature. I totally understand why my boy maybe wasn't as active as an artist as he wanted to be, but those are real life things that you have to deal with and be present for. I'm not in that position, so I have the freedom to move a lot differently than he does.
The pandemic definitely slowed down some of the trains. Obviously me and Juco wish we could be present in the same spaces and do a lot more for what we do collectively, let alone the individual stuff we have planned. It just put things into perspective. I've spent a lot more time around my family — with my grandparents — and also myself. Getting that mental health right, finding healthy ways to navigate through all this stuff aside from the music. It's been bittersweet, more sweet than bitter, but you got to take the good with the bad and just keep on moving.
Has the added downtime given you more opportunities to branch out into other art forms and mediums outside of strictly rapping?
Juco: I see what you say with different mediums, but I'm not talented enough to balance multiple things. If I'm focused on one thing, I'm good at what I'm doing. But if I'm focused on five things, it's a different story. As much as I try to do different things, I can't say I do it successfully.
One thing I do, because I'm always a fan first, is I listen to a wide variety of music. It always helps me go back to the drawing board.
Feo: I'm on the same boat as Juco. I don't have the patience to be a producer or engineer. I think the people who do those things are incredible. Not only do you need the patience for it, but dealing with rappers in particular — rappers can be pretty indecisive, and they don't have any punctuality or manners sometimes. (Laughs.) All of that complicates those kinds of things so I've never really had interest in any of that.
If anything I've been reading a lot more. Just trying to learn more about the game to be honest. Different time periods that we didn't grow up in, certain players, the history of certain clubs. There's so much information that we can access now so it's always cool to be a student and see how we can apply it to what we do. Whether it's the Derby series or the individual things that I do, it makes it that much more authentic for people. It shows that we pay attention to detail.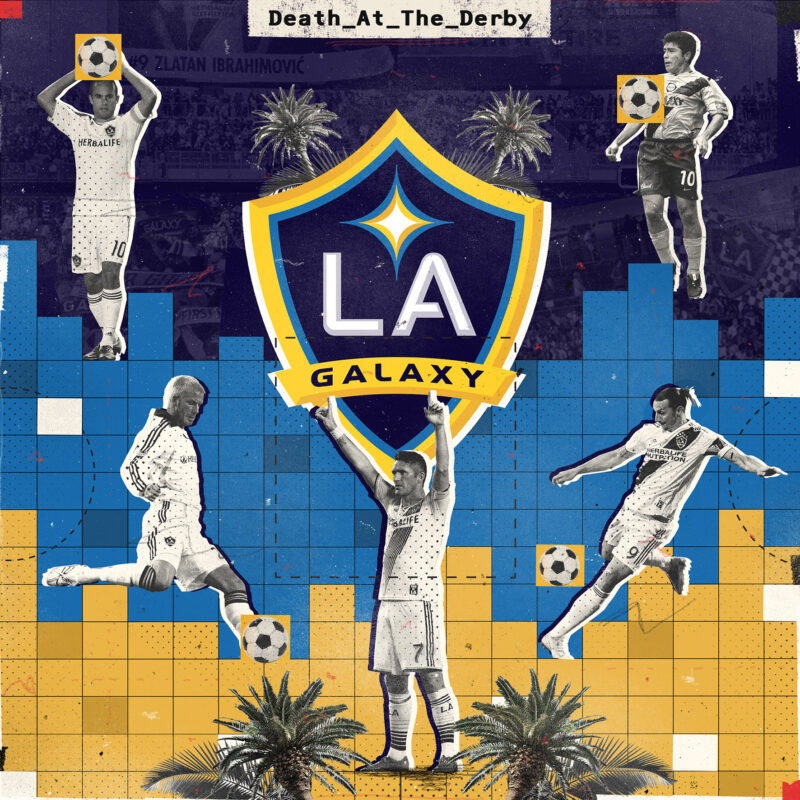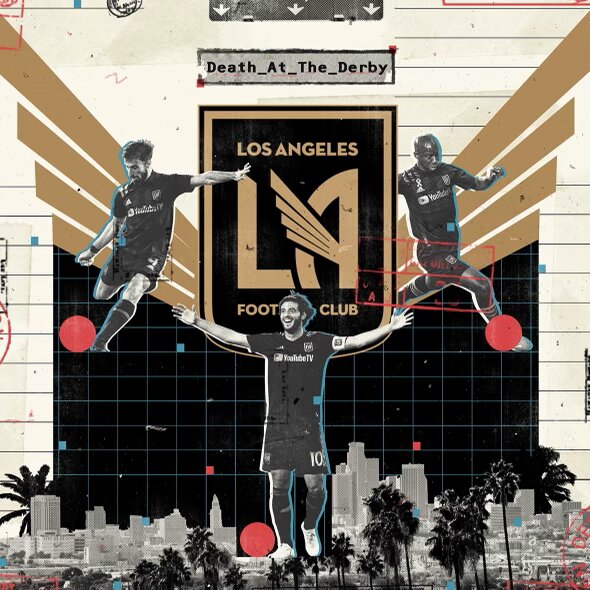 Let's talk about the project. What made you want to take on MLS?

Juco: This is all Feo's doing — don't let him lie to you.
Feo: (Laughs.) We already had Death at the Derby season two in the works — we took the year off for people to appreciate the first season and soak it in, and let the word spread and grow. So that when we did hit them with season two, the platform is that much bigger.
Season two is full of much bigger derbies in terms of the history and their political influence and all the things that come with European and South American derbies. But stemming from what me and Juco were able to do with the Galaxy earlier in the year, that particular following definitely helped push the idea forward in my mind. We needed to cater to the MLS fans, and to people who have supported what we've been doing regardless.
Because we already had season two written out in terms of which derbies we wanted to cover, we had to figure out a way to do an MLS derby without overlapping season two and keep the formula of dropping one a month.
The biggest part of this all happening wasn't my idea, but it was Big Ghost being down with it. He's a busy dude, he's got plenty of projects in the pipeline, and he's just top tier. Top five underground producers right now, period. For me to be able to convince him that we were worth his time, that was a blessing. Once he was on board with the idea, Juco and I knew that everything would fall into place in terms of what we needed to do. So it all came together.
We were blessed to be confident enough in ourselves to even approach him. Credit to Big Ghost too, he's showed us love in the past, both on our individual and collective stuff. So he was already kind of a fan of what we were doing. It's really dope that he's stepping into our arena as much as we are stepping into working with someone of his caliber. It's kind of like stars aligning or some big myth, legend, or prophecy that's being fulfilled. It's finally our time. It's crazy to be able to finish the year out like this.
What was it like getting that co-sign from Big Ghost, who aside from being a top-tier producer, has a particular ear for rap?
Juco: It was a confidence boost we didn't need, in all honesty. But nonetheless, it's still a confidence boost. Like Feo said, for someone of his caliber to even acknowledge us is enough in itself. But to go and produce a project, we know he trusts what we do. It's a blessing, but you don't want to get too caught up in it.
Feo: And Juco has already been rapping on Big Ghost production. People who have been paying attention know that already. He's familiar, and the great thing about Big Ghost being who he is, he never hesitates or shies away from giving credit to something that's different from everything else out right now. He's sitting high up on that Mount Olympus, but he still sees us from up there.
If there was a martial arts tournament to win a Big Ghost project, that shit would turn into Mortal Kombat. Foos would sign up in a heartbeat and pummel each other to death. So for us to be able to avoid that skirmish and just be acknowledged by the god, we're in a lovely space.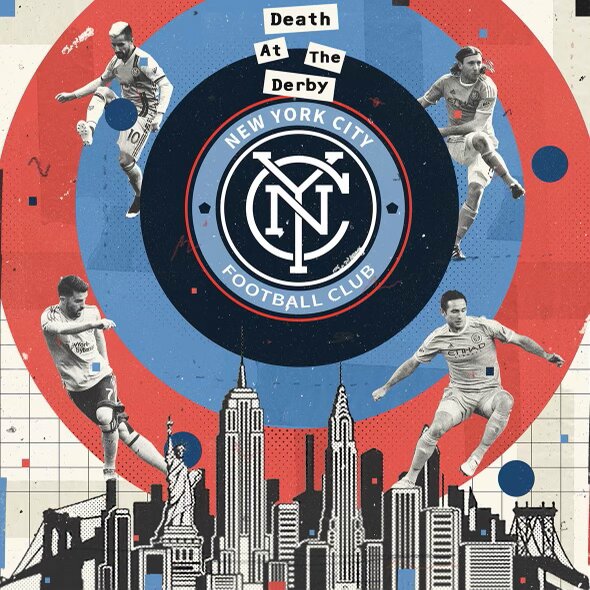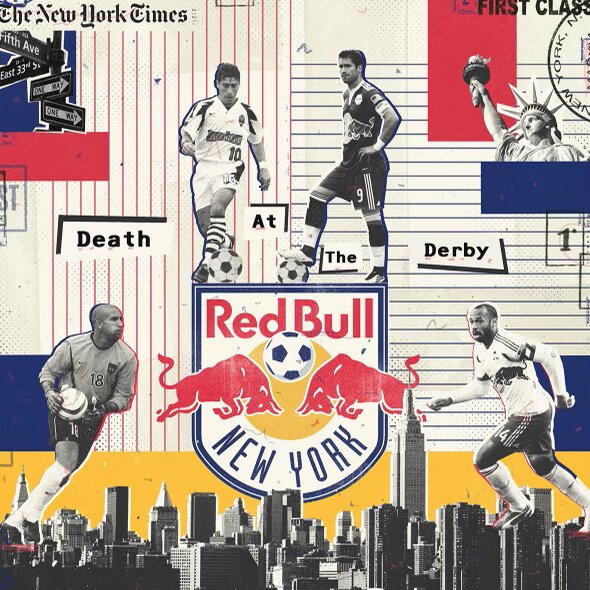 How did you pitch the project to him?
Feo: I just snuck it in to him, and he'll tell you that too. That man is booked for the next lifetime. He has so much work on the way. He's produced for Griselda — and as far as the underground, if you haven't produced for them or Roc Marciano, you're still working your way to the top of the mountain. He's already there.
So before I approached him I was measuring out my punch combination. I was like, "If I hit him with this, this, and this, he's not going to know what to do." And sure enough, my punches landed.
Juco: It's all about the approach.
Feo: Exactly. It was all respectful and professional, and I was prepared for a no too. But I wasn't going to be mopey about that no. I would've probably held onto that idea until we could work with him.
Having that confidence is important. It's cool that Juco and I have each other, like teammates. If we're out on the field, and I see that my teammate's confidence that I know he has isn't there, I'm going to say a few things to pick him up so that we can get this win. Between me and Juco, we do that constantly — not just in the music either. We're there supporting each other in every phase of life.
So Feo, you've had a connection with the Galaxy for a while, but Juco, are you an MLS fan at all too? And what are both of your thoughts on the league as a whole?
Juco: I want to make it known, I'm a Toronto FC season ticket holder, so yes I'm an MLS fan. Growing up playing soccer, obviously you look towards a Spanish or English league as the standard. You hold yourself to a higher standard, which is totally understandable. But being in Canada and having TFC in my city is something that I appreciate.
I know that the quality wasn't always up to the foreign leagues, but that's only for people comparing. You've got to know when to do that. MLS is not that, but you can still enjoy it for what it is. I'm grateful to have a team in my city, and I support them even though I think they make terrible business decisions. I think I should be the ambassador there, and they should let me make some changes, but that's a conversation for another time. Someone tell Giovinco that I want him back.
Feo: I'm with Juco in terms of appreciating having something that we can attach ourselves to here in the States. Growing up playing and being put on to the sport by my uncles, you're watching the Real Madrids, the River Plates, and the Manchester Uniteds of the world, and that's the standard of how the game should be played.
And watching MLS, there's flashes of promise of what the league could be, but there's a lot of things on the business side that need to be worked on. Everything from having a relegation zone, allowing the bigger clubs to kind of flex that muscle, and create some teams with money. Even though you don't want money to be the basis of it all, but let the big teams that can spend, spend.
It's dope that we have a derby here in LA. Because it's only going to enrich the culture in the sport first and foremost, but it gives you something to be a part of in terms of competing. The league has a long way to go, but it's dope enough to make music about.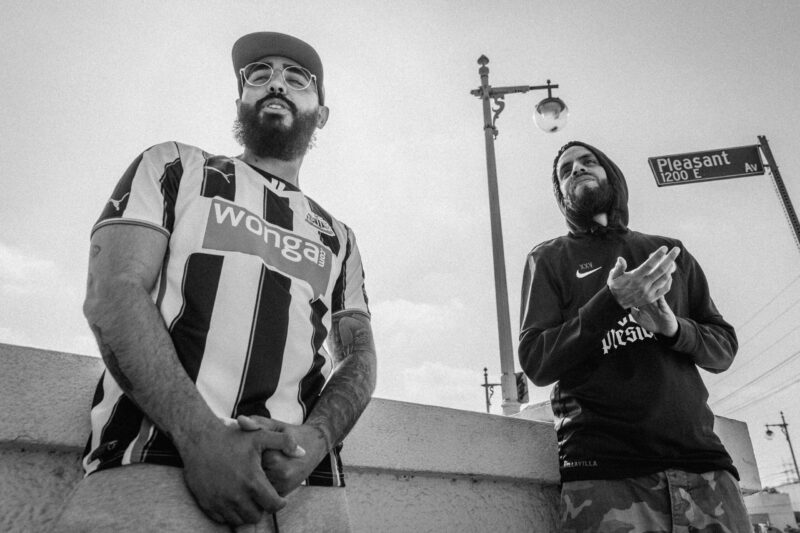 What have you guys been listening to lately? 
Juco: To be honest, my kids really like the Bee Gees, so there's a lot of Bee Gees on at my house. I blame Despicable Me. I listen to a lot of Supertramp, Pink Floyd, and things like that. For hip-hop, I stick with my tried and true. I've been listening to A Gangster and a Gentleman. Revisiting the classics. But mostly the Bee Gees, to be honest.
Feo: As far as music, maybe I'm not as eclectic as my guy, but I've been ranging from my classic West Coast stuff, from Westside Connection, early Xzibit, Doggpound, Kurupt, The Chronic 2001, and a lot of Nipsey.
But if I'm switching from rap, you'll catch me listening to Gypsy Kings. Sometimes listening to a guitar getting strung out is doper than any bar you can hear. Roc Marciano did just drop his shit so I've got to drop in with the god real quick.
You're ending 2020 with a bang. What's the goal for 2021?
Feo: I'm gonna be annoying in the most artistic way possible. I've got a lot of stuff I hope to be able to put out. I want to continue to expand on what I'm doing. My goal is to add Japan, Italy, and Brazil to my individual projects.
I want to become more independent. Juco and I have had a lot of conversations during the pandemic in terms of solidifying ourselves as businessmen and fully becoming independent and doing a lot of what Nipsey was preaching in his music. Integrating vertically, keeping as much in house — all money in, no money out mentality. We want to take what we're doing to the highest heights we can take it to. If there's people from Nike, adidas, PUMA, Umbro, or any other football platforms reading this, you need to come holla at your boys.
Juco: Talk to me nice.
Feo: We're providing the flavor that only we can provide. I'm confident enough to say that.
Juco: You know how I know too — not to brag or anything — I have a little sister that is part of the younger demographic. They've seen our stuff and were like, "Oh that's cool."
For that demographic of the new kids, who basically don't care about anything at all, if it's appealing to them, then we're doing something right. They're the future, unfortunately, but that's not easy to do.
Feo: Juco told me we're good on Reddit too. People get crucified on Reddit every minute, but if we're good on Reddit we're money. It's way more merciless than Twitter is. (Laughs.)
You can pre-order the special edition Death at the Derby vinyl via Tuff Kong records now. All pre-orders will also receive a digital edition, and the project will roll out to streaming platforms in the coming weeks. 
Interview edited for clarity and brevity. Album artwork by Marija Marković.