Our 'Art of the Game' series highlighting the brightest football artists and illustrators continues with Marija Marković. Hailing from Belgrade, Serbia, Marković has gained notoriety through her collage-style prints featuring iconic footballers, clubs, and kits. We sat down with Marković to discuss her attention to detail, inspiration from the 1998 World Cup, and rise to success and acclaim. 
Football is magical. Whether you're a player or fan, the game gives us the feeling of being part of a global community. It is a phenomenon that comes from something we can only try to understand and explain. But sometimes we need to stop and have a look at the base, the origin that makes us what we are. What are the identities of our favorite clubs, and what makes them so special for us? What are the roots of certain colors, badges, and stripes? These are the topics covered basically every time I speak to Marija Marković.
Born and bred in Belgrade, Marković has become a popular football artist in Europe with her particular collage style, the kind you'd love to see on the walls in your city. It is interesting to note that Marković represents an exciting scene in Europe, an artistic explosion of new-wave talents inspired by football. As I write this, my computer's wallpaper is a work of Marković's — her rendition of Uruguay's iconic Estadio Centenario.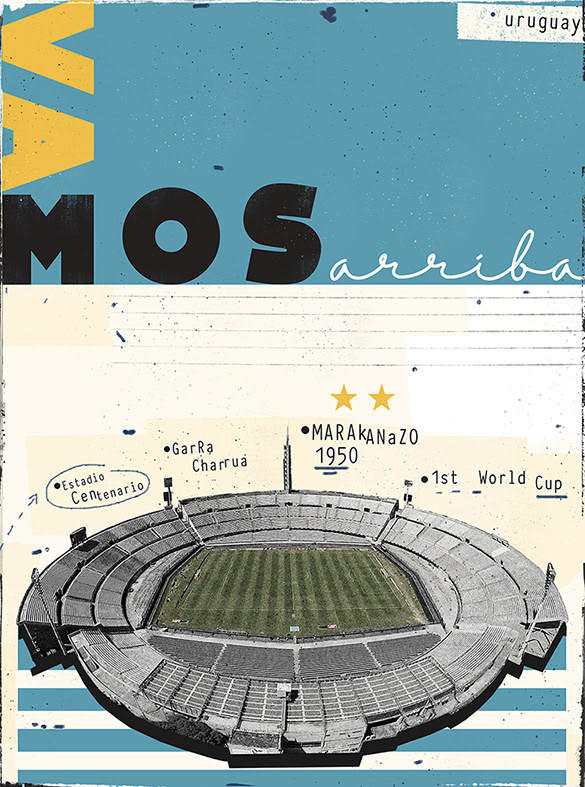 I sat down with Marković to discuss her influences, growth in popularity, and the quirks of Serbian lifestyle.
Urban Pitch: What are your biggest influences, both football and design-wise? 
Marija Marković: I can't really say that any single football player had that much of an influence on me. The idea to combine football and design came from my love for both of them. But yes, there are some players that were and still are my favorites since my childhood days. Piksi, Vladimir Jugović, and Dejan Savićević. But, besides football, studying the history of art and graphic design in parallel left a mark on me. It had a lot of influence on finding my style in collage art and art in general.
You've become pretty popular and well-known, but it obviously wasn't always like that. When did the success begin to come in for you, and what was that like?
Everything started back in 2014. That was the Brazil World Cup year. Thanks to a journalist from the UK who wrote a few great articles about my work and the positive feedback that I got, I was encouraged to take this more seriously and get in this (hopefully never-ending) football story. And after that, everything changed and newspapers from other countries wrote some pretty cool stuff as well. After that, football and design became two of the most important things in my life.
A World Cup can be an inspiring moment, especially after the tournament when stories begin to gain a cult-like aura. Is there any specific player or a historical moment you like to focus on? 
When I don't work for others or on some specific projects, I like to dedicate my time to football stuff that I prefer. It mostly focuses on some specific moments in football history such as the 1998 World Cup in France, Euro 2000, the Yugoslavian national team, Red Star, Lazio, Argentinian players, and a few other players who I enjoy watching.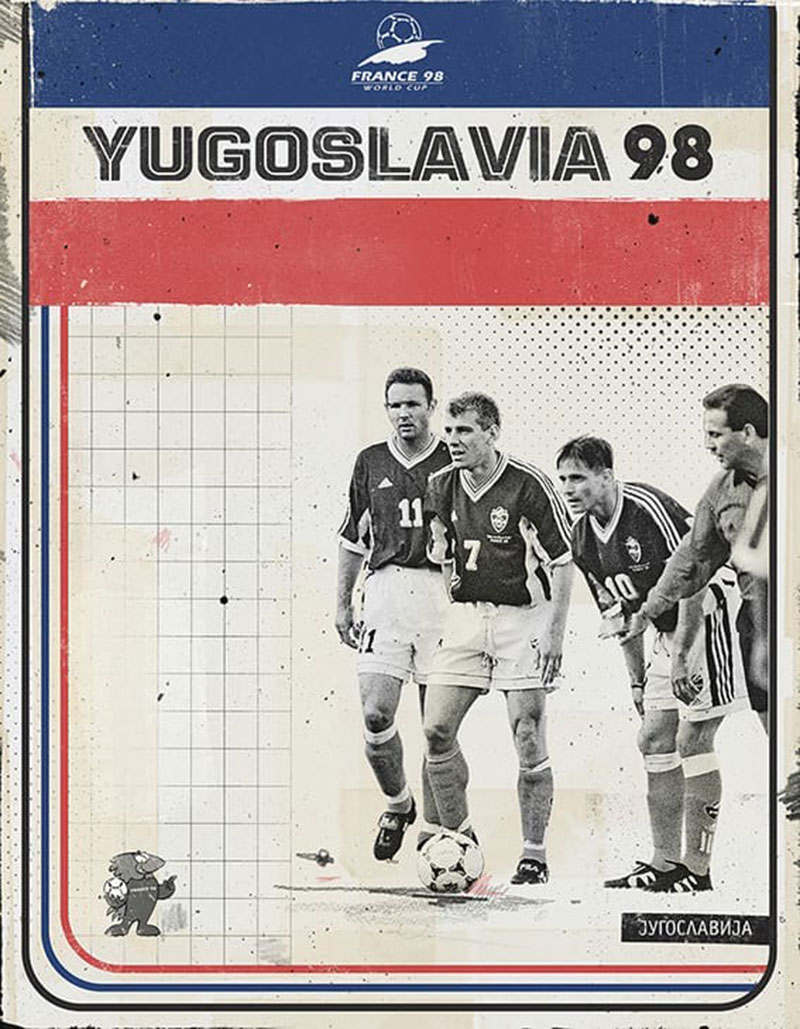 Yeah, the 1998 World Cup in France was special for me too. 
Everything that surrounded that Mundial was perfect. Both the players and teams were in their best form. Every national team had a star who is currently an iconic player. I remember watching all the games with my parents at home, as my nation went to compete in France as Yugoslavia. Additionally, the shirts have become cult items today. And who could forget the mascot Footix!
You are the kind of person who likes to pay attention to the colors and badges of the uniforms of all football teams. What draws you to these aspects of the game? 
First off, we can agree that we all like football as a game, but football goes beyond the sport and brings a lot more than a 90-minute spectacle or total disaster on the pitch. And a couple of those aspects that go beyond the game are the eye-catching uniforms and badges.
For me, that is a sort of a visual representation of the club's identity, and each year I extremely enjoy when clubs present their new season's kits to see new patterns, colors, and ideas that follow the ideology of each club. And all this put together rounds off my idea of how I see football in total.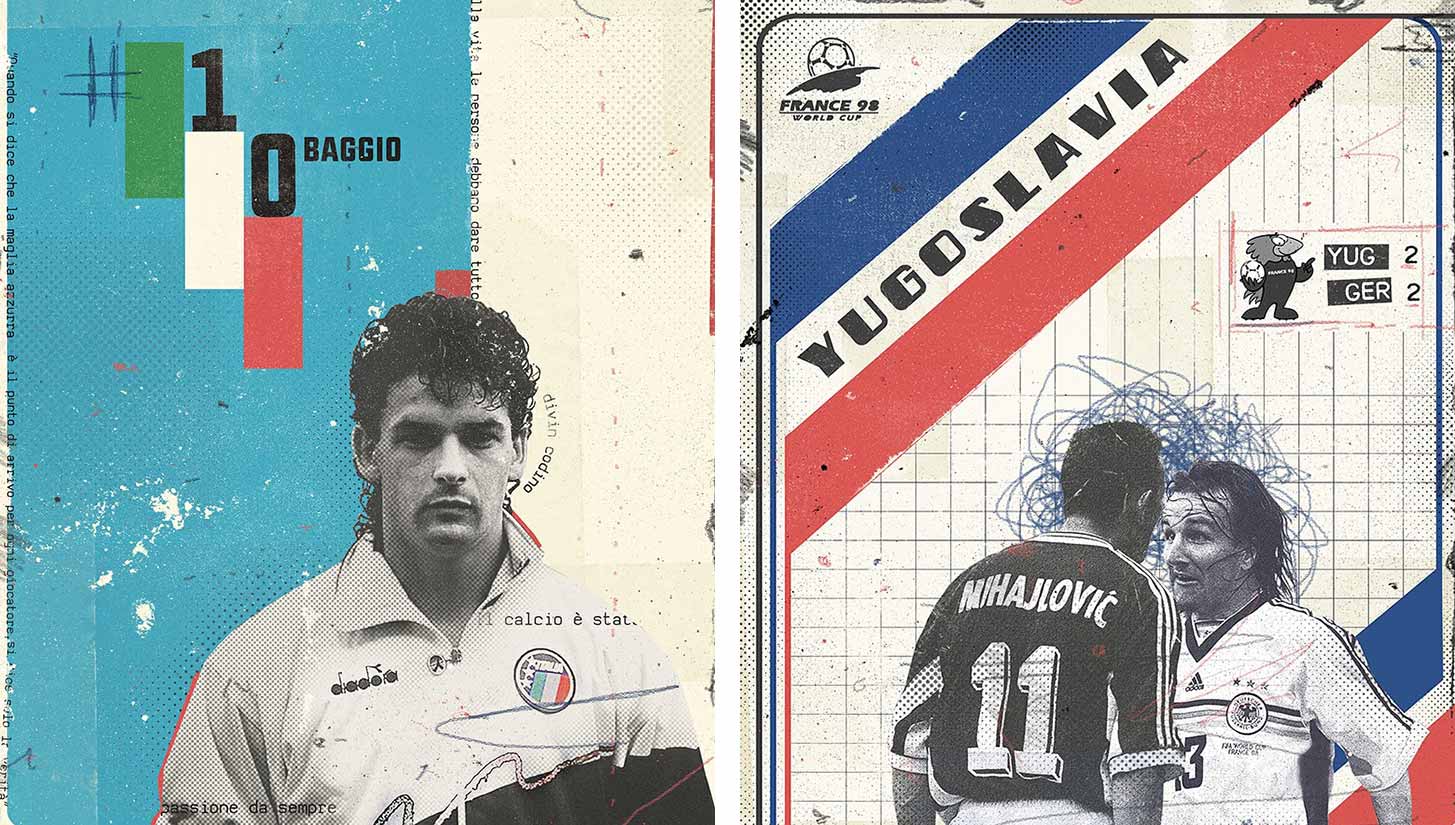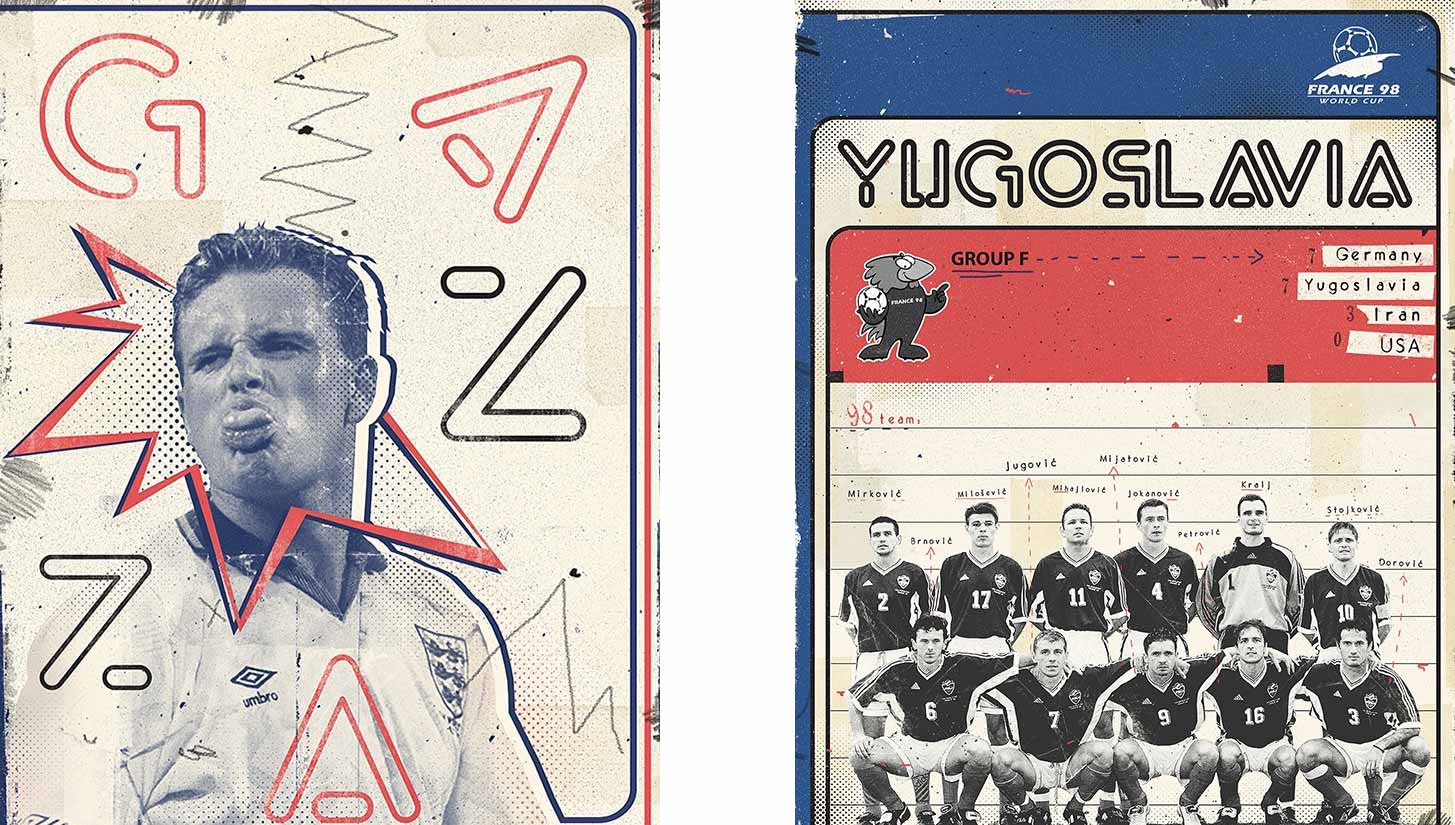 Then, can you name your favorite three kits and badges?
It's definitely hard to pick just three, so I'll name a few more. When it comes to kits, Italy, France, and Nigeria always have that something that draws the attention. It's something about those well-known aesthetics, details, pattern, and colors. I would also add Japan, Arsenal's Umbro kit from the end of the '70s, and the long-sleeved West Ham retro kit.
Regarding the badges, for me, that's one of the most interesting parts in football, because it represents the club and makes it recognizable. I'll be totally objective and leave aside clubs that I like and go for the crests of Nottingham Forest, Tottenham Hotspur, Ajax and lately Colo-Colo, because it's so atypical and stands out.
What about some Serbian kits and badges?
That's easy, Red Star's badge. For me, it's the most beautiful one, no doubt. I have to mention a few Red Star kits that I really love — the PUMA/Lee Cooper-sponsored kit from 1987-88, the Diadora/Beobanka-sponsored kit from 1993-94, and the Kappa/Beobanka-sponsored kit from 1997-98. It's all about the red and white stripes that are characteristic for Red Star. Each of these have details that make them unique.
You have worked with Partizan Basketball Club and Partizan fans in the past. What was it like working for a rival club of your Red Star?
Yes, that was a nice collaboration. It was really professional, regardless of the fact that I'm a supporter of the rival team. The thing is, when you work as a graphic designer, you can always say no to something that you don't want to work on. It's up to you and no one else should influence your decision. But if you accept to be a part of it, you have to be professional and neutral while you work to give your best. Most importantly, you must leave aside your personal preferences.
The Red Star-Partizan rivalry is pretty well-known. What can you tell us about the Eternal Derby? 
The first match that I went to was an Eternal Derby many years ago at the Marakana, Red Star's stadium. It was my sister's brilliant idea and it was definitely unforgettable. From my first derby until the last one that I went to, nothing has changed. It's still that parallel universe that you get into when you enter the stadium. I can't explain it in a few sentences because it's not some tourist attraction that you come to see and move on without any impression. It will sound like an awful cliché when I say that the Eternal Derby is not like any other football match and to totally understand it you have to be present.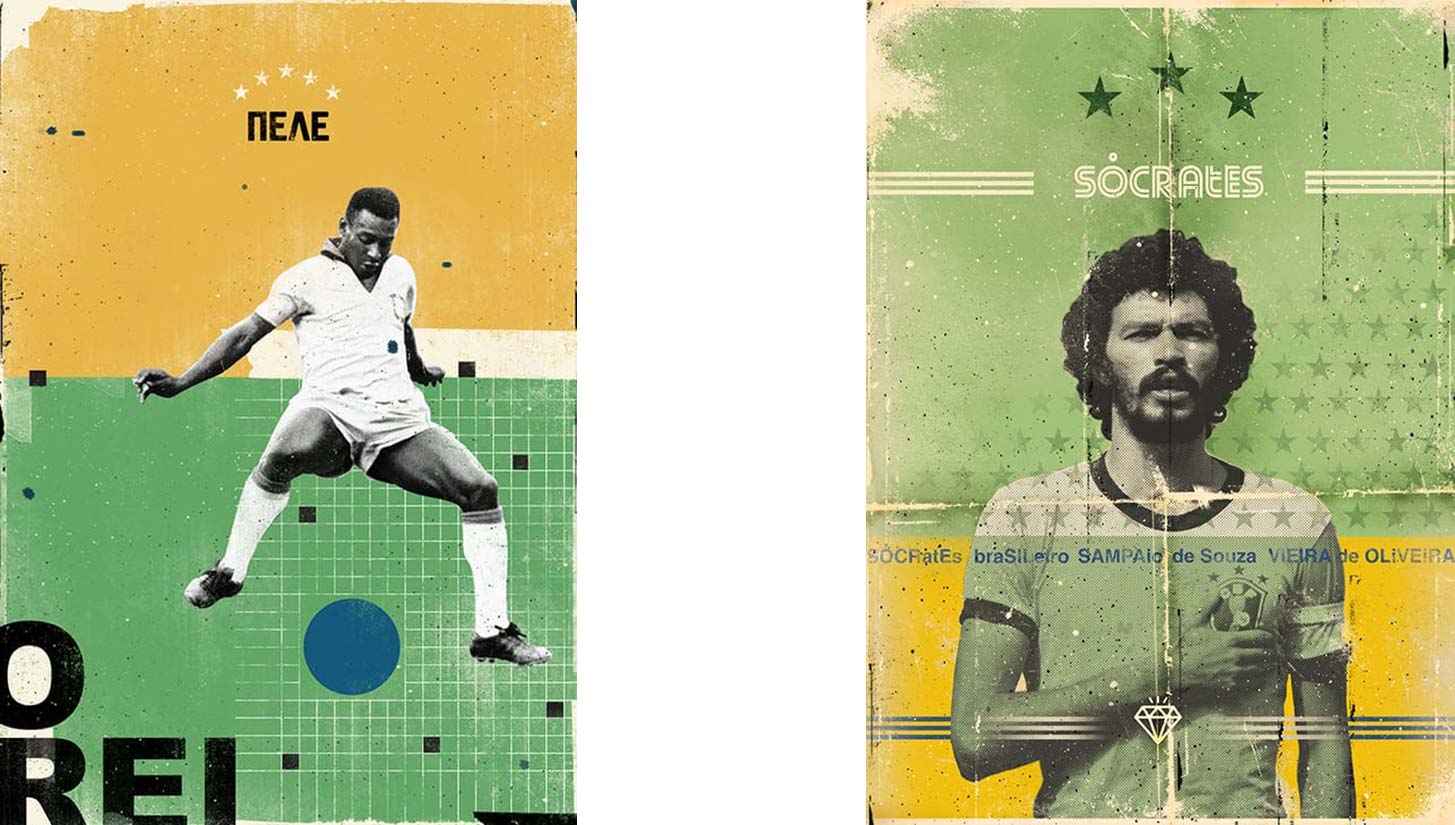 Do you have any particular stories about seeing your work in a football stadium?  
I'll occasionally see someone wearing a t-shirt with my design outside of the stadium, and it is always interesting to see which player or illustration is their choice. It pleases every designer to see people wearing what they created, especially at the stadium or on TV.
A lot of artists feel comfortable creating, writing, and taking some notes in bars or restaurants. Do you? 
I have to be honest and spoil the party by saying that I am totally the opposite. I feel most creative at my place, where everything is the way I organized it. But I get inspired easily by some random details — places in Belgrade, songs, people, and moments that are very often not related to football at all.
How inspirational is the city of Belgrade? 
It can be, definitely. I will always be subjective about Belgrade and say that it's beautiful for many reasons that are probably only relevant to me. And I have to mention part of the sentence from one of your articles that matches with how people usually see Belgrade, that "There needs to be a grey tone named as 'Belgrade' in Pantone's chart.'' But, that tone has to be really cool. Plus, Red Star is from Belgrade.
Interview edited for clarity and brevity. 
Follow Marija Marković on Instagram to stay up to date with her latest works.