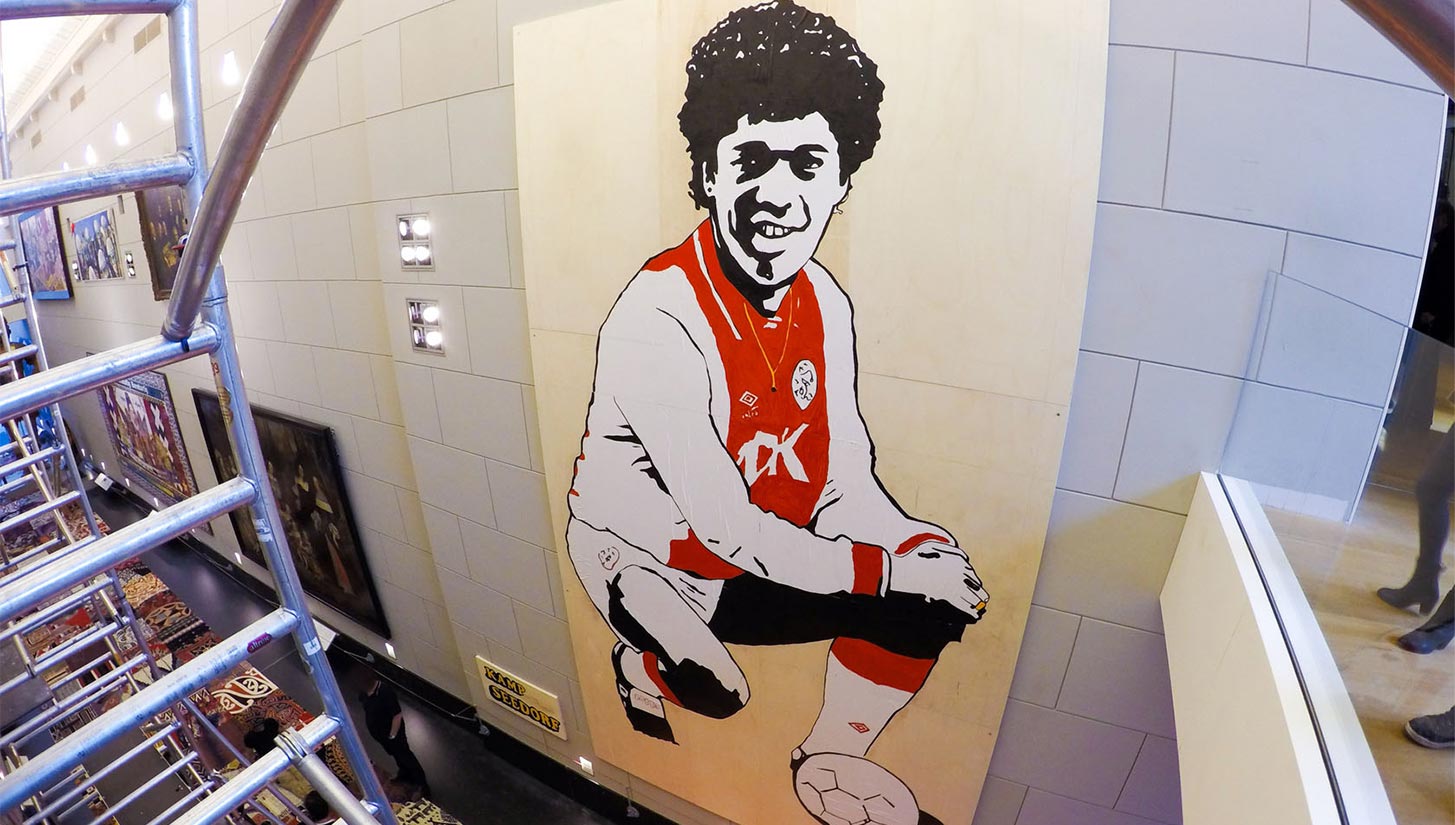 A street art collective to the fullest, Kamp Seedorf has made international waves with their brilliant murals of footballers and other cultural icons. We get a rare interview with one of the members to get a look behind the group's origins, biggest projects, and love for their city and namesake, Clarence Seedorf. 
Clarence Seedorf may be one of the coolest players in recent football history. His household name status may have waned in a way unlike his contemporaries — Ronaldo, Zidane, and Beckham to name a few — but he's left enough of a mark on the game to still draw somewhat of a cult following.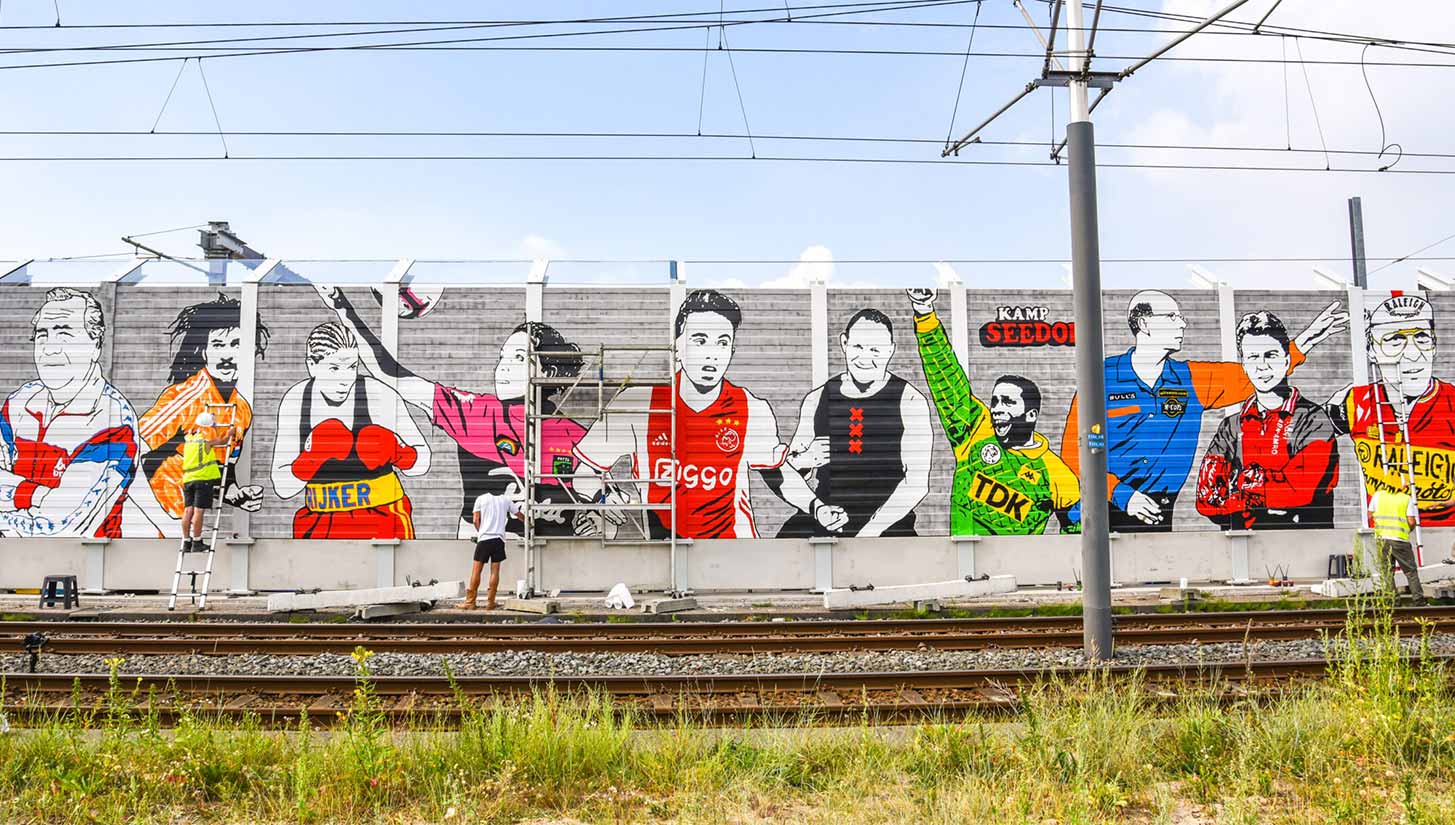 At the helm of that following is Kamp Seedorf, a Dutch art collective that pays tribute to one of the greatest players to ever don the Oranje shirt. The proudly Almere/Amsterdam-based group believes that football can bring people and art together. The icons of the game are as important as the game itself. Because things will never quite be the same again…long live the semi-permanent art!
I got a chance to sit down with one of the members, who in the name of street art prefers to remain anonymous, to discuss the group's origin, mission, and reverence for their namesake.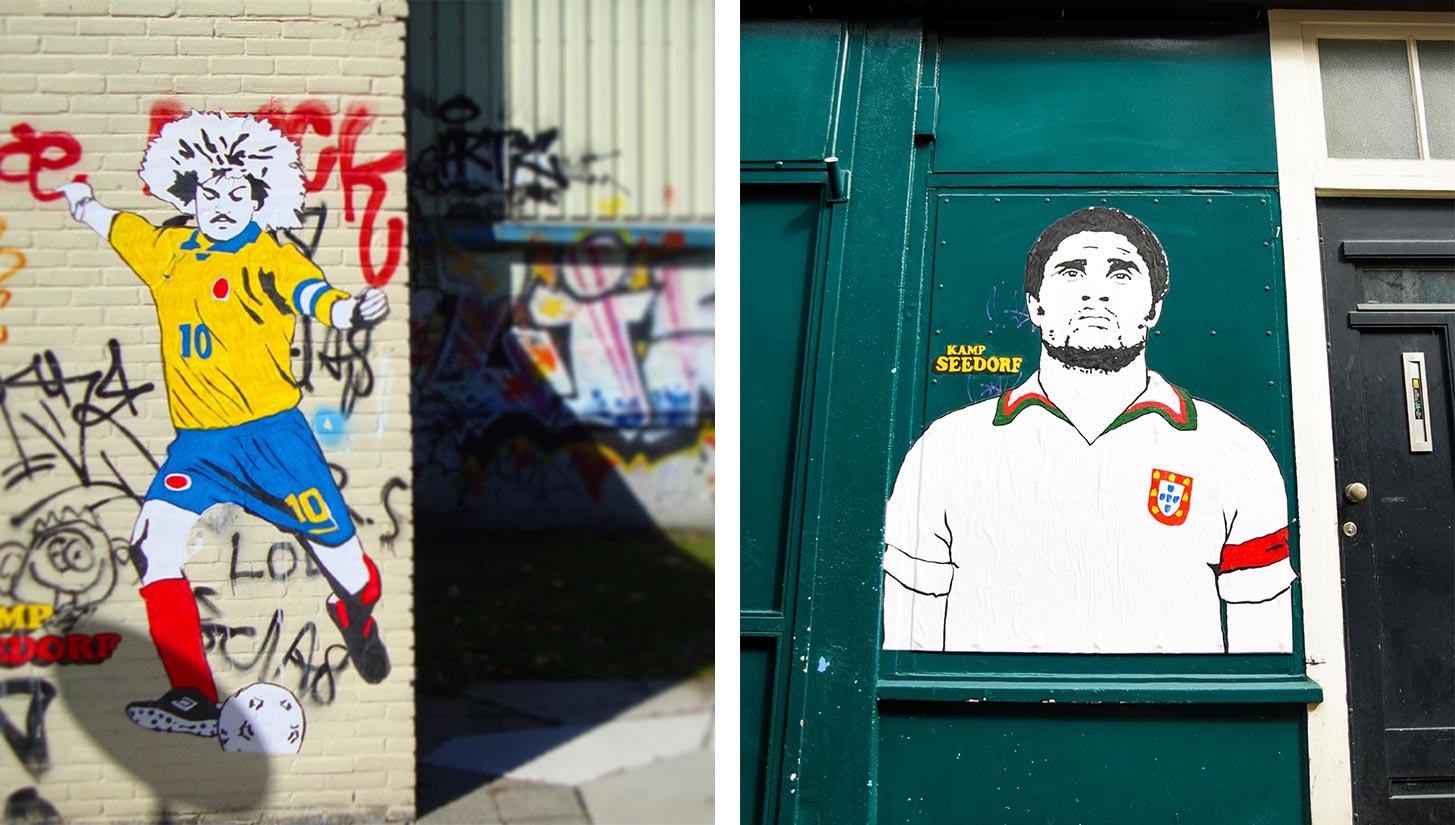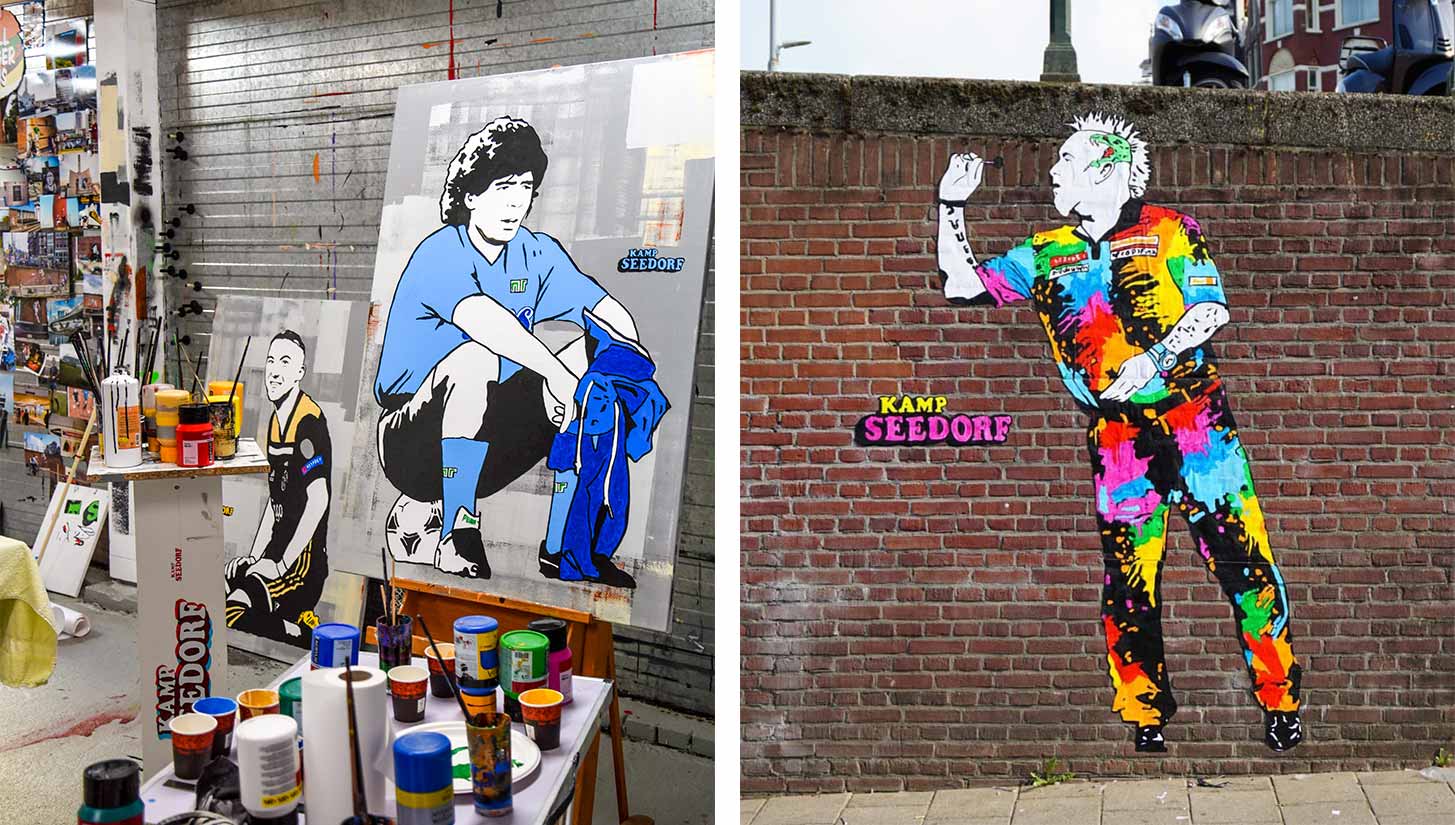 Urban Pitch: It's been a long trip — 10 years of Kamp Seedorf — how did this journey start?
Kamp Seedorf: Clyde used to do graffiti and had the need to do something different. So we can say that Kamp Seedorf started in Clyde's attic 11 years ago. We started painting on paper and placing the works on the walls around Almere.
For those hearing about you for the very first time, can you introduce us to the concept of Kamp Seedorf?
Kamp Seedorf is an Amsterdam- and Almere-based street art crew. It consists of a hardcore group of around five people and approximately 10 helpers. You would probably see the word "Ally" in our work, so "Ally" is street-slang for Almere. About half of the members of our group grew up in Almere. We love this city!
Can you give us some background on your "Semi-Permanent" motto? 
Basically, our technique is paper glued on walls. As you can imagine, if it's raining for weeks or if the cleaning services come by, it gets removed very easily. However, Kamp Seedorf made some paintings in Minneapolis in the United States that we placed 18 months ago and are still in a good shape. Nowadays people contact us to help maintain their paintings all around the world. We are a bit optimistic in that sense. (Laughs.)
To be honest, it's hard to find our art because it normally gets removed after a few weeks or months. You have to be quick to spot one in real life. We love the semi-permanent side of our work.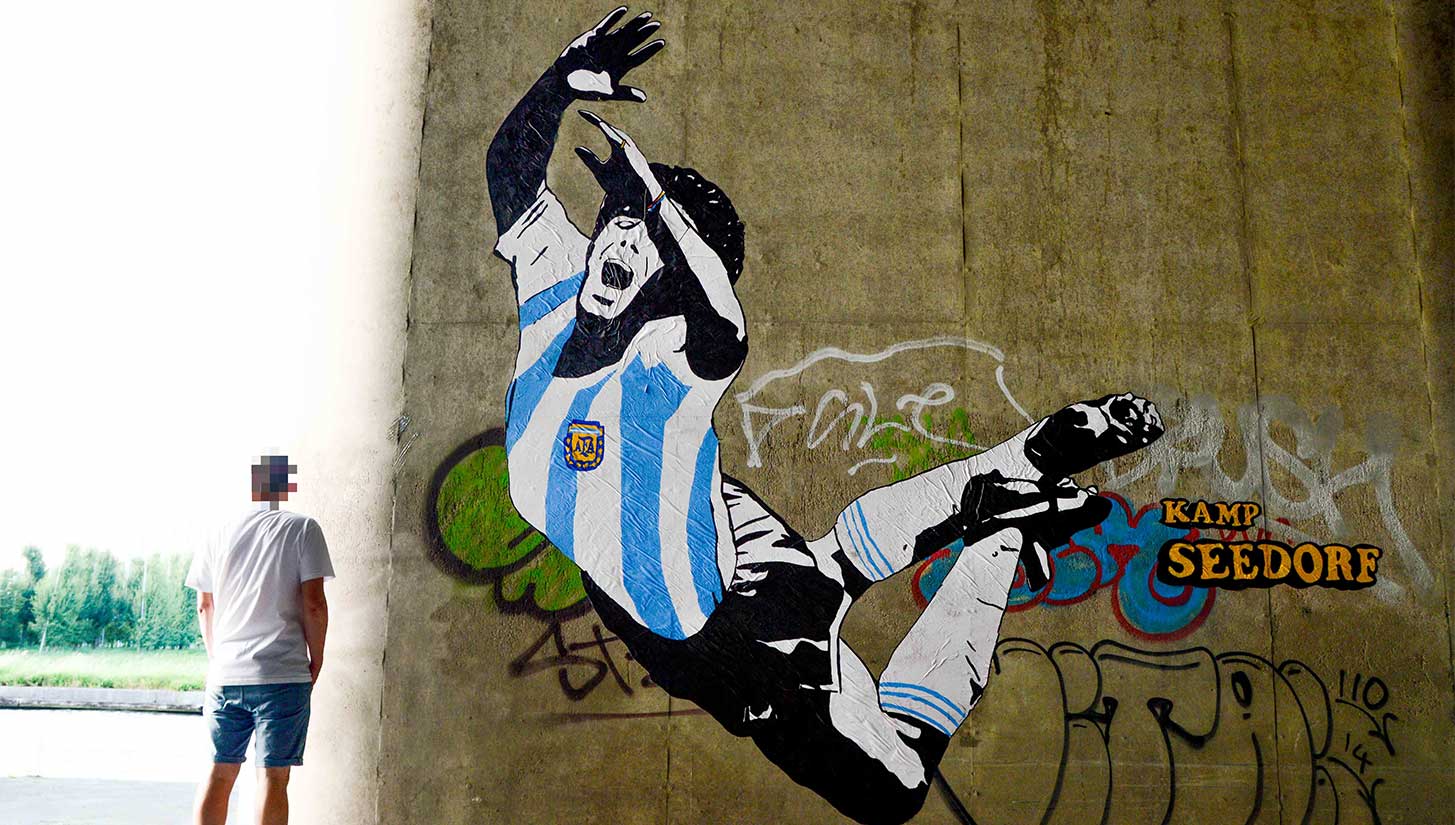 How would you describe the technique you use for the murals?
Some people call it "paste-ups." Everything we make is made by hand, no prints whatsoever. We use acrylic paint and ink, then cut it out and place it on the walls with our special homemade glue.
Why the figure of Clarence Seedorf?
Clarence Seedorf grew up in our city, Almere. It is a very young and growing city nearby Amsterdam. We think Seedorf didn't get all the respect he should have got in Holland. That's the same thing happening with our city Almere, same feeling. A lot of people in the Netherlands hate it because it has no culture or can be considered as a really quiet and boring place.
Which values represent Kamp Seedorf?
We are all big Seedorf fans as you can imagine, so we wanted to change that general conception initially. By the way, Kamp Seedorf is also the name of a German army base where a lot of Dutch soldiers were situated after WWII. The word "Kamp" also means group or crew in Dutch, so let's say these concepts are a bit mixed all together. We think this name perfectly represents our group and the values we share.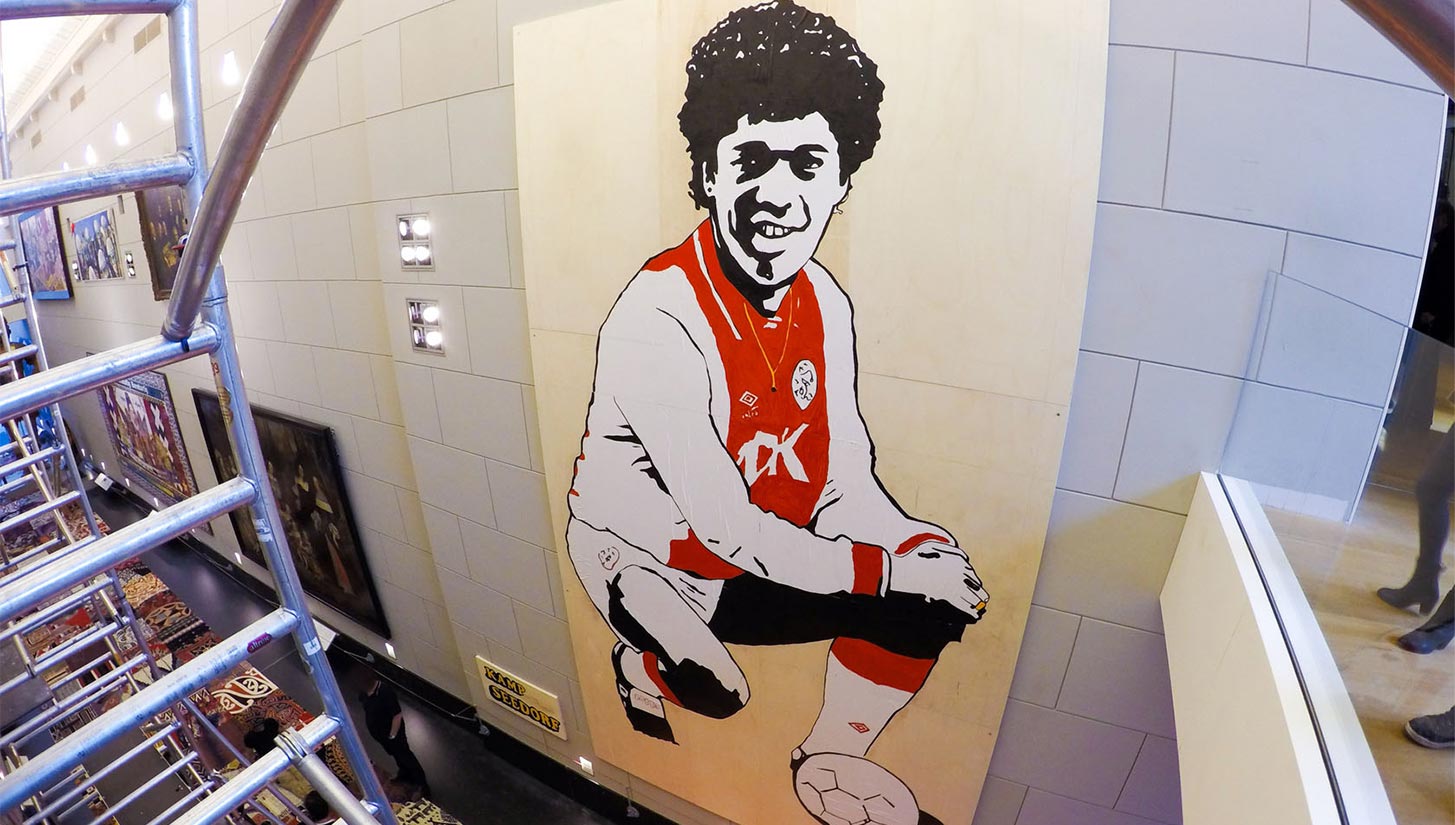 Is Amsterdam a special city for street art?
Not really. It used to be flooded with graffiti but it's kinda clean these days. You have some spots where there are more regulated art areas but we try to stay away from that. It's nothing compared with cities like Lisbon, Barcelona, Berlin, or Sao Paulo.
Apart from football, your work also features popular culture elements such as street food, iconic movie characters, politicians, or even Pokemon. Can you tell us more about your muses?
We try not to focus on football players only. For example, we like to paint crazy local foods or mad politicians. We like to paint whatever we like, with no restrictions. If we are in a Pokemon phase, we paint Pokemon. If someone sees a great series like House of Cards, consequently we can paint Frank Underwood in this case. Whatever comes up to us, we bring it up and discuss it with the rest of the team. If everyone likes it we do it. At the same time, it's also important for us to keep our art light and humorous because a lot of street art is the opposite of this.
What inspires you in football culture?
We really enjoy the outlaws of football. We would never paint Messi or Ronaldo, everyone already does that.
So you decide to paint Gabriel Batistuta, Diego Maradona, or Hernán Crespo. Sounds like an Argentinian connection.
Do not forget Caniggia, of course! We love the emotion Argentinian players and supporters put in the game.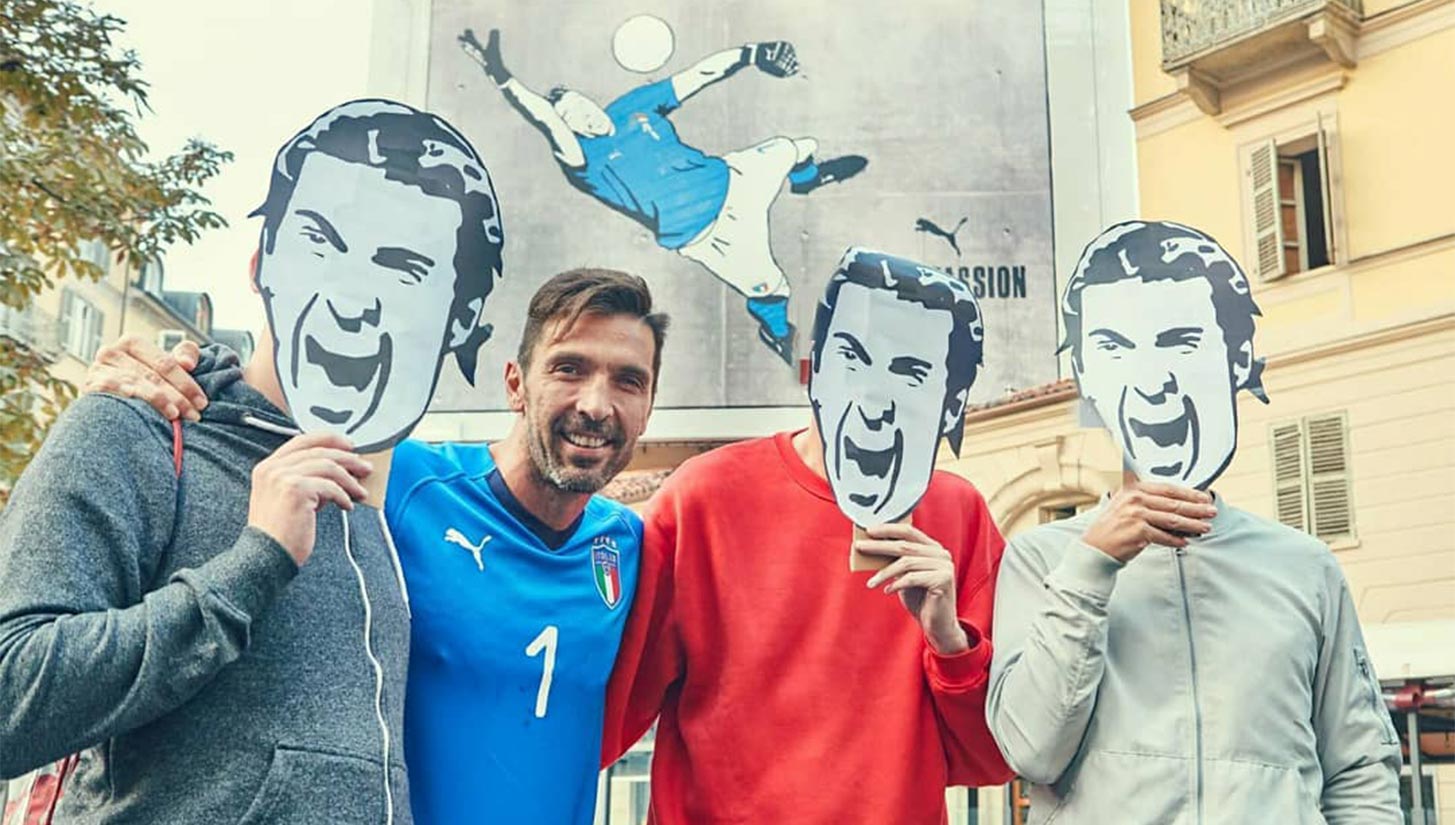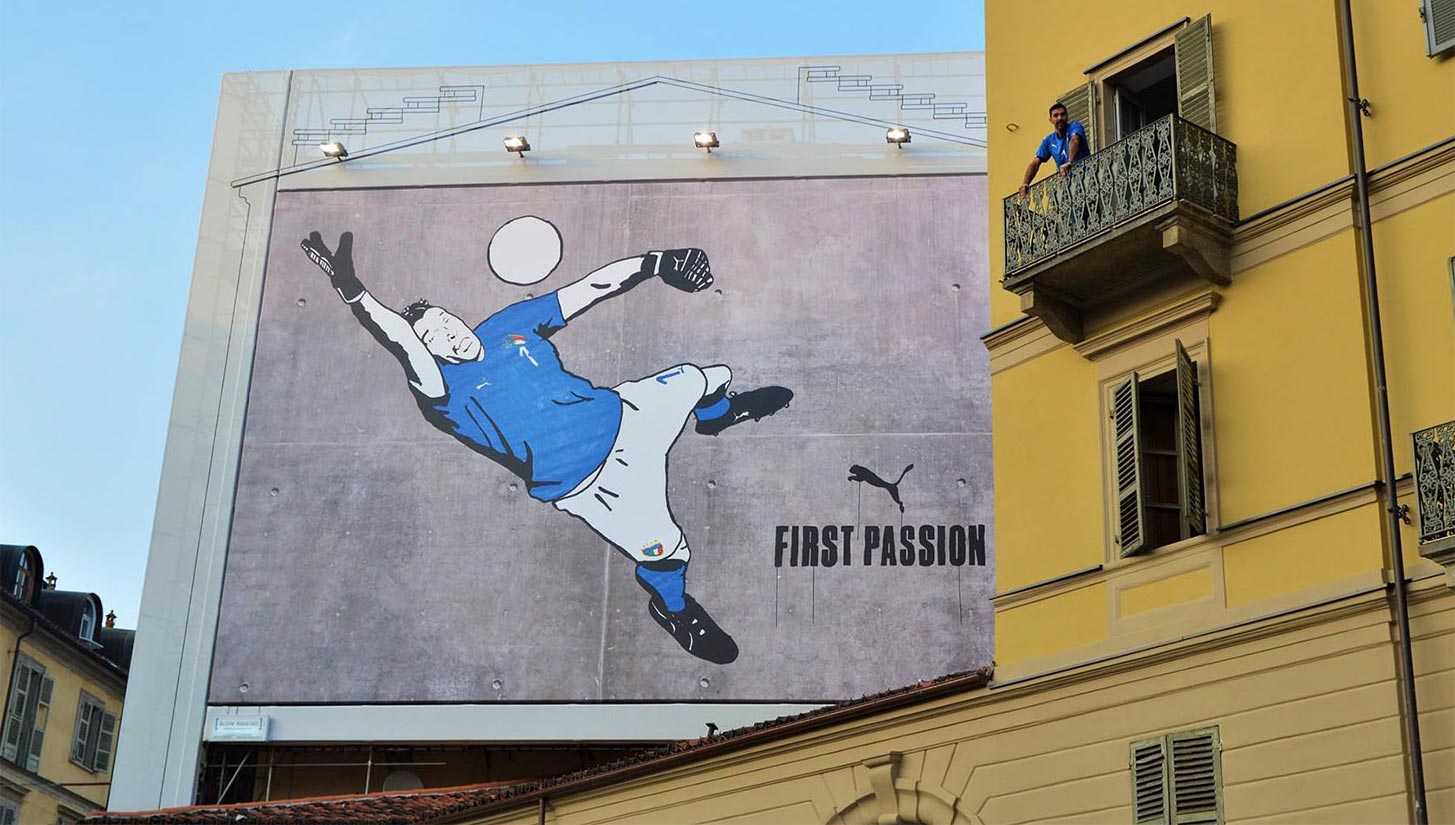 You met one of the greatest football legends due to your PUMA collaboration to illustrate Gigi Buffon, and we need to know how that went.
Back in 2017, Buffon had his 20th anniversary as Italian national goalie. We were asked by PUMA to paint Buffon for the first time in their famous jersey. We made 10 different paintings of Buffon wearing the jersey and placed them all over the world, from Moscow to Tokyo, South Africa, and Italy. All places where Buffon played big matches in Mundials and European Cups.
After this, we went to Turin to release one massive painting of Buffon on a busy square in the city centre. Buffon also got there and it was one hell of a paparazzi chaos. With the help of some bodyguards, we were able to speak with Buffon in person and took some pictures together with him. The day after this, Italy played a football match and Buffon was wearing the new blue jersey for the first time in his career.
Any future plans?
We don't talk too much about our future actions, but yes definitely. We have some big plans in mind for next year if this COVID thing finally ends, but also we won't say which city we are planning to go to in the future. Just follow us and stay tuned!
Keep up with Kamp Seedorf by following them on Instagram and Twitter.