It's still quite some time away, but that hasn't stopped us from looking ahead to the cultural impact that the 2022 World Cup will bring. 
Every four years (hopefully not two), the hype is the same. The World Cup brings fans both diehard and casual out of the woodworks, even if it means waking up in the wee hours of the morning to catch their favorite side.
Qualifying for the 2022 World Cup is still underway, with heated battles occurring across the globe. Both CONCACAF and CONMEBOL are log-jammed, with tournament regulars and newcomers alike fighting for qualification spots. In UEFA, we could very likely see Italy and Portugal square off in a winner-takes-all playoff final. If Portugal wins, the reigning EURO champs will miss their second straight World Cup, and if Italy wins, Cristiano Ronaldo will miss what is likely his last chance to play in the tournament.
While AFCON rages on, the five CAF slots are still up in the air, with the final qualification round set to start in March.
Part of what makes the World Cup so alluring is that it transcends sport and weaves into pop culture. There's an official song. The kits become part of the fashion lexicon. The local celebrities have a chance to become international superstars. And so much more.
This year, there is tension around Qatar's record of social justice. Among the issues raised about the host country is its stance against homosexuality and its treatment of migrant workers, whose labor is essential to events like the World Cup.
Perhaps more than ever, the tournament will be relying on pop culture to create an environment that's welcoming for everyone. There's also an opportunity for the world's stars to make statements about human rights and equality, establishing themselves in the hearts of fans both on and off the pitch.
Even though there's still 10 months to go until the world unites in Qatar, it's not too early to give you our thoughts on what pop culture moments we are excited to see from the 2022 World Cup.
2022 World Cup Song
The World Cup song is something that everyone will remember, even if they're casual fans. There's been Ricky Martin's "La Copa de la Vida" in 1998 and "We are One" that enlisted Pitbull, Jennifer Lopez and Claudia Leitte in 2014. However, the most memorable year for music at the World Cup was perhaps 2010, and we're not talking vuvuzelas. The official song was Shakira's "Waka Waka," but K'Naan's "Wavin' Flag" was so heavily featured in promotions that it can be hard to remember which one was the actual anthem. Shakira has been featured in the World Cup festivities several times as she's established herself as an international megastar who crosses cultures.
Our thoughts on who could be the star of the 2022 World Cup? What about someone like Wizkid, who's been able to make waves overseas with his smooth flair. We might even suggest… Drake?! (Soulja Boy voice.) Hate him or love him, he really is the biggest artist in the world right now and is a sure shot to make a hit.
2022 World Cup Kits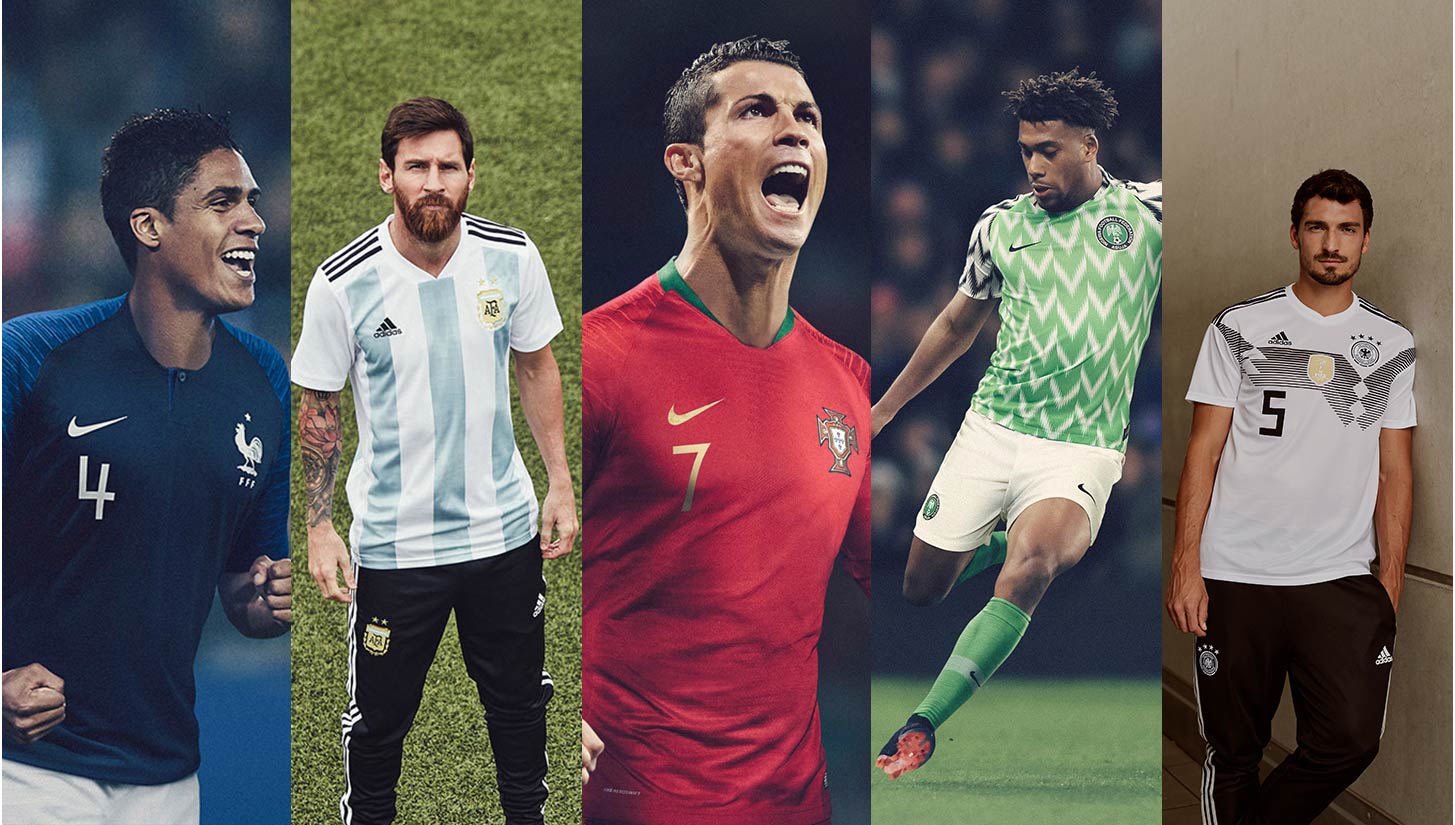 One of our favorite elements of any big tournament is the kits. There's always exciting, edgy designs. 2018 brought us the revolutionary Nigeria kit, along with more low-key heaters from Germany, Croatia, and Japan. Who will steal the show this year?
Nike has made a concerted effort to increase the quality of designs for their national teams, as seen with the their recent offerings for South Korea, Norway, and again, Nigeria, which we recently named as the best kit at AFCON. While adidas has certainly left us wanting more lately, we can count on the Three Stripes to step things up as well when it comes time to reveal their World Cup kits.
And we're greatly looking forward to what other brands like PUMA, Umbro, New Balance, Kappa, and Hummel can produce, as they look to differentiate themselves from the giants in Nike and adidas.
David Beckham's Fits as 2022 World Cup Ambassador
David Beckham arrives at The Championships, @Wimbledon wearing a Ralph Lauren Purple Label cream silk and linen double-breasted blazer styled with our classic navy wool trousers, silk tie and striped dress shirt #RLPurpleLabel #Wimbledon pic.twitter.com/dIAsd2kdBG

— Ralph Lauren (@RalphLauren) July 9, 2021
Last fall, none other than David Beckham was named as the 2022 World Cup Ambassador. He reportedly got a whopping $277 million to serve as the face of the tournament, and human rights groups have asked that he uses his platform to raise awareness and seek change for the violations in Qatar. We don't know what that will look like for the superstar, but we do know he will have the freshest fits on the entire time. We particularly liked this Ralph Lauren ensemble from Wimbledon. It would be great to see him in something Louis Vuitton as a tribute to Virgil Abloh.
2022 World Cup Haircuts
The stage of the World Cup is always a great opportunity for players to flaunt their style. In the recently released documentary Neymar: The Perfect Chaos, the Brazilian superstar revealed that his goal in bleaching his hair for the World Cup was to match the yellow of his country's kit.
Neymar has said that the 2022 World Cup will be his last, so maybe he will show up to Qatar with his best hair yet. France's superstar Paul Pogba made headlines in 2018 for his unusual lack of creativity with his hairstyle. He explained the look, or lack thereof, as a way to draw less heat from critics who often irrationally describe his ostentatious haircuts as a distraction. And maybe it worked, as France went on to hoist the World Cup trophy, due in large part to Pogba's brilliant performance. Now with nothing left to prove, we could see Pogba hit Qatar with a trademark mohawk, or some splashes of brilliant color.